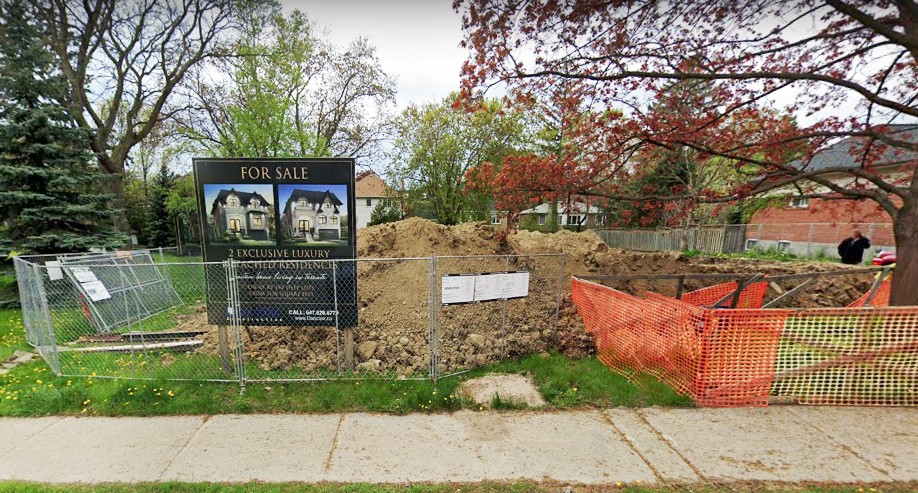 Photos from The Pointer files/Google Street View/Homechannel.ca
Slicing up suburbia: how profitable lot severances signal a new dawn for Mississauga development
Mississauga is growing up.
Across the past few years, more and more residents have applied to the city to divide their lots into smaller spaces for the creation of multiple homes. These moves make room for more modern, denser housing on sites that once played host to dwellings more akin to suburban castles.
The growing number of applications represents a decisive break with the city's past. Previously, Mississauga was a destination for people looking to swap the urban experience in Toronto for a big backyard. The city, alongside other parts of the GTA, was born from the advent of the sprawling new homes of a middle class that placed value in large cars and wide roads.
A vacant lot, in the final stages of severance, is on sale for $1M in Mississauga's Erindale Woodlands neighbourhood
The city, developing from farmland in the 1970s to near-build out in the 2010s, started its life as a bedroom community, a reputation and reality it is slowly but surely leaving behind.
As time marched on, and the millennial generation moved into the housing market, the appetite for big, detached developments has dwindled. High house prices, lower capital, and more environmental thinking are among the factors that have made the sale of half-acre properties increasingly tough for realtors in the city to pull off.
Mississauga's downtown has been defined by Square One Shopping Centre and its parking lots for decades, but a revolutionary redevelopment of the area will bring office space, pedestrian-friendly streets and residential units.
In 2015, 65 applications were filed with the City of Mississauga to split a lot into smaller packages. In 2016 that number rose to 87 applications, with 91 received in 2017. Consolidated numbers for 2018 and 2019 are not yet available.
Eddy Sousa, a real estate agent in Mississauga, told The Pointer selling larger properties "takes time" with a series of factors to consider, including higher property taxes and the large utility usages associated with such homes. "Condos and townhomes are more attractive to buyers, prices on such property are more affordable [and] they tend to include many amenities that people are looking for," he said. "It's not about tempting buyers, it's about affordability."
For younger generations living in the city, location and connections are vital. "The 30-year-old[s] and younger buyers tend to want amenities and want properties closer to transit or closer to their place of employment," he added.
As a result, increasing numbers of lot separations in Mississauga are a big deal. It is a sign by citizens and builders that the old rules don't work — an understanding the future has finally arrived.
The slew of new developments proudly announced by the city across the past few years is a further indication of this. From Lakeview Village to the Square One District, developers building in Mississauga are now after height and density. Instead of building large, detached houses aimed at relatively well-off couples hoping to start a family, the industry is catering to condo rental and ownership in towers.
Instead of basements, they're offering balconies.
In the planned Square One District, parking lots will make way for 18,000 residential units, a transit mobility hub connected to the Hurontario LRT, community buildings, parks, green spaces and office buildings.
There are a plethora of modern realities relegating large houses to a trend of the past, with a generational shift being one of the most significant. Where baby boomers and gen-xers tended to subscribe to the (North) American dream of white picket fences, conservatories and multiple bedrooms, millennials are showing less of an appetite.
Financial realities are one of the reasons for this change in consumption, with the new generation blocked from entering a housing market where large properties go for significantly north of $1 million.
Highlighting the generational gap in property ownership, a recent study in The Economist laid the problem bare. Comparing baby boomers at a median age of 35 (in 1990) with millennials at a median age of 31 (in 2019), the difference in property ownership was stark. At 35, baby boomers owned almost one-third of the real estate market value, while millennials held around 4 percent. The current price of property in Mississauga illustrates why this is the case. Data from Rentals.ca, which regularly predicts and reports on the city's housing market, suggests rent for an average apartment in the city will increase by 8 percent in 2020 to a price of $2,585. Housing numbers from the Region of Peel show purchase prices increased more than 90 percent between 2006 and 2016, while median wages rose less than 20 percent.
It is unclear how the current COVID-19 pandemic will impact the housing market, but the layoffs and economic instability it has precipitated do not favour demand for large, multimillion dollar homes.
This reality, combined with a less stable job market and significant student debt, has left millennials less financially stable compared to older generations faced with a housing market far more expensive than before. As a result, regardless of whether or not millennials desire the properties of their parents and grandparents, the reality is they can't afford them.
However, there is a strong school of thought arguing that, even if they could afford the suburban dream, millennials would opt out.
Generational shifts in attitudes, around everything from children to transit, can be credited with some of the changes taking place. In 2001, Henny Coolen and Joris Hoekstra produced an academic paper exploring the link between an individual's personal values and the housing choices they make. The research uses a means-end chain to establish links between housing choices and fundamental beliefs or preferences. For example, those who value personal space and individual privacy may choose to buy a house with a room for each member of the family to spend time alone. Conversely, particularly social families could opt instead to share bedrooms and live in a house with a larger living room and dining space in order to spend time together.
This framework can be taken and applied more broadly. Research conducted in 2018 found 75 percent of millennials are willing to change their consumption habits to reduce their impact on the environment. Assuming this is true of the housing market, the traditional acre-wide properties once the pride of Mississauga are the very opposite of this trend. While heating multiple floors and cooling them in the summer is expensive, it is also damaging to the environment, something the millennial generation is tangibly more conscious of. Young buyers growing up in a more climate-conscious world are more likely to choose smaller houses with more efficient insulation than large properties where the temperature must be constantly regulated.
For the city too, lot severing and the construction of multiple smaller homes in the footprint of former mansions is a major environmental boon. In November, MiWay's director Geoff Marinoff spoke to The Pointer at length, outlining how dense planning holds the keys to the city's transit service. While it is the duty of MiWay to provide reasonably accessible transit to people across the city, the density of each neighbourhood defines how much this will be a burden on the taxpayer.
For streets such as Hurontario and Dundas, where development is fairly dense with a large number of high-rise properties, the per-resident-cost of providing regular bus transport is relatively low. In large, traditionally suburban neighbourhoods such as Lorne Park, the cost is great. Big, articulated buses struggle to make progress down twisted suburban streets, dominated by parked cars and front lawns. With this, fuel economy is reduced and few residents get on board the infrequently running buses, with several cars in each driveway.
An aerial view of Lorne Park Road in Mississauga, an area where lot severing could result in more residents per hectare, increasing the economic feasibility of local bus routes.


However, if owners were to sever their lots, this would result in more residents per hectare. Bus routes currently running through these areas could then see their pitifully low riderships increase to sustainable levels.
At the city's Committee of Adjustment, where severing requests are heard, this is slowly becoming a reality. As annual increases show, more and more individuals are submitting applications to split their land in half. At the committee's meeting that was scheduled for Apr. 2 (prior to council changes due to the COVID-19 pandemic), there were two severing requests on the agenda, suggesting more and more properties will be converted from sprawling lots to denser housing.
Increased lot severing applications show market forces densifying the city in areas where its suburban heritage clings strongest.
For each of these applications the City of Mississauga approves, it gives the green light to density. As the city continues to grow upwards, filling in some of the gaps and wasteful uses of land, it can transform into a modern metropolis.
With its increasing density, the city's climate ambitions should also receive a boost. Denser areas and the slow decline of acre-wide properties will mean lower emissions from heating homes, higher use of public transit and walkable communities emerging from suburbia, like a phoenix from the ashes.
---
Email: [email protected]
Twitter: @isaaccallan
Tel: 647-561-4879
---
Submit a correction about this story