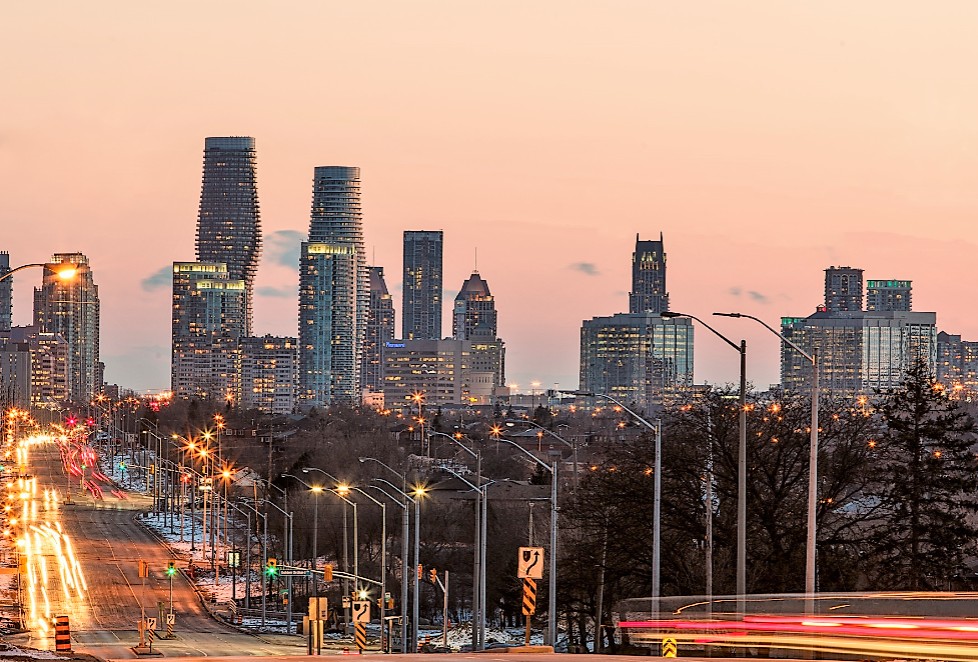 Photos Flickr/The Pointer files/ Government of Ontario
Mississauga's housing crisis to worsen in 2020 as feds and province step in
Nuzhat Arshad gets by month-to-month in Mississauga. The single mother has a rental contract which rolls over each month at her current address, leaving her at the mercy of her landlord's whims and in permanent danger of the unexpected.
The 46-year-old has been searching for somewhere more stable to rent in the country's sixth largest city for about three months now. Aware of the perils of her precarious situation, she is keen to settle into a rental property with more stability.
A rare sight: Habitat for Humanity built these affordable housing units in Malton last year.
However, finding a place to rent in Mississauga is hard. Arshad, who works for minimum wage, has a monthly budget of about $700 for her new place, a sum that is rarely enough in the city's increasingly costly rental market.
"I never imagined being in a basement," she told The Pointer in a discussion about the city's heated housing market. "But the market is very high and [it is] hard to even get one separated room in [a] basement."
"The government should make it easier for people like us, who are paying taxes and get minimum wage," she added. "I can't change the system, but soon you will [begin] to see people everywhere with luggage and nowhere to go."
Arshad, who originally moved to Canada from Pakistan, is experiencing a desperate search for rental space in Mississauga, and she's not alone. As housing prices in Toronto continue to sizzle, the heat spills out across the GTA raising prices and rental rates in neighbouring cities such as Mississauga, Vaughan and Brampton.
Mississauga is currently in the midst of a critical phase in its development, growing upwards all the time. Luxury condominium buildings spring up quickly, while affordable units lie unconstructed or forgotten. Some new developments, slated for the next decade, will include provisions for affordable housing. However, these have been hard earned by the city as developers appear reluctant to build these affordable spaces.
Examples include the Brightwater Development at Port Credit which will feature 150 affordable units in addition to its planned 2,995 condos and rental spots or Lakeview Village on Lakeshore Road which has donated land to the Region of Peel to construct affordable housing. In downtown Mississauga, major development fees were waived for Daniels Corp as an incentive to construct an entire tower of market affordable and subsidized housing.
"My concern is the number of developers who have been approved for highrise (still a very slow process) that are reluctant to include some affordable units," Councillor Carolyn Parrish, who has been pushing hard for affordable housing in Mississauga, told The Pointer by email. "Originally we were asking for five percent and then went to 10 percent [of new developments to be market affordable]."
"We're in negotiations with Liberty on Eglinton, a few yards east of Hurontario and the LRT, who are willing to discuss some lower end of market value units in exchange for more density," she added, also referencing a slew of more stubborn developers who do not want to add affordable units to lucrative plans along Hurontario Street which will soon be served by an LRT.
In Mississauga, the issue is made more complicated through split responsibility. The city is largely responsible for planning designs and rezoning applications, situations in which staff and councillors can push developers to include affordable and subsidized units in their plans. However, it is the Region of Peel's responsibility to construct and maintain subsidized housing units for those who are eligible. This split in responsibility and planning leaves an array of gaps for residents of Mississauga and neighbouring Brampton to fall through.
For those who do fall through, as The Pointer has previously reported, the region's temporary housing situation is arguably even worse with shelters in overflow since 2016, unable to offer accommodation for those who need it.
Mississauga homelessness is on the rise. A survey by the Region of Peel found 922 people experienced homelessness on just one night in the spring of 2018, while overall shelter visits have steadily increased. In 2016, the region's Community for Life report listed 13,298 shelter visits in a year, a number which rose to 15,741 in 2018. Now, Mississauga is considering new approaches to address these pressing issues.
For example, Parrish, ever the regional critic, suggests that some in Mississauga are "discussing options for establishing a local branch of Planning and Housing that could qualify for a share of provincial grants" to force a move towards holistic lower-tier responsibility for affordable housing.
The suggestions are in the early stages and light on detail, but would imply an attempt by Mississauga to force subsidized housing away from the Region of Peel. If successful, this could see the city take full control of construction, maintenance and planning under one roof.
Data from rentals.ca, who release regular reports on the state of the Canadian rental market, suggests urgent action is needed, with astronomical rental prices in Mississauga set to continue to increase in 2020. In November 2018, the average rental rate for all property types and sizes in Mississauga was $2,232 per month, a number which rose 10.2 percent to $2,405 by November 2019. Such an increase is significantly higher than the province's cap for landlords in 2019 of 1.8 percent, which has been raised to a further 2.2 percent in 2020.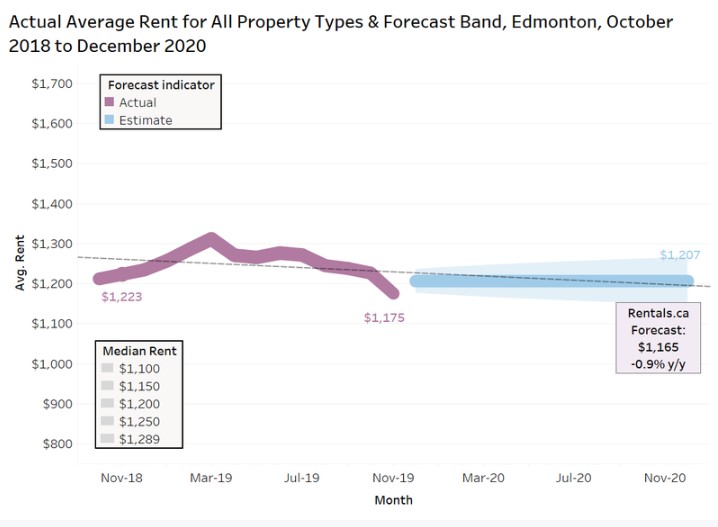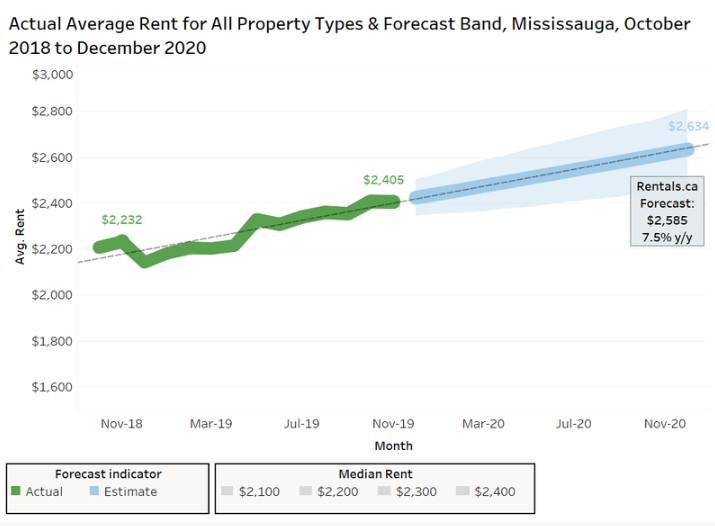 Looking ahead in 2020, the heated market shows no signs of letting up, with rentals.ca forecasting that average rent for all properties in Mississauga will sit at $2,585 per month, a further increase of 8 percent. In particular, the report suggests that "Mississauga will continue to move in parallel with the [...] City of Toronto with prospective renters fleeing Toronto for less expensive units or larger properties."
In Mississauga, significant develop is on the horizon as the city continues to grow, but it is not entirely clear how much of it will contain affordable options or how quickly it will come to fruition. "Thirty towers will break ground in the next five to 10 years in downtown," Mayor Bonnie Crombie told The Pointer in December. "They'll break ground, so they'll provide a lot of extra density with no height restrictions."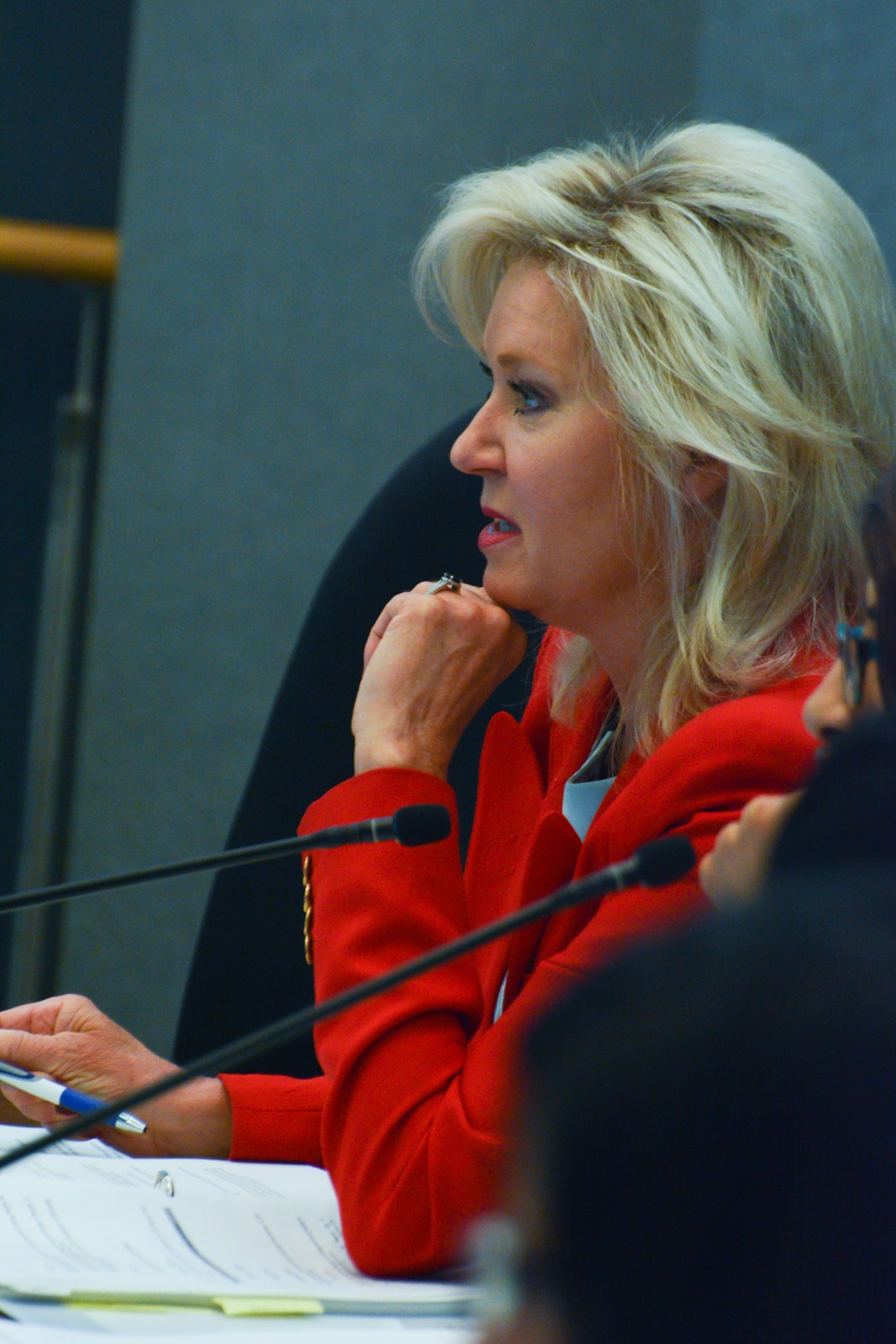 Mississauga Mayor Bonnie Crombie
However, one major frustration for Crombie is the rate of construction, with the Mayor saying 20,000 units are ready to build in the city with developers dragging their heels and choking supply. "For reasons only known to the landowners, these [20,000] building permits have not yet been applied for," Crombie said. "At the same time, we have another 35,000 units in our development pipeline, pending approval. We are doing our very best to approve supply, however, that is where our power ends as we do not actually build the units. We are ready for this growth and hopeful more supply will be brought to the market to service demand and increase affordability for everyone."
With high prices in Mississauga cloned across the GTA, the federal and provincial governments came up with a stop-gap at the end of 2019. Together, Ottawa and Queen's Park announced a joint-funded housing benefit of $1.4 billion for those struggling to find affordable housing.
"In Ontario, the Canada-Ontario Housing Benefit will prioritize households in need that are on, or eligible to be on, a social housing waiting list and households in financial need living in community housing," a news release read. "This includes survivors of domestic violence and human trafficking, persons experiencing or at risk of homelessness, Indigenous persons, seniors and people with disabilities."
The investment is designed to provide near-immediate relief to the thousands of individuals and families languishing for years on waitlists, although it does not address the systemic issue of supply at the route of the problem. Instead, the fund will provide financial support for those who need it to rent. In a press event announcing the scheme, Housing Minister Steve Clark said the Canada-Ontario Housing Benefit, which can be used to pay any landlord, will support 5,200 households across the province in its first year. On average, households are expected to receive $575 per month to help with rent, although the exact quantities will be negotiated on a per-municipality basis.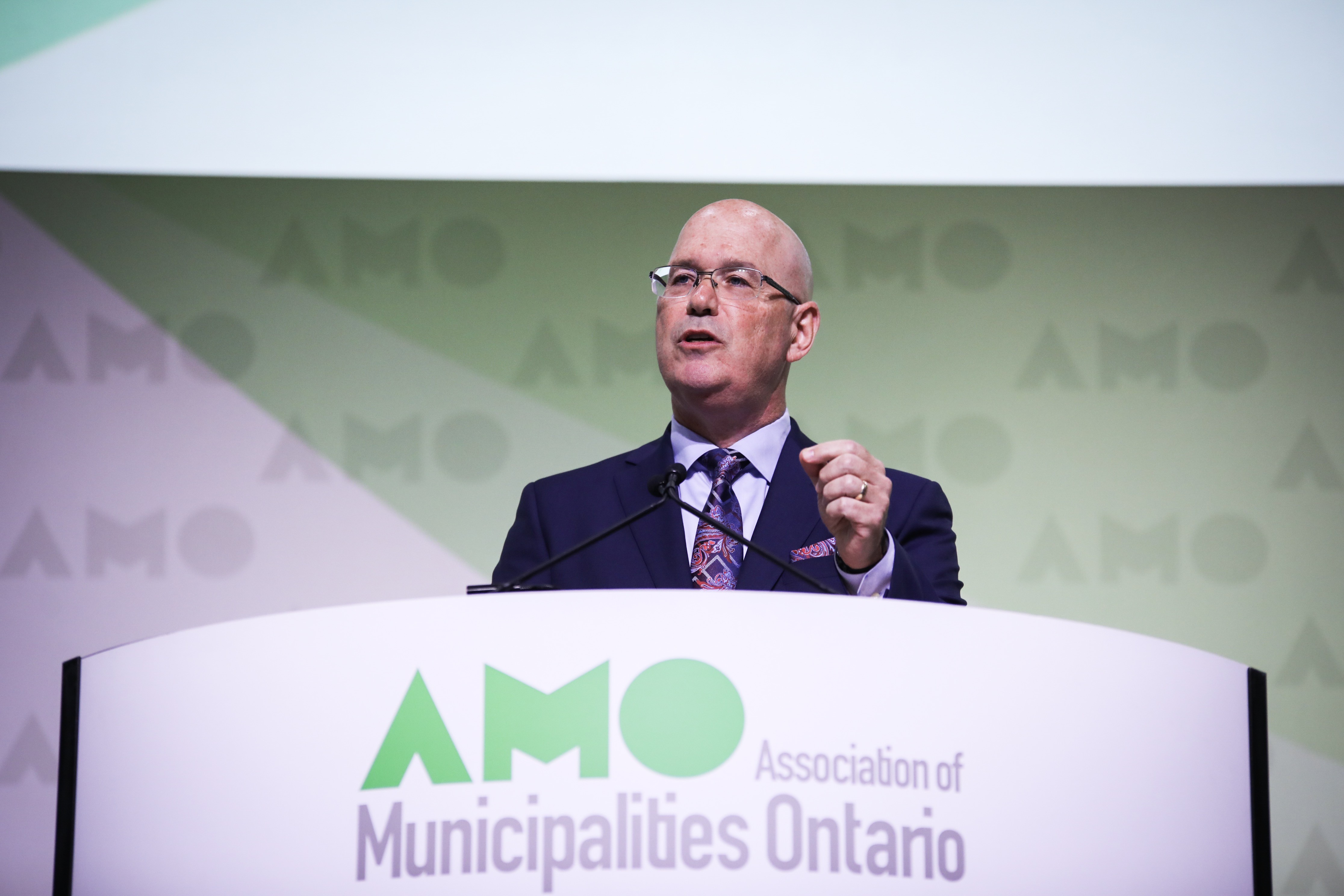 Minister of Municipal Affairs and Housing Steve Clark
Conrad Spezowka, a spokesperson for the Ministry of Municipal Affairs and Housing, told The Pointer that the province plans to invest "almost $40 million" in the Canada-Ontario Housing Benefit in 2020-21. He added that the number will increase every year until 2028-29.
Spezowka also said the housing benefit was "an alternative to rent-geared-to-income assistance," giving directly to renters and allowing them to put it towards community or private housing. The program is designed so that service managers can help those who are eligible to apply for the benefit.
However, when the benefit was announced, a specific figure for Toronto ($7.5 million in 2020-21) was provided. Spezowka explained this was because the city provided their provincial partners with the necessary data to calculate their share at the time of release, something the Region of Peel is yet to do. Although the spokesperson added that the ministry "will work with service managers" to make sure all regions and cities get the correct funding, some may be concerned that Toronto is already ahead of Peel on a program which has not even been rolled out.
In Peel Region the waitlist for subsidized housing is years long, with thousands presumably eligible for support from the government under the new scheme. As of June 2019, 14,997 households sat on the list waiting for social housing, up from 13,597 at the same time last year. That increase came despite the fact that 650 of those waiting in June 2018 were placed in housing, illustrating the extent of the problem.
With Minister Clark suggesting that just over 5,000 families would benefit from the historic $1.4 billion governmental partnership, it seems unlikely that the new funding will clear the waitlist in Peel. With similar waitlists in York Region and the City of Toronto, there is danger this funding will barely make a dent at all.
Although councillors at both the region and the city won't turn their noses up at the fresh provincial and federal funding, they know it won't solve the issue either. In both Mississauga and Brampton, illegal basement units abound, while all kinds of landlords are able to rent properties at almost whatever rate they choose. In particular, the province's rent increase cap does not apply to vacant properties, something which endangers the long-term stability of some tenants with eviction and replacement sometimes a more appealing option to cash-conscious landlords.
Through the 2010s, the waitlist for affordable housing grew and housing costs marched ever upwards in Mississauga. As the new decade gets underway, many living in the city will be hoping the 2020s are remembered as the time when Mississauga was able to get its housing crisis under control. However, with massive capital investment required to control the situation and Mississauga's prices directly impacted by those fleeing Toronto's price inferno, no easy solutions are on the table.
---
Email: [email protected]
Twitter: @isaaccallan
Tel: 647-561-4879
Submit a correction about this story