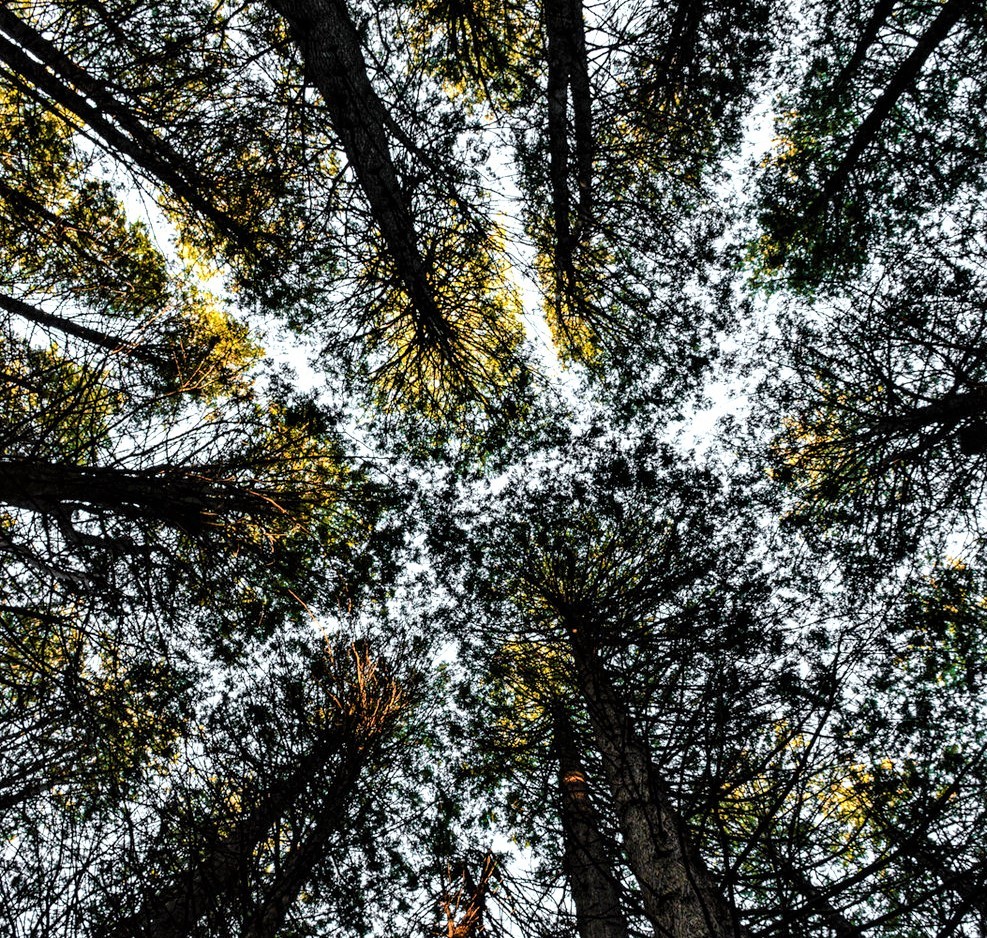 Photo: Joel Wittnebel-The Pointer
PC 'greenwashing' makes climate change worse
The topic of climate change has been fed through the same filter of North American social consciousness as COVID-19.
Until March of 2020, SARS-CoV-2 was not a concern for most Ontarians. It was a headline on the other side of the world.
But when it arrived at our airports, slipped into our long-term care homes and into our schools and businesses, eventually finding its way into our own homes, COVID-19 became real.
It was deadly. And it impacted every single soul on this planet.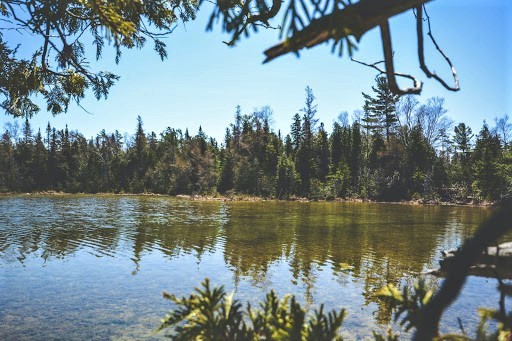 The pandemic has renewed the love for wild spaces among many Ontarians. These places are at considerable risk due to the PC government's priorities.
(Photos by Joel Wittnebel/The Pointer)
Climate change has been in the realm of the existential for years; the real human loss often hidden behind disaster headlines is explained away or ignored by those who either have something to gain or simply can't be bothered.
From reports published by the Intergovernmental Panel on Climate Change warning temperature increase of 1.5 degrees — viewed by climatologists as a tipping point — is coming sooner than initially anticipated, to the loss of countless species across the planet, stories of devastating floods and temperatures so hot it's too dangerous for people to leave their homes, have been met with a collective shrug by those fortunate enough to avoid such disasters.
As they occur more and more frequently, just like COVID's menacing spread, ignoring the reality of climate change becomes harder.
While COVID-19 slipped into our lives through contaminated air, the climate crisis has literally burned down the homes of many Canadians in recent weeks.
In British Columbia, 719 people died over the course of a single week at the end of June. The B.C. coroner's office said the heat wave blanketing the province was a "significant contributing factor" in the fatalities which were three-times higher than the normal rate for the period. It was so hot along the west coast, plastic siding on houses literally melted from the frame. The town of Lytton, B.C. recorded Canada's highest temperature ever, 49.6 degrees, on June 29. Two days later the entire town was evacuated when a wildfire burned in a rage, consuming the homes and livelihoods of the town's approximately 250 residents.
"The whole town is on fire," Mayor Jan Polderman said. "It took like a whole 15 minutes from the first sign of smoke to all of a sudden there being fire everywhere."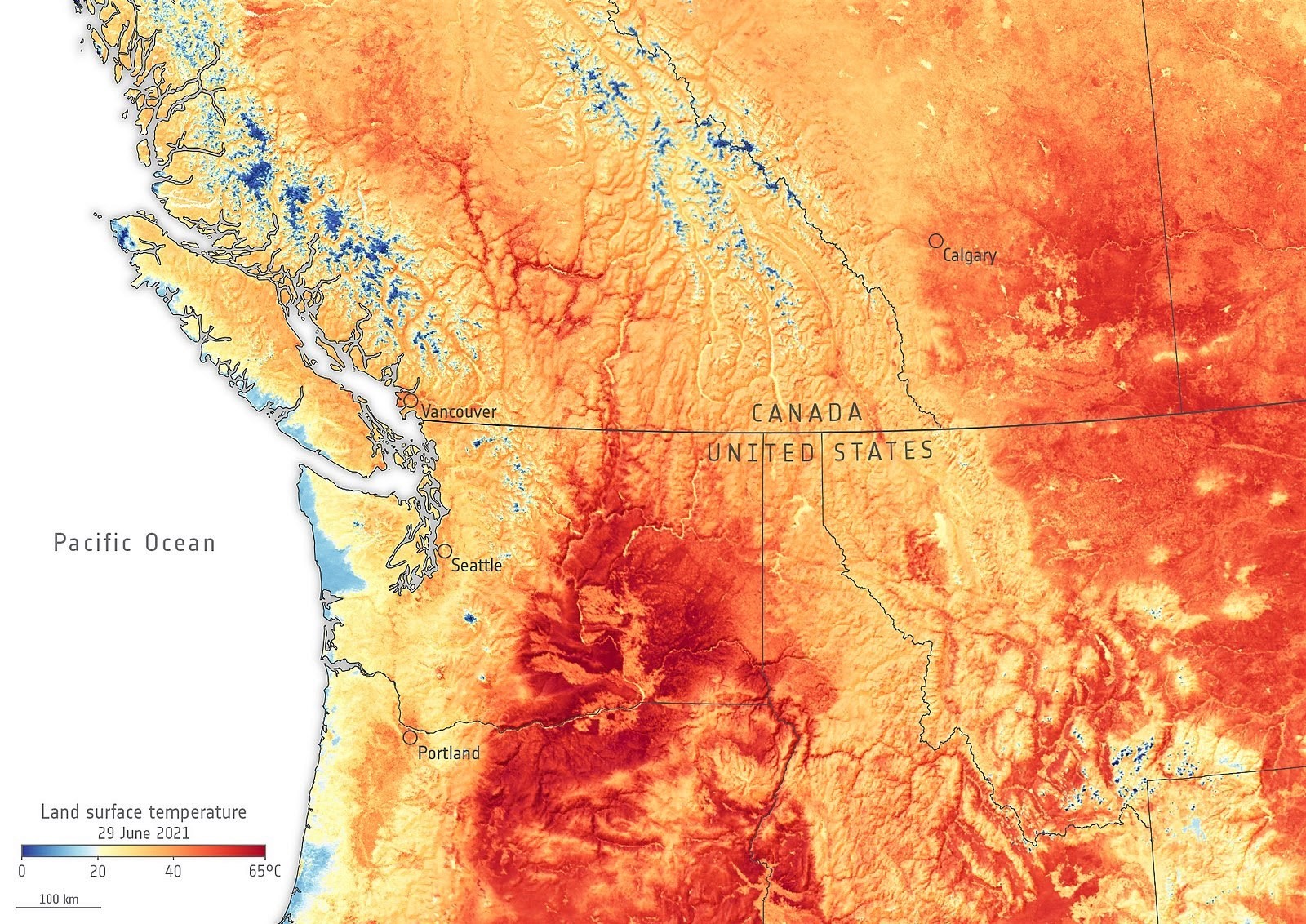 The heat wave that suffocated the west coast at the end of June saw temperatures reach the highest on record in Canada.
(Image from the European Space Agency/Wikimedia Commons)
In Ontario, over 100 wildfires are burning across much of the north-western portion of the province — 32 of them are out of control — triggering restrictions on industrial activities to limit the chance of human-caused fires.
The GTA has had plenty of reminders that all is not right with our planet: From a humidex pushing temperatures into the 40s across much of the big cities bordering Lake Ontario and a pearl-grey haze that settled over much of the province due to the forest fires, to a tornado touching down and wreaking mayhem on a blown apart Barrie subdivision.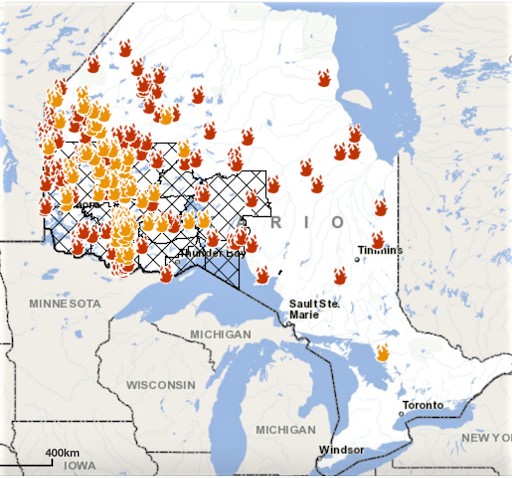 Ontario is currently fighting a number of active forest fires in the north-western parts of the province.
(Map from the Government of Ontario)
A litany of disasters has unfolded across the globe. Heavier than normal rainfall in Germany and Belgium earlier this month swelled rivers over their banks, flooding a number of towns and villages, turning their streets into raging rivers. Over 200 people died. It will take years and billions of euros to repair the damage.
Parts of China are experiencing the same, with heavy rainfall flooding Henan Province in central China this week. The New York Times published the story of a young mother and father who had to quickly flee their home after water burst through the front door, surging to well above waist level in mere minutes.
All of it has many people who usually don't care, suddenly paying attention to the reality of climate change.
It's no longer just a headline. The frightening scenes and unforgiving temperatures are happening right outside our door.
So, what is our provincial government doing about it?
Over the last month, the PC government under Premier Doug Ford has been trying to convince Ontarians that it cares about the environment. Numerous announcements over the last 30 days have signalled millions of taxpayer dollars will be used for wetland restoration, green infrastructure projects and Great Lakes protection programs. They have significant merit, but the reality is the benefits created by such efforts, for habitat restoration, water quality and climate change mitigation, are all completely wiped out by this government's actions in pursuit of its main agenda — growth at any cost.
Behind the scenes, efforts by the PCs to tear down legislation created to preserve the environment and ensure the province grows smarter, undercut its public-facing claims of helping local conservation authorities and municipalities restore wetlands or construct green infrastructure.
There is no doubt Ontario needs more green infrastructure and with 85 percent of the province's wetlands destroyed by urban development since the 1980s, restoring and preserving what is left is critical.
If the PCs continue to push forward with their agenda of paving major highways over environmentally sensitive lands for the benefit of the development lobby and its single-minded clients, while environmental legislation is skirted, millions of dollars spent preserving natural spaces and building green infrastructure is akin to renovating a house, then striking a match to burn it to the ground.
Environmentalists call this "green washing" – claiming to be driven by sustainability (to score points with those who care) while simultaneously doing irreversible harm to the planet. There are other words that fit: hypocrisy, deception, abdication of responsibility.
At a time when the world needs government leaders who are bold enough to make potentially unpopular decisions, choices that sometimes involve sacrifices to protect our fundamental way of life, the PC party serves a cadre of rich home developers who have already assembled land and are itching to cash in at any cost, even pushing our planet to the point of no return.
A perfect example of this hypocrisy is the PCs' attempt to spin a land protection announcement as a win for the Lake Simcoe watershed.
In June, the provincial government announced it would be protecting 360 hectares of the North Gwillimbury Forest from future development. Listening to Minister of Municipal Affairs and Housing, Steve Clark, and Minister of Transportation, Caroline Mulroney, extoll the PCs' commitment to protect these lands, one might think significant effort went into ensuring this majestic green space avoided the developer's bulldozers. It's not the case.
The land mentioned in the announcement was actually already protected from development after advocates, councillors and the local conservation authority, fought diligently and won a Local Planning Appeals Tribunal (LPAT) arbitration against a builder trying to erect 1,000 housing units on the site.
The truth is, the PCs did not add 360 hectares of "new" protected green space, they are actually planning to destroy over 400 hectares of valuable habitat and agricultural land with their plan to construct the Bradford Bypass through the Holland Marsh wetland complex.
Along with the loss of crucial spawning habitat for fish as the highway crosses 28 different waterways, it would destroy 22.1 hectares of "higher quality woodlands", 17.2 hectares of the Holland Marsh, 9.5 hectares of provincially significant wetlands, 32.7 hectares of wildlife habitat, 190.37 hectares of "higher capacity mineral soils"; and 154.3 hectares for active agricultural production.
The highway will also "severely impact" the quality and quantity of surface water and groundwater. That's close to 427 hectares of valuable land, or about 800 football fields, for another road, and even if the 360 hectares the Province touted as newly protected were in fact 'new', it would still be in the red.
Minister Mulroney said the Province is "taking the right steps" to protect the environment.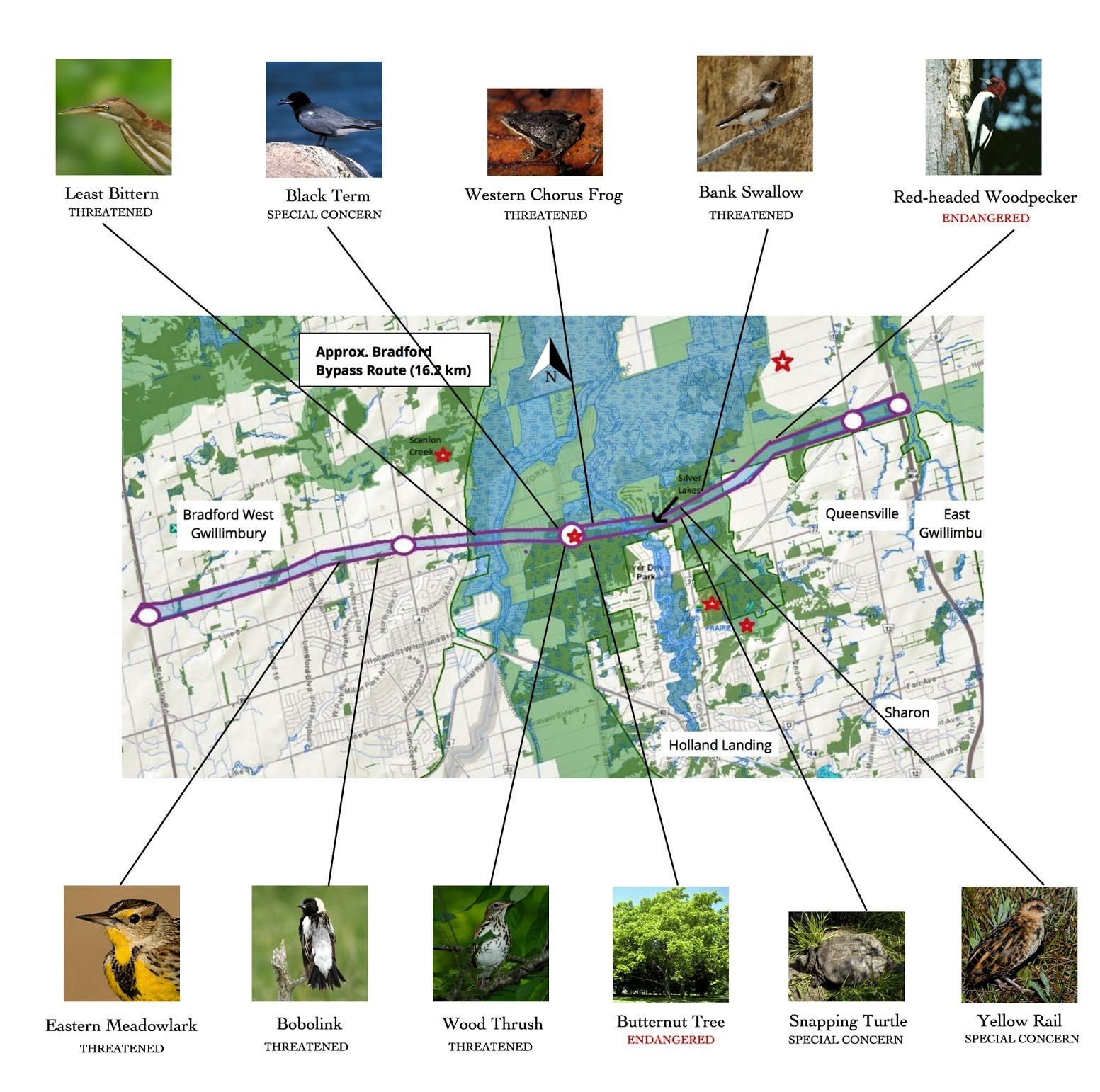 More than 11 species at risk will lose vital habitat if the Bradford Bypass is constructed.
(Graphic by The Pointer)
There is the widely shared and heavily reported hidden video footage, from the 2018 election campaign, of Premier Doug Ford promising a room full of developers that he would open the Greenbelt for development, if they helped him win the race. When the video became public and outrage ensued, Ford released a statement backtracking, claiming he would not touch the world's largest swath of protected green space. But actions speak louder than words, and his have shown our premier is determined to keep his promise to developers.
He knows their money will be needed to win another election next year.
Like the Bradford Bypass, the location of the proposed GTA West Corridor, or Highway 413, could not be worse for environmental degradation.
The 4-to-6-lane highway, planned to run approximately 59 kilometres connecting Halton and York regions running just north of the border between Brampton and Caledon, will destroy the habitat of a number of species at risk.
A previous investigation by The Pointer confirmed 29 species either listed as endangered, threatened or of special concern have been spotted along the highway's approved route in the last 6 months, 21 of them inside the areas where proposed interchanges would be built, transforming valuable habitat into a hub of automobile traffic and human activity. The list includes 6 species listed as endangered, 7 as threatened, and 8 species of concern. In many cases, the species are named on both provincial and federal government at-risk lists, meaning their habitat is usually protected under government legislation. However, due to continued weakening by the provincial government of the Endangered Species Act, these provisions carry little weight. After demands from the federal government to come up with mitigation measures to protect species at risk, it remains unclear how the PCs plan to do this.
The provincial government is also taking a number of other routes to undermine Ontario's environmental protection measures, along with its short-sighted desire to build more highways.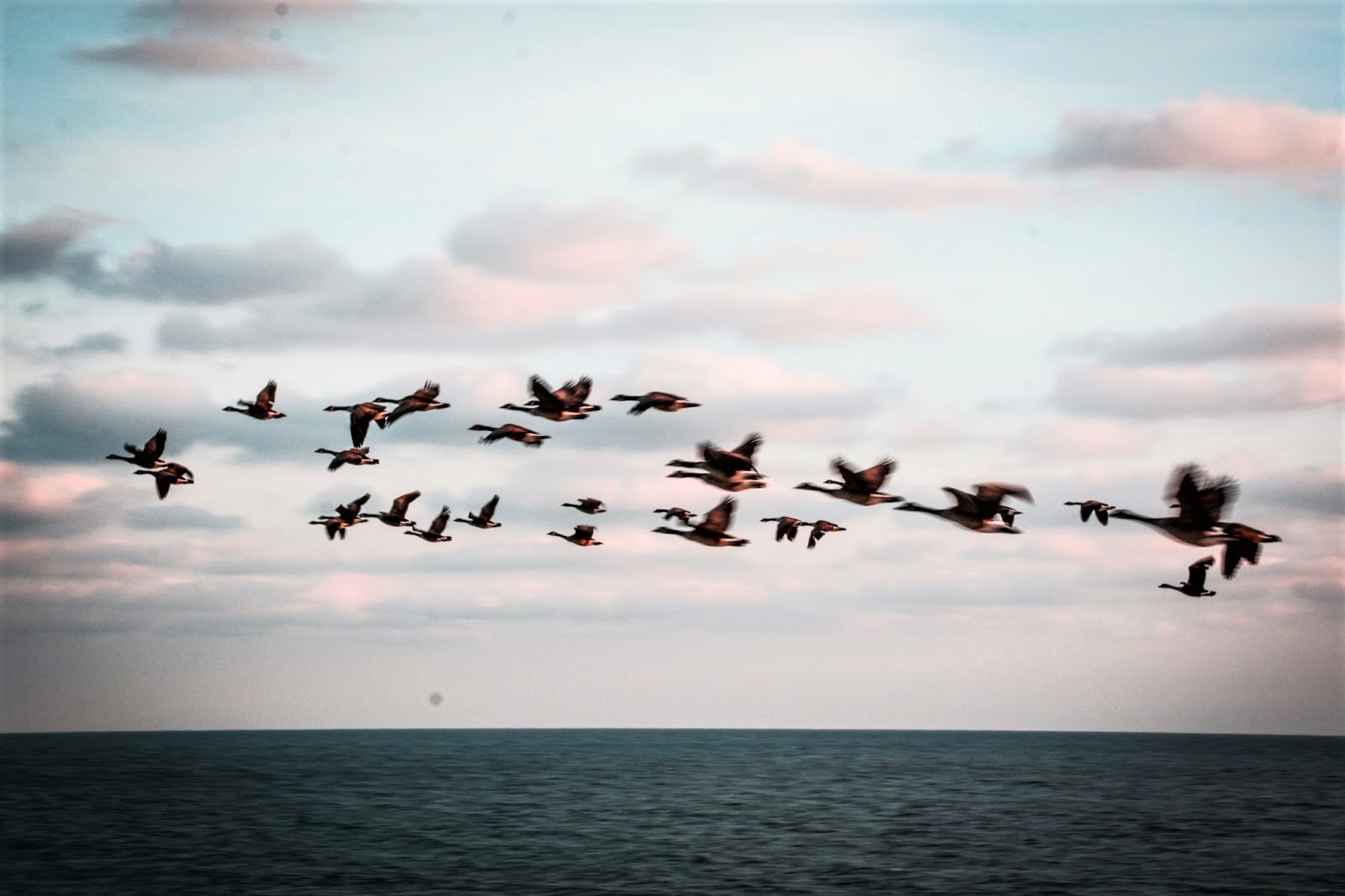 The current path of the PC government will see habitat for countless species across the province put at risk.
(Photo by Joel Wittnebel/The Pointer)
Early in his tenure, Premier Ford introduced Bill 66 and his idea for "open for business" bylaws. It would have handed municipalities the veto power to override provincial legislation, including environmental protections, to move forward with any developments deemed important to the local economy. After strong backlash from the public, the idea was scrapped. This first attempt to make life easier for the development industry may have failed, but Ford has continued to implement policy changes that result in the same outcomes as the "open for business" bylaw.
Schedule 6 of an omnibus budget Bill stripped power away from local conservation authorities tasked with maintaining, monitoring and protecting Ontario's network of watersheds, home to 14 million residents, while supporting the vast ecosystems that house the province's animal and plant life. To do this crucial work, conservation authorities have the power to review development applications proposed within their watershed and reject them if significant harm would result. These reviews are critical not only to ensure the protection of watersheds, but to make sure the proposed development is protected from risks such as flooding and erosion.
Now, if a developer wants to continue with a project in a risky area, despite the denial of the conservation authority, Schedule 6 allows an applicant to appeal directly to the Province, and with a newly created veto power, Queen's Park can now order the conservation authority to issue a permit, even if their scientists determine damage will be done to the local environment, or even if the development might be dangerous. All of this was hidden inside Bill 229, an omnibus budget bill that was marketed to the public as a plan for economic recovery from the COVID-19 pandemic.
"The gutting of Conservation Authorities shows that this Ontario government ignores the people. It's a government for land speculators and the worst sorts of developers," said Tim Gray, Executive Director of Environmental Defence, in a released statement at the time.
"This is an unbridled march toward environmental disaster," said Mitzie Hunter, Liberal MPP for Scarborough-Guildwood.
Ford's battle against the environment doesn't end there:
Bill 108 — approved in 2019 despite strong public backlash — reforms Ontario's land use planning and conservation regulations, under the rationale of making housing more affordable. The bill reverts land use disputes by the Local Planning Appeals Tribunal (LPAT) back to the process followed by the agency it replaced, the Ontario Municipal Board. The previous system was highly criticized for favouring developers and giving little weight to municipal decision-making power, two issues thought to have been eliminated with the previous Liberal government's introduction of the LPAT, which gave supremacy to municipal and regional official plans set by locally elected officials. Unlike the old OMB model, which could override a municipality's official plan, the Liberals introduced a model that effectively forced developers to follow established planning principles. Bill 108 again puts developers in the driver's seat, allowing them to successfully argue in disputes that their plans are what's best for a community's needs. Once again, the environment loses.
The PCs have consistently relied upon the heavy-handed Ministerial Zoning Order (MZO) which allows the Provincial government to approve development applications regardless of what the local municipality thinks. A number of these applications have allowed development on environmentally sensitive lands.

The PC government, a month after taking office in 2018, eliminated Ontario's cap-and-trade program designed to limit carbon emissions, and then spent millions of taxpayer dollars fighting the federally imposed carbon tax in court where it would eventually lose its case.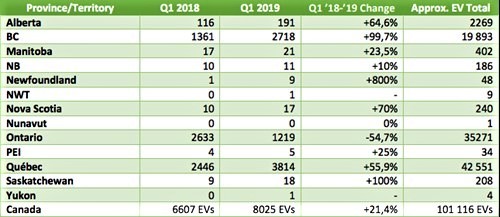 Ford, a month after taking office in 2018, eliminated the subsidy for electric vehicles that provided Ontarians with up to $14,000 when they purchased their new electric car. Before Ford's cancellation, electric vehicle sales had risen 120 percent since 2016. His move wiped out sales of EVs and many manufacturers do not even sell such vehicles in Ontario any more, after the numbers fell by more than 50 percent, due to Ford's elimination of the incredibly popular subsidy.

The PC government has largely ignored its own Made in Ontario Environment Plan designed to reduce greenhouse gas emissions. An analysis by Environmental Defence found that greenhouse gas emissions have actually increased under Ford after decreasing every year since 2011.

Under Premier Doug Ford, Ontario's greenhouse gas emissions have increased for the first time since 2011.
(Government of Canada)
Every environmental announcement, whether it's the $1.9 million for Great Lakes protection programs announced last week, or $29 million in provincial and federal dollars for green infrastructure announced the week before, or the $30 million over 5 years for wetland restoration announced in June, is rendered completely moot by the decisions listed above.
The PCs often point to the deficit left behind by the former Liberal government, but if the government was serious about protecting the environment and tackling climate change, it has the power to do so. But while the world burns, these powers are ignored and often subverted by policies that do the opposite.
There could be a glimmer of hope.
On July 21 Minister of the Environment and Climate Change David Piccini announced the formation of a Youth Environment Council to provide young Ontarians (in Grades 9-12) a chance to advise the government on "environmental challenges of today and tomorrow."
Young Ontarians and youth across the globe have grown up with climate change hanging over them like a roof that's falling apart. They didn't neglect to repair it (that was the generation before them) but they're the ones standing directly beneath.
It's clear the long-serving politicians, including Ford and many who sit around municipal council tables across the country, are completely incapable of grasping the seriousness of the climate crisis. In Peel, all three municipalities declared climate emergencies, a common gesture by many politicians, but have taken little action to help save the planet.
Instead, they cater to powerful developers and aging voters who don't want their tax dollars going toward transit and denser housing: That would lower their property values. While these people were raised in the 'me generation' and equate everything with their own immediate needs, their grandchildren understand there's little good in protecting so-called property values, when the entire planet is about to collapse.
"These younger people are starting to realize what they're losing," says Bob Bowles, an award-winning naturalist who teaches the Master Naturalist Program at Lakehead University in Orillia. "They don't want that and they are going to be the politicians of tomorrow. I see a light at the end of the tunnel for when they get there, but what are we going to lose or what are we going to leave for them?"
---
Email: [email protected]
Twitter: @JoeljWittnebel
---
COVID-19 is impacting all Canadians. At a time when vital public information is needed by everyone, The Pointer has taken down our paywall on all stories relating to the pandemic and those of public interest to ensure every resident of Brampton and Mississauga has access to the facts. For those who are able, we encourage you to consider a subscription. This will help us report on important public interest issues the community needs to know about now more than ever. You can register for a 30-day free trial HERE. Thereafter, The Pointer will charge $10 a month and you can cancel any time right on the website. Thank you.
Submit a correction about this story