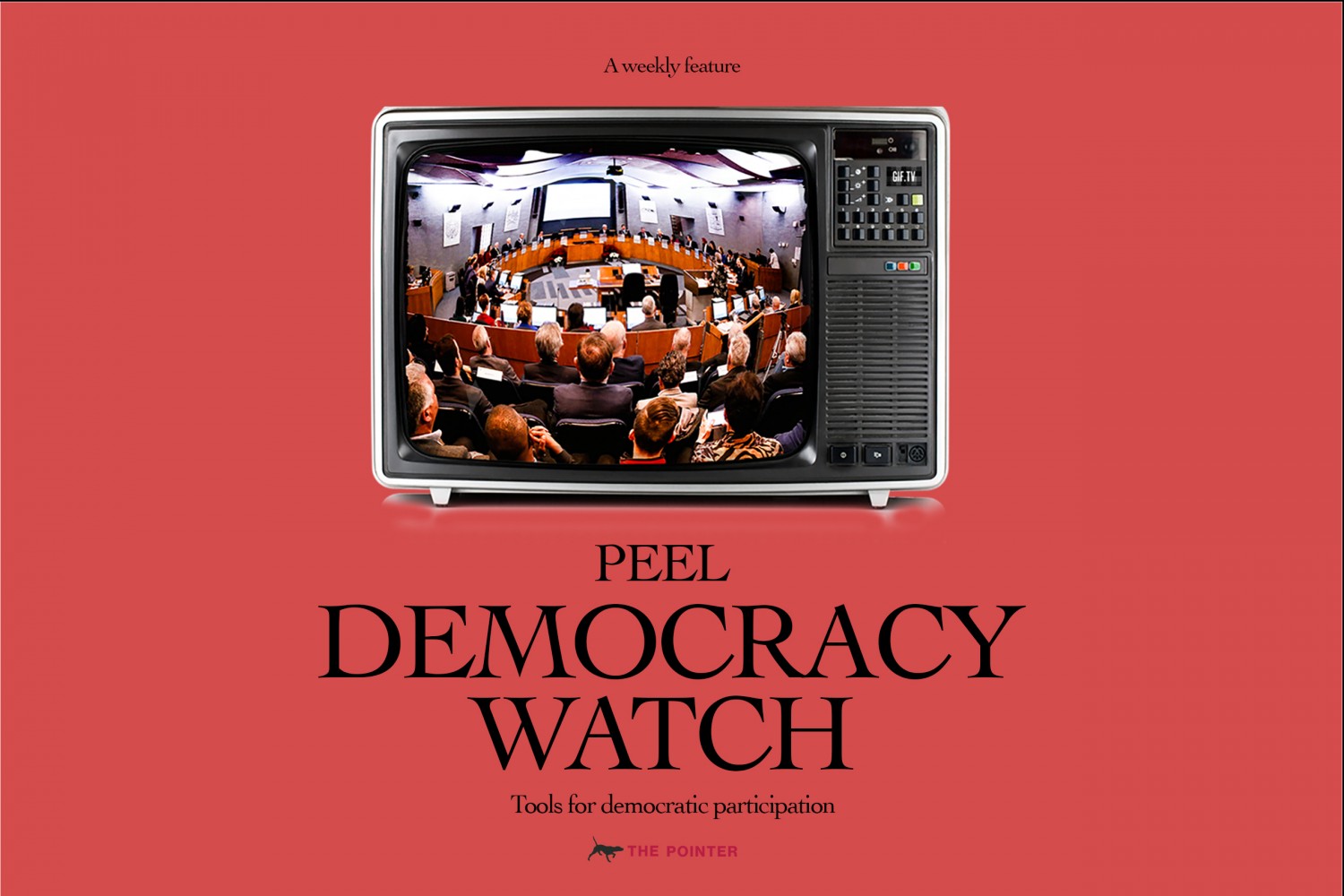 Feature illustration from Joel Wittnebel/The Pointer
Desperate for funds, Brampton debates new tax levy for Peel Memorial expansion; PDSB releases education gap reports as part of Ministry directives 
Peel Democracy Watch is The Pointer's weekly feature aimed at increasing the public's awareness and political involvement in the Region of Peel by highlighting key agenda items, motions and decisions.
---
Council Meeting
Date: March 29 | Time: 6 p.m. | Delegate | Full agenda | Watch live
Motion to reconsider Rehabilitation Master Plan (RMP) for aggregate aperations in Caledon
A motion from Councillor Jennifer Innis urges town council to reconsider the Rehabilitation Master Plan (RMP), a document meant to guide the clean-up and mitigation of aggregate sites. Caledon council voted down the plan in November 2021. A previously proposed RMP contained several value-added land uses that did not take into consideration all existing Provincial and Regional policies which the Region of Peel did not support. The staff report states the current RMP adheres to current policy.
You can read the staff report here.
Previous reporting:
Golf Canada seeks Caledon's endorsement for regional funding
In a pitch to make Caledon a major Canadian golf tourism destination, Golf Canada is seeking Town council's support in a request to the Region of Peel for a $2.5 million regional contribution for its $7.5 million phase two community benefit project. Golf Canada is looking for similar contributions from the provincial and the federal government. The proposed Home of Golf at TPC Toronto would bring golf entities, tournaments, a free expanded national museum, a sponsor-led youth development program and jobs to Caledon.
The presentation can be viewed here.
Previous reporting:

Age-Friendly Brampton Advisory Committee
Date: March 29 | Time: 7 p.m | Delegate | Full agenda | Watch live
Designing spaces for seniors to reduce social isolation
Under the federal New Horizons for Seniors program, Brampton is looking to develop a public engagement strategy along with 880 cities to help inform the creation of additional accessible spaces, under its Laneway Activation Pilot Program which aims to redesign public laneways to improve their value to the community. The City plans to consult seniors to review design and feedback online and in person.
City Council
Date: March 30 | Time: 9:30 a.m | Delegate | Full agenda | Watch live
City opening floor for delegations regarding establishment of deputy mayors
On March 2, Brampton appointed councillors Martin Medeiros and Pat Fortini as deputy mayors, able to preside over various committee meetings and attend public events in the absence of Mayor Patrick Brown.
The proposed amendment to the by-law will finalize Council's decision to appoint the two deputy mayors, one for the east and the other for the west part of the city. The City is requesting residents interested in delegating to get in touch with the city clerk's office by 4:30 p.m. March 29.
More information can be read here.
Previous reporting:
Brampton to consider City-run fireworks on Diwali and Victoria Day
Staff is proposing a government-led display of pyrotechnics for Diwali, one of the biggest South Asian festivals, and Victoria Day as a safer alternative to celebrate holidays and to possibly reduce the amount of complaints and fireworks-related fire incidents. A one-year pilot, open to corporate sponsorship, would cost the city $350,000 in 2023.
A presentation by the Canadian National Fireworks Association will precede the staff report that suggests an education program that will require an additional $18,000 in funding, over and above the $47,000 for fireworks education in the 2022 Operating Budget. Residents say community education may not be useful to curb fireworks and ask for additional by-law officers for Diwali night.
The staff report can be read here.
Not-for-profit seeks land in Brampton for affordable housing
Home Opportunities, a non-profit organization, is proposing an affordable homeownership model that could help families earning as low as $35,000 annually find housing in Brampton, using innovative financing involving Canada Mortgage and Housing Corporation's (CMHC) shared equity loan.
The non-profit is requesting council help identify potential land for sale at fair market value.
Previous reporting:
Staff propose a Downtown Advisory Group
City staff is recommending the creation of an advisory body to help inform them on matters related to downtown Brampton. The advisory group would comprise business owners, landlords, innovation district partners, the Brampton Board of Trade, Downtown BIA, post-secondary institutions, downtown residents, members from the arts and culture community and non-profit community organizations.
The staff report can be found here.
Previous reporting:
Council to discuss incentives for non-profit affordable housing and long-term care projects in Brampton
In March 2021, Brampton approved a resolution leasing five acres of land to the Golden Age Village of the Elderly (GAVE), for a 160-bed long term care (LTC) facility and a 140-unit affordable seniors housing project, which cater specifically to the Vietnamese-Canadian community. The same motion committed to helping similar projects in the future. However, the level of commitment to future projects has remained uncertain. A piece of land was promised to Indus Community Services toward the first ever LTC home for South Asian communities, but was later withdrawn. Following direction from council, staff is now proposing a protocol to help them evaluate future requests for assistance with such projects.
A list of support requests for all affordable housing and LTC Projects in Brampton can be found here.
Previous reporting:
Brampton to consider funding options to raise money for its share of Peel Memorial expansion
City council will consider options to raise the municipal share of the funding toward Peel Memorial Phase 2 expansion. Brampton has committed $62,450,000 out of the $125 million ask and will now deliberate options to secure the rest. City staff have proposed two options, a new six-year hospital levy that would amount to a 1.76 percent property tax increase annually, equivalent to a $93.63 increase to the average household tax bill or a 1 percent levy with plans to issue a further $24 million in external debt in 2027.
The staff report can be found here.
Previous reporting:
Closed Session:
Council members will discuss a number of matters behind closed doors, including "personal matters about an identifiable individual"; "a proposed or pending acquisition or disposition of land by the municipality"; "the security of the property of the municipality or local board; and, litigation or potential litigation, including matters before administrative tribunals, affecting the municipality"; and "advice that is subject to solicitor-client privilege, including communications necessary for that purpose,".
Council Meeting
Date: March 30 | Time: 9:30 a.m | Delegate | Full agenda | Watch live
Mississauga to close roads near schools under 'School Streets' pilot project
Mississauga received funding to pilot a "School Streets" program in 2021. Currently, 30 percent of students in the city arrive at school by car, a number that is expected to increase as the population of residents under the age of 19 is projected to increase by 14 percent between 2016 and 2041. The plan hopes to promote active school travel by reducing car dependency, improve street safety during school drop-off and pick-up and create more accessible public space for active transportation and play. Pilot programs will be held in the month of May at Hillside Public School, St. Alfred Separate School and Brian W. Fleming Public School.
The presentation by the Active Transportation Coordinator Laura Zelgen can be found here and residents interested in learning more can join the online community meetings here.

Mississauga attempting to curb population of invasive moth with aerial spraying
Last year, invasive Lymantria dispar dispar (LDD) moths infested southern Ontario and the province is expecting an even larger LDD outbreak this spring. These moths can cause excessive damage to the urban tree canopy, destroying leaves and increasing a trees susceptibility to diseases and extreme weather. Monitoring of LDD moth eggs shows that Mississauga may see severe defoliation in approximately 3,322 hectares in the city if action is not taken. Under its Integrated Pest Management (IPM) program, the City will spray pesticides using helicopters. Similar aerial sprays are anticipated in Toronto, Hamilton and Oakville.
A presentation by the staff can be viewed here and a detailed report can be found here.
Previous reporting:
Mississauga Matters
During recent provincial and federal elections, the City has engaged in its "Mississauga Matters" campaigns to highlight priority issues for the municipality and the public, to candidates. The City is preparing to launch a similar campaign ahead of the June 2 election that could cost up to $40,000.
A summary of key issues and the City's engagement strategy for the upcoming election can be found here and the detailed staff report can be read here.
Development charges grants for non-profits
City staff are recommending the waiving development charges(DCs) for non-profit organizations that are looking to create long-term care homes, hospices, shelters and transitional housing within the city. If approved, 100 percent of the DCs for eligible non-profits will be waived off and could see a $9.9 million grant to Trillium Health Partners for its 632 long-term care beds at 2180 Speakman Drive. Staff also recommends asking the provincial government to make legislative changes to provide non-profits with statutory development charge exemptions.
Staff report can be read here.
Mississauga to consider development charge grants for eligible affordable housing projects
To support affordable housing in Mississauga, city council will consider setting up a grant equal to the development charges (DCs) for developers. Staff is requesting council support grants for a 500 unit affordable rental housing pilot project and to examine opportunities with the Region of Peel to create more housing supply.
Staff report can be found here.
Previous reporting:
Board Meeting
Date: March 30 | Time: 6:30 p.m. | Delegate | Full agenda | Watch live
Report on gaps in PDSB Special Education program published following Ministry of Education directive
As a result of numerous directives that came out of a provincial government review of PDSB, a report has been published detailing the work required for the school board to make learning easier and more equitable for students with learning disabilities and special needs.
"This report affirms the need for continued system change and transformation to ensure that students with Special Education Needs, particularly Black, Indigenous, and other students who have been marginalized and underserved because of systemic inequities have access to the high-quality education and experience they are entitled to under Human Rights and the Education Act," the document reads.
Find the staff report here.

Previous reporting:
PDSB to rename Sir John A MacDonald Public School
As part of its Equity Audit the Peel District School Board (PDSB) is to review all policies and procedures to ensure they are developed and implemented using anti-racist, anti-oppressive and anti-colonial principles. PDSB is considering renaming Sir John A MacDonald Public School to Nibi Emosaawdang Public School, after Josephine Mandamin, an Anishinaabe First Nations grandmother, elder and a residential school survivor. She was the founding member of the water protectors and walked about 25,000 miles around the shorelines of all the Great Lakes, and other waterways of North America, carrying a bucket of water, to bring awareness to the need to protect the waters from pollution. The board will also look at renaming, mascots, libraries, and classrooms and evaluate books, media, and other resources currently being used in schools for teaching and learning English, History and Social Sciences to ensure that they are inclusive and culturally responsive.
Schools named after John A Macdonald in Pickering and Waterloo have already been renamed.
Find the staff report here.
Previous Reporting:
Equity for Punjabi and Sikh students
Over 20 percent of Peel's school population is comprised by Punjabi-Canadian and Sikh students. Punjabi and Sikh community members have expressed ongoing concerns regarding student experiences in Peel schools. A staff report recommends creating a comprehensive action plan to support these students including programming to raise awareness about the impacts of alcohol and drug use; education to combat oppressive patriarchal mindsets; resources regarding sexual identity and affirming 2SLGBTQ+ identities; increased cultural awareness training amongst all staff, including school and system leaders learning about the issues being faced by Punjabi and Sikh students; increased representation of Punjabi guidance counsellors, and teachings about criminal justice issues that could impact them, such as human trafficking.
Find the staff report here.


Executive Committee
Date: April 1 | Time: 9:30 a.m | Delegate | Full agenda | Watch live
TRCA reviewing Metrolinx's land needs for provincial rapid transit projects
Metrolinx is managing numerous, large-scale transit projects across Ontario—a number of them in Peel, including the Lakeshore East Line's GO Expansion, the Hurontario LRT, Dundas Bus Rapid Transit and Eglinton Crosstown West Subway Extension Project. Part of implementing these provincial rapid transit projects will require the TRCA to review potential environmental impacts. A staff report details the work required moving forward.
You can read more here.
Previous reporting:
---
Email: [email protected]
Twitter: Anukul_AT
---
COVID-19 is impacting all Canadians. At a time when vital public information is needed by everyone, The Pointer has taken down our paywall on all stories relating to the pandemic and those of public interest to ensure every resident of Brampton and Mississauga has access to the facts. For those who are able, we encourage you to consider a subscription. This will help us report on important public interest issues the community needs to know about now more than ever. You can register for a 30-day free trial HERE. Thereafter, The Pointer will charge $10 a month and you can cancel any time right on the website. Thank you
Submit a correction about this story