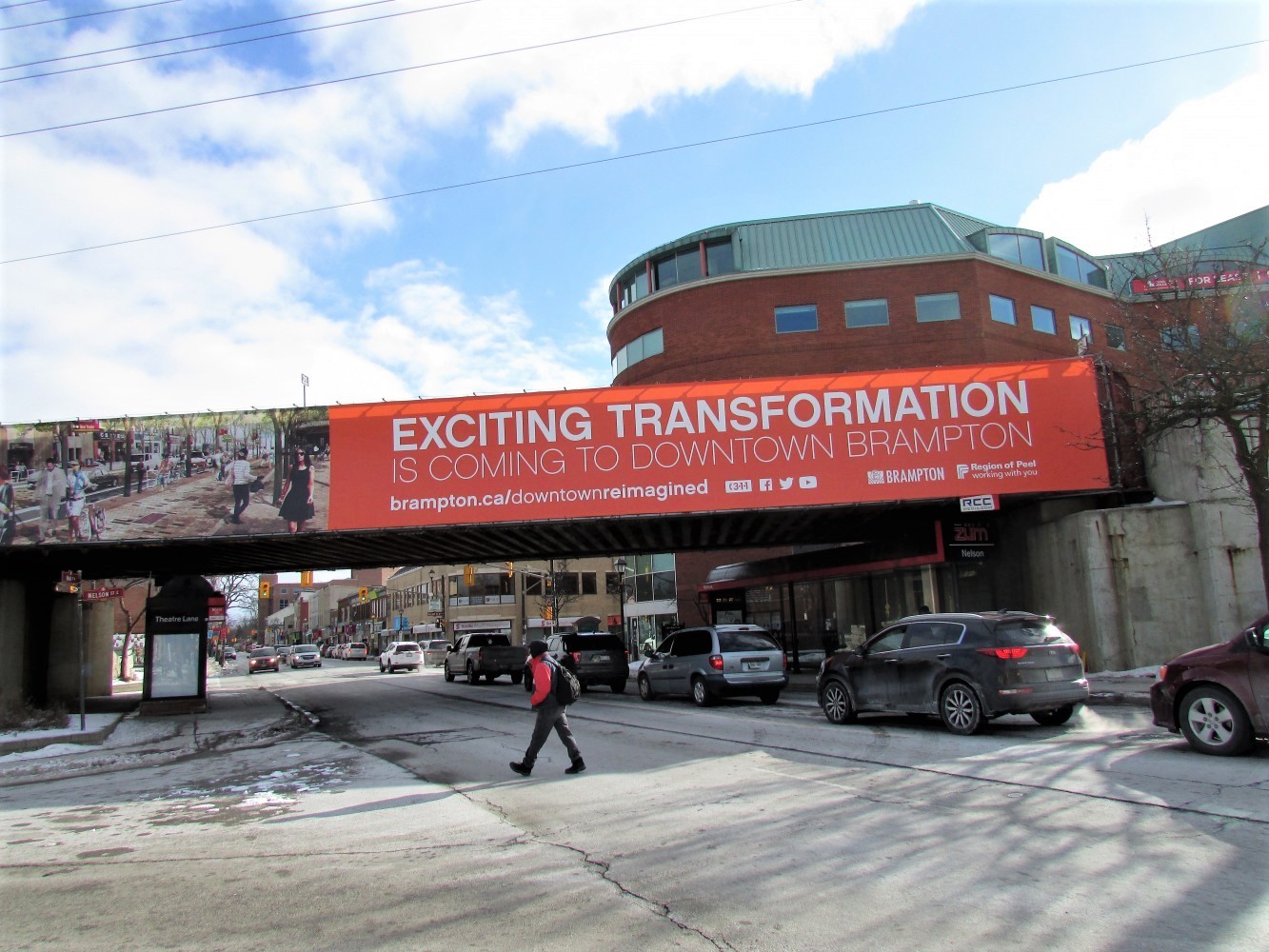 Natasha O'Neill & Google Maps/The Pointer file photos/Renderings City of Brampton
Movement on downtown Brampton Reimagined project 'like rolling Jell-O uphill'
Vera Krasavac paints a beautiful picture of a vibrant and breathtaking downtown Brampton, with greenery, flowers, softly lit sidewalks and pedestrians everywhere.
When the owner of the Queen Gypsy restaurant moved to the downtown core eight years ago, this is what she believed the Downtown Reimagined project would look like.
Now, after years of stalled plans, a recent failure in leadership and feeling like she's on "another planet", she is "seriously considering" moving her business.
"When you have a business coach, they're saying to you if you make a mistake once then it's okay, but if you do it twice, then it's stupidity. So it would be my stupidity to even imagine any future here," said Krasavac.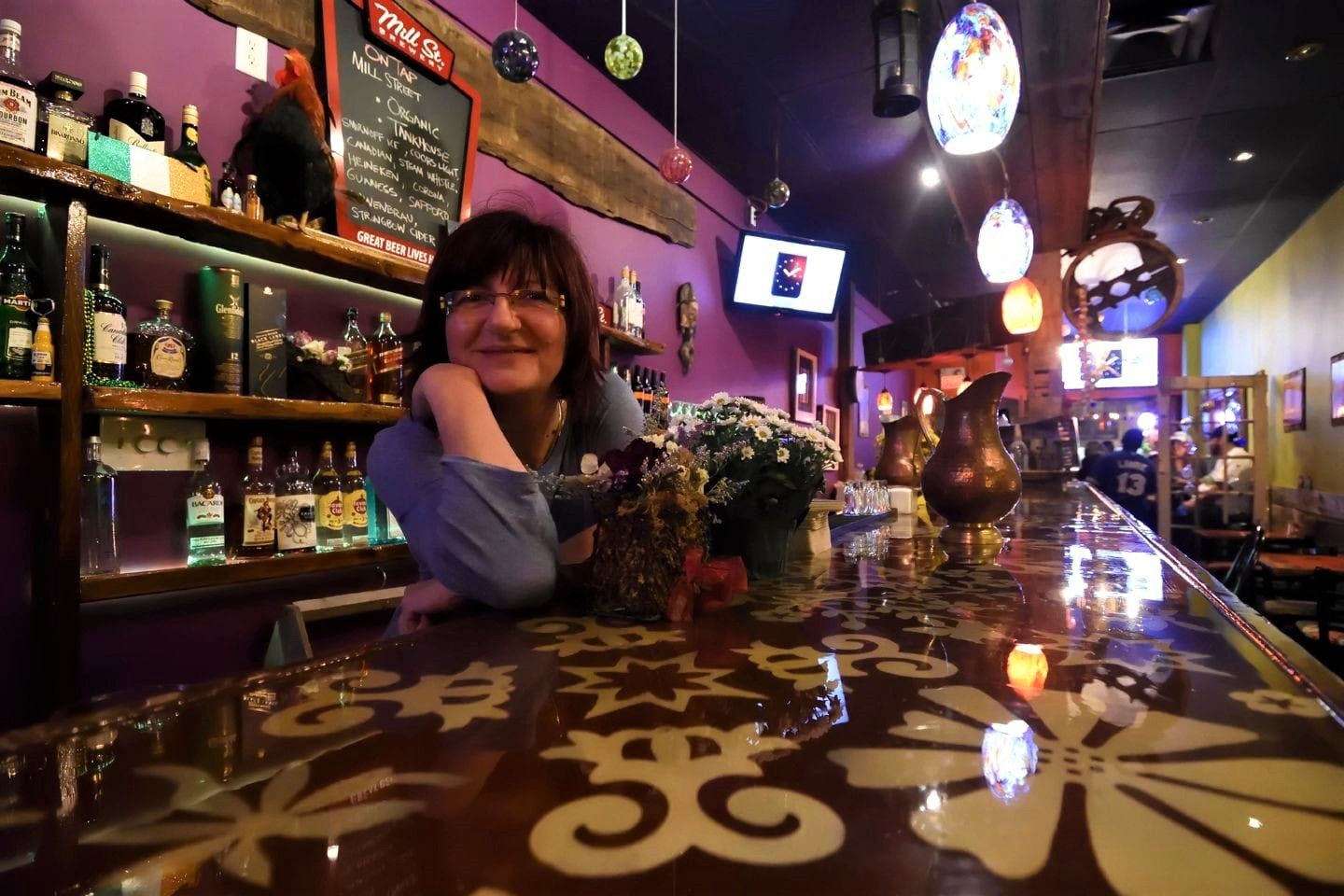 Vera Krasavac, owner of Brampton's Queen Gypsy restaurant, says she might move after the lastest council dithering on a downtown revitalization plan.
Downtown businesses, like Krasavac's, have been asking for improvements to Brampton's withering Four Corners area for decades, as the crumbling infrastructure is long past its lifecycle.
It seems every excuse has been used to avoid doing what needs to be done. Their request is straightforward: improve the roads, sidewalks, and sub-surface infrastructure while beautifying the aging streetscape. Create a vibrant, pedestrian friendly area in the heart of the city where residents can gather and celebrate.
Downtown Business Improvement Area (BIA) member and secretary Rick Evans has been trying to get the ball moving for years, but he said "it's like rolling Jell-O uphill."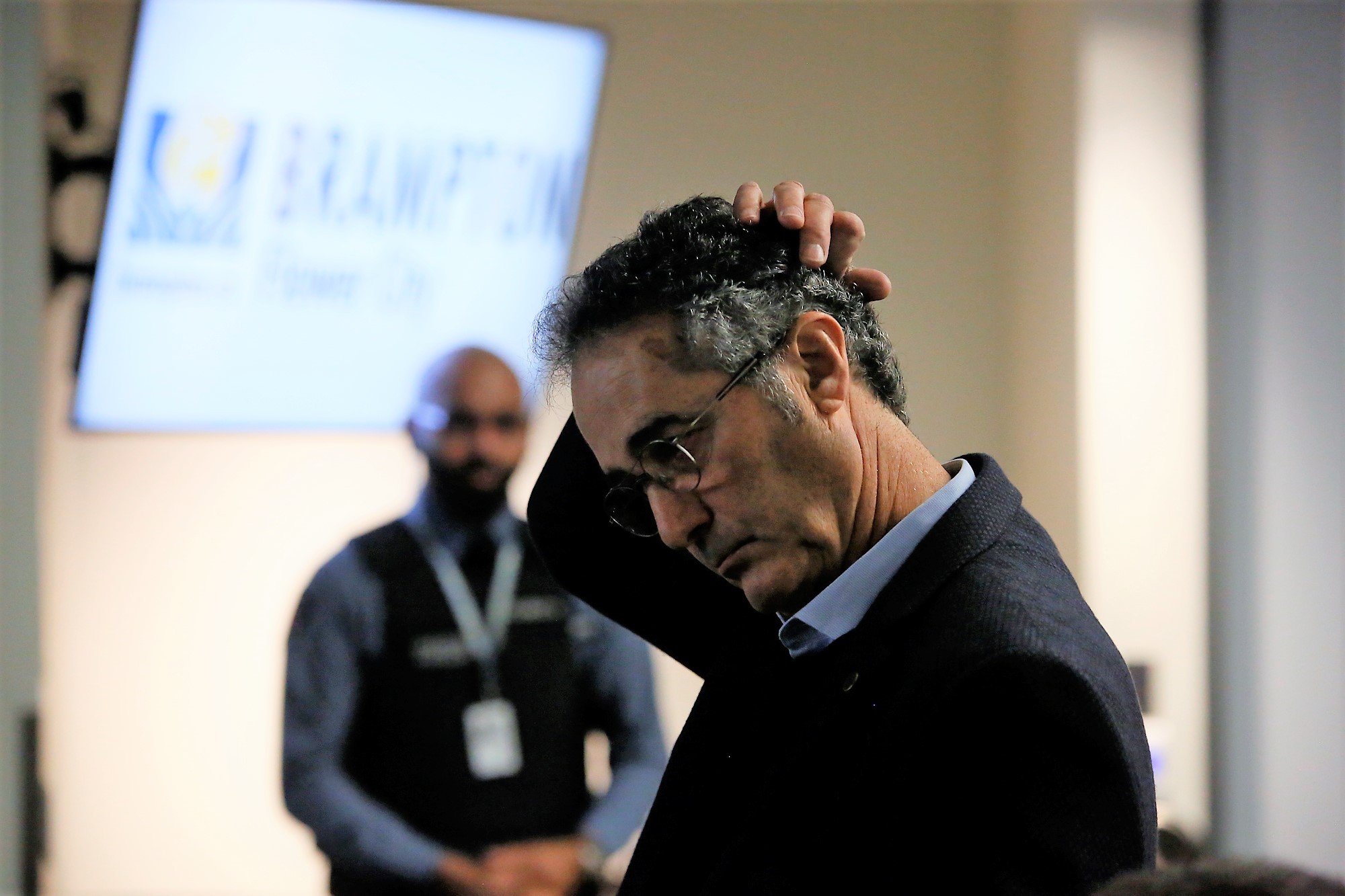 Downtown businessman Rick Evans is frustrated with council's continued failures
Evans presented a passionate speech to council Wednesday in hopes of getting a motion on the table passed. Written in conjunction with the BIA, the motion presented was to coordinate replacement of water mains by the Region and start the first phase of Downtown Reimagined, a sweeping redevelopment plan approved by the previous council before Mayor Patrick Brown pulled the plug immediately after he was elected in 2018.
He campaigned on the promise of freezing taxes and the high price tag of the project, which could easily end up costing the City $50 million, stood in the way, so Brown made sure the plan would not ruin his politically popular election pledge.
He claimed more engineering work needed to be done before Downtown Reimagined could move forward, but it's unclear what he or senior staff have done in two-and-a-half-years. Most of the senior City employees who worked with the Region of Peel on the plan no longer work for the City.
The Region, which has been the lead on the project since it was initiated in partnership with Brampton in 2011, moved forward with its plans and substantial subsurface work on water and sewer mains is set to start downtown in July.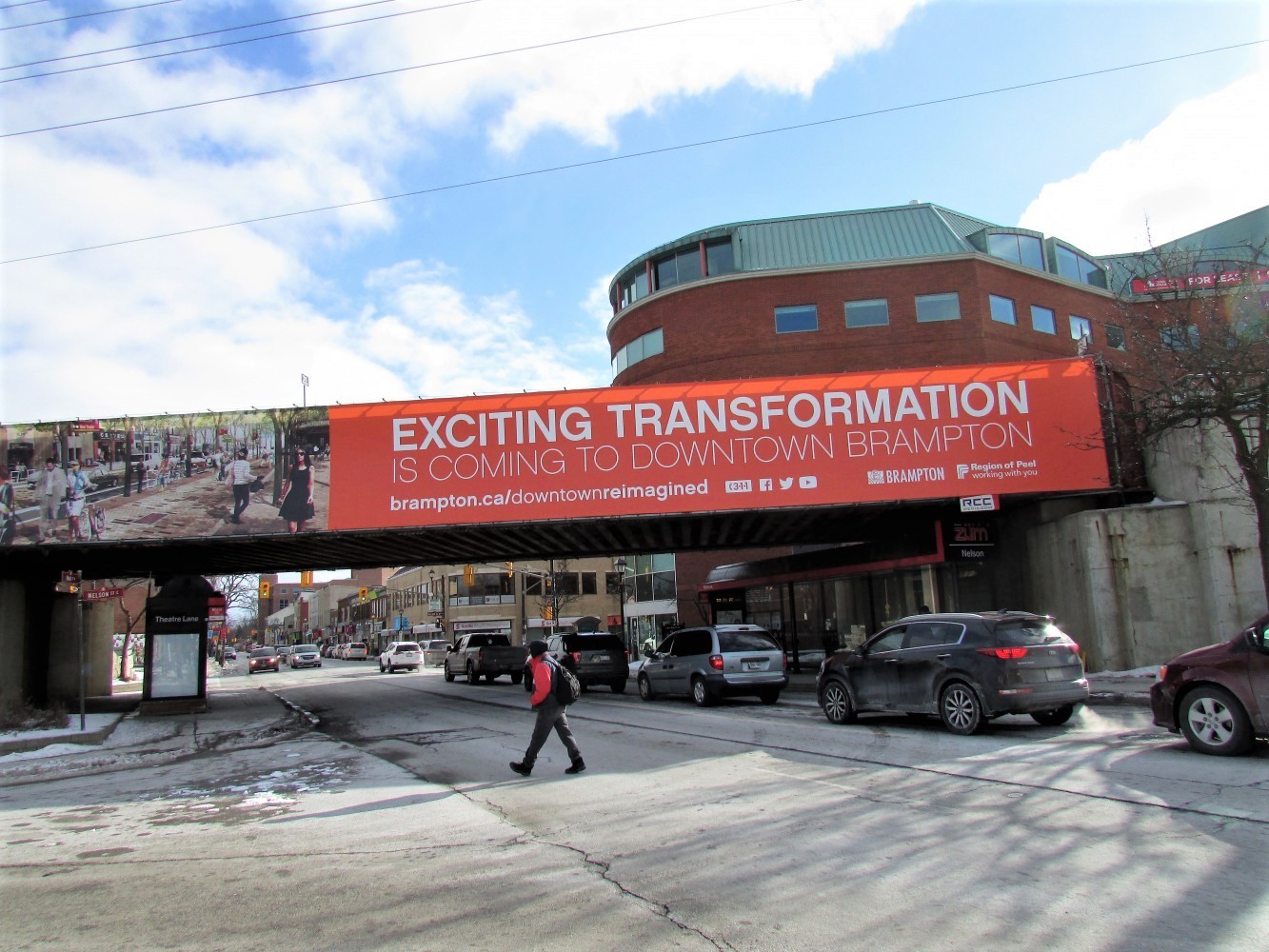 Giant murals were put up downtown in 2018 announcing the revitalization plan, before Mayor Patrick Brown cancelled it as soon as he was elected.
The Region has made clear that the work is critical as the infrastructure is long past its lifecycle and there are legal risks involved.
Brown, who sits on Regional Council, was aware of this, as reports were presented to elected officials more than a year ago.
In an unexpected move, on Friday Brown added a motion to the agenda for yesterday's Brampton Committee of Council meeting calling for the Region to postpone its work.
Then, another motion was added at the last minute calling for the Region's work to proceed but demanding a Main Street LRT alignment be accommodated.
It was the latest illustration of the chaos under Brown's leadership, as the mayor has been more preoccupied with his own political aspirations than the business of the city he's supposed to look after.
It was recently revealed that Brown spent much of last year, during the pandemic, focused on helping Peter MacKay win the federal Conservative Party's leadership, directing City staff to help with door knocking and selling Party memberships as Brown orchestrated a plan to help with MacKay's campaign in Southern Ontario.
Meanwhile, a vision to completely recreate the city centre that was supposed to be finished this year, has instead languished in uncertainty while Brampton's downtown has continued to decline further into irrelevance.
The hope of a Main Street LRT has become another distraction.
---
The Downtown Reimagined Plan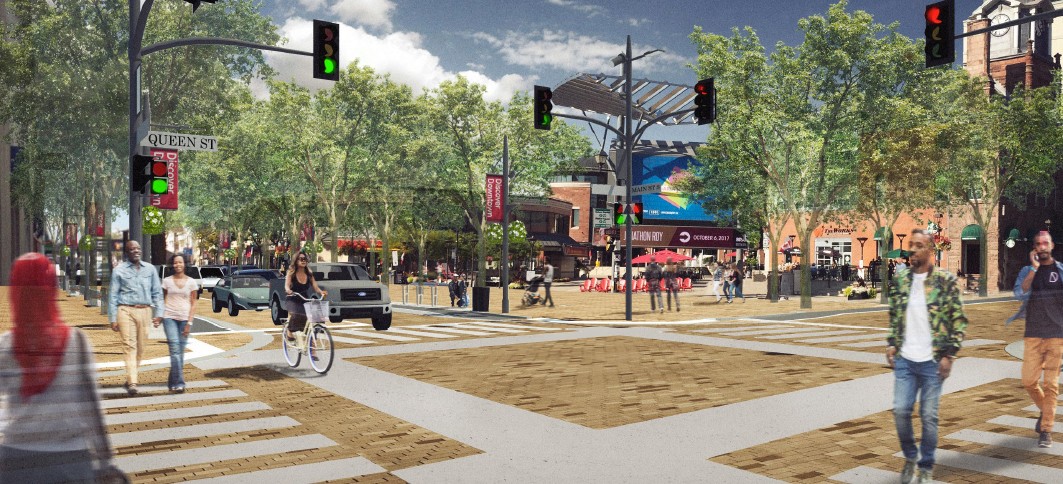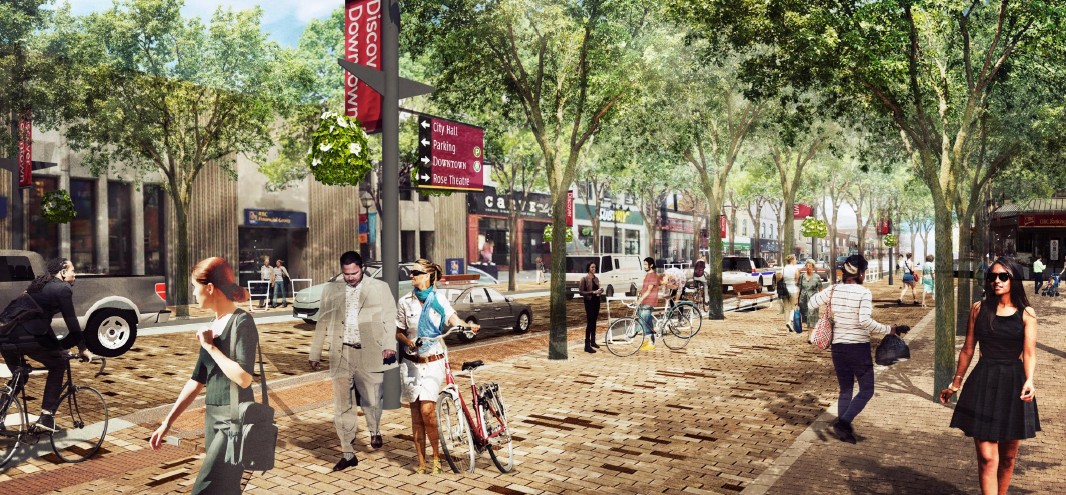 ---
"The possibilities of tomorrow need to be initiated today. The development of an attractive street environment with a supportive infrastructure can not be delayed over the possibility of higher level public transit transportation at some point in the future," Evans said.
The reason for the latest pause was the potential light rail transit system which could be built up Main Street into the downtown GO Train station. To date, there has been no decision on what a downtown LRT might look like, where exactly the route would run and who would fund it. There is no timeline for the LRT, making it seem more like a pipe dream.
Nonetheless, the motion to move forward with Downtown Reimagined, which was not voted on, now includes language to accommodate possible future plans for the LRT, if it gets approved by the Province and receives the green light to be built through Etobicoke Creek's floodplain.
The Hurontario LRT project is moving forward and is set to run from the foot of Mississauga before turning around at Steeles Avenue. Brampton council in 2015 opted not to continue the route along Main Street into downtown, deciding to instead explore alternative alignments to the GO station, due to concern that Main Street cannot accommodate ridership and growth because of the restrictive floodplain designation around Etobicoke Creek.
Councillors in 2018, immediately after winning election, restored the Main Street alignment as the only option, despite a lack of research into the viability and little engineering work to ensure an LRT could be built along and over the creek.
Brown proposed an underground tunnel alignment below Main Street, and staff later said it would cost as much as $1.7 billion.
A quick amendment to the Downtown Reimagined motion from Wards 2 and 6 Councillor Doug Whillans added badly needed repairs to the Garden Square fountain. Wards 1 and 5 Councillor Rowena Santos, who pushed for the LRT accommodation, asked City staff what parts of Downtown Reimagined could go forward immediately.
Jayne Holmes, acting commissioner of public works and engineering, painted the conundrum of accommodating the LRT, stating, "That has a huge impact on the geometry of the streetscape… Simply, you could really put anything in, anything that you want. But I would just caution that if we put it in without consideration, or what the decisions or the outcome might be for the LRT, we are running the risk of that work being thrown away."
The Region of Peel has already made clear that if the LRT is green lit and its alignment is where the upcoming infrastructure work will be, the water and sewer mains could have to be replaced again to accommodate the LRT.
Many councillors expressed concern over money being thrown away if ten years down the line future council members want the LRT to be above ground.
This work is being done by the Region and any future infrastructure plans to accommodate a possible LRT would also be handled by the Region.
The LRT took over the Downtown Reimagined debate as members who lost sight of the issue brought forward by the BIA and other business owners, instead debated whether a hypothetical LRT should be built above or beneath Main Street through a tunnel which could cost the City $1.7 billion.
Realistically, with the need for downtown flood mitigation and the massive infrastructure to mitigate risk posed by Etobicoke Creek, it could be more than a decade before the LRT construction begins, and that's if the Province signs off, and the City finds funding partners.
Alex Milojevic, general manager of Brampton Transit, chimed in to say his staff are finishing the LRT consultation process and will be able to recommend to council no later than September what an LRT might look like.
It's unclear how the engineering work to determine the viability of constructing an LRT through a creek basin will be handled; how provincial agency Metrolinx, which has to approve any plan, will be involved; and how the Toronto and Region Conservation Authority will be engaged, as it generally leads the Environmental Assessment work around the floodplain.
It's also unclear why the sudden scramble to examine an LRT, ahead of the Region's infrastructure work set to begin in July, is only being done now, past the 11th hour.
Why was so little done for two-and-a-half-years since Santos and others put Main Street back as the only LRT option and Brown claimed funding for a tunnel option would be easier to secure (he never explained who told him this shortly after his election)?
The City hasn't even funded its share of the downtown floodplain mitigation needed before an LRT can even be considered. Such work, which is years away from starting, would have to be completed before the LRT could be constructed.
All of this could take more than a decade, assuming EA work allows construction, all other approvals are received and funding is secured.
Councillor Santos said if staff can get enough information for council about the possibility and timeline for a Main Street LRT, plans to begin the City's part of Downtown Reimagined could start to come together.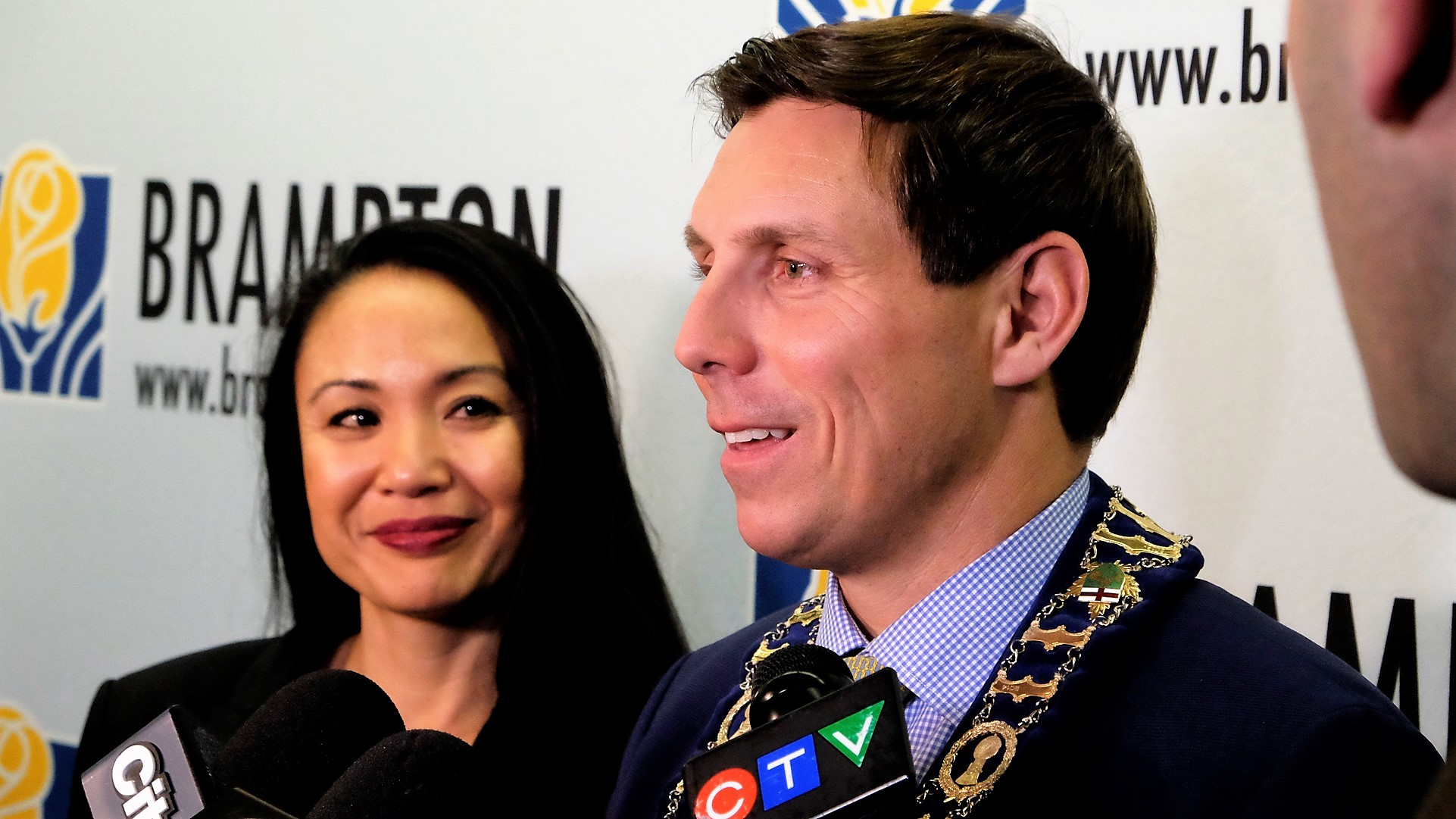 Councillor Rowena Santos and Mayor Patrick Brown have talked about a Main Street LRT
Why she didn't ask for this work years ago is unclear.
Business owners and council members expressed their frustration after Santos, a downtown councillor, and others sidelined the badly needed downtown work to discuss a light rail project that hasn't even been approved or funded.
"We put a lot of money into the downtown, and then we never actually pull the trigger on anything to actually do anything," Councillor Michael Palleschi said.
Downtown Councillor Martin Mederios said the indecision was difficult for stakeholders, especially after Downtown Reimagined, a comprehensive plan put together over years by the Region and the City, was all ready to move forward and was supposed to be completed this year, before it was postponed right after Brown was elected.
A tendering process was undertaken using a detailed Request For Proposals that included all the comprehensive design elements and bids had already been submitted.
The mayor was conspicuously quiet during the debate, especially considering he was the one adamant about postponing the previously approved comprehensive plan to completely refurbish the deteriorating downtown.
"The confidence of the landlords, of the tenants and of the customers will be lost tremendously," said Peeyush Gupta, owner of the Wee Smoke Shoppe. He said the indecision costs businesses and puts owners in an incredibly difficult position.
If council cannot make a decision to coordinate the beautification and streetscaping work the City committed to, the Region's subsurface infrastructure will be replaced without any other benefits to the downtown.
Due to legal reasons and costs that could be incurred if the Region's already selected private sector partner is forced to delay plans, it's unlikely the City can postpone the upcoming infrastructure work. It has known for years the Region's sewers and water mains have to be replaced and there would be serious consequences if there are any further delays.
The City's failure to do its due diligence on the LRT for years, after the comprehensive Downtown Reimagined plan was already in place, has led to scrambling at the 11th hour before the Region starts its work in July.
In the end, the motion to move forward with Downtown Reimagined was referred to a later date because Santos and some other council members want staff to do more research, despite all the work that was already done ahead of the plan's approval during the last term of council.
The LRT concept will now be addressed after it was largely ignored since Santos and others made Main Street the only option immediately after the 2018 election when they turned around the decision by the previous council.
Transit staff will give financial estimates on May 26. They already told council in early 2019 that surface options for Main Street would be between $400 million and $450 million; and a tunnel option would be as much as $1.7 billion.
Because of the indecisiveness by City Council, the Region of Peel had to step in to prevent a repeat of 2017.
That's when a major pipe burst and forced businesses on George Street to close and a residential building to be evacuated. The Region has reported a number of other water main breaks and has said the underground infrastructure, much of which has never been repaired or replaced, is in dire need of attention.
A spokesperson from Brampton Public Works said the "start date is still being firmed up," for the repairs by the Region but it's expected to start in July.
The repairs will include water mains on Queen Street from Mill Street south to Scott Street. Parts of this water main were installed between 1969 and 1979. The water main from Main Street at Nelson Street to John Street, installed in 1995, will also be replaced.
The project is estimated to take between 18 and 24 months. This will cover the area of Queen Street from George Street to Chapel Avenue and Main Street from Wellington Street to Nelson Street West.
Meanwhile, the postponed Downtown Reimagined plan is now part of a new initiative the City just introduced: The Integrated Downtown Plan. The City calls this an "overarching policy approach" that will lead to more opportunities in the area through infrastructure upgrades, urban design, and the creation of new programs, leading to employment opportunities, enhanced public spaces and the consideration of future transit projects. No details of these projects are available and the extensive plans detailing Downtown Reimagined, which was put together over seven years, appear to have been removed from the City's website.
Other capital projects, such as the Centre for Innovation and Riverwalk (another massive proposal to create a downtown waterway while mitigating flood risk that has prevented development) will also fall under the realm of this broad initiative for the city centre.
The plan still needs to be designed and approved and it's not clear what specific details will be made available. The 2021 budget allocates $200,000 in 2021 and again in 2022 to design this plan, and it may be years, if the City ever commits capital investments, before construction begins.
Regional Council scrapped its original plan for downtown in January of 2019, stating without financial assistance from the City of Brampton, it couldn't go through with the project.
The Region then committed about $6.7 million for the badly needed infrastructure work that is about to start.
The only hope businesses hold onto is that the City of Brampton will fulfill its promise of downtown revitalization before they are forced to close their doors.
For Vera Krasavac and her Queen Gypsy restaurant, City Council's latest failure might be the last straw.
---
Email: [email protected]
Twitter: @tasha_15
---
COVID-19 is impacting all Canadians. At a time when vital public information is needed by everyone, The Pointer has taken down our paywall on all stories relating to the pandemic and those of public interest to ensure every resident of Brampton and Mississauga has access to the facts. For those who are able, we encourage you to consider a subscription. This will help us report on important public interest issues the community needs to know about now more than ever. You can register for a 30-day free trial HERE. Thereafter, The Pointer will charge $10 a month and you can cancel any time right on the website. Thank you.
Submit a correction about this story