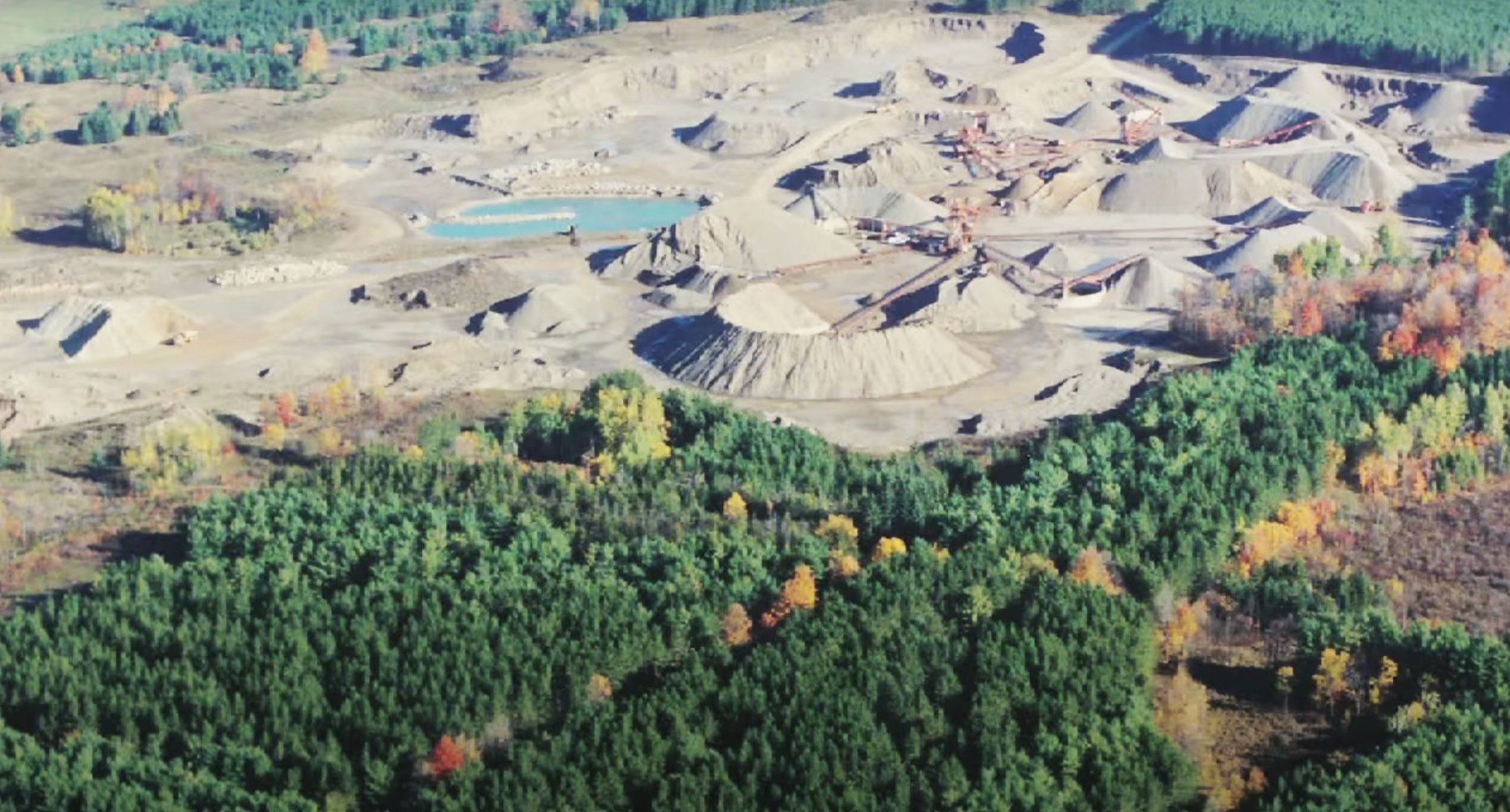 Feature image from Youtube/James Dick Construction
'Greed and waste': Campaign seeks stronger regulations on land gobbling gravel industry 
Many are becoming increasingly concerned with the question—where did this come from?
The desire for a more sustainable food supply chain has created a "farm to table" movement with producers now detailing exactly where the butternut squash for your soup was picked, or where that ear of corn for your backyard barbecue was plucked—and sometimes even the name and face of the worker who harvested it for you. Subscription services offer customers boxes of t-bones, chicken breasts and grass-fed bacon directly to their door each month, complete with the information about the farm that raised, and eventually slaughtered, the animal they are about to eat.
Cosmetic companies like Lush offer the name and a small computerized image of the employee who made the face wash or hand cream you are about to use and where and how it was created.
Coffee roasters will offer precise details for connoisseurs about exactly where in Nicaragua or Ethiopia the Arabica or Robusta beans were grown before being ground and filtered into their morning brew.
Even medicine is starting to see a push from the public for an origin story for certain vital drugs. While people have not traditionally wanted to know how their Advil or Rolaids were made—as long as they worked—during the COVID pandemic there has been a significant degree of vaccine selectiveness.
People want to know: Pfizer? Moderna? AstraZeneca? Questions are very much motivated by the same desire that fuels the demand for more information about the effectiveness, quality and sustainability of the products we use on a daily basis.
But there is one product rarely given this type of scrutiny—despite the profound impact its production has on our natural world.
It goes into the roads we drive on everyday, the sidewalks and bike paths connecting our neighbourhoods and the houses we live in. It is such a foundational piece of the urban landscape that it has been described as "quite literally the foundation of our economy and society—which is a very impressive accomplishment for something as small as a grain of sand."
Aggregate.
Also known by the names: stone, sand or gravel.
These materials are crushed, mixed and poured into vital pieces of infrastructure we all use on a daily basis. Yet rarely when walking down the sidewalk do we stop, look at the stone surface beneath our feet and ask: "Where did you come from?"
The answer is that the concrete began its life somewhere else, often deep under the ground—typically beneath a layer of food-producing, life-spawning soil—and required digging, blasting and processing to rip it from the earth and repurpose it into a sidewalk block, strip of pavement or house foundation.
For example, the Amabel Formation, a vast plate of rock that lies beneath the fields and forests that span the distance from the Niagara Escarpment to Manitoulin Island, has been blasted and quarried from multiple locations. Pieces of this ancient dolostone (a variation of limestone) make up parts of the CN Tower, Pearson International Airport and Highway 401.
From a satellite view of Caledon, it's easy to see how the aggregate operations in the town have forever altered the landscape.
(Google Maps)
As of 2020, approximately 330,000 acres of land in Ontario were zoned for aggregate extraction. Each year, on average, 5,000 acres are added to that total. These licenses have fuelled Ontario's rapid urban expansion over the last four decades, providing millions of tonnes of aggregate annually to build more roads, more buildings and more homes.
Over the last 10 years, Ontario has used approximately 157 million tonnes of aggregate each year. The industry says this number is likely to rise as the province prepares to welcome a projected 5.6 million people over the next 25 years.
The claim by the industry that profits handsomely from the province's give over is disputed by advocates who point out that while Ontario's population has boomed over the last decade, the amount of aggregate used each year has remained relatively the same.
The clear irony is the vast majority of Ontario residents living in major cities are surrounded by aggregate, in its repurposed appearance, constantly, but are totally disconnected from the inner workings of this industry that creates the built form of their daily life.
If the general population decided to scrutinize aggregate resources in the same way many are asking questions about the sustainability of other products used in their daily lives—a large number would likely have major concerns.
In Ontario, the aggregate industry is a powerful lobby allowed to use Ontario's sensitive ecosystems as it pleases. There is no requirement for gravel or pavement companies to show the need for more pits, quarries or mines; communities with gaping quarry or pit operations in their backyards, often with giant mounds of earth looming drearily over the local landscape (sometimes for decades), are forced to fight—often a losing battle—to save their local environment. Multinational corporations with significantly deeper pockets will do anything they can in order to obtain that license and maintain these destructive eyesores. These licenses rarely fulfill the requirements of prior informed consent of Indigenous nations, something protected under the Canadian constitution.
Ray Owl, a traditional and ecological knowledge elder with the Sagamok First Nation says Ontario's First Nations have seen the irreversible damage these operations cause to the surrounding landscape.
"First Nations are the ones going to be living here after you're gone, and we've got to try and exist in what remains," he said during a launch event for the Reform Gravel Mining Coalition (RGMC) earlier this year.
The decades old system has turned Ontario's aggregate industry into one of the province's main drivers of urban sprawl, highway development and climate change.
A new campaign is looking to stop it.
---
"The government has failed in its role," says Graham Flint, co-chair of the RGMC. "The system that communities have to fight in is so perverted."
The RGMC formed out of a necessity to create a unified voice against a powerful industry that is allowed to run roughshod over small, rural communities across Ontario. The coalition is demanding the provincial government implement a moratorium on issuing new gravel licenses until a third-party study can be completed to determine a best path forward.
"We have had issues with the gravel industry for years and years and years and I can tell you I've never seen any type of relief for the residents who live in those areas," says Caledon Councillor Annette Groves. "From what I've seen, it's gotten a lot worse."
Stories arising from small northern GTA towns like Cataract in Caledon, or those in Mono Township, of aggregate companies looking to set up shop, or expanding existing operations, are echoed farther north in places like Tiny or Ramara townships.
The concerns range from desecration of the natural landscape, to contamination of local groundwater. With the vast majority of aggregate operations located in rural areas of Ontario, many of the nearby homes rely on wells to supply them with drinking water. Aggregate operations that dig beneath the water table run the risk of contaminating that water source.
The residents who live close to these operations also have to contend with "fly rock"—the debris that is thrown into the air during certain quarry blasting operations. The industry maintains this is an extremely rare occurrence, but for those whose homes can be as close as 25 metres from a quarry operation, the industry's claims mean very little.
Imagine a map of Ontario tacked to a wall. Now picture someone aiming a shotgun at that map and blasting the paper with a round of buckshot. The torn and pockmarked page would be a pretty accurate depiction of how Ontario's landmass has been altered by thousands of gravel pits, quarries and mines, all of them scraping, chipping or blasting to retrieve this essential building resource. Typically, the operation begins after a prolonged fight with community stakeholders—which they often lose.
A screenshot from the Ontario government showing aggregate operations across the province. The figures within the red dots indicate the number of quarries, pits or mines in that area.
Sarah Harmer, a Juno award winning musician, helped Flint launch the RGMC after experiencing her own 8-year fight against a quarry expansion in the Burlington area of Mount Nemo, a UNESCO World Biosphere reserve.
"It's one indication of how flawed the way that this is done is. It's really outrageous and problematic for Ontario citizens," Harmer told The Pointer.
"Individual communities go through the anguish and the struggles that Sarah and my communities have gone through, time and time and time again and that's what this coalition is all about," Flint explains. "We were being conquered and now it's time to bring a broad coalition together, raise this thing to the level that it should and try to get some attention on it."
In a campaign launch event earlier this year, a Zoom video call was attended by hundreds of people from across Ontario, many of whom were fighting, or had come out the other side of a protracted battle with a quarry or gravel mining proposal.
"We went through eight years of scientific review and study and all levels of government and ended up in a year-and-a-half long hearing," Harmer recounts, after her community's fight against the proposal by Nelson Aggregate, the company trying to expand quarry operations on Mount Nemo. "It was the top of the watershed in north Burlington, it's a UNESCO World Biosphere Reserve, the Niagara Escarpment, it's wetlands and endangered species and all this precious landscape that Lafarge, Nelson Aggregate, bought and tried to rezone to mineral extraction," Harmer explains.
The community won that battle in 2012 when the proposal was rejected by the Province as a result of tremendous community backlash. But local stakeholders didn't see the last of it. A proposal for another expansion on Mount Nemo returned last year. The community has already geared up for round two.
The Demand a Moratorium Now (DAMN) campaign has been active since the end of January and already garnered significant public and municipal support across Ontario. A petition demanding the PC government halt new gravel licenses has received more than 5,000 signatures, and a number of municipalities have passed motions pushing for the very same, including the Region of Peel.
Sarah Harmer and Graham Flint, co-chairs of the Reform Gravel Mining Coalition.
(RGMC)
Motivated by RGMC's campaign, Caledon Councillor Ian Sinclair introduced a motion at the Region on March 24 supporting the group's call for a moratorium on new licenses.
"The aggregate industry is an embedded cartel at Queen's Park," Councillor Sinclair said, noting that Ontario's Aggregate Resources Act, a document meant to regulate the industry's practices, is actually designed to promote and protect it.
"They have free rein I guess to do whatever they choose to do, without any repercussions," said Councillor Groves. "That's actually quite scary."
The Region of Peel joins the municipalities of Halton Hills, Cambridge, Puslinch, and North Dumfries in demanding a moratorium from the PC government.
As Councillor Sinclair's motion was introduced during the virtual meeting, an image hung on the screen. It showed a lunar-like landscape of scarred earth and Windex-blue ponds of water. It's a site located directly in Caledon's backyard, but one that many residents of Peel do not see as these aggregate operations are sometimes shielded, or partially obscured from the road by large berms.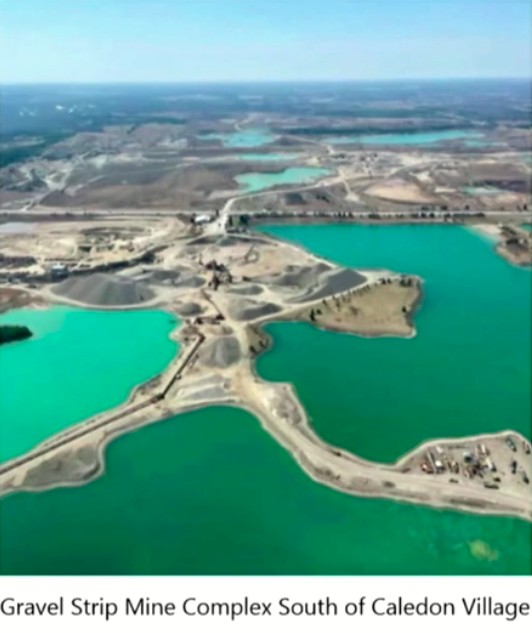 "That photo breaks my heart," said Mississauga Councillor Carolyn Parrish who seconded Sinclair's motion. "It tells you the aggregate industry has two features, one is greed, the other is waste."
Parrish has been a vocal advocate against the PC's push for Highway 413 (the GTA West Highway) and the Bradford Bypass—both of which would require millions of tonnes of aggregate to be ripped from the heart of Ontario to construct.
Research released by Gravel Watch Ontario, Simcoe County Greenbelt Coalition and Environmental Defence shows that much of this 3 million tonnes of gravel needed for these potential future highways would be sourced from the GTA and Greenbelt area.
The Provincial Policy statement dictates that aggregate used in development should be sourced "close to market". For that reason, the construction of the Bradford Bypass and Highway 413 could require significant extraction from sites within the Greenbelt.
(Environmental Defence, Simcoe County Greenbelt Coalition, Gravel Watch)
"These highway proposals are being touted as a net benefit, but the communities where the pits and quarries would make a Swiss cheese of the landscape will not feel the same," states Bryan Smith with Gravel Watch Ontario in a press release. "From increased truck traffic, wear and tear on local roads, reduced air quality, to issues with groundwater, aggregate comes at a high cost to the host municipality and its residents."
Every year, 5,000 acres of land falls under the control of the aggregate industry. Much of this is prime farmland, grassland, and other valuable habitats for Ontario wildlife. It's a startling amount of crucial natural heritage that could potentially be destroyed forever, eliminating the significant benefits not only for the preservation of wildlife, but key natural features municipalities will increasingly rely on to meet recently established sustainability targets in their fight against climate change.
Advocates say the destruction is completely unnecessary.
The aggregate industry is licensed to extract 13 times more material each year than Ontario actually uses. On average, approximately 157 million tonnes of aggregate have been extracted in Ontario annually over the last ten years. Despite the industry already being licensed to extract vastly more aggregate than is required, the amount of land these licenses are allowed to occupy continues to increase. According to the RGMC data, licenses for gravel extraction have increased from 183,000 acres in 1992 to 333,000 acres in 2020.
A large contributor to this proliferation is Ontario's Provincial Policy Statement, the document that sets the rules for land use planning in the province. There is one sentence in this document that Flint, with the RGMC, says is used like "a bazooka" by the aggregate industry to fight off any attempt to stop proposals for new operations or expansions.
That sentence states aggregate operators do not need to prove their proposal is needed in any way.
"Demonstration of need for mineral aggregate resources, including any type of supply/demand analysis, shall not be required," the document states.
No need to show need?
In any other land use, such a policy would be absurd. Different forms of housing, waste management sites like landfills, other industrial uses, are all required to show why such land gobbing operations are needed—but not aggregate.
"Provincial policy statements around landfills are more stringent," Flint says. "It is out of character with everything else we do in the province."
This part of the Policy Statement also seems out of step with other elements of the document, which clearly state that sensitive land uses—like aggregate extraction—should be carried out with the best effort to minimize impacts on public health, safety and the environment. But where avoidances is not possible, these land uses must show "there is an identified need for the proposed use."
The no need to show need policy is contradictory with smart land use planning, yet it continues to be the silver bullet the aggregate industry relies on time and time again when they find themselves in hearings with community members desperate to preserve the character of their towns or the natural environment they cherish.
"It really misses the most important feature—do we need this?" Harmer says. "This is a resource that we use all the time, but what's the state of it, how much do we have? Do we have to show that there's need? It's just a glaring omission and a fundamental thing that needs to be put front and centre, and it's not."
---
Across the province, small communities are fighting long, expensive battles to preserve their natural landscapes.
Oftentimes, if communities are successful in appealing new aggregate applications to the Ontario Land Tribunal (OLT), it will cost them hundreds of thousands of dollars in legal fees and for experts to testify on their behalf. Oftentimes this money comes from the pockets of residents.
Many of these voices spoke up at the launch of the RGMC earlier this year.
"Based on my experience with open pit mines, there is no need, only greed," said Samantha Lernout with the Citizens for Safe Groundwater, which are currently fighting a proposal for a new gravel pit in Wilmot Township.
"It is entirely company bottom-line motivated," said Doug Tripp with the Concerned Residents Coalition fighting a proposal in Rockwood from James Dick Construction for a new quarry—despite the former Acton Quarry (less than 9 kilometres away) closing due to a lack of market demand.
The North Shore Environmental Resource Advocates (NESR) are currently fighting a proposal from Darrien Aggregates to dig in an area that has one of the densest concentrations of the Blandings turtle, which is a threatened species in Ontario.
"The process is lopsided, it's business driven, lacks transparency, and heavily favours the proponent," said Rhonda Kirby with NESR. "Things need to change."
David Donnelly, an environmental lawyer, says people often underestimate the true scale of the aggregate industry.
He points out that Ontario uses 8.7 million truckloads of aggregate each year. The average dump truck is 30-feet long. Lined up end to end, Ontario's 8.7 million truckloads used annually would stretch around the Earth's circumference more than six times.
Despite the scale of the industry, Premier Doug Ford and his PC government have pushed for less regulations to govern the industry's operations.
Prior to the Ford government being elected in 2018, a panel of advocates and aggregate industry representatives had been working for several years on potential new regulations to meet the needs of communities, while also respecting the business operations of companies.
The panel collapsed when Ford was elected.
"The minute that the new Ford government was elected, all the companies that were participants in that voluntary process which was called the Cornerstones Standards Council, all of them got up from the table and walked away," says Tim Gray, the executive director of Environmental Defence.
In the months since the Demand a Moratorium Now (DAMN) Campaign's launch, Flint says many municipalities have taken notice.
"We've hit a chord with them," he says. But it isn't surprising. "They've created this policy framework that throws the problems out for municipalities and communities to deal with and then sits on the sidelines and watches it unfold. It's disrespectful and an abdication of their responsibilities."
In a monthly update in February, a number of citizens from across Ontario reached out for help with convincing their own municipalities to support the campaign, including places like Burlington, Niagara Region, Trent Lakes, Port Colborne, Guelph, Tiny, Barrie and Kingston.
---
Email: [email protected]
Twitter: @JoeljWittnebel
---
COVID-19 is impacting all Canadians. At a time when vital public information is needed by everyone, The Pointer has taken down our paywall on all stories relating to the pandemic and those of public interest to ensure every resident of Brampton and Mississauga has access to the facts. For those who are able, we encourage you to consider a subscription. This will help us report on important public interest issues the community needs to know about now more than ever. You can register for a 30-day free trial HERE. Thereafter, The Pointer will charge $10 a month and you can cancel any time right on the website. Thank you
Submit a correction about this story