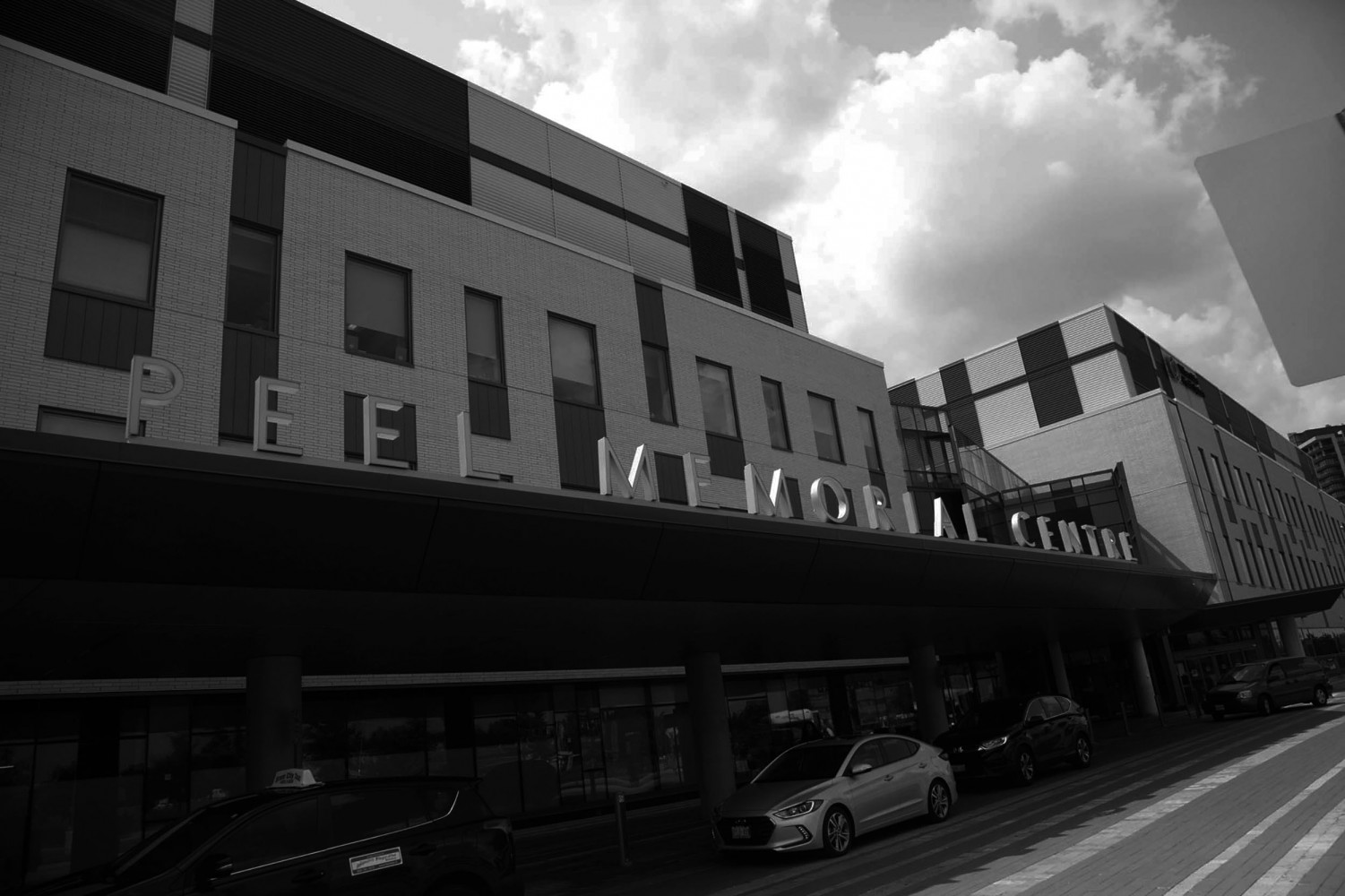 Feature image from The Pointer files
Ahead of election Peel wants PCs to cover local share of hospital funding; Brampton waits—again
The 1.5 million residents of Peel—who experience longer hospital wait times than almost anywhere else in the province—are often crammed together like sheep in Mississauga and Brampton hallways.
They are no strangers to pain. The suffering chronicled in alarming media reports seems unthinkable in Canada.
Thursday, March 10, could have been an instrumental day for Brampton residents, if Peel Region Council had decided to contribute $62.5 million to the expansion of Peel Memorial, to possibly see it eventually converted to an actual hospital in the rapidly growing city, where residents commonly avoid going to the lone full-service hospital for fear of being stacked in an already crowded hallway.
But a report by regional staff dashed hopes that a funding solution to help Peel Memorial's Phase-2 development could be found. No reserve funds are available to accommodate Brampton's request to cover its required share of the project cost, $125 million of the estimated total of at least $500 million and as much as $1 billion for a facility that would not be a full-service hospital, but would take pressure off Brampton Civic by creating badly needed non-acute care capacity in the city.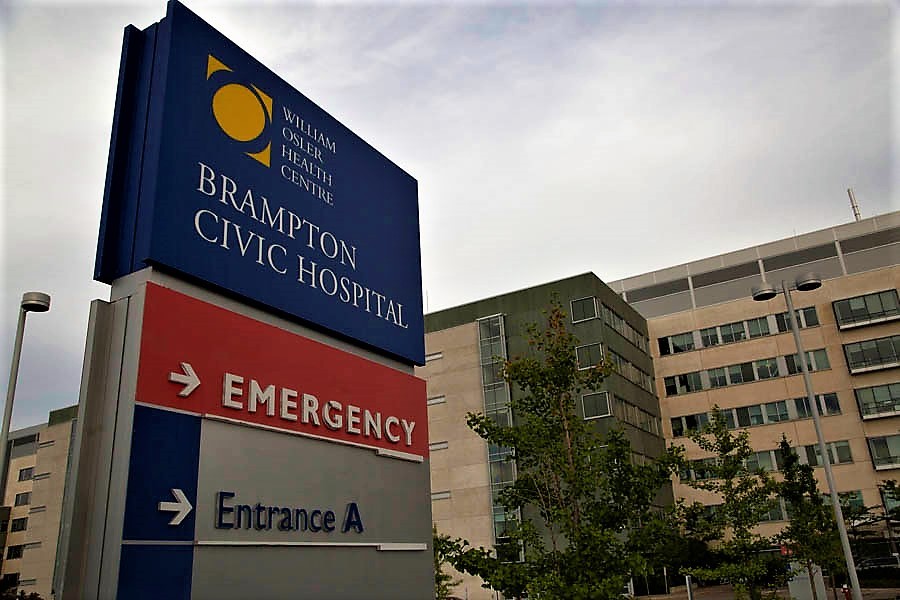 Brampton Civic is the only full service hospital in a city of 700,000 residents, which has less than half the per capita number of beds compared to the Ontario average.
(The Pointer files)
The Region of Peel would have to either raise taxes, take out debt or delay other projects to help steer Brampton out of its healthcare misery.
Peel's regional councillors decided there will be no debentures issued and no levy for hospitals, banking their hopes instead on the PC government, ahead of the June 2 provincial election.
A tactic using the 11 Queen's Park seats in the two cities (eight are currently held by the PCs) saw councillors criticize the Doug Ford government for its lack of attention to the healthcare needs of residents in Peel.
The Region's Chief Financial Officer and Commissioner of Corporate Services, Gary Kent, told council that hospitals are a critical part of community building just like transit, roads, libraries and schools, and while William Osler, which manages Brampton's hospitals, was the first to make a request for regional support, it will not be the last.
"But let's be very clear that hospitals are not a service that's provided by municipalities," Kent said. He explained that while healthcare is clearly a provincial jurisdiction, the expectation that municipalities contribute a substantial local share for hospital expansion, is not properly supported by current revenue generating capabilities at the bottom tier of government.
He said the current Progressive Conservative government in Ontario is not completely to be blamed for the predicament municipalities find themselves in.
"It's the provincial governments of all stripes over the past 25 years, that first eliminated the ability to collect Development Charges (DCs) for hospitals in 1997 and then it all exacerbated that situation by requiring the local share as a condition of their funding," Kent said.
Peel Region was able to contribute $37 million for Brampton Civic Hospital which opened in 2007 and $25 million toward Mississauga's Credit Valley Hospital expansion which was completed in 2011, using existing regional DC reserves for both, avoiding a regional tax levy.
With no development charges levied for hospital development for decades, municipalities have had to rely on property tax funding, usually through a special levy, for their local share contribution. Smaller amounts are often raised by the hospital managers, William Osler in Brampton and Trillium Health Partners in Mississauga, through their local fundraising campaigns, but unlike communities such as Oakville, which have been able to raise a considerable portion of the local share, in Peel most of this requirement will likely fall on the shoulders of taxpayers.
In his report to council, Kent stressed the need for new hospital beds for the rapidly growing population in Peel.
Brampton Mayor Patrick Brown's refusal to expand the City's budget has crippled infrastructure funding for many of the City's badly needed projects and pushed healthcare expansion further down the line by not creating a hospital levy.
Brown claimed at the regional council meeting that there is nothing in the community more important than healthcare, but failed to explain why he has ignored the need to provide local funding since becoming mayor in 2018, refusing to put one cent toward the city's local share requirement.
"The notion that this can be on the backs of property taxpayers is something that I continue to struggle with and I know we all feel obliged that we have to step up," Brown said.
Brampton taxpayers previously contributed $60 million for Peel Memorial, including $40 million that was used for the original construction of the redevelopment which was completed in 2017, and $20 million for the eventual Phase-2 expansion through a levy which ended in 2019.
Brampton has estimated, according to correspondence with the Province, that the total local share for Memorial's Phase-2 will be $250 million which will be needed by 2027. Of this only a little more than $20 million has been budgeted, through the levy that ended in 2019. Osler is expected to raise about half the total, $125 million. The City's widely criticized approved 2022 budget makes vague reference to covering its share by cancelling or postponing other capital projects, but there is no clear indication of how the money will be raised.
The Chief Administrative Officer for the Region of Peel, Janice Baker, said the Province can change its policy requiring a local share for hospital expansion at any time through a budget cycle or through an economic statement.
"They have lots of tools at their disposal. I mean, they just recently, out of the blue, made an announcement to cancel a billion dollars in revenue for vehicle fines. So, you know, they surely have discretion to do this," she said.
Election pressure could help force the hand of the Ford government, which has of late taken a slew of actions to please Ontarians ahead of June 2, including offering a $5,000 bonus to nurses and scrapping renewal fees for licence plate stickers.
Mississauga Mayor Bonnie Crombie pointed out that Toronto is not required to pay a community contribution toward hospitals and unlike Ontario's capital, Mississauga and Brampton do not have deep pockets Toronto enjoys due to its unique suite of revenue tools such as the city's local land transfer tax (no other municipality in Ontario has such a tool).
Mississauga could be expected to pay as much as $500 million for its massive new 950-bed hospital, which is expected to cost at least $2 billion. Crombie is looking for help to cover the local share.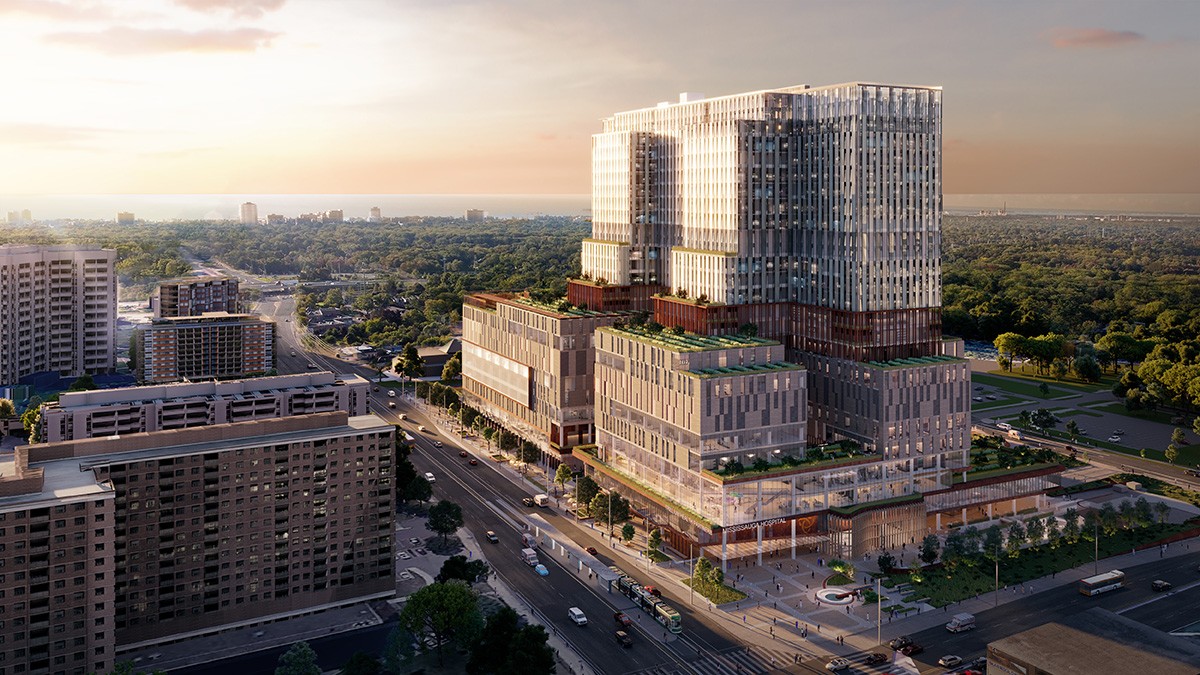 A rendering of the ambitious plans for hospital expansion in Mississauga.
(Trillium Health Partners)
"I think before we contemplate any local contribution or any levies of any sort, we should fully exhaust our advocacy efforts with the Province to make them understand that they're putting undue hardship and burden on our cities and municipalities because of the size, scale and scope of the contribution that could bankrupt those communities," Crombie said.
While municipalities in Durham, Niagara and York have shouldered the responsibility of a local share for hospital expansion, Humber River Regional Hospital in Toronto and Hamilton's Health Sciences Project were built without any municipal contribution, the staff report stated.
Kent reminded council that Peel has long been asking the province to reevaluate the local hospital share municipalities are asked to shoulder.
"I'm fairly confident we've been asking since probably 1996, which was before it was introduced to strongly say—please do not do this," Kent said.
Brampton and Regional Councillor Pat Fortini, who had to remove his wife from Civic hospital due to overcrowding when she needed treatment during the pandemic, said that the two cities in Peel are in a crisis now, and any delay to hospital expansion isn't worth it.
He also levelled criticism that seemed to be aimed at Brown for failing to take responsibility, as not one cent has been allotted for hospital expansion under the mayor's refusal to expand the City budget since he took the job in 2018.
"I know I asked for the world… it's pretty disappointing when we start blaming others and we haven't stepped up ourselves at the City… I think some of my colleagues are not [going to] like what I have to say, but it is what it is."
Other municipalities across Ontario, including Vaughan and Oakville, have recently been rewarded for committing to a local share, with large new hospitals to show for it, as Queen's Park has repeatedly warned Brampton that it will not see healthcare expansion if it continues to ignore its local responsibility.
In October, Fortini put forward a motion during a Brampton Council meeting that the City look into considering a tax levy in order to contribute its share of funding for Peel Memorial's Phase-2 expansion.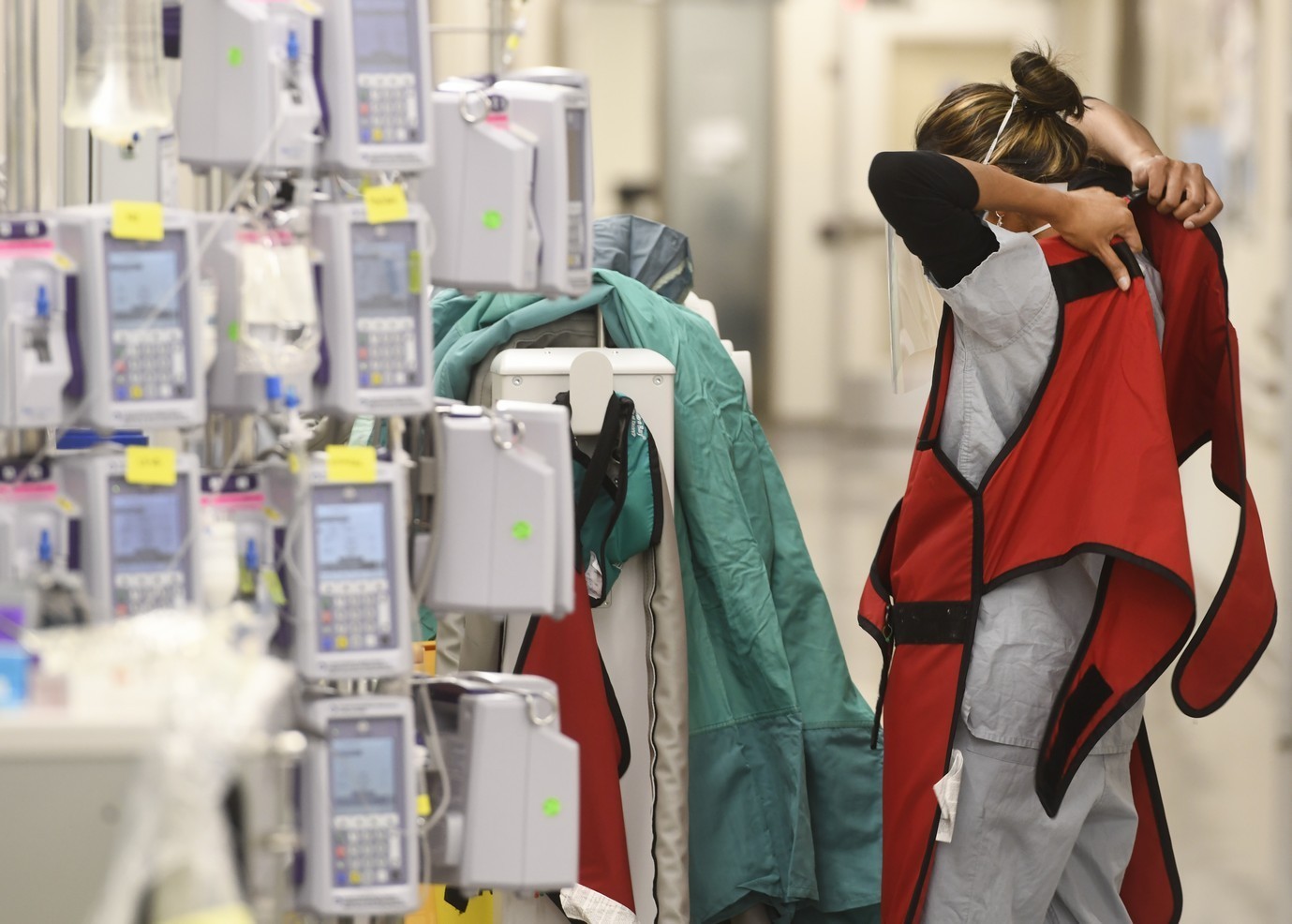 Hallway medicine was common even before COVID-19 overwhelmed Brampton Civic Hospital.
(William Osler Health System)
He intends to bring back the motion and requested William Osler staff to come and delegate at the end of this month to help convince other elected officials that a levy is badly needed.
"What my concern is, so going back to the construction starting in 18 months, we already have to come up with a plan on how we get the $125 million by then," Fortini said during the regional council meeting, referring to the total local share amount the City has to come up with, along with $125 million William Osler has to cover for the Phase-2 project.
The provincial government has asked Osler to lay out a plan detailing how it expects to achieve the local share in the next 18 months, Executive Vice President, Strategy and Corporate Services at William Osler, Ann Ford, told Regional Council.
Council also saw delegations from Trillium Health Partners and Headwaters Healthcare, which serve residents across Peel.
The President and CEO of Trillium, Karli Farrow, reminded council of pre-COVID times when hallway medicine was a common reality at its hospitals.
"We would have over 70 people that we could not admit to hospital beds and would have to be cared for in hallways, and nine out of ten people waiting to be admitted in our hospital would wait over 30 hours," she said.
The new Mississauga Hospital may require funding support from the Region in the near future Farrow told council members.
The hospital is currently in planning phases evaluating options to raise funds; Farrow wants to have the local share in place by early 2023.
Headwaters Health Hospital, a medium-sized facility located in Orangeville that serves many Caledon residents had its CEO, Kim Delahunt, ask regional council for a $6.5 million funding contribution for health system information upgrades; 30 percent of patients Headwaters sees are Peel residents.
Peel regional politicians now have less than three months to lobby the PC government for help before the provincial election.
"If we don't get the DCs back. And if we don't get the province to do this, we need [to put] our heads together on how to build up a pool of money specifically directed at these hospital requests," Mississauga Councillor Carolyn Parrish said.
"But we need to build up a pool of money should we fail in getting the Province to realize it's their job, not ours," she said.
Some councillors were skeptical about the upper-tier municipal government at the Region footing the bill for lower-tier municipal contributions.
"I'm just wondering, are we just kicking this down the road to really sort of creating an environment where the Region will end up paying for this?" said Mississauga and Regional councillor Dipika Damerla, who is running for a seat in the June 2 provincial election.
Fortini, who witnessed the ongoing healthcare crisis in his city firsthand when he had to rush his wife out of Civic Hospital to Georgetown, told The Pointer he's tired of waiting on other levels of government.
"So, the 30th of this month, I'm bringing a motion back to City Hall. I've already sent it to the clerk, that we have to start our levy. We have to do it. We have to come up with a cheque for $125 million by 2027," Fortini said.
Regional council unanimously agreed to advocate for funding from the Province to cover the local share for hospital expansion.
The Association of Municipalities of Ontario has called for a provincial re-examination of the "local share" hospital capital calculation methodology, to better reflect the limited fiscal capacity of municipalities and the contributions to health care services they already provide to their community.
The official NDP Health Critic, France Gélinas, told The Pointer previously that the provincial government isn't being fair to the people of Brampton.
"No matter where you live, whether you live in northern Ontario or Brampton, for medicare to be true, we need to have equitable access," she said.
"It is wrong. It is wrong. The Ford government has had four years to deal with this and has done very little," she added.
Ahead of June's election, it remains to be seen if regional politicians can sidestep the expectation to come up with hundreds of millions of dollars for future hospitals, and convince the PCs to step in.
---
Email: [email protected]
Twitter: Anukul_AT
---
COVID-19 is impacting all Canadians. At a time when vital public information is needed by everyone, The Pointer has taken down our paywall on all stories relating to the pandemic and those of public interest to ensure every resident of Brampton and Mississauga has access to the facts. For those who are able, we encourage you to consider a subscription. This will help us report on important public interest issues the community needs to know about now more than ever. You can register for a 30-day free trial HERE. Thereafter, The Pointer will charge $10 a month and you can cancel any time right on the website. Thank you
Submit a correction about this story