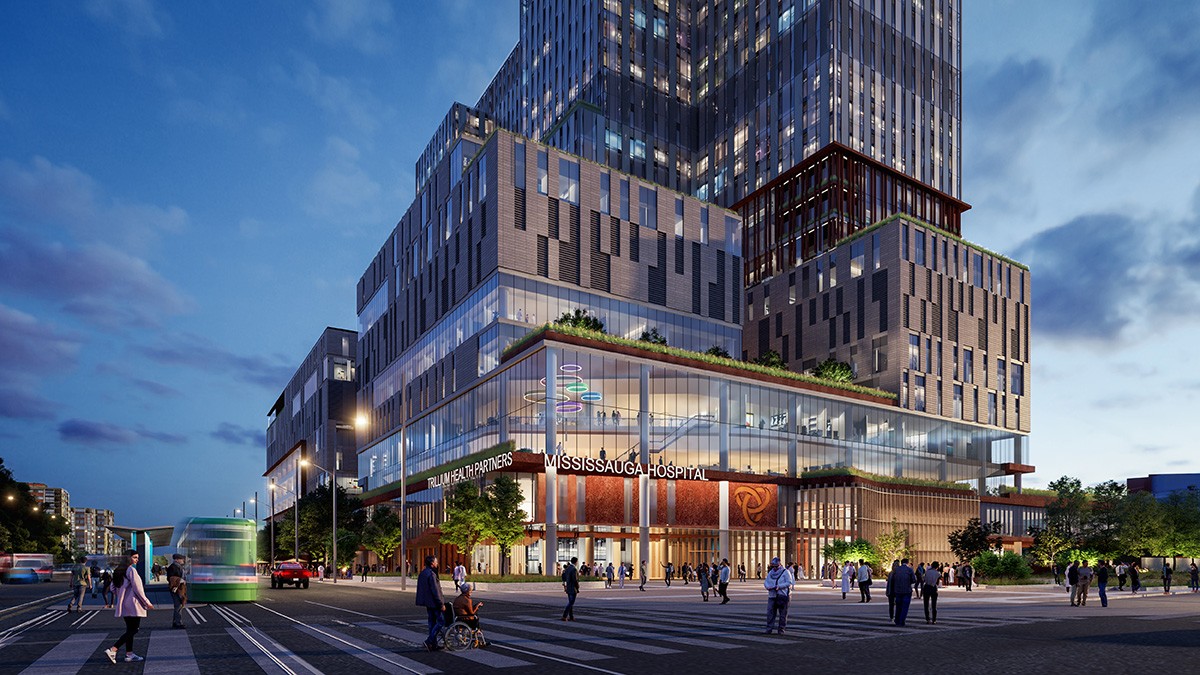 Trillium Health Partners
Huge investment in Mississauga hospital expansion bitter-sweet for Brampton
At least one of Peel's cities is getting the investment in healthcare it needs.
Despite having the worst hospital healthcare crisis and per-capita bed count in Ontario, Brampton will only get about one-third the investment in healthcare expansion that the provider managing Mississauga's hospitals is set to receive.
This week, in another campaign-style announcement ahead of June's provincial election, Premier Doug Ford was in Mississauga to put his stamp on an investment commitment that seems to keep growing over the past few years, since the city last sent all six of its members of provincial parliament to the blue aisle inside Queen's Park.
The PCs, with Ford and Health Minister Christine Elliott at the forefront, once again confirmed a massive new rebuild of Mississauga Hospital just south of downtown and a second expansion within the Trillium Health network, at its Etobicoke ambulatory-care site, which will receive 350 new beds.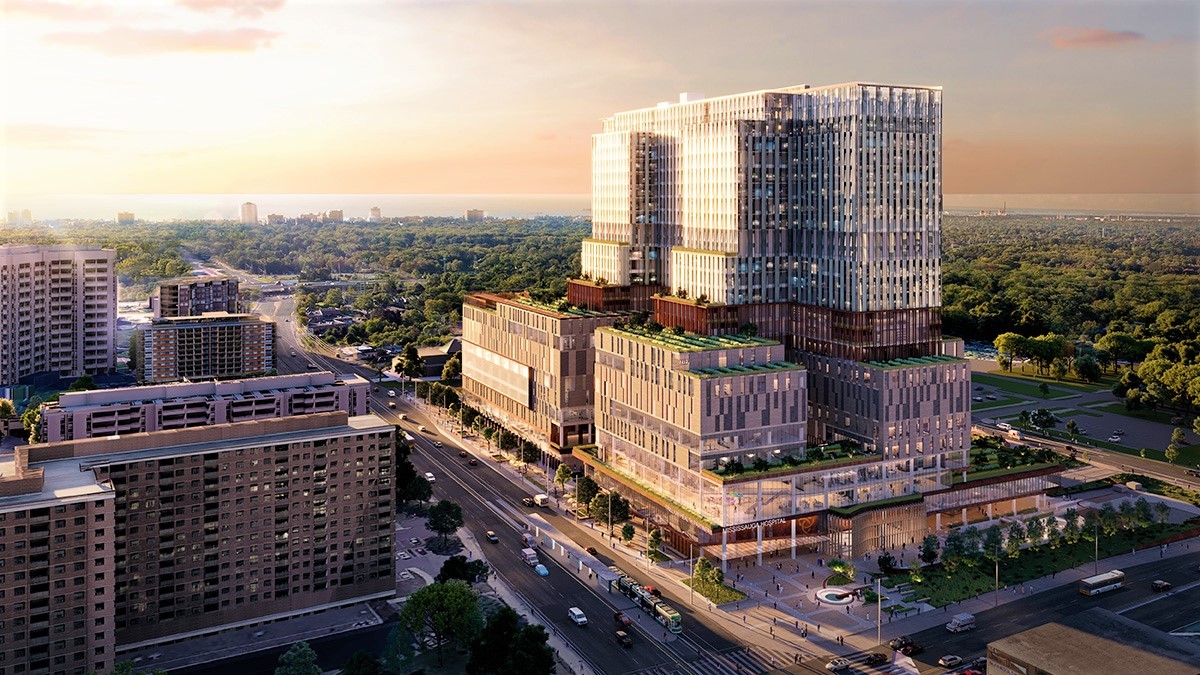 A rendering of the 22-storey new Mississauga Hospital.
(Trillium Health Partners)
The Hurontario Street and Queensway building will be brand new and house more than 950 hospital beds, one of Ontario's largest emergency departments, new surgical platforms that will increase the number of operating rooms from 14 to 23, new advanced diagnostic and imaging capacity, along with additional pharmacy and clinical lab space. A large parking structure will also be built.
The Etobicoke facility in southwest Toronto will not convert Queensway Health Centre (which is entirely separate from Mississauga Hospital at the other end of the Queensway) to an actual hospital but with the addition of more than 350 new beds to provide complex continuing care and a range of rehabilitation, it will create increased capacity for acute care at both of the Mississauga hospitals Trillium operates (Credit Valley is the city's other full-service hospital).
According to the June 2021, Infrastructure Ontario Market Update, the Trillium investment will be for as much as $3 billion, while the announced expansion of Peel Memorial (which is not a hospital) in Brampton will cost between $500 million and $1 billion. As of the release of the update, the Trillium construction work had already been awarded, while the Peel Memorial work had not been awarded to a building partner, suggesting the Trillium projects are further ahead than the much smaller one being managed by William Osler, which operates Brampton's major healthcare facilities.
"I want to thank the government and our local MPPs for working in partnership with THP, and for this historic investment in the future of health care in this community," said Karli Farrow, President & CEO of Trillium Health Partners after the PCs re-announced their funding commitment to Trillium. All six of Mississauga's provincial ridings are held by PC MPPs.
Mayor Bonnie Crombie thanked all six of them during the Wednesday morning event, acknowledging the efforts of City Hall staff, local councillors, community advocates and Trillium staff, while singling out former mayor Hazel McCallion, who Trillium's Centre for Heart Health is named after and who also worked with Crombie and her team behind the scenes to secure an investment that will likely be around $3 billion.
"And while the team here at Trillium Health Partners has done so much for our community throughout this pandemic," Crombie said, "it has frankly brought to light some of the real limitations of the Mississauga site, which is why today's announcement is an absolute game changer. Not only will it increase capacity, and reduce wait times for residents, but it means Mississauga will soon be home to one of the largest and most innovative hospitals anywhere in Canada."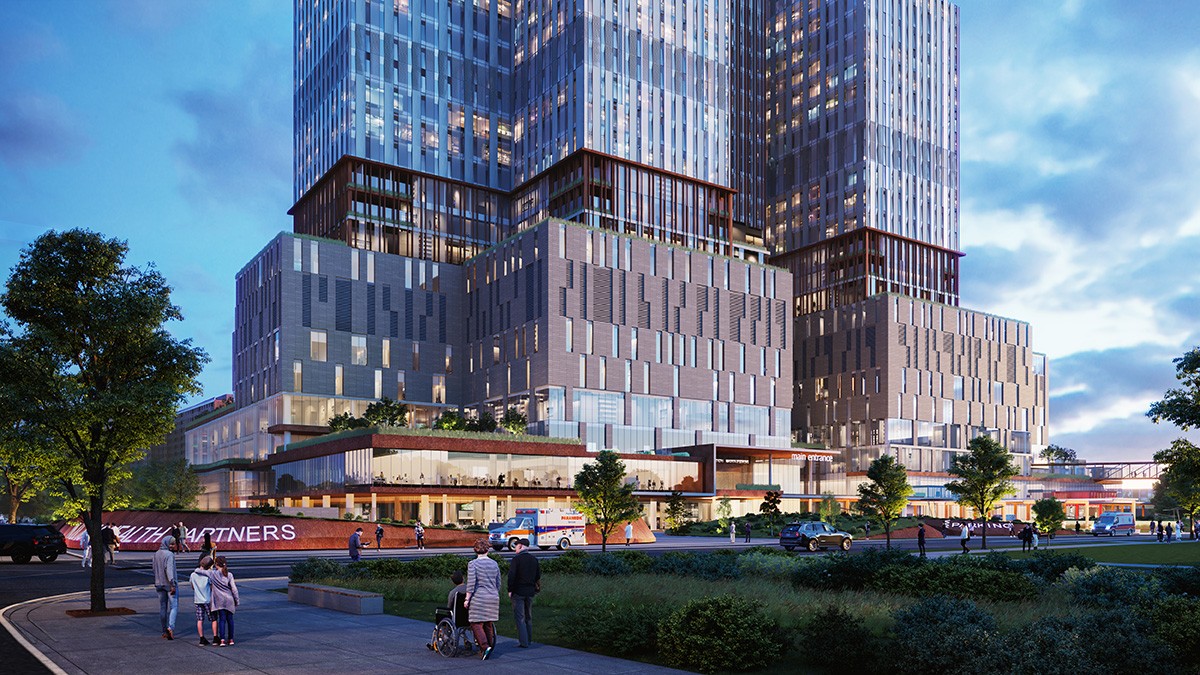 Another rendering of the massive new Mississauga Hospital.
(Trillium Health Partners)
With the good news spreading across Mississauga, many in Brampton were left scratching their head.
"This pandemic has reminded us of the importance of having ready access to hospital beds when they're needed most," Ford said Wednesday in Mississauga.
It was a slap in the face to some Brampton residents.
"Well, I mean it certainly shows that there's a greater focus on Mississauga and the Trillium Health Centre," Brampton Councillor Jeff Bowman told The Pointer. "When I read the report, it looks like it's over the term of the project, you know, there's going to be 600 new beds added across the organization. When you compare that with Brampton, we have just, I think 630 beds now. So that's equal to the total we have now what they're getting additionally."
While Trillium will get more than 600 new beds and Mississauga Hospital will see major surgical expansion along with the creation of the largest emergency department in Ontario, the Province has offered peanuts to Brampton, in the form of a Peel Memorial 250-bed expansion, that will not include acute care beds, only a handful of short-stay beds on top of the ones for chronic, ambulatory and mental health care. Unlike Mississauga, Brampton will not get a major surgical expansion and their has been no announcement to convert Peel Memorial into an actual hospital upon its opening, which could happen in 2027, according to William Osler, which operates Brampton Civic, the city's only hospital, and Peel Memorial, which currently has no inpatient beds, no emergency department and no capacity for any surgeries other than minor procedures done on an outpatient basis.
Brampton Civic is the posterchild for hallway healthcare and the city has about 40 percent of the per capita hospital bed capacity of Ontario overall. Ford knows this, and claimed his government is providing hospital beds where "they're needed most" but his government's investment of 250 non acute care beds was glaringly short of the 850 beds Brampton City Council specifically requested, along with the transformation of Peel Memorial into an actual hospital.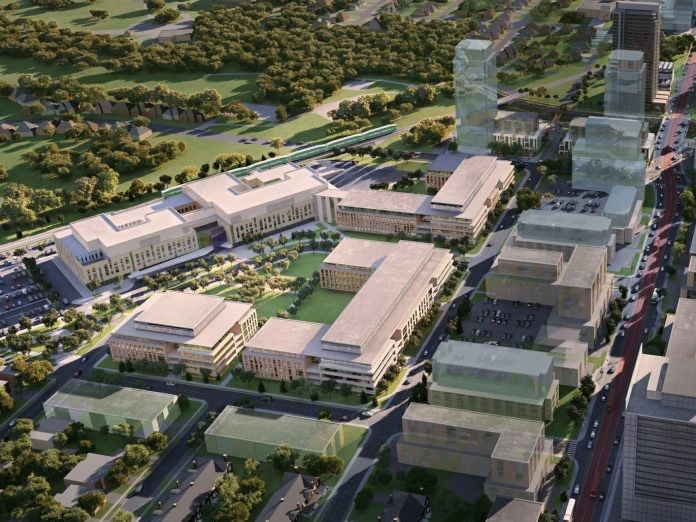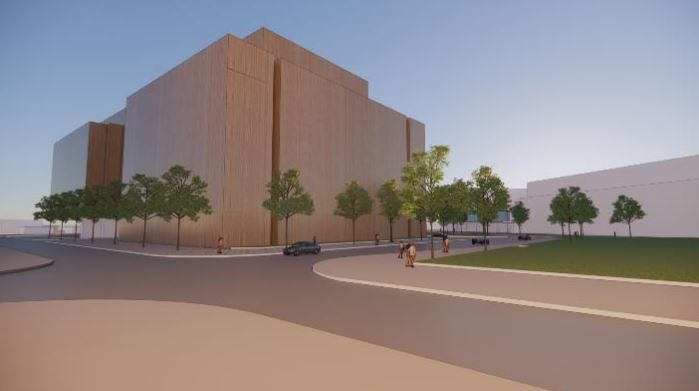 Top, an early rendering of the Peel Memorial site that shows a large expansion into a full-service hospital, originally promised a decade ago by the Liberal government; bottom, the updated 250-bed patient tower under the PC government plan, which will not create an actual hospital.
(William Osler)
Brampton critics have stated Mayor Patrick Brown's bad relationship with the PC government could be a reason the city is being neglected so blatantly. Brown wrote a scathing book after he was forced to step down from the party following allegations of sexual misconduct which he denies. He attacked Ford and many current PC ministers and had to officially apologize to Minister Vic Fedeli who sued Brown for $8 million after the former PC leader included unproven allegations against Fedeli in the book.
After its release Ford stated inside Queen's Park that Brown's claims were "shameful and disgusting" and that he had "zero credibility".
With Brown's aggressive attacks against so many senior PC leaders, some wonder if the city's healthcare needs are being passed over by the provincial government.
"Why is Mayor Brown and Council not telling the PC government to go back to the drawing board on Peel Memorial's Phase-2 expansion, in light of [Wednesday's] announcement?" asked Chris Bejnar, co-founder of Citizens for a Better Brampton. "How can they possibly look at approving a historic tax levy to burden Brampton taxpayers without the Province committing to what we really need to address Brampton's healthcare crisis?"
He was referring to the possibility of a special tax Brampton Council is considering to help pay for the estimated $125 million local share needed for the 250 additional beds planned for Peel Memorial, a sum many have questioned after it was learned the investment will not deliver an actual hospital, and will not add any medical units, such as for major surgery, acute cardiac care or intensive critical care.
Meanwhile, no local share requirement has been announced for Trillium and its massive brand new construction of Mississauga Hospital to house about 1,000 beds, at least nine new surgical operatories, new diagnostic and imaging capacity, a new pharmacy, clinical lab and other features that will greatly benefit the acute needs of Mississauga patients.
"Were Premier Doug Ford and our Minister of Health, Christine Elliott, in the wrong city making this funding announcement?" Bejnar wondered.
"Peel Memorial is getting six or seven storeys, and won't even be a hospital, while this massive new Mississauga Hospital will be one of the biggest in North America and will be 22 or 23 storeys. Obviously, if the government wanted to, it could have invested in Brampton by adding a few more storeys and creating an actual hospital, while taking them off this giant new Mississauga facility that's going to be built from scratch."
Bowman also questioned why the two cities are being treated so differently, especially considering Brampton already has about 40 percent fewer hospital beds per capita than Mississauga, a disparity that will widen considerably after the Trillium expansion is completed and as Brampton's population rate increase continues to outpace Mississauga's.
"I guess if Mississauga is getting all these new beds and new facilities, perhaps people may choose to go there prior to even trying to go to Brampton Civic," Bowman said.
He does not understand why Brown, unlike many across Brampton demanding a much better healthcare investment, seems to be supporting the PC government's inequitable allotment of public funds, considering Brampton taxpayers deserve to have an equal share of their tax dollars returned to the city for their most pressing needs.
"I heard the mayor talking about the hospital, on the radio, and, you know, he's very, very pleased that we're getting 250 beds by 2027," Bowman told The Pointer, repeating that these are not even actual acute care hospital beds for things like an ICU or for heart attack patients, or for major surgery. "You know, I don't even know what to say. I mean, that that does nothing for what we declared as a health crisis or a health emergency in the city two years ago, when everybody including the mayor was out, you know, pitching and signing a petition to send to the province. We need help here. We need help. Well, you know, this help is not coming."
Bowman said he's happy for Mississauga residents but wonders how Brampton will take care of all its current and future residents.
"All the new people that come to the city, you know, anywhere between 20,000 and 40,000 new residents a year. So, the situation here is only going to get much worse over the next five years. And I mean our tax dollars are the same as everybody else's tax dollars. But no matter where you go out of Brampton, your tax dollars seem to give you more health care than they do in this city."
This will only get worse, he says, as Brampton's population passes Mississauga's in the next couple decades.
"Brampton will be adding more in terms of our population than Mississauga in the coming years, we are scheduled to meet and surpass the population of Mississauga in, I don't know 2040 or 2050, something like that. We just have to wait and see how bad the hospital situation will get."
---
Email: [email protected]
Twitter: Anukul_AT
Email: [email protected]
Twitter: @taasha__15
---
COVID-19 is impacting all Canadians. At a time when vital public information is needed by everyone, The Pointer has taken down our paywall on all stories relating to the pandemic and those of public interest to ensure every resident of Brampton and Mississauga has access to the facts. For those who are able, we encourage you to consider a subscription. This will help us report on important public interest issues the community needs to know about now more than ever. You can register for a 30-day free trial HERE. Thereafter, The Pointer will charge $10 a month and you can cancel any time right on the website. Thank you
Submit a correction about this story