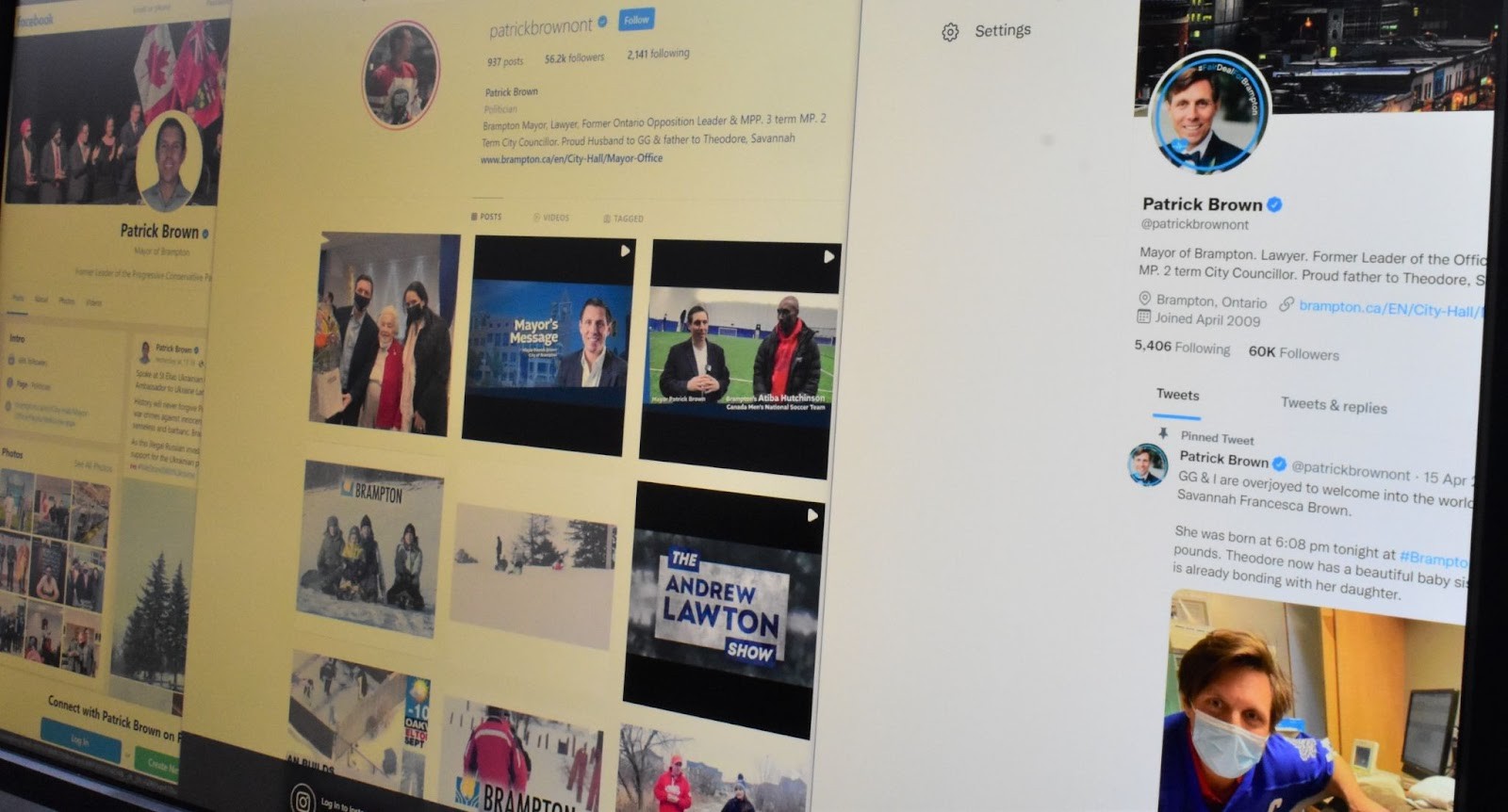 Feature image by Isaac Callan/The Pointer
Patrick Brown has used $35K from Brampton taxpayers for his personal social media, money that will boost his CPC leadership bid 
A study of social media use released by Statistics Canada last year confirmed what most already knew: we are addicted to the internet.
A survey of Canadians 15 or older conducted in 2018 found 91.3 percent had used the internet in the previous three months; 77.6 percent regularly used social media. Canada's reliance on self-directed digital platforms has turned industries like the mainstream media upside down, fundamentally changing how politicians reach voters.
Brampton Mayor Patrick Brown, who has refused to explain how he's running the ninth largest city in Canada, while clearly preoccupied with his national campaign to win the CPC leadership on September 10, has used a battery of City staff to get him in front of television cameras, boosting his profile on a national level.
Two councillors told The Pointer that Brown recently asked them not to prevent communications staff inside City Hall from providing him with generous "resources" for his busy media schedule.
That was after a majority of councillors penned a scathing, signed letter declaring democracy in Brampton was "under siege", vowing to force sweeping changes following Brown's attempts to block crucial votes during behind-closed-door in camera sessions of council meetings.
His weekly "Covid" updates have been televised for almost two years and often feature Brown expounding on national issues that have little to do with his role as mayor. Two weeks ago it was the federal carbon tax, before that he used the taxpayer-funded announcement to address Quebec's controversial Bill 21, issues he has already been campaigning on since formally announcing his Conservative Party leadership bid on March 13, a decision that sources confirmed was made months earlier.
Expense reports and data from Facebook show that some elected officials inside City Hall, particularly Brown, have also poured taxpayer resources into their social media accounts.
Brown has spent around $35,000 of the Brampton taxpayers' money promoting his activity on social media. Between June 2019 and February 2022 he spent more than $16,000 from the public purse promoting his Facebook account alone.
A recent move by Brown and other council members allows them to use taxpayer funds to promote their election efforts. For Brown, social media accounts bolstered by using local taxpayer money during his more than three years as Brampton mayor have now been completely transitioned to market his campaign for the leadership of the Conservative Party of Canada.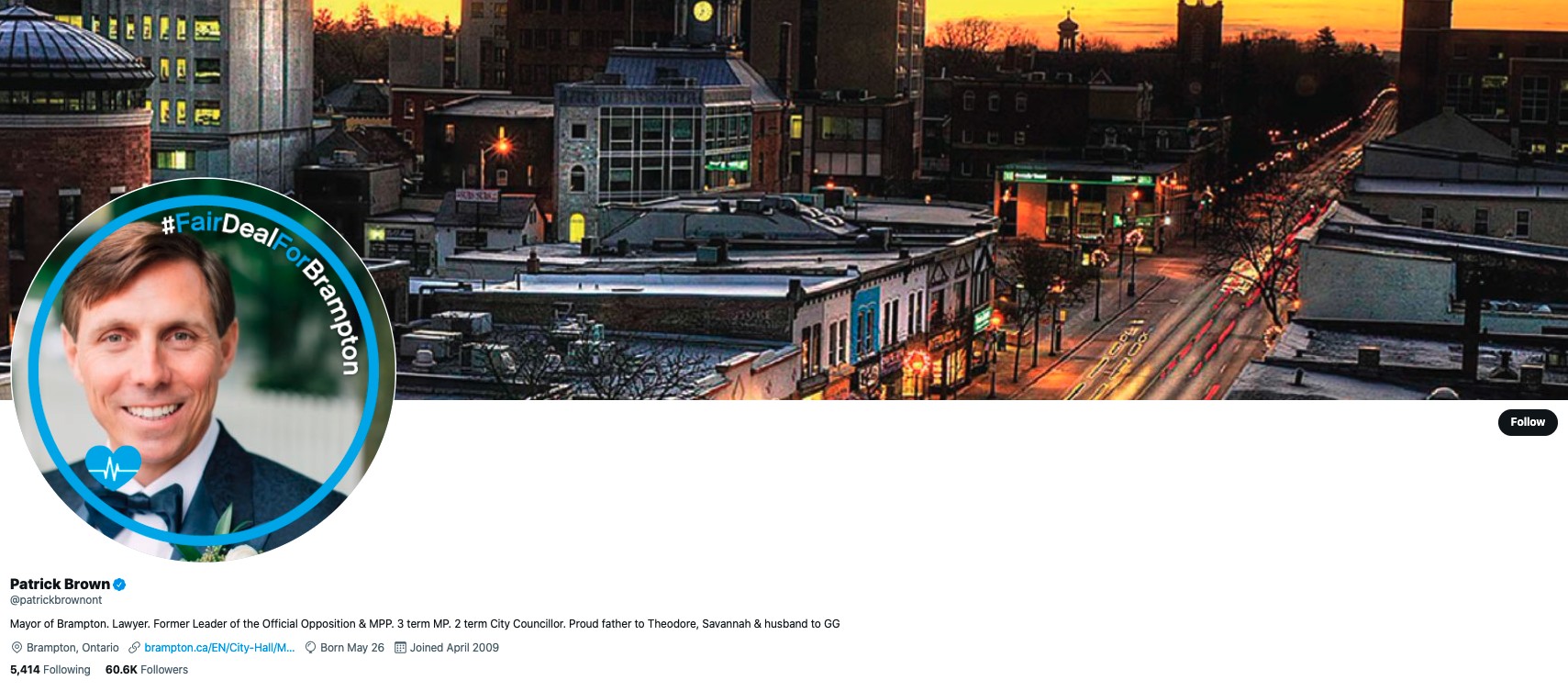 Mayor Patrick Brown's Twitter accuont on March 12, 2022.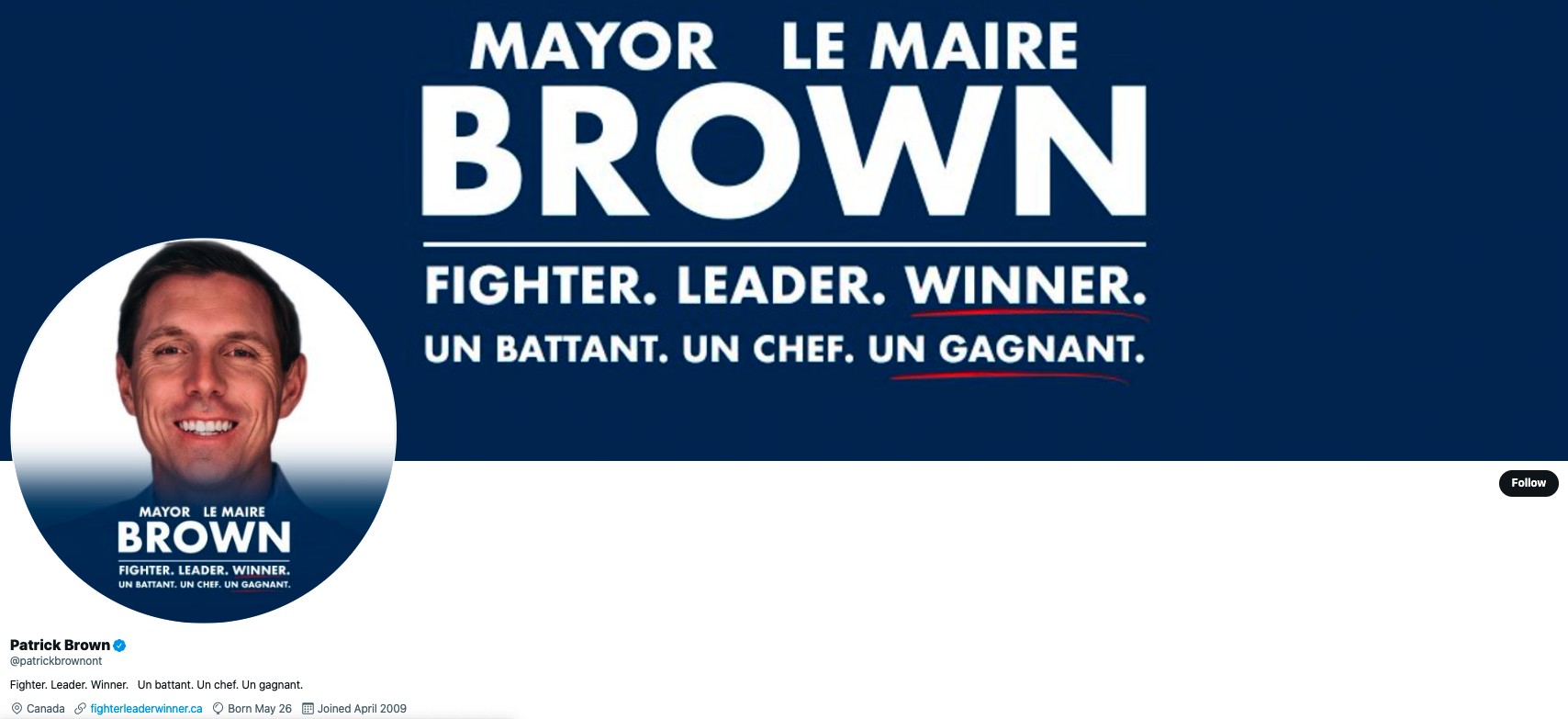 Mayor Brown's Twitter account on March 14, one day after announcing his bid for the CPC leadership.
(Images from Twitter)
The change in policy could leave Brampton's municipal elected officials vulnerable to complaints of unfair spending as incumbents, or someone like Brown seeking higher office, if they use municipal resources to run their campaigns, something that is prohibited in Ontario.
The decision to allow council members to use their current social media accounts when seeking re-election was made during a January Committee of Council meeting.
A motion from Councillor Charmaine Williams replaced a staff recommendation for how to handle social media during an election with more lenient guidance. It loosened the strict language about the social media accounts Brampton councillors will be able to use to seek election. Williams is the Progressive Conservative candidate for Brampton Centre in June's provincial election. She has not ruled out running for Brampton City Council again if she fails to win a seat in Queen's Park.
Social media can be a powerful tool during an election.
(Screenshot from Twitter)
The original policy proposed by Brampton City Staff was clear.
"Members must ensure that there is a clear distinction between their use of social media in their capacity as an Elected Official and their use of social media for personal or election campaign purposes," the proposed policy said. "If an Elected Official uses any Social Media account for Campaigning, such account must not be created or supported by City Resources, including Staff."
The successful motion, which was supported by ten members (only Councillor Doug Whillans refused to vote for it) deleted the specific staff guidance to run clearly separate social media accounts, meaning personal social media accounts that look like official City accounts, often managed by expensive municipal staff working for Brown and other members, are open for campaigning.
City Clerk Peter Fay warned them against the move.
"There still is the Municipal Elections Act, there still is the Council Code of Conduct and I don't want … [to] say that members are then absolved from any risk down the road because there may be individuals—we know this happens during a campaign period—that may challenge whether or not a member of council who happens to be a candidate is compliant with the Municipal Elections Act or complying with the Code of Conduct," Fay said.
The Municipal Elections Act is clear—public resources may not be used in any way to contribute to an election campaign. "For greater certainty… the following persons and entities shall not make a contribution," the Act reads. The list includes "the Crown in right of Canada or Ontario, a municipality or a local board".
A contribution is defined as "money, goods and services".
Charmaine Williams moved a motion to change the rules governing social media usage during an election.
(Image from The Pointer files)
Brown pushed for the policy change. "Most of us don't have elected official accounts, we have one account, which is a personal account," he said. "I, for one, don't have a City Council account, I don't have a corporate Twitter or Instagram or Facebook, I have what I already had before I got elected Mayor."
His claim was misleading. He spends Brampton taxpayers' money to boost his posts and increase viewership to grow his following. Public expense disclosures show the mayor has spent $35,041.94 on social media activity since the beginning of 2019.
The Facebook Ad Library also includes much smaller fees for some other councillors. Williams spent $2,312.36 on social media overall, and Councillors Martin Medeiros and Paul Vicente are the only members other than Brown that spent more than $1,000 on Facebook advertisements.
Since June 2019, Medeiros spent $3,320 promoting his Facebook page, personal funds he says he contributed privately. Vicente has paid $5,494 and did not respond to a request for comment, including whether the funds were his or the public's.
Expense reports for Williams and Brown have line items that indicate amounts spent on social media.
It is unclear where the advertisements Williams has expensed were featured. The Facebook Ad Library, a database that shows how much a page has spent on promotion since June 2019, does not indicate any spending by Williams on Facebook or Instagram.
"Every elected official in Brampton has a budget for communicating with their residents," Williams told The Pointer. "Disseminating information through social media is no different than sending out notices through the mail or putting up information on my website."
A spokesperson for Williams said the funds for an anti-bullying campaign (linked to Facebook in her expenses and the bulk of her $2,000-plus in spending) were actually for YouTube promotion.
"I can confirm that I have not used any City funds or resources for campaign purposes via social media or any other format," she added.
Brown has spent $16,049 promoting his Instagram and Facebook pages between June 2019 and February 2022. Information included in his expense reports reveals Brown has claimed at least some of that money from the public purse to promote a Facebook account he says is private.
Brown has used Facebook to promote personal positions, not just information for residents.
(Screenshot from Facebook Ad Library)
Some of the advertisements Brown has promoted relate to specific Brampton issues like the municipal budget. Others promote the politician himself.
Between August 4 and August 9, 2020, Brown spent between $500 and $599 on an update pushing his views on bail reform, an issue he has no jurisdiction over as mayor but one that could play a significant role as he paints himself as tough on crime to win supporters during his Conservative leadership run. The post, featuring an interview the mayor did with CP24, reached between 100,000 and 125,000 people. In March 2020, Brown spent between $600 and $699 promoting his petition for closed-circuit television cameras to be placed on highways. The survey featured a photograph of Brown and drew fewer than 300 signatures.
In October 2020, Brown spent between $900 and $999 advertising a video thanking essential workers. It featured a speech by Brown and Peel's medical officer of health Dr. Lawrence Loh praising essential workers. The video was promoted using the Facebook account Brown describes as his personal one. It's unclear why the Region of Peel or City of Brampton accounts were not used.
Mayors of other large cities have not spent public funds advertising their Facebook pages. Mississauga Mayor Bonnie Crombie, Toronto's John Tory and Jim Watson of Ottawa have not spent a cent promoting their official pages.
A large share of the $35,000-plus Brown has claimed from the taxpayer for his social media has gone to one firm.
Solarit Solutions Inc., a Mississauga-based technology company, was paid almost monthly from May 2020 for "social media promotion and monitoring" according to public expense disclosures. It's unclear if this contract was entered into using a proper bidding process. Srinikanth Pannerselvam is the president of Solarit Solutions, according to his LinkedIn profile. Eight of the Facebook advertisements posted to promote Brown between 2019 and 2022 were paid for by someone with the same name, according to the Facebook Ad Library. The spend on advertisements by Pannerselvam for Brown's Facebook account ranges from just under $100 to almost $600, with different issues promoted.
Some advertisements for Patrick Brown were placed by the company he paid thousands to promote and monitor his social media using public funds.
(Screenshot from Facebook Ad Library)
It is unclear if the Municipal Elections Act would consider these sums of money contributions.
With Brown now using his current social media accounts to promote his bid for the CPC leadership, the accounts have a larger reach and following as a direct result of taxpayer money. That is an advantage any potential challenger to the mayor would not get to share.
"My personal account is now deemed to be a corporate account because of my role as mayor, that same assumption could be made of all of you," Brown said during January's council discussion. "I had a Twitter account for 10 years before I was mayor and so I just don't think we should be weighing into this."
SocialBlade, a website that monitors follower counts, shows Brown has accrued a significant number of followers as Brampton mayor. Between February 1 and February 8, 2021, for example, Brown gained an additional 1,228 followers. He added 1,363 followers between January 3 and 10, 2022.
On January 17, 2021, according to SocialBlade, Brown had 48,465 followers. By February 28, 2022, he had 60,077.
"The persona that your personal account has taken on—it's identified as the Mayor of the City of Brampton in your case—therefore it is perceived and received in the public as being an official account; as a representation of the City of Brampton," City Clerk Fay told Brown in January.
His warnings were ignored.
---
Email: [email protected]
Twitter: @isaaccallan
Tel: 647 561-4879
---
COVID-19 is impacting all Canadians. At a time when vital public information is needed by everyone, The Pointer has taken down our paywall on all stories relating to the pandemic and those of public interest to ensure every resident of Brampton and Mississauga has access to the facts. For those who are able, we encourage you to consider a subscription. This will help us report on important public interest issues the community needs to know about now more than ever. You can register for a 30-day free trial HERE. Thereafter, The Pointer will charge $10 a month and you can cancel any time right on the website. Thank you
Submit a correction about this story