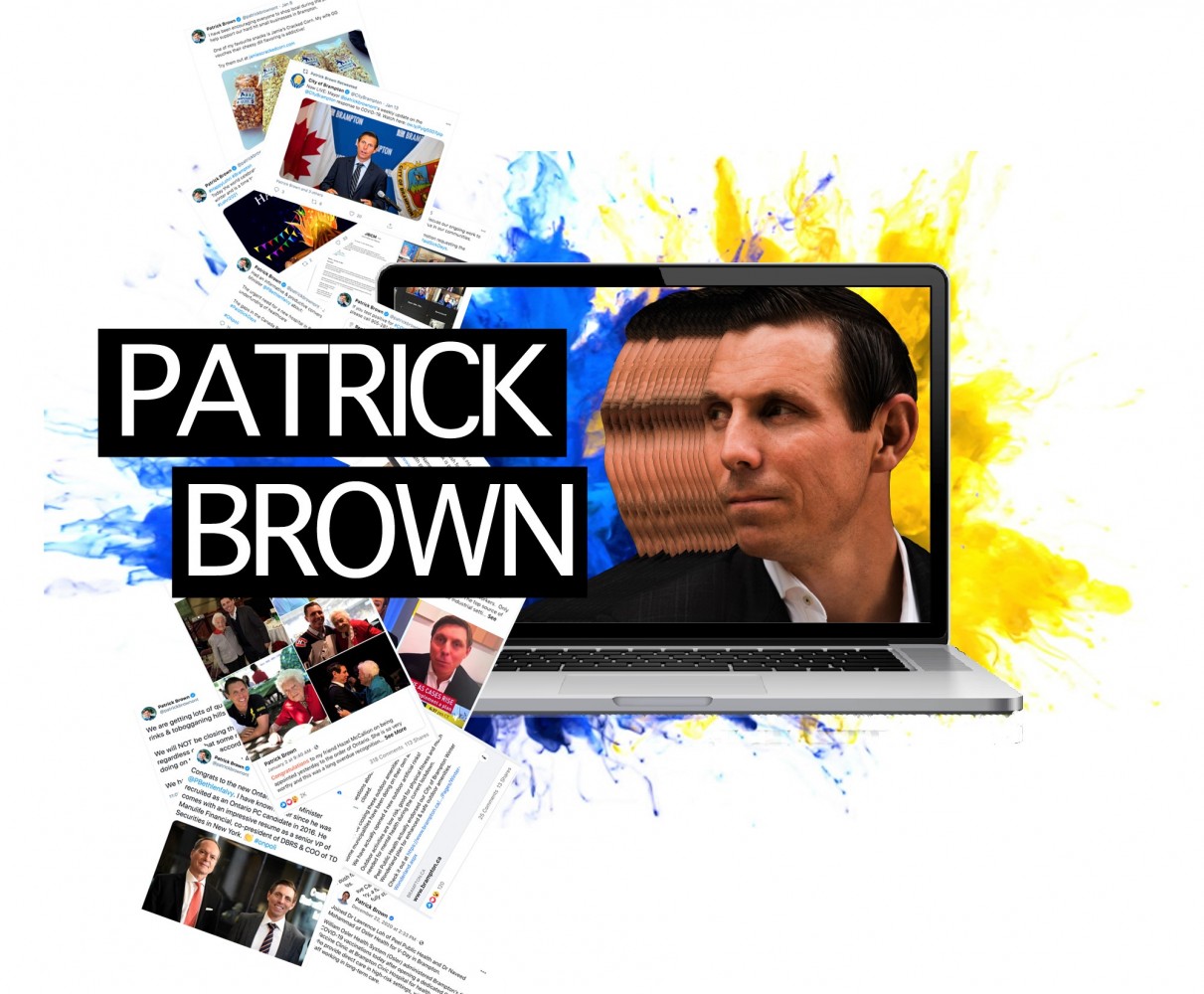 The Pointer file photos/Graphic Illustration Joel Wittnebel/Screengrabs Twitter/Facebook
Patrick Brown is open to social media engagement but needs to be fact checked
The Pointer's Social Media Monitor is a weekly look at how elected officials and other public civil servants are using their taxpayer-funded resources to shape digital communication aimed at constituents. We feature one public figure each week.
---
As made terrifyingly clear by Donald Trump, social media's most dire shortcoming is the ability of misinformation to spread on platforms at warp speed.
Brampton Mayor Patrick Brown uses these platforms habitually and the inability to hold him accountable for what he says puts Brampton residents at risk of being misled.
For many people hoping to connect with their municipal, provincial or federal representatives, social media is often the place to go.
The public nature of these platforms allows exchanges to unfold as though people were debating in an arena. But in most cases, engagement with politicians on social media is a one-way dialogue: constituents post at their representatives but no response is received.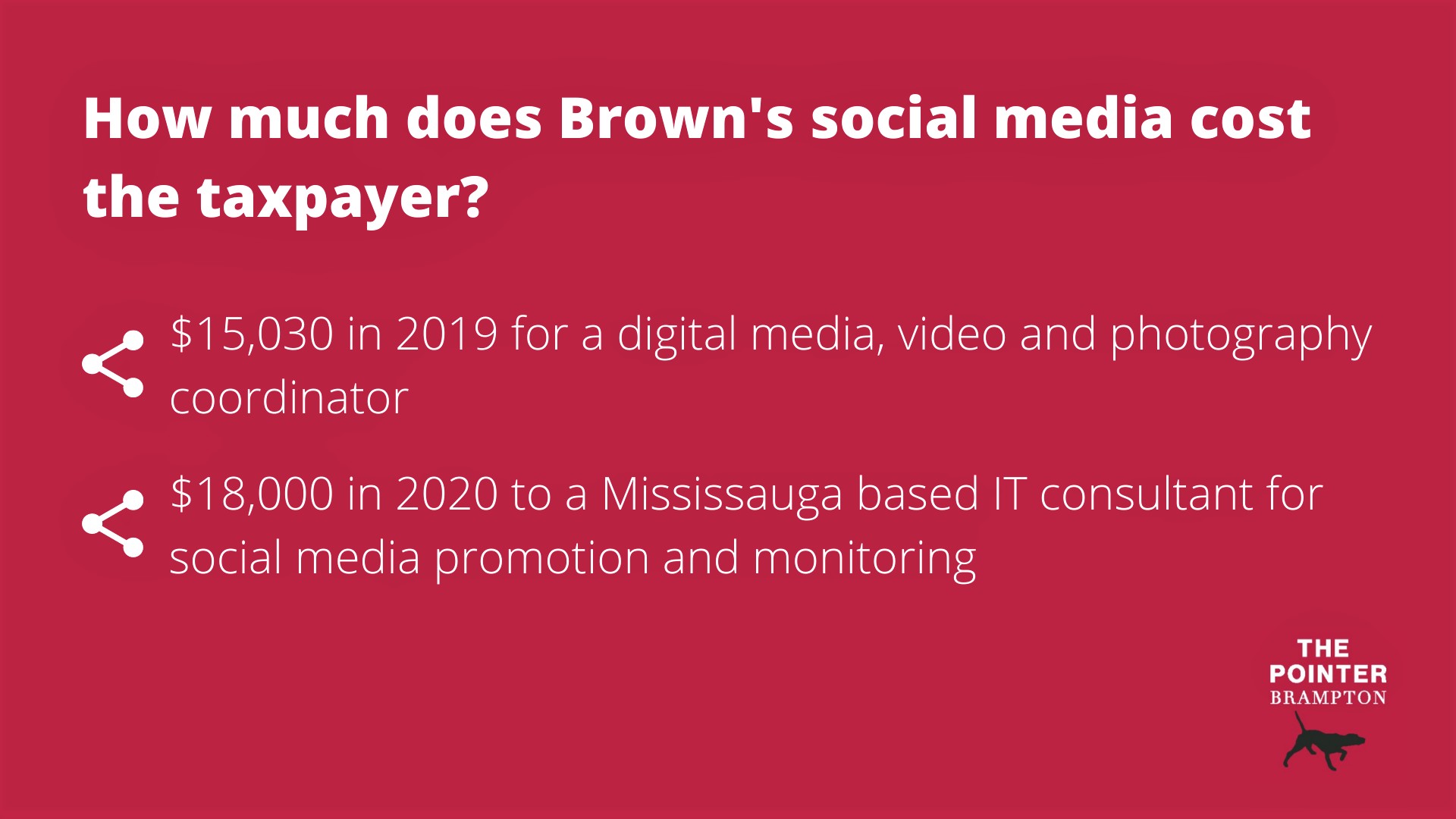 It's hard to say how much taxpayer money Brown is actually spending on social media because he would not answer questions.
With Brown, things are a little different.
Like many, he has accounts on three platforms (Instagram, Twitter and Facebook) and while content often overlaps, he commonly uses each to host different types of information.
His Instagram page, for example, largely focuses on photos of his family and other personal aspects of his life. Twitter is where his role as mayor morphs into a news desk. Messages highlighting local information, such as local closure notices and snow removal schedules are sent out with information about his get-togethers with local leaders and businesses. He shares this content along with photos and videos highlighting announcements or showcasing social events he routinely attends (this has slowed during the pandemic).
Brown's presence on Facebook largely serves the same purpose but stands out among the other platforms for a few reasons. He often engages with commenters in one of two ways: attempting to answer residents' questions; or defending his own actions.
Brown interacts on Facebook through two separate accounts. The first is a verified page that has 69,148 followers. It was created in September 2014, and has five people managing it, according to Facebook's page transparency feature. His other account is a private one and has 15,311 followers, and appears to have been created in June 2014. It's not clear how many people have access to this account for administration.
Brown is a member of the Facebook group Brampton Beats, which hosts discussions on issues related to the city. Brown uses his unverified account to answer residents' questions here.
One recent example is his comments made on a post from December 30 using his personal account. A disappointed resident questioned why a city winter vehicle came down his street but didn't drop salt on the icy road. Brown, who was tagged in the post, responded by blaming the previous council.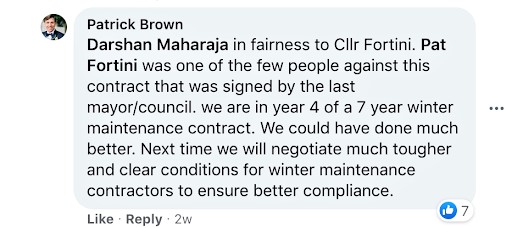 Brown has also used the comment section of this group to spin other users. This was evident in the discussion relating to an article by the St. Catharines Standard, addressing the hiring of Robert D'Ambroise in the Brampton CAO's office.
A previous employee of Niagara Region, D'Ambroise was investigated for helping his former boss secure the position as the Region's new CAO in 2016. Jason Tamming, Brampton's director of strategic communications, and David Barrick, the City's CAO (whose hiring in Brampton was overseen by Brown) were also investigated for their role in the operation and were found to have behaved fraudulently, by the Ontario Ombudsman. All three now work in senior roles at City Hall.
On social media, Brown blatantly misrepresented the finding of the Ombudsman, who called their fraudulent behaviour in Niagara an "Inside Job", the title of his scathing investigation report. Whether the mayor lied or not, depends on if he knowingly presented the false information or was just misinformed. Nonetheless, he has repeatedly shown the need to be fact checked on social media.

The conversation quickly plunged into an online screaming match. Brown incorrectly stated Barrick was cleared of wrongdoing in the Niagara scandal.
On January 9, on his own page, he posted about ice rinks in Brampton being open for residents to use. This led a commenter to bring up Brown's controversial use of a facility over the summer, when it wasn't clear if the rinks were even supposed to be open for public use. Brown claimed on his Facebook page that inappropriate use of the rink by him during the pandemic "never happened. The city never even had ice in our arenas when it was not permitted."
However, the reporting around the controversy revealed Brown had misrepresented why he attended the arena, and video footage suggested he lied about not being there to play hockey on one occasion, despite the video that clearly showed he was there to play hockey.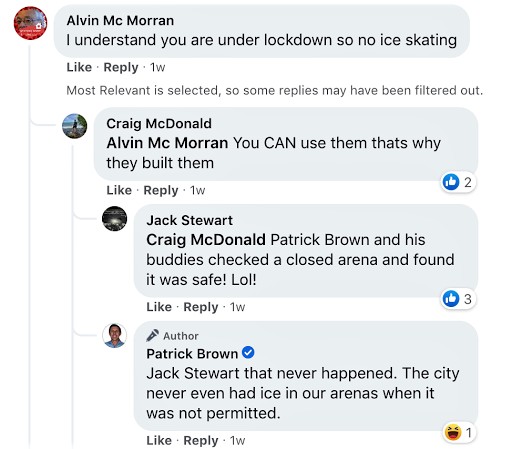 His Facebook claim was a misdirection. He was accused of showing up to play hockey when he wasn't supposed to, and then lying when he claimed he had gone to the rink to check on the facility. One of the players on the video confirmed Brown regularly played in the pick-up game, and when he showed up he could be seen next to a hockey bag full of equipment with his name on it.
Again, his use of social media to spin stories that often go unchallenged, is a routine feature of his use.
Prior to the pandemic, he used Twitter to suggest Premier Doug Ford had committed to funding a third hospital in Brampton. The Premier's office confirmed this was incorrect.
And during the pandemic he again took to social media, spreading misinformation. While Brampton had among the lowest testing rates in the province, with only one assessment centre, Brown trumpeted testing numbers on Twitter that grossly inflated the actual figure. He used figures that included tests done in Etobicoke, which had two assessment centres at the time and where more than twice as many tests had been done.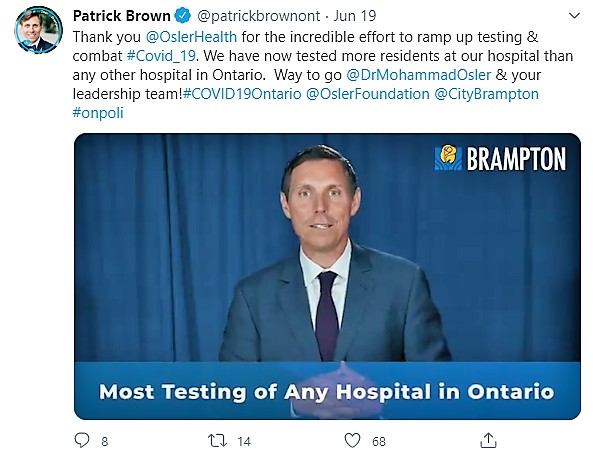 Brown added test numbers from Etobicoke and stated they were for "our hospital".
Later in the summer, after Brown was called out by Premier Doug Ford, who called Brampton's COVID response "broken", the mayor again claimed testing numbers he used were for his city, despite knowing they included Etobicoke's numbers.
When Brown posted a photo on his Facebook page showing a long-term care worker receiving one of the first vaccines to ever be administered in Peel in late December, one curious commenter asked "were you next." Brown was quick to reply that he was going to wait his turn.
This particular photo-op led many to ask why Brown was there in the first place, given the vaccine had nothing to do with him. It's a common question that comes up with many of the mayor's photo ops. On November 21, he posted a photo on Twitter showing a donation of masks to a local organization. Earlier that month, he posed with a giant cheque highlighting a $20,000 donation made to William Osler Health Centre, the organization that runs Brampton's sole full-service hospital, Brampton Civic.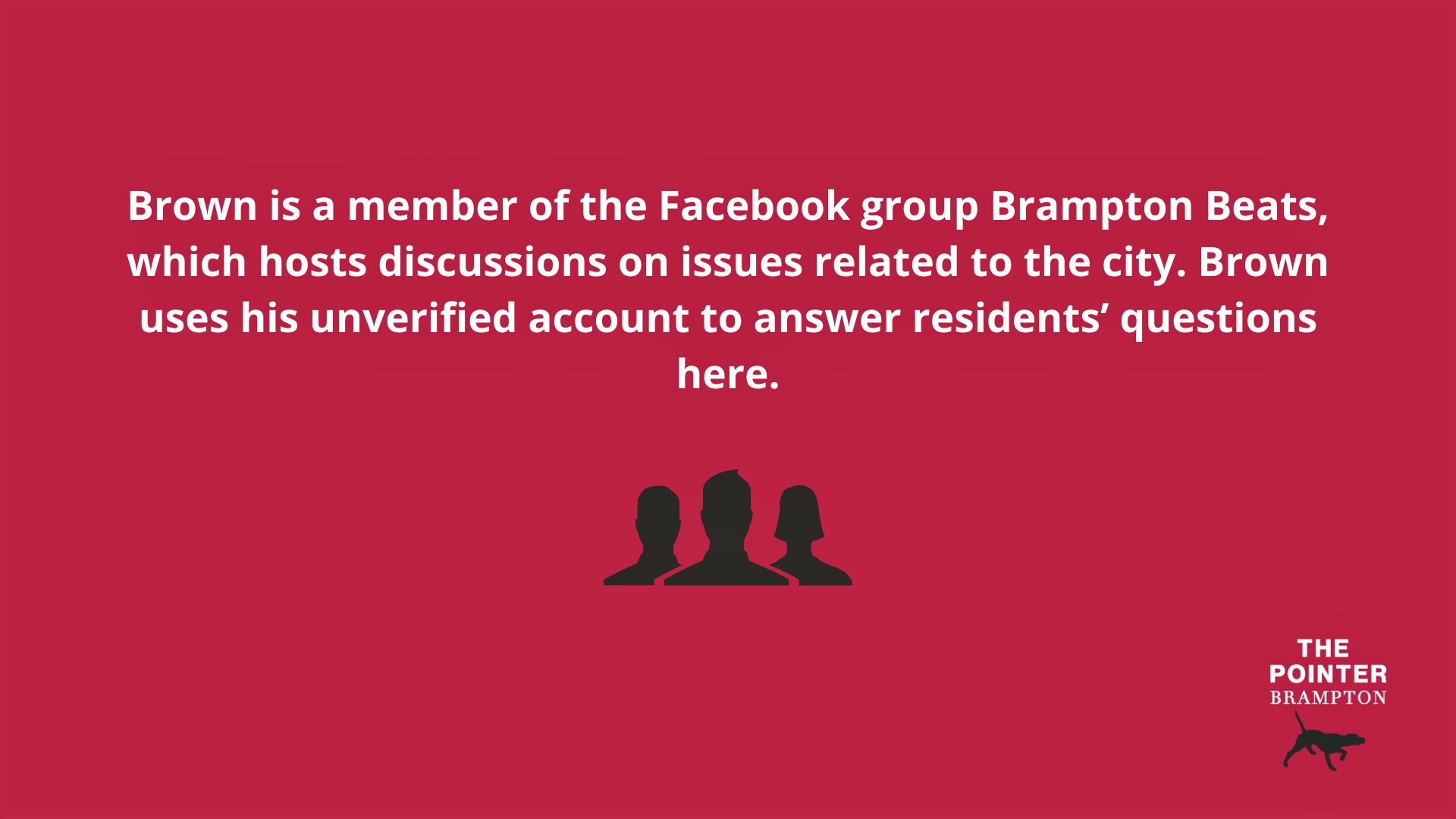 Analyzing the videos and photos on these accounts, there's a clear difference in the way posts are created. Some of the photos and videos seem to be professionally shot and edited, such as Brown's 2020 Christmas message. Others, such as a video from January 7 showing the behind the scenes of a telephone town hall, appear to have been shot on someone's phone.
It's also not clear if Brown himself is replying to every comment he makes on Facebook through his personal account. For example, a May 2 post on another Facebook page regarding the death of a cyclist used style and punctuation very different from other posts.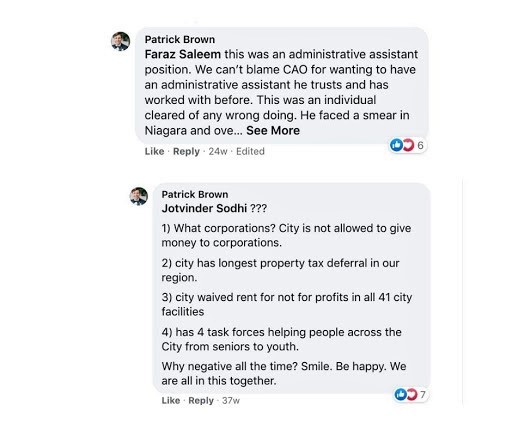 The Pointer reached out to Gary Collins, the mayor's director of communications, to learn if Brown uses a team to run his social media accounts and, if so, how much this is costing taxpayers. The mayor was also asked about the overall cost of his social media use. None of the questions were answered.
Looking at Brown's expenses, it seems some outside assistance is rendered. Between January and December 2019, Brown's expenses show a total of $15,000 was spent to pay for a digital media, video and photography coordinator over the year.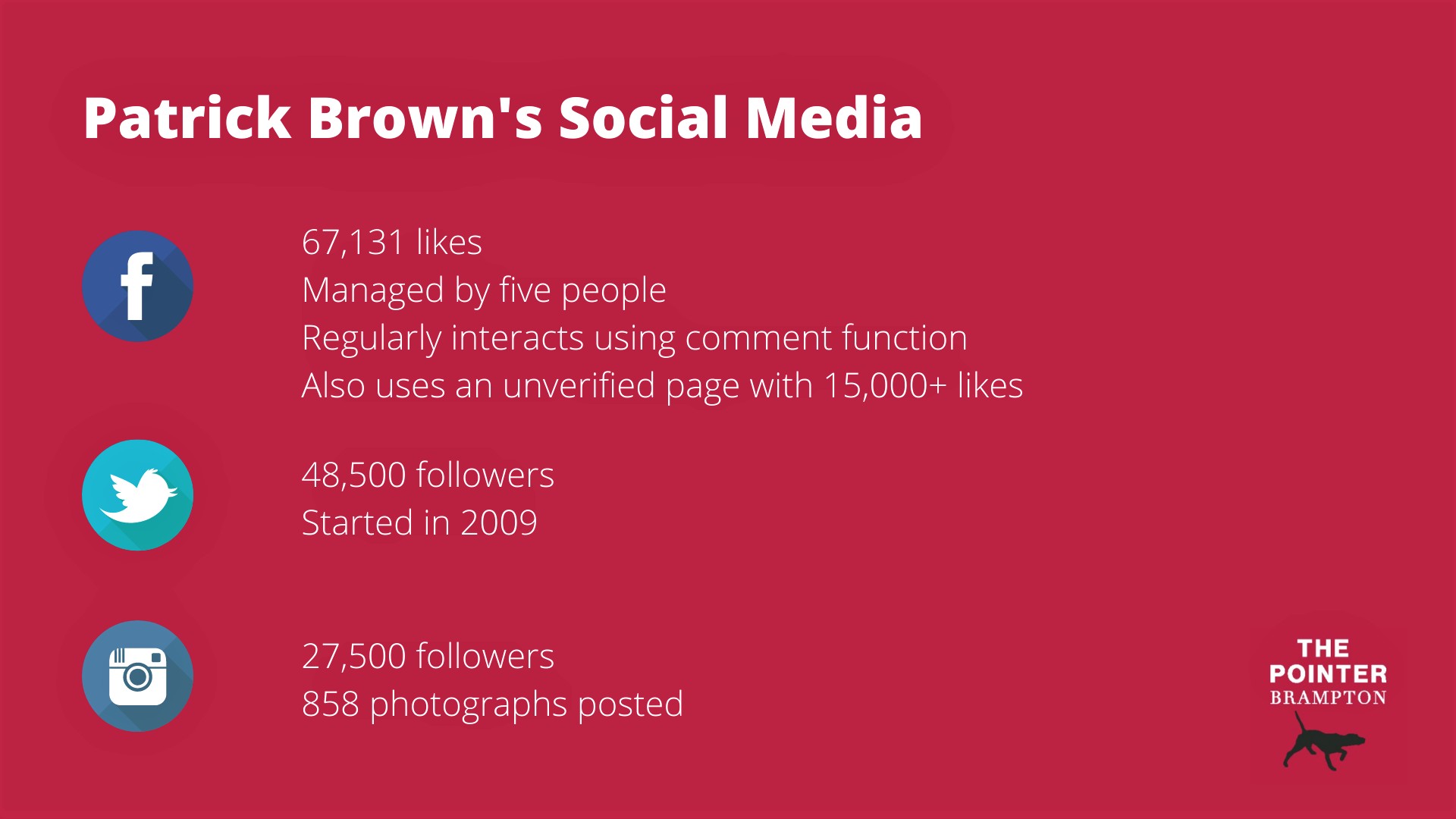 In 2020, Brown's office expensed $50 for Facebook ads and paid $4,500 to Solarit Solutions Inc. in "social media promotion and monitoring charges." According to their website, they are an I.T. consulting firm that "provides a wide variety of marketing tools including videography and photography services."
The same vendor also charged the Mayor's office $18,000 between March and August of 2020 for the same service. Records show the full amount was transferred to the Strategic Communications Department over five separate transactions in October. It's unclear why this was done.
---
Email: [email protected]
Twitter: @nida_zafar
Tel: 416 890-7643
---
COVID-19 is impacting all Canadians. At a time when vital public information is needed by everyone, The Pointer has taken down our paywall on all stories relating to the pandemic and those of public interest to ensure every resident of Brampton and Mississauga has access to the facts. For those who are able, we encourage you to consider a subscription. This will help us report on important public interest issues the community needs to know about now more than ever. You can register for a 30-day free trial HERE. Thereafter, The Pointer will charge $10 a month and you can cancel any time right on the website. Thank you.
Submit a correction about this story