The Punjabi Golf Association/CP Canadian Open/The Pointer files
Ode to Golf
"Closing down golf courses in Ontario is unnecessary and irresponsible," said a petition signed by over 25,000 in Ontario this past week. Ontario is the only province, state, or territory in North America to currently place a ban on the sport.
Mike Kelly, executive director of Golf Ontario, the National Golf Course Owners Association and Golf Canada, reminded us last week that in 2020 – during the height of the pandemic – there were more than 20 million rounds of golf played here, and NOT ONE reported case of COVID-19 transmission.
Golf is not a problem, said Kelly, but a solution. When Premier Doug Ford announced the shutdown of recreational amenities two weeks ago (he walked back the closure of playgrounds) and temporarily banned golf (a multimillion dollar business sector, and the largest recreational activity in Canada) the response was loud and immediate, and the conclusion clear: this was an overreach – a solution to a problem that doesn't exist.
By killing golf in this springtime, the Province has also killed thousands of jobs, and the hopes of thousands who use golf as a safe and happy escape hatch from these troubling times.
We can still watch the amazing Brooke Henderson win her tenth LPGA title, adding to her record for the most ever by a Canadian pro, at the ripe age of 23.
The phenom from Smith Falls, Ontario, walked off the 18th green in Los Angeles Saturday with a one-shot victory, sending hundreds of thousands of Canadians into golfing euphoria. She is everything good about the game: powerful, accurate, respectful and modest.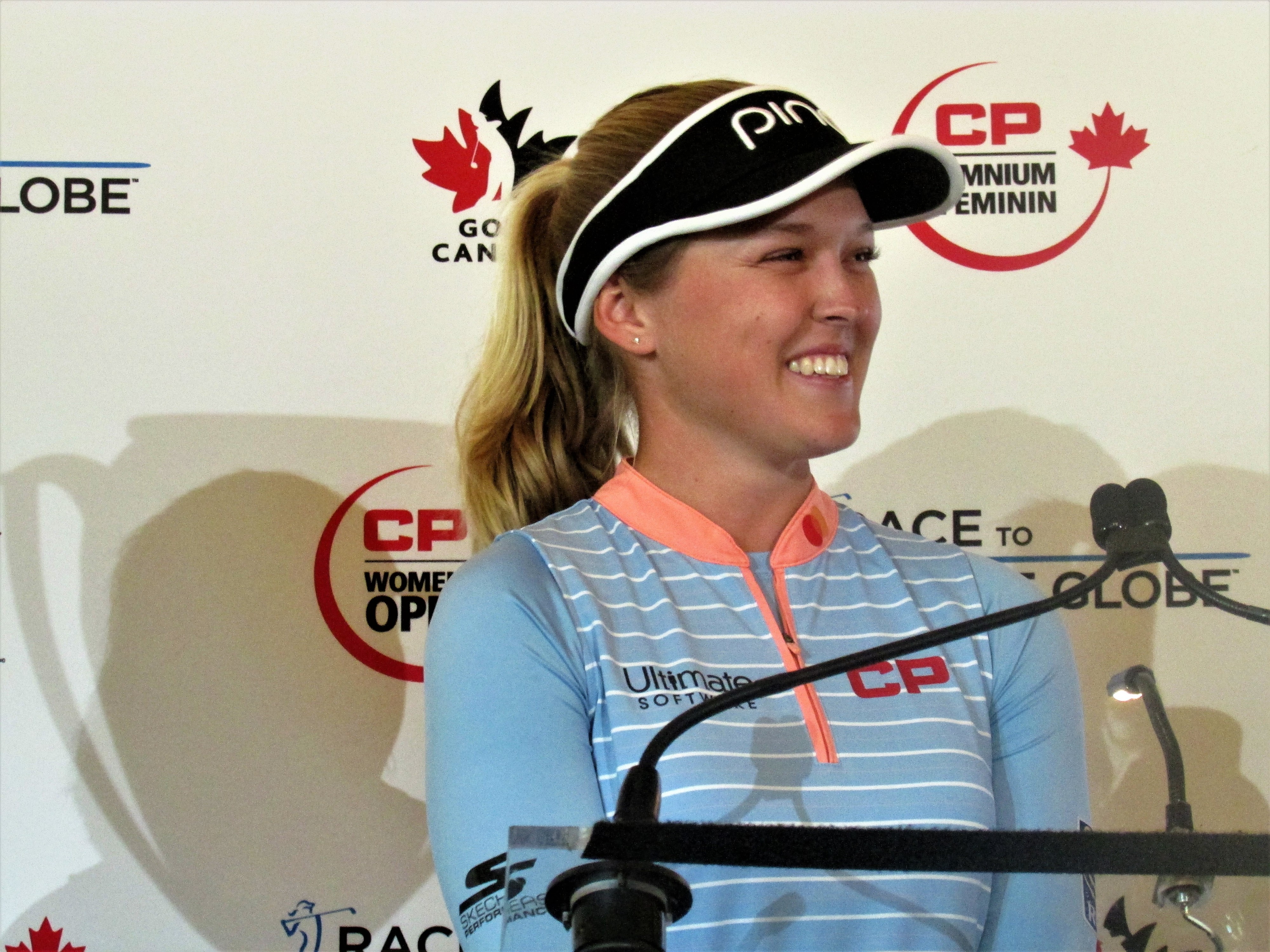 Canadian Brooke Henderson won her 10th professional tournament Saturday, she already had the record for a Canadian pro
But even through our collective joy, and escape from the drudgery of this pandemic as we watched Henderson calmly chase down her front-running opponents in the final group, we couldn't be where golfers always want to be – on the course.
Think of grass – as green as an Irish glen on a summer morn'.
Imagine breathing crystalline air distilled through pine branches.
Picture a kaleidoscope of flowers – dogwood, azaleas and magnolias.
Turn left and see pine-straw pathways, or right and watch players lope languidly down fairways as well-manicured as anything in golfdom.
Feel free to romanticize about golf holes named Tea Olive, Pink Dogwood, Flowering Peach, Juniper, and Yellow Jasmine.
Watch this four-act play as it journeys from the first tee to the 72nd hole where, sitting sublimely in the background – and slightly out of focus – is the white-shingled Butler Cabin.
It is here, on a Sunday in mid-April, where the green jacket is presented to the winner.
Welcome to the recent Masters tournament at Augusta National Golf Club in Georgia, the most iconic, one-week sporting event on the planet. This annual gathering of the golfing herds is one of the world's rites of passage, the first taste of springtime for many of us in winter-weary Canada.
This year's event had a strange duality: the inward unease being felt by many viewers due to the havoc wrought by COVID-19, measured against the bright-lit imagery of Mother Nature and its bounty, on display at Augusta in all its finery. No golf tournament is seasoned by the season quite like The Masters.
Insiders know that much of what is seen and heard is trickery. Bird sounds are actually piped in through hidden speakers and swaths of the verdant landscape are painted for effect.
There are other aesthetic additions to Mother Nature, but the tournament has always been a coming of the season for Canadians who are lucky enough to play the game.
There is no doubt some reading this will say, 'How can you talk about GOLF! – when so many are dying?' It's true, those wealthy enough to play the game have not suffered like our fellow citizens trapped in small, crowded apartments, and those forced to use public transit to reach their factory shifts or the grocery stores where they work.
Frontline healthcare workers currently drowning in the pandemic might question any attention to golfers right now.
But for many, this magic elixir for damaged souls, is the perfect cross-weaving of sport and nature and made more meaningful because it's an escape for some of us, even those who are far from the upper classes of society, trapped inside by stay-in-place orders from governments stymied by the rapidly rising rate of infection spread.
It's okay that many of us plopped down and watched for four straight days as shot after shot in Georgia two weeks ago were delivered in dizzying repetition.
Witnessing Henderson rack up her tenth professional win Saturday and add to her all-time Canadian professional record was religious for her most diehard fans, and every resident in Smith Falls.
But cutting Ontario golfers off from play leaves all of us addicted to the game, struggling.
Canada is covered in snow for long stretches of the year, but golf remains our most popular recreational activity. During 2020, at the height of the pandemic, over 20 million rounds were still played in Ontario alone. It emerged as one of the big winners in one of the most lamentable years in history. Laurence Applebaum, CEO of Golf Canada, called golf "a silver lining, a bright light."
Golf Canada is the industry's NSO (National Sports Organization) a name rebrand from the heraldic but badly outdated Royal Canadian Golf Association (RCGA). The new handle didn't change the association's important mandate: to "grow the game", to plump up plunging participation numbers, which went into a sharp decline after the economic meltdown of 2008-09. Golf was the sick man of the sports world.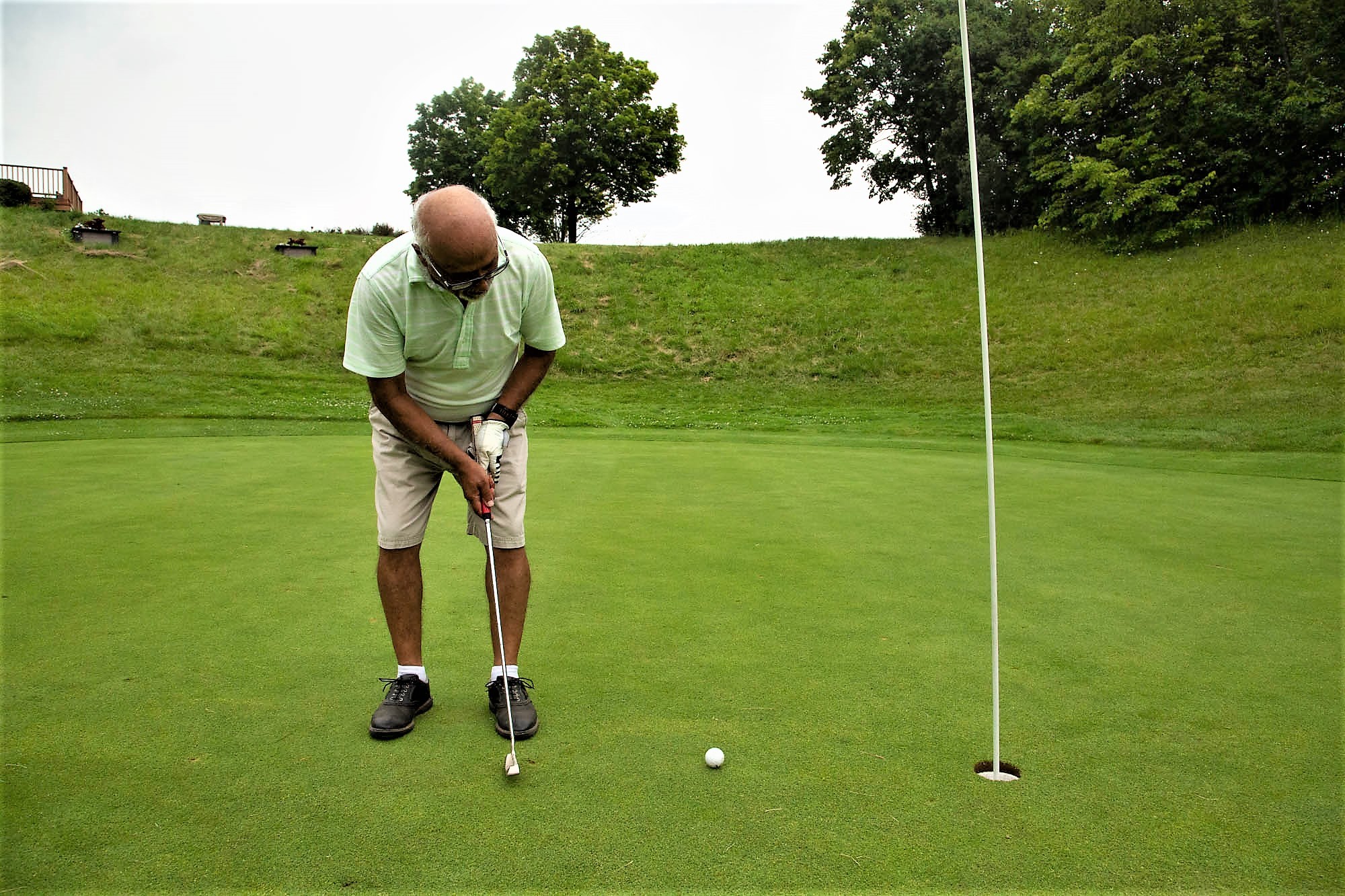 A Brampton golfer, before the pandemic
It's been reported over the past 15 years, golf in the United States shed well over 10 million players. Canadian numbers matched this percentage. The downslide has been driven by other factors, too: a lack of diversity, high costs, pace of play, and a game that is very hard to master.
Industry insiders worried that COVID-19 would speed its demise, and initially, that's what happened.
The 2020 season was delayed, and when courses did open, it was under heavy restrictions. But in the belly of the sport, there stirred new life, and the opposite happened: the health benefits of the sport – both mentally and physically – made it a perfect antidote for the pandemic. Hell, the game was played outdoors, and players naturally practiced social distancing. For those sheltering in place, it provided the ultimate safe escape. Negatives got washed away by all the positives experienced by players desperate to break free from the grip of the deadly viruses continuing to cripple our world.
Courses couldn't keep up with an onrush of new customers. By late summer, a new demographic – younger, more women, more diversity – embraced (or re-embraced) the game. Old clubs were pulled out of sheds and attics. Tee times at both public and private courses were at a premium. It was next to impossible to book a round. The club, ball and apparel manufacturers also cashed in as new orders skyrocketed. Golf blew hot, and became ultra cool.
Golf Canada, which had in the past spent millions to expand its membership rolls, let nature runs its course. COVID-19 would help fulfill its "grow the game" mandate. Montreal's Ted Fletcher, founder of Mint Green Group, distributor of Cleveland, Srixon, Greg Norman, Dunlop, and Nike Golf Canada, who once sat on the RCGA board of governors, said the pandemic "led us here, to a revival of our game."
When he spoke late last year, the numbers were in: rounds played were up by double-digit percentages nationally. This led to another response: "The market has led us [industry stakeholders] in the right direction. This has been a windfall for the golf business."
Talking about profits during a global health crisis is cringeworthy. But the bottom-line figures were a reflection of the need for so many for some type of release. They simply represent how desperate we are to feel normal, to enjoy the things we enjoy. It's inevitable that companies are going to take advantage of this. There's no crime in that.
Brian Decunha, the long-time owner of Dragon's Fire Golf Club near Burlington, whose public course struggled mightily to fill tee sheets in the pre-pandemic days, couldn't believe the changing fortunes. He also said last year: "We've had to turn away as many players as we booked. It's amazing. We're 100 percent ahead of last year. In a good year, you might see 10, maybe 20 percent growth, and 50 percent is over the moon. One hundred? OMG!"
This spring in southern Ontario, the anecdotes about golf's continuing revival were again driven by lovely spring weather and a furtherance of the pandemic's spread. The virus has only focussed the beauty of playing the game in the great outdoors and it can't be overstated, said Applebaum.
In 2009, as the economic crisis had taken hold, golf was viewed as a dusty remnant from a bygone era: restrictive, racially insensitive, and tone-deaf to the changing demographics of the cities and regions where the game was played, especially Brampton and Mississauga.
Golf's greatest enemies were the people and businesses running the sport. It served a dying demographic: old, white, males. Was it a bastion of manicured privilege, especially at the private-club level? Was the RCGA just an extension of the country-club set, the 1 percenters, and why were all those snobby courses hidden behind fencing with NO TREPASSING signs?
What should we make of a game that once had a "Caucasians'-only" rule for holding membership on the PGA Tour, which was only lifted in 1961?
In 2009, The National Allied Golf Associations (NAGA), an alphabet soup of golf stakeholders (club owners, manufacturers, retailers, and dozens of others) was so worried about its future, it produced an Economic Impact Study. It hoped to use it as a sell tool to cure what ailed the sport. By benchmarking itself, it could do a little influence peddling on Parliament Hill.
The issue NAGA needed addressing was a controversial one: taxation. Would parliamentarians finally admit golf was a legitimate entertainment expense, and let players claim it as a write-off? The numbers from its study were impressive, and backed its argument: the golf industry generated an estimated $29.4 billion in total gross production through direct, indirect and induced spending; it created 341,794 jobs, $7.6 billion in household income, $1.2 billion in property and other indirect taxes, and $1.9 billion in income taxes. Golf rounds were also down a distressing 10 percent across the land.
A tax write-off would drive up interest in an important industry sector, this would assist all. A NAGA official who lived in Mississauga, said, "we want policy makers to take us seriously."
They didn't. They couldn't. The very idea of giving a tax break to what many still considered a country-club game, would inflame the vast majority of everyday Canadians, just struggling to make their next mortgage payment or the rent. But NAGA was onto something; it called for new studies in 2014, and 2019.
Explained Applebaum when the last one was unveiled: "The multiple industry data sources from course operators, from the '09, '14, and '19 studies, further reinforced the enormous financial, employment, charitable, tourism and positive environmental impact that the sport and the business of golf are affecting across Canada."
Again, Ottawa balked. But in the belly of the above quote, was this key clause: "positive environmental impact." At the time, before COVID-19 and the world-wide ravages of climate change became a moral imperative, eco-stewardship was just a fanciful aside for the golf industry. By 2021, it is one of the ruling passions of the game, among those who seriously wish to steward it into the future.
Across Canada, and around the globe, cities are deep into action plans on climate change. Brampton and Mississauga have placed green markers for driving down CO2 levels.
While Golf Canada is driven to make the game more inclusive, more egalitarian, and serve the public and private sectors, there seems an inevitability that it will become an advocate for the green movement as well, and at the local level, better land usage.
Will it stir city councils and provincial and federal level parliamentarians to reconsider the benefits of golf, once seen as an annoyance a sure public-sector money-loser? Have COVID and climate change lifted the coffin-lid on a sport left for dead, and will it usher in a new age when it becomes a key player in future discussions around recreation, public health and land use?
Brampton's Peel Village course is municipally owned, and folds nicely inside the city's green portfolio. In Mississauga, BraeBen and Lakeview are also "muni's" whose valuations have skyrocketed because of their recently jammed tee sheets.
But that was before Premier Doug Ford decided to shut golf down across Ontario.
Both courses have fascinating histories: the former once for urban blight, the Brittania Landfill site. It was groomed for years to reemerge as a golf course once it fulfilled its original mandate, and now features an 18-hole course, and a nine-hole academy. It's a stirring example of how something vile and intrusive can be "greened over". Lakeview is the granddaddy of muni's in Southern Ontario, a two-time home of the Canadian Open. It was gifted to the city on a 99-year lease, on the proviso it remains a golf course. It too, fits nicely into the city's green portfolio.
While all three clubs have, at times, needed subsidies, both emerged with new business models, driven by golf's revival. Brampton and Mississauga have set aggressive climate change goals, and reaching drastically reduced CO2 levels by 2050 is part of dual game plans. Peel Village, Lakeview and BraeBen can help achieve these goals.
This good news runs counter to what's taking place in other Canadian cities like Vancouver, Calgary and Toronto. They have spent thousands to study whether to keep or close their municipal courses. This drive to sell-off in exchange for things like public housing has even won approval from environmental groups.
In Brantford, thousands of residents recently resisting the sale of the municipally owned Arrowdale Golf Course. Thousands of protesters ringed the facility, carrying placards, signing a petition, and publishing on Facebook. The city stopped operating Arrowdale last year and swung a deal to sell 32 acres to Elite M.D. Developments for $14 million.
It says it will use the proceeds to build affordable housing and parcel-out 17 acres for a park. The sale is on hold pending a court decision.
The protest comes on the heels of a letter sent to all citizens explaining that Brantford's Corporate Climate Change Action Plan will help achieve "a sustainable and clean future." It hopes to be carbon neutral by 2050, and says its goals are economical, doable and desirable. How this squares a selling-off of greenery to a developer is anyone's guess.
The most obvious illustration of golf's uncertain future in Canada is the ongoing saga of Glen Abbey golf course in Oakville, perhaps the most iconic of all tracks in the country.
The owner, ClubLink, which is part of the same ownership group that controls large development company Morguard, is fighting the town of Oakville, to bulldoze the Jack Nicklaus-designed course that has hosted 30 Canadian Open championships.
The town is trying to save Glen Abbey, the owner wants to turn it into residential housing. The matter is currently in the middle of a complicated development appeals process.
Other jurisdictions are supporting municipal golf, for other reasons, like diversity – bring golf to inner-city kids. The City of Washington, D.C recently declared it was pouring millions into enhancing its three municipal courses and calls this a "once-in-a-generation opportunity" to push the benefits of restoration. Washington is determined to answer the question: "What municipal golf can and should be."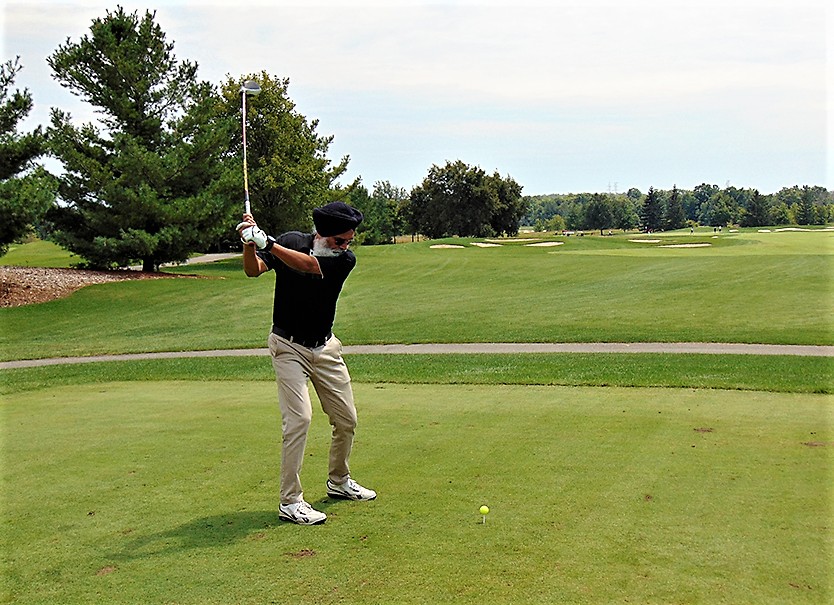 A golfer tees it up during a tournament hosted by the Punjabi Golf Association, which opens the game to locals
The United States has 2 million acres of land in use as municipal golf courses. The city of Toronto is looking to determine "the best model for golf service delivery" over the next 20 years. Vancouver is doing the same. One member of a pro-density, anti-municipal golf course advocacy group, invoked a claim around private club elitism, and then applied it to municipal clubs. "Reserving six very large pieces of public land for nothing but 500 or 600 people a day… seems a little ridiculous in this environment," she said.
Margaret Kohn, a University of Toronto professor specializing in urbanism and public space, told the Canadian Press a while back that cities should ask two questions about the future when it comes to public land: Does it serve citizens who are unlikely to have easy access to public recreation space, and can the space be used for multiple purposes? She concluded with this statement: "Golf courses, as I understand it, are not open to alternative uses."
This isn't always true, especially in colder regions.
Last winter, Lakeview GC opened an ungroomed but marked trail, providing parking, washrooms, and open spaces for the public and leased dogs. Directly across Dixie road, the private Toronto Golf Club always opens its course in the winter to allow the public to use its hills for tobogganing. BraeBen has experimented in the past with alternative activities like Fling Golf (a hybrid of lacrosse and golf) and Foot Golf (soccer and golf). It hopes to introduce the game to a new crop of younger players who will eventually graduate to the bigger game.
Even legendary players like Jack Nicklaus think golf has to be lighter on its feet and embrace new alternatives, like the use of forward tees, bigger holes, and shorter courses. The 12-hole Derrydale Club in Mississauga is a good example of how golf can speed up play.
St. Andrews in Scotland was the first course on the planet – a muni.
It was a Spartan course, where the game was played as it should be played: on bare links land, under extreme conditions, with wind, wild slopes, and pot bunkers. It was holistic golf, and a reminder of the game's egalitarian roots.
The fact golf has now emerged with proven bona fides against a raging pandemic and climate change, has raised the game's stature and its impact.
Brampton and Mississauga need more, not less green spaces, and less, not more, concrete and steel if they hope to reach future CO2 levels. Talk about selling off their muni courses should cease.
Golf Canada executives and NAGA stakeholders are thrilled golf has re-found its mojo.
Golf has a new story to tell, a better one, and one that should register with many Canadians. Those who have been cut-off from the game, who simply don't have the opportunities and advantages, need to be brought into the fold. If the industry doesn't take its responsibility in this, it deserves to fail. Golf will wither away, and become a remnant of the rich white man's world.
When the Masters ended and Japan's Hideki Matsuyama donned the green jacket in Butler Cabin, it remained one of the most stirring moments in sports. The golf-crazed country had its first ever male major winner. It provided the latest signal the sport is slowly moving away from its homogenous roots.
Yet the greatest takeaway from this year's Masters was the game itself, and where it is played.
It was a reminder that golf and nature are one.
That impact is a heartening one, and further enhanced by the challenges of COVID-19 and our ongoing battle against climate change.
Perhaps Doug Ford will soon lift the shutdown of golf.
In the meantime, thousands of diehards and casual players will be reminded of what they are missing every time they turn on the TV to watch a tournament or look out the window at Mother Nature.
---
---
COVID-19 is impacting all Canadians. At a time when vital public information is needed by everyone, The Pointer has taken down our paywall on all stories relating to the pandemic and those of public interest to ensure every resident of Brampton and Mississauga has access to the facts. For those who are able, we encourage you to consider a subscription. This will help us report on important public interest issues the community needs to know about now more than ever. You can register for a 30-day free trial HERE. Thereafter, The Pointer will charge $10 a month and you can cancel any time right on the website. Thank you.
Submit a correction about this story