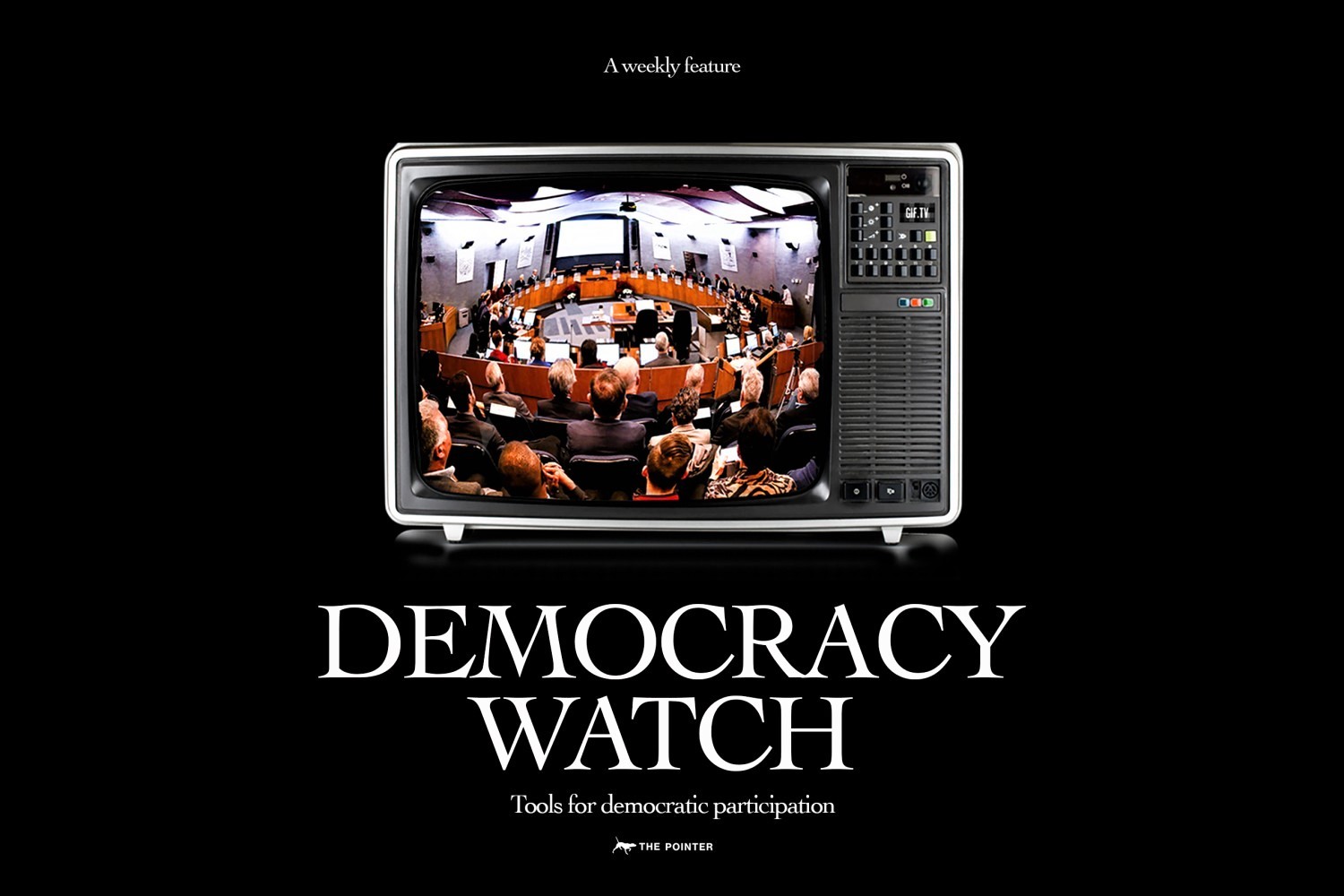 Photo illustration Joel Wittnebel/The Pointer
Brampton looking for recruiting firm; Mississauga's taxi wars; Caledon considers flip-flop on GTA West Hwy
Each week, The Pointer will check the agendas of public institutions involved in decision making that impacts the citizens of Peel. We will summarize particularly important reports or motions under various headings. This feature is designed to act as a guide for local residents, unlocking the often stodgy and byzantine process of local government.
For meetings where more than one item may be of interest, sub headings have been used. Each item includes a link to the full agenda, how to watch meetings live and information to speak on the issue at the meeting.
Democracy Watch will include a link to the most notable agendas each week. If there are no newsworthy items, information regarding timing and how to get involved will still be featured.
---
Committee of Council
Date: February 16 | Delegate | Full agenda | Watch live
Note: Last week, a group of six Brampton councillors boycotted the City's scheduled council meeting in protest, comparing the City to an "authoritarian" regime. Two special meetings were held, culminating in the replacement of controversial CAO David Barrick with Paul Morrison, director of enforcement and bylaw services.
Brampton doubles down on logistics and food processing jobs
Staff in Brampton's economic development division are working on two studies that will be presented this year. They will focus on two areas: logistics (trucking) and food processing. Staff will interview 12 groups involved in food processing including Coke Canada Bottling and Maple Lodge Farms. A report should be completed by the end of March. Another study of the logistics industry will include Canadian Blood Services and DSV Global Transport, with a final report at the end of the year.
Previous Reporting:
You can view the limited presentation slides here.
Staff attempt to bring order to myriad of education strategies
Brampton staff are considering an employment and education master plan to codify a policy the City has managed through a scattergun approach. There are five existing or planned post-secondary footprints in Brampton, as well as various start-up support operations. "A roadmap to guide Brampton to create the jobs that these recent graduates will need through a broader project scope to highlight workforce development will require several months to research and plan out a formal outline," the report concludes.
You can read the full staff report here. The appendix summarizes almost a decade of uncoordinated planning in Brampton.
City looks to retain recruitment experts
A staff report regarding senior staff hires at the City of Brampton raises a series of questions. The report requests permission to begin procurement for a three year contract to handle some hiring but does not say how much money will be earmarked for the project. The report does not inform councillors who the current recruitment firms serving City Hall are, how much their contracts are worth or which positions they are meant to help appoint.
Previous Reporting:
You can read the limited staff report here.
Cycling Advisory Committee
Date: February 17 | Delegate | Full agenda | Watch live
A report coming to Brampton's cycling advisory committee shows progress and failures for active transportation last year. It celebrates 15 kilometres of new active infrastructure routes built last year, 21 pedestrian crossovers and two new signalized crossing grades. The longest stretch is a 3.8 kilometre recreational trail from Valleycreek Drive to south of Queen Street. A total of 24 projects were deferred last year, compared to 16 that were finished as planned.
You can view the slide presentation here.
Public Vehicle Advisory Committee
Date: February 15 | Delegate | Full agenda | Watch live
Annual renewal fees for taxi licenses in Mississauga have generated concern from some drivers. Peter Pellier, spokesperson for plaintiffs who filed a 2019 claim against the City of Mississauga for alleged negligence regulating Uber, has expressed his misgivings. "In short, a taxi owner whose plate is on the shelf, and who is earning zero income, is obliged to pay the full fee, even though related enforcement costs are significantly lower," he wrote in a letter, suggesting the rules should be amended.
Previous Reporting:
You can read Peter Pellier's email here and Sami Khairallah's message here.
Council Meeting
Date: February 16 | Delegate | Full agenda | Watch live
City could recognize Indigenous site
A motion from Mississauga Ward 5 Councillor Carolyn Parrish, if approved, will ask City staff to "work toward achieving a respectful memorial" on the site of the Antrex Indigenous Village. The site was first documented in 1990, with more than 41,000 artifacts found. The village itself was occupied between the 1200s and 1300s by around 500 people.
Previous Reporting:
You can read the full motion and staff report here.
Every Child Matters Flag Raising
Mississauga Mayor Bonnie Crombie and her council will join Chief R. Stacey Laforme and Grandmother Kim Wheatley for a smudging ceremony and traditional song. The event, which will follow the end of council, will mark the raising of the Every Child Matters flag in Celebration Square.
It will be live streamed here.

General Committee Meeting
Date: February 15 | Delegate | Full agenda | Watch live
Caledon staff propose new tactic to secure fast internet
The Town of Caledon is considering a plan to add two full time staff positions to focus on broadband coverage. Changes under Building Broadband Faster Act (2021) will, staff say, result in an influx of new applications to build broadband infrastructure and alleviate local costs from the current system. Funds set aside to pay for broadband expansion could now be diverted to staff positions to handle new requests.
You can read the full proposal here.
Councillor wants Brampton to provide buses in Caledon
The Town of Caledon is the fastest growing community in Peel Region; the 2021 Census confirmed it has 76,581 residents. Despite this it does not have a municipal bus service. A motion from Councillor Christina Early requests that Brampton Transit begin serving north/south roads in the town. If the motion passes, staff will report back on the costs and stumbling blocks for the plan.
Previous Reporting:
Golf Canada considers Caledon headquarters
Golf Canada, a non-profit, plans to establish a new national headquarters for several industry associations in Caledon. It aims to build a "landmark facility" in the town that will include a putting green.
You can read the presentation here.
Planning and Development Committee Meeting
Date: February 15 | Delegate | Full agenda | Watch live
Process to include public in Minister's Zoning Order requests
Councillor Ian Sinclair will bring a motion to discuss Minister's Zoning Orders (MZOs). The planning tool has been controversial because it cuts the public out of consultations and engagement, something Caledon has done in the past. Sinclair is proposing a series of new rules. If council requests any new MZOs, he wants to see staff reports and a public information meeting among other safeguards.
Previous Reporting:
Caledon could oppose GTA West Highway
A motion proposes "that the Council of the Town of Caledon strongly objects to the proposed Highway 413 expressway project as it is currently defined". It includes context and history of the project, as well as a proposal for any funding from the GTA West Highway (if it is scrapped) be spent on public transit in York, Peel and Halton regions.
Previous Reporting:
Diversity, Equity and Anti-Racism Committee
Date: February 17 | Delegate | Full agenda | Watch live
Peel works to create Indigenous engagement strategy
The Region of Peel has been working on a strategy for engagement with the area's Indigenous communities since February 2021. A new report admits that engagement with local Indigenous groups "has been siloed across the organization and comprised mostly of one-way information seeking on an as-need basis or has been compliance driven". The Region will work on a long-term proposal for relations with Indigenous communities that will be signed and codified.
You can read the full staff report here.
Peel plans for Pride 2022
Last year, the Region moved its Pride celebrations from July to June to align predominantly with Toronto. The decision caused some members of the LGBTQ+ community in Peel to raise concerns about clashing with other GTA events. This year, the Region will again celebrate in June, before deciding how to move forward (including a return to July celebrations) in 2023.
Previous Reporting:
You can read the full staff report here.

CVC Board of Directors Meeting
Date: February 18 | Delegate | Full agenda not yet public | Watch live
The Credit Valley Conservation Authority will meet to finalize its 2022 budget at a virtual meeting. The proposed budget is valued at $38 million and is partly funded by taxpayers in the Region of Peel. Information on the budget itself is scarce and largely limited to a 36-page slideshow released in October.
Previous Reporting:
You can read the media release announcing the meeting here and the draft budget slides are available here.

Pre-Budget Consultation
The Government of Ontario has opened its pre-budget consultations. Residents can submit their priorities to guide how the government allocates taxpayer money when the budget is released. In the runup to the budget, local MPPs often host their own budget submission sessions with residents in their ridings.
You can complete the online survey here or email [email protected]. More information is available on the Province's webpage.
---
Email: [email protected]
Twitter: @isaaccallan
Tel: 647 561-4879
---
COVID-19 is impacting all Canadians. At a time when vital public information is needed by everyone, The Pointer has taken down our paywall on all stories relating to the pandemic and those of public interest to ensure every resident of Brampton and Mississauga has access to the facts. For those who are able, we encourage you to consider a subscription. This will help us report on important public interest issues the community needs to know about now more than ever. You can register for a 30-day free trial HERE. Thereafter, The Pointer will charge $10 a month and you can cancel any time right on the website. Thank you
Submit a correction about this story