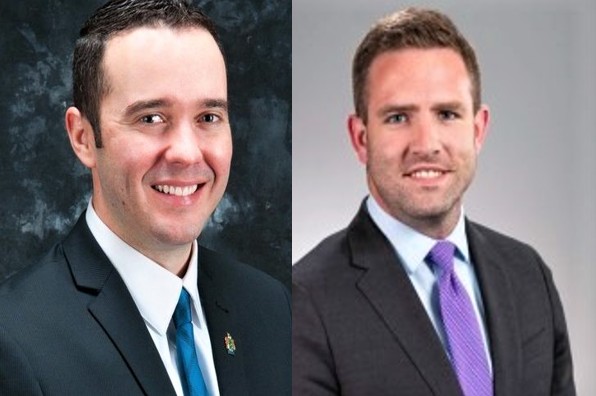 The Pointer file photos/Joel Wittnebel/Twitter/City of Brampton/LinkedIn
After their scandalous conduct rocked Niagara why did Brampton hire these two men to lead the city?
Questions are mounting about two men fired from their public sector jobs in Niagara and involved in a hiring scandal that Ontario's Ombudsman labelled an "Inside Job". They are now part of an investigation by the Ontario Provincial Police.
After their conduct in the scandal involving a rigged process to hire Carmen D'Angelo to lead Niagara Region, it's unclear how David Barrick became Brampton's new Chief Administrative Officer, the top bureaucratic job inside City Hall, overseeing almost 4,000 staff, and how Jason Tamming became the city's director of communications, controlling information in and out of City Hall.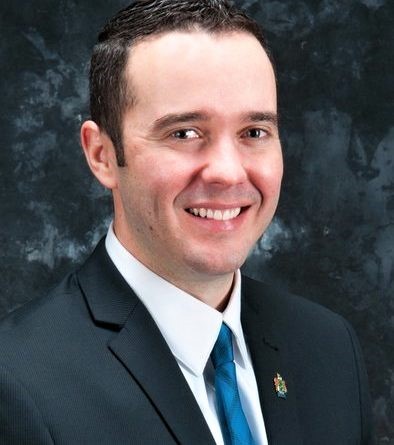 Brampton's new CAO David Barrick
After a scathing report released three weeks ago by Ontario Ombudsman Paul Dubé, Niagara Region Council voted unanimously December 5 to send it for a criminal investigation. Niagara police confirmed to The Pointer that it forwarded the complaint to the OPP for investigation, which confirmed it is now handling the matter. "The Chief has received the request and in consultation with his Senior Command team has requested the OPP take carriage of the investigation," a spokesperson for Niagara police wrote in an email Tuesday.
Niagara Council also voted unanimously to seek external legal counsel in order to pursue civil action against individuals involved in the scandal.
Brampton Mayor Patrick Brown, who has numerous connections to both men, and chaired the committee that hired Barrick as the city's new top bureaucrat in October, denies helping either of them get their jobs. When asked if he condoned their conduct in Niagara, which has been reported on extensively by the media since early 2018, Brown told The Pointer he has not read the Ontario Ombudsman's investigation report.
It provides a detailed and deeply disturbing account of Barrick's and Tamming's conduct, along with others in Niagara who conspired to get a preferred candidate hired for the region's top bureaucratic post.
"The Regional Municipality of Niagara's 2016 CAO hiring process was an inside job, tainted by the improper disclosure of confidential information to a candidate – a candidate who was ultimately successful and became the region's most senior administrator," Dubé writes.
According to the provincial ombudsman's investigation, Tamming, the former head of communications for Niagara Region, helped write questions for candidates vying to land the CAO position in 2016. At the time he was head of communications in the office of the former regional chair.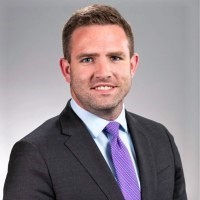 Brampton's Director of Strategic Communications Jason Tamming
The man who now oversees all communications for the City of Brampton created not only the questions he wrote for candidates, he provided answers for the candidate who eventually got the Niagara Region CAO position – Carmen D'Angelo, who at the time was head of Niagara's conservation authority and Barrick's boss – which were secretly sent to him by Tamming.
For example, in response to a question about ideas for economic development in the region, Tamming wrote in a document titled "Q&A" that a Bank of China branch should be pursued.
In his investigation, the Ombudsman revealed that D'Angelo received the "Q&A" document and renamed it, adding Tamming's initials to the title of the document he saved. Tamming was questioned by investigators and admitted he provided D'Angelo with "some insight" to the answers.
The Ombudsman details how investigators retrieved documents from a special server that automatically stored staff emails and other information at the Niagara conservation authority, where D'Angelo was the boss when the region's CAO hiring effort was launched. D'Angelo claimed that his electronic devices had been stolen at the time and that his emails had been tampered with. He told investigators that documents could have been doctored and planted, but a team of computer forensics experts hired by the ombudsman determined no such tampering occurred and that none of the documents had been planted.
After being hired as Niagara's CAO, D'Angelo promoted Tamming to head the region's strategic communications department.
In his investigation report, the Ontario Ombudsman, Paul Dubé wrote: "I found that the regional municipality's actions with respect to the CAO hiring process were unreasonable, unjust, and wrong."
After news of the scandal came out in the media, D'Angelo resigned and Tamming was fired in December of 2018, six months before he was hired to run Brampton's strategic communications department, after his conduct was reported by the press.
Barrick's involvement in the scandal occurred while he held two roles, as a Niagara regional councillor representing Port Colborne, and as a manager with the region's conservation authority under its head, D'Angelo.
Before D'Angelo formally entered the competition for the region's CAO job, according to the ombudsman investigation, Barrick spoke with and wrote to the region's treasurer from his personal email account.
According to a copy of the email published by the St. Catharines Standard, Barrick told the treasurer at the time, that he should promote the benefits of Barrick's boss, D'Angelo, becoming the CAO among senior staff. Barrick told the treasurer that he would gain advantages with D'Angelo if he helped get him hired. It was suggested by Barrick in his email to the treasurer that in exchange for his help, "you would have influence with him."
As media reports detailed the anger in Port Colborne over his leadership, Barrick did not seek re-election in 2018 and after news broke of the hiring scandal he was fired by the conservation authority.
But in a bizarre twist Barrick was named its interim CAO at the end of 2018, replacing the man who fired him, who himself was eventually let go. However, after media reports detailed his botched handling of the conservation authority's budget and a damning report last year by the Ontario Auditor General Bonnie Lysyk, which found widespread mismanagement and questioned the lack of accountability in Barrick's initial hiring by the Niagara conservation authority, he left in a mutual agreement early this year.
Barrick had outraged many newly elected Niagara Region Council members when, after his surprise re-hiring and promotion to the conservation authority's top post, he promoted a number of staff to senior positions and gave them a $1,000-a-month taxpayer funded vehicle allowance, meanwhile, when he presented the agency's budget to council he could not account for millions in spending. Several council members openly declared their concern over his conduct, his lack of experience and his mismanagement, shortly before his departure.
After Tamming's Brampton hiring in May, Mayor Brown oversaw the process that led to Barrick's hiring at the end of October. Now, despite a glaring lack of experience and a checkered past, he is the head of the entire City Hall operation, overseeing almost 4,000 staff in Canada's ninth largest city.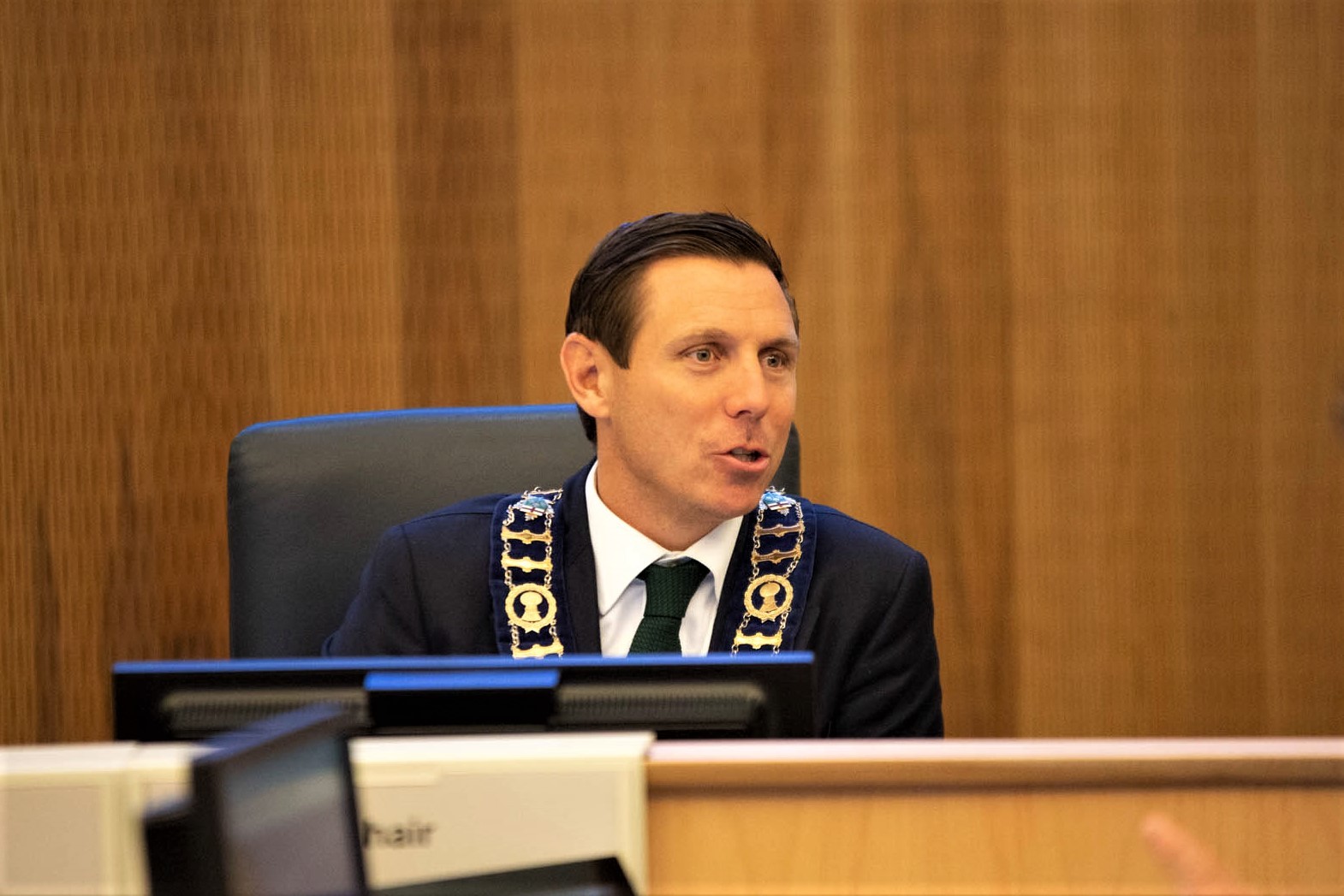 Mayor Patrick Brown
As news about Tamming and Barrick is shared, and after the Ontario Ombudsman's damning investigation findings were released three weeks ago, councillors and residents in Brampton are now questioning how the two men could have been hired.
"CFBB is concerned about some of the recent hiring inside City Hall based on the media articles that have been coming out from Niagara Region," Chris Bejnar, co-chair of Citizens For a Better Brampton, wrote in an email to The Pointer.
"The taxpayers and other residents of Brampton need to ensure that the best and brightest and most deserving candidates are hired to serve the public and protect the public purse."
Bejnar questions the hiring process for both men.
"Were Mr. Barrick and Mr. Tamming properly and thoroughly screened before being offered two of the most important jobs in the entire city? Even small organizations undertake extensive vetting before hiring for senior positions."
At least one councillor who was part of the hiring process for Barrick overseen by Mayor Brown, shares Bejnar's concern.
"I now question the lack of transparency in the way the information on candidates was presented by the Executive Search Team to the Council," Brampton Councillor Jeff Bowman wrote in an email to The Pointer. "I would have expected a more fulsome disclosure from their exhaustive background checks."
Bowman says he was in the dark about Barrick's past while council members were deciding who would lead the city's staff.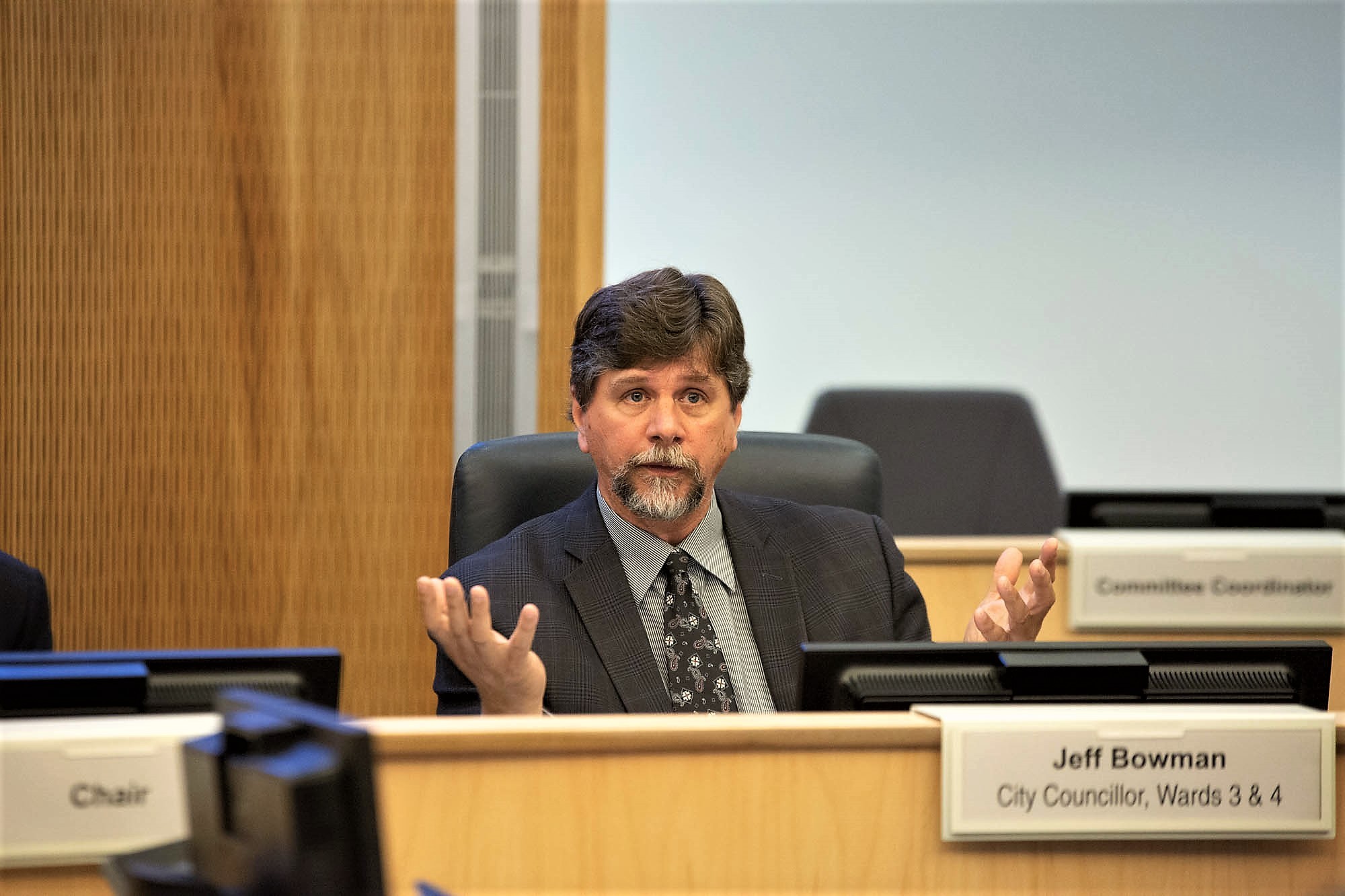 Councillor Jeff Bowman
"I was never given any information during the interview process about any of the accusations from newspaper articles or the Ombudsman's report. Having a professional Executive Placement firm vet the candidates, I would expect that all candidates were of the highest trustworthiness and experience, and were prepared to represent our City to the highest standards."
The City hired Feldman Daxon Partners for the hiring process that led to Barrick and Tamming joining the staff after they had been fired from roles in Niagara.
The firm did not respond to a request for comment about its search criteria and the screening process it used in Brampton.
On the firm's website, it states that social media sites "are increasingly used by HR professionals and recruitment firms to both advertise and post job openings, as well as obtain information about prospective candidates in a very efficient and cost-effective manner."
It's unclear how even a quick scan of social media and news sites would not have raised red flags about Tamming and Barrick.
"If candidates without the proper experience or with questionable past conduct are somehow hired, it not only puts the City of Brampton at risk in terms of reputational and operational damage, it sends a message to the entire public sector that this is not a jurisdiction that hires based on merit, talent and professional integrity," Bejnar said.
"After reading the Ombudsman's disturbing report, CFBB believes it might be time to ask Mr. Dubé to now look into some of the recent hiring at Brampton City Hall, just like he did in Niagara."
When asked if he knew about the controversies surrounding Barrick and Tamming, Mayor Brown responded that he "has not read the report", referring to the Ontario Ombudsman's report. He did not acknowledge the numerous media articles published prior to the hiring of Tamming and Barrick.
Councillor Charmaine Williams stated to the media, after the Ombudsman's report was released, that she has "grave concerns" and will be raising the report with the mayor and council.
The City's communications department, now run by Tamming, declined to answer questions from The Pointer about the hiring process for both men and how the external search firm was hired. Staff said the City does not comment on personnel matters, and did not explain why they would not respond to questions about process. Neither Tamming nor Barrick responded to questions addressed to them.
Mayor Brown was asked if he supports transparency, but despite answering that he does, he only offered vague and limited responses to a series of questions, often providing responses that did not properly answer the question.
Asked to list Barrick's specific experience and his knowledge of Brampton that align with key issues facing council, Brown said: "Council wanted a CAO that had the same enthusiasm and energy to meet the energy and enthusiasm of Council."
Bejnar says taxpayers need to ensure that what happened in Niagara isn't happening in Brampton, repeating a line from the Ombudsman's report.
"The Regional Municipality of Niagara's 2016 CAO hiring process was an inside job, tainted by the improper disclosure of confidential information to a candidate – a candidate who was ultimately successful and became the region's most senior administrator," Dubé wrote.
After Tamming was fired by Niagara Region in December of last year, he sued the region for $500,000 for wrongful dismissal. The lawsuit was eventually settled.
Tamming, prior to his career in municipal government, worked in Ottawa as a Conservative government staffer while Brown was a Conservative MP under former prime minister Stephen Harper.
Tamming's boss at Niagara Region, former chair Alan Caslin, had close ties to Brown's former ally Rick Dykstra, the former Conservative St. Catharines MP who was one of Brown's closest advisors during his bid to become Ontario premier.
Dykstra and Barrick also worked together on certain initiatives including an effort to influence the St. Catharines Standard, which both men viewed as having an anti-Conservative bias, according to a letter that was obtained and published by the newspaper. That letter, according to the newspaper, was signed by Barrick, Caslin, Dykstra and D'Angelo.
Barrick and Brown are also linked through Stephen Harper's and Mike Harris's former chief of staff, Guy Giorno, who Brown said has been a friend of his since he was a teenager. Barrick, in a puzzling move during his brief time as the Niagara conservation authority's CAO, hired Giorno, a Toronto-based lawyer, to do some legal work for the agency. It was never explained why he was hired around the time Giorno stepped down as Brampton's integrity commissioner, citing his close relationship with Brown as the reason for that decision.
When asked if Brown knew Tamming and Barrick prior to their hiring, Brown said he "does not recall having met them prior to their roles at City Hall, however they may have crossed paths at public sector conferences like AMO (Association of Municipalities Ontario)."
In 2015, according to media reports, Tamming was involved in internal email exchanges, led by Caslin's policy director, to craft the regional budget behind closed doors and not in a way that was part of the region's official record.
In 2017, according to more reporting, Tamming was part of an effort alongside D'Angelo to bury an audit that was critical of the recently hired CAO.
Barrick was part of the conservation authority's management when it faced widespread criticism for mismanagement and when the province's auditor general was called in ahead of her scathing report last year.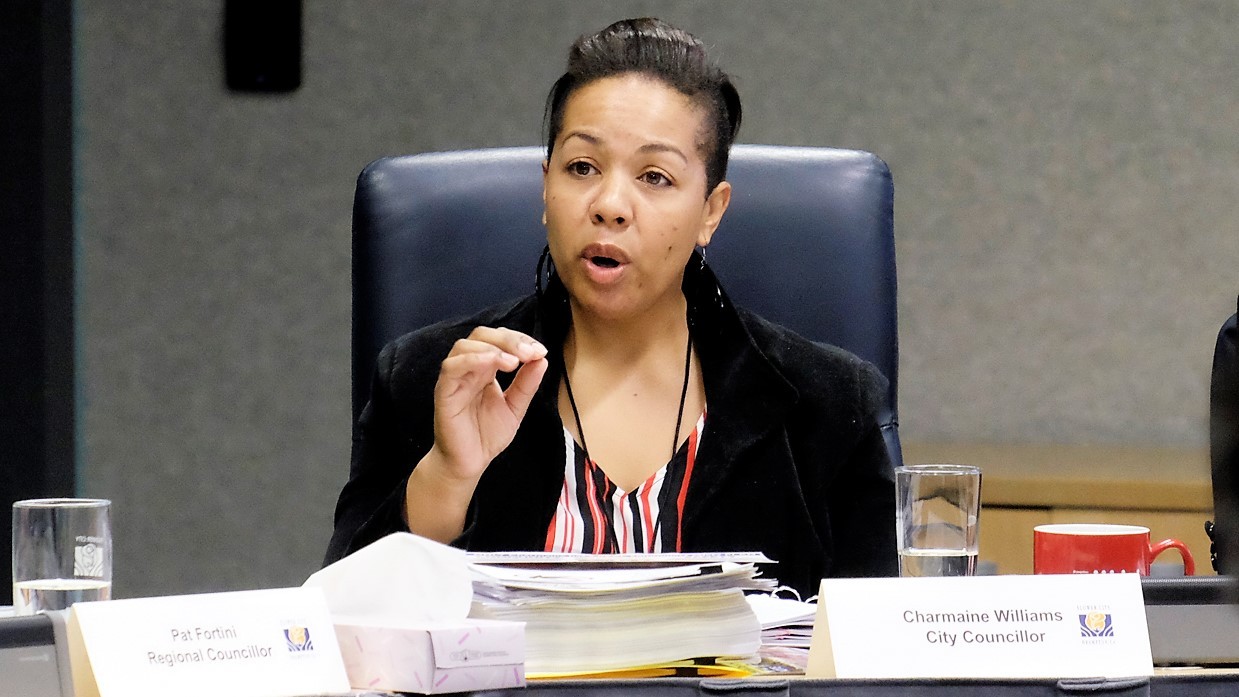 Councillor Charmaine Williams says she has "grave concerns" about the Ontario Ombudsman's report and will be addressing it in Council
Brown said he "has been nothing but impressed with their work ethic and professionalism at the City of Brampton."
Councillor Bowman was asked about the possible risk to the city, especially since its CAO and head of strategic communications are now part of a police investigation.
"My job as a Councillor is to represent my residents and protect the best interests of the Corporation," he wrote in his response.
"If residents have any concerns about events that go on at City Hall including HR decisions, and if those decisions were made in an ethically, transparent and responsible way, they have the option of contacting the Ontario Ombudsman and asking them to look into the matter, as has been done in other municipalities across the Province."
Email: [email protected]
Twitter: @JoeljWittnebel
Submit a correction about this story