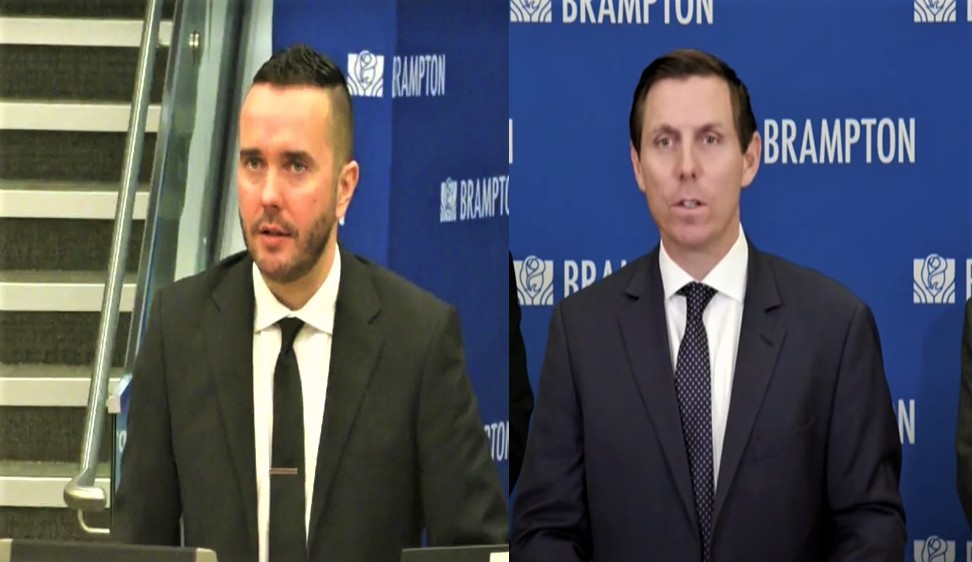 Feature images from City of Brampton
Why did Patrick Brown pick search firm that recruited disgraced Niagara employees now at the heart of Brampton's ongoing corruption investigation?
Executive search firm Feldman Daxon Partners Inc. has made hundreds of thousands of dollars selecting key senior employees for the City of Brampton, including two men implicated in an alarming Niagara scandal. But staff and Mayor Patrick Brown continue to remain tight-lipped about how the firm was hired and why it's still being used after failing to tell council about the present CAO's disturbing past.
After its failures in the hiring for the City's head of communications and CAO, Feldman Daxon is now handling the process to hire a new treasurer.
The controversial hiring of David Barrick as Brampton's chief administrative officer left some councillors angry, when they revealed Feldman Daxon did not share Barrick's involvement in the rigged hiring process for Niagara Region's former CAO, which the Ontario Ombudsman called an "Inside Job", the title of his scathing investigation report into the corrupt hiring process that also involved Brampton's current head of communications, Jason Tamming, who worked for the federal Conservatives when Brown was a Conservative MP. Feldman Daxon also recommended him for his current job, after his disturbing behaviour in Niagara which led to his firing.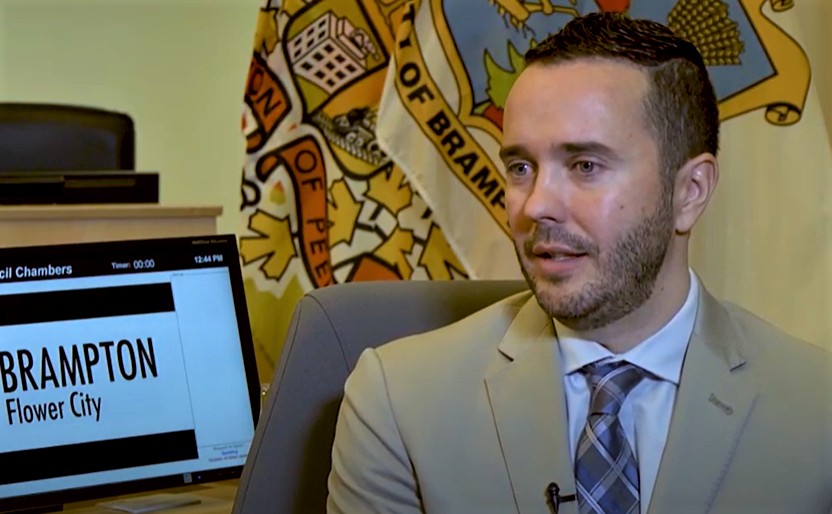 Brampton CAO David Barrick made more than $322,000 last year. (Screen grab YouTube)
Both men have direct ties to Mayor Brown through conservative political circles and when a new CAO was needed it was his office that sought out Feldman Daxon, which was supposed to conduct an objective and comprehensive search to fill key roles for the City.
Councillors said that at no point in the 2019 CAO hiring process handled by Feldman Daxon did the firm notify them of Barrick's disturbing past in Niagara and they were not aware of his total lack of experience. They trusted the firm to do a proper recruitment.
Founded in 1991 and based just north of downtown Toronto, the firm describes itself as "Canada's longest-standing national provider of career transition, executive search, and coaching/leadership development services."
Barrick, whose public life in Niagara was spent as a Port Colborne councillor who displayed highly partisan, pro-conservative tendencies and was a central figure in the conservative "cabal" described widely in the region, which resident groups worked to defeat in 2018, was a highly unusual choice for a position that is supposed to be entirely non-political. He has since worked in tandem with Brown, the former Ontario PC leader, who has repeatedly defended the controversial CAO, instead of carrying out his responsibilities to taxpayers.
Before being hired to lead roughly 5,000 employees in Brampton, Barrick was fired from his job at the local conservation agency in Niagara after numerous controversies, including his involvement in the 'Inside Job' hiring scandal.
The conduct of Barrick and Tamming was reported extensively by the media and almost every detail of their disturbing behaviour was readily available through a simple Google search.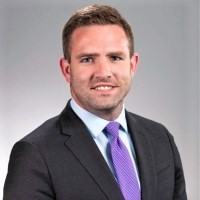 Jason Tamming secretly handed interview questions to a CAO candidate before he was fired by Niagara Region. (Image LinkedIn)
Barrick had no experience for the CAO job. The CAO of a large city typically has already run a municipality and some of the largest departments inside city hall, such as finance or planning. They have extensive post-secondary education and decades of experience working on files that involve municipal planning, finance, transit and arts and culture.
Barrick was a Port Colborne councillor (a part-time position for many in the community of less than 20,000 residents) who briefly worked for a small local insurance broker and then used his conservative political ties to get a job with Niagara's conservation agency which he briefly headed before being fired for widespread mismanagement.
Ontario's auditor general found Barrick's initial hiring by the agency was not properly handled and that expense claims by staff during his time there were a major concern. He also handed out lavish car allowances to friends while staff complaints and grievances spiked during his brief time running the agency.
Brampton council was never told about any of Barrick's past conduct by Feldman Daxon, which was supposed to properly research and vet candidates before recommending anyone for the City's top job. He was paid $322,000 in salary and benefits last year.
Hiring candidates with questionable ethics whose past behaviour raises red flags puts taxpayers and the City at risk.
Since Barrick's hiring as the top bureaucrat, overseeing some 5,000 employees, council members have been shocked and have expressed their anger over his consistent efforts to subvert policies that ensure accountability and transparency.
He illegally took over the freedom of information process, before councillors had to restore the City Clerk as the overseer of the function and Barrick tried to place the independent internal audit function under his authority, despite the obvious conflict of interest. Council had to intervene and ensure that internal audit would continue reporting independently to elected officials.
A senior staffer, Nikki Kaur, levelled damning allegations of widespread corruption carried out by Barrick and other key employees he has hired, many of them from Niagara. He allegedly ignored procurement rules for contracts, hired a close political associate of his for at least $218,000 to consult on matters the man had no experience in and also directed the hiring of a close conservative contact of Brown's for another consulting job, worth approximately $300,000, despite having no background in the area.
A number of other allegations have been lodged against Barrick, and Brampton taxpayers are now paying for a third-party investigation by Deloitte that could cost more than $500,000.
The Pointer has inquired about the hiring of Feldman Daxon since last summer, and has made numerous attempts to contact the firm to find out how it was hired and why it recommended Barrick for the role despite his past conduct and his complete lack of experience.
In a Freedom of Information response to The Pointer, the City stated Feldman Daxon is "not linked to a particular position but are used for all executive searches on an as needed and when required basis." The response states the City had a "pre-existing partnership" with the hiring firm based on a request for proposals (RFP) the City put out in 2016.
The CAO recruitment committee was led by Brown, who set the ground rules for the hiring process.
At the August 28, 2019 special council meeting, Brown said "as the Mayor, I serve as the chair of the committee."
The Municipal Act does not specify who is to lead a CAO hiring process, simply stating, "A Municipality may appoint a chief administrative officer."
A motion forwarded by Brown at the special council meeting, which was ultimately approved, gave his office the power to "select the executive recruitment firm."
At the September 11, 2019 council meeting, when the CAO search was a top priority, another motion stated: "Therefore be it resolved that the Mayor's Office be authorized to engage Feldman Daxon Partners Inc. as a direct procurement (in accordance with the Purchasing By-law) to provide executive recruitment services for the position of Chief Administrative Officer under the direction of the Mayor's Office and reporting to the CAO Recruitment Committee."
The minutes from the closed session special meeting show search firm Odgers Berndtson was the committee's first choice, as it had years of experience working with the City. But at the next council meeting, without any explanation, the firm was droped.
The September 11, 2019 meeting minutes state Odgers Berndtson was "no longer available" for the work and Feldman Daxon would be replacing it.
Odgers Berndtson, one of the world's largest executive search firms, told The Pointer it does not comment on relations with clients.
It's unclear why Brown took such strong control of the process, but Barrick had close ties with a number of close Conservative political allies of the mayor, including lawyer Guy Giorno, one of Brown's best friends, who Barrick had hired during his short stint running the Niagara conservation agency. Barrick never explained to Niagara councillors why Giorno was hired when the agency was embroiled in scandal under his leadership.
Brown's motion directed Feldman Daxon to provide a short-list of candidates to his office before being distributed to the recruitment committee. The Mayor's office was also tasked with negotiating the terms of the CAO contract once a preferred candidate was found.
It's unclear why these responsibilities were taken over by Brown, instead of council as a whole to ensure all elected officials would provide accountability and oversight over the CAO hiring.
The Pointer reached out to Brown and Gary Collins, the mayor's director of communications, but did not receive a response.
Brown has consistently defended Barrick's controversial actions since he was hired by the mayor.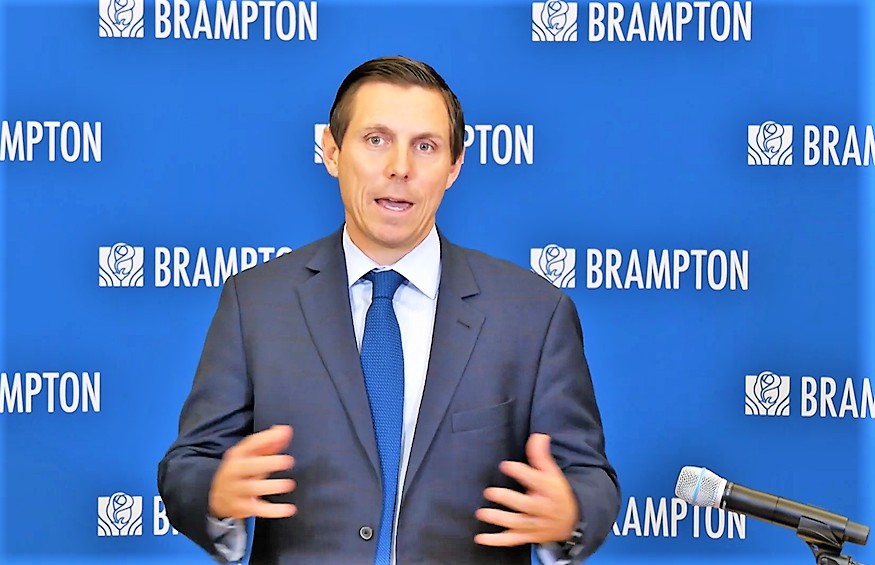 Mayor Patrick Brown refuses to explain why he hired Feldman Daxon to recruit CAO David Barrick.
(Screen grab City of Brampton)
All discussions on hiring an executive search firm took place in closed session. It's unclear why they were done in secret.
No explanation was provided by the City on how Feldman Daxon was ultimately selected and it's not clear how many firms were considered for the job or if a proper competitive procurement was used to attract bids.
Feldman Daxon has billed the City for at least close to $500,000.
The Pointer sent the City a detailed list of questions, asking why decisions on hiring a search firm were made in closed session and why Feldman Daxon doesn't appear in any public documents for executive searches or recruitment prior to 2019.
City spokesperson Natalie Stogdill provided information on hiring contracts going back to 2013 and said Feldman Daxon was part of them, but did not provide details on when the firm was first used for executive searches to fill the top positions inside City Hall.
Feldman Daxon has been paid $469,752, according to the information provided.
"The Purchasing Reports are publicly available on the Council agendas," Stogdill said.
Most of the reports do not include any mention of the firm and those that do show the vast majority of what was paid to Feldman Daxon was after Brown was elected.
The Pointer sent a list of follow-up questions and asked to see the original contract with Feldman Daxon but no response was received.
The first time Feldman Daxon appears under RFP2016-081 is in the fourth quarter of 2019, under the explanation, "contract renewal." The City's website explains this is an "amendment extending the term and increasing the value," of the contract. Unlike other hiring firms used in the past, Feldman Daxon never appeared under the "competitive label" for this specific RFP. It's unclear how the firm had its contract renewed and why Odgers Berndtson no longer provided its services.
In the list of firms the City provided as having performed executive search work, with the dollar amounts paid to each, there is no mention of Odgers Berndtson, despite information in minutes that showed the firm was previously used for key hiring.
Barrick was hired as CAO in the fourth quarter of 2019. The procurement report for the same period shows Feldman Daxon would earn an additional $100,000 for its contract renewal. It's unclear if the City had to pay any specific amount for the hiring process that resulted in Barrick's employment, or if it cost anything above and beyond the contract that was already in place. The Pointer will be releasing freedom of information details on the costs associated with the hiring of Barrick and Tamming.
The Pointer examined all publicly available procurement reports between 2016 and 2020 and the only time Feldman Daxon was engaged by the City under a "competitive" process was for specialized hiring searches under RFP2016-039. Under the City's own list of examples, the CAO role would not be a position the firm could help fill under this contract. The firm's contract for specialized searches does not appear to have been extended or renewed, according to publicly available information.
Feldman Daxon has not responded.
Most recently, the firm's name appears twice on the purchasing report for the third quarter of 2020, under the executive search RFP. The firm was awarded $350,000 through two separate methods, a contract extension of $175,000 and a contract renewal of $175,000. A "contract extension" occurs when the value, scope, or term of the contract is changed and there was nothing in the original contract that allowed this to be done.
City Councillor Jeff Bowman questioned why the same company would be given two different contracts for the same amount at the December 2 Committee of Council meeting when the report was presented.
The response from HR director Sandeep Aujla provided little clarification. "Through practice" the City learned that more money had to be put into the contract. She said the duplicate amount is to allow the contract "to renew to the original terms" and "for a different amount, we would have to reconsider the contract." She stated the renewal would apply to all the original vendors. She did not explain why Feldman Daxon is the only firm listed with the duplicated amount. The Pointer did not find similar allowances for the other hiring firms used by the City.
Aujla said an internal review was underway to examine how the Feldman Daxon contracts have been handled. Seven months later, Bowman said he was never given an explanation as to why two separate contracts were created and listed separately for the firm.
It's unclear if Aujla's review is examining whether or not procurement rules were violated.

Feldman Daxon is currently handling the hiring of a treasurer for the City. (Screenshot LinkedIn)
The first time Bowman recalls hearing about search firm Feldman Daxon Partners Inc. was when council was preparing for its CAO search, and he was surprised their services with the City continued after details of Barrick's past came to light. "I just felt that with all the controversy that occurred after the CAO recruitment process, that we would use another company moving forward. I was mistaken."
At this time, the search firm is actively looking for a new treasurer for the City, to the dismay of Bowman. "Seems a little strange that we would still use them, however this is a decision made by HR."
---
Email: [email protected]
Twitter: @nida_zafar
Tel: 416 890-7643
---
COVID-19 is impacting all Canadians. At a time when vital public information is needed by everyone, The Pointer has taken down our paywall on all stories relating to the pandemic and those of public interest to ensure every resident of Brampton and Mississauga has access to the facts. For those who are able, we encourage you to consider a subscription. This will help us report on important public interest issues the community needs to know about now more than ever. You can register for a 30-day free trial HERE. Thereafter, The Pointer will charge $10 a month and you can cancel any time right on the website. Thank you.
Submit a correction about this story