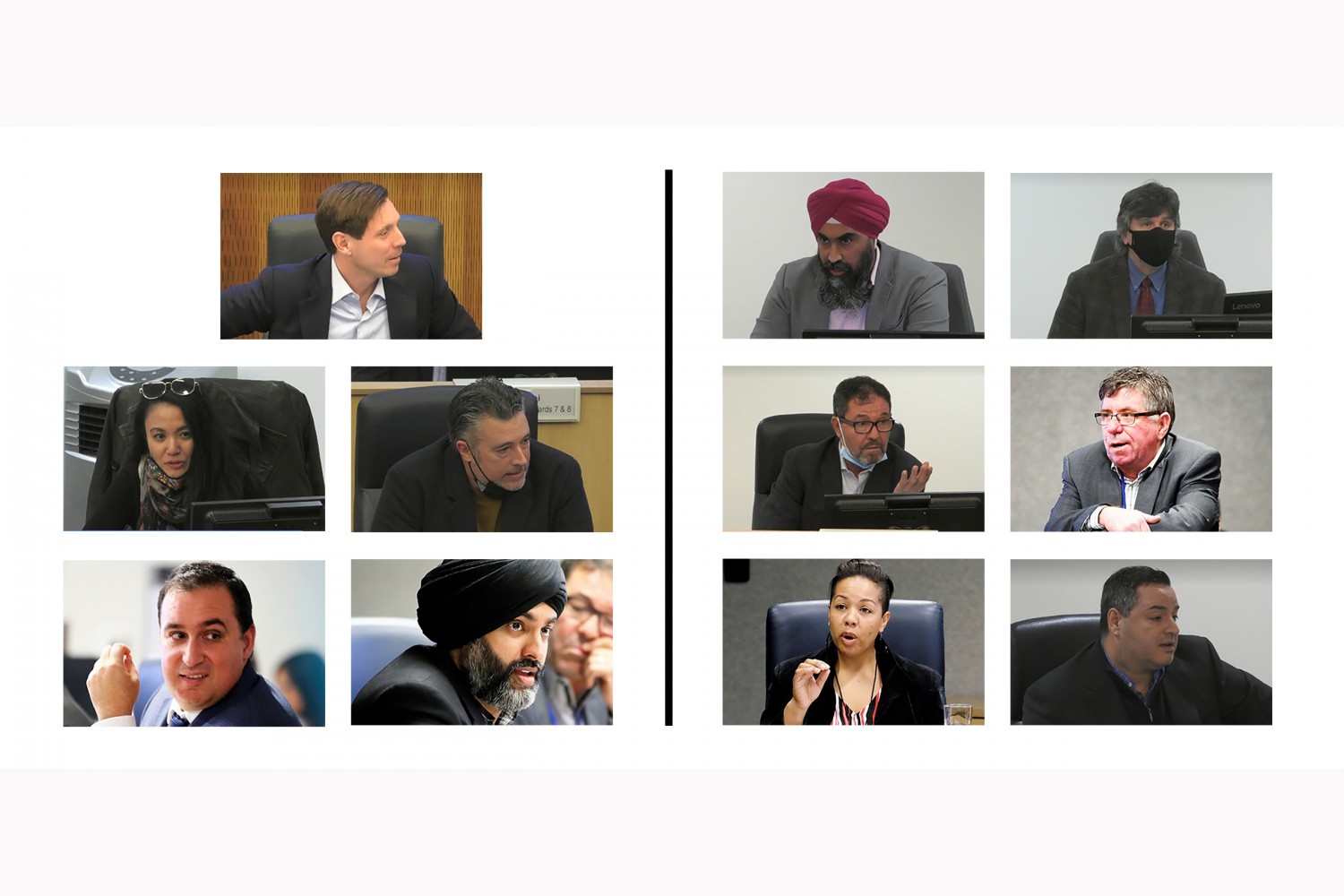 Feature image from City of Brampton/The Pointer files
Brampton councillors prepare for Friday showdown, majority will not attend special meeting called by Patrick Brown
A week of drama around the Brampton City Council table is set to continue Friday, with at least one meeting to address ongoing concerns of wrongdoing among senior staff, under the questionable leadership of Mayor Patrick Brown.
The City's website shows two special meetings that were added, one at 9:30 a.m. called by Brown and another immediately after called by a majority bloc of councillors for 10 a.m.
It's unclear what Brown's meeting is for, with only one item on its agenda, a closed-session matter to be dealt with in camera, regarding an issue relating to an employee.
The majority of councillors who called the second meeting have stated they will not attend Brown's meeting, meaning it will not be able to happen without at least six members present. Brampton Council has eleven members, and a majority is needed to achieve quorum to hold a meeting, under Ontario's Municipal Act.
Councillor Gurpreet Dhillon spoke on behalf of the group to The Pointer Thursday, stating the six members will not participate in the mayor's meeting, which was called after the other members had already petitioned to have their meeting scheduled.
"We have a meeting scheduled at 10 a.m. to begin restoring confidence in Brampton's local government," Dhillon said.
Their agenda includes much more detail and a motion in the open session to address council procedures around the need for a two-third majority to bring certain matters to the floor for a vote. They allege Brown has been subverting basic democratic principles of majority rule by demanding, as chair of council, that motions on certain issues have a two-third majority in order to move forward.
Another item addresses security issues at City Hall.
The bloc opposing Brown includes Dhillon, Charmaine Williams, Jeff Bowman, Pat Fortini, Martin Medeiros and Doug Whillans. They have branded the current situation, where they allege Brown is not following rules that require a simple majority to enact bylaws, as being "like a scene from an authoritarian dictatorship".
They allege Brown has used the cover of closed-session meetings to subvert procedures that ensure a simple majority of council members can hold votes to enact decisions. Instead, he has claimed a two-third majority vote is needed to bring motions forward on matters that have already been dealt with before, even when the motions are different from previous ones, the six councillors allege.
Brown did not respond to questions from The Pointer this week.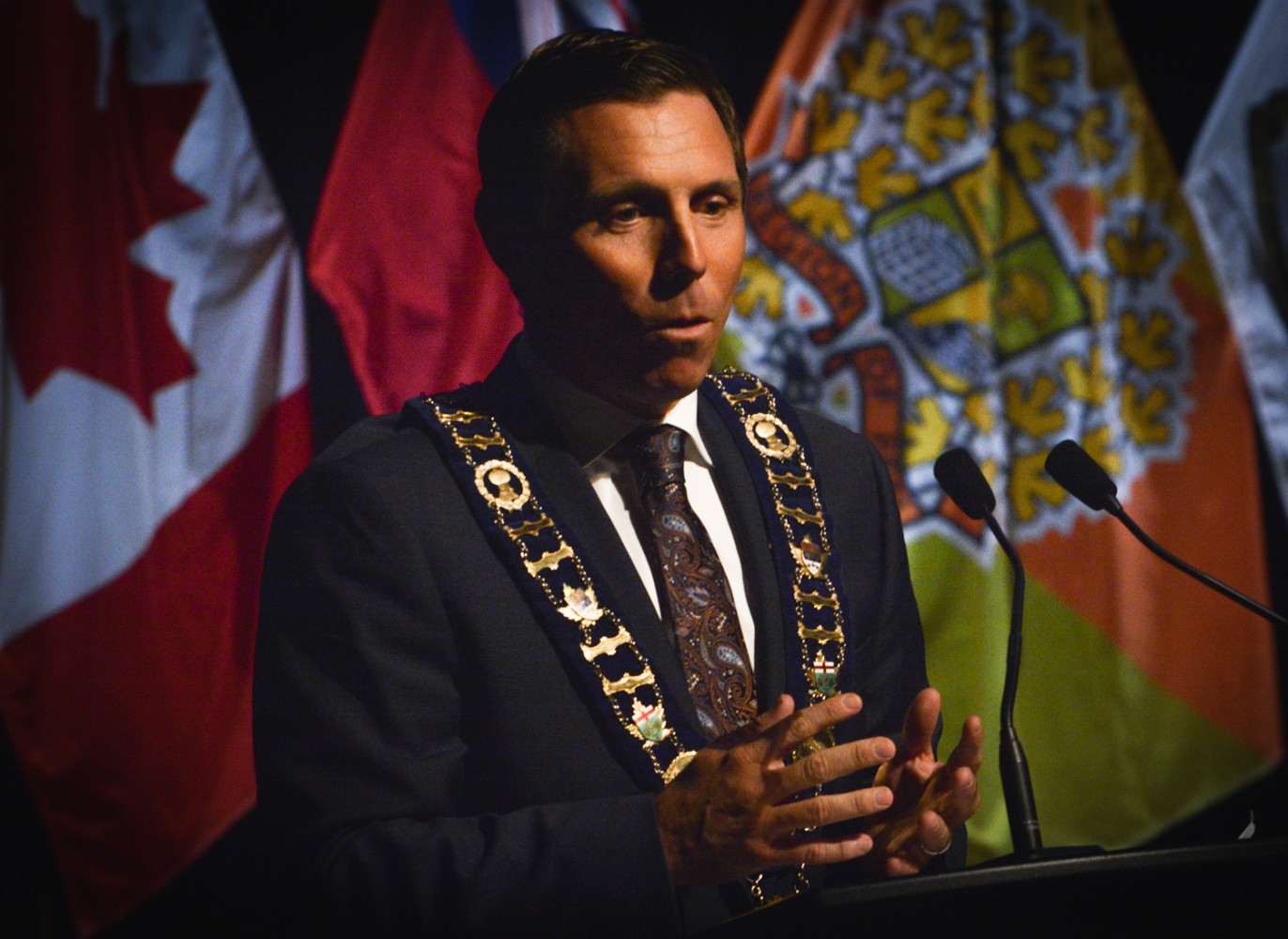 There are two special council meetings scheduled to take place tomorrow, but one called by Mayor Patrick Brown will not be able to go forward without the presence of six members who refuse to attend.
(Photo from The Pointer files)
The agenda Brown has put forward for his meeting, which will not go forward, would shut the public out of the process almost entirely, as it only includes one item to deal with an unidentified employee in closed session, behind closed doors. This is how Brown's meeting would take place, and residents would not be able to hold him accountable if rules are not followed, which is what six councillors allege has become par for the course with Brown as mayor, chairing meetings the public can't even see.
"I think it is a sad time for Brampton; it is shocking," Idris Orughu, a Brampton resident and vocal community advocate, told The Pointer, referring to information reported about the breakdown of democracy inside City Hall. "I can say when Mayor Brown came on board, a lot of us were optimistic. And I thought he had full control of council and there were high expectations. But what is happening right now is not [something] anybody can be proud of."
A statement released Wednesday by the group of six councillors who are similarly alarmed by Brown's conduct, highlighted many of the concerns. Comments made during a tense special meeting held Tuesday evening, made it clear that, along with Brown, controversial CAO David Barrick, recruited by the mayor, is also a focus of the concern.
Idris Orughu, a Brampton-based equity advocate, is concerned by what is happening at City Hall.
(Photo from Isaac Callan/The Pointer)

He was handpicked by Brown to run the City despite widespread media reporting about his scandalous behavior in Niagara Region. The pair are linked through Conservative circles and Brown chaired the committee that oversaw his hiring, which was announced the same day interviews concluded.
Barrick's arrival in Brampton has seen the City rocked by one scandal after another. Barrick fired a senior staffer on the same day she levelled broad allegations about his behaviour, before being forced to rehire her by council. He instructed her to engage a close associate of Brown in order to give him a lucrative consulting contract, over other bidders, despite the man's lack of experience. He eroded accountability at City Hall by illegally attempting to take over control of the freedom of information department and removing the independence of internal auditors.
An external investigation revealed Barrick changed rules and policies on the fly in order to hire completely unqualified candidates to senior positions.
Brampton CAO David Barrick
(Photo from City of Brampton)
The second meeting, scheduled for 10:00 a.m. Friday, called by the six councillors, appears to address many of the concerns around addressing Barrick's conduct.
During the special meeting Tuesday evening it was made clear that the motions Brown has been blocking with his two-third majority tactic include matters that pertain to Barrick.
One of the issues raised was the inability to prevent Barrick from being in the room when a motion dealing with him is brought forward in closed session.
"Who decides, city clerk, who can remain in a room during closed session?" Councillor Medeiros asked clerk Peter Fay during Tuesday's special meeting. He continued, reading from a legal opinion the councillor obtained. "The CAO does have that authority, but when we're discussing, directly, the CAO, it's council—on legal advice—who determines by simple majority who is in fact in that group."
A motion on the agenda for the 10 a.m. meeting Friday includes the following wording that, if passed, would establish the procedure for dealing with the CAO during a closed session meeting: "Where the confidential matter relates to the Chief Administrative Officer, City Council shall determine which staff members may be present during a closed session."
Councillors will also discuss "corporate security matters" as well as three items behind closed doors. Two refer to an identifiable individual, while one is regarding "labour relations or employee negotiations".
The agenda includes a motion that proposes changes to Brampton's Procedure Bylaw, the rules that govern council during meetings. It suggests removing the requirement for a two-third majority to reopen issues that have already been discussed during a term of council, so a simple majority would be all that's needed.
The changes, which could be enacted at another special council meeting on February 22, come in direct response to what happened at Tuesday's special meeting.
Councillors debated and clashed with Fay and City Solicitor Sameer Akhtar repeatedly. They alleged that Brown, in his role as chair of meetings, has been allowed to trample on the rules.
"If we do a point of order and you (City Clerk, Peter Fay) say that is a properly placed point of order and if the chair simply does not want to listen to you, simply does not want to follow our own procedural bylaw, what in effect can we do?" Medeiros asked Tuesday. "Do we have to call security? What do we do?"
Councillor Martin Medeiros posed many of the questions Tuesday night.
(Photo from The Pointer files)
The six councillors who refused to attend council Wednesday morning, resulting in the meeting's cancellation, repeatedly asked questions the night before about how they could fulfil their democratic duties if the meeting chair (Brown) did not follow the City's rules, or allow a majority of members to challenge and overturn his decisions that prevented votes from coming forward. A challenge to the chair only requires a majority of council members to support the action in order to strike down a chair's ruling.
Brampton's procedure bylaw, which the bloc of six now plan to amend to remove any need for a two-third majority, is already clear. It lays out the role of the chair to make decisions and run the meeting.
It is also clear that if council members disagree with a ruling made by the chair, a simple majority can overrule it.
(3) if no member appeals the decision of the chair, the chair's decision shall be final,
(4) if there is an appeal to the council or committee, the chair shall immediately take a vote to sustain the chair's decision, without debate, and the decision shall be final.
The rules of procedure are clear, if the bylaw does not state a two-third majority is needed, only a simple majority is required. Fay, in a blatant disregard of the rules, claimed on Tuesday that if a challenge to the chair is raised on a matter that requires a two-third majority, then the challenge also requires a two-third majority. There is no such rule, and this was made clear to him, but he still defended Brown's position.
On Friday, a bloc of six councillors is vowing to clean up governance so they can take bold action to restore trust in Brampton City Hall.
---
Email: [email protected]
Twitter: @isaaccallan
Tel: 647 561-4879
---
COVID-19 is impacting all Canadians. At a time when vital public information is needed by everyone, The Pointer has taken down our paywall on all stories relating to the pandemic and those of public interest to ensure every resident of Brampton and Mississauga has access to the facts. For those who are able, we encourage you to consider a subscription. This will help us report on important public interest issues the community needs to know about now more than ever. You can register for a 30-day free trial HERE. Thereafter, The Pointer will charge $10 a month and you can cancel any time right on the website. Thank you
Submit a correction about this story