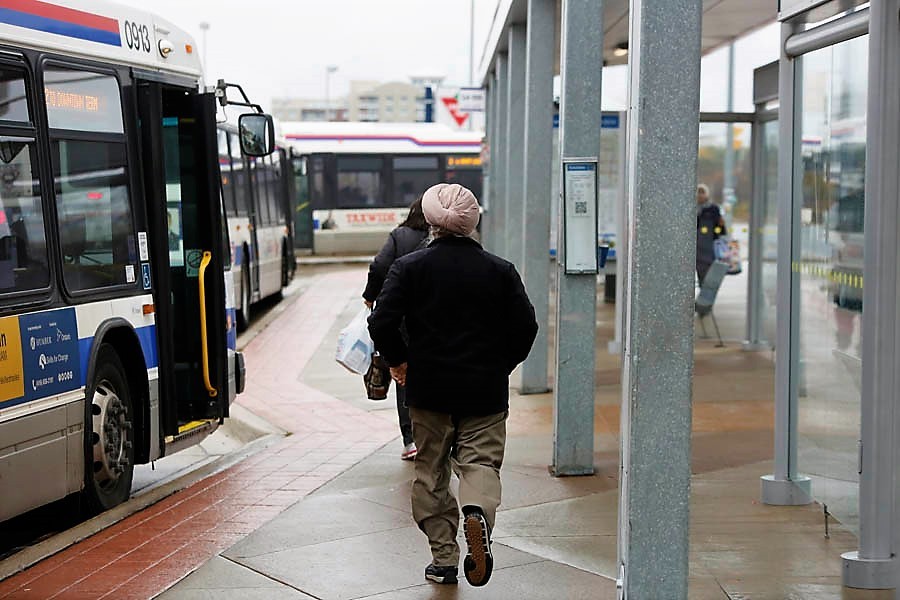 The Pointer file photos/Map City of Brampton
Brampton's transit dreams lack funding to meet ambitious growth plans
Over the past year, the City of Brampton has tried to brand itself as a municipality for the future.
It has announced ideas for programs that will not only attract entrepreneurs, but allow them to lay down roots and raise their families here. Plans calling for modern housing alternatives and hopes for creating its own university, BramptonU, are part of an aspirational vision to reshape the city.
For those looking to get around Canada's ninth largest municipality, and beyond, big plans are also in the works for transit, including bringing more buses to the city and creating improved public transit connections that will make getting from Brampton to other parts of the GTA much more convenient.
Moving away from the car, which so much of the city was built around, is the broader goal.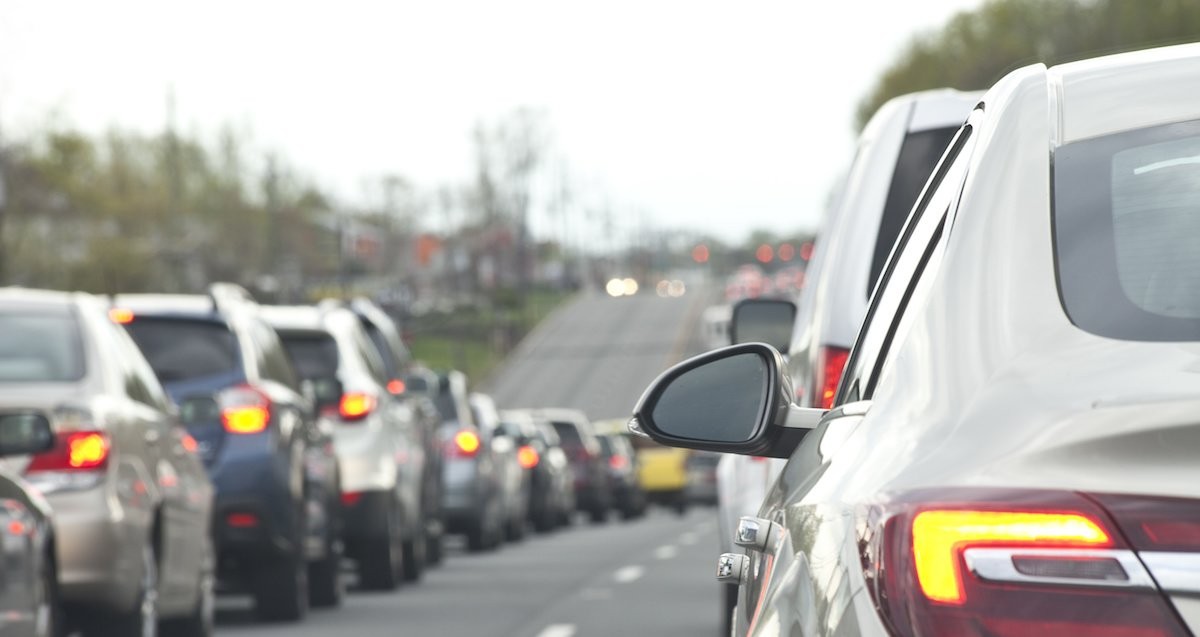 Pre-pandemic, scenes like this were common across Brampton, where the vast majority of commuters use cars.
Such ideas, like those detailed in the 2040 Vision master planning document, look great on paper and get many residents excited about the possibilities for the future. But to bring any of these ideas to fruition, funding is obviously the key, something City Hall leaders including current council members, don't seem to grasp.
For 2021 alone, the City is planning to spend $44.5 million needed to purchase 43 buses; 24 are replacements and 19 are to accommodate the growing transit system, the City of Brampton told The Pointer.
The 2021 budget outlines a majority of this funding, more than $32 million, is coming from subsidies and grants, but there are no details about these sources. The City itself does not have all the funds listed that are needed to pay for these fleet additions, specifically those buses required to allow expansion.
In July, it was announced that the City will receive $16.7 million in funding from the federal and provincial governments under the public transit stream of the Investing in Canada Infrastructure Plan (ICIP) to pay for replacement buses to "maintain existing service levels". This money is specifically to swap out older buses for new ones and will cover 32 new buses, according to the press release issued when the funding was revealed. The City was to provide just over $6 million for these purchases. But it's unclear why, since the July announcement that 32 new buses would be purchased by the end of 2021 to replace older ones just to maintain existing service, now the City is stating only 24 will be purchased for this purpose.
Alex Milojevic, the General Manager of Brampton Transit, said the City's funding application for other buses is currently waiting on approval from the federal government. Over the next three years, the City plans on purchasing a total of 91 buses for expanded service at a cost of $124 million.
The Pointer reached out to Infrastructure Canada to ask about the status of the application, but did not get a detailed timeline.
A number of other projects that would help address the City's fast-growing transit needs are also awaiting approval from Ottawa. A spokesperson confirmed to The Pointer, Infrastructure Canada did receive funding applications for buses to expand the system, a third transit maintenance and storage facility and the Smartbus System Replacement. Priced at $10 million, this project means new technology will allow for automated features, such as the counting of passengers.
These details have revealed an inconsistency in the City's messaging. For example, its website highlights important figures from the 2021 budget, including the allocation of $175 million toward the third transit maintenance facility, making it appear the City possesses this money when it does not.
Instances in the past have shown such funding isn't always guaranteed, something Milojevic seems to be cautious about.
"We're hopeful that we will have some good news on that within a short period of time, and hopefully within a month or two, or maybe a little bit more. I'll be cautiously optimistic when I say that," he said during budget deliberations in regard to funding required for infrastructure to expand the system.
Alex Milojevic, head of Brampton Transit, is counting on a lot more funding from higher levels of government.
Funding through such means is something the City is relying on heavily for future years as well.
The City's capital transit budget outlines a need for $40 million for 2022 and $88 million for 2023 to pay for growth-related and replacement buses. The City is relying on upper levels of government for more than half of this funding.
It will already be getting additional funds under the announcement made in July, which include just under $41 million through 2024 from Queen's Park and Ottawa to repair 300 existing buses in the Brampton fleet. The City will have to contribute almost $15 million on top of this.
Looking at the breakdowns provided in the City's 2021 budget, $28.8 million for the 2022 needs will come from subsidies and grants and $42.5 million will come from this category in 2023. While the City does have a transit levy, which allocates one percent of taxes towards future transit requirements, Brampton's increasing dependence on transit means more support is needed.
Looking at just the months of January and February as comparators (because the pandemic dramatically reduced ridership last year, as of March) since 2016 transit demand has skyrocketed. Five years ago, in those two months, Brampton Transit ridership was 3,467,393. In 2020 it was 5,366,780, an increase of 55 percent.
This rate of growth, in a city whose population continues to swell, simply is not sustainable without proper funding from the municipality.
But Mayor Patrick Brown, who has extolled the benefits of transit expansion, stating in July that it provides a "safer and healthier transportation solution for all", continues to contradict himself. Not only has he aggressively supported the Province's plan to build the massive 413, GTA West Highway through the city's west side, he has pushed three consecutive tax freezes which make transit funding difficult.
One of the busiest routes in the city is within the vicinity of Pearson International Airport. According to the City, 10,000 Brampton residents worked there before the pandemic; 13 percent of these residents used public transit to get to their jobs.
The need for improvement on this heavily used route is not news to members of city council. The figures have been known for many years, and the 2015 Transportation Master Plan stated this neglected problem should be addressed by 2021 through the Airport Road corridor.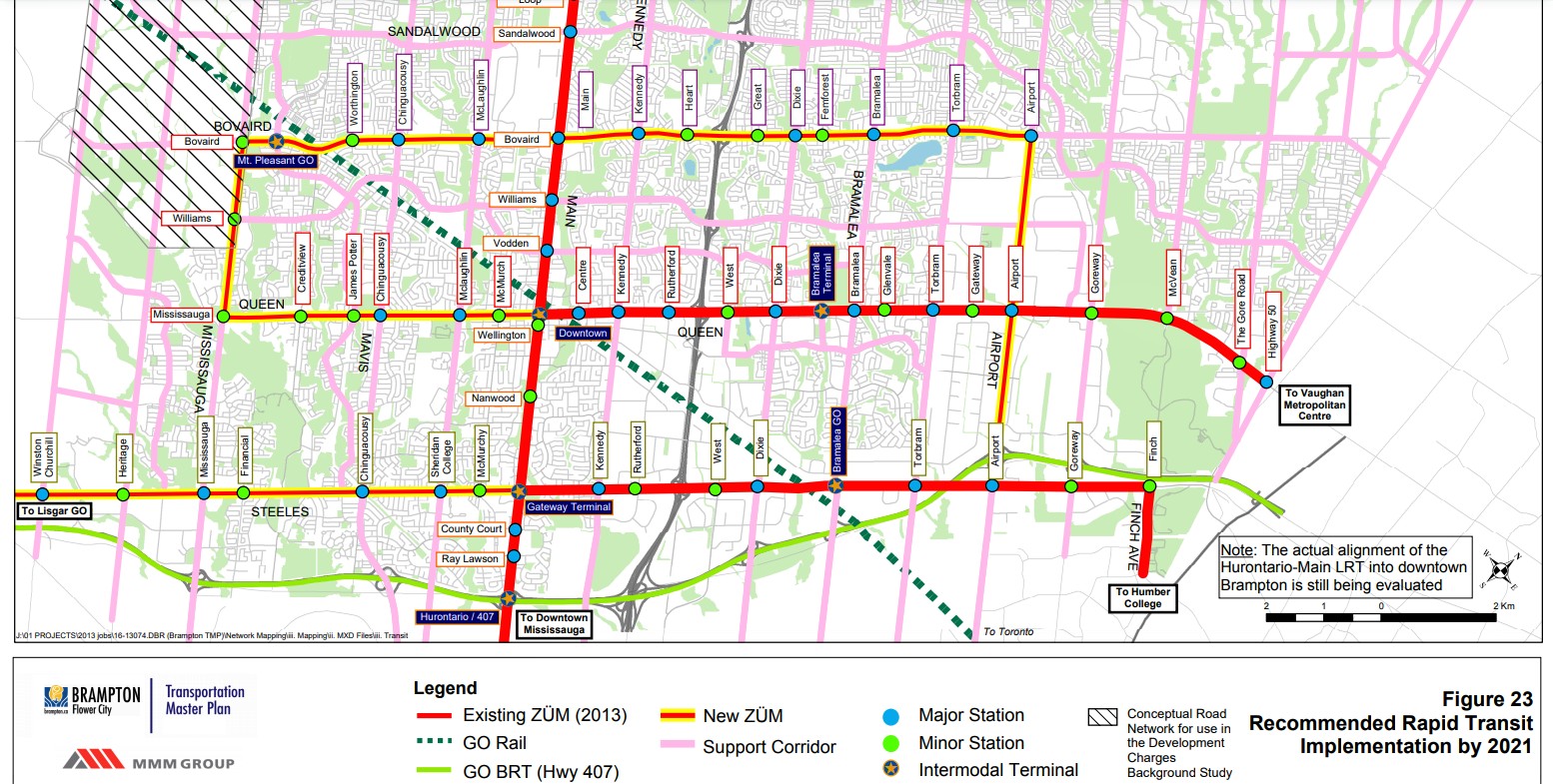 Brampton Transit expansion plans in 2015 were supposed to be implemented by this year.
According to the Master Plan a new north-south Zum route, planned to run between Bovaird and Steeles Avenue, would address one of the city's busiest stretches, with 2,000 riders going each direction during peak hours. It was originally planned to be implemented in the fall of 2020 but because of the pandemic, it was postponed to 2021.
Increased service hours and other transit plans, such as free transit for seniors, were also postponed. Milojevic said the project is currently being looked into, but did not provide any details or dates for when such projects would be delivered. A report will be presented to council in the spring or fall of this year.
Council is still awaiting information about the possibility of expanding the Hurontario LRT into downtown. Brown's plan to tunnel part of the proposed route under Main Street could cost as much as $1.7 billion according to a 2019 staff estimate.
There is currently no funding for an LRT into downtown.
There are also unanswered questions about the hundreds of millions of dollars needed to electrify the City's aging bus fleet and the entire transit infrastructure, which could cost another $1 billion in total. If the City ignores this, its own approved emissions reduction targets to meet climate goals will not be met.
The pandemic, meanwhile, has heavily impacted transit revenues.
In March, the City of Brampton implemented strict rules for transit riders. A number of bus routes were cancelled, riders were only allowed to board from the rear of the bus, and rides were free. In early July, the city reinstated bus fares and allowed boarding to resume from the front. Capacity is limited to the number of seats on the bus and patrons can choose to sit or stand.
According to numbers released by the City early in the pandemic, Brampton Transit was expected to lose $38 million in revenue by July 1 because of the changes the City implemented and the lower ridership numbers. The City has yet to release a final figure illustrating the total lost revenue the ongoing pandemic caused in 2020. Financial relief was given through the Province's Safe Restart Agreement's two phases. The first phase allocated $24 million toward transit and the second allocated nearly $20 million to the City.
Despite the financial impacts, the transit budget for 2021 did not take future COVID impacts into consideration, Milojevic said during budget deliberations. It's not clear what the decision making process for this was.
It follows the broader financial projections presented by City Hall leaders, including chief administrative officer David Barrick, who ignored the ongoing financial impact of the novel coronavirus when setting the 2021 budget needs.
Most other large cities accommodated expected losses in 2021 when establishing their current budget needs.
Barrick had no experience with municipal budgeting prior to starting as the new top bureaucrat in late 2019, and former City treasurer David Sutton suddenly departed in the summer during the process of putting the current budget together.
Milojevic said the phase-1 pandemic funding assistance from the Province helped address transit losses between March and September and funding from phase 2 would address the period between October and the end of March 2021. But come April, losses will start again, and he estimates without further assistance transit will be impacted by losses of $20 million and $25 million depending on how much ridership returns.
This could put the City's commitments to fund its own transit expansion needs further behind schedule.
---
Email: [email protected]
Twitter: @nida_zafar
Tel: 416 890-7643
---
COVID-19 is impacting all Canadians. At a time when vital public information is needed by everyone, The Pointer has taken down our paywall on all stories relating to the pandemic and those of public interest to ensure every resident of Brampton and Mississauga has access to the facts. For those who are able, we encourage you to consider a subscription. This will help us report on important public interest issues the community needs to know about now more than ever. You can register for a 30-day free trial HERE. Thereafter, The Pointer will charge $10 a month and you can cancel any time right on the website. Thank you.
Submit a correction about this story