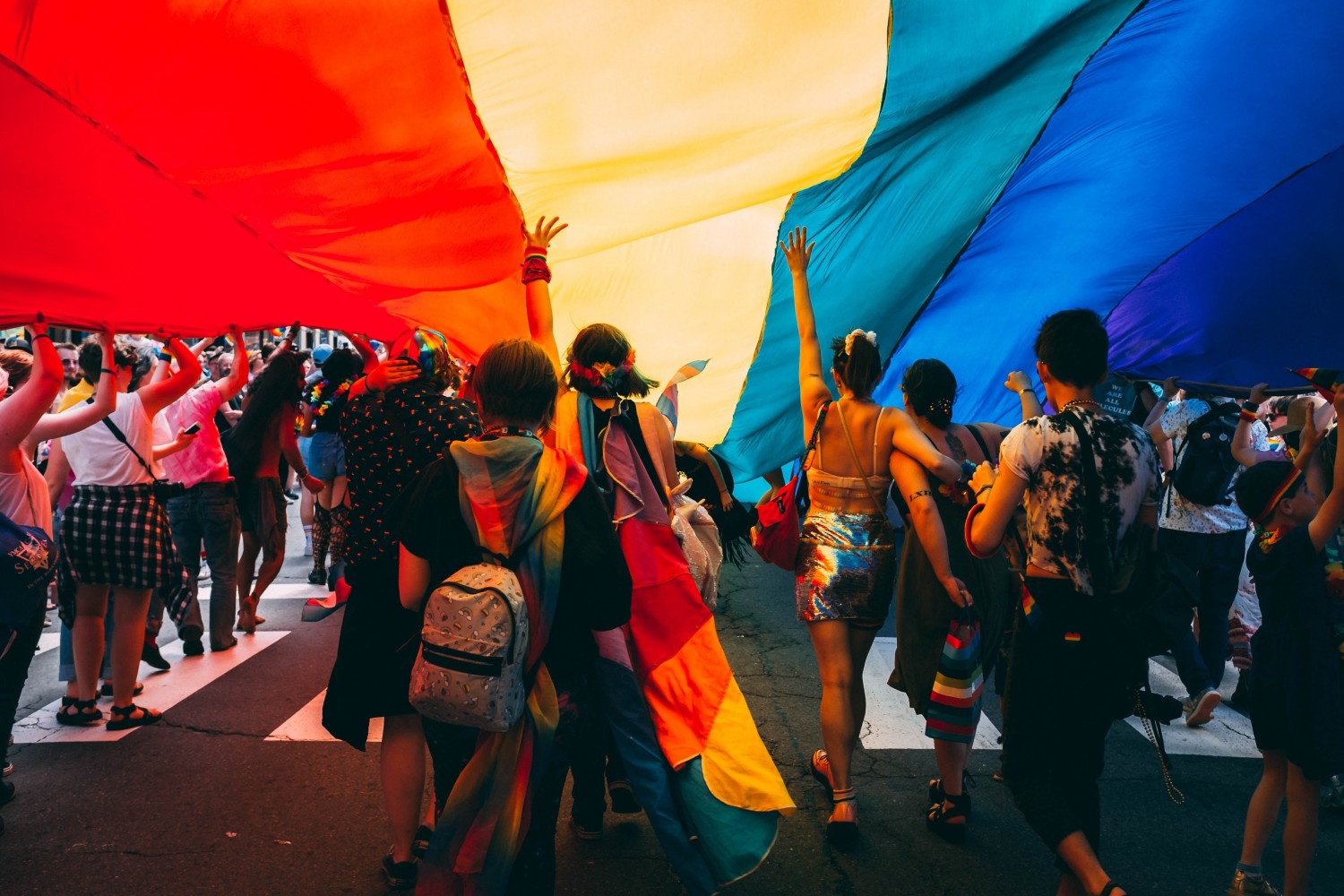 Feature image from Mercedes Mehling via Unsplash
LGBTQ+ groups in Peel struggle to create a sense of community in the shadow of Toronto
Community in Peel is a curious contradiction.
Idyllic subdivisions are sold on the merits of close-knit neighbourhoods and the allure of cohesive local values. Unlike the isolating big city, where many are too busy to coalesce around a shared sense of identity, suburban families often become intimate with their neighbours, playing basketball on driveways or sitting down together casually in backyards.
That sense of community is harder to hold onto outside the cul-de-sacs and subdivision streets that bind neighbours together. When you leave the winding maze of residential roads and the homes connected by strips of grass and welcoming sidewalks, the sense of a shared space melts away. In between Canada's largest city and the suburban neighbourhoods where many young urbanites are drawn from, lies little to create a broader sense of community for those seeking shared experiences with like-minded individuals.
"Everybody gravitates towards Toronto because they don't know about services in Peel and, even if they do, services aren't well widespread," Erin Crane, the co-founder of Trans Trade Peel: Transgender & Gender Diverse Clothing Exchange, tells The Pointer.
Her organization offers gender appropriate clothing to transgender people in Peel. The exchange helps people find clothing they need, even if they are in a situation where money is tight.
"This is something that I started to experience myself, I know there are a lot of people in Mississauga who can't find appropriate clothing," she says.
Erin Crane created a clothing bank for transgender people in Peel Region.
(Image contributed)
(Click here to visit the clothing exchange's Facebook page if you are a Peel resident who would benefit from this service).
Despite providing a unique community service in Peel, Crane has struggled to tie down space. In a region with few areas or organizations dedicated specifically to the LGBTQ+ community, there is no obvious area where residents can look to for that sense of shared experience. Unlike Toronto's Church and Wellesley Village, which has long been a gathering place for many in the LGBTQ+ community, and the organic presence of businesses and services that have spread out across other parts of the city over the last couple decades, Peel does not offer the same welcoming feeling created when these village-like spaces wrap their arms around neighbours.
"The increased access to 2SLGBTQ+ resources in Toronto means that there is less focus on building more accessible spaces for queer communities in Peel," Yosh Perera from Moyo Health & Community Services says. "The expectation that people should travel to a central, urban location to feel safe, be represented, and feel a strong sense of belonging can be quite hazardous to one's health from a physical, mental, and economic standpoint. We need to recognize that 2SLGBTQ+ youth, newcomers to Canada, and folks who are caregivers may not have the capacity to travel to Toronto and require access to safer spaces in Peel region. Imagine having to travel from Brampton to Toronto to see a doctor who knows about queer health, pronoun use and gender affirming care."
The Gay Village around Church and Wellesley is well sign-posted. Storefronts, bars and even pedestrian crossings feature the Pride Flag. There's nowhere in Brampton or Mississauga that has a similar unifying vibe.
A few different clubs and bars specifically for the community have come and gone in both cities, often only opening fleetingly before shuttering. In Brampton, for example, the Eager Beaver has opened and closed. Where many iconic Toronto establishments are tied to decades of history, Peel has struggled to develop any physical footprint.
The draw of the big city is one explanation. Any new establishments in Peel compete against the bustle and magnetic allure of Canada's largest cultural centre, with an increasingly dynamic, diverse range of offerings, thanks to the energy of younger generations who pour in from across the GTA and around the world.
Peel's sprawling layout also poses challenges, especially for bars where drinking could stop patrons from driving. Without a widely-used public transit network and more dense, affordable housing across Brampton and Mississauga, running a bar, book store or clothing boutique catering to a specific demographic, is a challenge.
"I think when it comes to looking at Toronto versus Peel, you look at where a lot of the LGBT population is in Toronto and a lot of it is centered around downtown and The Village," Rob Gearing, a founding member of the Pride Committee of Peel, tells The Pointer. "Someone living in Brampton, they're nowhere near their friend's in Clarkson. I think the fact there is no ghettoization of the LGBTQ+ community in the suburbs, that's maybe why."
Rob Gearing is a long-time Peel resident.
(Image contributed)
The relatively recent birth of Brampton and Mississauga as booming cities could also play a part in the lack of cultural diversity, to cater to LGBTQ+ residents. A range of popular dating apps for different romantic interests and sexual orientations, along with the ongoing spread of virtual environments that draw all sorts of like-minded individuals together allow some who remain physically isolated to have some social outlets.
"Even the way people meet nowadays is very different than it was when I first came out," Gearing said. "You want to meet somebody — you want to, dare I say it, you want to hook up with somebody — in the suburbs, you just open up an app. That wasn't the way 20 years ago, 30 years ago, 40 years ago. I definitely think the internet has had a huge impact on how the gay communty interacts, where we go, where we meet people."
Rainbow Salad is an online space that brings together 13 separate organizations in Peel working with the LGBTQ+ community. Its website includes events and links to different service providers, creating a digital portal for LGBTQ+ residents in Peel looking for resources or events.
These can range from the Peel Mature Trans Group, a virtual support group for trans-identified people who are 40 or older, to Queer Minds, a mental health group for individuals that identify as Two-Spirit, Lesbian, Gay, Bisexual, Trans, Queer. The latter was originally held in person but has gone virtual during the pandemic.
Many of the events listed by Rainbow Salad are put on by the East Mississauga Community Health Centre and Moyo Health & Community Services.
Some who have tried running events in Peel have struggled to get traction. A limited network and lack of physical spaces pose challenges.
"We tried running all kinds of things in the last few years; we got very little response from the community. So we thought, 'You know what, they clearly don't need us to do this'," Sonya Shorter says.
She was one of the organizers of the Pride Committee of Peel. The group put on events, centred predominantly in Brampton, over the years, including a Pride event held last month. The committee recently wound up after years in Peel.
"They're also the same people who complain that there's nothing here," she says. "They complain out of one side of their mouth that, 'There's nothing in Peel, so I go to Toronto,' and then they're like, 'Oh, I go to Toronto because there's nothing in Peel'."
Some organizers say they have struggled to promote LGBTQ+ events in Peel.
(Image from sigmaration is licensed under CC BY-NC-ND 2.0)
Crane had a similarly disappointing experience when she and her partner attempted to organize a karaoke night for the LGBTQ+ community.
"The thing is people are crying [out] for events in Peel but then when people organize events in Peel, it is hard to advertise, it is hard to get the word out because the community is so closeted," she says. "And then nobody shows up and then the organizers, [who] put all the effort into this and then they see nobody showed up and they get disheartened."
This year, the Region of Peel decided to move Peel Pride Month from July to June.
"Since 2002, Peel has been celebrating Pride in July to avoid competing with Toronto's June Pride events, giving people the ability to participate in both Toronto and Peel events," a media release explained. "This distinction, while well intended, created confusion among many residents."
Former members of the Pride Committee of Peel say it was deliberately held in July instead of June so it did not clash with Toronto Pride and to showcase the region's unique identity. It also meant Peel Pride could be advertised and promoted during Toronto's flagship event.
"I just maybe wish the City had consulted with the community before moving it to June," Gearing said. "I really wish the City had maybe known the history behind why we did it in July versus June originally."
Shorter said the role of government in the decision was frustrating. "It wasn't the community that made that decision, it was the straight community (of elected officials) that made that decision."
The lack of LGBTQ+ representation not just in government but in all corners of Peel society, is a barrier still more prevalent in conservative-minded suburbs, compared to larger urban areas that have evolved into gathering places for diverse views and experiences.
Away from a singular month, Peel lacks many of the visible signs of community. The region is home to about 1.6 million people, yet there are no signature destinations for the LGBTQ+ community. Wide, fast streets and limited transit usage make changing this a challenge.
"We can focus on having organizations that already exist creating 2SLGBTQ+ programming, hiring queer and trans folks to do this work (especially those who hold intersecting marginalized identities, such as those who are racialized or disabled)," Perera says. "A 'Gay Village' does not need to be created to make a space for 2SLGBTQ+ owned businesses to thrive and for organizations to do the work to become safer spaces."
Crane says she believes an LGBTQ+ space in Peel would be important, but suggests such an evolution could take some time.
"I think if we had like a community centre like The 519 (a Toronto communty centre in the village) that was more queer oriented it would help out alot… just to be able to have that space," she says. "I think it would start very slowly with people kind of wary of going ot a queer space, again, even people who are queer themselves would be wary."
— With files from Vanessa Balintec
---
Email: [email protected]
Twitter: @isaaccallan
Tel: 647 561-4879
---
COVID-19 is impacting all Canadians. At a time when vital public information is needed by everyone, The Pointer has taken down our paywall on all stories relating to the pandemic and those of public interest to ensure every resident of Brampton and Mississauga has access to the facts. For those who are able, we encourage you to consider a subscription. This will help us report on important public interest issues the community needs to know about now more than ever. You can register for a 30-day free trial HERE. Thereafter, The Pointer will charge $10 a month and you can cancel any time right on the website. Thank you
Submit a correction about this story