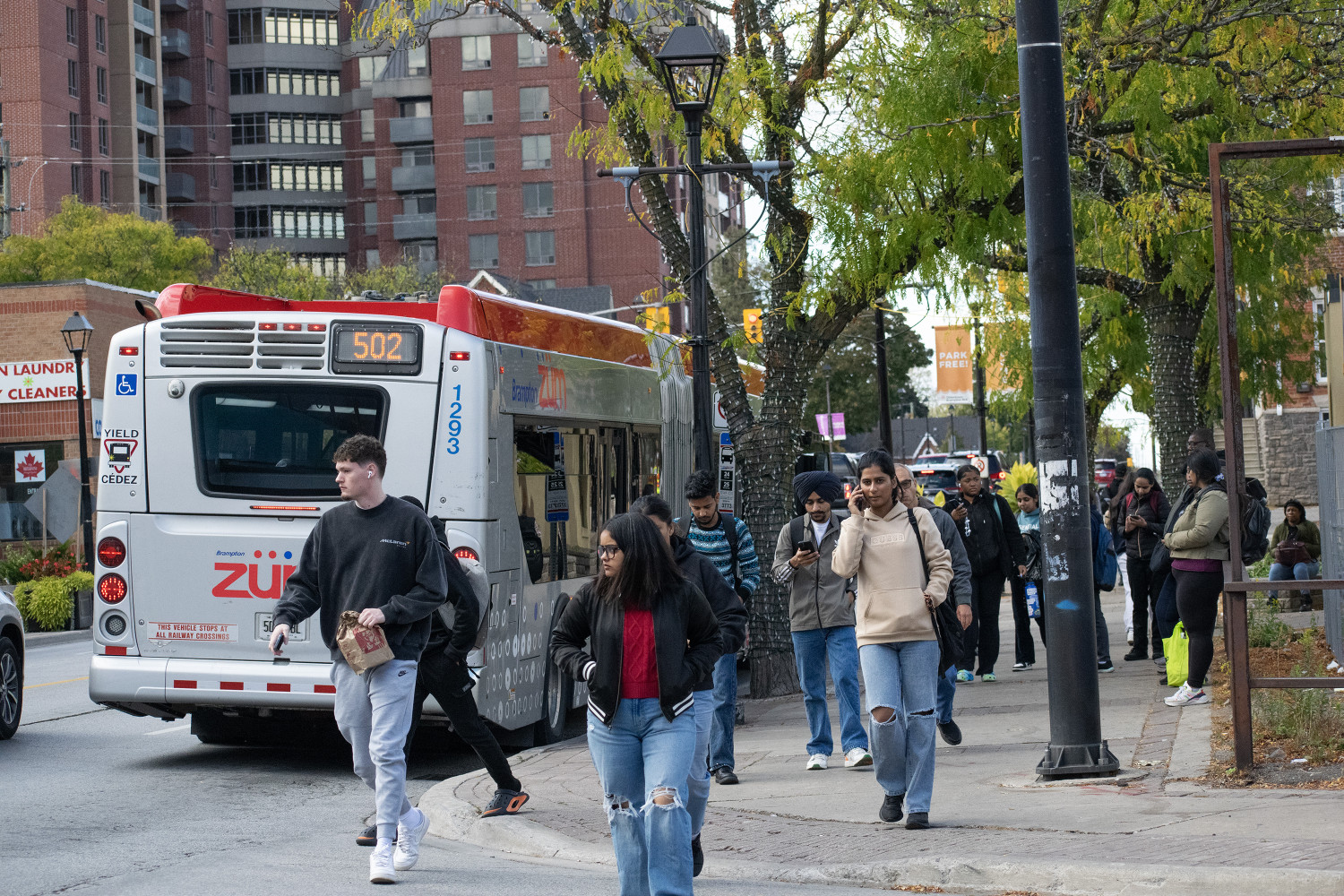 Alexis Wright/The Pointer
Survey finds Brampton residents increasingly unhappy over use of tax dollars, crime, affordability 
Results from a recent Community Satisfaction Survey signal a decline in quality of life for some Brampton residents, and that, on average, locals are less happy with their city when compared to those in other municipalities.
The survey, conducted by Ipsos for the City of Brampton, found the majority of residents (79 percent) would list the overall quality of life as "good" or "very good", which is below the municipal norms Ipsos has reported from surveys in other municipalities where 92 percent of residents rate their living situations favourably.
Two in ten (21 percent) of Brampton residents described their quality of life as poor or very poor, much higher than the municipal norm, which is 7 percent, according to Ipsos. Nearly half of Brampton residents (47 percent) said their overall quality of life has worsened over the last three years. Only 11 percent of survey respondents said their life has improved over that time period.
The top concerns of Bramptonians are public safety, traffic and housing affordability.


(City of Brampton)
The City's Survey quotes a participant saying, "at my age, [it's] almost impossible to get a house without parent's help."
"It's very discouraging to continue to live here, to be honest, the rents, [buying] a home[,] everything has become very expensive," another young participant stated.
During an October 18 City Council meeting, Councillor Michael Palleschi challenged the survey results, raising concerns with how it was conducted, saying he does not believe the results reflect the full population of Brampton.
Ipsos conducted a 20-minute "representative and probabilistic" telephone survey among 1,000 Brampton residents 18 years and older. It used a mix of cell phone and landline telephone surveys including 609 cell phone interviews and 391 landline phone interviews. According to the staff presentation to Council on October 11, the overall margin of error is +/- 3.1 percent, 19 times out of 20.
"I don't think this represents our population," Palleschi said. He questioned City staff for more details on the study, including if the survey was distributed evenly, where it was conducted and why it was only delivered in two languages, English and Punjabi. Staff said they would get back to Council about his questions.
Palleschi inquired about the cost of conducting the survey as well (approximately $100,000). He argued it does not show "the amount of work that staff have been doing to undertake all of these [gaps] and issues in the City of Brampton for our residents."
Mayor Patrick Brown called the survey "unnecessary" and "friendly fire" by staff. He claimed the City has been working on many of the issues identified by participants.
"I think staff are hearing loud and clear that this was unneeded friendly fire against a city that has so much great things happening for it," the mayor said. "I get that residents are frustrated with public safety right now, but that's happening from coast to coast."
The concerns of local residents extend beyond worries about community safety. The survey found the number of residents who feel they are getting value for their tax dollar has declined since a previous survey in 2019.
At that time, 77 percent of residents felt they were getting good value for their dollar. That number has dropped to 73 percent, below the municipal average of 80 percent. The number of residents who feel they are getting poor value for their tax dollars has increased from 22 percent in 2019 to 26 percent.
The findings suggest an increasing number of residents are unhappy with the financial strategy pursued by the City of Brampton since Brown's election in 2018. Running on a campaign to freeze taxes, Brown did so for the first three years of his tenure, a decision that led to drastic cutbacks. He has also worked to eliminate other key processes meant to keep the City's financial blueprint transparent to the public and plans on track for future spending to ensure stability in coming years.
The 10-year capital plan—a standard practice for municipalities across the country—was eliminated by Brown, making it harder to hold him accountable for delivering on the city's most pressing needs. Priorities to balance investment into significant infrastructure projects like redeveloping the City's struggling downtown core—are also gone.
Key projects to move the city forward were ignored or scrapped by Brown who demanded the overall budget be frozen, while he dramatically expanded his own spending on things like office staff and travel outside Brampton (it remains unclear why the mayor spends so much time outside the city and what he does for taxpayers while away).
Many of his promises have been ignored. Brown's 2018 campaign pledge to build a world-class cricket stadium before the last term ended, was broken, with even the inadequate construction budget for the project being repeatedly pushed to later years, with no plan in sight. His claim of being able to secure more than a billion dollars to fund a tunnelled downtown LRT was also forgotten and the ambitious project to this day remains without funding. The massive Riverwalk project, to protect the city centre from flooding and help redevelop downtown, was another critical investment Brown pushed off the budget.
After his election in 2018, to achieve his budget cuts, the Downtown Reimagined plan, a massive project to redevelop the crumbling city centre, was cancelled by Brown. The entire strategy which had already been approved by the previous council, was put together in cooperation with the Region of Peel over almost a decade. When Brown refused to pay for it, local business owners were outraged and the Region eventually moved forward with its own work to address the integrity of subsurface infrastructure it is responsible for, which was in dire need of replacement. Downtown Councillor Rowena Santos, a close ally of Brown, repeatedly made excuses for the cancelled project, while Brown misled area businesses about why it had to be scrapped, claiming there were engineering issues, which the Region debunked.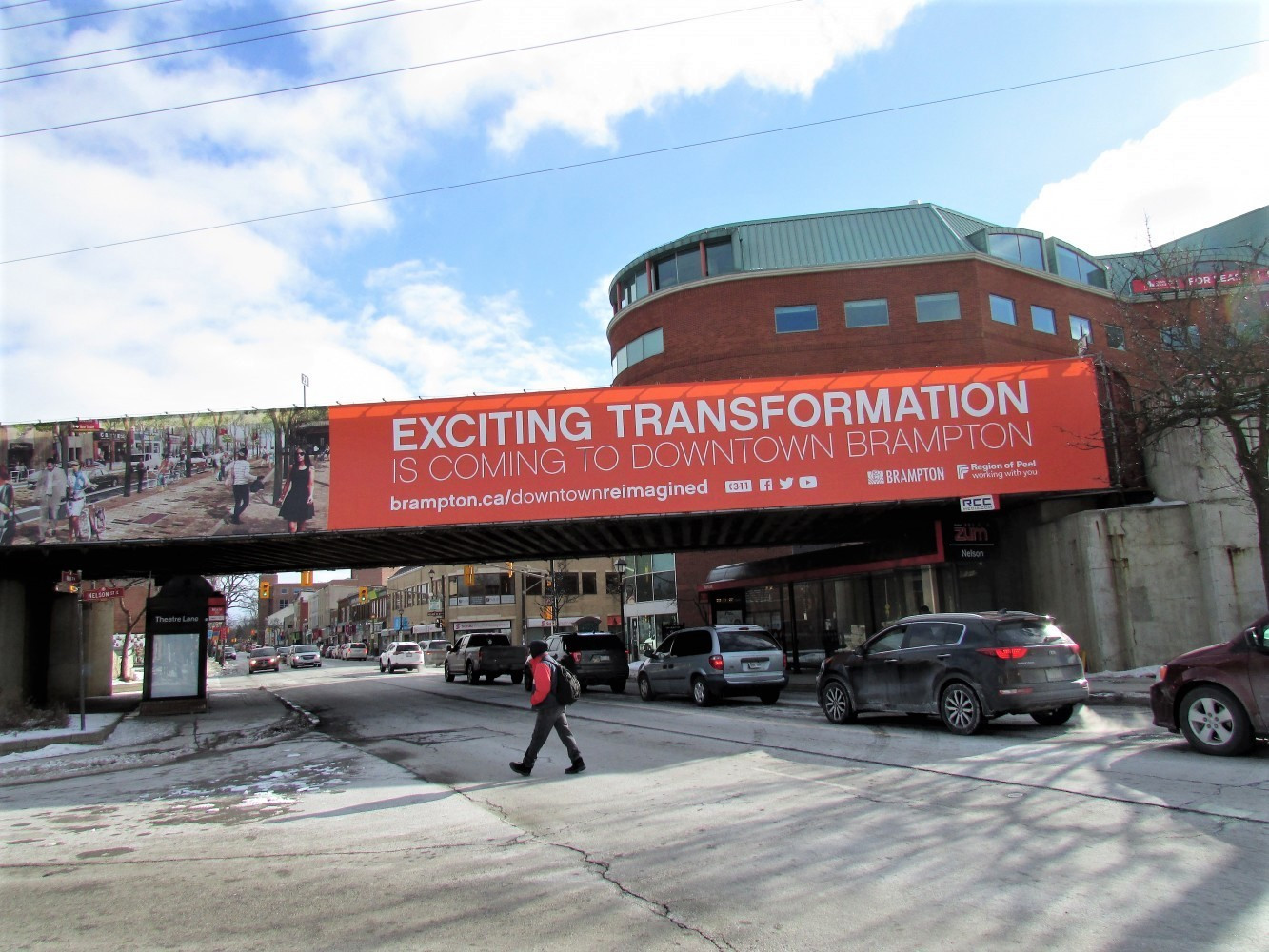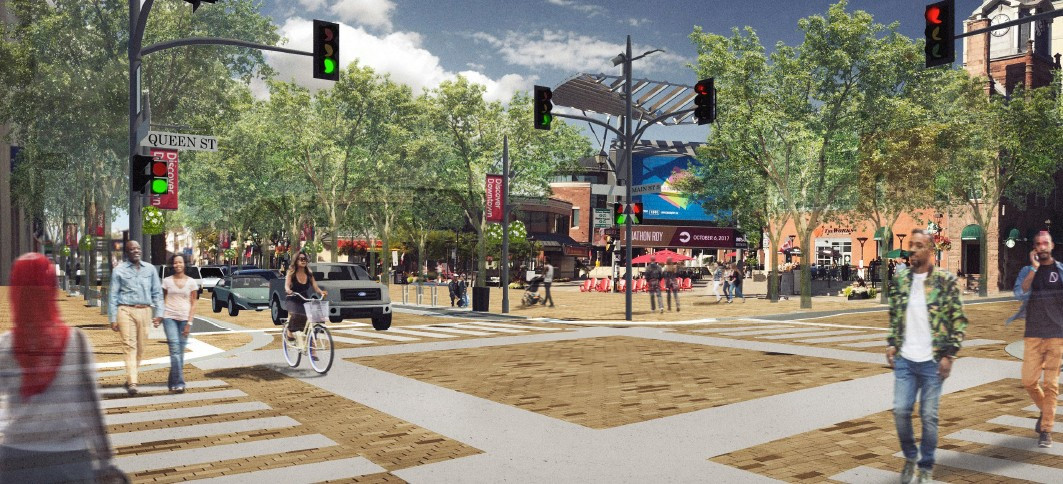 Top: A huge billboard on downtown Brampton's covered rail overpass, announcing the area's "Exciting Transformation" under the Downtown Reimagined plan, had to be taken down when Patrick Brown cancelled the project shortly after he was elected in 2018. Bottom: What the Downtown Reimagined project would have looked like if Brown didn't cancel it.
(The Pointer files)
He then refused to support an emergency levy needed for the City's share toward Peel Memorial's badly needed expansion, despite Brampton's ongoing healthcare crisis (a majority of councillors ignored him last year and voted to ensure the project will move forward).
Key investments to ensure post-secondary expansion were neglected, leading Guelph University and Humber College to pull out of a partnership. The Centre for Innovation that was supposed to be built to house their new downtown campus, is nowhere to be seen. The two post-secondary institutions stated they were forced to walk away due to "uncertainty around the construction". Brown then publicly lied about the decision, claiming a group of councillors who were outspoken about his failed leadership had voted to cancel the Guelph-Humber project, which was blatantly untrue.
Another plan to bring Toronto Metropolitan University downtown was also cancelled when Brown failed to salvage the project after the province said it could not afford to participate.
Funding for a major transit facility needed to expand the entire system was repeatedly kicked down the road by Brown. And cuts to budget items that keep the city operating and looking clean have led to complaints that Brown's politically motivated budget freezes are hurting Brampton.
While the controversial mayor was investigated for his own financial mismanagement (he led the cancellation of the investigations last year when he called a surprise summer meeting and had enough votes due to councillor absences) the City's finances had little internal or public oversight.
The council-approved financial master plan was thrown out the window. The three-year rolling budget process to help prepare for near-term needs was dropped.
Reserve funds, instead of properly budgeted plans approved by council in a transparent process, were suddenly used by Brown to cover expenses that could not be monitored by the public.
Last year's budget was such a farce the Brampton Board of Trade expressed dire concern about the ongoing financial management of the city under Brown and his former CAO, David Barrick, hired by the mayor and responsible for managing the City's finances despite not having any experience running even a small municipal department. Councillors warned that "cutting everywhere" to achieve Brown's desired budget freezes would jeopardize the city's future and put taxpayers at risk when all the bills come due.
According to the Ipsos survey, 41 percent of respondents were in favour of increasing taxes, or increasing them at the rate of inflation in order to maintain or expand city services. Just over 1 in 4 residents wished to maintain taxes at the existing level.
Just over 20 percent of Brampton residents described their quality of life as poor or very poor.
(Alexis Wright/The Pointer)
An outline included as part of the survey explains it is meant to provide the City with insight into the issues faced by local residents. A qualitative analysis included as part of the study is meant to help the City analyze the perceptions and preferences of the sample population and to understand their quality of life. It found a distinction between the experience of long and short-term residents, with long-term residents rating quality of life more negatively than newer residents.
"Quality of life in Brampton is rated high for newer residents whereas long-term residents' rate QOL more moderately. They have witnessed a shift over the years – increased traffic, crime and safety concerns," the report states.
Negative experience with the healthcare system in Brampton was also identified, with the survey finding residents, "have felt a sense of 'defeat' in the healthcare system during and post the pandemic, in that they are not receiving the care they need."
Along with housing affordability, high car insurance rates, which the report attributed to "the compromized traffic safety and increase in accidents," were reported by residents as a barrier for "long-term living in the city."
In the summer of 2018, The Pointer commissioned Forum Research to conduct its own community survey among 999 eligible Brampton voters to understand their views about living in Brampton. It revealed public safety was a top concern of Brampton residents at that time as well.
The Pointer's 2018 survey found only 10 percent said they feel safer today than four years ago while 65 percent said they did not, clearly indicating concerns around public safety have existed for many years.
There were also several other similarities in the findings between The Pointer's 2018 poll and the recent survey results at the City of Brampton. The Pointer's poll found the top reason participants gave for why they planned to leave Brampton was overcrowding. In the City of Brampton's Community Satisfaction Survey, issues tied to density were frequently brought up.
Brampton residents felt the City's amenities do not accommodate all of their needs.
(Alexis Wright/The Pointer)
"Over half (53%) of residents are not satisfied with the management of traffic and congestion and four in ten (39%) are not satisfied with road safety, including pedestrians and cyclists," the results showed.
The Qualitative Research Findings report states, "amenities such as hospitals, transit, schools, shopping plazas, and the road infrastructure are not seen to accommodate the needs of the residents and the rapid expansion. There are many who feel there is a lack of planning and funding to meet the needs of the growing population in the city."
There were positive results identified in the City's survey as well, such as Brampton being seen as "a vibrant 'central' place with people from diverse cultures," The report also says Brampton was seen as "a great family and community environment, to be 'forward-looking' in terms of its growth plans, and is a 'dream' for residents who love open and green spaces."
---
Email: [email protected]
Twitter: @_hafsaahmed
---
At a time when vital public information is needed by everyone, The Pointer has taken down our paywall on all stories to ensure every resident of Brampton, Mississauga and Niagara has access to the facts. For those who are able, we encourage you to consider a subscription. This will help us report on important public interest issues the community needs to know about now more than ever. You can register for a 30-day free trial HERE. Thereafter, The Pointer will charge $10 a month and you can cancel any time right on the website. Thank you
Submit a correction about this story