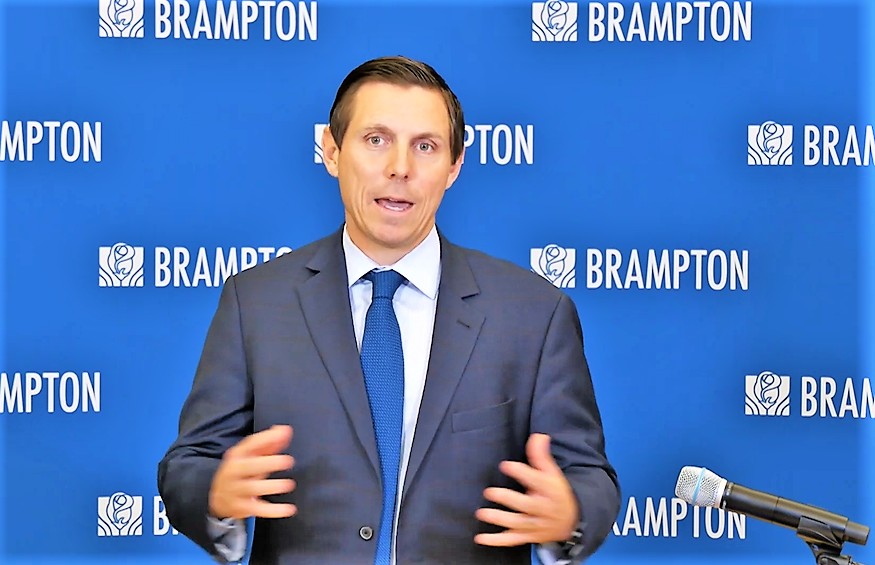 Feature image from City of Brampton
Brampton passes levy for hospital expansion as Patrick Brown's refusal to raise funds revealed
"We're playing all these little games with people's health."
That was Councillor Pat Fortini's response during Wednesday's Brampton Council meeting, immediately after Mayor Patrick Brown once again tried to ignore the need for a $125 million City Hall investment to expand Peel Memorial, possibly to create the city's desperately needed second hospital.
It was acknowledged that the only reason he is opposed to the levy is because he's running for the Conservative leadership on a platform that boasts about freezing taxes in the city during his entire term as mayor—a claim he can no longer make. In the end he failed to take part in the vote for the needed funding.
Staff previously informed council that the PC government is asking for a local share investment of $250 million—half from William Osler, which manages Memorial, and half from the municipality—in order to move forward with the planned expansion of the facility.
In an unexpected admission, one of the councillors loyal to Brown, revealed the only reason the mayor is ignoring the need to raise funds for the Peel Memorial expansion is because a levy would go against the claims he has repeatedly made while campaigning for the federal Conservative leadership. Brown has blasted out messaging bragging that he's the only big city mayor who has frozen taxes during their current term of office.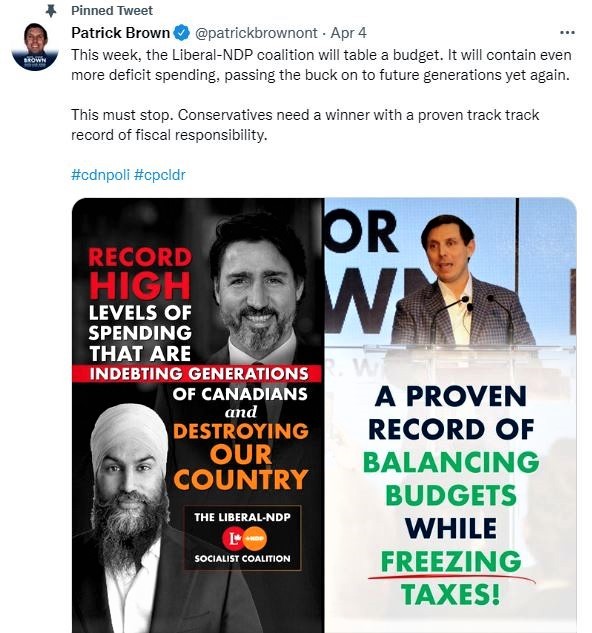 An example of Brown's repeated social media messaging regarding his budgeting record in Brampton.
(Twitter)
With the one percent levy that will be added to the 2022 property tax bill, Brown can no longer make his claim, as he tries to show Conservative members across the country that he is fiscally responsible.
Brampton councillors pointed out that it's actually irresponsible of Brown to deny badly needed funding to keep the city's residents safe, just so he can use a campaign slogan.
Councillor Michael Palleschi, one of Brown's most loyal allies, admitted Wednesday the reason the mayor does not want to devote the required funding toward desperately needed healthcare expansion is because a levy would ruin his election claim. He accused some of his colleagues of trying to sabotage Brown's ambitions.
"The only political games that are being played here is to make Mayor Brown look bad in front of the residents of Canada when he's trying to get his bid in for leadership of the Conservative Party to be hopefully the future prime minister," Palleschi said, in response to Fortini's comment. "That's the only game that's being played."
Fortini responded.
"Councillor Palleschi… this has nothing to do with it. And if Mayor Brown wants to go for leadership, he can. He's gone and we're stuck with a problem, if you want to put it that way. And I don't want my residents being stuck with a problem without a second hospital."
Councillors told The Pointer Thursday that the levy has nothing to do with ruining Brown's leadership slogan, pointing out they tried to get the levy into the budget last year, when the mayor did everything he could to prevent the move.
"Last term as well as this term healthcare has been a priority for council," Councillor Jeff Bowman said. "To hear members speak against the levy which we need, to show the Province we're serious, I just don't understand it. I don't think healthcare should be politicized in our city."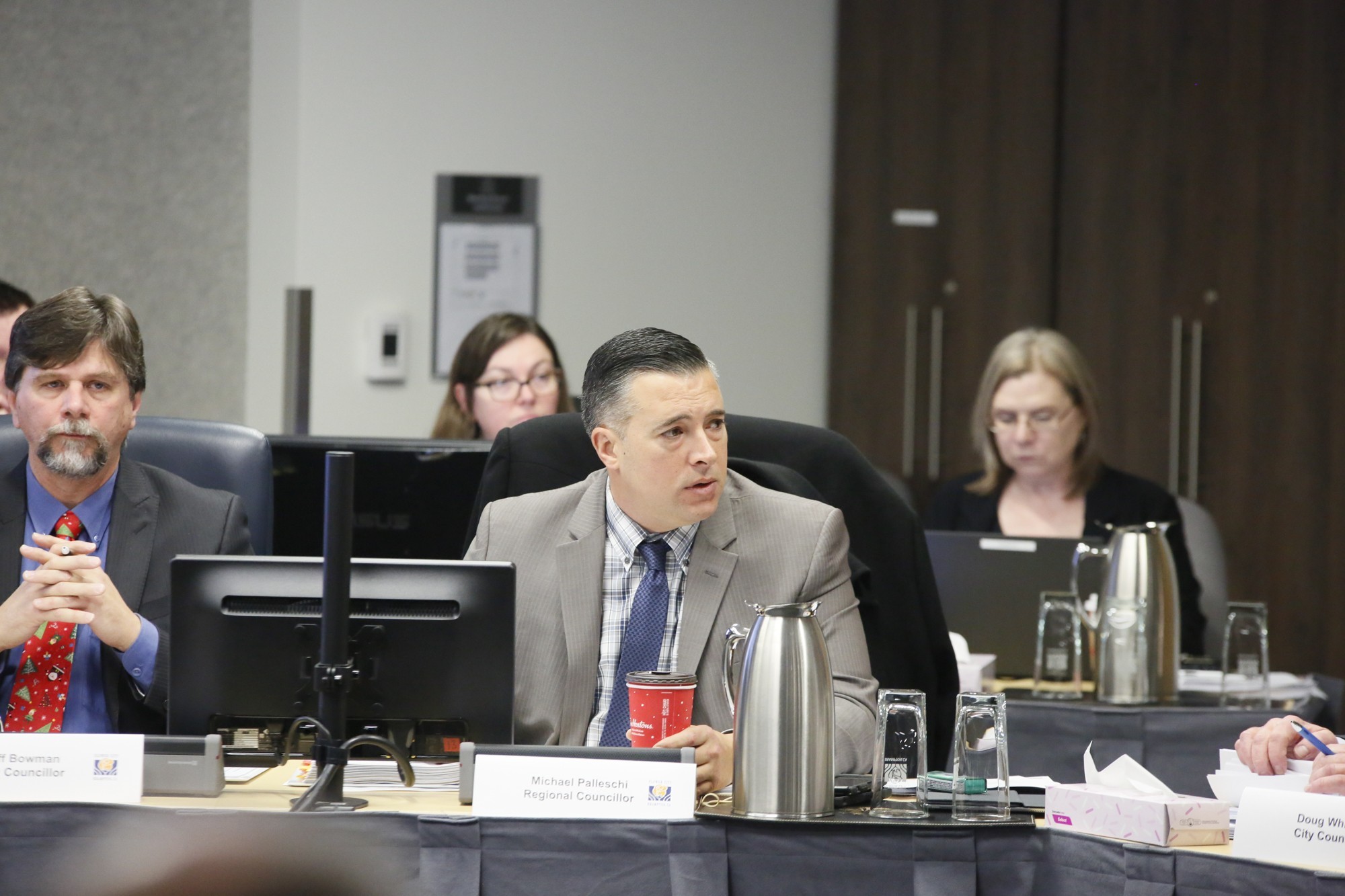 Councillors Michael Palleschi (top) and Pat Fortini argued about the motivations behind implementing the hospital levy.
(Photos from The Pointer files)
Councillor Martin Medeiros said during the meeting that it was "very irresponsible" to push for a tax freeze last year that "sacrificed important infrastructure" in a "high growth community". He echoed his colleague's words when interviewed by The Pointer.
"Our job is to keep our residents safe. Anyone's personal ambitions or interests should never be put above the needs of our community, especially in a high growth city like Brampton where healthcare is our top priority. We declared a healthcare emergency in 2020 to address the dire need to improve the healthcare for our residents, who don't deserve to be treated in hallways."
Palleschi, along with Councillors Rowena Santos, Harkirat Singh and Paul Vicente have voted with Brown throughout the term but recently failed to push Brown's agenda after a bloc of six members signed an open letter in February vowing to restore good government in the city.
Santos tried to bring forward a motion to ask the Province to allow development charges be used for local share requirements for hospital funding.
Fortini quickly pointed out that Peel Regional Council, which both sit on, just tried the same move, but regional staff already said the Province has made clear for more than a decade that this will not happen.
"I'm sick and tired with playing political games with people's health," Fortini said bluntly, after Santos tried to repeat what Regional Council already suggested.
After councillors loyal to Brown tried unsuccessfully to use tactics in support of the mayor's desperate efforts to keep taxes frozen for 2022, council voted 9-1 to bring in the one percent levy with Brown, who was not inside City Hall for the meeting, failing to participate in the vote (he was also absent during the committee debate on the issue last week, while Brown was travelling around the country campaigning for the Conservative leadership).
Staff previously said the healthcare levy will cost the average residential property owner about $53 annually until it is removed.
Brampton had previously committed $62.5 million out of the $125 million municipal share for Peel Memorial's expansion, and the new levy, pushed by Councillor Fortini with the support of councillors Medeiros and Bowman, along with Charmaine Williams, Gurpreet Dhillon and Doug Whillans, will see the City raise the rest from property tax payers while advocating for help from the Region of Peel and the provincial government.
Brown, calling in virtually for Wednesday's meeting, claimed the City's treasurer, Nash Damer, had found money that would allow the levy to be avoided this year.
"It's been one heck of a hard year for everyone. We've lost some good businesses and I know a lot of families are under pressure. And I'm just grateful that our treasurer, Nash, put forward this solution," Brown claimed.
Damer quickly denied this was the case, explaining that any identified surplus had not been recommended for the required share to fund Memorial's Phase 2 development.
"I just want to be very clear," he told council members, "we did not recommend that the surplus is used for the hospital levy. Just making this information available to council."
Fortini called it more "political games" and said any future surplus could be added to the levy.
"We all did videos on this hospital, all promoting it and we're playing political games," he said. "I want to continue this levy, it has to be done. We've been dealing with this since November. We said we're going to go to the Region and [we tried that]. So if there's extra money, we can always stop the levy, we gotta plan for a third hospital," Fortini added, suggesting any surplus or other funds need to be put away for the future so the city does not find itself in this position again. He said last week that he's tired of relying on other levels of government when the City could control its own healthcare picture by responsibly budgeting for the required local contribution.
"Like, we're playing all these little games here on people's health and it's about time we just move forward with this and—a lot of people are depending on it."
The Province has said for Brampton to move forward with the expansion of Peel Memorial it will need to come up with $250 million to fund the local share of the project. Half will come from City Hall, the other half from William Osler Health System.
(The Pointer files)
Councillor Medeiros on Wednesday said Brampton had to sacrifice important infrastructure projects to come up with the money already committed for Memorial's expansion because there was no increase in the tax levy due to Brown's demand that the budget be frozen.
"We talked about being the fastest growing community in Canada. So our business as a high growth community, we have to keep up with infrastructure. We have to keep up with those investments," Medeiros said.
"We've heard councillors who kept saying they don't like kicking the can down the road. And here we are kicking the can down the road."
"Let me tell you, pay the piper today, or you're going to be paying it larger in subsequent years. So I believe I agree with Councillor Fortini. This is the responsible thing to do financially."
Councillor Bowman said the city has to come up with tens of millions for Peel Memorial's Phase 2 development and again when a third hospital will have to be built. The PC government has only committed 250 non-acute care beds for Memorial, despite the City's demand for 850 new hospital beds, just to reach the provincial average. Currently Brampton has less than half of Ontario's per capita number.
"I don't know why we're waiting on this," Bowman said Wednesday. "It's a great thing to go out and say we've had zero tax increases for four years. I don't know what the issue is with going out and saying the City of Brampton has had a 0.2 percent tax increase each year for four years on average."
"I don't know what the problem is," he added.
For Brown, it appears to come down to his slogan, being able to campaign for the prime minister's job by telling everyone he kept Brampton's budget frozen.
Bowman asked Damer what Brampton's current infrastructure deficit is. He said it is growing and is projected to be at least $200 million dollars over the next ten years.
Brown recently tweeted that his potential opponents in a federal election have been "passing the buck on to future generations" due to deficit spending. Meanwhile, in Brampton he has repeatedly claimed to support the desperately needed second hospital while refusing to expand the budget to raise revenues for it. He has also failed to explain how his budget freezes will come up with funds for the tunnelled downtown LRT he promised (as much as $1.7 billion); he cut tens of millions for a massive downtown redevelopment needed to revive the decaying city centre; he claimed a new world class cricket stadium would be built but would not put the money for it in the budget; and his trumpeted Brampton University plan was abandoned after his revenue freezes left zero funding for it.
Many other needed infrastructure projects will also now be on the backs of "future generations" when Brown could be gone from Brampton, to pursue his federal ambitions.
Palleschi tried to continue the freezes, voting against the levy Wednesday, citing concerns for Brampton businesses.
Todd Letts, CEO of the Brampton Board of Trade, told The Pointer the business community in the city has been a strong advocate of healthcare expansion and is supportive of the one percent tax increase toward the Peel Memorial development.
"We certainly do support that happening as soon as it can," he said Thursday.
He said businesses "will see an increase in their summer bills and they'll just have to adjust accordingly."
Letts said the BBOT would have liked the levy in the original 2022 budget which passed last year.
"Hopefully, the price of the budget process for 2023 will take into account all of the needs of our growing community: infrastructure, transit, hospital, etc. and a multi-year forecast of what the property tax increases will be presented so that families can, and businesses can budget."
---
Email: [email protected]
Twitter: Anukul_AT
---
COVID-19 is impacting all Canadians. At a time when vital public information is needed by everyone, The Pointer has taken down our paywall on all stories relating to the pandemic and those of public interest to ensure every resident of Brampton and Mississauga has access to the facts. For those who are able, we encourage you to consider a subscription. This will help us report on important public interest issues the community needs to know about now more than ever. You can register for a 30-day free trial HERE. Thereafter, The Pointer will charge $10 a month and you can cancel any time right on the website. Thank you
Submit a correction about this story