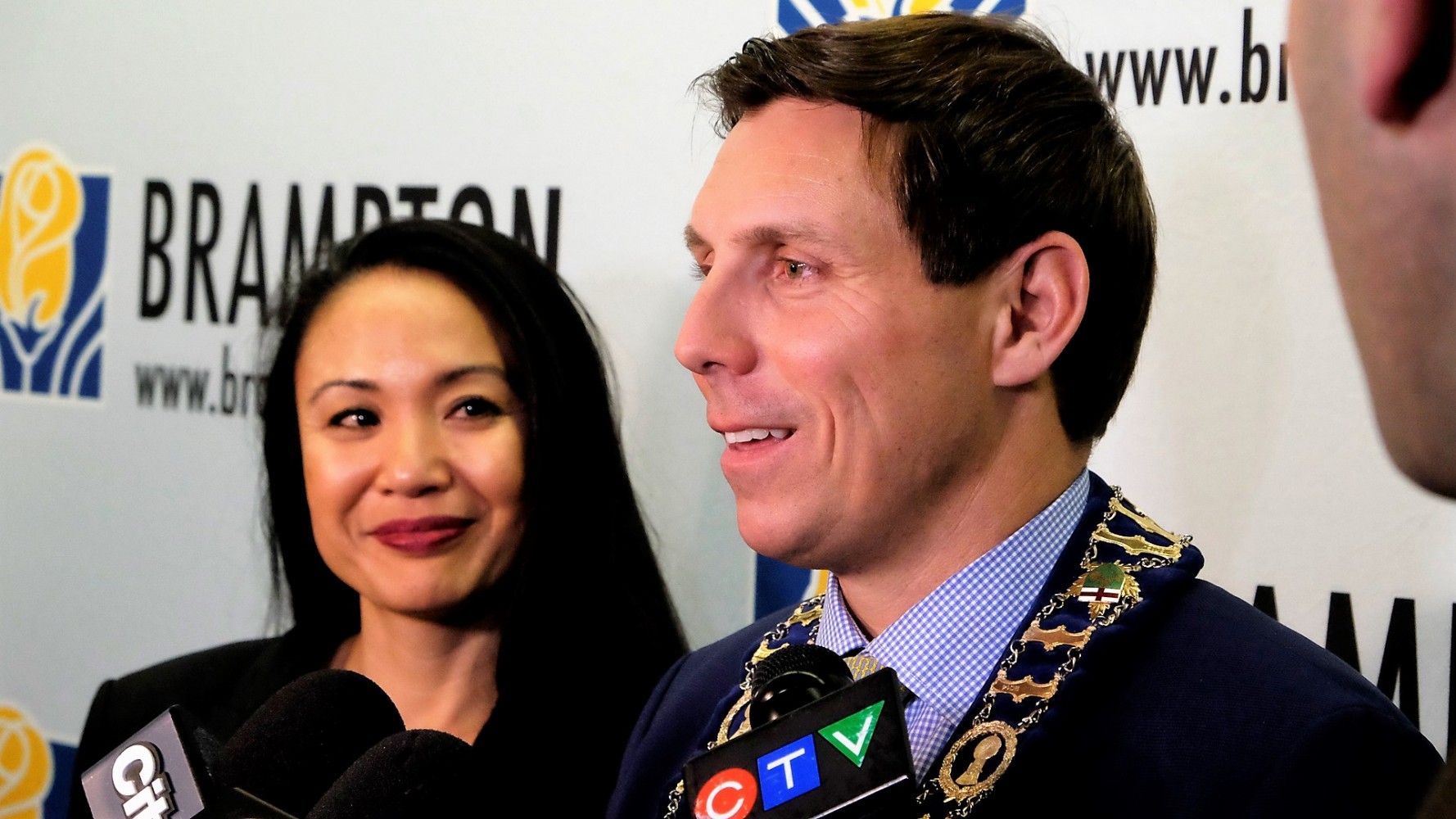 The Pointer file photo
Political games by Brown and Santos will cost downtown businesses dearly
Plans to recreate Brampton's crumbling downtown will not be a "one-dig" situation, despite a previously approved strategy.
As soon as Mayor Patick Brown was elected on a promise of cutting costs and freezing taxes, he cancelled the Downtown Reimagined initiative already approved by the previous council.
Almost three years later, after the Region of Peel was forced to plan its part of the project on its own, to replace outdated underground infrastructure that has already been rupturing throughout the city centre area for years, the City is now scrambling, while downtown business owners have expressed frustration over the actions of Brown and two of the downtown councillors who support him.
In May, one of them, Councillor Rowena Santos, introduced a motion, supported by Brown, requesting staff take 90 days to complete a last-minute plan to do some of the badly needed downtown work the mayor cancelled.
The idea, instead of the one-time, cohesive Downtown Reimagined plan put together in partnership between the Region of Peel (the lead proponent) and the City over more than half-a-decade prior to Brown's arrival, is to now do some of the City's part of the project bit-by-bit while trying somehow to cause the least amount of disruption.
The City, under the original approved plan, was to take care of street revitalization work, sidewalk widening and other storefront upgrades, a massive landscaping project, restoration of existing features, the installation of artwork and other aesthetic improvements.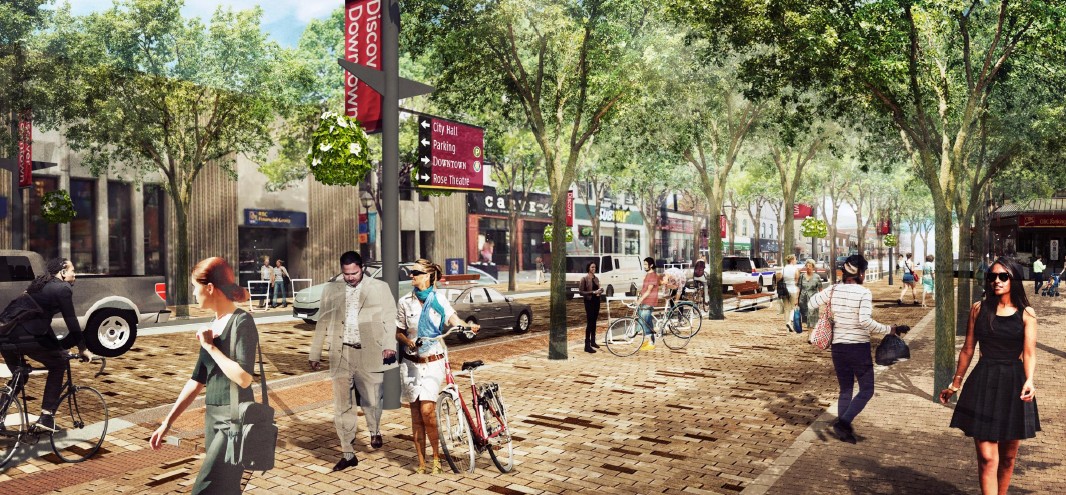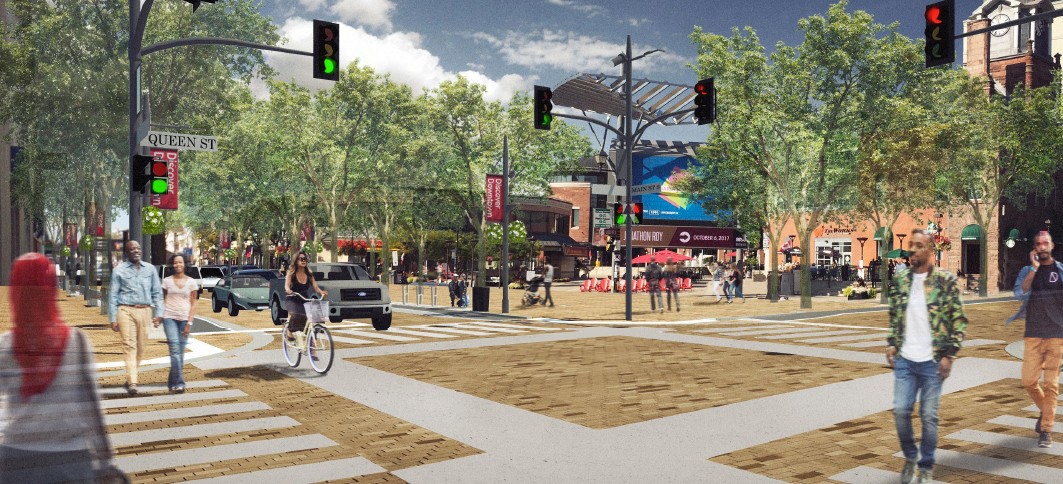 The Downtown Reimagined project, which would have been completed this year, if Patrick Brown had not cancelled it as soon as he was elected so he could freeze taxes. (Renderings City of Brampton)
It would have cost the City between roughly $30 million and $50 million for its share of the Downtown Reimagined project. Huge murals had even been hung in the withering Four Corners area, showing off what the transformative work would look like.
If not for Brown's refusal to pay for the already approved work that downtown property owners had waited years for, the entire project, including the Region's water-main and sewer work, would have been completed this year.
Instead, downtown continues to decay so the mayor could get his promised tax freezes and now the City is left scrambling while a piecemeal approach is thrown at the wall.
Making matters worse, is the pandemic. The timeline Brown, Santos and the rest of his followers tore up would have seen the lion's share of the work done while businesses were shut down for the pandemic anyway. Now, any construction that will rip up streets and close off sidewalks will happen just when residents are set to start spending money again.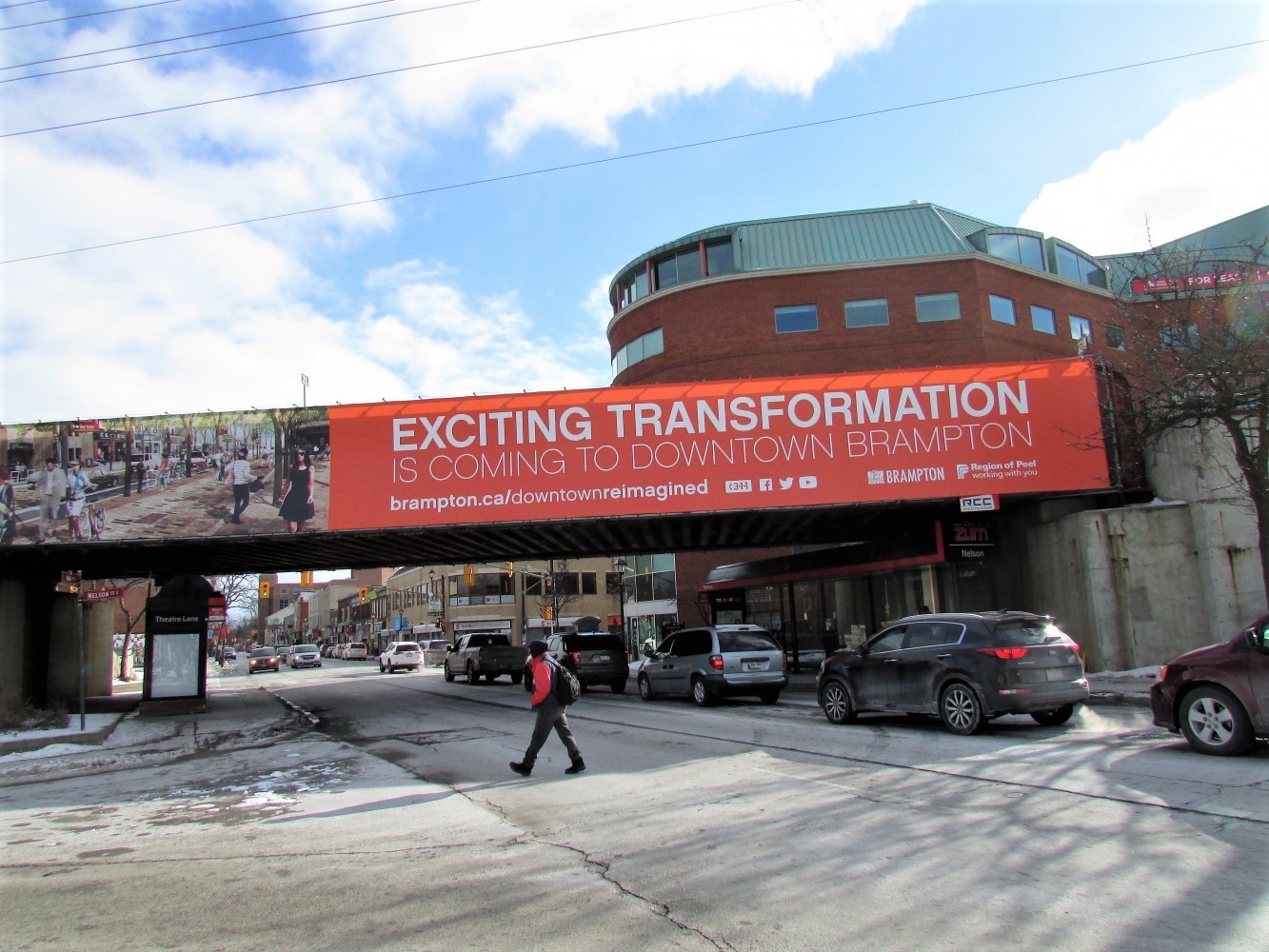 Giant murals were hung featuring the "Exciting Transformation" that was coming to downtown, before Patrick Brown cancelled the project. (The Pointer files)
Santos explained the 90-day deadline to come up with an idea was necessary in order to ensure work would not be rushed and businesses would see minimal disruption under whatever scheme staff can come up with.
The Region decided it could not wait and was set to start its underground utility work this summer, but Santos and Brown tried unsuccessfully to delay the work. Regional councillors were having none of it, and recently voted to go ahead with the badly needed project, ignoring Brown's attempts to mislead members when he falsely claimed the plan was not ready in 2018. Regional staff pointed out that the tender had been completed and the private sector partner that submitted a detailed bid in response to the request for proposals outlining the work was lined up, before Brown pulled the plug immediately after his election.
The summer timeline was pushed back to September because of the stalling tactic. Now, Santos and Brown are claiming they are trying to fulfill the City's commitment to the long-promised downtown investment, but they don't even have money budgeted to transform the flagging area, as was promised years ago.
"One of the important elements in our discussion with folks is that we want to avoid as much… redundant digging," Santos said at the May 19 council meeting. "We just want to dig once if possible, and coordinate as much as possible, all of the elements, utilities, regional work etc. so as to avoid disruption."
She failed to mention that any redundant digging would be Brown's fault for cancelling the original project.
Despite her claim that 90 days (the deadline is August 17) would be enough for all parties to get their ducks in a row to do some of the City's work, this likely won't be the case.
All the stakeholders did have a coordinated timeline before Santos and Brown were elected, when the Region had already put out the tender for the project and the private-sector partner was ready to go.
But after the City threw the entire plan into a tailspin it dragged its feet for years before the Region finally said it was moving ahead with its critical infrastructure work without the City on board for its part of the revitalization.
Discussions indicate the City will have to coordinate the moving of gas lines, fibre optics and electrical utilities. A recent verbal update to council makes it clear all relevant parties may not be organized by the 90-day deadline, meaning they may not be prepared to proceed with the needed work to accommodate Brown and Santos's last minute attempt to get some of the City's work done while the Region rips up streets to replace water and sewer lines, which it has jurisdiction over.
"That is a work in progress and I would like to assure people that we have already started those discussions. Although I want to set the expectations to be realistic in terms of things, some of the utilities will need a little bit more time to coordinate with," Jason Schmidt-Shoukri, the new commissioner of public works and engineering, said at last week's council meeting. "We have some partners that are not on the table yet."
City Councillor Jeff Bowman emphasized this work needs to be completed in order to move forward with future plans for the city.
"If we are planning all these new buildings, Centre for Innovation, transit hub, population density, etc., they will certainly require upgraded utilities so that the downtown is state of the art moving forward. [It] makes no sense that we would try to attract top-flight development and businesses with lacking infrastructure," he told The Pointer.
Rick Evans, secretary of the Downtown Brampton BIA, said there is currently at least one business which experienced a power outage possibly as a result of the aging infrastructure.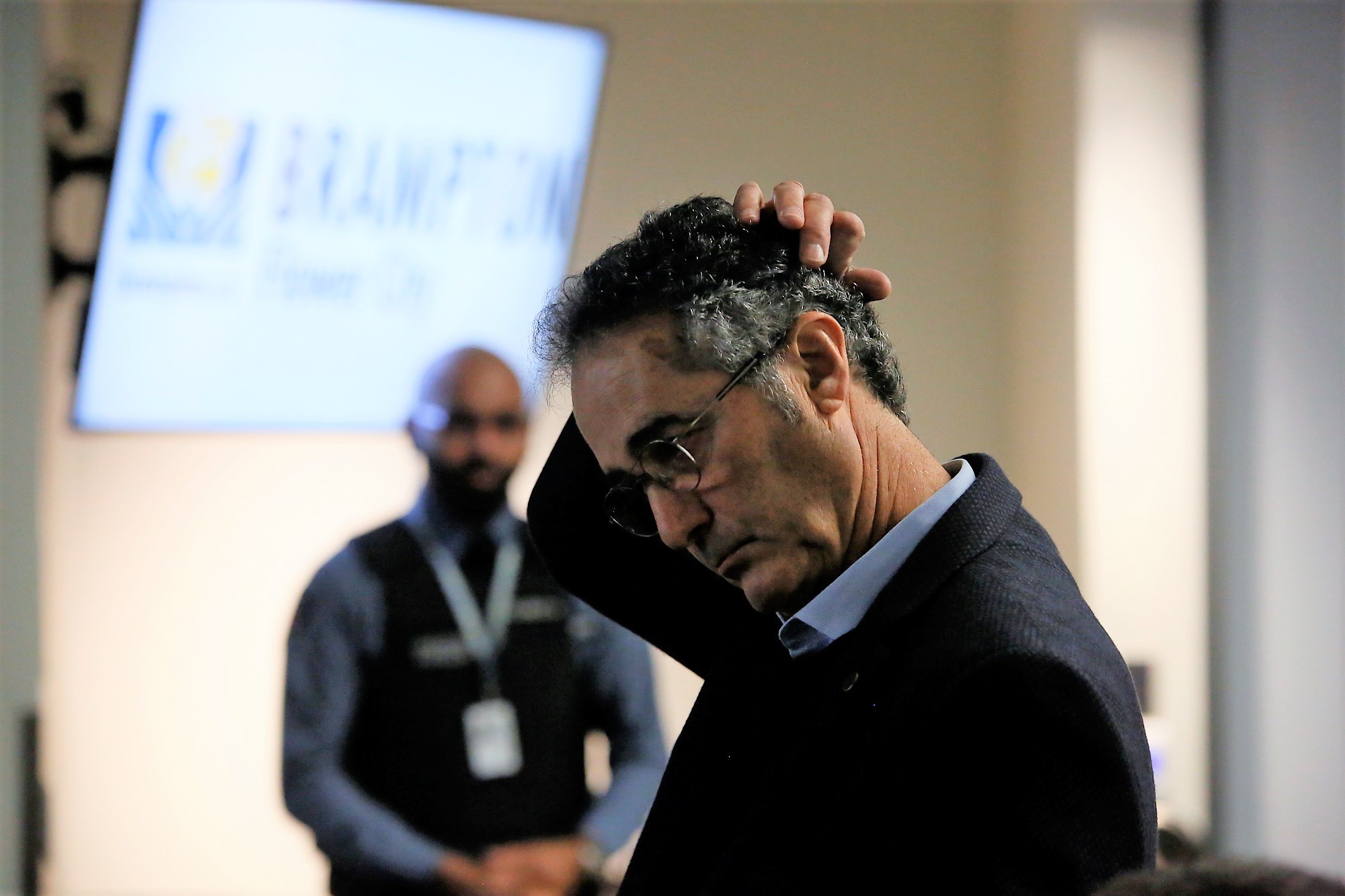 Rick Evans has been a regular at City Hall fighting for investment into Brampton's struggling downtown. (The Pointer file photo)
The water mains the Region is replacing are decades old. One section of pipes on Queen Street was installed between 1969 and 1970. Another section on Main Street dates back to 1995. Businesses are worried these pipes could burst at any minute, as they have in the past. In December 2017, a rupture on George Street caused surrounding businesses to shut down, left tens of thousands of dollars in damage and a residential unit had to be evacuated.
Staff have even admitted there are not adequate utilities to support external events in the downtown area.
"They're looking at the provision of reliable hydro to support the farmers market," staff said at the June 23 Committee of Council meeting while sharing a report on short-term improvements that could take place during the upcoming construction. Some councillors were not impressed with the options presented, which included changing light bulbs and painting lamp posts.
Schmidt-Shoukri said Bell, the company responsible for fibre optics, was interested in installing the service downtown, but conversations still need to take place with hydro and other utility companies.
"It's not going to happen overnight," he said.
Staff did not discuss how final utility needs and placement can be decided without a final decision on a route for the proposed LRT, which Santos and fellow downtown Councillor Paul Vicente have forced onto the revitalization project. The original Downtown Reimagined plan did not include accommodations for an LRT running through the area.
Santos has failed to address what staff have explained, that adding the LRT to the plan means any work the City does to coordinate with the Region's construction schedule, might have to get ripped up depending on the eventual alignment of the proposed LRT route, which might not be decided for more than a year.
Santos appears to want her cake and eat it too. She's demanding the LRT be part of the downtown plan, but wants some construction to start without even knowing where the LRT might run.
Anthony Parente, general manager of water and waste water for the Region of Peel, said the original Downtown Reimagined plan, "did foresee a fulsome replacement of all those existing utilities (phone, data, electricity etc)". But those plans were set before Brown tore them up and Santos demanded a surface LRT route be part of any future downtown revitalization.
There is currently no funding for the LRT and the Province would have to approve any route. An early portion of the environmental assessment is currently underway.
City staff asked council to support two options to enter the preliminary design and draft environmental report phase (ERP): a surface route, and Brown's favoured underground, tunnelled alignment. Brown pushed for the underground option to be listed as the preferred one so council can start advocating for funding. It's not even clear if an underground option is feasible due to the much higher cost and the location of Etobicoke Creek right along the corridor into the downtown area.
"There is a huge level of uncertainty as to what we are doing and that uncertainty is exacerbated by all of the concerns that COVID has brought on. So our businesses right now are touchy, to say the least," Evans said.
Parente gave councillors a look into what installing a water main will require and the possible disruptions that could come with it, calling it a "three-pass approach."
He explained to The Pointer over email the first pass is to allow the existing water main to remain active while a new pipe is installed, ensuring water isn't cut off for residents and businesses.
"The new water main must pass all testing and then must be disinfected to [industry] standards. Only when the new main is passed all tests can we begin to move service connections from the old main to the new main."
Pass two and three involve connecting services from either side of the street to the new water main. After this is completed, the old water main is removed.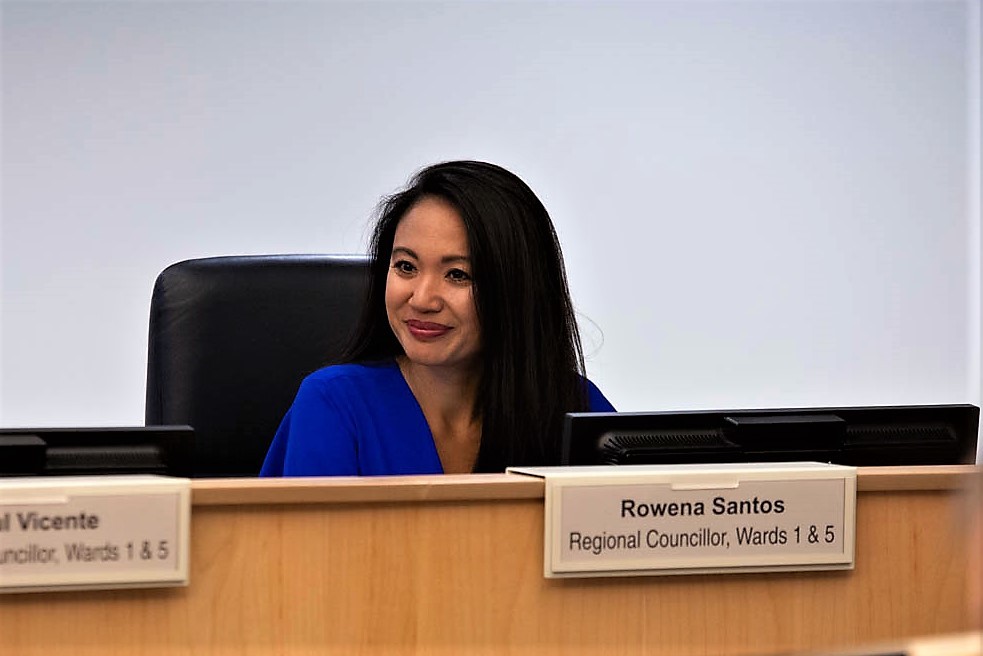 After downtown Councillor Rowena Santos ignored the revitalization work for more than two years she's now scrambling for a last-minute Band-Aid solution. (The Pointer files)
The final report on the City's possible work to be done in conjunction with the Region's underground construction is expected to be delivered in September, when the water main work is set to begin. The City report will likely include details that have yet to be discussed, such as final cost.
Despite a lack of clear direction, council approved a motion presented by Vicente, that he said "was brought forward by the public works department", allocating $12 million from reserve funds toward downtown improvements.
The motion "will assist and be very key in ensuring that the resources are at the ready, not just for what will be done very soon but what needs to be done immediately," he said. This replaces $3 million that was additionally earmarked for this project back in 2018. It's unclear how staff decided on the final $12 million figure and what will need to happen if the final cost surpasses this amount. The work will be much more expensive than what it would have cost in 2018 if Brown had not cancelled the approved plan, as the price of materials has skyrocketed since the start of the pandemic.
It's also unclear how reserves will once again be used, as staff have already reported balances are dwindling thanks to Brown's refusal to raise taxes.
It means property owners will soon be on the hook for massive tax increases to pay for all the things Brown has ignored, while also having to restore the reserve accounts he continues to exhaust.
---
Email: [email protected]
Twitter: @nida_zafar
Tel: 416 890-7643
---
COVID-19 is impacting all Canadians. At a time when vital public information is needed by everyone, The Pointer has taken down our paywall on all stories relating to the pandemic and those of public interest to ensure every resident of Brampton and Mississauga has access to the facts. For those who are able, we encourage you to consider a subscription. This will help us report on important public interest issues the community needs to know about now more than ever. You can register for a 30-day free trial HERE. Thereafter, The Pointer will charge $10 a month and you can cancel any time right on the website. Thank you.
Submit a correction about this story