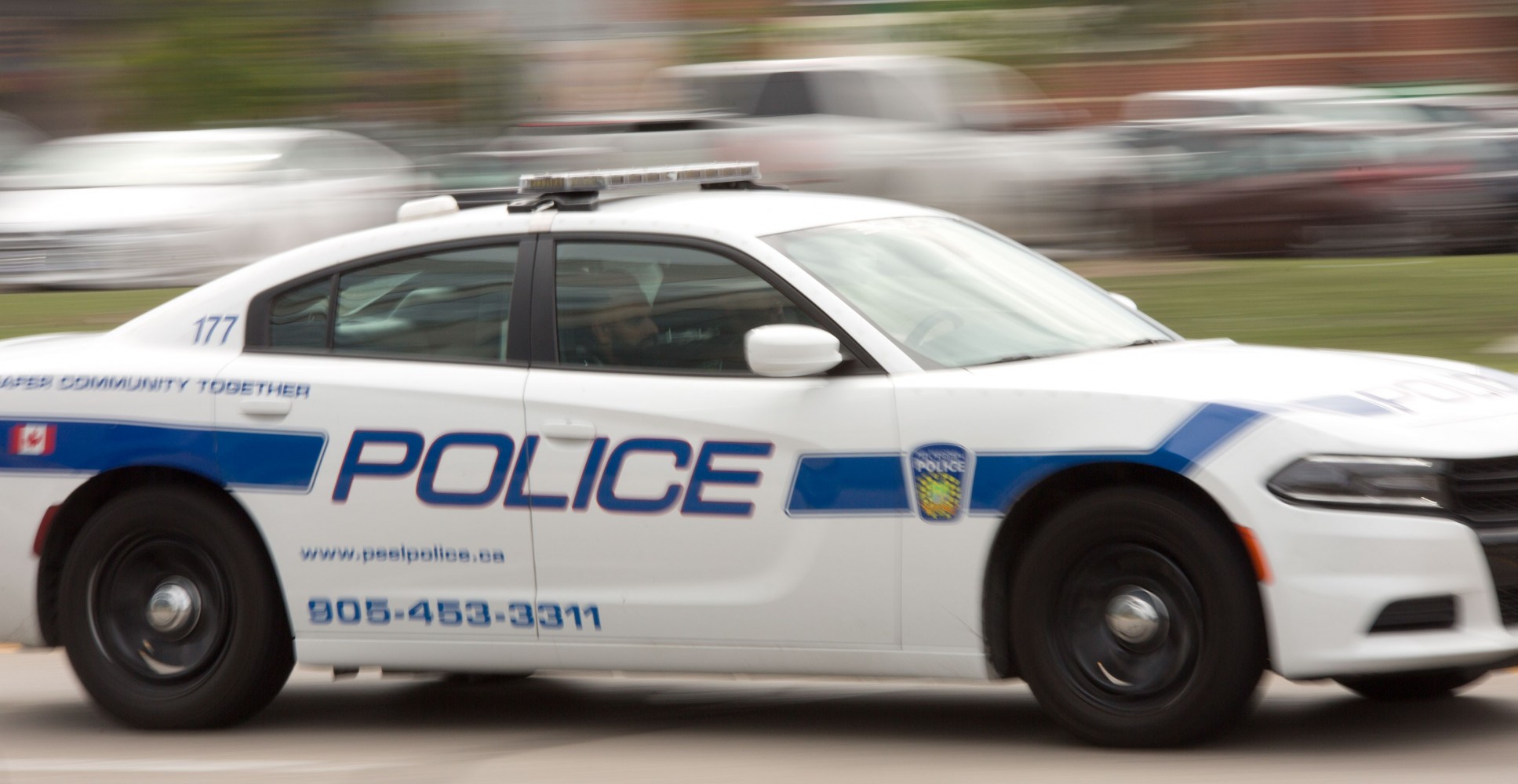 Photo by Mansoor Tanweer
Exclusive: Brampton Votes
Poll shows public safety is a top issue for Brampton voters. Jeffrey and Brown fighting over who's toughest on crime
An exclusive poll commissioned by The Pointer shows that crime is one of two top issues concerning Bramptonians, seven weeks before voters cast their ballots in the municipal election. Not surprisingly, the two frontrunners in the race for mayor, Linda Jeffrey and Patrick Brown, are trying to outdo each other when it comes to addressing the issue.

A wave of violent crime has left many in the city reeling, with two more homicides over the past weekend. The survey of 999 eligible voters carried out by Forum Research during the last two weeks of August asked a key question: What is your biggest concern heading into the municipal election?
Of the choices provided, 24 percent of respondents said crime is their biggest worry at the local level going into the October election, only one percentage point behind the top answer: high property taxes.
Asked if they feel safer now than they did four years ago, 65 percent of those surveyed said no; 10 percent said yes, and the remaining 26 percent said they feel equally safe. (Numbers are rounded. The survey results are accurate within plus or minus three percent.)
Jeffrey and Brown, who announced his plan to fight crime on Friday morning, have both seized on the alarm being expressed on social media, comment boards and at public meetings recently by emphasizing their plans for dealing with the issue as their campaigns swing into full gear.
"Brampton residents are fed up with the disturbing level of violence in our City,'' Brown said in a statement highlighting his plan to fight crime ahead of Friday's announcement at the Cassie Campbell Community Centre, at which he said he wants "concrete measures...that the new council could act on immediately."
Speaking in front of a children's playground before a crowd of mostly media and campaign workers, he said what was once "a safe and prosperous city" is now constantly featured in the media because of violent crime, and that while Toronto has secured funding from higher levels of government to deal with the issue, "Brampton is forgotten."
"Shootings skyrocketed to a record high in 2017," his press release said, citing Peel Region Police data. "Peel Police report that to date in 2018, shootings are 11 percent higher than last year's record pace. But when our city looked for support and guidance from City Hall, and a renewed focus on public safety, there was no leadership from Mayor Jeffrey. None!"
Brown accused Jeffrey, who has sat on the Peel Police Services Board since her election in 2014, of having a "dysfunctional" relationship with the force, referring to Jeffrey's push, along with Mississauga Mayor Bonnie Crombie and former board chair Amrik Ahluwalia, to bring in reforms such as oversight of street check (carding) practices and calling for an equity and diversity audit of the force to find out if it accurately reflects the diverse communities it serves.
Those measures were publicly criticized and resisted by the police force, specifically by Chief Jennifer Evans and other senior officers.
Jeffrey also helped make the police budget process more transparent.
"I am deeply disappointed that Patrick Brown would use the recent spike in violence in Brampton as an excuse for a campaign photo-op," Jeffrey told The Pointer in response to Brown's statement. She said Brown's plan to address crime was taken right from her own initiative, which was passed by the police services board.
"This morning's announcement by the Brown campaign is nothing more than taking my Community Safety and Well Being initiative and repackaging it as his own," she told The Pointer.
Brown countered that his plan is different because it's focussed on Brampton, while hers concentrates on regional initiatives.
Both candidates have cited the statistic, which The Pointer has not verified, that Brampton has only 138 police officers for every 100,000 residents, while the Ontario average is 189 officers for every 100,000 residents.
Both are promising to demand additional funding from the province to help the Peel police better address violent crime, which Jeffrey said she has already been doing with the new Progressive Conservative government at Queen's Park.
Brown announced that he's recruited a trio of people who will help him address the issue, including retiring regional Councillor Gael Miles, who has opposed Jeffrey on a number of key issues during the council term and joined a bloc of councillors who have been openly critical of Jeffrey. Miles is quoted, in Brown's press release, saying that Jeffrey has "dropped the ball on crime and violence."
Chaplain Gerry Thompson and Peel Regional Police Association president Adrian Woolley will join Miles on Brown's crime panel.
Brown outlined key initiatives he plans to focus on: hiring more front-line officers; strengthening crisis prevention and community outreach; providing more recreation options for youth; and finding solutions for Brampton's affordable housing backlog.
Jeffrey told The Pointer that Brown's proposals are taken straight from the crime initiative she pushed through at the board with a unanimous vote. She pointed out that she has already secured approval to hire 37 new front-line officers, 10 more dispatchers and five more court security officers; fought alongside Mississauga Mayor Bonnie Crombie to put an end to police street checks/carding based on race; initiated and unanimously passed a Community Safety and Well Being Plan; and met with the new Ontario government to seek a fair share of additional funding to respond to gun and gang violence.
The Pointer's commissioned survey highlights rising anxiety about crime as Brampton faces a wave of illegal activity, with criminals seemingly becoming more brazen on the streets.
Last year, there were 16 homicides in Brampton and Mississauga (the two municipalities policed by the regional force). This year, as of Sept. 6, there have already been 20 homicides, and there seems to be no lull in major crimes.
On Sept. 5, for example, police responded to reports of a bank robbery that took place at a Scotiabank branch at Chinguacousy Road and Sandalwood Parkway. This came on the heels of a double homicide the previous weekend, and two bank robberies within less than an hour of each other on Aug. 22.
Crime stories in Brampton now routinely grab headlines in media across the GTA, and what's been happening on the streets is leaving many residents shaken.
Anthony Murphy, 23, works as a sales representative at Hobby Studio, a tabletop gaming store near downtown Brampton's Four Corners area. He has lived his whole life in the city and has watched it grow exponentially. He says certain neighbourhoods, around where he went to school, have become a no-man's land for him. "Obviously there are areas where you just don't want to go."
Evil (Erica) Cain, a 12-year resident of Brampton, agrees with Murphy about her sense of declining safety on the streets. However, she points the finger of blame squarely on one institution: Peel Regional Police, whom she accuses of targeting certain kinds of people for unfair attention and ignoring others who are committing crime. "And there is nothing that can be done about it. I think street crime has increased in Brampton by way of the police, really. They blind-eye and pick on who they want to," Cain said.
The Forum Research poll commissioned by The Pointer shows that only 45 percent of Brampton respondents feel Peel police are doing a good job of keeping them safe, while 38 percent said the force is not doing a good job and 17 percent said they are not sure.
Brown voiced his support for the force.
"Our city needs need a mayor who will listen to, and work with, our chief and front-line officers, not continue with the same old confrontational approach," he said.
In her response, Jeffrey said she has spent four years helping to build a strong foundation for progressive policing and other community safety initiatives.
"A key element of my plan for crime prevention is strengthening the foundations of our community," she said.
"Through more employment opportunities, integrated affordable housing, increased youth-focused services and accessible mental health and addiction treatment resources, I will continue to focus efforts to improve conditions for our city's most vulnerable."
Submit a correction about this story