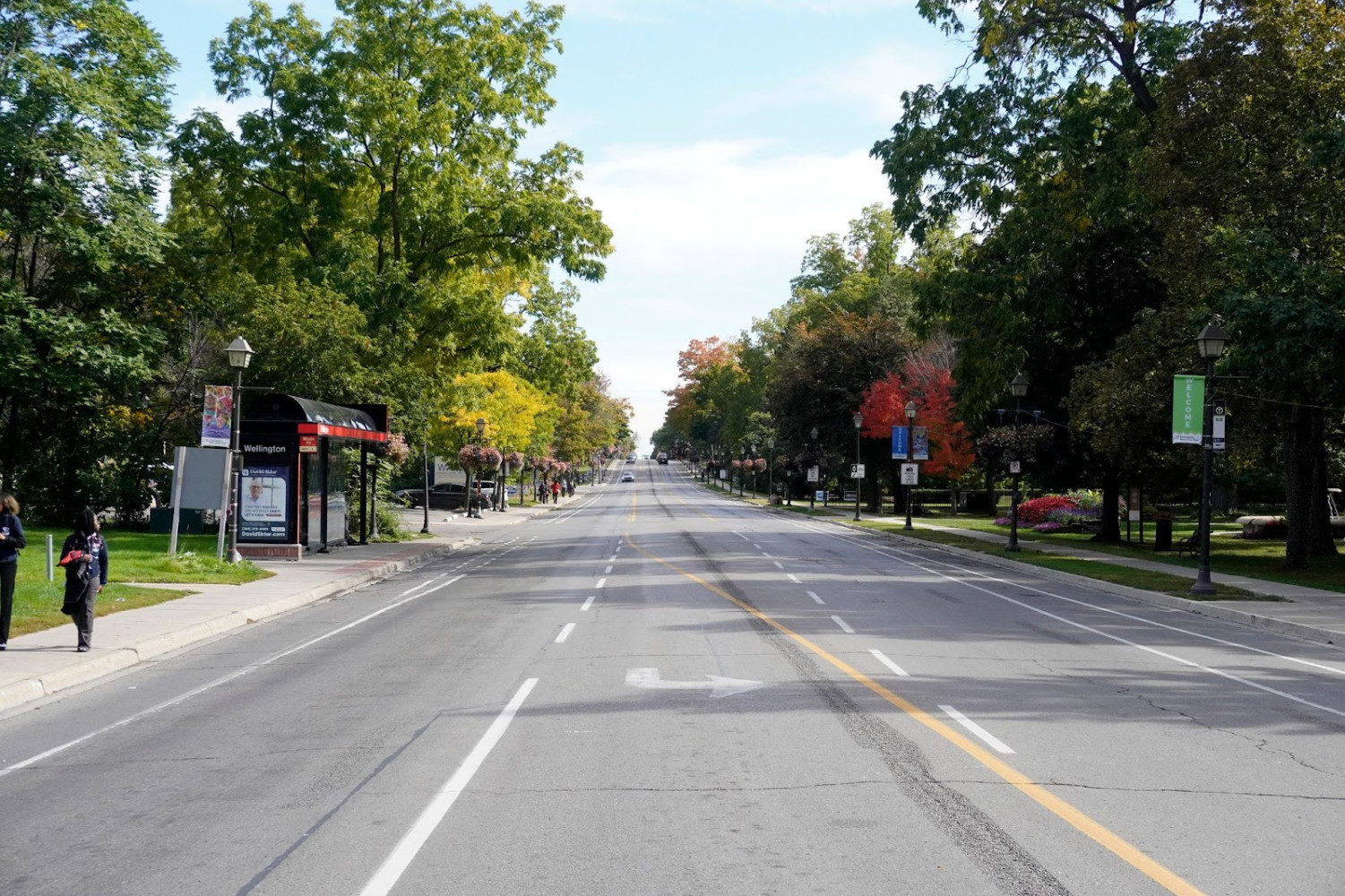 Alexis Wright/The Pointer
Brampton surface LRT estimate climbs to $933M; Underground option doubles to $2.8B
Cost estimates have almost doubled for Brampton's Light Rail Transit project, with the surface option estimated at $933 million and the underground option demanded by Patrick Brown projected to cost $2.8 billion – a dramatic increase from the previous estimates of between $400 million and $450 million for a surface option and $1 billion to $1.7 billion for a partially tunnelled alignment.
Council has not made a decision since June of 2021, when members in the previous term directed staff to analyze the surface and underground options.
Last week, staff, as well as project consultant Nico Malfara delivered a presentation to Council, detailing a list of key design considerations.
"In summary, the surface option performs worse than the underground option in all categories related to transportation, impacts to downtown, future extension, operations and maintenance, and property while underground performs worse in cost and schedule," Malfara, project consultant and transit planning section lead with HDR Design Services, said.

Benefits and negatives of underground and surface LRT options for Brampton.
(City of Brampton)
One of the biggest drawbacks of the surface option is travel times which would be about two to three minutes longer compared to the underground option, while vehicles alongside the LRT would take 17 minutes longer to travel in northbound traffic due to the removal of two lanes. From Steeles Avenue to the downtown Brampton GO station, at peak P.M. hours, travel time for cars would go from seven minutes with the underground option to 24 minutes with the surface option.
"That's a big difference though," Mayor Patrick Brown, who demanded an underground route immediately after his election in 2018, said.
"So essentially, what we're saying is for cars, that will become a standstill… That's a very slow commute. Twenty-four minutes for that short period. Essentially we'd be saying, 'Cars don't use this road.'"
Brown has been a long-time supporter of the tunnel route which he brought to the table shortly after beating Linda Jeffrey for the job. She had pushed a surface option, while former Ontario premier Bill Davis, who owned a property on Main Street, where trains would run, did not support an LRT running on top of his street. Brown was endorsed by Davis, who the current mayor considered his primary mentor.
"You look at this project, and if we did the surface route, we'd be accepting 27 percent of what Hamilton got for their LRT," Brown said last week, referring to the $3.4 billion Hamilton LRT which was fully funded by the provincial and federal government. "So essentially a quarter on the dollar saying, 'We'll accept that our signature project gets shortchanged… 73 percent (of) what Hamilton got."
Following a pattern of his, when Brown demanded the LRT run partially underground into downtown early last term, he claimed external funding for the much more expensive alternative would be secured based on conversations he had. He never explained who those conversations were with, the details of what was said and when the funding might flow. Four years later, no such commitments from Queen's Park or Ottawa have been made. Meanwhile, the estimated cost for each option has doubled.
In 2019, the Brampton Board of Trade posed a question on their Advocacy section: "Tunnel or Surface: What LRT option is best for your business and employees?"
At the time the project's estimates put the surface option at around $325 to $400 million, while the tunnel fell between $1 billion and $1.7 billion – it was noted that the expected cost would increase with time.
While the Board of Trade stated that "both alignments allow more life to be brought to Brampton's beleaguered downtown" it stood in favour of the surface option.
Justyna Toeppner, Brampton Board of Trade Marketing & Communications Manager wrote: "To put this in terms that relate to your business, here are some things to think about. If you own your property, can you afford for your property taxes to help cover $1 billion in cost differential? If you rent, would you like to help your landlord make up the difference on the property tax increase they will face? And under either scenario, do you want to negotiate your employees' next wage increase shortly after they receive a property tax bill at home reflecting a policy choice $1 billion more expensive than the alternative?"
In the next two months staff are expected to bring a formal report to Council that will detail funding for LRT projects received by other cities, along with other information to help Brampton's elected officials decide how to move forward.
The proposed 2023 budget includes $200,000 in infrastructure for the project (it's unclear what this is for), $400,000 for project office costs and $190,000 for an environmental assessment, which still has not been completed.
Critics have questioned how an underground or surface route along Main Street can even be considered without an EA. The LRT would have to run through a Special Policy Area, as designated by the Province because of flood risks along Etobicoke Creek which a Main Street alignment would have to travel over or under. Other geological considerations, noise studies, potential impacts of a train on surrounding foundations and structures and hydrology studies should be completed before it can be determined that Main Street is viable. Critics have also questioned if the roadway is wide enough for an LRT and north-south vehicle traffic alongside.
Heritage characteristics and preservation in the historic area south of Four Corners have also been raised as a concern by some critics, while proponents of the surface alignment have pointed to many places around the world with much older buildings that host modern light rail systems used by residents who appreciate higher order transit in the heart of historic areas.
Brown, meanwhile, is not budging from his position that a surface alignment should not be considered, despite the stark difference in cost.
"Frankly, I look at the tunnel route. Sure, it has gone up, but it's still 80 percent what Hamilton got," Brown stated during the recent workshop. "If anything, we should say we need this as the bare minimum, and we'll be coming back for Phase Three."
In April 2015, the Province committed $1.6 billion to build the LRT from the bottom of Hurontario in Mississauga to downtown Brampton, a plan envisioned in 2008 by Metrolinx, the transit agency that plans projects across the southern part of Ontario.
Council infighting began almost immediately, after Council in 2014 voted 10-1 against a surface alignment on Main Street north of Steeles, directing staff to look at alternatives such as nearby Kennedy Road or McLaughlin Road up to Queen Street and into downtown, instead of Main, which has limited ridership growth potential, and not much room for residential and commercial development, especially if the flood risk along Etobicoke Creek is not mitigated.
Jeffrey was elected late that year and immediately pushed the Main Street surface option back onto the table, challenging opponents who wanted a "made in Brampton" route that would not cut through the Etobicoke Creek area, with its restrictive zoning rules, and the city's historic downtown heritage district along Main Street.
The concerns against a surface LRT, included potential damage to heritage buildings (a claim many critics felt was a red herring) and the perception the Liberal provincial government of the day (Jeffrey had been a loyal cabinet member until she stepped down to run for mayor) was pushing an unpopular plan down the city's throat. Ridership along the Main Street corridor north of Steeles was very low, another concern raised by Jeffrey's opponents.
As the debate raged on, council in 2015 rejected the Main Street surface alignment. The Liberals refused to do what the government had done for other cities, which received funding despite rejecting the province's preferred route, and the funding for the LRT north of Steeles was pulled.
Current construction will see the light rail system open in 2024; it will turn around at Steeles, back down to Mississauga.
When Brown entered the scene he offered an alternative: Build underground.
According to staff, when funding is secure and a single option has been chosen by Council, it can be taken through the final six-month Transit Project Assessment Process (TPAP).
Councillor Paul Vicente, once aggressively opposed to Brown and his tunnel idea, voiced his support to secure the bulk of required funding through grants (Vicente became one of Brown's biggest boosters later last term).
"I'm fully supportive of continuing to push this forward as quickly as we can and put the weight of our government relations, mayor and members of council to seek the funding to finish this corridor and finally put transit users in the forefront of our thinking here."
The Preferred Surface Option will be divided into five stations across approximately 4 kilometres.
(Brampton Transit)
The Preferred Surface Option is approximately four kilometres long across five stations, from just south of Steeles Avenue to the downtown Brampton GO station. From Steeles to Nanwood Drive, which is called Segment A, the line would run in dedicated lines in the centre of the street with at least two lanes for traffic in either direction. In Segment B, north of Nanwood to Wellington, the LRT also runs in the centre of the street with one southbound and one northbound lane. In Segment C, north of Wellington through downtown Brampton, the LRT would run in mixed traffic with one lane in either direction. The LRT would then turn west and enter the GO station on the north side of the rail tracks, at which point it would go back underground and connect to the GO station.
Access to Main Street would have to change, with U-turns allowed at signalized intersections as mid-block left turns would be eliminated along the corridor. Many business and residential driveways would be converted to "right in, right out."
Cyclers would also be impacted and Segment B would not be feasible without widening the right-of-way. That would require a "significant" amount of property, removal of 148 trees and injury to 111 trees.
"Because of these impacts this option was not advanced, and therefore cycling could not be accommodated in this segment leaving a gap in the network," Malfara told Council.
Staff recommended three parallel cycling routes with connections to Main Street: Mill Street South, Elizabeth Street South and the existing Etobicoke Creek Recreational Trail.
The second issue with the surface option are impacts to downtown that would require Main Street to be lowered by about one metre under the CN bridge. It will also require regrading around Nelson Street, both east and west, as well as Theatre Lane, while pedestrian flow would be impacted.
Operation and maintenance concerns were also identified, with surface trains at risk of collisions with cars, problems with exposed track and extreme fluctuations in temperature and other potential complications.
Another issue is the need to expropriate land including some residential properties.

The Preferred Underground Option will be divided into four stations across approximately 3.8 kilometres.
(Brampton Transit)
The Preferred Underground Option is approximately 3.8 kilometres long, from just south of Steeles Avenue to Church Street with four stations including two at the surface, at Steeles and Charolais Boulevard, and two underground, at Nanwood Drive and the downtown Brampton GO. From Steeles to Peel Village Parkway the LRT would run at the surface in dedicated lanes in the centre of the street with two lanes of traffic – similar to the Preferred Surface Option. After this, it would go underground between Peel Village Parkway and Elgin Drive. North of Elgin Drive it would remain underground to Church Street.
"Since the last time the underground stations were presented to Council we have made some design updates which have resulted in cost increases for the underground option," Malfara told Council. "Specifically the station footprint at Nanwood Station has increased as a result of design development and also to include an underground traction power substation at this station. The station footprint of downtown Brampton also increased as project stakeholders have requested that we include a second station and exit with stairs and escalators to serve the Queen and Main intersection."
The underground stations also have property impacts, specifically at Nanwood Station and the downtown GO Station where private property would need to be expropriated.
The Toronto Region Conservation Authority requested a 270-metre longer underground tunnel, to minimize flood risk, which increased the underground option capital cost.
Malfara informed the City that the Conservation Authority has said it cannot rely on the proposed implementation of the Riverwalk flood protection measures in the design ahead of its construction (the Riverwalk project to mitigate flooding risk along Etobicoke Creek has not received required funding to move forward under Brown's refusal to expand the overall City budget since he became mayor). This means station entrances would have to be placed above the floodline.
---
Email: [email protected]
Twitter: @JessicaRDurling
---
COVID-19 is impacting all Canadians. At a time when vital public information is needed by everyone, The Pointer has taken down our paywall on all stories relating to the pandemic and those of public interest to ensure every resident of Brampton and Mississauga has access to the facts. For those who are able, we encourage you to consider a subscription. This will help us report on important public interest issues the community needs to know about now more than ever. You can register for a 30-day free trial HERE. Thereafter, The Pointer will charge $10 a month and you can cancel any time right on the website. Thank you
Submit a correction about this story