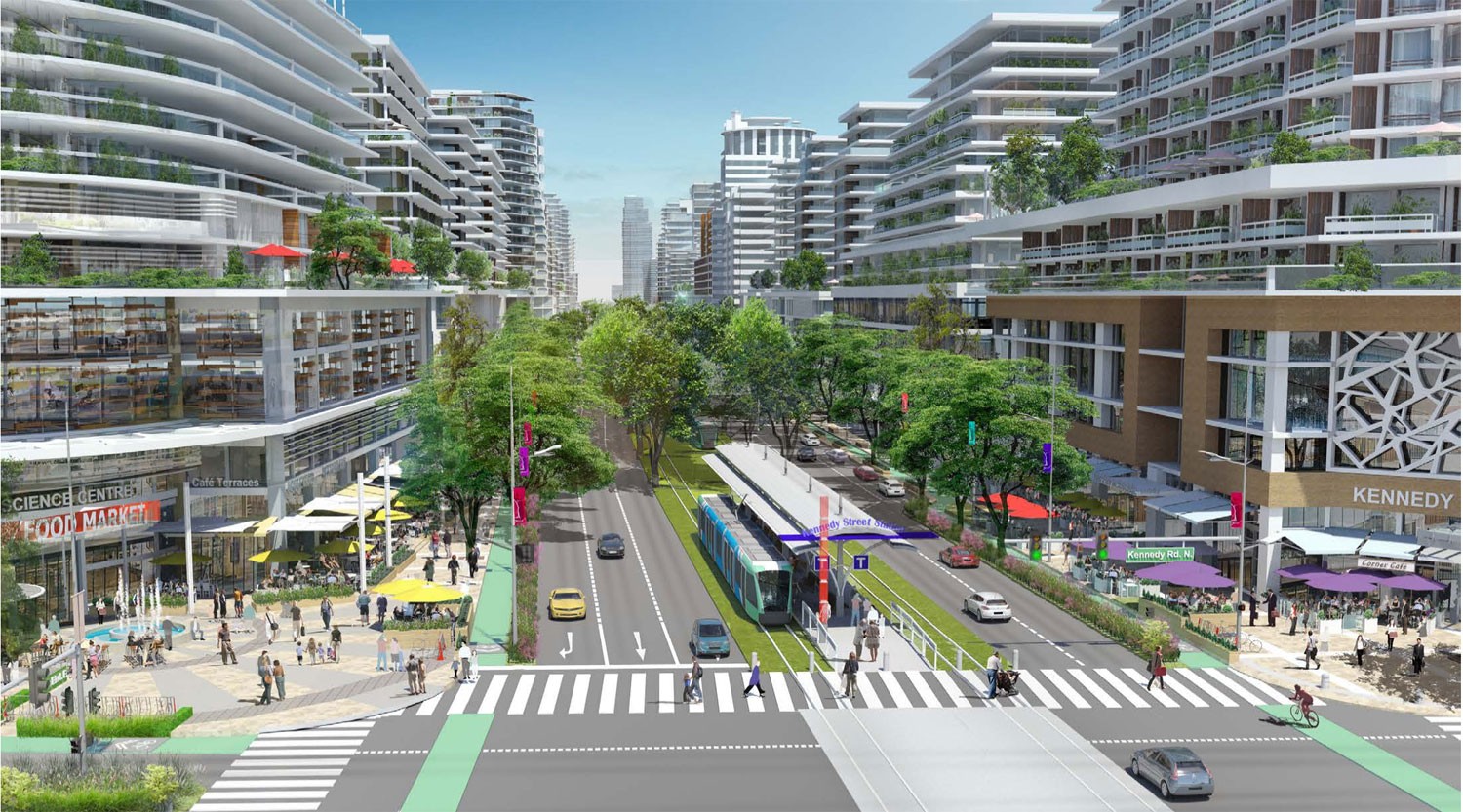 Rendering and map supplied by the City of Brampton
The heavy lifting on the city's light rail debate
There is strong support in Brampton to build Light Rail Transit, but an exclusive poll commissioned by The Pointer shows eligible voters are unsure about the best route for a new rail system in the city.
According to the survey of 999 voting-age residents conducted in late August by Forum Research, 61 percent of respondents said they support LRT, 21 percent are opposed to the construction of an LRT corridor through the city and 18 percent are unsure if LRT is a needed form of higher order transit.
Deciding on a route for a possible future LRT has been a contentious issue on City Council during this term, with incumbent mayor Linda Jeffrey and four other members who supported an alignment beyond Steeles Avenue (where a new Hurontario St. LRT through Mississauga will end) that would have run up Main Street into Brampton's city centre, while other councillors favoured a north-south LRT corridor on Kennedy Road or McLaughlin Road. Both of the major arteries are less than a kilometre away from Main Street and all three run parallel, with McLaughlin just to the west of Main and Kennedy to the east.
Poll respondents who want an LRT favoured the Main Street alignment, with 40 percent choosing that as their preferred route, while 19 percent chose McLaughlin, 17 percent picked Kennedy and 24 percent want a different route alltogether. The results of the survey are accurate within plus or minus three percent.
Another alternative has emerged in the mix of options, after the the City of Brampton hired Vancouver-based urban planner Larry Beasley's firm to bring forward a visionary plan for the city's future, Brampton Vision 2040.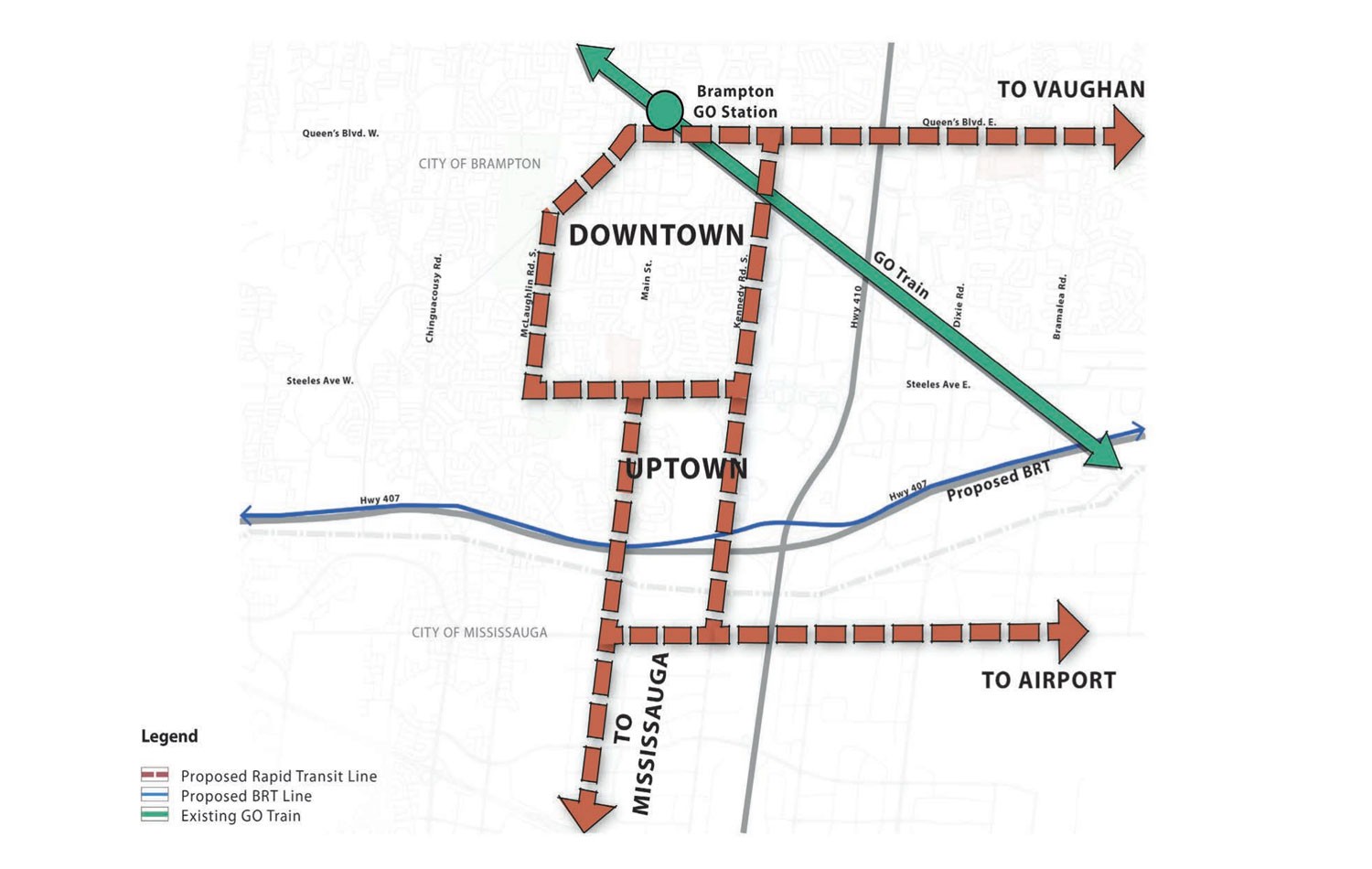 It includes a double-loop Rapid Transit option (for either rail or bus lines) that would feature a southern corridor up Hurontario to Steeles, then east to Kennedy and south to Derry Road then back over to Hurontario.
The northern loop would run up Hurontario to Steeles, west to McLaughlin, north to Queen Street, east over to Kennedy and then south to Steeles, where it would connect with the southern loop, before going west back toward McLaughlin.
All of it makes for an exhilarating opportunity. But the new council, to be determined by the October 22 municipal election will have to decide if it intends to work together for a common goal, or risk another four years of council stagnation that the current term suffered through, largely because of the LRT plan's tumultuous recent history in the city.
---
There's an intriguing analogy between rivers and transit.
They're both ever-changing. In the same way water flows between river banks, cars, trucks and trains push their way along ribbons of pavement and lines of steel.
They both move people. Goods have always been shipped along their corridors. Both can change and shift around an obstruction; and they are essential for daily life.
Rivers and their water provide life for the people around them; transit provides life to the cities where many of those people live.
And in the same way humans wither and suffer without water, cities can be crippled by a transit system that doesn't flow sufficiently.
The City of Brampton is on the verge of slipping into this territory.
Roads are clogged and the bus system is in dire need of improvement as more people look to get out of their cars and out of gridlock.
Thanks to council's 2015 decision to turn down its share of the provincially approved and fully funded $1.6-billion Hurontario-Main LRT route that would have brought a transit lifeline into the downtown core, the city is scrambling for alternatives to keep people moving. Otherwise, it will suffer the consequences.
---
There was a time in Brampton where not a lot moved, unless you consider branches on trees shifting in the wind.
The area where much of the city now sits was once dense hardwood forest. Gage Park, downtown, was boggy marshland.
Etobicoke Creek drew people deep into the forest, snaking through what is now the Main Street area on a meandering path that provided the necessities of life to the Mississauga and other Algonquin First Nations who settled here.
Fish teemed in the flowing waters. Deer and other wildlife were drawn to the river, providing food and clothing for the early settlers.
It was in 1818 when the strip of land that would become Hurontario Street was first surveyed, its future significance and modern-day controversies probably unimagined by those early cartographers.
By the 1840s, the forest had been cleared and Hurontario enjoyed its first incarnation as a mud track. When a tavern opened at the corner of Queen Street and Main Street in what is now downtown Brampton, it marked the official commercial centre for the growing settlement.
These early corridors of packed mud allowed the settlement to grow, the same way that pavement today literally "paves" the way for the Greater Toronto Area's unending growth.
But just as a river can be dammed, so too can these channels of road. Cars and other automobiles create traffic that does not allow people and goods to move properly.
This increasing congestion is high on the list of concerns for Brampton residents. According to The Pointer's commissioned-poll traffic congestion is one of the top four local issues for residents, behind high property taxes, crime, and hospital overcrowding. Most believe it's city council's job to find a way to fix it.
Asked what should be the incoming council's top priority, nearly a quarter of the 999 respondents (23 percent) named traffic congestion–a higher percentage than healthcare infrastructure and community police presence.
With this degree of concern, why did council put the axe to an offer from the province that appeared to deliver a solution to the city's transit woes on a silver platter?
---
The headwaters of Brampton's LRT woes can be traced back to a report issued in 2008 by Metrolinx, an agency of the Ontario government responsible for improving transit across the Greater Toronto and Hamilton area. Ambitiously titled The Big Move, it sought to transform transportation across the GTHA over a 25-year period.
But implementation since then has been slogging through the loud, contentious and inefficient process that is provincial government decision-making. After five years, the agency had invested $16 billion toward advancing several transit projects in the GTHA, including the Mississauga Transitway, the Finch-West LRT, and the Eglinton Crosstown LRT, among other projects listed as priorities in the original 2008 report.
The Hurontario-Main LRT project was listed as a priority within the first 15 years of the plan, and would be the focus of one of the most controversial decisions of the last term of Brampton City Council.
In its original incarnation, the route was to connect Port Credit and the Lakeshore West GO line at the south end to Brampton's downtown in the north, serving what the Metrolinx plan billed as "intensification corridors."
"These corridors have tremendous opportunity to accommodate growth and development, and achieve a transit-supportive density and urban form," the report said. "These corridors are also critical linkages in the local transit networks of these municipalities. Upgrading transit services in these corridors to rapid transit, and including them in the regional rapid transit system, will significantly improve service for local transit riders; it will also offer the potential to free up local resources that are currently being used to fund local bus services in these corridors to improve local transit elsewhere in these communities."
Initially, the double-barrelled track was expected to provide a 45-minute trip from one end to the other. It was projected by the province to increase property values between two and four percent within 500 metres of each of the 22 proposed stops. It would create thousands of jobs throughout the construction process. Perhaps most important, it would provide a $1.8-billion economic uplift to the area by 2031, gauged by the attractiveness of alternative modes of transit to prospective GTHA dwellers.
Assessed property values would see an increase of $200 to $420 million annually along the entire corridor, according to the province. That meant Brampton could potentially, one day, get increased revenues annually on as much as an additional $100 million of taxable property assessment a year.
The sales pitch was solid, and it originally appeared that the City of Brampton was behind the idea.
The route was incorporated as part of the Hurontario/Main Street Corridor Master Plan approved by council in 2010. LRT into downtown Brampton was also recommended as part of the city's 2011 Hurontario-Main Street Corridor Secondary Plan.
The route was on the books, and seemed to have a city standing behind it. That's what makes what happened next so surprising.
---
"It's okay to disagree," says Brampton incumbent mayor Linda Jeffrey. "I don't have any problem with people arguing and using data and evidence to make those decisions. I would say the issue with the LRT is the most visible articulation of us disagreeing as a council."
The issue came to a head in 2015. In April of that year, the province committed the $1.6 billion required to build the route that had been originally envisioned in 2008.
Council infighting began almost immediately, the battle lines being drawn between two camps: those in favour of the Main Street route into downtown, championed by Jeffrey, and those who came forward with their desire for a "made in Brampton" route that would not cut through the Etobicoke Creek area, with its restrictive zoning rules, and the city's historic downtown heritage district along Main Street.
The public was divided on the issue as well, with residents' voices and candour contributing to the growing chasm between the two sides.
Opposition had begun to form in September 2014, when the previous council voted 10-1 against the Main Street alignment in advance of the provincial funding announcement. Jeffrey told The Pointer that she believes cultural intolerance (not wanting the area to become easily accessible for newcomers) played a role in the opposition, though she said she can't prove that.
One advocacy group formed in 2014 was particularly vocal after the money entered the picture. Kevin Montgomery, Chris Drew and others founded Fight Gridlock in Brampton, which became the main torchbearer for Jeffrey's campaign to drive the LRT up Main Street and into downtown.
"It was the debate Brampton needed to have for decades: What could we do to transition from being just a bedroom community to an integrated community where people could live, work and play?" Montgomery says.
"We did all the things every other grassroots community group does when they are in favour. We sent supportive messages to politicians. We talked to our neighbours. We tried to address myths. We deputed to the packed July 2015 council meeting, and it was remarkable to see the diversity of people who came out to tell council they supported the Main Street route. Yes, we also had discussions and listened to the reasons why some people didn't support it, and we respectfully felt their concerns could be addressed."
The concerns were plenty, including potential damage to heritage buildings and the perception that the provincial government was pushing an unpopular plan down the city's throat. Also that ridership along the Main Street corridor would be limited because of limits to development due to conservation issues and special zoning around Etobicoke Creek.
"I don't have any problem with people arguing and using data and evidence to make those decisions. I would say the issue with the LRT is the most visible articulation of us disagreeing as a council."
Linda Jeffrey
---
Many opponents, including veteran councillors Elaine Moore and John Sprovieri also questioned why Brampton was getting only about a quarter of the route coverage and corresponding funding for a much smaller share. They called for a "Made in Brampton" route not dictated by the provincial government, similar to what former Mississauga mayor Hazel McCallion negotiated when she rejected the province's route for Mississauga's portion of the corridor. She successfully added a downtown loop for her city while removing a contentious southern loop that would have run around an established neighbourhood at the LRT's southern end. That loop was removed after the demand was made by the McCallion-led Mississauga council to the province at the time.
Opposition to the Main Street route in Brampton eventually won out. In a lengthy council meeting in October 2015, for a vote that was moved to Brampton's Rose Theatre to allow some 400 residents to attend the deliberations, councillors listened for hours as both sides in the debate once again laid out their cases.
The meeting went past midnight. In the end, council voted 7-4 to reject the Queen's Park–approved plan, taking the Main Street route off the table permanently (unless a new council turns the decision around), in favour of ending the Hurontario LRT at Steeles Avenue.
Jeffrey was faced with tough questions about why she voted in favour of the alternative route and not the one she had been championing for months. She later told media that she simply wanted to "make sure we still have transit on the table."
But what will that transit look like?
---
One thing is clear: there's no lack of ideas kicking around as to what Brampton's future transit should look like, including alternative routes, underground LRT, and even subway.
But an air of uncertainty hangs over the process, even as work proceeds, with Mississauga's wholehearted approval, to drive the Hurontario LRT right up to Steeles Avenue. Currently, the province is working to move utilities out of the way to make way for the tracks.
Metrolinx confirms with The Pointer that the contract has yet to be awarded for the actual construction. Spokesperson Scott Money says construction is set to begin next year, with service to start in late 2022.
What is not uncertain is the desire of Bramptonians to see some form of higher-order transit in their city.
With 61 percent of 999 respondents surveyed in late August in The Pointer's commissioned-poll firmly behind an LRT, only 21 percent are opposed to the widely popular system of higher order transit that has helped many cities around the world, such as Calgary and Portland, Oregon, thrive, while neighbourhoods around the rail corridors have enjoyed a major renaissance. However, the provincial money originally dedicated to Brampton's share of the project is gone.
"At this point, the money that was set aside is no longer there, but it doesn't take away the fact that we need a spine in the city that will provide transit," Jeffrey says. "The Hurontario is the busiest, most well-travelled route in the city, and we need connectivity to Mississauga, up to Caledon and across the city. So we still need the transit."
With a newly installed provincial government under Premier Doug Ford, which has not expressed much publicly about its transit plans, it's not clear how much support Brampton can expect to see.
"I think it's going to be a very different conversation with a new government," Jeffrey says.
Brampton city staff delivered an update in June on the city's efforts to develop a plan for alternative LRT routes—the latest in a series of reports released publicly since the 2015 vote. Several route options have been proposed, and the city, under council direction, now has two frontrunners.
Rails could run north from Steeles either along Kennedy Road or McLaughlin Road. The June report also affirmed that the public still favours potential loop options.
With a new provincial government, the potential for a completely different dynamic on city council after the October 22 municipal election and the double-loop recommendation in the Brampton Vision 2040 plan, the reality is that an LRT's future in the city is very much undecided.
Ambivalence about the best route was expressed in the recent staff report, which notes that, "Some members of the public expressed a preference for the Main Street alignment, however, (that alignment) was previously removed from further consideration by Council and is not part of this study."
The document notes there are merits to both proposed routes along Kennedy and McLaughlin. The Kennedy option offers a possibility of connecting with the CAA Centre and alternatives for entering downtown Brampton; the McLaughlin route could allow for connectivity with Shoppers World and Sheridan College's Davis Campus (part of an east-west growth corridor coined as the city's "Uptown" corridor in the Vision 2040 plan), and then access to downtown. The new proposals also tie in with the recently completed Brampton 2040 Vision document, which envisions a connecting loop of transit between the downtown and uptown areas.
"We have serious concerns about the so-called alternative Main Street routes."
Kevin Montgomery, Fight Gridlock in Brampton
---
Further public consultations are set for the spring and fall of 2019, followed by the provincial Transit Project Assessment (TPAP) process in the spring of 2020, should the city agree and vote in favour of a particular option.
"The next stage of the study will develop conceptual designs and undertake studies for the short-list of alternative LRT routes," says Natalie Stogdill, a spokesperson for the City of Brampton. "An evaluation considering impacts on the environment (natural, social, cultural, economic) and transportation factors will be used to select a preferred LRT route for each of Kennedy Road, McLaughlin Road, and loop combinations. This information will be presented at the next public open house for public input."
It looks like the next city council following the election will have to settle in for another round of debate on transit, just like four years ago.
"We have serious concerns about the so-called alternative Main Street routes," Montgomery says. "First, they've already been studied. This $4.4-million Environmental Assessment that'll last until 2020 won't give us any new information. We already know the capital costs, ridership, operating costs of these alternatives. We know they don't fit with Brampton's existing Official Plan and Strategic Plan." It's unclear what he means by this, and his claim has not been verified by The Pointer.
"We know they would mean inefficiency, duplication for transit riders and expropriation for some homeowners and local businesses. Further, while we acknowledge that there were some who lived on Main Street who had concerns about LRT on the street, we find it fascinating that those same people are silent about the impacts of expanding the road right-of-way to accommodate LRT on Kennedy, McLaughlin, Steeles, and particularly along the Orangeville-Brampton railway tracks."
Meanwhile, another group of citizens, called New Brampton, has been actively pushing an alternative route, instead of the Main street option, favouring one that would run slightly west of Main Street, possibly up McLaughlin. The group has questioned why the city has to follow the rule of the provincial government, which has allowed other municipalities to pick their own LRT alignments. It is also asking for a route that would cover much more of an area than the Main Street line, which is a straight shot to downtown from the current final stop of the approved LRT at Steeles.
It will be up to Brampton's newly elected council members to determine what constituents want and what would be best for the city.
While the debate may once again create division between supporters of one route or another, Montgomery says this is the conversation Brampton needs to have as the city transforms its sleepy "bedroom community" mentality into one that befits one of Canada's largest cities.
"We loved engaging with community members, and it felt like Brampton was finally having a debate on the kind of future city it wanted to be," Montgomery says. "It was a classic example of residents passionately speaking out in favour of something they wanted their politicians to do. Losing in October 2015 was heartbreaking, but we were proud of the effort we put forward, the people we reached out to, what we learned along the way, and that we had tried our best to make a positive difference for Brampton."
---
Years ago, as Brampton grew from a village into a larger settlement clustered along Etobicoke Creek, it became clear things needed to change.
As more people arrived and development continued, trees were cut down, the marshlands drained. Increased runoff into the creek started to create a flood risk, especially in spring. This culminated in a serious flood in 1948 that left Queen and Main beneath six feet of water and caused about $1 million in damage to the historic downtown.
The route of the creek needed to be altered, and an ambitious civil engineering effort began in 1950 to divert the waterway away from downtown. That was, literally and figuratively, a watershed moment that changed the course of the city's history.
While the course of the Brampton LRT may now need to be similarly diverted, the decisions to come, and the route this vital channel eventually takes, will be no less significant for Brampton's future.
Submit a correction about this story