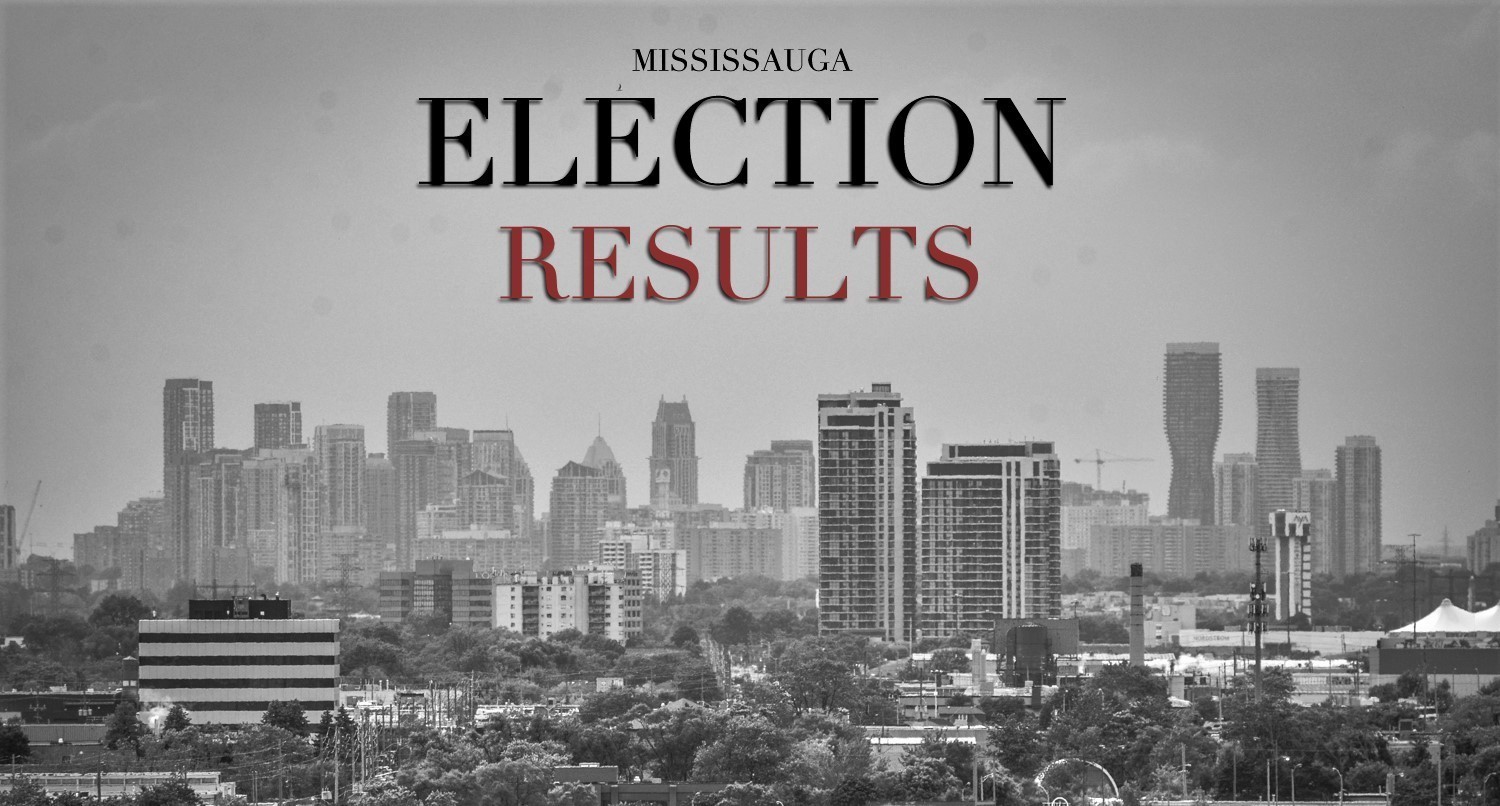 Feature illustration from Joel Wittnebel/The Pointer
Historically low 40% voter turnout in Mississauga returns a full slate of PCs to Queen's Park
It was a quick victory for the PCs across the province Thursday night, and it was no different in Mississauga, with all six ridings turning blue less than an hour after polls closed.
The six returning Mississauga MPPs—all with a single term now under their belt— should have a clear understanding of what residents expect of them.
Top priorities over the next four years will be building the downtown Hurontario light rail transit (LRT) system—and restoring the downtown loop which Doug Ford has been less than clear about after cancelling it shortly after first taking office—implementing all-day, two-way GO Transit from Milton to Union Station and increasing inclusionary zoning (which forces developers to include affordable units in new builds close to transit stations).
The City of Mississauga has also asked for the Province to mandate a requirement for 20 percent of units in projects constructed on surplus provincial land be classified as affordable; a capital gains tax; a change to the non-resident speculation tax; funding for infrastructure projects; and continued grants for small businesses to recover from the COVID-19 pandemic. It's a to-do list that must be taken up by the PC incumbents reelected Thursday night.
The Mississauga Matters campaign is launched by City Hall every election and lists support from parties on its priorities.
(City of Mississauga)
Few of the Mississauga MPPs mentioned more than two of the specific promises in their last term, raising concerns about how effective they will be in their second term at Queen's Park.
On Friday morning, Elections Ontario reported only 43 percent of eligible voters marked a ballot across the province, the lowest turnout in Ontario election history. The 2018 provincial election saw 57 percent of Ontarians voting. In Mississauga, with an average voter turnout of 40 percent across the city's six ridings.
While the majority of Mississauga ridings were decided fairly early Thursday night, Mississauga-Erin Mills kept residents waiting with a battle down to the 39th polling station (of 49 stations total) between the PCs Sheref Sabaway and Liberal Imran Mian.
Sabawy received 42.2 percent (15,694 votes) to Mian's 37.4 percent (13,936 votes). Sabawy was the least vocal MPP of all the Mississauga elected officials. He was the first Egyptian-Canadian elected to Queen's Park and advocated strongly for immigrants struggling to find jobs in Ontario. He stuck close to PC talking points, opposing the cap-and-trade policy and focused on business and the economic reopening post-pandemic.
The riding he is representing for the second time desperately needs affordable rental units and many hope Sabawy will champion climate action.
Two ridings were called just 35 minutes after polling stations closed in Mississauga, both going quickly to the PCs.
Mississauga-Streetsville elected Nina Tangri, the previous associate minister of small business and red tape reduction, in a riding that values businesses. She won with 45.6 percent of the vote with Liberal Jill Promoli a distant second with 35.4 percent (13,417 votes).
NDP candidate Nicholas Rabba received 12 percent (4,537 votes) and Green candidate Reead Rahamut with 3 percent (1,134 votes).
Tangri's cabinet designation last term kept her focused on assisting small businesses. Those in her riding wanted an MPP who understood their needs and complications. Over the past four years she brought forward two successful bills, both aimed at reducing red tape and supporting businesses in Ontario.
This term, residents are hoping Tangri will focus more on other needs like transit and championing all-day, two-way GO.
Mississauga-Malton was called around 9:35 p.m. with incumbent Deepak Anand retaining the seat for the PCs with 45.2 percent of the vote over Liberal Aman Gill's 30.5 percent.
Unlike many PCs, Anand reprimanded his government for not taking action on the issues he deeply cared about—like youth unemployment—but also wasn't extremely vocal about policing matters, which arguably impacts his diverse riding the most of any in the city.
With dynamics of race, religion and culture intermingling inside the small riding, residents hope Anand can be the voice for constituents at Queen's Park on issues like reducing gun violence, police brutality and increasing provincial paid sick days.
Mississauga Centre was called for PC incumbent Natalia Kusendova around 9:38 p.m. She received 43.6 percent of the vote over first-time Liberal candidate Sumira Malik who earned 36.3 percent. Sarah Walji of the NDP, a nurse like Kusendova, received 12.3 percent (4,148 votes) and Green's Adriane Franklin obtained 3.5 percent (1,188 votes).
Being the centre of downtown Mississauga, residents are hoping for the return of the axed Hurontario LRT loop, something the PCs cut the first year in office. In four years, Kusendova did not advocate for its return at Queen's Park, instead she focused on mental health care, human trafficking, addiction and French language priorities as she was the associate minister of Francophone affairs. Residents are also hoping Kusendova can continue working with City Council to prioritize development with added greenspaces.
Mississauga-Lakeshore, which early polls showed the Liberals and PCs neck-and-neck, went to incumbent Rudy Cuzzetto. Liberal candidate Elizabeth Mendes received 36.8 percent (15,750 votes) with Cuzzetto winning with 45 percent (19,272 votes).
Cuzzetto spent most of his last term advocating for seniors, healthcare and against taxing carbon. He was a strong party supporter, rarely going against the grain and putting his name behind all PC priorities. He consistently stood up at Queen's Park and often criticized the Liberals while sharing personal stories from his constituents.
The riding is at a crossroads with planning. It is adding thousands of new residents and wants to keep the balance of height and character in check. Constituents want Cuzzetto to plan the future with them and strengthen the community atmosphere, business and make Mississauga-Lakeshore an affordable place to live.
PC Kaleed Rasheed, the associate minister of digital government before the election, won in Mississauga East—Cooksville with 41 percent of the vote over Dipika Damerla, a city councillor, who was trying to win back her Queen's Park seat after losing it in 2018. She managed to capture only 37.3 percent of the vote.
Rasheed is well aware of the aging population in his riding, often standing at Queen's Park to ensure the government was planning for housing and care needs for an aging population. When the pandemic hit, the advocacy for seniors continued, but with a strong push to ensure those in long-term were safe and that vaccines were distributed to his constituents with ease.
Voters are hoping Rasheed will focus his next four years more on public transportation since the riding has the highest number of transit users in Mississauga. This area also intersects with two game-changing transit projects, the Hurontario LRT and the Dundas bus rapid transit (BRT) system. To date, the BRT is only designed and planned for seven kilometres, and constituents hope Rasheed can advocate for more funding.
Mississauga Ward 7 Councillor Damerla will return to local politics until the municipal election in October.
The results in Mississauga signals residents like what their MPPs accomplished in their first term, but questions remain about how these returning politicians will champion Mississauga's specific priorities over the next four years.
---
Email: [email protected]
Twitter: @taasha__15
---
COVID-19 is impacting all Canadians. At a time when vital public information is needed by everyone, The Pointer has taken down our paywall on all stories relating to the pandemic and those of public interest to ensure every resident of Brampton and Mississauga has access to the facts. For those who are able, we encourage you to consider a subscription. This will help us report on important public interest issues the community needs to know about now more than ever. You can register for a 30-day free trial HERE. Thereafter, The Pointer will charge $10 a month and you can cancel any time right on the website. Thank you
Submit a correction about this story