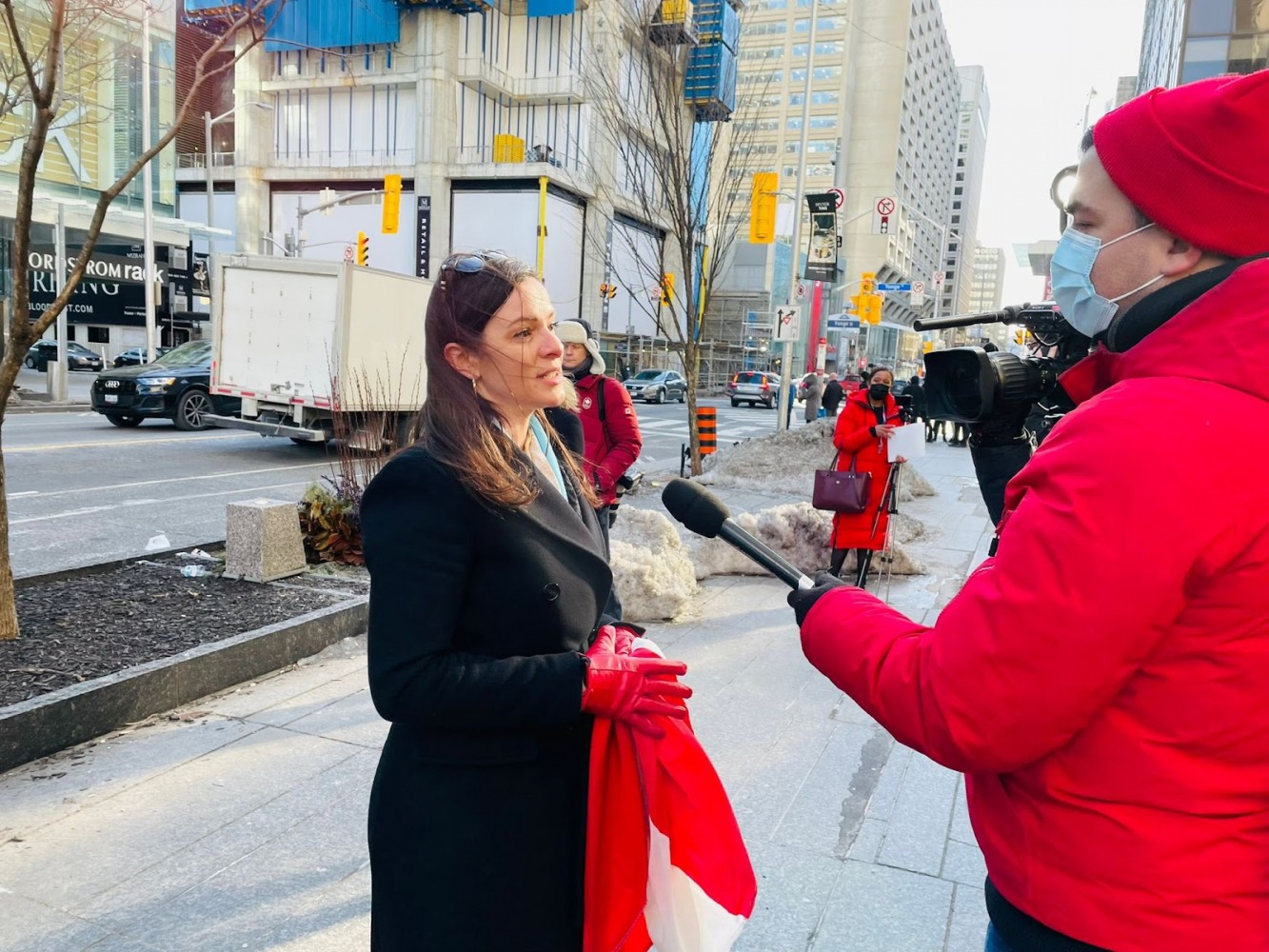 Feature image from Natalia Kusendova/Twitter
Natalia Kusendova advocated for mental health services and French-language rights, but not the downtown LRT loop 
Natalia Kusendova wore many hats over the last four years, one as the representative of Mississauga Centre, as a registered nurse and as someone who is fluent in French and defends the rights of the language's speakers.
The PC incumbent filled her term in office with issues she knew well, like mental health care, the lack of hospital capacity, growing addictions problems and representing many diverse constituents she speaks for. In four years Kusendova rose 412 times in the House, mentioning her riding 48 times. She spoke in French 120 times and was the parliamentary assistant to the minister of francophone affairs.
She was a member of the standing committee on social policy (which she later chaired), the standing committee on justice policy and was vice-chair of the standing committee on general government after she participated as a member.
Being the voice of Mississauga representatives Kusendova displayed a deep understanding of the issues that plague her community. She rose for the first time in Queen's Park on July 18, 2018 to introduce herself.
Kusendova speaks English, French, Polish, Czech and Slovak and immigrated to Canada when she was young. Her riding is dominated by residents with South Asian, Chinese and Arab backgrounds, and throughout her four years she championed diversity and the benefits of pluralism.
That summer, speaking about the deadly Danforth shooting in Toronto, she asked the attorney general what the government was doing to end violent crimes.
On August 7, 2018 she rose to support Bill 4, the Cap and Trade Cancellation Act.
"During my campaign, I spoke with thousands of residents of Mississauga Centre and the most common concern that I heard from people is that life was harder under the Liberals; that prices had gone significantly up, such as gasoline and hydro; that people had to choose between heating and eating; that thousands of manufacturing jobs had left Ontario," Kusendova said inside Queen's Park.
The issue of affordability is one Kusendova brought up a handful of times but was not a focus.
In late August of 2018, she addressed the House again in French, this time asking how the government intends on protecting children and Ontarians from legalized cannabis. She was particularly concerned about preventing legal marijuana users from driving high.
Throughout her four years Kusendova used French in a large portion of her comments and questions in the House. She was appointed parliamentary assistant to the minister of francophone affairs in November 2020.
In November 2018 Kusendova brought up policing, a common topic for her. She said the residents of Mississauga Centre were concerned about police officers being under investigation after they administered naloxone to an individual who later died. Kusendova wanted information about the Police Services Act and how it deals with such situations.
As a firm advocate for those who suffer from addictions and mental health issues, she later successfully brought forward a Bill that assists police officers in responding to calls involving drug overdose.
On November 28, 2018 Kusendova rose to address the gap between French language funding in Ontario versus New Brunswick and Manitoba. According to her, the province only provides $2.78 per person for French language services but New Brunswick and Manitoba allocated $7.31 and $35.71 per person respectively.
"We demand the federal Government to treat Franco-Ontarians as equals," Kusendova said.
A month later when discussions around Bill 108, the More Homes, More Choice Act (2019) was discussed, Kusendova participated entirely in French.
"We will encourage the industry to challenge issues of affordability, the size of rental units and the type of housing," she said in the spring of 2019.
On the same day she stood to support Bill 107, the Getting Ontario Moving Act (2019) which further enforces rules of the road like fines for passing a school bus with its stop sign out.
The same spring, Kusendova led the debate on her own piece of legislation, Bill 105, the Mandatory Police Training Act (2019). It requires all police officers, special constables and First Nations officers to be trained in administering naloxone to help deal with the overdose crisis.
"Speaker, we know that knowledge is power. With Bill 105, we are empowering all police services to be trained in administering naloxone and to save lives," she said. "Some 60 percent of opioid overdoses happen at home, and police are often the first to arrive at the scene, which is why it is absolutely critical that we move forward with this bill. The alternative is simply unacceptable."
Kusendova has risen multiple times in Queen's Park to address the mental health struggles of Ontarians and people in her riding. November 26, 2019 she stood to support Bill 116, the Foundations for Promoting and Protecting Mental Health and Addictions Services Act (2019).
"The simple truth is that we cannot address the complex problem of mental health services without addressing addictions services, and vice versa," the Mississauga Centre MPP said. "Ontarians need and deserve access to an integrated and connected system—a system that understands that these complex issues demand comprehensive solutions."
Natalia Kusendova (centre) door knocking with her team.
(Twitter)
In early 2020, Kusendova focused again on Franco-Ontarian issues and initiated the early process of passing her second and final piece of legislation before the term was up.
"The French community in Ontario occupies an important place in the past, present and future of our province," the MPP said in French. "The contributions of Francophones here in Ontario culturally, economically and in our communities across the provinces are priceless and historic, dating back 400 years."
Kusendova voted in support of her PC government's agenda, but also made a point to support motions and Bills from other parties that aligned with her core positions. In September 2020 Kusendova brought forward Motion 87, a piece of legislation that recognizes the unique struggles of Black communities dealing with mental health. This was drawn up by the Ontario NDP.
In March 2021 she focused on advocating against human trafficking and aiding the government to pass legislation to strengthen other Acts. She rose to offer her thoughts and support of Bill 251, the Combating Human Trafficking Act (2021).
It amended various Acts to focus on streamlining efforts to combat human trafficking. It focuses on the government's response and the duty the province has to involve stakeholders and protect residents from the growing crime of human trafficking. It also strengthens supports for children's aid societies and police forces to better protect young peple from becoming a victim. It guarantees more protection for those who are survivors of human trafficking and addresses the unique circumstances Indigenous communities face.
She brought up Bill 251 again at the end of May 2021.
"Human trafficking presents a grave threat to the safety of our children; it is as simple as that," she said May 31 last year. "So to insinuate that this legislation, with so much broad support from children's aid societies, from community human trafficking advocates, from our law enforcement and from survivors themselves, can be boiled down into conflating sex work with human trafficking not only jeopardizes the safety of our children but also diminishes the horrors lived by its survivors."
In November and December she stood to support Bill 37, the Providing More Care, Protecting Seniors, and Building More Beds Act (2021) and finished off her four years bringing up long-term care and issues plaguing seniors twice more before the election.
While Kusendova worked hard to advocate for healthcare, confronting human trafficking, seniors, increasing diversity and French issues, the MPP for Mississauga Centre did not mention the Hurontario light rail transit (LRT) system during her time in office and did not address issues around greenspace and future planning in her riding, issues that have been raised by many constituents.
The desire to reinstall the LRT downtown loop in her riding, which her Party cancelled, was ignored by the area's MPP.
Prior to seeking reelection, a lawsuit against Kusendova was filed by Grant Gorchynski alleging she owes him $30,500 in unpaid loans.
The money according to Kusendova was provided as a gift to help her pay off student loans and also for incidental expenses that occurred throughout the relationship.
Evidence filed with the court contradicts her claim that she did not ask for the money. The evidence also makes it clear that she should not have accepted it as she knew the plaintiff was trying to influence her on the issue of a stop along the LRT line.
In a prior statement to The Pointer Kusendova said, "I look forward to my day in court."
---
Email: [email protected]
Twitter: @taasha__15
---
COVID-19 is impacting all Canadians. At a time when vital public information is needed by everyone, The Pointer has taken down our paywall on all stories relating to the pandemic and those of public interest to ensure every resident of Brampton and Mississauga has access to the facts. For those who are able, we encourage you to consider a subscription. This will help us report on important public interest issues the community needs to know about now more than ever. You can register for a 30-day free trial HERE. Thereafter, The Pointer will charge $10 a month and you can cancel any time right on the website. Thank you
Submit a correction about this story