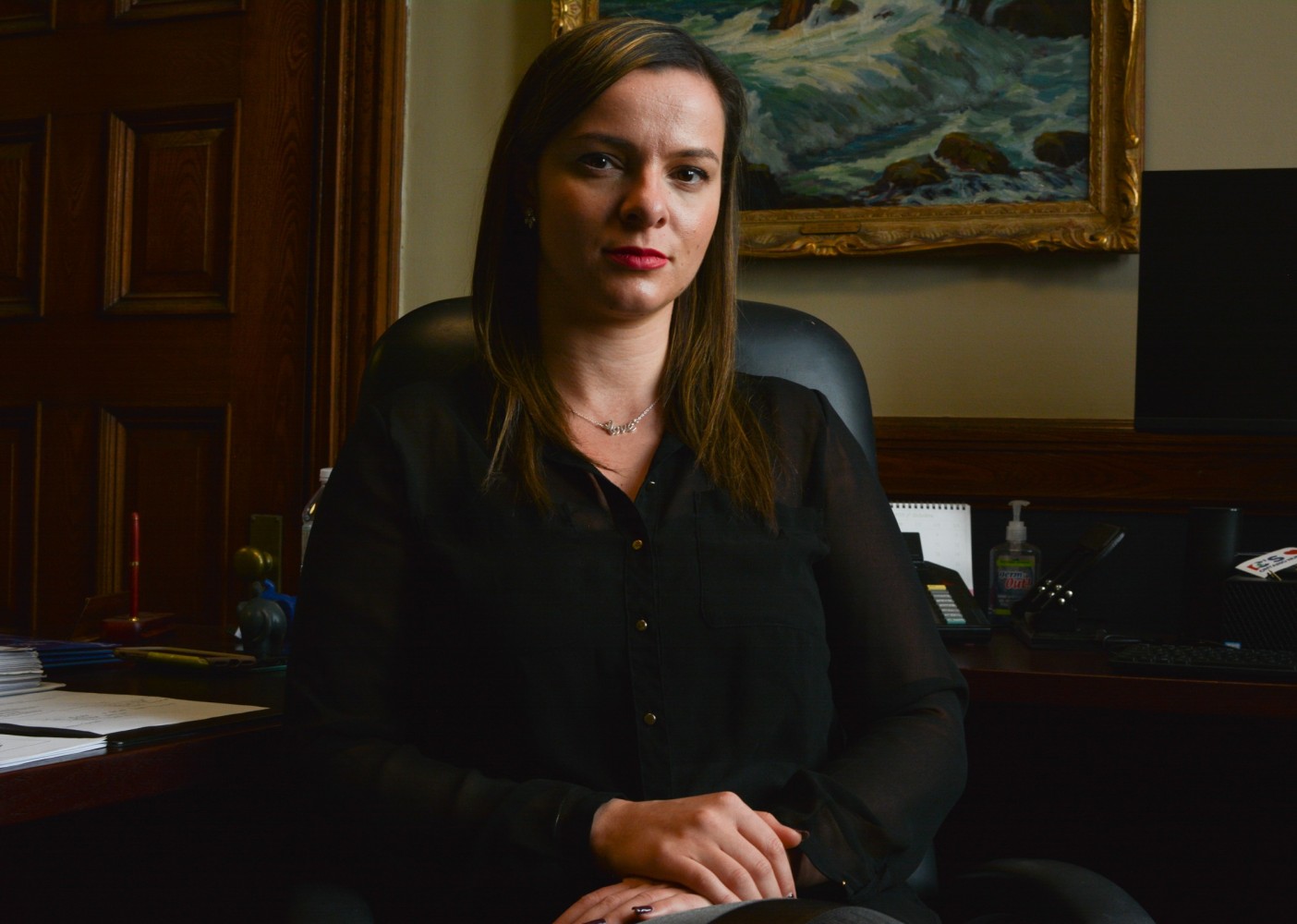 Photo by Joel Wittnebel/The Pointer files 
Lawsuit alleges Mississauga MPP Natalia Kusendova owes former intimate partner $30,500
A lawsuit filed by Grant Gorchynski, who was involved in an intimate relationship with Natalia Kusendova, MPP for Mississauga Centre, alleges the elected official owes him $30,500 in unpaid loans.
In a statement of claim filed with the small claims court of Ontario's Superior Court of Justice on December 30, Gorchynski alleges he gave the MPP money in 2018 and 2019 as a loan. The two were in what Kusendova describes in her statement of defence as a romantic relationship. The plaintiff states it was not a romantic relationship but it's clear from both of their evidence that they were intimately involved.
Kusendova claims the money was provided as a gift to help her pay off her student loans and incidental expenses that arose during their relationship, including food, hotel stays and supplies she used to help him clean properties that belonged to him or his family.
She states in her written defence that, "The Plaintiff made two transfers directly to the Defendant's student loan account, in September and October 2019, each in the sum of $9500. This was around the time the Plaintiff suggested the couple attend therapy sessions together to improve their communication and relationship. The Defendant did not ask for either of these transfers and was surprised when the Plaintiff offered them."
The plaintiff filed documentary evidence with the court that includes a WhatsApp string between the two dated October 8, 2019. It shows that on the same day a $9,500 transfer was made to Kusendova, according to the plaintiff's evidence, she sent him the following message (a copy of a screengrab is included in the evidence): "I'm completing my financial disclosure statement this week So I was wondering if you had made the payment to my loan". Then, "Do you think you could make the payment today so that I can get an updated balance tomorrow to attach to my disclosure?"
Between January 2019 and December 2019, Gorchynski gave Kusendova $32,369, according to his evidence. The majority of these funds were provided in two transactions of $9,500 directly deposited to Kusendova's student loan account.
A separate $1,000 was given to Kusendova in December 2018.
Each year, MPPs must disclose their incomes, assets, liabilities and gifts to the Ontario Integrity Commissioner. In 2019, Kusendova mentioned one gift from William Osler Health System Foundation in the form of a ticket to its Holi Gala Festival of Colours. Her liability for the year was the student loan.
In 2018, Kusendova did not disclose any gifts and listed a line of credit from TD Bank and a student loan as liabilities.
Grant Gorchynski ran in 2018 for the Mississauga Ward 4 councillor seat and ultimately lost to John Kovac.
(Twitter)
The plaintiff states the two were not in a romantic relationship, but they were dating. Kusendova states they were in a romantic relationship.
There is no mention of an exception to MPPs accepting gifts in excess of $200 from romantic partners in the Members' Integrity Act, which is the code of conduct provincial elected officials must follow while in office.
Subsection (d) includes the following exemption: "if the Commissioner is of the opinion it is unlikely that receipt of the gift or benefit gives rise to a reasonable presumption that the gift or benefit was given in order to influence the member in the performance of his or her duties." However, there is no language in the Act that specifically states gifts from a romantic partner are exempt from disclosure.
Accepting the money, whether she asked for it or not, appears to have been a lapse in judgement, as Kusendova makes it clear in her own statement of defence that she knew right when she first met the plaintiff he was trying to influence her.
"The Defendant was introduced to the Plaintiff during her campaign around May 2018 through a mutual friend," her statement of defence highlights. "The Plaintiff wanted to discuss the LRT stop and how it can be placed in his neighbourhood." This is a reference to the provincially funded Mississauga LRT project currently under construction along Hurontario Street, including a section right next to the plaintiff's family business.
Then: "In his continuing effort to have an LRT stop built in Kingsbridge, the Plaintiff decided to run for Mississauga City Council. Building the LRT stop was, in fact, the Plaintiff's sole campaign issue."
Describing a trip the two took to Florida together in December 2018, her statement of defence says, "During the trip, the Plaintiff would prompt the Defendant to work on the LRT project."
In a statement to The Pointer, Kusendova said:
"This is a civil matter brought forward to the court by an ex-partner with whom I was in a relationship in 2018-2019. Like many young Ontarians who receive help with student loans from family and loved ones, my ex-partner provided me with the means to pay off my remaining student debt. There was no expectation of repayment.
This was simply an agreement between partners that Mr. Gorchynski now contests."
"To be clear, his allegations are false, all applicable laws were followed, and I look forward to my day in court."
It is still unclear what laws Kusendova followed in the Members' Integrity Act that exempted her from disclosing money to the Integrity Commissioner from Gorchynski to pay off the student loans.
According to Kusendova's statement of defence which was filed February 10, Gorchynski and her were involved from July 2018 to December 2019.
Money transferred between the parties did not start until December 2018, after Kusendova had won her seat and Gorchynski lost his 2018 Mississauga municipal election race.
Kusendova states in her defence the money from Gorchynski was not loans, "but rather in repayment for expenses incurred by the Defendant or as gifts. There is no written or oral agreement or communication to demonstrate that the monies transferred were intended to be a loan."
Her statement does not dispute the fact the money was transferred to her.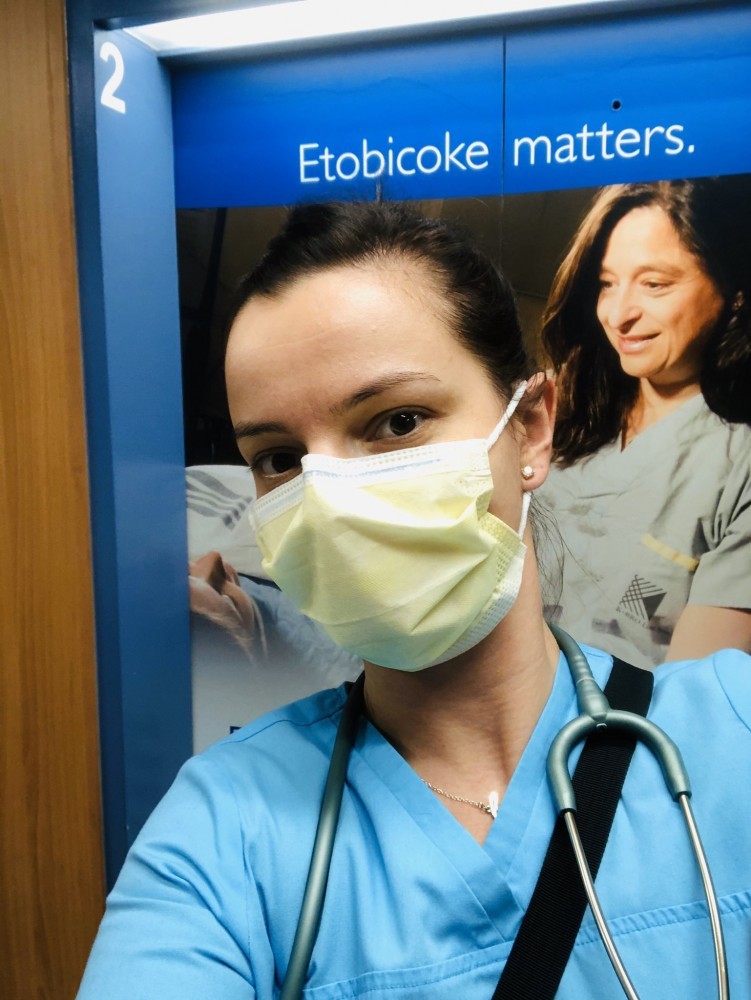 MPP Natalia Kusendova returned to work as a nurse to help overburdened hospitals early in the COVID-19 pandemic.
(Natalia Kusendova)
Gorchynski filed the lawsuit and a document brief with 56 pages of messages, calls and emails between him and Kusendova. The defence has not filed its evidence.
"I wanted to ask you if I could borrow 1K from you," Kusendova allegedly writes to Gorchynski on WhatsApp. "I have to pay my mom back for her ticket at the fundraiser and I would have to take it out of my visa. I'll pay you back on the first of September."
Gorchynski responded in a series of messages: "And of course, no problem. I will always help you out, no matter what!"
"Also, I was thinking I want to make a thank-you gesture for how hard you work in all capacities," he added.
"I don't do what I do for money," Kusendova wrote back.
"Sent $1,200," Gorchynski states.
On October 8, 2019 Kusendova wrote to Gorchynski, according to copies of screengrabs included in his evidence, about completing her financial disclosure for the integrity commissioner.
"So I was wondering if you had made the payment to my loans," she asks Gorchynski, according to the copy of the message filed with the court. "Because I have to give them an estimated number of my loan that's left."
Gochynski responded, "I haven't yet. Financial disclosure to whom? Is it better to show more now?"
Kusendova answers Gorchynski's question and writes back, "I think it would be good to show that I paid most of it off."
Gorchynski replies in three messages, "Wouldn't that leave room for more questioning? …I can do it, sure… I guess whatever you think is best. Just inquiring."
Kusendova's defence that she did not ask for the $19,000 to pay off her loans is contradicted by the documentary evidence the plaintiff has filed.
The Pointer asked Gorchynski about the timing of his lawsuit and to respond to criticism that he's attempting to undermine an MPP right before the June 2 provincial election.
Gorchynski told The Pointer the timing was not intended to hurt Kusendova ahead of the election but, "it is a hope that the people that have refused to talk to the community, the politicians can see the other side of the story here."
Gorchynski is involved in the community organization Kingsbridge Matters which he founded to lobby for a stop on the Mississauga Hurontario LRT line. The two crossed paths when Gorchynski was campaigning to get a stop near his family business.
Kusendova was elected in 2018 and currently is the chair of the standing committee on social policy, parliamentary assistant to the Minister of Francophone Affairs and a member of the standing committee on justice policy.
Gorchynski is suing Kusendova for a total of $50,500. The money he allegedly loaned the MPP and $20,000 for defamation.
Kusendova denies the allegations against her.
---
Email: [email protected]
Twitter: @taasha__15
---
COVID-19 is impacting all Canadians. At a time when vital public information is needed by everyone, The Pointer has taken down our paywall on all stories relating to the pandemic and those of public interest to ensure every resident of Brampton and Mississauga has access to the facts. For those who are able, we encourage you to consider a subscription. This will help us report on important public interest issues the community needs to know about now more than ever. You can register for a 30-day free trial HERE. Thereafter, The Pointer will charge $10 a month and you can cancel any time right on the website. Thank you
Submit a correction about this story