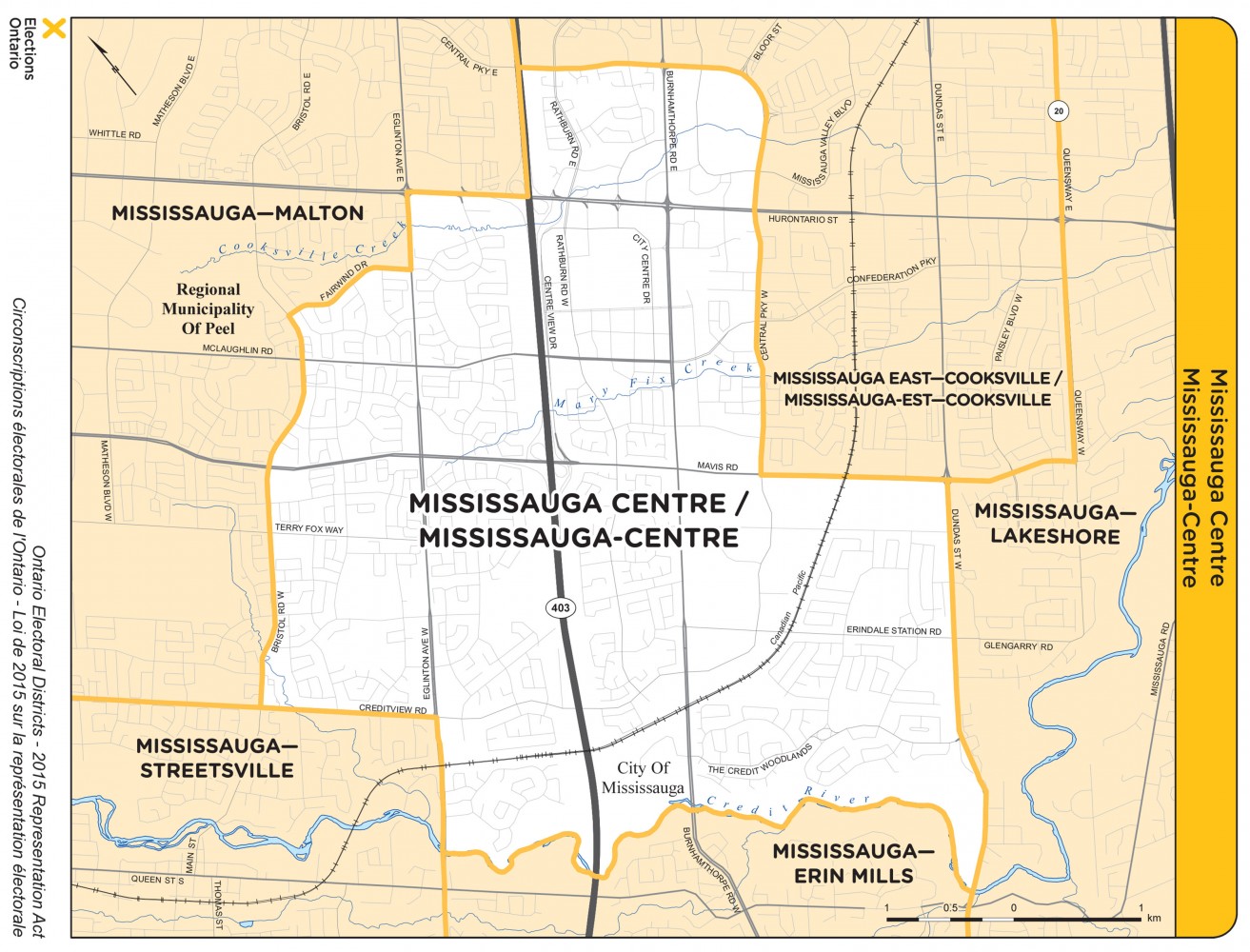 Feature image from Elections Ontario
Mississauga Centre a battleground for healthcare advocates and future planning
'Downtown Mississauga' is a descriptor many still scoff at.
Some still see the city as a large 'neighbourhood' of Toronto. Its quadruple-lane thoroughfares, massive parking lots and large single-detached homes do not create the feel of a city.
Residents want this to change.
Mississauga Centre is the most populous provincial riding in the city with 124,849 residents in 2016.
Contrary to what some may believe, Mississauga has 23,225 units in buildings with five or more storeys. Younger residents want convenience and access to transit, nightlife, greenspaces, grocery stores and cultural amenities.
Square One and its ring of big-box retailers and chain restaurants sits at the centre of the riding. But residents want to see more employment, white-collar jobs, so they don't have to commute elsewhere. According to Statistics Canada, in 2016 28,430 people commuted to their workplace within the Census subdivision and less than 20,000 commuted to a different Census subdivision, suggesting the live-work trend has taken hold, with more jobs in the riding.
The majority of commuters (40,035) used their personal vehicles to get themselves to work everyday, something the new Hurontario LRT system will hopefully change when it opens in the next two to three years.
Voters in the riding want to see the newly elected provincial government commit to reintroducing the downtown LRT loop which the Doug Ford PC government cancelled shortly after taking office, citing rising project costs.
It is the number one ask by City Hall, which has released a chart of its top priorities ahead of Thursday's election, showing which parties have committed to the municipality's election demands.
The PCs and Greens have not agreed to build the loop if elected, the NDP and Liberals have.
Mississauga City Hall's chart of election asks and responses.
(City of Mississauga)
In 2019 the PCs axed the loop that would have taken commuters around the downtown area where sweeping vertical growth has taken shape and will continue with some of the largest development projects in the province, such as Oxford's plan to surround Square One (which it owns) with a forest of towers.
The City sees the loop as crucial to its future downtown plans and interconnectivity with the MiWay transit system.
In February 2022 at a naming ceremony for the LRT Doug Ford said flippantly, "After we get moving on this [the LRT] I'm sure [Mayor] Bonnie [Crombie] will be calling me or the Minister [Caroline Mulroney] about continuing the loop around [downtown], that's something we all want and we'll make it happen eventually, sooner or later."
The PCs have not committed to the move this election season and it is not on their official platform.
The vision for downtown Mississauga is to become the place to work, live and play.
(Oxford Properties)
Both the Liberals and the NDP have told Mississauga they will add the downtown loop to the project, if elected.
Mississauga Centre voters also want more affordable housing as over 50 percent of renters spend 30 percent or more on shelter costs. The City can move toward inclusionary zoning to help get more affordable units online, but advocates believe the provincial government should pass legislation requiring affordable housing minimums.
In 2020, City Council made the move to acquire more parkland in Cooksville to provide more greenspace.
Mississauga Centre has seen greenspace dwindle, as development has swallowed up most available land for residential and commercial features including sprawling parking lots.
The riding's next MPP will be expected to show leadership on these pressing growth-related issues, impacting transportation, affordable housing and the need for healthcare and education in a booming area.
Natalia Kusendova of the PC party won the seat in 2018 with 40.86 percent of the vote. The riding was reformed in 2018 from portions of previous electoral districts.
Kusendova, before Parliament dissolved, was parliamentary assistant to the minister of francophone affairs, the former MPP speaks both official languages, Polish, Czech and Slovak. Her LinkedIn profile says she was the youngest female MPP at Queen's Park.
"I look back fondly on having been able to play a role helping to put the priorities of Doug Ford and our Progressive Conservative Party into action, bringing real change in the matters of health care, long-term care, transit and public safety, while working to support the needs of small businesses and workers alike throughout these last four years," Kusendova told The Pointer in an email.
Prior to entering politics she had various healthcare positions, such as a physician navigator and more recently as a registered nurse (RN) with William Osler Health System. She also was an RN serving at Ontario's only women's correctional facility, the Vanier Centre for Women.
As an RN, Kusendova knows the impacts the pandemic has had on frontline workers. Early on she stepped up to go back to work, donning her nursing uniform to help fill the frontline demand created by the pandemic, reducing some pressure on staff she worked with.

Throughout her mandate Kusendova brought her experience as a registered nurse to Queen's Park advocating for healthcare and addictions issues.
(Joel Wittnebel/ The Pointer files)
Her website states she served as a policy and political action executive network officer for the Registered Nurses' Association of Ontario (Peel Chapter) and was a member of the Canadian Polish Congress National Executive Board.
When asked about the LRT loop, Kusendova said, "As we make progress on construction we also continue to work hand in hand with municipal and the federal partners to advance opportunities to improve the line including the Loop expansion and more connections into Mississauga, Brampton, and provincial transit systems."
Kusendova said she would continue working with Mississauga City Council to invest in transportation of all kinds including Highway 413 and the Go Train system.
The incumbent wants to continue advocating for long-term care in Mississauga, an issue that will take shape as the population ages, and "boost" the number of acute-care beds at Trillium Health Partners' hospitals.
Asked about the housing affordability crisis, Kusendova told The Pointer the issue is "supply and demand."
"Ontario does not currently have enough homes for those who want to buy them and that scarcity means homes cost more," she wrote in an email. "The only answer is to catch up and meet demand by building more quality homes faster, and only Doug Ford has a credible plan and proven ability to build more homes that Ontario needs."
Throughout her four years Kusendova worked on equalizing French opportunities in Ontario, seniors issues and human trafficking.
She brought forward Bill 105, the Mandatory Police Training Act (2019) and Bill 182, the Franco-Ontarian Emblem Amendment Act (2020).
Just before the election was called, Grant Gorchynski, a Mississauga businessman filed a lawsuit against Kusendova that alleges she owes him $30,500 in unpaid loans.
In a statement of claim filed with the small claims court of Ontario's Superior Court of Justice on December 30, 2021, Gorchynski alleges he gave the MPP money in 2018 and 2019 as a loan. The two were in what Kusendova describes in her statement of defence as a romantic relationship. The plaintiff states it was not a romantic relationship but it's clear from both of their evidence that they were intimately involved.
The money, according to Kusendova, was provided as a gift to help her pay off student loans and also for incidental expenses that occurred throughout the relationship. The evidence filed by the plaintiff suggests Kusendova asked for the money to show the provincial integrity commissioner her student loans were being managed.
Kusendova is contested by the Ontario NDP candidate Sarah Walji, who also is an RN. Walji ran previously both provincially and federally in Mississauga.
"My reason for being involved is simple — speaking up when I see injustice," she wrote in an email to The Pointer. "Healthcare workers have been left to fend for themselves during the pandemic and it's about time we make our voices heard."
In 2018 the NDP came second in the riding with 27.56 percent of the vote. Walji hopes her focus on healthcare and being a younger RN may help garner more votes from the young population in Mississauga Centre, where growth has brought a wide mix of demographics to the area, as many younger residents have flooded to the downtown area.
Sarah Walji has worked as a registered nurse throughout the pandemic and knows the struggles frontline workers continue to face.
(Contributed/ Sarah Walji)
"[If elected, I pledge to] work harder to make life affordable in Mississauga again," she wrote. "Everyday families just want to get on solid ground. Doug Ford's cuts won't fix it. We will implement pharma-care, dental-care and expanding mental health services."
Previous to entering politics, Walji worked as a COVID-19 tracker for Peel Public Health, was a crisis support worker with the Canadian Mental Health Association and worked at Halton Healthcare as an RN. She has extensive volunteer experience working within nursing advocacy organizations and has been named one of the Top 100 Women working in Global Health.
Throughout the pandemic Walji has worked on the frontlines as an emergency psychiatric nurse at Trafalgar Memorial Hospital in Oakville.
The Liberals are also attempting to capture the young vote with Sumira Malik. The candidate says she is proud to be one of the Liberals "30 under 30" candidates and wants to bring her experience working in social services to the riding.
"Malik volunteered in hospitals, clinics, homeless shelters, food banks and charitable organizations since she was a young girl and has a driving passion for being a helping hand in the world," her website says.
She lived in various parts of Canada (both east and west) and returned to the riding in 2011. Malik has obtained a bachelor's of business administration from the University of Toronto and worked on a policy brief at York University when she decided to pursue a bachelor's of science in psychology. Just before adding her name to the ballot, she was working as a research assistant for a primary researcher at Harvard University examining smoking in those suffering from schizophrenia and personality dimensions.
Multiple posts on social media show Sumira Malik is strongly supported by federal MPs like Omar Alghabra.
(Twitter)
"I am thankful for this unique opportunity. 30 under 30 has provided me with a platform as a young person to help implement change," her website says.
The Green's have put up Adriane Franklin, a long-time Mississauga resident who has minimal social media presence. Her website describes her as a committed volunteer working on local and global causes who is passionate about leadership among young women.
"Adriane is motivated to run for Mississauga Centre because she feels it's time for change for the better. The city needs healthy and accessible places to live — now and in the future," the Green's website states.
Voters can expect Adriane Franklin to stick close to party lines and advocate for issues through an environmental lens.
(Ontario Greens)
Prior to entering politics Franklin worked in economics and as a math teacher. She is a Girl Guide leader, chair of her childrens' school councils and a primary lead for the "Days for Girls" Mississauga team, an organization that works to bring down barriers for girls and young women.
---
Email: [email protected]
Twitter: @taasha__15
---
COVID-19 is impacting all Canadians. At a time when vital public information is needed by everyone, The Pointer has taken down our paywall on all stories relating to the pandemic and those of public interest to ensure every resident of Brampton and Mississauga has access to the facts. For those who are able, we encourage you to consider a subscription. This will help us report on important public interest issues the community needs to know about now more than ever. You can register for a 30-day free trial HERE. Thereafter, The Pointer will charge $10 a month and you can cancel any time right on the website. Thank you
Submit a correction about this story