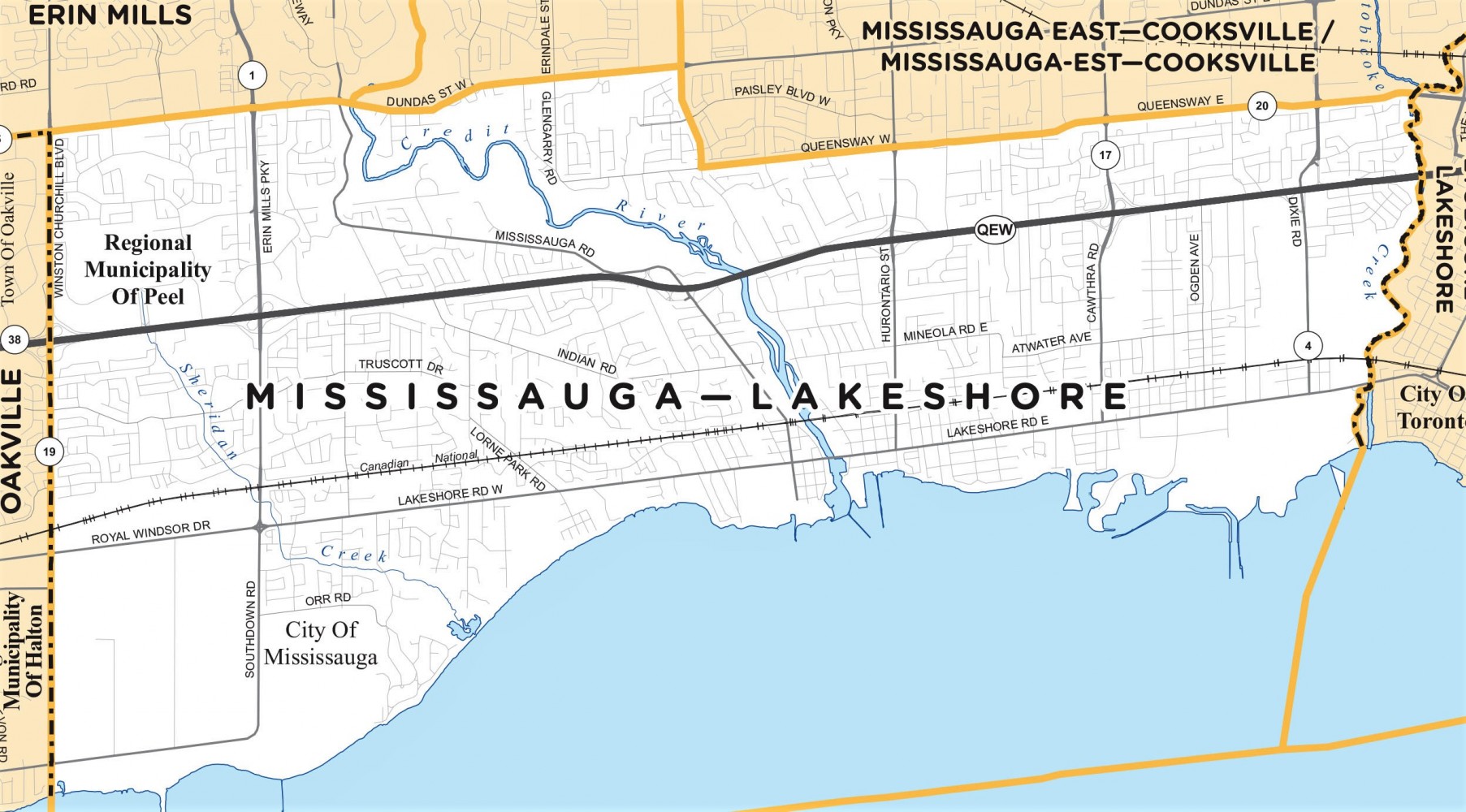 Elections Ontario
In one of the city's oldest communities, which candidate will best manage Mississauga—Lakeshore's population boom?
Mississauga—Lakeshore, formerly Mississauga South, is the jewel in the city's urban transformation.
Port Credit and Lakeview are in the early growth stage of a massive lakefront boom over the next two decades, with some of the largest developments in Canada set to completely reshape the bottom half of the riding. Lakeview Village and Brightwater, along with the proposed redevelopment of the Port Credit Marina area, are just some of the major projects that provincial officials will have to help oversee.
Tens of thousands of new residents will flood the lakefront area, bringing with them a need for housing, transportation, medical services and schools.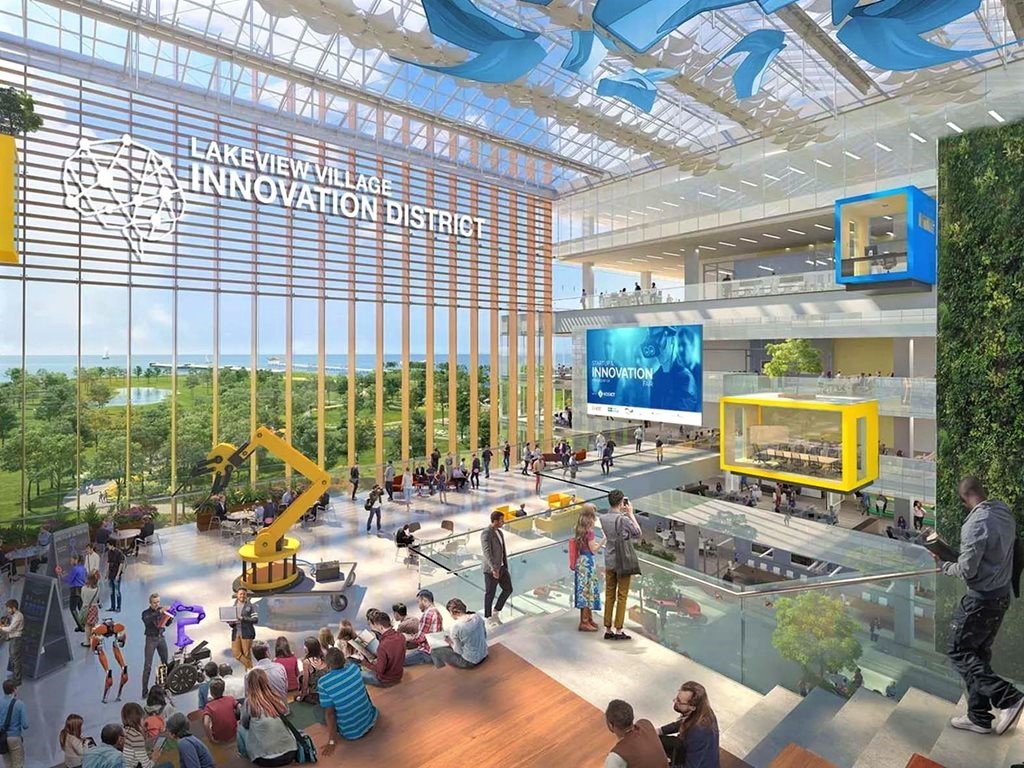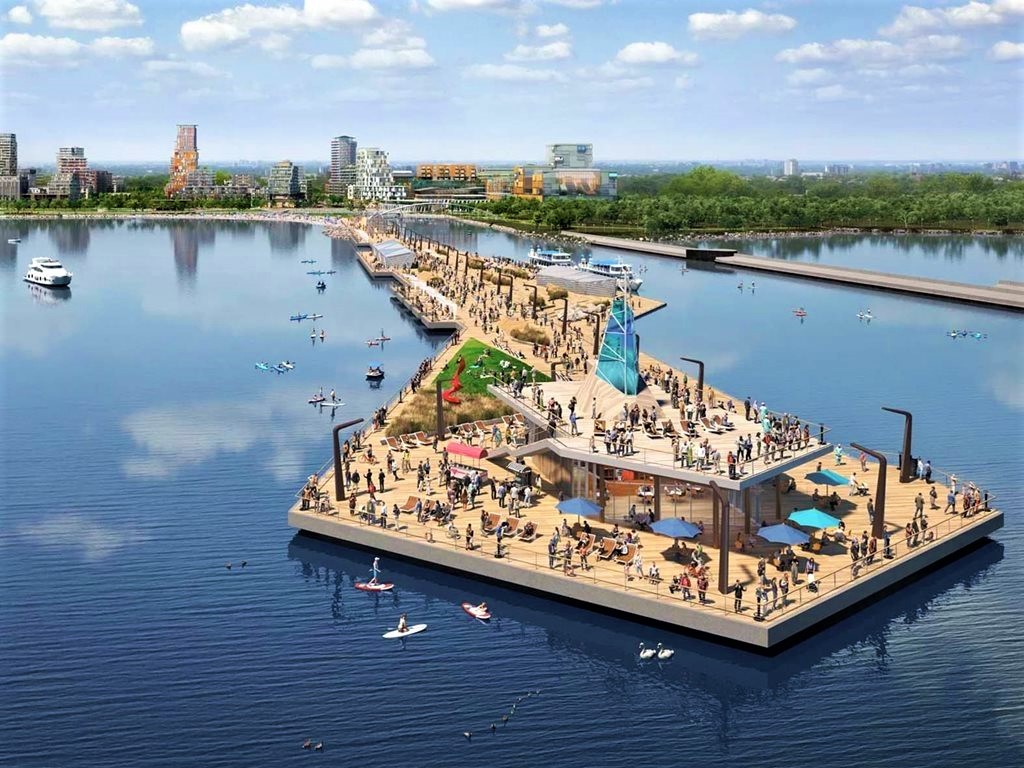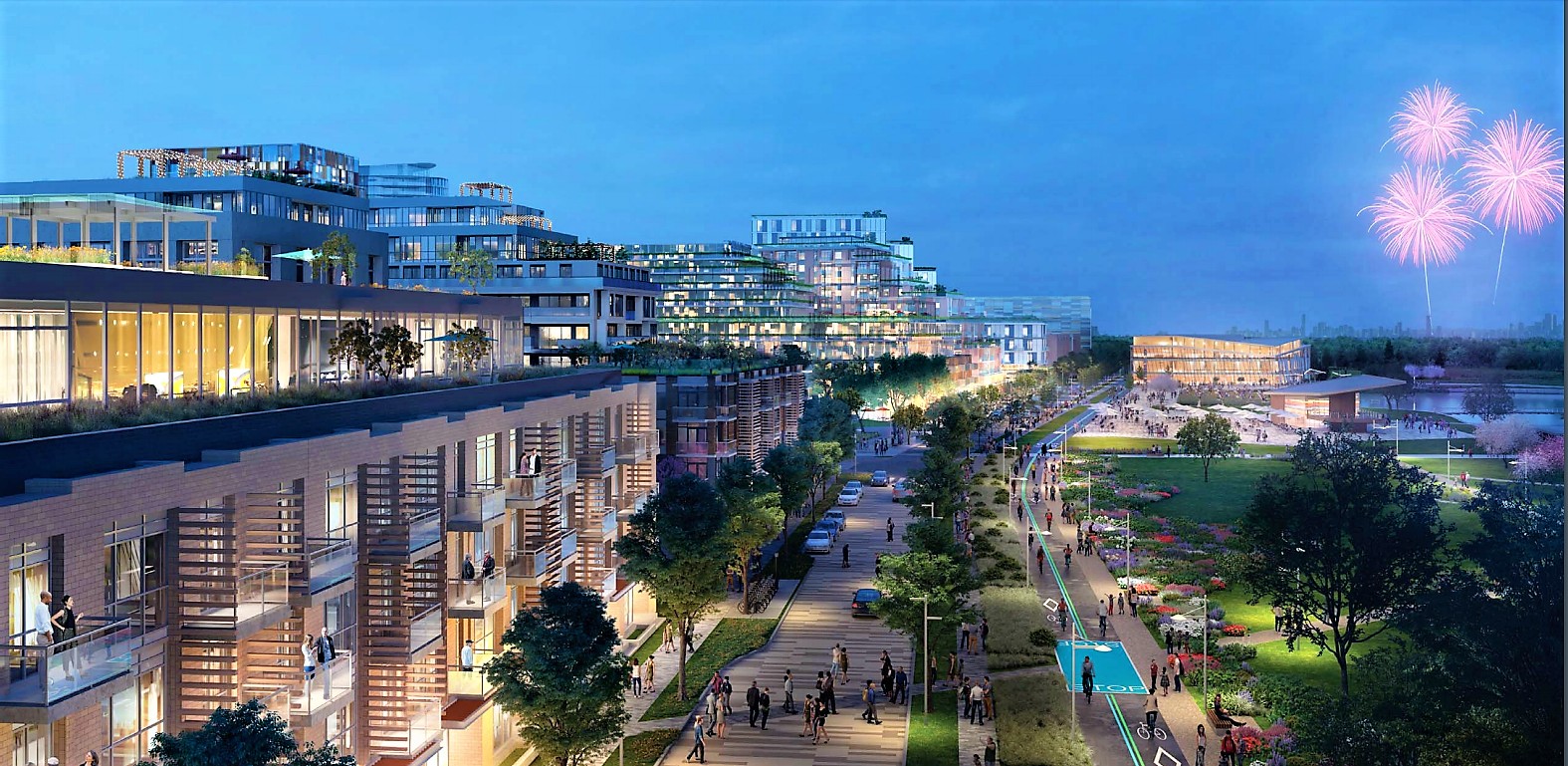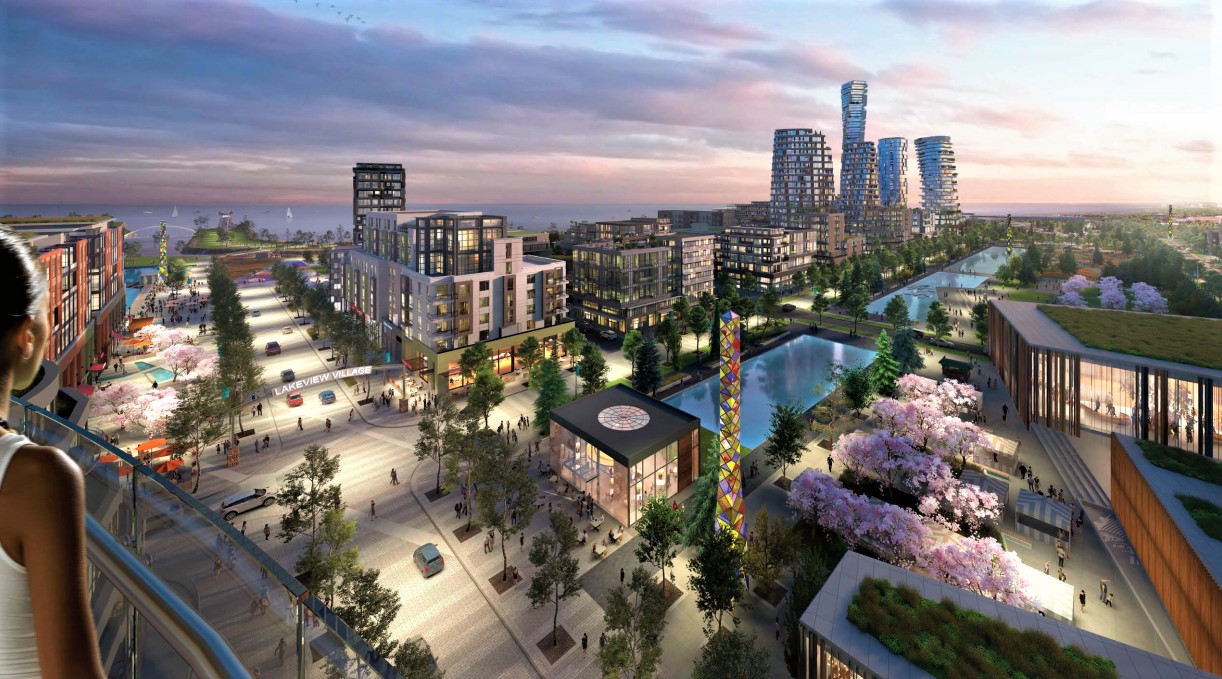 Some of the massive developments coming to Mississauga—Lakeshore.
(Renderings City of Mississauga)
The MPP who will help usher this unprecedented period of growth will have their hands full.
A key priority for residents is how the incoming provincial government, and the local MPP, will work with City Hall to ensure local planning is done in concert with Queen's Park, to ensure the growth will not arrive in the absence of all the provincial services that communities rely on.
Too often, hyper growth has not been planned with enough classroom spaces, hospital beds and other services in place.
Rudy Cuzzetto held the seat for the PCs the past four years, and faces challengers Elizabeth Mendes, a Liberal, the Green's David Zeni and the NDP's Julia Kole.
The winner will have to ensure neighbourhoods such as Port Credit and Lakeview, which will see an influx of residents, receive the needed provincial funding to support rapid growth.
In 2018, 59 percent of eligible voters turned out to cast a ballot in the local race, turning the area blue, after the Liberals had previously held the area's seat.
The accommodation for all the future growth has begun, and not only will the riding's MPP have to navigate the needs of tens of thousands of new constituents, the very complexion of the southern portion will have to be reimagined.
Lakeshore Road East has recently been approved for eight-storey buildings, after low-slung commercial and residential properties dominated the area for decades. Residents pushed back aggressively against larger-scale buildings but developers have successfully pursued more density. These were largely municipal fights; now Queen's Park will be responsible for much of the big ticket items, such as expanded GO Transit infrastructure along with all the other funding areas mentioned above.
According to the 2016 census, single-detached homes dominated the area, with fewer than 13,000 apartments in buildings with five or more storeys and 3,065 units in apartment buildings with less than five floors.
This will dramatically change over the next two decades.
Development applications have flooded the area forcing numerous public consultations for projects like Lakeview Village, a massive mixed-use community planned for the waterfront's eastern end, on the former Lakeview Generating Station lands. It will double the population of Lakeview and add approximately 8,000 new units to the area. At the consultations residents brought up traffic as a concern, rapid population increase and the lack of affordable units.
Mississauga as a whole is struggling with housing affordability with the average cost of a single-detached home over $1 million and other forms of housing quickly increasing in price (the market has cooled recently with two interest rate hikes) while areas such as Lorne Park and Port Credit remain some of the most desired in the GTA. Affordability is a major concern with rents at more than $1,800 for a one-bedroom and well over $2,000 for a two-bedroom unit. In Mississauga—Lakeshore units often go for much higher, especially near the water and the Lakeshore GO Train line.
Cuzzetto has advocated for healthcare, better conditions and supports for seniors, the local manufacturing industry and small businesses. He is known for his clear mask which allows people with a hearing disability to read his lips, and his social media serves as proof for all the hours he put in delivering food to seniors and other constituents in need during the height of the pandemic. He also helped save the historic Credit River bridge from demolition.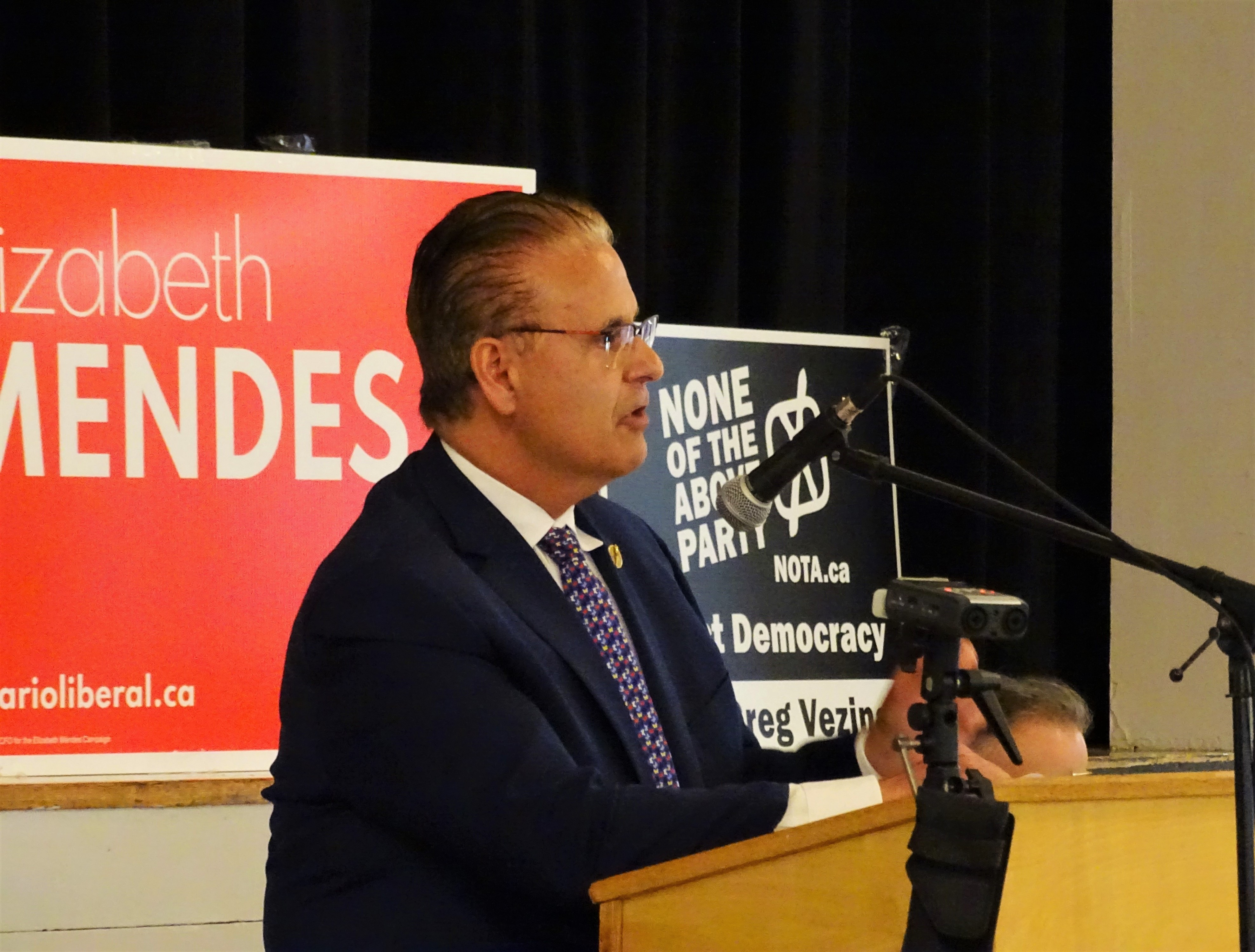 PC Rudy Cuzzetto is a big advocate for building more infrastructure, something Mississauga struggles to maintain.
(Natasha O'Neill/ The Pointer)
Mendes, representing the Liberals, is a first-time candidate. She describes herself as a wife and mother of her young daughter, Emma. She grew up in the riding and has worked previously in the Ministry of Labour, Ministry of Citizenship & Immigration and Ministry of Finance, shaping public policy.
In videos posted to Twitter, Mendes explains her key priorities are education, seniors and public health, deciding to run for MPP after seeing how the PCs handled the COVID-19 pandemic.
She is the director of a not-for-profit long term care affordable housing complex for seniors and brings with her a wealth of experience in three different areas that will be important for the riding's future growth: the nonprofit sector, affordable housing and the senior-care space.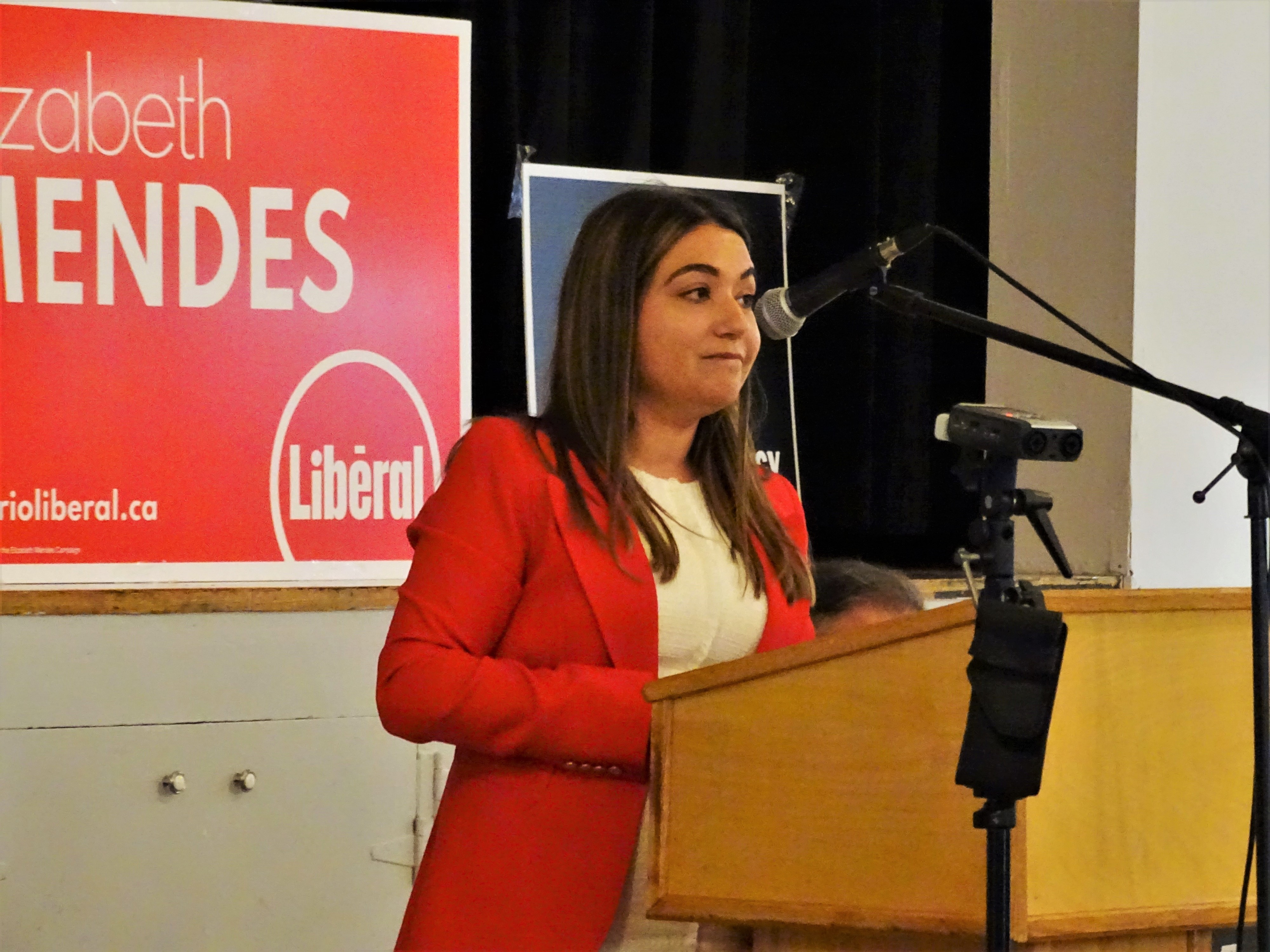 Elizabeth Mendes was comfortable on stage throughout the debate, always ending her point before the timer went off.
(Natasha O'Neill/ The Pointer)
Other priorities for Mendes are increasing the transportation networks in the riding and building on the three-stop bus rapid transit (BRT) on Lakeshore Road East.
"The plan, as it stands, seems incomplete. We can, and should, expect better from transit projects. I know how important transit is to bring customers to businesses," she told The Pointer in an email. "If elected, I will work and consult with local businesses, community leaders, transit groups, and advocates to see what they need from the line."
Adding an environment-first perspective is what David Zeni, representing Ontario's Green Party, is doing this election.
The first-time candidate has a background in plant biochemistry and ecology. Currently, he is the head of the mathematics department at St. Paul Secondary School in the riding.
He is advocating for density that supports public transit and is still within the character of Mississauga—Lakeshore's communities.
"We must plan to develop in a way that works for both our natural environment and the people who live in it. In terms of development we must plan for medium density, the missing middle, because this is best in terms of both sustainability and the housing crisis," he told The Pointer in an email. "We must work towards bylaws that ensure this development is sustainable by incentivising green solutions such as ground source heat pumps that support multiple units."
The NDP nominated Julia Kole, another first-time candidate, who has a history working with the Credit Valley Conservation Authority.
According to her Linkedin account, Kole grew up in the riding attending a high school in the area. She went on to the United States and England earning bachelors and masters degrees before returning to Canada.
In response to a question from The Pointer, Kole explained how she would work with local municipalities to help Mississauga—Lakeshore grow responsibly.
"The Ontario NDP is committed to working in consultation with the municipality of Mississauga to ensure we have the housing, infrastructure, transit and green spaces that fit the needs of our community," Kole wrote.
Tuesday evening candidates attended a riding debate hosted by the Town of Port Credit and the Compass Food Bank at Clark Memorial Hall.
Cuzzetto faced sharp questions from the first-time candidates and the audience.
"I'm proud of the progress we've made together over the last four years," he said to the crowd of about 125 people citing his government's accomplishments. "That includes the single largest investment in hospital infrastructure in Canadian history to completely rebuild the Mississauga Hospital into the largest and most advanced hospital in this country." It will be a massive facility with almost 1,000 beds and a price tag of more than $2 billion.
Moderators asked about the Tory track record of using ministerial zoning orders (MZOs), a provincial planning-approval tool that allows developments to be fast tracked in a community without input from the public or local municipal planning staff.
Cuzzetto said his party only approved local MZOs when the City of Mississauga was in agreement. There were two separate MZOs in the city which municipal staff said were not aligned with current zoning in the municipality's bylaws or the city's engineering requirements. But there was support inside City Hall, as the MZOs were intended to speed up projects linked to senior care infrastructure at the height of the pandemic.
The City has shown mixed feelings toward the practice, with staff making it clear that top down planning from the Province is not appreciated, while council have welcomed the sped up process for projects that clearly benefit Mississauga.
Prior to the debate Mendes highlighted the importance of transit growth.
In 2016, 10,015 people in the riding said they took transit to and from work each day. Mendes believes fast and efficient transit will help drive the numbers up.
Bus rapid transit expansion is a key and she emphasized the need to expand the Dundas and Lakeshore BRT corridors.
In 2007, Mendes worked in former MPP Charles Sousa's office as an outreach advisor working closely with Mississauga council and staff.
"We opened up our waterfront, began the Clarkson Airshed Study, and funded local conservation groups like Credit Valley Conservation," she said in an email to The Pointer. "If elected, I intend to build on that legacy."
Mendes said she is strongly advocating for affordable housing and flood protection measures for the community, two key issues in recent years.
In response to questions she referenced her Party's promises to build 138,000 "deeply affordable" units across Ontario and offer interest-free loans of up to $3,000 per household each year to help owners retrofit their homes.
Similar to Mendes, Zeni relied on promises his Party has made to answer how he will bring affordable housing to the area and how he will advocate for continued housing support.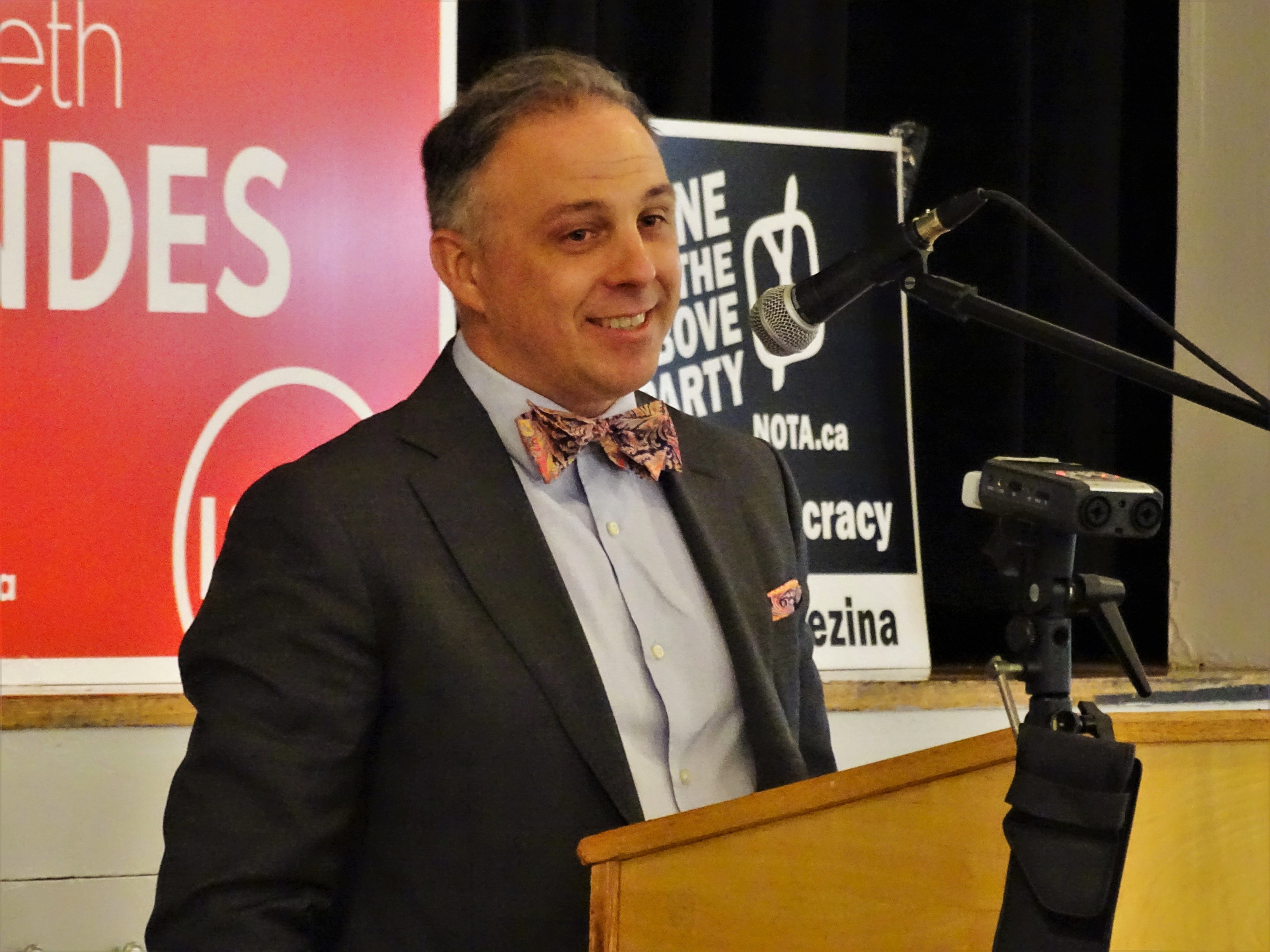 David Zeni had many teacher advocates in the audience and passionately spoke about local planning through an environmental lens.
(Natasha O'Neill/ The Pointer)
Zeni highlighted a $20,000-per-household retrofit budget for homes. He explained this would help families transition away from fossil fuels and move the riding to a clean, green future.
He also wants to see further funding for the Lakeshore BRT highlighting his Party's platform to build more transit in communities.
"Throughout my career I have demonstrated the willingness to support all students both in and out of the classroom. I believe that a government should work in the interest of all of its people and that society should be judged by how we take care of the most vulnerable," Zeni told The Pointer in an email. "My history in education reflects putting people first as well, and I am willing to work with the government to ensure that Ontario is a safe and healthy place to live both now and in the future."


The Ontario New Democratic Party candidate is hoping she can bring diverse ideas to the table.
(Website Julia Kole)
Kole's website offers a glimpse into her life, explaining her twin sister was born with cerebral palsy and Kole worked to advocate for her.
She also believes expanding public transit is crucial.
"It is important that public transit is expanded to meet the needs of people across the GTHA. I do not know the specifics of rapid bus transit along Lakeshore, but our NDP transit platform includes plans to expand and electrify the GO Bus and rail network across the GTHA," she wrote in an email.
Kole didn't join Twitter until April and has only recently been active retweeting and sharing posts from her NDP colleagues.
She is an advocate for nurses and wants to see improvements in the healthcare system.
"In the Ontario NDP's fully costed plan to renew and repair our healthcare system, we have fully committed to the expansion of the Mississauga Hospital as well as building a third hospital in Brampton."
---
Email: [email protected]
Twitter: @taasha__15
---
COVID-19 is impacting all Canadians. At a time when vital public information is needed by everyone, The Pointer has taken down our paywall on all stories relating to the pandemic and those of public interest to ensure every resident of Brampton and Mississauga has access to the facts. For those who are able, we encourage you to consider a subscription. This will help us report on important public interest issues the community needs to know about now more than ever. You can register for a 30-day free trial HERE. Thereafter, The Pointer will charge $10 a month and you can cancel any time right on the website. Thank you
Submit a correction about this story