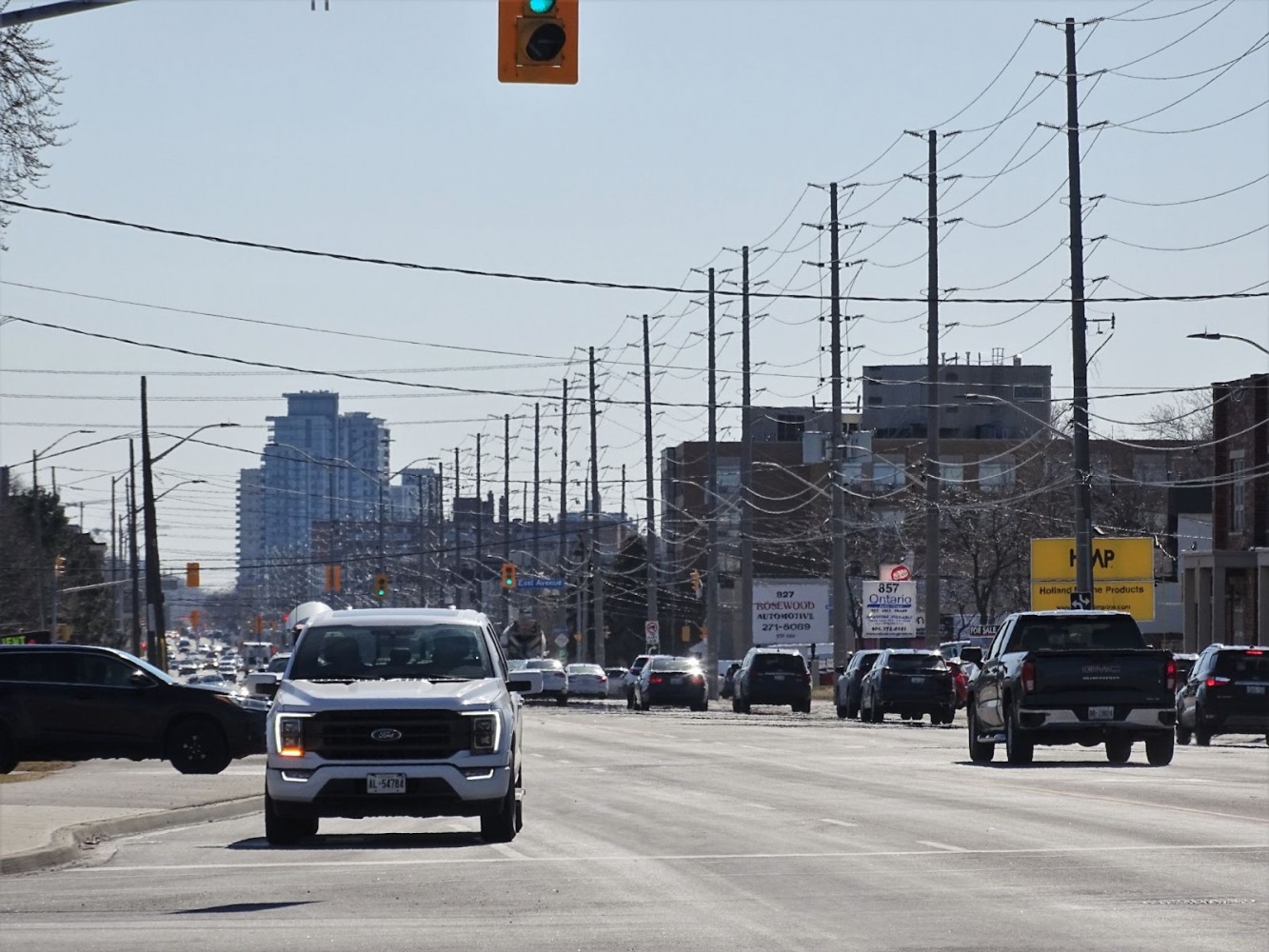 Feature image from Natasha O'Neill/The Pointer
Lakeshore Road height debate underscores challenges to Mississauga's urban transformation
If planning staff at the City of Mississauga were to ask every resident in Lakeview what their vision for the future of the area looks like, it would be a mixed bag of responses: Convenient public transportation, mixed use neighborhoods, more greenspaces, accessible biking/walking paths, preservation of many of the existing features and a thriving main street for the community to gather.
The vision for building heights which define the overall look of the community is a particularly thorny question.
Balancing competing desires and putting together a workable framework to move the area forward is what makes the job of City officials so difficult.
No matter the ideas, policies and vision put into the endless hours of consultation, discussion and research, there will always be outliers on either side of the debate.
During recent public meetings about the area's future, some residents pushed back against higher density development claiming "Not In My Back Yard".
Throughout the many proposals, public consultations and meetings with City staff and councillors, they would explain they are not opposed to density but want to see proper transitions from the lower rise areas.
"The bottom line is the community supports density that does not detract from the opportunity to create a human scale public realm, pedestrian experience along the sidewalks and spaces of Lakeshore Road," Deborah Goss, president of the Lakeview Ratepayers Association (LRA) said to the Planning and Development Committee March 28.
Lakeshore Road East is arguably the heart of Lakeview, it stretches from Seneca Avenue in the west to Etobicoke Creek in the east. Lining the historical street are low rise businesses like car repair shops, local restaurants and a few boutiques. From one end to the other, it has four lanes of traffic and many intersections with crosswalks and lights — it's classically suburban.
Lakeshore Road runs the length of the city, but Mississauga staff undertook a study on a very specific section.
(City of Mississauga)
A view of the water is nonexistent from the road unless residents head south towards Lake Ontario or are the few who live in one of the higher buildings along the corridor. Stretching past Lakeshore Road East to the north, a mix of post war and newer modern houses can be found. The majority of buildings are between two to four storeys high, with some apartment buildings looming over the neighbourhood at eight or more storeys.
The roadway is just under four kilometres long and has become the beacon for new development proposals. Since Port Credit has been busy with projects, some companies are looking eastward to Lakeview hoping to get a head start on the future.
Noticing their community is quickly becoming more desirable since the inception of Lakeview Village, residents have been more cautious of development, hoping to contain the low rise community feel with healthy, transit-oriented plans.
"We tend to get punch-drunk right now down in Ward 1," Councillor Stephen Dasko said at the meeting. "But every ward will go through it, but right now Ward 1 happens to be the spot where we're getting a lot of development applications."
At the same time, developers have continuously proposed new projects with higher buildings than the limit of four storeys. A handful of large lots in Lakeview are able to hold the projects of greater density and staff have only flagged about a "handful" that are left. Without a large lot, buildings could move dangerously close to suburban homes, making the living experience for residents less than optimal for their own personal reasons.
Shallow lots are considered at 40 metres in depth and typically hold buildings of two to four storeys comfortably, larger lots between 40 and 60 metres hold potential for developments between four to eight storeys. Less common along Lakeshore Road East are the lots with a greater depth than 60 metres.
Currently this portion of Lakeshore Road fosters a car-centric environment and is not appealing for cyclists or pedestrians.
(Natasha O'Neill/The Pointer)
Seeing the increasing frustration between the public and developers, staff proposed a review for an official plan amendment (OPA) for Lakeshore Road East, excluding Lakeview Village.
"The purpose of this land-use planning review was to examine the height, density and built form policies for the Lakeshore East Corridor between Seneca Avenue and the Etobicoke border," a November 2021 report explains.
During the period between February and June 2021, two active rezoning applications were under review (11 and 15 storeys each) both exceeding the four storey maximum in the official plan and highlighting the need for the study.
The review further tightens the vision for Lakeview and piggybacks off the Peel Region's municipal comprehensive review for 2051. The main focus of the study is to reaffirm the vision of Lakeview's Local Area Plan (LAP) by enforcing height densities and updating guidelines for developers proposing projects.
There are three categories the OPA affects; building height, ensuring a village main street character and transitions from high to low density living. Paired with the LAP is the Build Form Standards that defines approved architecture designs, like setbacks, stepbacks and the use of a 45 degree angular plane—all features designed to control the look and feel of the urban environment.
Residents participated willingly in multiple studies throughout 2021, including virtual consultations and through the project's website.
"We're a little bit worn out in Lakeview and south Mississauga with studies and OLT [Ontario Land Tribunal] cases and pushing back on our local area plans," Goss said. "But here we are again."
Both Councillor Dasko and Goss have been spearheading the engagement with residents and staff to make sure all concerns can be heard and hopefully mitigated. Staff have come up with a plan to intensify the area while also putting in measures to keep the atmosphere from feeling like Downtown Mississauga.
If ratified by council—it was differed back to staff at last week's council meeting—height along this portion of Lakeshore Road will increase to eight storeys, and lots with a depth of greater than 60 metres have a potential for a 30 metre (about nine storeys) increase. This expands on the urban design policies needed requiring developers to have a two to four storey street wall, "to protect for a pedestrian oriented main street."
"This does not mean eight storeys on every site or every lot," Robert Ruggiero, a planner with the city reinforced.
The City is proposing additional height along Lakeshore Road East with a required streetwall.
(City of Kingston graphic)
This would apply to any new development coming to the area. City staff have exempt three projects that have been deemed complete prior to the recommendation to amend the official plan. Two of the projects are in the process of being appealed at the OLT, and all three are proposing heights far greater than the eight storeys recommended by staff.
The goal of the OPA is to have higher density buildings without the feel of a high density community, respecting the existing characteristics of Lakeview while also welcoming smart growth plans. Policies like setbacks are required forcing developers to create a front property line of 0.6 and 3 metres to protect community areas.
Incorporated into these plans is the City's overarching future plan, which helps inform the Region where major transit station areas (MTSA) are. With the connection to Go Rail Lines and interregional travel being promoted along Lakeshore Road, it is fitting Lakeview plans include more opportunity for transit dense development.
Goss believes a better compromise is needed to appease the residents when it comes to height of buildings.
"We believe based on the 3-D modeling that we supplied as part of a presentation to the staff that we can undertake a three to six storey [which] can maximize the density without creating an oppressive architectural massing on the character and experience of pedestrians and street tree potential," Goss told the committee on March 28 .
According to Goss the current height achieves a walkable community. In November the LRA presented modeling by Professor John Danahy from the University of Toronto to the planning committee. The renders show the community's preferred height and design of density of three to six storey buildings. The number was chosen because of similar lower density maximums being proposed in downtown Cooksville, Dundas Street and along the border with the City of Toronto.
This modeling showcases the community's desired density along Lakeshore Road East. This rendering depicts an area close to the Lakeview Village development.
(John Danahy)
"We fail to understand why we're going to four to eight storeys, and we want to understand why the four to eight is superior over a three to six storey," Goss said.
Staff have not explicitly explained the reasoning for why three to six storeys is not the policy change, but have emphasized the expected population increase and need for more housing in the neighbourhood.
Some may look at the policy as a balanced medium for both developers wanting more height and residents who want lower builds.
Councillor Dasko has been working closely with the public and does envision a vibrant Lakeshore Road East with suitable height.
"I would love to have no more than six storeys and I believe planning staff — from the Commissioner all the way down including our mayor — know that very well I've been pretty militant about some of these items," Dasko said.
The councillor lives in his Ward and puts a great deal of ownership on planning policies for the area. He has been a strong advocate for the public and their wishes for a slow height transition along Lakeshore Road East. What Dasko continues to do is advocate for respecting existing neighbours and adding a just transition between low residential homes to higher builds.
"It should be a placemaking gathering, really an extension of a main street feel," Dasko told The Pointer in an interview. "I don't think that anybody should be looking at a brick wall."
Build Form Guidelines describe necessary transitions and angles at which buildings can be built next to homes. At the March 28 planning committee Dasko asked staff to add a specific measurement for a minimum stepback of three metres to ensure height is not seen from a pedestrian viewpoint. The request will likely be added in over the course of the next year while staff continue to amend design guidelines. The recommendation report tabled and approved at Monday's meeting was specifically for increasing heights and the addition of a required streetwall.
"This is not a blank canvas that you can just go wild with," Councillor Dasko told The Pointer after the meeting. "People live here. It's got single family detached dwellings, it's got a whole mix of homes … and all need to be respected. But that main street character, it's just too important to let that slip through our fingers."
---
Email: [email protected]
Twitter: @taasha__15
---
COVID-19 is impacting all Canadians. At a time when vital public information is needed by everyone, The Pointer has taken down our paywall on all stories relating to the pandemic and those of public interest to ensure every resident of Brampton and Mississauga has access to the facts. For those who are able, we encourage you to consider a subscription. This will help us report on important public interest issues the community needs to know about now more than ever. You can register for a 30-day free trial HERE. Thereafter, The Pointer will charge $10 a month and you can cancel any time right on the website. Thank you
Submit a correction about this story