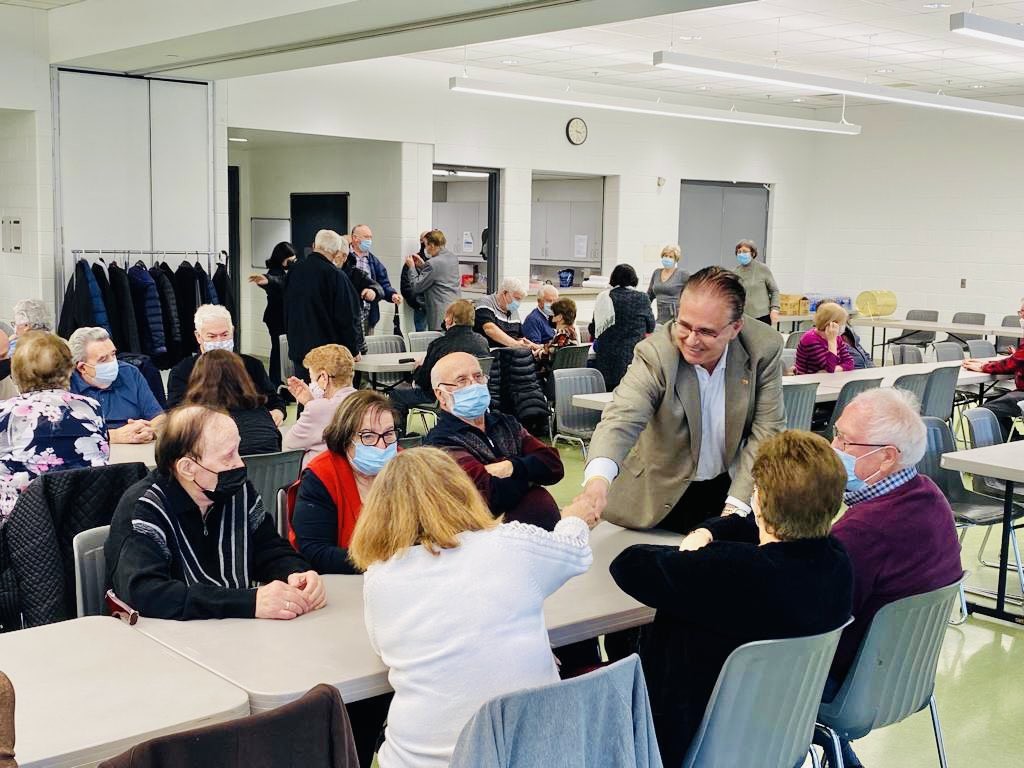 Feature image from Rudy Cuzzetto/Twitter
Mississauga—Lakeshore's Rudy Cuzzetto advocated strongly for seniors, healthcare and against taxing carbon
Rudy Cuzzetto is consistent.
The Progressive Conservative candidate who just served four years as his riding's member of provincial parliament knows which issues keep him up at night. Over the just completed term of office Cuzzetto spoke 293 times in the legislature, almost a third of those speeches and other pieces of advocacy mentioned his riding, Mississauga—Lakeshore.
He successfully brought forward and helped pass two pieces of legislation, Bill 255, the Sickle Cell Disease Awareness Day and Thalassemia Awareness Day Act (2021) and Bill 50, the Hungarian Heritage Month Act (2022).
Looking through the Hansard transcripts, which are the official record of all Queen's Park public proceedings including debates, Cuzzetto focused much of his energy on the protection of manufacturing jobs, healthcare and affordability for residents.
Consistently throughout the four years, Cuzzetto was an outspoken critic of the Liberal Parties in Ottawa and Ontario, often highlighting what he described as the Liberals' "mismanagement" of the files he advocated on, particularly healthcare and long-term care.
Cuzzetto rose for the first time at the end of July 2018 when he thanked his riding for electing him and brought up concerns with the ongoing York University sessional faculty and teaching assistant strike that was still happening at the time.
Rudy Cuzzetto alongside Doug Ford during an announcement regarding investment in Mississauga Hospital.
(Twitter)
He often wove personal stories into his comments inside Parliament and referenced his strong Italian heritage along with his two sons and his family life in Mississauga—Lakeshore.
Cuzzetto rose often to support Bills brought forward by Party colleagues.
"I rise here today to support Bill 4. This Bill will save the average family at least $260 each year in addition to 10 cents on a litre of gas. This will help make life easier and more affordable for Ontario families," he said in September of 2018 when the PCs passed legislation that cancelled the previous Liberal carbon tax, known as cap and trade, shortly after the Party took control of Queen's Park with a strong majority in government.
A theme shown through his comments is Cuzzetto's focus on making life more affordable for Ontarians. When he mentioned the increase in the cost of living it was almost always through descriptions of what his constituents expressed to him when describing their struggles. He displayed a unique ability to connect his relationships with residents and small business owners to his work as their provincial representative elected to voice their concerns. Quite often he tied the lack of affordability with job losses, specifically in the manufacturing sector.
"While I was out campaigning, it was heartbreaking to meet employees from former firms that were shutting down production in Ontario. Campbell Soup was closing their Etobicoke plant, just east of Mississauga—Lakeshore. It had been in operation since 1931. Some 380 jobs will be lost to places like Texas and Ohio," he said inside the legislature in October of 2018.
He routinely mentioned local Mississauga businesses such as Hatch Ltd., an engineering firm which employs 1,500 people in Mississauga—Lakeshore, referring to the good work they did in the community.
Cuzzetto was a member of the Standing Committee on Public Accounts, the Standing Committee on Estimates and is Parliamentary Assistant to the President of the Treasury Board. From July 2018 to September 2020 he was a member of the Standing Committee on Government Agencies.
Rudy Cuzzetto attended events for seniors throughout his term as MPP.
(Twitter/ Rudy Cuzzetto)
As a Parliamentary Assistant involved in finance, it was no surprise Cuzzetto often spoke about affordability and the state of the economy. He pushed legislation that brought some relief to residents, including those on fixed incomes.
"To help low-income workers and families, our Minister of Finance has proposed one of the most generous low-income tax credits in a generation. It will put more money in the pockets of over one million people across Ontario, and every single dollar of this credit is targeted to low-income workers," Cuzzetto said in November of 2018.
He often took his comments back to his riding, mentioning how the Bill would help the low-income families he saw struggling in Mississauga—Lakeshore.
He also often pointed a finger of blame at the former Liberal government.
"For too long, needed reduction in the amount of waste Ontarians generate has been ignored by the previous Liberal government," he said in March 2019.
The healthcare file was another focus.
Trillium Health Partner's Mississauga Hospital is located in Cuzzetto's riding, and he mentioned it 11 times inside the legislature throughout the four years, pointing out the investments his Party made to the system, particularly the $2 billion committed to the reconstruction of the facility which will create one of the largest hospitals in North America with almost 1,000 beds.
April 2019 was a big month for Cuzzetto when he stood 12 times during parliamentary sessions.
The first two were to welcome specific Mississauga—Lakeshore constituents who were sitting in the House observing that day. Throughout Cuzzetto's four years, he welcomed eight people to Queen's Park.
On April 8, 2019 Cuzzetto stood to support the PC's Bill 87, Fixing the Hydro Mess Act.
"For the last 15 years under the Liberal mismanagement, we've lost 350,000 manufacturing jobs right here in Ontario, and a lot in the auto industry, where I come from," he said. "The choice between paying your electric bill, buying food or paying rent for seniors in my riding of Mississauga—Lakeshore was unbelievable."
He spoke on the subject four times describing the "mess" he and his fellow PCs said they would clean up.
According to him the Liberals abused taxpayers on the hydro file, alleging inside Queen's Park that the former government had handed public money to Party insiders through sole-sourced contracts.
A few days later, Cuzzetto was back again criticizing the Liberals, this time for its poor record on managing the massive healthcare file.
On April 11, 2019 Cuzzetto stood to show his support for Bill 74, The People's Health Care Act, a controversial Bill that was met with fierce public backlash. It overhauled the healthcare system, consolidating the Local Health Integration Networks (LHINs) and merging them with other Ontario based health agencies like Cancer Care Ontario, which many advocates said would gut funding and reduce services through consolidation.
"Over the last five years, Ontario spent 30 percent more than the Canadian average on health care administration," Cuzzetto said. "Yet, according to the premier's council on improving health care, over 1,000 patients are receiving care in hospital hallways every day, including in my own riding of Mississauga—Lakeshore."
Alongside hospital advocacy, Cuzzetto mentioned seniors' issues multiple times, specifically how older Ontarians struggle with affordability, a lack of long-term care beds and other access to healthcare needs.
An issue Cuzzetto passionately advocated against was the federal Liberal carbon tax. Multiple times in the second session of his term Cuzzetto took the opportunity to link climate change and affordability issues with how the federal carbon tax impacted constituents.
Rudy Cuzzetto made the rounds to many Port Credit small businesses during COVID-19 lockdowns.
(Twitter/ Rudy Cuzzetto)
"The people of my riding have been clear: They cannot afford any new tax," he said April 15, 2019. "They look forward to a time when they are no longer worried about how far they have to drive their car, how much it will cost them to keep their families warm or how they will put food on their table."
A few days later he asked if the tax would impact correctional facilities and Ontario Provincial Police (OPP) detachments.
"Let's talk about OPP detachments: $1.4 million in additional heating for OPP detachments and correctional facilities; $2 million for additional fuel for OPP vehicles. That money could pay for 60 new cruisers. It could pay for 32 new correctional officers, something the opposition is often calling for: more correctional officers," Cuzzetto said. "But no, Mr. Speaker. That money, if the carbon tax goes ahead, will be drained out of security, drained out of those vital institutions."
In the second session Cuzzetto was more outspoken about the struggles faced by people with disabilities, often mentioning his local advocacy and fundraising efforts such as a charity hockey game hosted in his riding..
Cuzzetto was so pleased with the turnout for the event he even mentioned it twice.
When the pandemic started in March 2020, Cuzzetto started advocating more fiercely for long-term care reform describing the Camilla Care Home and its story.
"I'm honoured to rise in this House today to speak in support of Bill 13, the Time to Care Act," he said in October 2020. "Two of the worst outbreaks in Peel region were in my riding of Mississauga—Lakeshore, there were 149 cases and 72 deaths at the Camilla Care Community, and 99 cases and 21 deaths at the Erin Mills Lodge nursing home—so I take this very personally."
Throughout the rest of his term, Cuzzetto sported a transparent mask, an easier option for people who have hearing disabilities so they could read his lips and understand his expressions.
The small business-minded MPP also mentioned local restaurants, boutiques and other companies fighting to stay afloat during the lockdowns. He frequently advocated during legislative sessions for reforms and financial assistance to help small businesses, which he visited, as illustrated on his social media, constantly.
In late 2020 and through 2021, Cuzzetto also spoke more often about the provincial government's work on the Mississauga Hurontario light rail transit (LRT) line and needed expansion of bus rapid transit systems in his riding, with both the Dundas and Lakeshore BRTs facing significant increases in demand, especially with all the large-scale developments being built across the riding's waterfront. He also called for the expansion of GO service to meet current and future demand.
His advocacy for transit dovetailed with comments in April 2021 about Bill 282, the Moving Ontarians More Safely Act, which addresses vehicle-related accidents.
He also advocated strongly for the construction of the controversial 413 Highway, in opposition to what Mississauga City Hall fought against when council passed a resolution denouncing the highway, calling for the project to be cancelled once and for all.
"I'm still speaking with a lot of our city councillors regarding this highway. I was with one last night, and they're for this highway," he claimed in the legislature on November 17, 2021. It was a blatantly misleading remark. Mississauga council voted to reject the highway through a formal resolution passed in February of 2021. "Today, Mississauga Council approved a motion that strongly opposes the construction of the proposed GTA West Highway (413)," read the press release put out by City Hall on February 24, 2021.
Cuzzetto went on.
"We need this highway to move goods through the area," he said, as the issue had grown even more contentious across much of the province. "With the increase in population, we need the highway as well. We're going to be building more homes, so we need to have people get in and out of their homes."
"This highway is a great thing for the region of Peel, for York, for the whole area. As we're developing the Ring of Fire, that 400 will be able to connect with the 413, which will go right into the Ford plant, where we can bring our lithium, our nickel, our cobalt to build the new batteries in the new electric cars that we'll be driving on these highways moving forward."
He continued.
"In 10 years, that 413 will have green vehicles driving through it. I want you to know that that highway will be a very carbon-free highway."
Not long before that, on June 16, 2021, he mentioned his former employment with Ford Motors Canada, a long tenure that lasted until he made the leap into politics ahead of the 2018 election. He addressed the need for cheaper electricity prices in Ontario, while protecting jobs that will support the future green economy as electricity for energy becomes more of a focus.
"The [Ford] F-150 [pick-up truck] will be electric, and I know Oakville will be building five electric vehicles out of that plant, which is great news for the economy and for Ontario in general.
"I might go back to mining here a little bit. One thing that I believe is very important is that we mine our materials here, because in other countries they do a lot of environmental damage while they're mining. Not only that, they're using a lot of child labour, which we would not do here in Ontario. What do you think of mining more of our nickel, our lithium, our cobalt right here in Ontario to move forward and building the battery right here in Ontario?"
Cuzzetto ended his advocacy during the term back on the healthcare file, standing for the last time April 28, when he spoke about his visit to the Mississauga Hospital site and early progress on the multi-billion dollar redevelopment taking place.
---
Email: [email protected]
Twitter: @taasha__15
---
COVID-19 is impacting all Canadians. At a time when vital public information is needed by everyone, The Pointer has taken down our paywall on all stories relating to the pandemic and those of public interest to ensure every resident of Brampton and Mississauga has access to the facts. For those who are able, we encourage you to consider a subscription. This will help us report on important public interest issues the community needs to know about now more than ever. You can register for a 30-day free trial HERE. Thereafter, The Pointer will charge $10 a month and you can cancel any time right on the website. Thank you
Submit a correction about this story