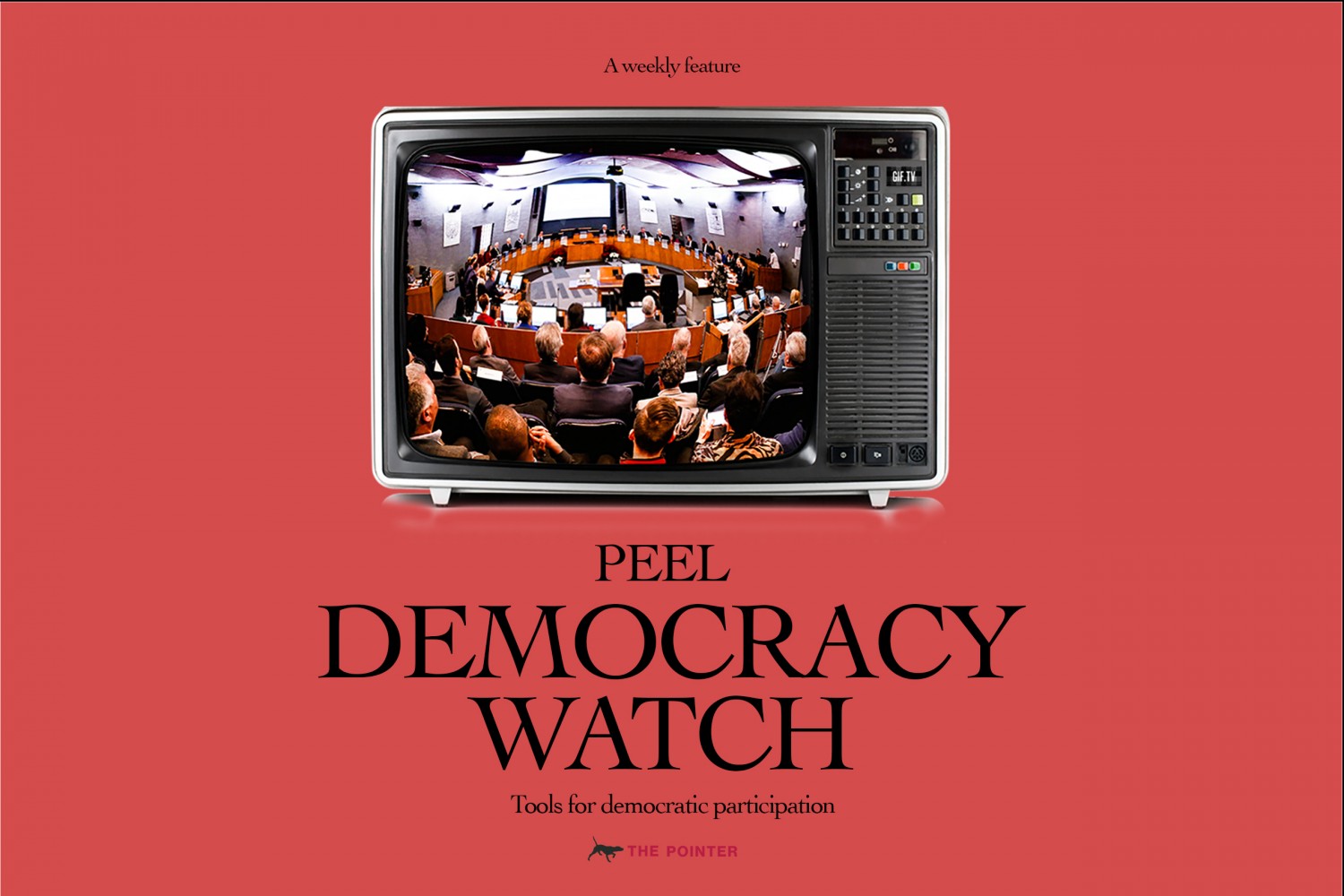 Feature illustration from Joel Wittnebel/The Pointer
Final decision on Peel's urban boundary expansion looms; Review of anti-Black racism finds 'culture of fear' at Brampton City Hall
Peel Democracy Watch is The Pointer's weekly feature aimed at increasing the public's awareness and political involvement in the Region of Peel by highlighting key agenda items, motions and decisions.
---
Council
Date: April 28 - 9:30 a.m. | Delegate | Full agenda | Watch live
Peel 2051 urban boundary expansion debate
Two weeks ago, regional councillors voted to defer the decision on Peel's 2051 urban boundary expansion plan in an effort to tie up several loose ends. Staff have recommended what they label a "balanced approach" to accommodate the 700,000 people and 335,000 jobs the Region is projected to absorb in the coming decades. Staff claim the only way to do this is to expand the urban boundary 4,400 hectares (about 11,000 acres) around the Village of Bolton and north into rural Caledon along Mayfield Road. Thursday's discussion will be dominated by delegations from developers, members of the public and two motions from Council members pushing for last minute changes to the plan, including a request from Caledon Mayor Allan Thompson to remove approximately 100 acres of prime agricultural land for future development. As of Monday there are over 40 letters attached to the agenda.
Read the staff report here.
Previous coverage:
Peel receives funding boost for housing
The Government of Ontario has given $10.3 million (for 2022-2023) to the Region as part of the second phase of its Canada-Ontario Community Housing Initiative and Ontario Priorities Housing Initiative. This money will allow the repair of properties including flooring, fencing and generator systems and the redevelopment of a rental housing project located in Mississauga. Staff have noted the provincial government has "significantly" reduced funding into the housing system, which has affected the pace of new affordable housing being created.
Read the staff report here.
Previous coverage:
City Council Workshop
Date: April 26 - 10 a.m. | Delegate | Full agenda | Watch live
Third party review of racism finds "culture of fear" within City Hall
Conducted by three investigators from Williams HR Law LLP, a review completed for the City of Brampton looks into the acceptance and workplace environment for Black employees and other racialized individuals with the corporation. The investigators conducted interviews and focus groups with 32 participants across all levels of leadership. Some of the findings include: Black and racialized employees are at the lower levels of the City heirachy, many do not feel the City has fostered a "supportive" work environment, there are discriminatory practices occuring from leadership teams and some employees remarked that a "culture of fear" is present.
Full presentation is here.
Previous coverage:
Committee of Council
Date: April 27 - 9:30 a.m. | Delegate | Full agenda | Watch live
Council to hear delegation from University Guelph-Humber about relocating campus
In June 2021, Council passed a motion to work with the University of Guelph-Humber to relocate the campus to Brampton's planned Centre for Innovation in the downtown. On Wednesday, Council will hear from the several university officials about the relocation efforts. As of Monday, the presentation has not been attached to the agenda, but the delegates are requesting 20 minutes for the "extensive subject matter."
Brampton grows reputation as filming location
Eight years ago the City of Brampton created the Film and Television Office, which directs requests within the Tourism Department. According to staff, 2021 was the busiest year for film productions in Brampton and the year-over-year statistics indicate further monetary opportunities could be secured for the City. Last year Brampton had 80 film shoots, 553 filming activity days which garnered an economic impact of over approximately $18 million. Staff say they will return to Council with an updated recommendation report into the rates and fees for filming within the City.
Read the staff report here.
Previous coverage:
Board Meeting
Date: April 27 - 6:30 p.m. | Delegate | Full agenda | Watch live
Update on Directive 15: Senior Team Professional Learning
As a part of the Ministry of Education's supervision and reviews of the Peel District School Board (PDSB), the board must complete 27 binding directives. Directive 15 says, "The Board shall develop a robust, comprehensive and strategic professional learning plan for senior staff on equity, human rights, anti-bias, and anti-Black racism." To date the senior team has been through education programs touching on procedural fairness (human rights, administration law and applying the Education Act), school-based anti-racist/anti-oppressive learning framworks to give students an education that serves them, specific anti-oppression frameworks through high quality customer service and leadership problem solving.
Read the full report here.
Previous coverage:
Update on Directive 18: Comprehensive Diversity Equity Audit of Schools
This Ministry-issued directive demanded a full audit of all school names and mascots as well as an evaluation of books, media and resources being used for teaching to make sure they are culturally reflective of the student body and voices. In order to properly evaluate the circumstances, three subcommittees have been created to address the school learning environments, school naming and mascots and school libraries. These committees will involve teachers and staff at various levels and aim to include the broader community. Each group will also create specific criteria to form its review and recommendations over the next year.
Read the full report here.
Previous coverage:
General Committee
Date: April 27 - 9:30 a.m. | Delegate | Full agenda | Watch live
City staff have questions about Ontario's new broadband bill
Bill 93, Getting Ontario Connected Act, has left Mississauga staff with a number of questions about how this initiative to grow broadband connectivity across Ontario's rural communities could impact larger urban centres. In a letter from the City to the Province, staff outlined questions about how cities can implement the accelerated timelines for further internet connection. Staff are "unclear" on what broadband projects the updated Act refers to, the impact on cities' information technology (IT) departments and the cost to train them, and the timeline to achieve the targets laid out in Bill 93. The information report will be endorsed and staff's letter sent to the Ontario government.
Read the report here and letter here.
Mississauga reviews report on Reserves and Reserve Funds (R&RF)
At the end of 2021, Mississauga staff were managing 111 Reserves and Reserve Funds (R&RF) with a balance of $1.066 billion, an increase of $107.4 million from 2020. R&RFs are created to assist the city with long-term planning and financial management and are collected from a variety of sources. In 2021, the City created a reserve for the funds from the Automated Speed Enforcement cameras, the COVID-19 pandemic expenses and donations for an airport memorial among other items. Each year staff transfer money to certain reserves to fund infrastructure projects or assist with paying back debt. The Development Charges Reserve Fund received $97.7 million an increase of 33.9 percent, the Provincial Gas Tax Reserve Funds decreased by $10 million, with a large increase in the "Other Reserve Funds" due to pandemic money from other levels of government, resulting in a transfer of $2.7 million to the City's deficit.
Read the full report here.
Peel Police Services Board
Date: April 29 - 10 a.m. | Delegate | Full agenda | Watch live
Year end report on capital and reserve funds
Peel Police were able to recover $5.5 million in funding from the Provincial Safe Restart Agreement to offset pandemic-related unbudgeted expenditures. Staff closed 59 capital projects in 2021, returning $300,000 to reserves. Capital spending for 2021 totalled $60.2 million.
Previous coverage:
---
Email: [email protected]
Twitter: @taasha__15
---
COVID-19 is impacting all Canadians. At a time when vital public information is needed by everyone, The Pointer has taken down our paywall on all stories relating to the pandemic and those of public interest to ensure every resident of Brampton and Mississauga has access to the facts. For those who are able, we encourage you to consider a subscription. This will help us report on important public interest issues the community needs to know about now more than ever. You can register for a 30-day free trial HERE. Thereafter, The Pointer will charge $10 a month and you can cancel any time right on the website. Thank you
Submit a correction about this story