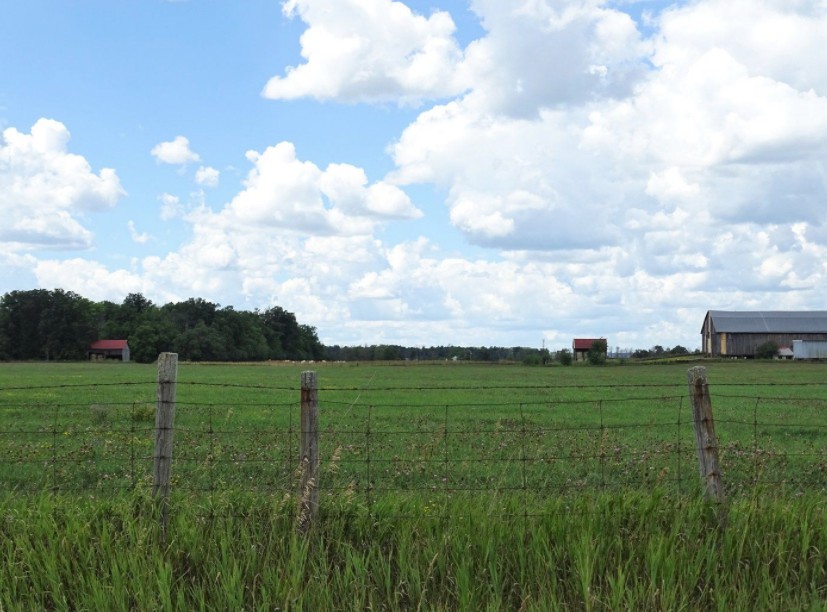 Feature image from Natasha O'Neill/The Pointer files
Peel councillors ignore pleas from stakeholders, signal 10K acres will be opened for development
"Regional staff's draft recommendation for a Preferred Growth Concept represents a balanced approach to accommodating growth in Halton to 2051 in accordance with the Provincial Growth Plan and Land Needs Assessment methodology."
Even with a strong staff recommendation for adopting the Region of Halton's Official Plan for 2051, two Regional Council members there brought a motion forward rejecting the plan to expand the urban boundary, instead pledging to accommodate 320,000 more residents and 150,000 additional jobs within the current urban boundary.
After watching successful opposition that prevented urban boundary expansion in the City of Hamilton and then in Halton Region, local Peel advocates are questioning why their own local government can't do the same.
Halton has four lower tier municipalities, the City of Burlington, Town of Oakville, Town of Milton and the Town of Halton Hills. The Region is directly beside Peel to the west and covers an area of approximately 967.2 square kilometres. It encompasses much of the Greenbelt, Niagara Escarpment and hosts the waterfront communities of Burlington and Oakville.
Peel Region is working on the Provincially mandated plan for the Greater Golden Horseshoe, as was Halton Region, and is expecting 700,000 people to its communities and 335,000 jobs by 2051. Planning for the next 30 years is no small feat, and planning staff have a deadline for July 1, 2022, or else the municipality could face the consequences of a top down planning regime from the Province.
Knowing this, Regional staff have worked to finalize the municipal comprehensive review (MCR) process since 2013. This plan lays out where Peel will grow, what areas are open for development, and how the population will live, work and play within its borders. More recently the plan has been known to either allow cities to expand into untouched land or be forced to continue its growth within the urban boundary it already has.
The July deadline is creeping closer and the public is becoming more aware of what the next 30 years could look like in Peel, hoping it is better than the situation today.
Peel Region is facing intersecting crises.
Housing is unaffordable for 80 percent of residents, the subsidized housing wait list grew by 50 percent in the first year of the pandemic, mental health services are unattainable for many, congestion is adding more and more time to commutes and climate change effects are present often in the form of severe storms causing millions of dollars in damages.
Thursday's planning meeting was packed with 29 delegations, over 756 letters (the majority of which were condensed into two agenda items) and a presentation from Regional planning staff on their final recommendations for the MCR. The showdown has been building for months, and with every new report detailing the MCR, comes local advocates explaining their opposition to expanding the boundary farther.
Staff are firm in their decision to recommend Peel increase its urban boundary by 10,000 acres (4,400 hectares). The area of expansion can only occur on the border between Brampton and Caledon and in the Bolton area, where rural farm fields and woodlots still exist. Mississauga cannot expand more and is locked into intensifying community areas or developing former industrial sites in order to accommodate future growth.
The portions of map in red and blue outline the almost 11,000 acres of land open for development if the MCR is passed.
(Region of Peel)
Staff argue the proposed plan acknowledges all concerns from residents and will create a sustainable, walkable, transit oriented, dense Peel Region.
When asked why the goals of the MCR cannot be achieved within Peel's current boundary, Adrian Smith the Region's chief planner explained the housing demand is largely to blame.
"We've looked at the implications of not expanding the urban boundary and the reality is, if we do that, our view is that we can't meet the needs of Peel households," he told The Pointer in an interview.
Smith and his staff have explored both a market-based approach, and what a no settlement boundary expansion would look like—these are the two extreme scenarios. A housing market based approach would dictate Peel's expansion, forcing the Region's building stock to be roughly 48 percent single and semi detached homes. Without a boundary expansion, staff predicted 66 percent of the Region's housing supply would have to be apartments, which don't appeal to homeowners according to Smith.
According to Regional planners, the housing market needs to be accommodated in the municipal comprehensive review.
(Region of Peel)
"So either we won't achieve growth that's been allocated to us, or housing affordability and availability and supply is going to be really, really, really constrained," Smith said.
To understand what the public wants, Smith told The Pointer his staff and departments working on the MCR have undertaken multiple studies, outreach to communities, pop-up booths at farmers markets and throughout the pandemic pivoted to more online engagement.
The Province mandates studies like the Land Needs Assessment (LNA) which draws conclusions for a Settlement Area Boundary Expansion (SABE). The LNA took into account five different scenarios with ranges of density and amount of land needed to accommodate the increase in population. The Province set a minimum intensification rate for Peel at 50 percent. Staff's recommended "balanced approach" has the intensification rate at 55 percent with boundary expansion. Without encroaching further into rural Caledon the intensification rate would be around 75 percent according to previous staff reports.
While there is a set minimum, the Province does not dictate a maximum intensification rate, allowing cities to build denser communities, if they choose.
However, when a no boundary expansion is adopted, provincial officials have criticized the municipality.
In November the City of Hamilton Council rejected its own staff recommendation to expand the urban boundary, forcing planners to accommodate the expected 236,000 residents and 122,000 jobs over the next three decades inside the existing urban boundary within its borders, leading to an intensification rate of 80 percent.
It was a watershed moment for local activists and set the tone for other municipalities to follow suit.
Shortly after, Steve Clark, Minister of Municipal Affairs and Housing, criticized the city's decision in an op-ed to hold its boundary, writing it is "unrealistic" and "irresponsible."
More recently, Clark has threatened to send the city's MCR to the Ontario Land Tribunal (OLT), which often leads to a less than favorable outcome for municipalities.
"The official plans that I've seen, like Hamilton and Ottawa, don't maximize the housing outcomes for Ontarians," the minister said at Queen's Park. "If passed, I would pause the timeline on the official plans that I have received, and I would consider referring them to the Ontario Land Tribunal as an impartial adjudicator."
Heightened tensions around the Greater Golden Horseshoe are followed closely by councillors and Peel staff. Thursday's Regional Planning and Growth Management Committee was packed with residents, concerned citizens and people of all walks of life pushing for a rejection to the staff recommended Official Plan.
Most had one specific request: hold the urban boundary.
It's a refrain councillors have been hearing for months. Chair Carolyn Parrish enforced a rule on delegates to only bring new information and keep the comments under five minutes.
According to Peel's procedural bylaw, "Where several delegations are scheduled on the same topic, the Chair may request that delegations subsequent to each preceding delegation only bring forward new information to the Committee."
Parrish is authorized to enforce the bylaw, however, her method of aggressively stating to each delegate and even interrupting a member of the public by saying, "we've heard all these reasons, we are looking for new information," rubbed some the wrong way.
"I think it's kind of unfair that residents have been minimized to five minutes when a lot of them are taking time out of their workday to be here," Jenni Le Forestier, a local environmentalist, told Councillor Parrish.
Despite the plea from Parrish, residents continued to show their opposition to the recommended MCR.
"We have to protect our landscapes and water before we lose it to development," Ron Corkum, a retired Mississauga resident said.
"We are imploring you to reconsider the proposed expansion of the urban boundaries in Peel, in order to protect farmland and green space, both valuable carbon sinks absorbing more carbon than they release," Lucrezia Chiappetta, co-chair of ecoCaledon said.
"We need to be far more respectful, far more protective, and far more appreciative of the extraordinary natural health and wealth giving powers of this region and to steward it accordingly,'' David Crombie, former Mayor of Toronto and former Chair of the Greenbelt Council said.
"I would consider for you to think of what is being proposed from the perspective of the young person who is still building or trying to at least build their life in this region," said Divya Arora, head of political advocacy for Community Climate Council.
One after another, delegates poured in, some firmly stating their rejection of expanding the urban boundary, others attempting to reason from a human lens to committee members.
"I'm against destroying any land for convenience, especially during a climate crisis. Where will the children of Mississauga, Brampton and Caledon go if we continue to act poorly with our choices, how do we have a prosperous region, if everyone here decides to leave?" Alexis Wright, former resident, pleaded to the committee. "We need you to show us that you care about the people that you are governing. And you do that by saying no to expanding the urban boundary."
"Some of us are trying to stay here, some of us are at the cusp of homelessness," Rahul Mehta, community organizer of Stop Sprawl Peel (SSP) said. "Unfortunately, I'm in the last category and increasingly many people of my generation and demographic join me."
Nearing the conclusion of the four hour meeting, Parrish brought a cover letter along with the approved MCR by the committee to be sent to Minister Clark after the adoption of the plan by council next week.
The letter in Councillor Parrish's words essentially says, "we've done what we were told to do, we had no other choice, but we're less than thrilled about it."
Committee has expressed issues with the rigid formalities presented by the province under the Planning Act in regards to planning 30 years in advance, forcing it to use LNA and a SABE and opening lands "premature" for development.
Even with frustrations, committee approved the final MCR and sent the recommendations to Regional Council to discuss April 14, and for potential final adoption. The Planning and Growth Management committee does not include all members of regional council, so it's possible some councillors not on the committee could voice opposition to the proposal.
"If council directs us to go back and do something different than we take our direction from them," Smith told The Pointer. "Obviously, we've got our recommendations, and we've looked at it, and our recommendations have held."
Smith listened to all delegations on Thursday and explained the decision to use what staff call a "balanced approach" was not taken lightly.
"The issues that folks raised are the very ones that we've been wrestling with as planners," he said. "I also think that a lot of the issues that folks talked about don't get put away in the drawer once we've approved this plan, those are also the very issues that we're going to be wrestling with as we continue to think about, implement and adjust for the next 30 years."
Even if residents continue to have their say in planning, some fear the final adoption of an expanded urban boundary will set the stage for further development until Peel no longer has rural lands.
The final battle will play out at regional council on April 14.
---
Email: [email protected]
Twitter: @taasha__15
---
COVID-19 is impacting all Canadians. At a time when vital public information is needed by everyone, The Pointer has taken down our paywall on all stories relating to the pandemic and those of public interest to ensure every resident of Brampton and Mississauga has access to the facts. For those who are able, we encourage you to consider a subscription. This will help us report on important public interest issues the community needs to know about now more than ever. You can register for a 30-day free trial HERE. Thereafter, The Pointer will charge $10 a month and you can cancel any time right on the website. Thank you

Submit a correction about this story