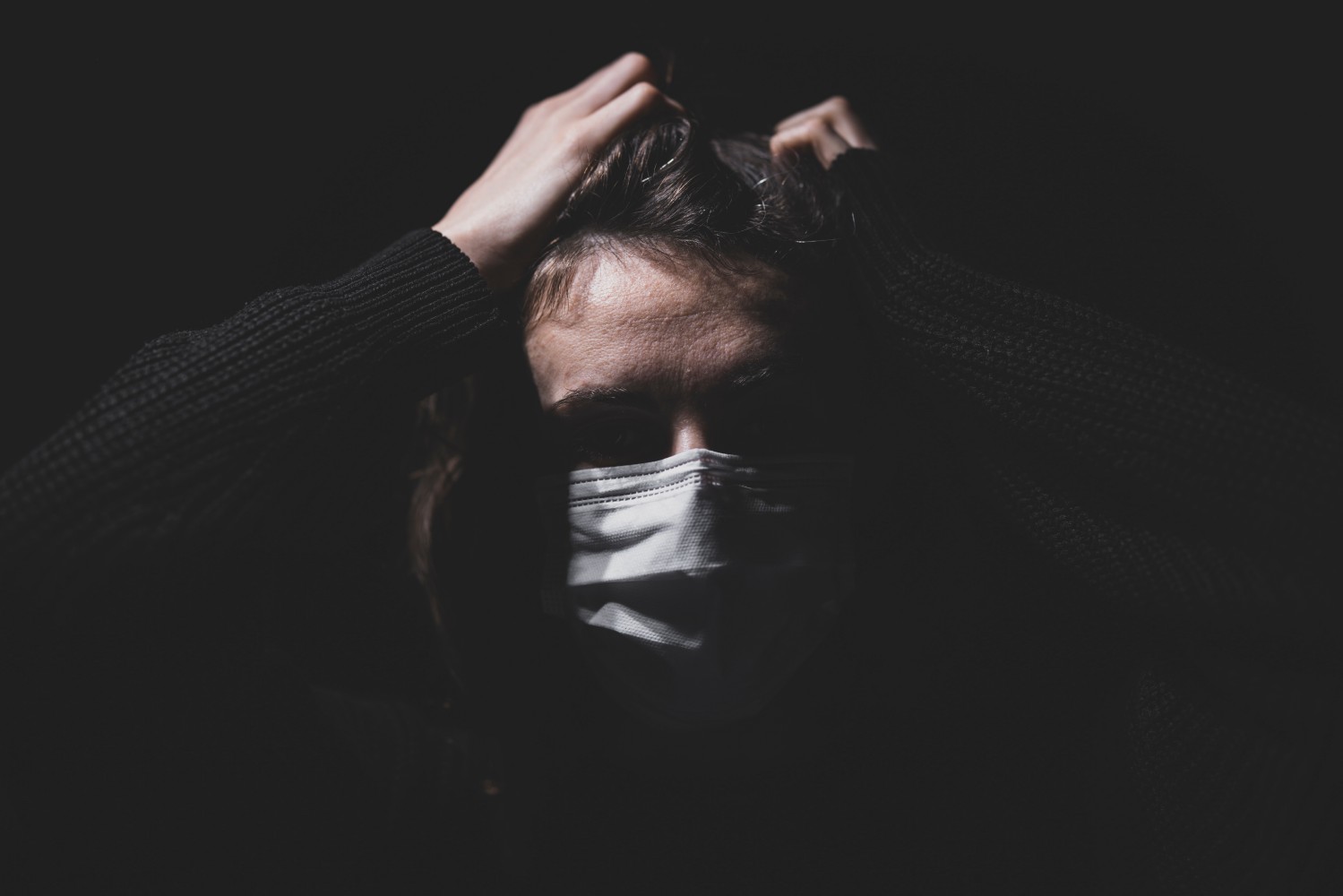 Feature image from Engin Akyurt via Unsplash
Increased demand for mental health support adds further strain to Peel's underfunded system 
The Canadian Mental Health Association (CMHA) released data in February that says more Ontarians are seeking help for their mental health needs now than at any other time during the pandemic. It's a startling new reality for the Region of Peel, which has consistently struggled to meet the demand for mental health supports, particularly among youth.
Released on February 7, the survey finds that approximately one in four Ontarians polled (24 percent) are accessing mental health help—the national average is one in five—the highest rate since the start of the pandemic in March 2020. The findings are a significant increase from 17 percent last winter and nine percent before the pandemic.
David Smith, the CEO of CMHA Peel Dufferin, says the things that typically keep our mental state healthy (family, friends, relaxation) have all been affected by the pandemic.
"The pieces that support our resilience are no longer there the way they were in the past," he says.
Whether its wedding bells or death knells — COVID has continuously kept families and friends apart, which has a negative effect on people's mental health.
Since the start of the pandemic, David Smith, CEO of Canadian Mental Health Association Peel Dufferin has warned a surge in demand for mental health support would hit Peel.
(CMHA Peel Dufferin)
Smith says the inability to get out in the community and do the normal daytime activities that brought us joy (socializing, travelling etc.) further impacts people's mental health.
Following the release of the CMHA's report, the Ontario government announced funding for the new Addictions Recovery Fund. The investment expands mental health and addictions support funding across the province.
"The impacts of mental health and addictions challenges can be felt in communities across the province and our government is committed to supporting all Ontarians on their journey to wellness," states Christine Elliott, Deputy Premier and Minister of Health in a press release.
The move by the PCs is more reactive than proactive.
The health ministry is investing $90 million over three years through the Addictions Recovery Fund to expand addictions services and add 396 addictions treatment beds for adults who require intensive supports.
The media release states these nearly 400 beds will help provide care for approximately 7,000 people per year. It's unclear if any of these beds will be allocated to Peel, which has suffered with a severe shortage of mental health funding for years.
The Mississauga Halton LHIN currently has approximately one mental health bed per 78,500 people, while Brampton and the Central West LHIN have one per 66,808 people. By comparison, in Toronto Centre, one of the top-funded areas for these sectors, there is one mental health bed for every 3,500 people, meaning the two cities have about 5 percent of the mental health capacity compared to central Toronto, an area that does see high levels of homelessness and mental health crisis.
Mississauga and Brampton also make do with about 7 percent of the psychiatric resources compared to other parts of the province, leaving those looking to get help for their mental health or addiction problems from a professional, with very few places to turn.
The new provincial investment includes two new Mobile Mental Health Clinics to provide a full suite of mental health and addictions services directly to individuals living in remote, rural and underserved communities; three new police-partnered Mobile Crisis Response Teams to support individuals in a mental health or addictions crisis and six new Youth Wellness Hubs offering developmentally tailored primary care and mental health and addictions treatment for youth ages 12 to 25.
The Pointer reached out to the Ministry of Health to determine whether any of the additional resources will be allocated to the Region of Peel, particularly to assist struggling youth in the region where current wait times are over two years, but did not get a response ahead of publication.
For the CMHA's Peel Dufferin branch, things have not been easy for the past two years. Increased demand and a shortage of labour, coupled with the crippling Bill 124 which has frozen wages, are a recipe for disaster for many working in the sector.
Repeated demands made by public sector employee unions and organizations representing teachers, nurses and other healthcare workers to repeal the wage-capping bill have fallen on deaf ears at Queen's Park.
The province's healthcare system is experiencing a shortage in workers as many leave due to high stress and burnout, while the ability to recruit new nurses and social workers is made difficult by the wage cap, Smith says.
The CEO of the Registered Nurses' Association of Ontario (RNAO), Doris Grinspun, warned that if the bill isn't repealed, nurses could make Doug Ford pay at the polls in June.
"Either the Premier will repeal the bill or it will become a ballot question — no doubt in my mind," Grinspun told The Pointer's Ballot Vox podcast.
Nurses that choose to work in the mental health space face a higher degree of stress, Smith says.
"I think it affects us even more than it does in some sectors in healthcare because prior to the pandemic, we were already paying social workers and nurses less than they were paid in the acute sector," he says. "It has gotten worse."
Smith says his organization is experiencing a significant shortage of labour, a trend observed across the entire healthcare sector throughout the pandemic.
"We also have the same absenteeism and isolation issues as everybody else," he says.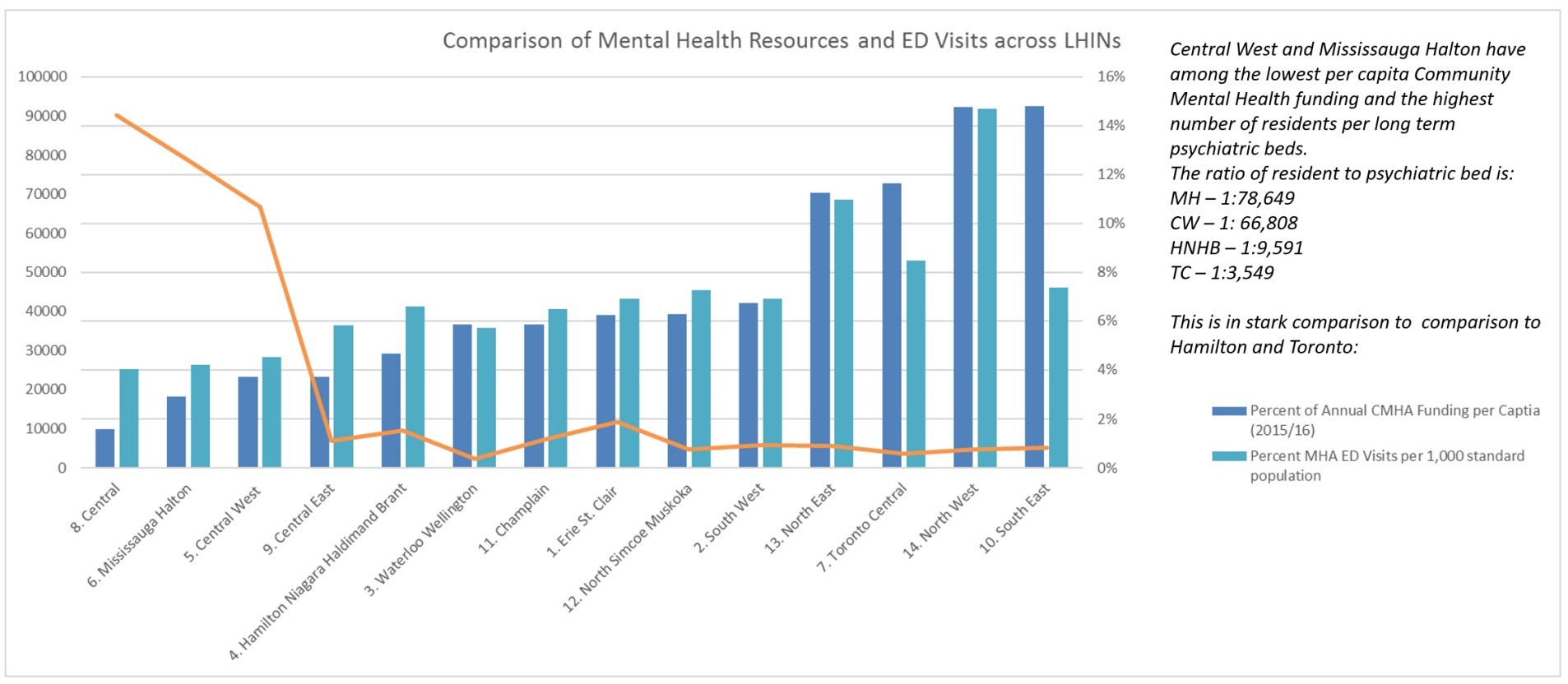 Mississauga and Brampton are two of the lowest funded LHINs in the province per capita for mental health funding.
(CMHA Peel Dufferin)
Before the pandemic, CMHA Peel Dufferin used to get 45,000 calls a year to their crisis hotline, but now it gets over 60,000, Smith said.
Even the front door services, where people walk-in seeking mental help, have gone up 13,000 calls a year to 17,000, Smith told The Pointer.
To accommodate this increased demand, CMHA Peel Dufferin, which gets a call every seven minutes for help, has reorganized its services so that everybody who calls, gets a response from a clinician.
"It may not be as long as the service we used to be able to provide, but we will try and help, and we do try to help, everyone who calls," Smith says.
In a recent survey, about 65 percent of people said the CMHA mental health supports were helpful, but this is a drop from the 77 percent who reported positive outcomes near the beginning of COVID-19.
"We're not able to spend as long with someone as we ideally would be able to because the demand is so high," Smith told The Pointer.
While mental illness accounts for about 10 percent of the burden of disease in Ontario, it receives just seven percent of healthcare dollars. Relative to this burden, mental health care in Ontario is underfunded by about $1.5 billion, CMHA states.
In its pre-budget consultations with provincial officials in early February, the CHMA made a number of requests in an attempt to boost mental health support across Ontario, including requests for an immediate base budget increase of eight percent ($24 million) for CMHA branches to help support the communities they serve across the province; maintaining community mental health and addiction funding levels at nine percent of the total health budget and asking Ontario to revoke the wage-suppression Bill 124, which affects frontline mental health and addictions workers among other public-sector employees.
According to a 2021 Ipsos survey released in February, the pandemic has changed the way many Canadians view mental illness, with more people now seeing mental illness, particularly depression and anxiety, as a disability, compared to before the pandemic. It signals a weakening of the social stigma that has surrounded mental illness for decades, and has prevented many people from getting the help they need. While the disappearing stigma could potentially be a contributing factor to the increase in demand for assistance, Smith says the pandemic has been a much more significant driving force.
"I don't think it's the reason for this jump, it just happens to coincide with the pandemic," he says.
The key to reducing the stigma is just talking about it and admitting when you need help, or need a break, Smith says.
"Taking a couple of days off from work for mental health reasons and expecting that from your employees — It all helps to reduce stigma."
A new bill from the leader of the Green Party of Ontario, Mike Schreiner, could make these leave requests much easier for many employers. Schreiner's motion is calling for mental health services currently covered under the Ontario Health Insurance Plan (OHIP) to be expanded.
"Mental health is as important as physical health, and therefore, mental health services under the Ontario Health Insurance Plan should be expanded significantly in order to ensure that everyone can access the mental health care they need, in a timely manner, without facing financial hardship," the motion reads.
"Mental health is health and should be covered under OHIP in the same way physical health is," Schreiner said. "Mental health care needs to be affordable and accessible. It needs to be a priority. Not just something in the footnotes of budget bills."
A significant discussion in the legislative assembly did not take place and Schreiner hasn't been assigned a ballot date for the motion yet.
---
Email: [email protected]
Twitter: Anukul_AT
---
COVID-19 is impacting all Canadians. At a time when vital public information is needed by everyone, The Pointer has taken down our paywall on all stories relating to the pandemic and those of public interest to ensure every resident of Brampton and Mississauga has access to the facts. For those who are able, we encourage you to consider a subscription. This will help us report on important public interest issues the community needs to know about now more than ever. You can register for a 30-day free trial HERE. Thereafter, The Pointer will charge $10 a month and you can cancel any time right on the website. Thank you
Submit a correction about this story