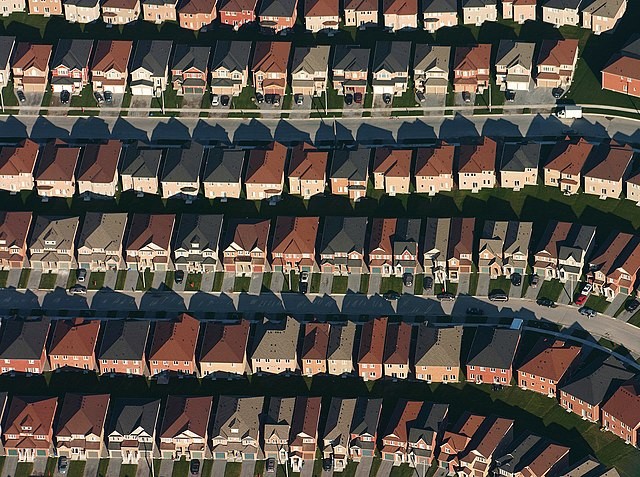 Feature image from IDuke/Wikimedia Commons
Scrapping the Ontario Land Tribunal—a double-barrel solution for the housing and climate crises 
Municipal officials and councillors across Ontario spend years, and hundreds of thousands of taxpayer dollars, developing the blueprints for how their cities and towns will grow sustainably into the future.
Population projections, infrastructure needs, environmental and health concerns are all conglomerated into an Official Plan that is meant to be the go-to manual for decision makers.
Peel is currently in the midst of this municipal comprehensive review process right now.
But all of this effort, planning and money, can be quashed in a single decision from one, unelected individual at the Ontario Land Tribunal (OLT).
This archaic piece of Ontario's urban planning process has long been a target of municipal ire.
If a developer presents an application that is turned down by a municipality because it doesn't conform with their Official Plan, they are able to appeal to this unelected tribunal to rule on whether their application will go forward, even if residents in the community, elected officials and other stakeholders don't want the project.
The system has long favoured the development industry and puts little weight on the decisions of local elected officials—despite them knowing much more about the local needs than an arms-length body of bureaucrats and others appointed by Queen's Park.
Municipalities are once again pushing for change.
A motion from Tom Mrakas, mayor for the Town of Aurora, demanding the system be abolished, has spread rapidly. More than 60 municipalities have tabled the motion in less than 2 months and numerous others have already approved it. Mrakas doesn't see the momentum stopping there.
"It will be a wave I think right across the province that will let the provincial government know that municipalities have had enough and they believe it's time for some bold changes when it comes to the planning process," he tells The Pointer. "It's flawed, it's broken, and it needs to be fixed in a hurry. If we're to resolve this housing crisis and ultimately of how communities continue to grow."
Mayor of Aurora Tom Mrakas
(Image from Tom Mrakas/Twitter)
It has become abundantly clear that any solutions to address Ontario's housing crisis must be done through the lens of managing the climate crisis as well.
The Intergovernmental Panel on Climate Change (IPCC) has repeatedly stressed the responsibility of the municipal sector to manage land use and growth in a way that takes into consideration the impacts unsustainable development practices like urban sprawl have on the planet.
Abolishing a developer-friendly system that gives the green light to projects that promote sprawl, while taking the power out of the hands of municipalities and the public, has the power to both prompt new, more affordable housing projects in the province, while potentially saving swaths of undeveloped land.
---
This is not the first time municipalities have called for the elimination of the Ontario Land Tribunal. In 2019, The Pointer wrote about the efforts of Burlington Mayor Marianne Meed Ward, whose attempts to abolish the OLT—or Local Planning Appeals Trinbunal (LPAT) as it was known at the time—gained support of hundreds of municipalities across Ontario.
"I am so firmly convinced that it serves no purpose whatsoever in a democratic, advanced country. No other province has a tribunal that has the power that this one does," Meed Ward said at the time. "We're in charge of policing, we're in charge of clean water, we're in charge of fire service, we're in charge of things that directly affect the health and safety of our community and seem to be mature enough to make those decisions without a province looking over our shoulder to check our work…There is no valid reason why they should be checking our work in planning; we know our communities best."
Mayor Mrakas firmly agrees.
"We spend a lot of time and hundreds of thousands of dollars, taxpayer dollars, in developing our Official Plans that meet the provincial policy statement, that meet the Growth Plan, that meet all provincial legislation and ultimately it gets approved by the Province. So it's very frustrating when we as elected officials, who have been elected to represent our communities and the people in our community, hear an application that is asking for amendments and exceptions to our Official Plan," he says. "If we turn down that plan then ultimately they are able to go to an unelected, unaccountable third party that essentially disregards our Official Plans and looks at everything from a provincial level and a one-size-fits-all approach."
No other province in Canada has a system that provides this amount of decision-making power to unelected officials. As long as the OLT exists, Mrakas believes the housing crisis will continue. Municipalities have the power to turn down, or request amendments to applications, that do not fit with their Official Plan, or do not include the type of housing the municipality desperately needs—like the "missing middle" that is repeatedly mentioned as a potential solution to the housing crisis. However, if the developer who has brought forward another subdivision request filled with single-family homes has the ability to appeal to a system that heavily favours their interests, the municipalities are effectively muzzled in their demands for different types of approaches to growth.
"I do think that if you did eliminate the tribunal, it would be to the benefit of the housing crisis. It would allow for more supply to be built," Mrakas says. "We have this tribunal, that allows the development community to put forward applications and ask for things that are more profitable for them, and looking after their bottom line, instead of looking after the community, which is what we're all about."
For a government that has made eliminating "red tape" a cornerstone of their time in office, it's curious why the PCs do not view the Tribunal as another time-consuming piece of process for the development industry to go through in Ontario's already lengthy planning regimen. It could be that this Tribunal heavily favours the interests of developers who the PCs are aligned with.
Prior to Premier Ford and his PC government being elected in 2018, the Liberal government accepted a number of recommendations from a panel of municipal officials and development industry stakeholders on how to improve what was then called the Ontario Municipal Board. Before being ousted from Queen's Park, Kathleen Wynne's Liberal government changed the rules to favour the decisions of the local municipalities. It was a welcome addition, but Ford's incredibly controversial Bill 108, among its many upheavals of the development process and gutting of environmental legislation, flipped the rules back to their previous iteration which did not weigh the work of local planners as heavily.
"It renders our OP to not be worth the paper that it's written on," Mrakas says. "This goes back 20 years, many, many different governments who have never really done anything in regards to the Tribunal…They've basically just masked and covered things to make it seem like things have gotten better, but it's the same Tribunal that's in front of us time and time again. I think that's why ultimately what you're seeing is the frustration from elected officials at the municipal level, saying enough is enough."
Along with his Town of Aurora, a long list of municipalities have already approved the motion including:
Augusta Township

City of Thorold

French River

Plympton-Wyoming

Town of Thessalon

York Region

Markham

Town of Kingsville

Town of Gravenhurst

Town of Marathon

Haldimand County

Norfolk County

Township of Front of Yonge

Sarnia

Halton Hills

Township of South Algonquin

Town of Newmarket
In its most recent report released at the end of February, the IPCC stressed that if we are going to keep global warming from reaching the 1.5 degree threshold that will spell cascading climate disaster, changing the way we plan our cities must be a priority.
Premier Doug Ford and his PC government, since 2018, have worked to gain more control over the municipal planning process.
(Image from The Pointer files)
"Taking integrated action for climate resilience to avoid climate risk requires urgent decision making for the new built environment and retrofitting existing urban design, infrastructure and land use," the report states. "Based on socioeconomic circumstances, adaptation and sustainable development actions will provide multiple benefits including for health and well-being, particularly when supported by national governments, nongovernmental organizations and international agencies that work across sectors in partnerships with local communities."
Provincial and local officials need to work together to prioritize actions that will change the way our cities are designed, and shift away from the type of developments that have dominated most of Southern Ontario over the last few decades—sprawling subdivisions.
Urban sprawl accelerates climate change by stretching out the lives of the people who live in these spaces. Places to work, eat and play are all often located a significant distance from homes, requiring the use of a vehicle. The carbon footprint of single detached family homes in the US, with four people and two cars using the average amount of energy consumption and creating the average amount of waste is about 74,000 pounds of carbon annually, according to the Environmental Protection Agency's carbon footprint calculator.
When the energy costs are adjusted for a home about half the size with no cars and the same waste output, the annual footprint falls to about 18,000 pounds of carbon annually.
The dramatic difference illustrates the difference between living in larger sprawl-model housing with the transportation needed to commute to work and services, compared to living in more dense, urban areas served by transit.
According to data from 2019, before the pandemic, Canadians were among the worst per capita carbon polluters in the world. We produced an average of 15.6 tonnes of CO2 each, compared to 4.1 in Sweden, 1.92 in India, 5.46 in the UK, 16 in the US, 7.3 in China and a global average of 4.76 tonnes of CO2 produced per capita.
Sprawl is the driver.
Smart growth is the key to turning this around.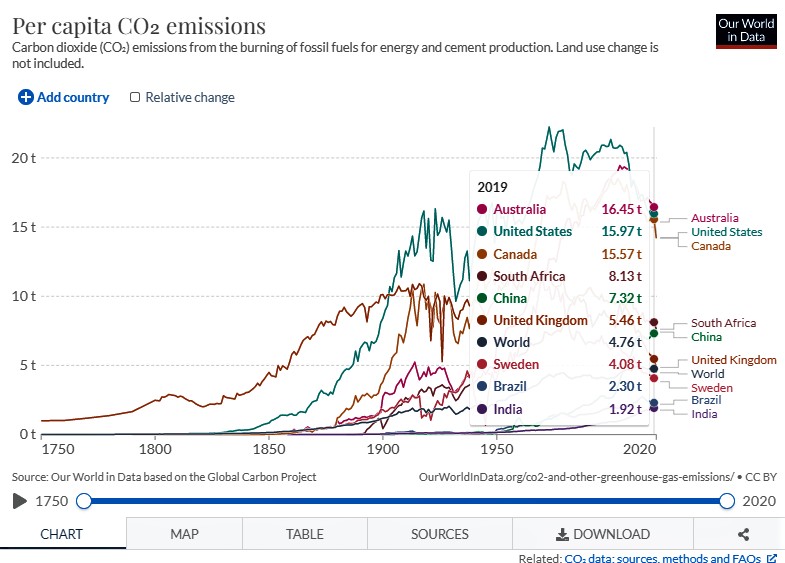 Canada has some of the highest per capita CO2 emissions in the world.
(Our World in Data)
The old development model also destroys valuable greenspace and farmland, replacing it with a very low-density form of development that will become increasingly unaffordable as Ontario's population continues to grow in the years ahead.
Yet, Premier Doug Ford and his PC government have shown themselves to be a great friend to the development industry and an enemy to the environment.
The support of projects like the GTA West Highway, or 413, and the Bradford Bypass will have immense benefits to the developers who own land along these routes—placing private profits over the public good—with disastrous implications for the environment, climate emissions and wildlife and endangered species.
There is the widely shared and heavily reported hidden video footage, from the 2018 election campaign, of Premier Ford promising a room full of developers that he would open "big chunks" of the Greenbelt for development, if they helped him win the race. When the video became public and outrage ensued, Ford released a statement backtracking, claiming he would not touch the world's largest swath of protected green space. But his push for Highway 413, which runs along and through the Greenbelt's southern edge, directly contradicts his later claims.
At its core, the request generated by Mrakas and supported by other municipalities across Ontario is a demand to regain control of the local planning process. Unfortunately, this is yet again something Premier Ford and his PCs have consistently tried to gain more control over.
The PCs have consistently relied upon the heavy-handed Ministerial Zoning Order (MZO) which allows the Provincial government to circumvent local planning and approve development applications regardless of what the municipality desires. An unprecedented number of these applications under the PCs have allowed development on environmentally sensitive lands.
The PCs have also eliminated planning mechanisms designed to protect the environment.
Schedule 6 of an omnibus budget Bill stripped power away from local conservation authorities tasked with maintaining, monitoring and protecting Ontario's network of watersheds, home to 14 million residents, while supporting the vast ecosystems that house the province's animal and plant life. To do this crucial work, conservation authorities have the power to review development applications proposed within their watershed and reject them if significant harm would result. These reviews are critical not only to ensure the protection of watersheds, but to make sure the proposed development is protected from risks such as flooding and erosion.
Now, if a developer wants to continue with a project in a risky area, despite the denial of the conservation authority, Schedule 6 allows an applicant to appeal directly to the Province, and with a newly created veto power, Queen's Park can now order the conservation authority to issue a permit, even if their scientists determine damage will be done to the local environment, or even if the development might be dangerous. All of this was hidden inside Bill 229, an omnibus budget bill that was marketed to the public as a plan for economic recovery from the COVID-19 pandemic.
"The gutting of Conservation Authorities shows that this Ontario government ignores the people. It's a government for land speculators and the worst sorts of developers," said Tim Gray, Executive Director of Environmental Defence, in a statement released at the time.
Despite the groundswell of support for Mrakas's motion, there does not appear to be any indication the Province will listen.
Its recently released Housing Affordability Task Force report was widely criticized for having few serious recommendations to address the housing crisis. Elimination of the OLT was not among its considerations, in fact, the recommendations seek to put more power into the hands of the OLT, pointing the finger at municipalities as the source of the tribunal's problems.
"Recommendations 26 through 31 seek to weed out or prevent appeals aimed purely at delaying projects, allow adjudicators to award costs to proponents in more cases, including instances where a municipality has refused an approval to avoid missing a legislated deadline, reduce the time to issue decisions, increase funding, and encourage the Tribunal to prioritize cases that would increase housing supply quickly as it tackles the backlog," the report states.
A response from the Small Urban GTHA Mayors took aim at these recommendations.
"The report seems to suggest that local planning is best achieved at the Provincial level and fails to recognize the deep understanding that local elected officials and staff have in relation to their communities, including how best to achieve housing targets and intensification," a press release states. "The report suggests, without evidence, that municipal red tape is responsible for the slow progress of new housing options yet fails to recognize that the greatest element of red tape in the planning process is the OLT."
---
Email: [email protected]
Twitter: @JoeljWittnebel
---
COVID-19 is impacting all Canadians. At a time when vital public information is needed by everyone, The Pointer has taken down our paywall on all stories relating to the pandemic and those of public interest to ensure every resident of Brampton and Mississauga has access to the facts. For those who are able, we encourage you to consider a subscription. This will help us report on important public interest issues the community needs to know about now more than ever. You can register for a 30-day free trial HERE. Thereafter, The Pointer will charge $10 a month and you can cancel any time right on the website. Thank you
Submit a correction about this story