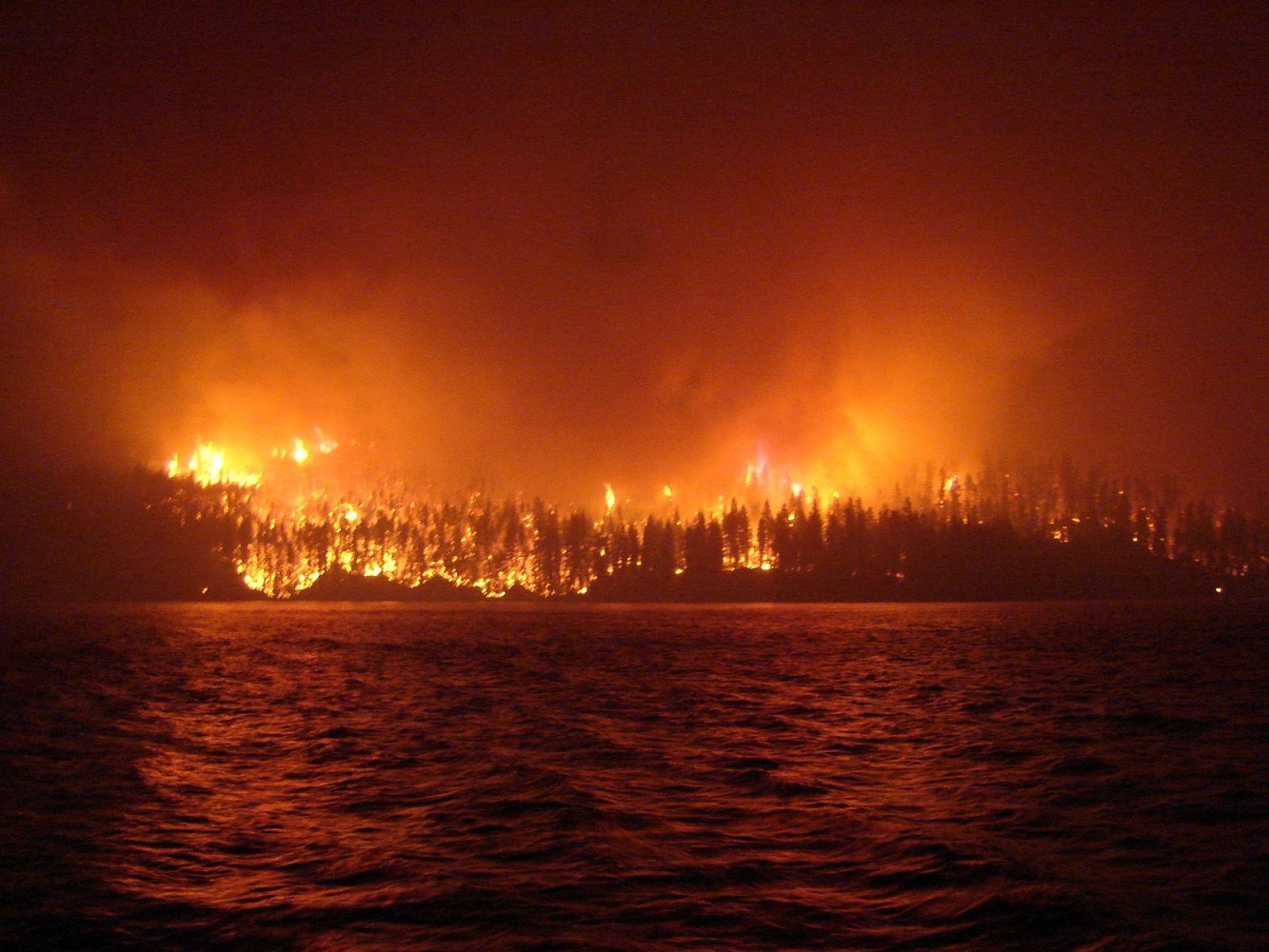 Feature image from Shawn Cahill
Earth's doomsday scenario is here & municipal leaders could not care less
Unleash extreme weather events, like none seen in centuries.
Once-in-a-lifetime storms happening every few months.
Sea levels set to wipe out coastal communities, displacing millions.
Ocean acidity killing coral reefs and putting marine animals at risk.
Earth's thermostat cranked so high the outdoors feel like a prison.
Food scarcity a growing concern as the global population explodes.

Yes, you've heard it all before.
But it's different now.
The doomsday list is from the latest report by the Intergovernmental Panel on Climate Change (IPCC), which released the gut-punching evidence Monday. Many of these terrifying impacts are almost inevitable, the result of global warming caused by human behaviour.
"It is unequivocal that human influence has warmed the atmosphere, ocean and land," the report states, adding this has led to "widespread and rapid changes."
"Human influence has warmed the climate at a rate that is unprecedented in at least the last 2,000 years," the report, authored by the world's leading climate scientists, states.
The IPCC is the United Nations body tasked with reviewing all known science on climate change. The sixth assessment report, which examined thousands of studies from across the world, has been labelled a "code red for humanity" by UN Secretary General Antonio Guterres.
"The alarm bells are deafening, and the evidence is irrefutable: greenhouse gas emissions from fossil fuel burning and deforestation are choking our planet and putting billions of people at immediate risk. Global heating is affecting every region on Earth, with many of the changes becoming irreversible," Guterres said in a released statement following the report's bleak warnings. "The internationally agreed threshold of 1.5 degrees Celsius is perilously close."
In many parts of the world, the 1.5 degrees of warming above pre-industrial levels has already been surpassed — mostly in the Arctic and the Earth's mid-latitude regions. According to NASA, about one-fifth of the world's population already lives in regions that have experienced 1.5 degrees of warming. However, once this threshold is surpassed around the globe, the impacts will become increasingly severe. Cataclysmic.
The new report maps out five potential climate futures; all foresee 1.5 degrees of warming being surpassed in the 21st century "unless deep reductions" in CO2 and other greenhouse gases (GHG) in the atmosphere are seen in the coming decades. A task the world has failed to accomplish, with CO2 emissions increasing unabated since 2011. Even after the groundbreaking Paris Agreement, which brought together nearly 200 countries dedicated to keeping warming below the 1.5 degree threshold and limiting the negative impacts of global warming, emissions have continued to increase.
While the IPCC report makes no recommendations — the goal was only to review the most recent science, not assign policy direction — it makes clear that net-zero, a state where the world's carbon output is equal to that being removed from the atmosphere, is an essential goal in order to eliminate the risk of extreme climate impacts.
It leaves the next decade for humans to turn things around. If not done within a generation, everything from regular air travel to food access could be in jeopardy.
According to the IPCC, the world has a 50 percent chance of avoiding the 1.5 degree warming threshold if it keeps GHG emissions from 2020 onward below 500 billion tonnes. However, at the world's current rate of nearly 40 billion tonnes per year, it would surpass that carbon budget in less than 15 years.
"The viability of our societies depends on leaders from government, business and civil society uniting behind policies, actions and investments that will limit temperature rise to 1.5 degrees Celsius. We owe this to the entire human family, especially the poorest and most vulnerable communities and nations that are the hardest hit despite being least responsible for today's climate emergency," Guterres said. "The solutions are clear. Inclusive and green economies, prosperity, cleaner air and better health are possible for all if we respond to this crisis with solidarity and courage."
UN Secretary General Antonio Guterres.
(U.S. Mission Photo by Eric Bridiers)
This societal shift will require changes on a global, national and local scale. It will require collective action to enact policies that force the world's largest carbon emitters and the corporations or countries responsible to cut back, dramatically. Transformative changes at the municipal level, where the foundational work of building cities is laid, will have to occur.
The IPCC, in a 2018 report pointed to the pressing need for municipal leaders to pick up the torch of green, sustainable development in order to prepare for a future where cities are built with public transit, active transportation and sustainable energy systems as a priority, as opposed to the North American cities of the last 100 years that have been built around the automobile and the ethos of sprawl.
"Further urbanization together with more frequent hot extremes will increase the severity of heat waves," the most recent report reads, adding that these urban jungles also increase runoff that leads to flooding in extreme weather events — something many municipalities across the GTA are simply not prepared for.
The Earth's climate is warming at a rate not recorded for thousands of years.
(Graphic from IPCC)
In Peel, local leaders have offered little more than empty words about the climate crisis over the last four years.
In one of his first statements to councillors in 2019 after being appointed regional chair, Nando Iannicca said his main focus would be growing the Region of Peel in a sustainable way.
"At the end of the day, you need a growth plan and you need a green plan," he said.
It was an encouraging sentiment, particularly from a long-serving board member of the Credit Valley Conservation Authority, and the organization's former chair, who told The Pointer the position opened his mindset to the importance of caring for the natural world.
"You get a different perspective on how important the environment is; in fact, it's the most important thing," he said.
Since then, he has been mostly silent on the issue. While not having a vote around the regional table — unless in the event of a tie — Iannicca did little to dissuade his colleagues in 2019 when they put their backing behind the sprawl-inducing GTA West Highway, despite regional council declaring a climate emergency in Peel moments before the massive transportation corridor was endorsed through support for its environmental assessment. Council has since revoked its support for the project which is being thrust onto Ontarians by Premier Doug Ford and his PC Party, with old-guard developers pulling strings behind the scenes, as has been thoroughly reported.
When Brampton declared a climate emergency in the city in 2019 — while also voting to support the GTA West Highway — Councillor Rowena Santos declared, "Brampton is taking action to address this climate emergency."
"Addressing climate change requires us to think globally, but act locally," she said.
Mayor Patrick Brown went one step further, saying the municipal level could no longer wait for the federal or provincial governments to lead the way.
"Unfortunately, there is too much hot air on this topic, not enough action," he said.
He failed to mention Brown was the person who put the GTA West Highway at the top of the PC agenda during his doomed stint as leader, before he was sent packing by the party.
Since those statements, Brampton has accomplished next to nothing of its climate change mitigation plans, instead, City Hall has been bogged down with scandals, led by a chief administrative officer who is completely unqualified to run a municipal corporation of any size, much less the ninth largest city in the country. The scandalous management has left Brampton's environmental protection and GHG reduction plans to gather dust while politicians offer empty words to try and convince residents they are taking the issue seriously.
After it was revealed that the City of Brampton was on track to meet only 3 of the 20 goals laid out in its Grow Green Master Plan, few councillors expressed any concern. At a time when a lack of action will have drastic consequences, the majority of Brampton councillors do not appear to be taking the issue seriously.
In Mississauga, where an ambitious climate change master plan was approved in 2019, it remains unclear whether the councillors around the table have the foresight to be able to make the difficult decisions that will change the make-up of their city.
When discussing plans that could limit the amount of parking spaces in the downtown core — plans that could shift perspectives toward more active or public forms of transportation — many councillors balked at the idea of a future without the automobile.
"We're all going to take transit, walk and crunch our granola bars as we skateboard to Square One — that's never happened, it's not going to happen, it's utter nonsense," George Carlson, Ward 11 Councillor and Chair of the Planning and Development Committee, said.
A similar inability to see the impacts of local decision-making is seen among many leaders across Ontario. North of the GTA, where Ford and the PCs are attempting to drive the Bradford Bypass through the provincially significant Holland Marsh wetland complex, councillors in the Bradford West Gwillumbury area appear to have given little thought to the climate change impacts of this new highway.
"Go ahead and do it," said Councillor Gary Lamb, noting he had full confidence the government would be doing all it could to "save the turtles and all that stuff."
With both the GTA West Highway and the Bradford Bypass, the Government of Ontario has not said how the added emissions from the cars that will flood these new freeways could impact its emissions reduction strategy.
The PC government has certainly complicated any effort at the local level to implement smart growth policies. Since being elected in 2018, Ford has stripped conservation authorities of their power to intervene in developments that could be potentially damaging to the environment; has issued over 50 ministerial zoning orders (which override any local decision making) some of which have paved over significant wetlands; introduced Bill 108 in 2019 which hands more power back to developers in the appeal process, allowing them to successfully argue in disputes that their plans are what's best for a community's needs, despite any environmental losses; a month after taking office, Ford eliminated Ontario's cap-and-trade program designed to limit carbon emissions, and then spent millions of taxpayer dollars fighting the federally imposed carbon tax in court where it would eventually lose its case; at the same time, Ford eliminated subsidies for electric vehicles which were seeing a surge in sales, and removed requirements added to the Building Code by the Liberal government for charging infrastructure for these cars to be installed in all new homes.
Premier Doug Ford's PC government has gutted environmental regulations, making it easier for developers to move ahead with sprawling subdivisions that exacerbate the climate crisis. His PC party has shown alarming ignorance toward global warming and its impacts.
(Photo from The Pointer files)
Neither of Brampton's PC MPPs, Amarjot Sadhu or Prabmeet Sarkaria, have taken a strong stance against the party's clear attack on the environment and it's complete ignorance of the seriousness of the climate crisis.
This lack of empathy for the planet is what has already doomed the Earth to future warming. While the IPCC states that some of the more disastrous impacts of global warming could be limited if emissions are curtailed, many of the outcomes are already locked in.
Even under a scenario where humanity is able to pull more CO2 from the atmosphere that we expel, sea level rise is projected to continue for centuries or even millennia. The loss of permafrost — resulting in mass amounts of carbon previously stored there being released — is expected to continue for centuries, and glaciers in the mountains and polar regions will continue to shrink for decades.
The Victoria Glacier, the famous glacier that feeds Lake Louise in Alberta has been receding for decades. A process that will continue for years to come.
(Photo from Joel Wittnebel/The Pointer)
The future impacts are now being measured in small degrees. With every increment of additional warming, the impacts become more severe. With every single degree of warming, the rate of extreme daily precipitation events is expected to increase by 7 percent. Agricultural droughts, wildfires, and intense tropical storms all increase in prevalence the warmer the planet becomes.
There is no time to waste, Guterres says.
"If we combine forces now, we can avert climate catastrophe. But, as today's report makes clear, there is no time for delay and no room for excuses."
---
Email: [email protected]
Twitter: @JoeljWittnebel
---
COVID-19 is impacting all Canadians. At a time when vital public information is needed by everyone, The Pointer has taken down our paywall on all stories relating to the pandemic and those of public interest to ensure every resident of Brampton and Mississauga has access to the facts. For those who are able, we encourage you to consider a subscription. This will help us report on important public interest issues the community needs to know about now more than ever. You can register for a 30-day free trial HERE. Thereafter, The Pointer will charge $10 a month and you can cancel any time right on the website. Thank you.
Submit a correction about this story