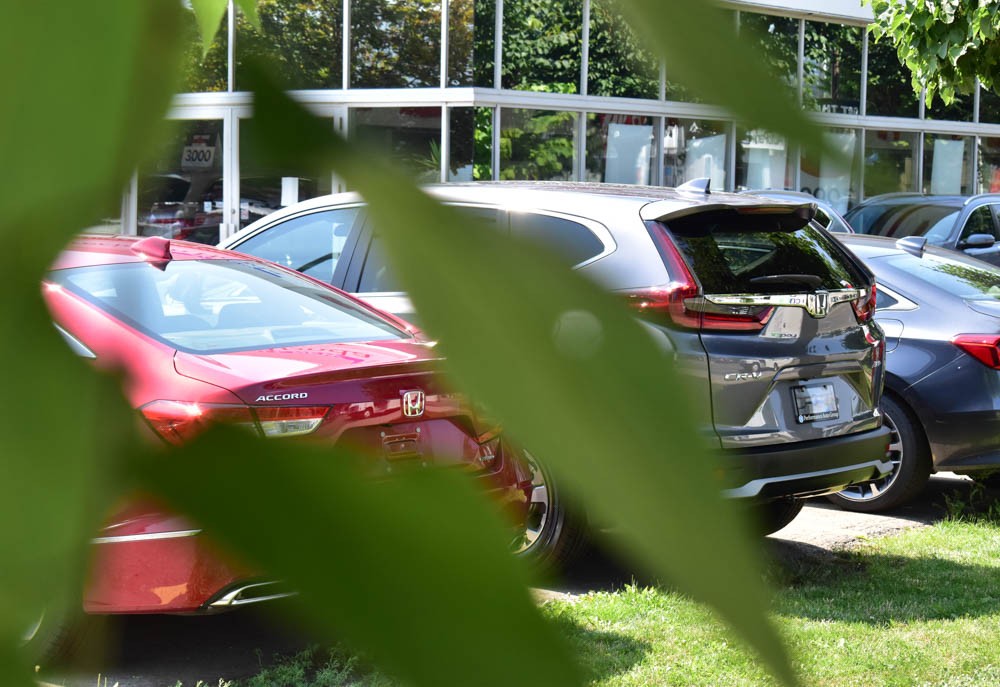 Feature image from Isaac Callan/The Pointer
Electric cars are a key solution to our climate crisis but Doug Ford killed their sales
Three years ago, two divergent realities descended upon Ontario.
Doug Ford and his PC Party won a landslide victory and formed a powerful majority government that immediately began to dismantle some of the greenest policies in the country.
Just a few months later, in the fall of 2018, the United Nations' Intergovernmental Panel on Climate Change (IPCC) released a report that brought scientists, progressive politicians and billions of concerned inhabitants of our planet to their knees.
It revealed that earlier projections based on climate modelling had underestimated the speed at which the Earth was heating due to human activity and warned that if drastic action to reduce emissions was not taken, our way of life would be radically changed, forever.
This didn't stop Ford and his PC colleagues from scrapping one of the most successful emissions mitigation strategies ever introduced by the Province — the rebate program for zero-emissions vehicles.
Three years later, sales of these cars still have not recovered.
And on Monday, the IPCC released its latest report by the world's top climate scientists. For those who take personal responsibility for the planet we call home, it does not make for pleasant reading.
The central strategy of the global Paris Agreement, now seems out of reach, and humanity is in a life or death race to save civilization from itself.
"It is unequivocal that human influence has warmed the atmosphere, ocean and land," the authors of the IPCC's dire assessment warn. The point of no return, the warming of the Earth's temperature by 2°C, will be "exceeded during the 21st century," unless dramatic emissions reductions are achieved within a generation.
Ontario is doing the opposite.
After winning his crushing victory, the Ford government immediately cancelled Ontario's rebate for the purchase of a zero-emissions vehicle (ZEV). The subsidy was originally designed to bring the price of eco-friendly cars in line with their gas-guzzling cousins. It was worth up to $14,000 for each purchase of a new ZEV, and had been incredibly successful since its introduction by the Liberals.
The federal government still offers a subsidy of up to $5,000 for ZEV purchases, but Ontario has stepped back. A list of available Canadian offers on the Tesla website, for example, shows a rebate of up to $8,000 in Quebec and $3,000 in British Columbia; Ontario no longer offers a similar incentive.
Since the cancellation, ZEV uptake in Ontario has stalled significantly, just when the health of our planet can least afford it.
"People can know all about the cars, if you can teach them, and the advantages, but they might still be reluctant if the price of entry is too high," Tim Burrows, president of the Electric Vehicle Society's Mississauga Chapter and an avid ZEV enthusiast, told The Pointer. "And that's where the subsidies were helpful… it certainly slows down the adoption rate without a subsidy, at this point."
Hybrid-electric vehicles have continued to enjoy good sales, but these cars are often confused with plug-in hybrid electrics. The former are not ZEVs, the latter are.
A diagram explaining how hybrid electric vehicles, which are eco-friendly but not zero-emission, work.
(Image from Alternative Fuels Data Center)
The Ford government's decision to scrap the ZEV rebate flies in the face of one of Ottawa's central strategies for achieving dramatic emissions reductions to meet Canada's climate targets. The federal government introduced a policy that will see only ZEVs sold by 2035 in order to reduce the country's greenhouse gas emissions. This goal will be achieved through incentives and legislation and is critical to Canada's climate goals. The cooperation of Ontario, where roughly 40 percent of Canadians live, will be critical to greening the country as a whole, but with Ford's move, millions of price-conscious car buyers in the largest province will be hard to win over.
Data from Statistics Canada show Ontario's decision to scrap its ZEV subsidy tanked sales.
In 2017, when the incentive was in place, 801,431 new vehicles were registered in Ontario, roughly 39 percent of all vehicles registered across Canada and in line with the province's population share. The same figures show Ontario accounted for 42 percent of all plug-in hybrid electric and battery electric purchases, both of which are considered ZEVs and qualified for the previous Ontario rebate program.
Midway through 2018, Ontario cancelled its incentive to purchase ZEVs. The province accounted for 40 percent of the country's vehicle registration, and 38 percent of the national share of ZEVs. The actual number of green cars registered in Ontario increased from 8,180 in 2017 to 16,758 in 2018, more than double the number from the previous year's sales, thanks to the rebate program. But in 2019, after Ford's PC government had scrapped the rebate the year they were elected, the figure plummeted to 9,762. In 2020, the number was 10,515.
In 2019, Ontario's share of zero-emissions vehicles dropped off a cliff. Forty-one percent of Canada's cars were registered in Ontario, but only 17 percent of the country's newly registered environmentally friendly vehicles were in the province.
Quebec and British Columbia, which kept their subsidies in place, roared into the lead for ZEV sales as a percentage of overall purchases.

ZEV registrations in Ontario dropped dramatically after the subsidy was scrapped and have barely recovered.
(Graphic from Isaac Callan/The Pointer)
Plug-in hybrids primarily run on electricity and house a small gas tank that effectively acts as a backup when power is low. Battery electric cars are powered by their batteries alone and, even with the source of their electricity, are the most eco-friendly of the three.
Hybrid electric cars, which are not ZEVs, are better for the environment than gas or diesel alternatives, but do not qualify for rebates under the federal government's ongoing subsidy program, which is only for zero-emissions vehicles. They cannot be plugged in and only gain their electric power through a braking system that charges a small battery whenever a vehicle is coming to a stop. The energy from this system allows for a smaller engine, better mileage and reduces wasteful idling, but these vehicles still produce significant emissions.
Ontario went from leading the pack for ZEV registrations to trailing in just a few years after the PCs scrapped the popular rebate.
(Graphic from Isaac Callan/The Pointer)
"When electric vehicles first hit, you would see an influx of customer interest and any subsidy or large amount off of the vehicle would essentially put the cost of the vehicle right parallel with gas vehicles," Victor Grant, assistant sales manager at Chrysler, Dodge, Jeep, Ram on Dundas Street in Mississauga, told The Pointer. "Now, customers are weighing the differences: pay a little bit more and save on fuel or just get a gas vehicle. Most customers would rather save upfront and that's what we're finding."
ZEVs without a subsidy cost considerably more at the point of purchase, something that puts many prospective buyers off. There's a reason it's called an incentive.
Last year, Ontario's electric vehicle sales saw a slight recovery. Around 39 percent of all vehicles registered in the country were in Ontario, with 19 percent of ZEV sales taking place in the province, still way below the 2018 level. Overall, national car sales appear to have been impacted by the pandemic.
The federal government is in the process of shelling out hundreds of millions of dollars to put 5,000 zero-emissions buses on the road by 2025. The eye-catching investment has been enthusiastically accepted by cash-strapped municipal governments, but it is unclear if it is the best use of funds.
Even a diesel bus, the culprit for 70 percent of the City of Mississauga's emissions, is better environmental value than a car. A bus carrying 20 passengers and belching fumes has still taken 19 single-occupancy cars off the road.
There are some people who won't switch to transit, but they can make their environmental contribution by driving an electric car. Would funneling federal electric bus subsidies into private vehicles have a bigger impact on Canada's overall emissions? Perhaps.
Victor Grant, an experienced car vendor in Mississauga, says the upfront cost of electric cars can put customers off.
(Image from Isaac Callan/The Pointer)
The federal government recently stepped up the timeline for phasing out traditional cars to 2035, at which point only ZEVs will be sold.
Ottawa says it will achieve this through a combination of investments and changes in regulations. This could include incentives for manufacturers and customers, alongside mandatory legislation.
Ontario, home to roughly 40 percent of the country's population, will play a critical role.
Registration data show that the non-ZEV hybrids are by far the most popular vehicles in the eco-friendly category, though they are not nearly as green as ZEVs, which are either full electric or plug-in hybrids. In 2020, roughly 4.6 percent of all vehicle sales in the province were for eco-friendly cars, but only 1.8 percent were ZEVs specifically. The rest, almost 3 percent, were regular hybrids. The overall sales for eco-friendly vehicles were up from 3 percent in 2019, which was down from 3.3 in 2018. An acceleration of this trend will be necessary to achieve ambitious targets.
Almost three in four Peel residents drive themselves to work, meaning their choice of vehicle dramatically impacts greenhouse gas emissions.
(Image from Isaac Callan/The Pointer)
Last year the climate advocacy organization Environmental Defence reported Ontario's greenhouse gas emissions had risen in 2018 for the first time since 2010. The move in the wrong direction means Ontario's emission levels returned to a figure last seen in 2014.
A spokesperson for the Ministry of Transportation provided a statement to The Pointer highlighting a number of initiatives designed to make the sale and manufacturing of ZEVs cheaper. The examples do not include financial incentives for consumers and are aimed at making the process easier for businesses.
"The Province recognizes the role of low-carbon vehicles in transitioning to a sustainable low-carbon transportation system and a clean-growth economy," the spokesperson wrote. "Ontario has several initiatives and policies in place to support the production and use of EV technology that foster a competitive business climate and reflect the province's specific needs and opportunities".
The Ford government has invested in electric car manufacturing, alongside its federal counterparts, but resisted any moves to incentivize ZEV purchases beyond that. The Premier was in Oakville in October 2020 to match a $295 million federal investment in Ford Canada's Oakville Assembly Complex to accelerate its transition to electric vehicle production.

Car dealerships have had success with hybrid cars but more costly electric cars and plug-in hybrids have been harder to move.
(Image from Isaac Callan/The Pointer)
Amit Khurana, assistant new car sales manager at Hyundai Cooksville, says the stall in electric car sales has not ended the rise of green alternatives. Hybrid cars, which do not qualify for subsidies, offer better mileage on long journeys, attracting interest on their own merits without the need to tempt customers with incentives.
"Hybrid is good, but electric vehicles, I don't think people are going too much for the electric vehicles at this point in time," he told The Pointer. "There is no rebate on hybrid vehicles [and they] are still doing well. People who do long driving, they save a lot of money on gas. They get a better range driving a hybrid as compared to a non-hybrid."
Again, these types of hybrids, which run primarily on fuel, are not to be mistaken with plug-in hybrids which run primarily on battery power.
Some consumers might not realize they are technically buying a hybrid, but not a full plug-in hybrid which produces virtually no emissions.
According to PostMedia's Driving, the Toyota RAV4 was Canada's third most popular car last year, with two trucks coming in first and second. The vehicle manages roughly 30 miles per gallon for a combination of city and highway driving, according to the U.S. Environmental Protection Agency. Its hybrid cousin (Toyota RAV4 Hybrid) is tagged at 40 miles per gallon under the same conditions.
This shows that while hybrids offer better mileage, they are far from a zero-emissions vehicle.
Hybrid cars also come with the apparent advantage that they do not require charging infrastructure.
The Ford government removed an amendment to the Building Code that would have required ZEV charging infrastructure in all new buildings, making the lack of readily available charging outlets a barrier for many. It is especially difficult for those who use shared parking and may not be able to install a charger themselves.
Burrows says this barrier is more perception than reality.
"The infrastructure is there for fast charging, [but] not all cars have that," he said. "But the fast infrastructure for charging is growing rapidly and it just takes a little bit more effort. Other than that, ownership is a breeze, right? You get to refuel at home."
That's not the case, for example, if you live in one of the many apartments or condo buildings in Ontario that do not have charging infrastructure.
But there is a shift across the entire automobile industry that will force governments to think about how ZEVs are supported with proper infrastructure. General Motors has made a commitment to produce only electric cars by 2035 and Volkswagen plans to launch almost 70 different ZEV models by 2030. Volvo plans to be fully electric by the same date.
"I believe that's the transition for the whole industry, they're trying to get away from gas in general and head more towards the fuel efficiency [hybrid or electric offer]; also, the less we damage the environment the better," Grant said. "I know the government and a lot of automakers are working together to try and get to that level, but it's a transition period in itself. I think the availability of parts in order to meet that demand for the market is something else that they're working on."
The number of electric cars coming off the production line will increase, but adoption could still depend on price.
(Image from Isaac Callan/The Pointer)
The journey to a ZEV future is almost inevitable as the market shifts toward full adoption, whether consumers and manufacturers like it or not.
Cars are not a minor investment and even if most manufacturers stopped selling gas cars today, the impacts would take time to trickle down. Governments in Canada have already demonstrated an ability to speed that timeline up with rebates and other financial incentives to lower the initial cost of a ZEV.
Even at a higher upfront price, they can be a cheaper and more convenient vehicle for drivers in Peel in the long run, especially if fuel prices continue to climb the way they have in recent weeks. But without the incentive of a rebate to lower the price immediately, many aren't ready to take the leap.
The latest IPCC report paints a bleak picture. But no matter how bad the warning signs get, as fires spread and floods rage, most people's behaviour won't change unless the consequences impact them directly.
"The total cost of ownership is less for an electric car today versus a comparable gas car, but that isn't how 90 percent of people shop for vehicles," Burrows explained. "It's the sticker price that they look at."
---
Email: [email protected]
Twitter: @isaaccallan
Tel: 647 561-4879
---
COVID-19 is impacting all Canadians. At a time when vital public information is needed by everyone, The Pointer has taken down our paywall on all stories relating to the pandemic and those of public interest to ensure every resident of Brampton and Mississauga has access to the facts. For those who are able, we encourage you to consider a subscription. This will help us report on important public interest issues the community needs to know about now more than ever. You can register for a 30-day free trial HERE. Thereafter, The Pointer will charge $10 a month and you can cancel any time right on the website. Thank you.
Submit a correction about this story