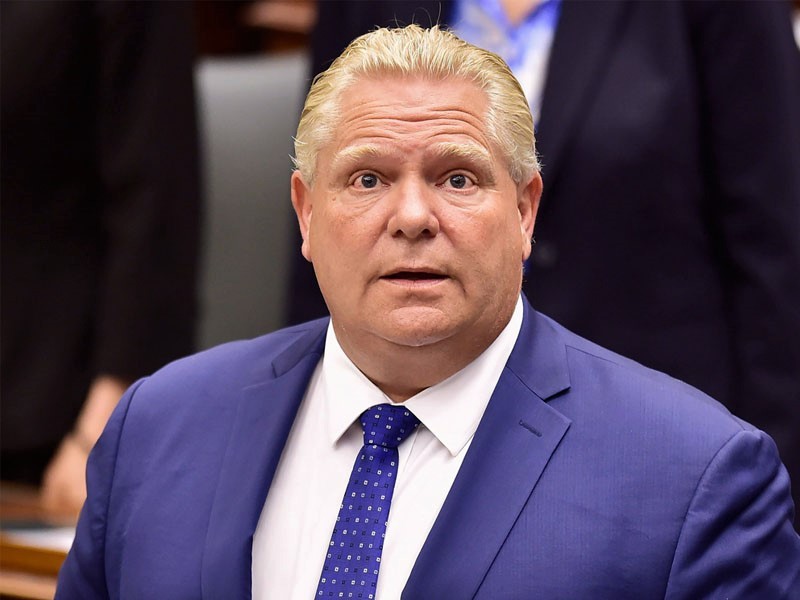 The Pointer file photo/Charts Environmental Defence
Ford's elimination of green car subsidies tanked sales, one example of PC attack on our environment, report says
There's a global pandemic, we all know. Politicians and pro-business interests also talk increasingly of an economic pandemic, referencing the devastating impact shutdowns have had on millions of companies, big and small, around the world.
But there's a third crunch taking place.
Queen's Park's assault on the environment, most recently its attempts to limit the power of conservation authorities, is a crisis, stakeholders say. Of course, anyone who wants to breathe clean air and drink clean water, is a stakeholder. Experts and activists fear the PC government is causing ecological damage that will impact both health and economic well being for generations to come.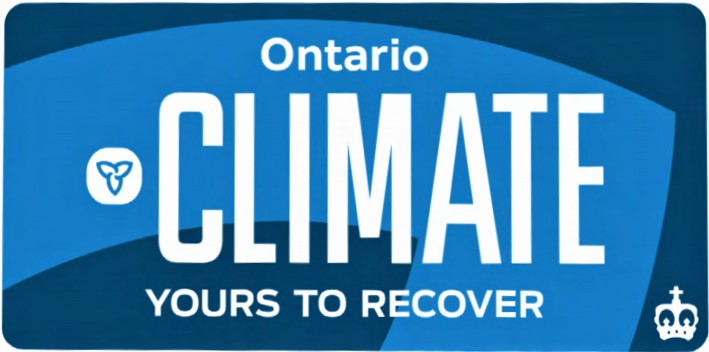 Premier Doug Ford has stripped legislation aimed at protecting the environment
A report released last week by Environmental Defence offered a stinging analysis of Premier Doug Ford and his government's record on climate change. At the heart of the report is the staggering fact that in 2018, Ford's first year in office, greenhouse gas emissions increased for the first time in almost a decade.
Environmental Defence, a charity focused on the climate and environment, argues pandemic recovery spending undertaken by the government offers a chance to invest in the environment and turn things around. It is an opportunity, the group says, the PCs are squandering.
"The current government has repeatedly claimed they are reducing greenhouse gas emissions and taking action on climate change," Sarah Buchanan, program manager, clean economy at Environmental Defence, told The Pointer. "But the evidence shows that greenhouse gas emissions are in fact rising and they are not taking significant action on climate change."
After emissions stayed steady or fell from 2010, 2018 saw them rise by 10 megatonnes. The move in the wrong direction means Ontario's emission levels returned to a figure last seen in 2014. Data for 2019 and 2020 are not yet available, but the report argues any drop in emissions during 2020 as a result of shutdowns would not represent any meaningful long-term progress.

"A return to 2018 GHG levels after the pandemic would make Ontario's 2030 GHG reduction target nearly impossible to meet — unless new actions are taken on the scale of Ontario's previous coal ban," it says.
The Ontario government's target is to reach 30 percent of 2005's emissions by 2030. It's relatively conservative when compared to other jurisdictions aiming for net-zero or measuring their progress against 1990 levels.
"It's not complicated at its very core: when you burn fossil fuels, you make climate change worse. It's that simple," Buchanan said. "When you put measures in place to reduce the amount of fossil fuels that we burn, it's not as hard on the climate. That basic fact has sometimes alluded policy makers like this Ontario government, who seem to think putting measures in place that will help us go on using fossil fuels will somehow get us to climate targets."
The Ministry for the Environment, Conservation and Parks did not directly respond to a series of questions from The Pointer, but provided a lengthy statement.
"Ontario is proud to be a leader in Canada when it comes to our work to reduce greenhouse gas emissions," a spokesperson said. "We have taken some important steps over the past two years to lower greenhouse gas emissions in the province. These actions are intended to put us on the path towards meeting our long-term 2030 target and we will continue to update our evolving plan as new information and innovations emerge."
Environmental Defence's report is a laundry list of missed opportunities and wrong turns. Its analysis of the Ford government's recovery plans is equally bleak.
A failure to expand energy savings programs, clean fuel promises and a regression on zero emissions vehicles (ZEV) are a few examples listed. The issue of electric cars is perhaps the most clear cut. When Ford came to power, his government scrapped a subsidy introduced by the previous Liberal government to encourage the purchase of ZEV. Since the cancellation, uptake in Ontario has stalled significantly. The report cites a 50 per cent drop in ZEV registrations as a proportion of total new vehicle registrations in 2019, after Ford took power.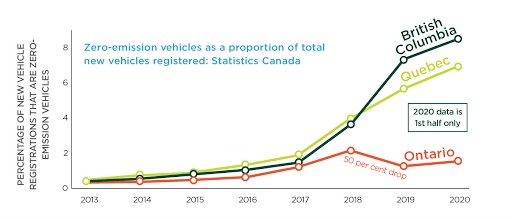 The PCs also ended cap-in-trade legislation which forced companies to stay within emissions targets or face penalties for contributing to carbon emissions. That particular decision wiped out a hydrogen bus pilot in Mississauga, only recently being restarted.
The narrative in Environmental Defence's report is simple. A slow response under the previous Liberal government was jeopardized by Ford when he came to power, demonstrated in an increase of greenhouse gas emissions across sectors. Investments in highways instead of modern transportation, opening development in environmentally protected areas and stripping the power of conservation agencies, while reducing regulations amid a COVID-19 recovery will compound the damage the PC government has already done.
Much of Ontario's pandemic legislation has concentrated on making it easier and quicker to build in Ontario. Examples include reduced requirements to begin construction of highways or bridges and an increased reliance on provincial veto power to overrule the local planning process, as well as legislative efforts to curtail the environmental assessment process.
In theory, faster production will bring the economy roaring back through an influx of jobs, while reduced project times could lower the cost of new housing for consumers. It's a typical conservative economic policy — asking the free market to do the right thing and offering incentives to sweeten the pot. The concept is all carrot, no stick, says Environmental Defence.
"I think it's unrealistic to assume that the development industry is just going to pivot [to green goals or standards] out of the goodness of its heart," Buchanan said.
Rather than hoping for the best, Environmental Defence would like to see deliberate and strategic investments in a stimulus package that reduces emissions. One example is a program to retrofit buildings to improve their efficiency which could create a stream of new jobs and save Ontarians on utilities in the future.
One area that some see as a positive is the focus on a new energy source. A recent discussion paper released by Queen's Park into the use of hydrogen fuel is designed to coincide with a federal announcement and position Ontario as a leader of emerging, green technology.
"The Ontario government is very wise to piggyback on the national hydrogen strategy because there's so many jobs to be had in the province and so many jobs already exist in the hydrogen economy in Ontario," Dr. Josipa Petrunic told The Pointer. Petrunic is president and CEO of the Canadian Urban Transit Research & Innovation Consortium (CUTRIC), a green transit group currently working with the City of Mississauga to develop a hydrogen bus project. CUTRIC is lobbying the Province to invest $10 million in a 10-bus pilot for MiWay to demonstrate the technology.
"From the Hydrogenics, now owned by Cummins, in Mississauga that makes electrolysers, to Enbridge, that's actually producing hydrogen off surplus green power ... it gives the Ontario government an opportunity to go after emissions, reduce emissions, while building powertrain and vehicle train technology industry that speaks to the auto sector," Petrunic, who sees the policy as a key pillar to support climate renewal, said.
Buchanan is less convinced by the hydrogen strategy, noting a lack of targets and continued issues with home insulation.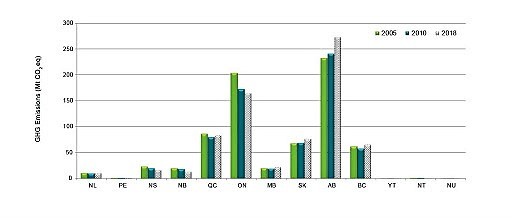 A comparison of provinces and their performance in addressing carbon emissions
At a broader level, it is the destination of investment dollars and legislative energy that worries Environmental Defence and other stakeholders. Examples include, but are not limited to, the GTA West Highway, curtailing of environmental assessments (a process that is supposed to reduce negative impacts of projects on their surroundings) attempts to strip the power of conservation authorities and an array of changes that make development easier including the opening of protected areas for construction.
"The new GTA West Corridor will help to reduce traffic congestion and improve the movement of people and goods across the integrated highway network which connects to Highways 400, 401, 407, 410 and 427," Mississauga Lakeshore MPP Rudy Cuzzetto said in the legislature on December 2. An expert panel found in 2018 the highway would save commuters just 30 seconds (at a cost of roughly $6 billion). It was shown infrastructure-free policies such as congestion charges or tolls would be far more effective.
Cuzzetto's speech, laying out the PC argument and toeing the party line, is indicative of a group of MPPs without their own ideas on transit or the environment.
"I'm going to be honest and say I don't see a single politician in that party standing up for the environment in Ontario in the way … that would reverse this destruction," Buchanan said.
The Province has remained bullish in the face of the new report, calling its own plan an "evolving" document and steering clear of the fact emissions have increased. It seems, even in the context of growing criticism, the PCs will continue to stay the course.
In years to come, when the economy has stabilized and a COVID-19 vaccine has been rolled out, Ontarians may look back and see 2020 as a key moment in the province's fight against climate change, when a public health crisis was used as cover by the ruling party to set environmental progress back by decades.
---
Email: [email protected]
Twitter: @isaaccallan
Tel: 647 561-4879
---
COVID-19 is impacting all Canadians. At a time when vital public information is needed by everyone, The Pointer has taken down our paywall on all stories relating to the pandemic and those of public interest to ensure every resident of Brampton and Mississauga has access to the facts. For those who are able, we encourage you to consider a subscription. This will help us report on important public interest issues the community needs to know about now more than ever. You can register for a 30-day free trial HERE. Thereafter, The Pointer will charge $10 a month and you can cancel any time right on the website. Thank you.
Submit a correction about this story