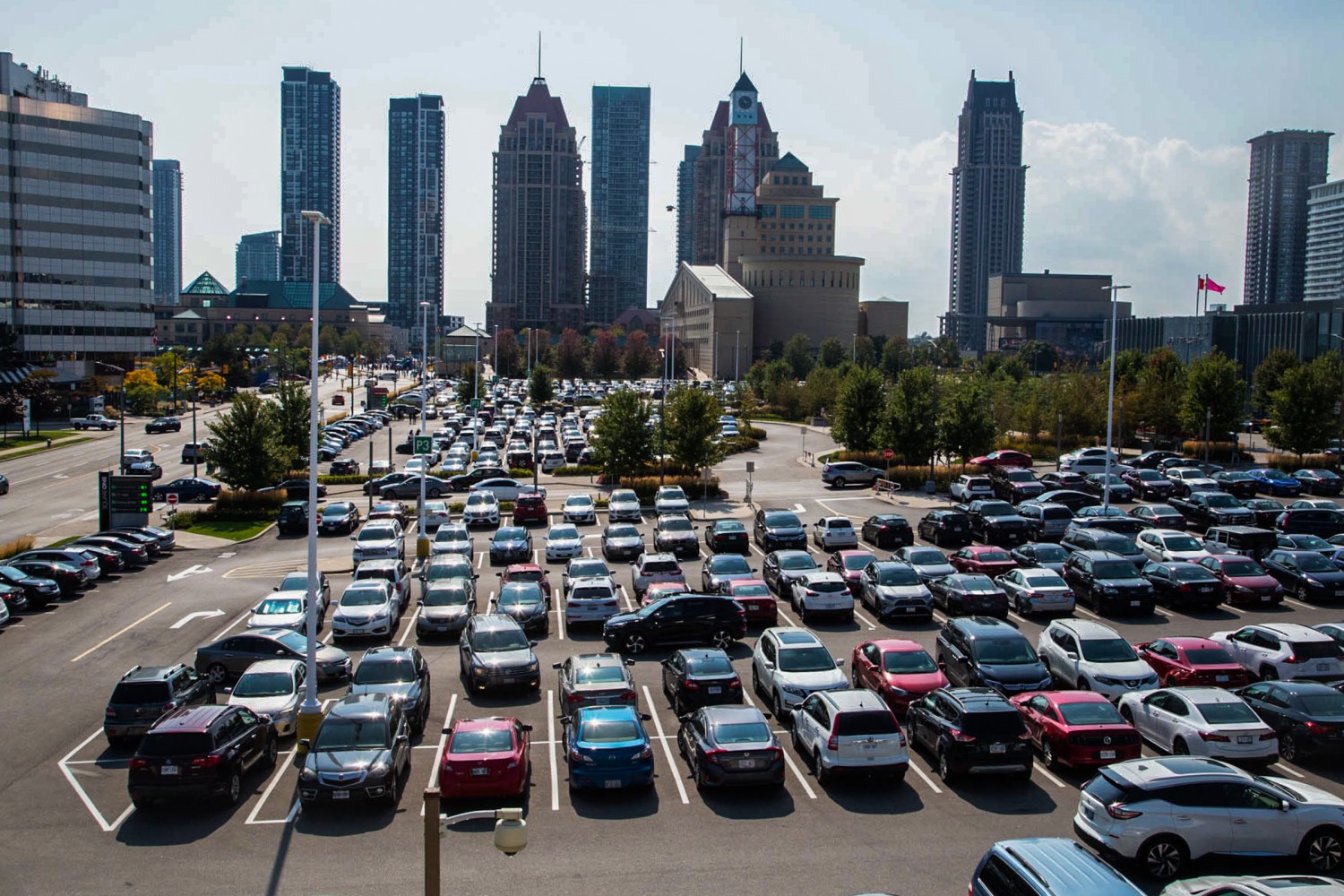 Photos by Joel Wittnebel/The Pointer File Photos/Graphics from City of Mississauga
Mississauga faces tough decisions in years to come as city passes ambitious $450M climate action plan
It's uncommon for council meetings in Mississauga to be particularly rowdy or to attract many spectators. Often the public gallery is empty, save for two reporters and a handful of relevant city staff. On Wednesday, though, residents wearing green arrived in large numbers to support the city's climate action plan, greeting its approval with applause and a couple of standing ovations.
The city's plan contains 21 actions, ranging from advancing community-driven initiatives and low-carbon energy systems to supporting behaviour changes which help climate action. These are categorized under five action pathways: buildings & clean energy; resilient & green infrastructure; accelerating discovery & innovation; low emissions mobility & transportation; and engagement & partnerships. As with most climate plans, the goals are to mitigate the impacts of climate change, while also adapting.
Specific steps include commissioning a study into equipping city buildings with solar panels, various stormwater and flood mitigation measures and plans to eventually electrify the bus fleet and other city vehicles.
As one of the most expensive costs in the plan, greening the bus fleet is in line for federal and provincial funding through the Investing in Canada Infrastructure Plan (ICIP). $159.2 million of the plan's estimated $457.6 million capital cost relates to hybrid and electric buses, money which the city is waiting on upper levels of government to provide until 2027. Other costs include $30.8 million to retrofit buildings, $100 million to install charging facilities for electric buses and $97.2 million for active infrastructure.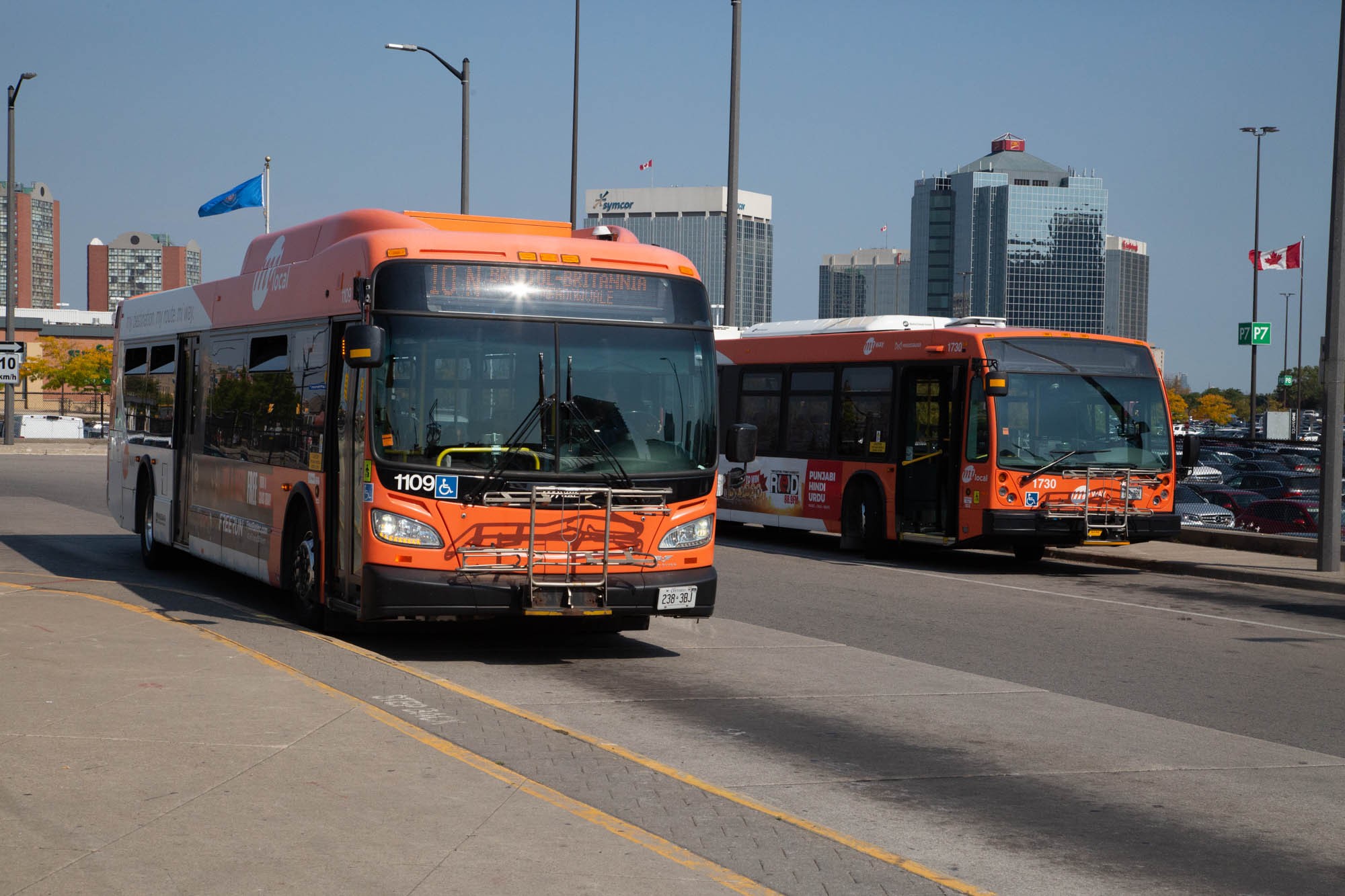 The climate action plan categorizes costs as "new initiatives", "committed" and "not committed". Just $54.6 million of the plan is "committed" and therefore accounted for in budget plans, with the rest either new or unaccounted for. The $188.1 million of new initiatives are yet to be considered by council and will be subject to the traditional budget process, while some uncommitted costs (including buses) will be hoping for help from infrastructure programs run by Prime Minister Justin Trudeau or Premier Doug Ford.
When a draft of the plan was heard and rubber stamped by General Committee in September, Mayor Bonnie Crombie asked why the goal for the city was 80 percent of 1990 levels by 2050 instead of 100 percent. Staff explained that, though the goal could be updated, the sheer cost and technology required to meet her suggestion are unreasonable for the city.
Repeating her desire to see the city become carbon neutral as soon as possible, Crombie welcomed the plan on Wednesday as council voted unanimously to endorse it. Only a few tweaks and changes have been made to it following its public consultation.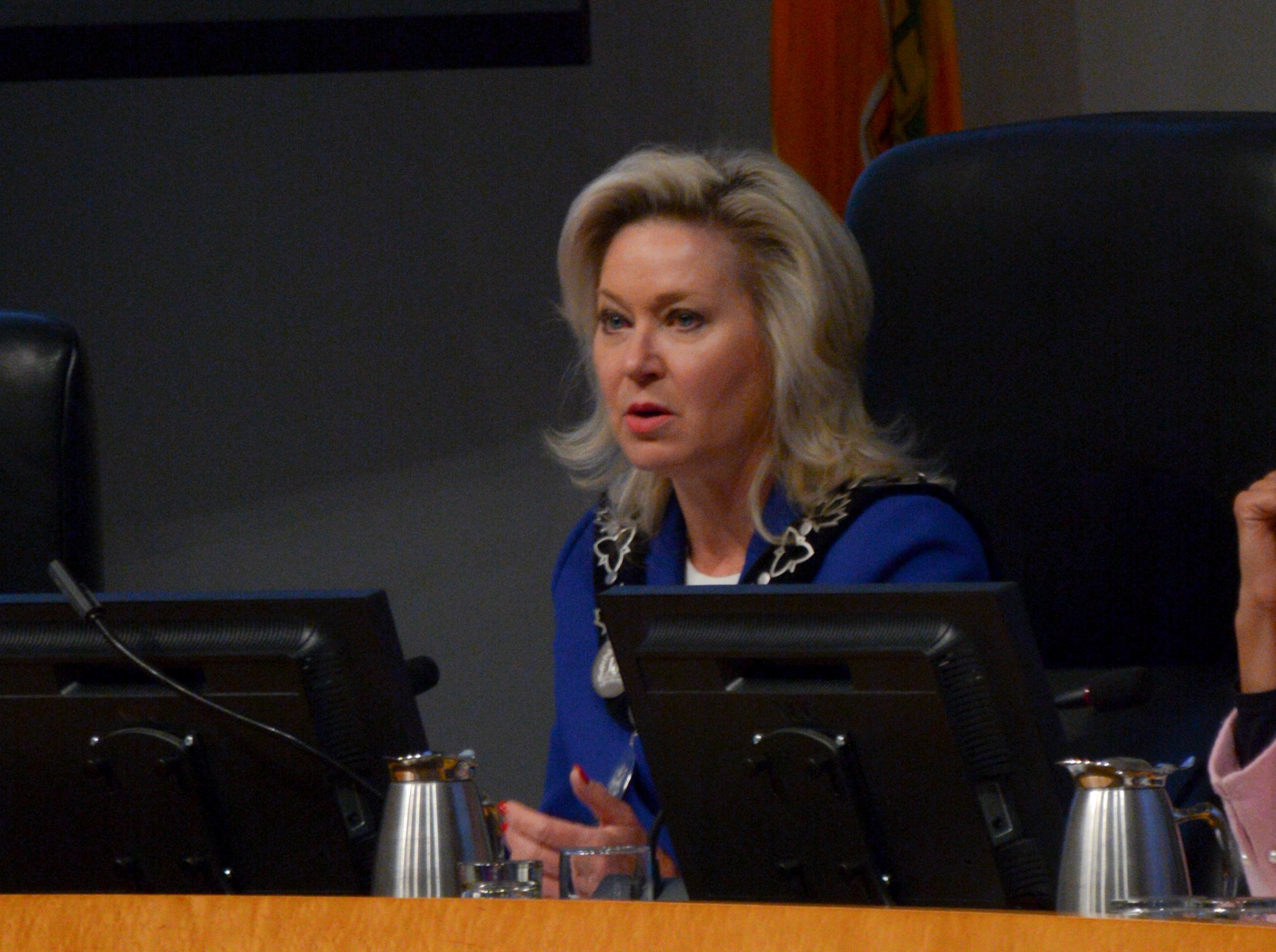 Mayor Bonnie Crombie
One change, in line with Crombie's question in September, is the inclusion of an "aspirational goal" for the city to be net-zero. A positive message, the goal seems geared towards optics more than practicalities, though the plan does feature a series of impressive (and expensive) practical steps towards reducing Mississauga's emissions.
Acknowledging the justification for high spending in the short term, the action plan says: "The cost implications of not taking action on climate change are significant, and the City has committed to working with the community across all levels to address the risks that climate change presents."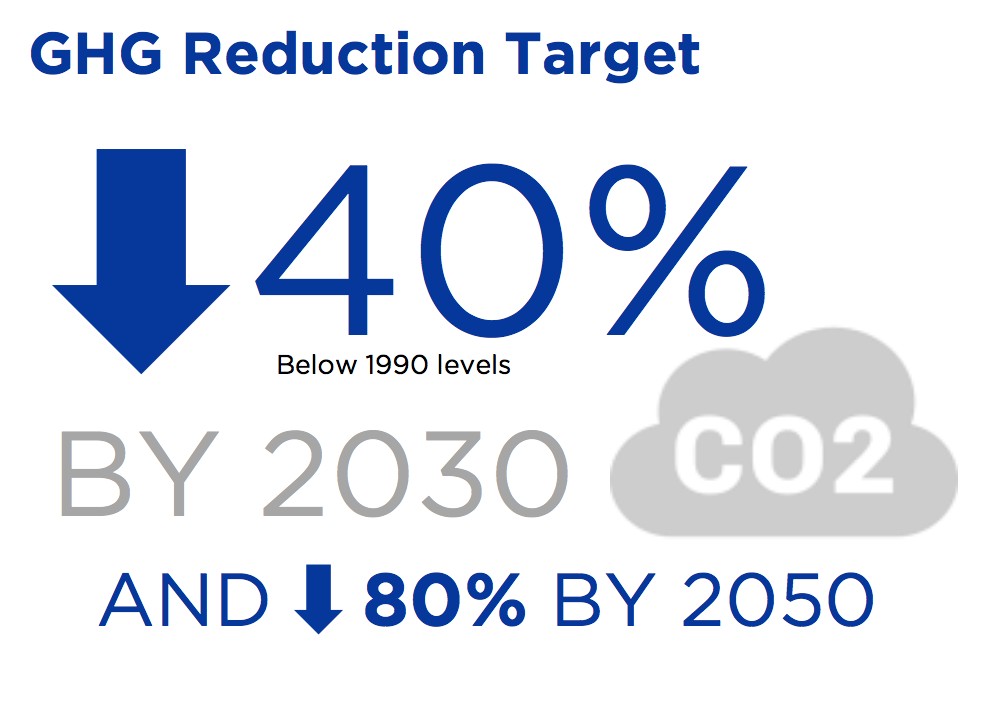 That means, although the capital cost of the plan is significant, it is much less expensive than choosing to do nothing. Though ignoring climate change may save money in the 2020 and 2021 budgets, it would be catastrophic in the long-run; climate inaction is only cheaper in a world where climate change is not real.
Illustrating this point, the city included a timeline of extreme weather events through the last decade, including the ice storm of 2013.
Mississauga's intentions seem to stand in stark contrast to its provincial partner, though. Just a few days after the province began construction on a pollution inducing widening of Highway 401, its environmental plans came under further scrutiny. Almost in tandem with Mississauga's climate action plan approval, Bonnie Lysyk, Ontario's Auditor General, released her report into the Progressive Conservatives' own climate goals.
Lysyk examined the province's 'Made in Ontario' climate plan, which aimed to reduce greenhouse gas emissions to 30 percent of 2005 levels, where Mississauga is aiming for 40 percent of 1990 levels for the same date. The audit says that the province's plan is "not yet supported by sound evidence" and that it is unlikely to reach its own, less ambitious targets.
In that context, it seems that cities and other municipalities will have to work even harder to address climate change for their residents. As the United Nations Intergovernmental Panel on Climate Change (IPCC) suggested last year, municipalities play a unique role in the climate battle. The highway-connected sprawl which cities such as Brampton and Mississauga are infamous for has been identified as responsible for increased pollution, with smart growth and dense planning key to a green future. Highlighting this point, Geoff Marinoff (Director, MiWay) recently told The Pointer that smart, dense planning from the city made transit more effective and efficient too.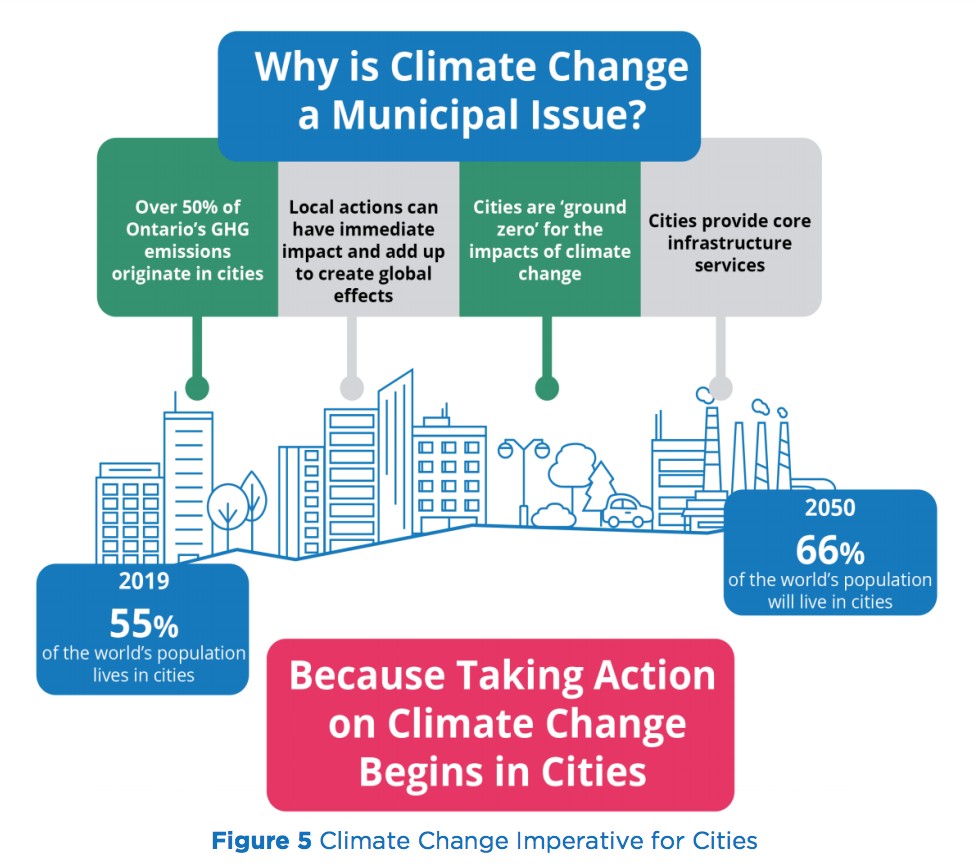 "While municipalities are directly responsible for 5 to 10 percent of greenhouse gas emissions as a result of municipal operations, they indirectly control over 40 percent of greenhouse gas emissions in the community," the city's climate action plan acknowledges. Also making reference to the role which transit and buildings play in increasing or reducing greenhouse gas emissions in the city, the report hits on key areas the city is able to change even in the face of a province which does not appear to share the same green priorities.
This central role for cities such as Mississauga increases the importance of tangible changes, not simply eye-catching political declarations. With so many costs in the climate action plan uncommitted or yet to be considered, the true test of this council's climate motivation is still to come.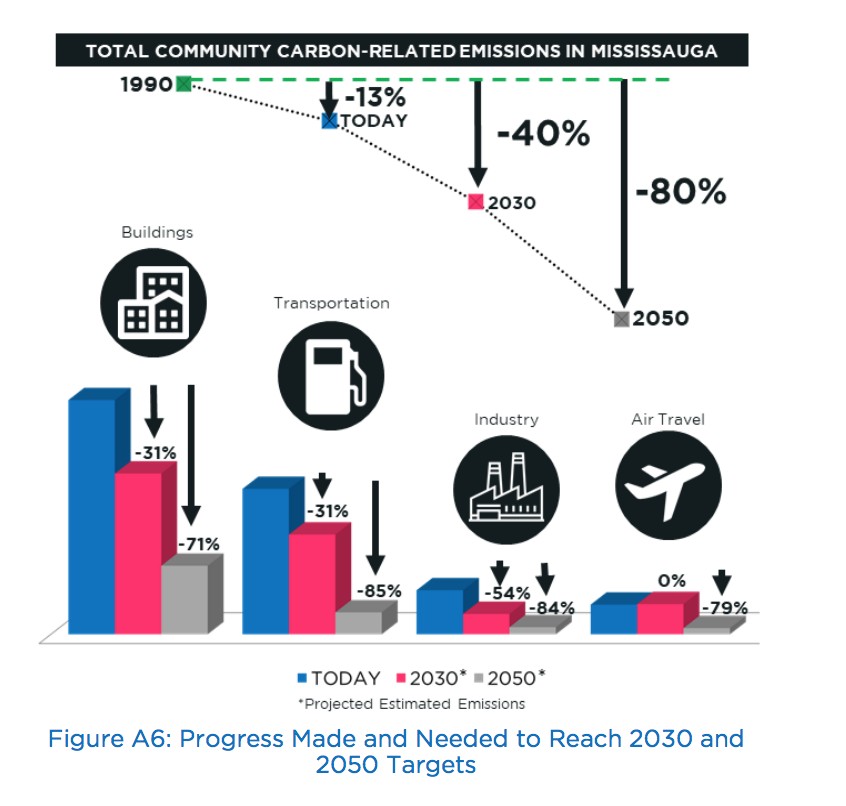 "As you heard, my preference is that we would be net-zero by 2050, not 80 percent, but I'm told the cost would be significantly higher, the technology doesn't exist today," Mayor Crombie told the media after the plan passed, adding she hoped the aspirational net-zero goal could be reached over the next 30 years as well.
Asked if the the series of uncommitted costs in the plan raised any concerns for her budget conscious council, Crombie pointed to previous action on greener buses as evidence council would support a short-term capital cost for long-term environmental gain.
"We do have stewards of the environmental committee and as you heard the chair [Matt Mahoney] and other members spoke to it today," Crombie added. Complimenting Mississauga's active citizen and campaign groups, the mayor promised to continue revisiting the action plan to keep it as ambitious and current as possible.
With climate action key in the recent federal election and top of mind for many thanks to the actions of people such as student advocate Greta Thurnburg and the warnings from the IPCC, Mississauga's climate plan is a huge step to align the city with a growing global movement. Repeating an oft-used pitch, one member of the public told council the plan should be a "living document."
Any changes brought by council, in line with the seemingly unstoppable public momentum to save the planet, will demand that local elected officials think much bigger than any short-term cost-saving considerations simply to get re-elected.

---
Email: [email protected]
Twitter: @isaaccallan
Tel: 647-561-4879
Submit a correction about this story