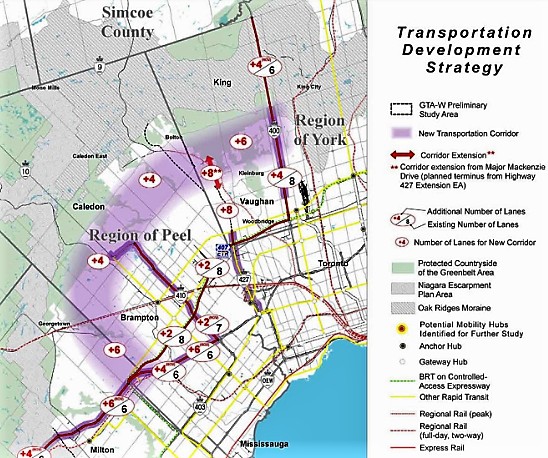 Photos by Mansoor Tanweer/Images Google Maps/Graphics Government of Ontario
Council declares climate emergency — after backing new sprawl-inducing highway
High school student Shailly Prajapati held councillors, city staff and observers spellbound at Wednesday's city council meeting as she called on Brampton to declare a climate emergency — one of thousands of teenagers around the world who have been leading the charge against climate change in recent months.
Inspired by her presentation, council voted unanimously to do exactly that, setting Brampton on a course, at least in theory, of becoming a leader in the GTA for climate change mitigation. The chamber erupted in thunderous applause when the motion passed.
Prajapati had been invited to speak by Councillor Rowena Santos, who brought forward the motion recognizing the climate emergency in response to similar declarations by other cities, including Ottawa, Vancouver, Halifax and Burlington. "Addressing climate change requires us to think globally but act locally," Santos said in a press release explaining the need to pass the formal, if largely symbolic, declaration. She said it would "help coordinate all of the existing plans and work being done under one bold statement — Brampton is taking action to address this climate emergency."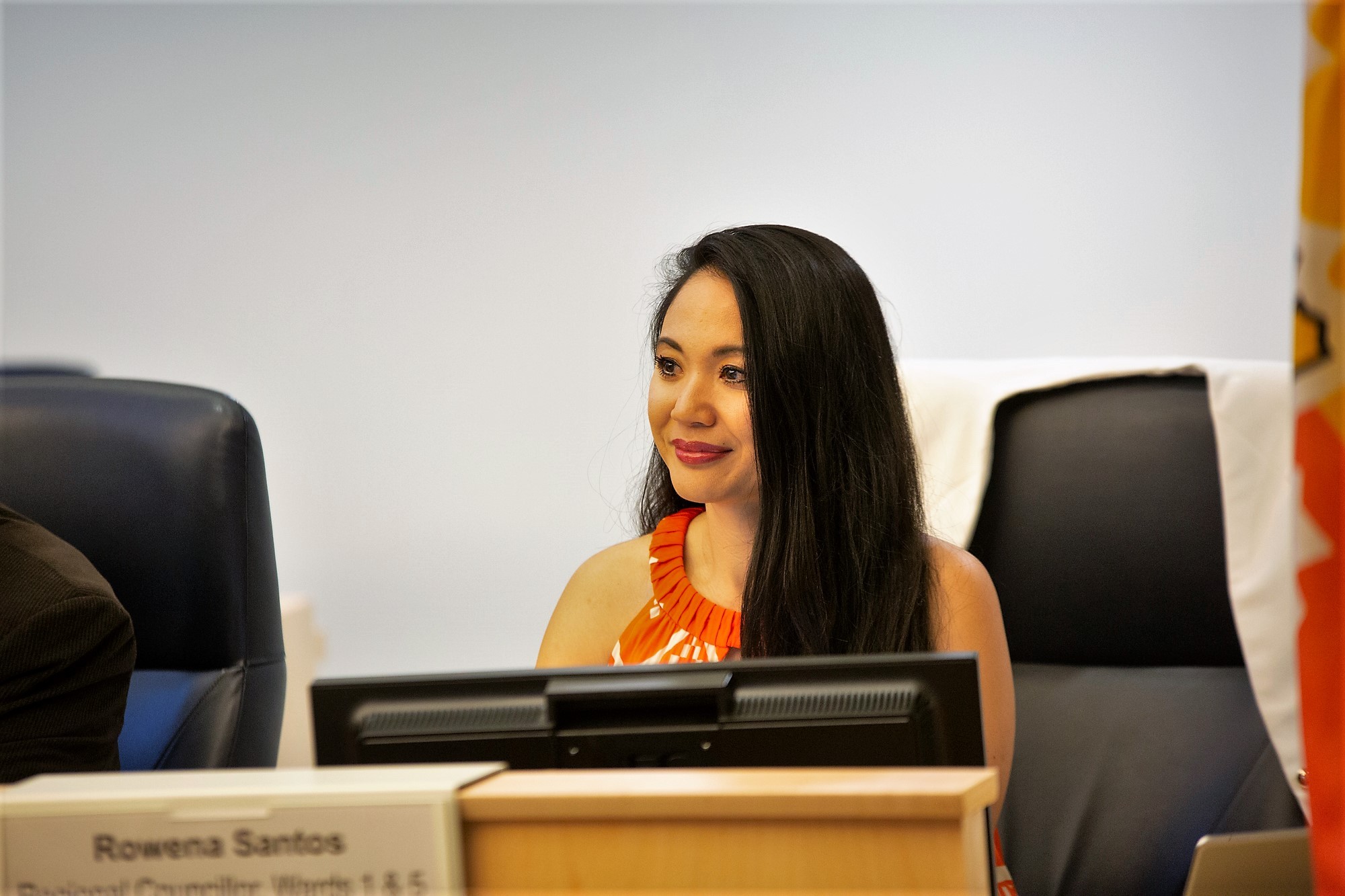 Councillor Rowena Santos
"We have to do our part; we can't wait for leadership at the federal and provincial levels," Mayor Patrick Brown said, signalling the urgency of action against climate change in council. "Unfortunately there is too much hot air on this topic, not enough action."
However, their attempt at taking local "action" on climate change was contradicted by an earlier move.
Council, prior to its climate declaration, passed a resolution in support of constructing a new major highway that would run down the city's western edge, raising some awkward questions.
Councillors speedily adopted a motion, brought forward by Michael Palleschi, to support Brampton West MPP Amarjot Sandhu's move at Queen's Park to resurrect the environmental assessment process for the controversial GTA West Highway, also referred to as the 413. The Doug Ford PC government had previously signalled it intends to move forward with the project after the previous Liberal government shelved it, stating the highway would just put more cars on the road and did not fit with plans to expand higher order transit across the region.
Critics have panned the project as being an engine of sprawl and pollution. Former premier Kathleen Wynne cancelled the EA in February 2018, effectively killing the project. Santos, who was gung ho about declaring the climate emergency, also voted in favour of Palleschi's motion, not acknowledging a disconnect between her environmental enthusiasm and supporting a highway that is widely viewed as a bad move from an environmental perspective. Santos left the chambers before The Pointer could enquire about her confusing stances.
Supporters of the proposed highway, which would stretch from Vaughan through Caledon and join up with the 401 after dropping south through Brampton's western edge, tout it as a measure that would ease congestion, encourage economic development and provide more options for commuters and transportation trucks travelling to jobs in York Region and elsewhere.
Brown has been publicly supporting the highway for some time now, and he reaffirmed his support at Wednesday's council meeting. "One of the challenges we have in Brampton is gridlock; the ability to get product to marketplace is critical. Every time we look at economic development, it is a critical component of our pitch."
However, scholarly studies show that Brown's commonplace notion that new roads will mitigate congestion doesn't actually hold water. CityLab, an online publication that explores city building concepts, explains that a counterintuitive phenomenon called "induced demand" is the reason building new roads is not the solution. Basically it works like this: making a new road allows for increased demand, in turn prompting more people to use the road, which is then followed by self-defeating congestion within a relatively short period.
A study by Todd Litman of the Victoria Transport Policy Institute says induced demand will fill a new highway to near or complete capacity roughly three years after completion. A congested highway also generates a great deal of pollution. With more traffic comes heavier pollution. Gridlocked cars emit more pollutants, more greenhouse gases and particulates that aggravate asthma and respiratory issues and have even been implicated in dementia.
The new highway would also contradict much of the planning and growth policy under the council-approved 2040 Vision document, which was put together with input from more than 13,000 residents.
Instead of smart, compact growth that supports transit and creates urban nodes, which council claims to support under the Vision document, a new major highway along the far west side of the city would open up huge tracts of lands where developers want to put more sprawl in the form of subdivisions.
The province would be able to override local planning for smart growth if its highway project moves forward, triggering subdivision expansion along the vast corridor.
Instead of achieving future population growth in a climate friendly, more compact urban form, it would be a return to land gobbling sprawl, with bigger homes that eat up large amounts of energy, while creating more traffic congestion, pollution and gridlock for even longer commutes out to new stretched out subdivisions.
David Laing of BikeBrampton was present at Wednesday's meeting and backed up Prajapati's calls for a climate emergency, but also warned that "if Brampton falls into its old ways and builds more suburbs, we're in deep trouble." He told The Pointer if the city also supports the 413, then it's "talking out of both sides of its mouth."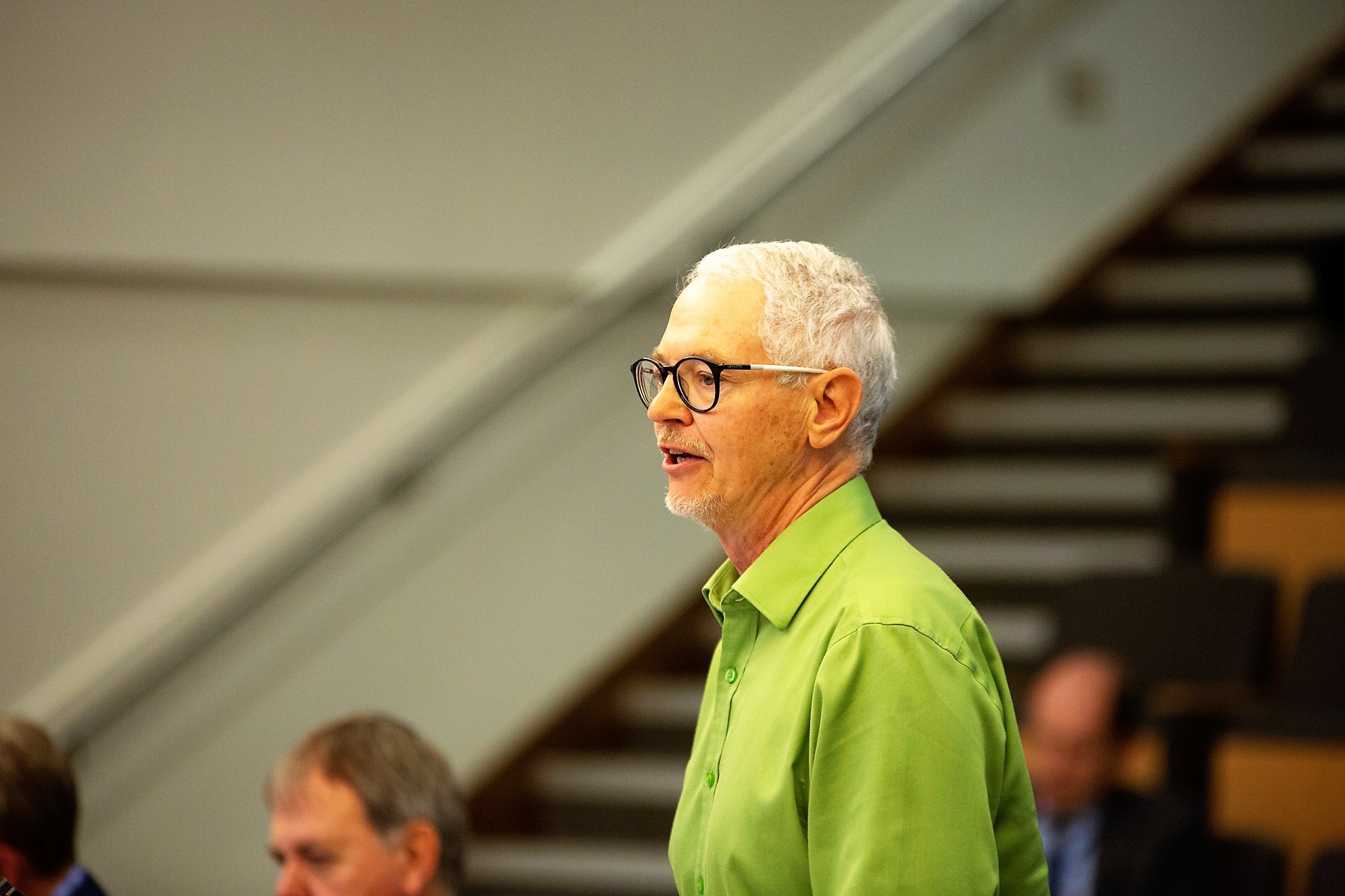 Brampton resident David Laing
The plan for the highway would have it skirting The Greenbelt, a stretch of protected green space in the Golden Horseshoe that includes forests, wetlands, watersheds and farmland. Ontario Premier Doug Ford, whom critics characterize as too developer-friendly, was captured in a video in the summer of 2018 telling developers that he would "open up the Greenbelt, not all of it, but we're going to open up a big chunk of it up, and we're going to start building."
The highway has been called an engine for sprawl as well. Land along the highway corridor, much of which has already been bought up by developers, would be prime for construction, including sprawling subdivisions for even more single-family houses. That is a direct contradiction of the position of both Brampton and Peel Region Council, which have passed motions to help use available land to bring jobs here and create a better, more affordable mix of housing that more residents can afford. Brampton leaders, including Brown, have said it's also crucial to balance the property tax base by creating more commercial revenue and less subdivision housing that only adds to the imbalance while straining the city's revenues as infrastructure and services have to be spread out across vast distances.
The City of Brampton, under the leadership and vision of former mayor Linda Jeffrey, is currently reviewing its land-use policy to achieve higher density, instead of the crippling sprawl that has characterized the city's developer-driven growth over the last three decades. Wednesday's move by councillors flies in the face of this ongoing land-use exercise. It's unclear if the entire review will be scrapped by the new council in favour of land-use policies that return the city to its past.
The Ford government has tabled legislation signaling its intent to help the development industry. Schedule 10 (of Bill 66, Restoring Ontario's Competitiveness Act), which the PCs walked back after a fierce backlash, would have given municipalities power to override environmental protections in the name of being "open for business."
This week, the PCs are expected to expedite the passage of Bill 108, the More Homes, More Choice Act. The omnibus act has wide implications: it could weaken environmental protections such as the Endangered Species Act, and revert the development appeals process back to the old Ontario Municipal Board system, which was cancelled by Wynne after years of criticism over developer-friendly rules that often overruled municipal planning decisions.
"That's what I wanted to get acknowledged once we debated the climate change emergency; is the fact that the 413 — or the GTA West Corridor — what we're really talking about is an environmental assessment; (it) needs to acknowledge the fact that something needs to be done" in the area of north of Brampton, Palleschi told The Pointer in response to a question about how the two motions can be reconciled.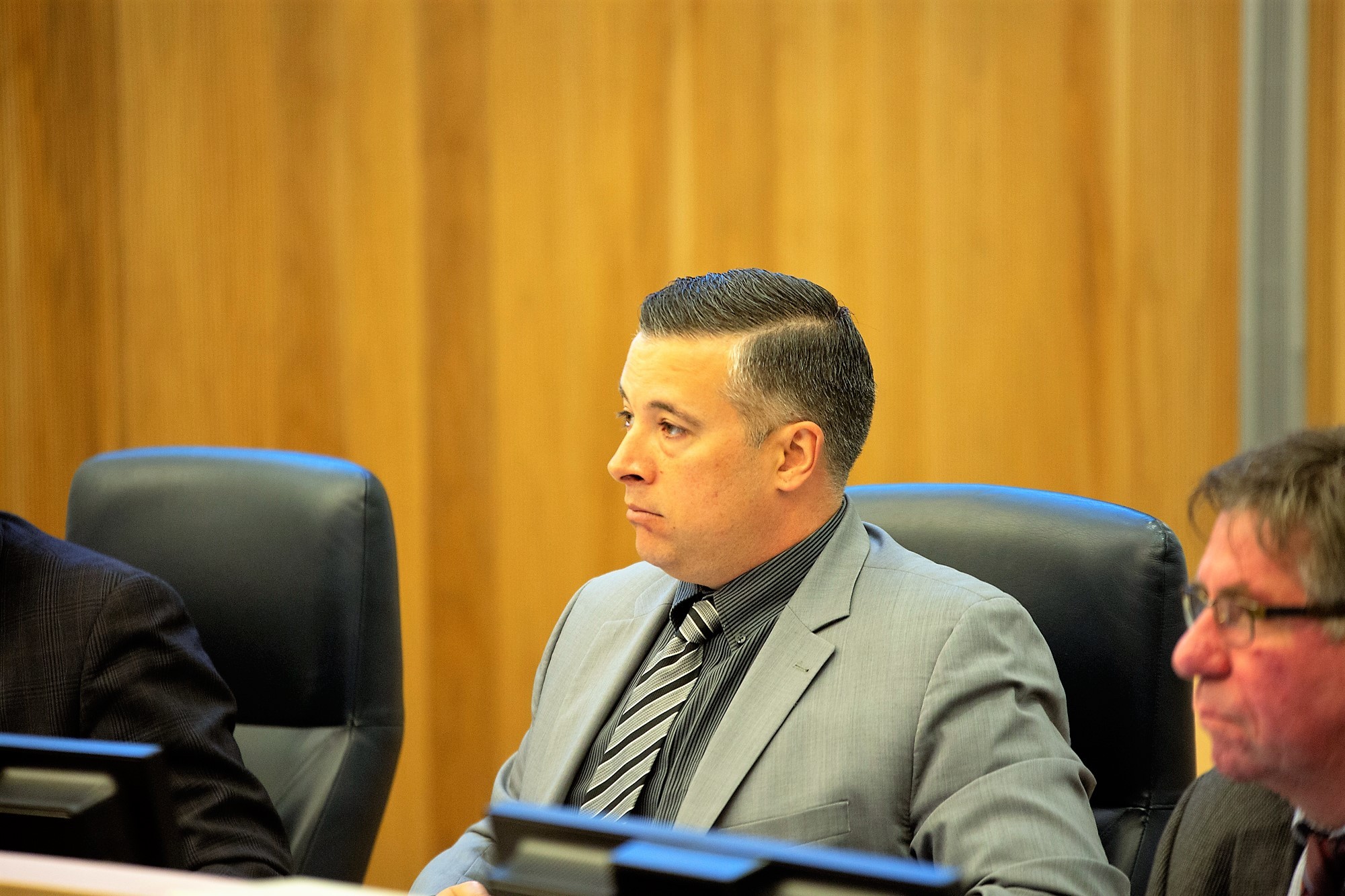 Brampton and Regional Councillor Michael Palleschi
"You look at some of the highways Mississauga has, and what is around the majority of those highways is great employment opportunities. What's Brampton lacking? Employment opportunities," he added.
Brown rejected the idea the two motions were contradictory. "One of the false debates out there I find frustrating is people try to make it 'you either choose economic development or you choose climate change (mitigation).' I don't accept the false proposition," Brown told The Pointer.
"When I was the opposition leader at Queen's Park, I put [the highway] in the platform. I personally put it in the platform. I'm glad to see it happen. I praised Amarjot Sandhu, I've asked him actually to push this. I told him, 'I know there's going to be a receptive audience for it," Brown added.
There is little evidence to back up Brown's remarks. The Intergovernmental Panel on Climate Change (IPCC), a United Nations affiliate group, issued its alarming report in the fall, with more than 6,000 scientists contributing to the research that showed the planet is heating at a much faster rate than earlier believed due to human activity. It called for local governments to turn around land-use policies because energy consuming sprawl, with large, spread out houses and increased vehicle pollution, is one of the biggest causes of our current climate crisis.
The previous Liberal government explained its decision to cancel the 413 Highway project, after a panel of experts weighed the evidence, stating that the "advisory panel's recommendation that a proposed highway in the GTA West corridor is not the best way to address changing transportation needs."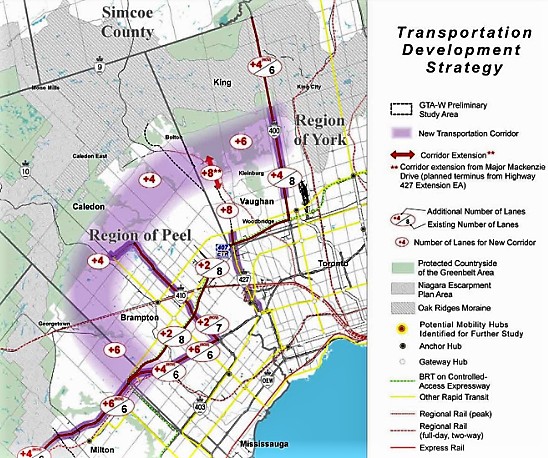 GTA WEST HIGHWAY PLAN
The expert panel made clear that a "single transportation plan for the Greater Golden Horseshoe" was the way to move forward in the name of smart growth, with some expansion of existing highways, and higher order transit investment, which the panel said would be a better way to invest in future transportation needs than building a multi-billion dollar highway through land that is currenty largely untouched. Skepticism was also expressed by critics of the need for such a highway, if smart growth legislation is followed to prevent the coming population from settling in an expanding suburban, sprawl-style of accommodation, rather than a more urban form of growth that is much less reliant on cars.
The highway project has been widely pushed by the development industry, which has nothing to do with attracting foreign investment and other high-return commercial activity, other than what is spent on the highway project and the housing construction along the corridor. Longer term commercial opportunities to support the growth that would likely be included in development plans, would be almost entirely in the low-wage retail sector.
Many other critics of the GTA West Highway have cited possible encroachment into The Greenbelt and the loss of fertile agricultural land as reasons not to go forward.
Caledon council members, particularly Mayor Allan Thompson, have aggressively pushed the plan. Critics have alleged some could be in a conflict because family members could possibly stand to gain financially from the sale of land along the proposed highway corridor.
In 2016, Thompson was the subject of a legal complaint under Municipal Conflict of Interest legislation that went before the Ontario Superior Court. He avoided punishment after he said he did not know who had bought family land that he sold, which was located along the proposed highway corridor.
The land, it turned out, was sold to a developer for $9.4 million. Under the agreement, Thompson might not get the full amount if the property is not approved for development. He faced heavy criticism for pushing the highway plan in Caledon council around the time when the sale of his family property was being dealt with.
In a dramatic 2015 Peel Region Council meeting, Thompson and the rest of the Caledon councillors stormed out of the chamber after Mississauga Councillor Carolyn Parrish suggested the mayor was making planning decisions based on his family's financial interests. It was part of an ongoing struggle that saw former Brampton mayor Linda Jeffrey and Mississauga Mayor Bonnie Crombie lead a push for smart growth across Peel. It resulted in a provincial planning facilitator being brought in to review Caledon's planning decisions.
Eventually, the town lost control over much of its own planning, as regional council moved to enforce authority over decisions so Brampton and Mississauga taxpayers would no longer have to subsidize bad, expensive, sprawling development that local elected officials, facing pressure from developers, have pushed in parts of the region.
Around the same time, the previous Liberal government decided to shelve the highway project, which has been pushed by the development industry and many Conservative politicians with close ties to the industry for years.
To Parrish and fellow Mississauga and Peel Region Councillor Pat Saito, this is one more argument in favour of separating their city from Peel Region. Crombie and others have repeatedly cited potential savings of $84 million if Mississauga were to leave the region. To them, the decision to support the highway is one more sign that Brampton and Caledon would be a burden on the Mississauga taxpayer.
"The reason why the previous government cancelled the [GTA West Highway] plan was because there would not be enough demand if we follow the smart growth legislation that the entire province wants," Parrish told The Pointer Wednesday. "It's not rocket science — if you build smart, compact communities, with the missing-middle housing and plenty of mixed-use affordable housing, transit can meet the needs of commuters and other residents. If you want more sprawl, expect way more cars, more pollution and more gridlock. The whole idea is to get people out of their cars, not to build more highways that lead to more cars, longer commutes and all the subdivisions that get built along these corridors. This is exactly why Mississauga has to get its independence from the region. We're tired of seeing our taxpayers pay for bad planning elsewhere. We're moving in a different direction. A modern direction."
Parrish said the highway idea flies in the face of provincial plans to create an integrated network of efficient higher order transit across the GTA and other parts of Southern Ontario, where sprawl, according to estimates, causes multibillion-dollar losses to annual productivity, while contributing to pollution and climate change.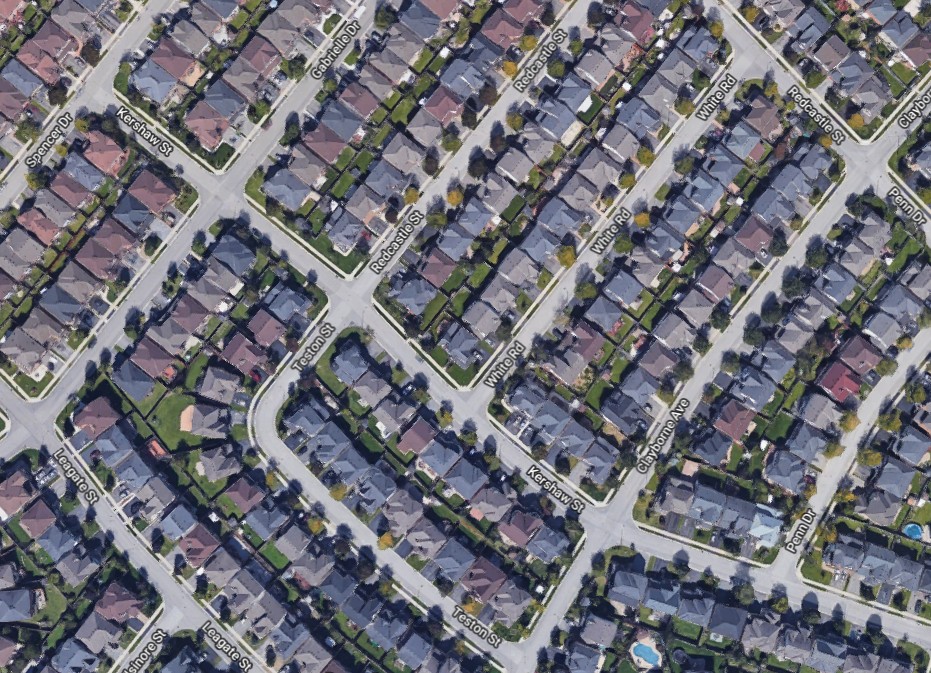 "Anything that would dump more traffic where the 401 and 407 meet, I don't approve," Saito told The Pointer Wednesday. "If Caledon or Brampton want that type of growth they can pay for it. Even if we separate [from the region], water [and] sewer could still be a regional-type utility under a utility board," though not roads, she said. Saito added that there could still be a financial impact on Mississauga from the additional sprawl created by the highway. She said the GTA West plan follows a sprawl model, not smart growth.
The two other Peel municipalities had better not expect Mississauga taxpayers to pay for the costly infrastructure associated with subdivision-style planning, Saito said. With Bill 108's move to reduce the fees charged to developers to support the growth they create, even more costs will be on the backs of municipal taxpayers. That includes parks, libraries, policing and even some initial infrastructure, on top of all the expensive repairs and replacements down the road.
"You can't plan for growth if you can't afford it. If you have to depend on other municipalities to fund your growth, then you shouldn't plan for that type of growth," Saito said. "We have not been getting subsidized by Brampton. It's been the other way around."
Email: [email protected]
Twitter: @mansoortanweer
Submit a correction about this story