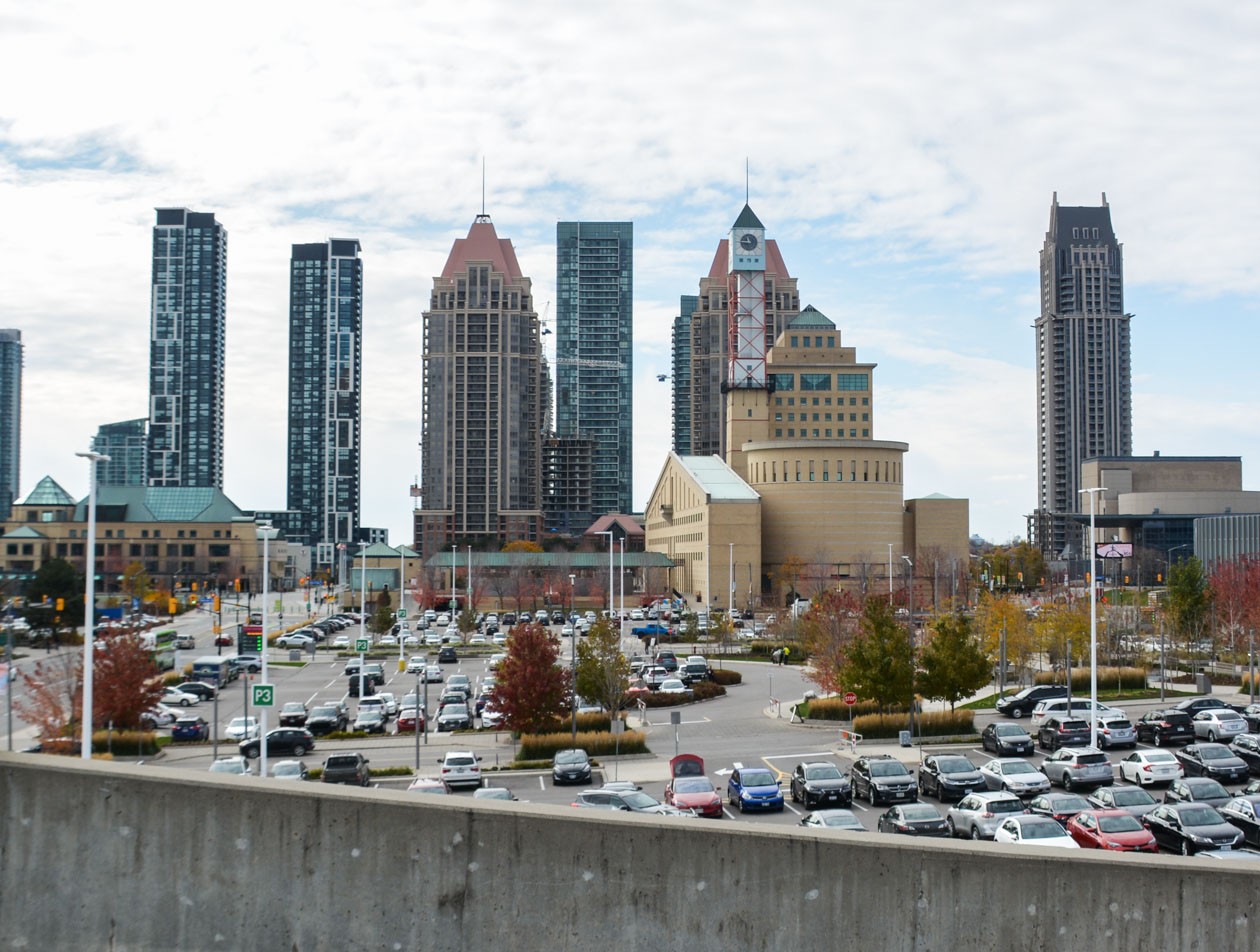 Feature Photo from Natasha O'Neill/The Pointer
Stuck in the past, can Mississauga ever quit the car? Councillors frown on plans to reduce parking
Councillors in Mississauga say all the right things whenever the city's transit future is highlighted.
On cue, they sound like the most progressive urban planners on the planet.
But when it comes time to take action, the city's aging leaders show their true stripes – council members simply can't shake their addiction to the almighty car.
On Monday, faced with plans to reduce the amount of required parking in new developments, few were impressed. Despite repeated claims of supporting transit and forms of active transportation as Mississauga continues its transformation from bedroom community to dynamic metropolis, elected officials expressed their decades-old concerns about ensuring drivers can get around the city with ease.
The City's Planning and Development Committee watched as a consultant presented plans to reduce parking requirements. Building on research from applications and benchmarking Mississauga against other cities, the report suggested the City should develop a new system. It proposed a precinct approach, where areas are broadly categorized based on a variety of factors, including access to transit. The plan would see Mississauga reduce its parking minimums for a variety of new planning applications, creating more reliance on urban planning designed around walking, cycling and transit, instead of the city's sprawling habit of building for the car.
"Cities for most of their history were not organized around the automobile and then all of a sudden they were," Shauna Brail, an associate professor at the Institute for Management and Innovation at the University of Toronto's Mississauga campus, told The Pointer. "There's been a real kind of reckoning, especially amongst people in the planning profession, that, in many ways, they made a mistake."
In the staff report that accompanied a detailed consultant-led analysis, Mississauga bureaucrats admitted they had never comprehensively reviewed their parking rules. As a result, the City is out of step with its peers, many of which are moving to reduce parking requirements or eliminate them altogether. If there's nowhere to put a car, then people become less interested in using them.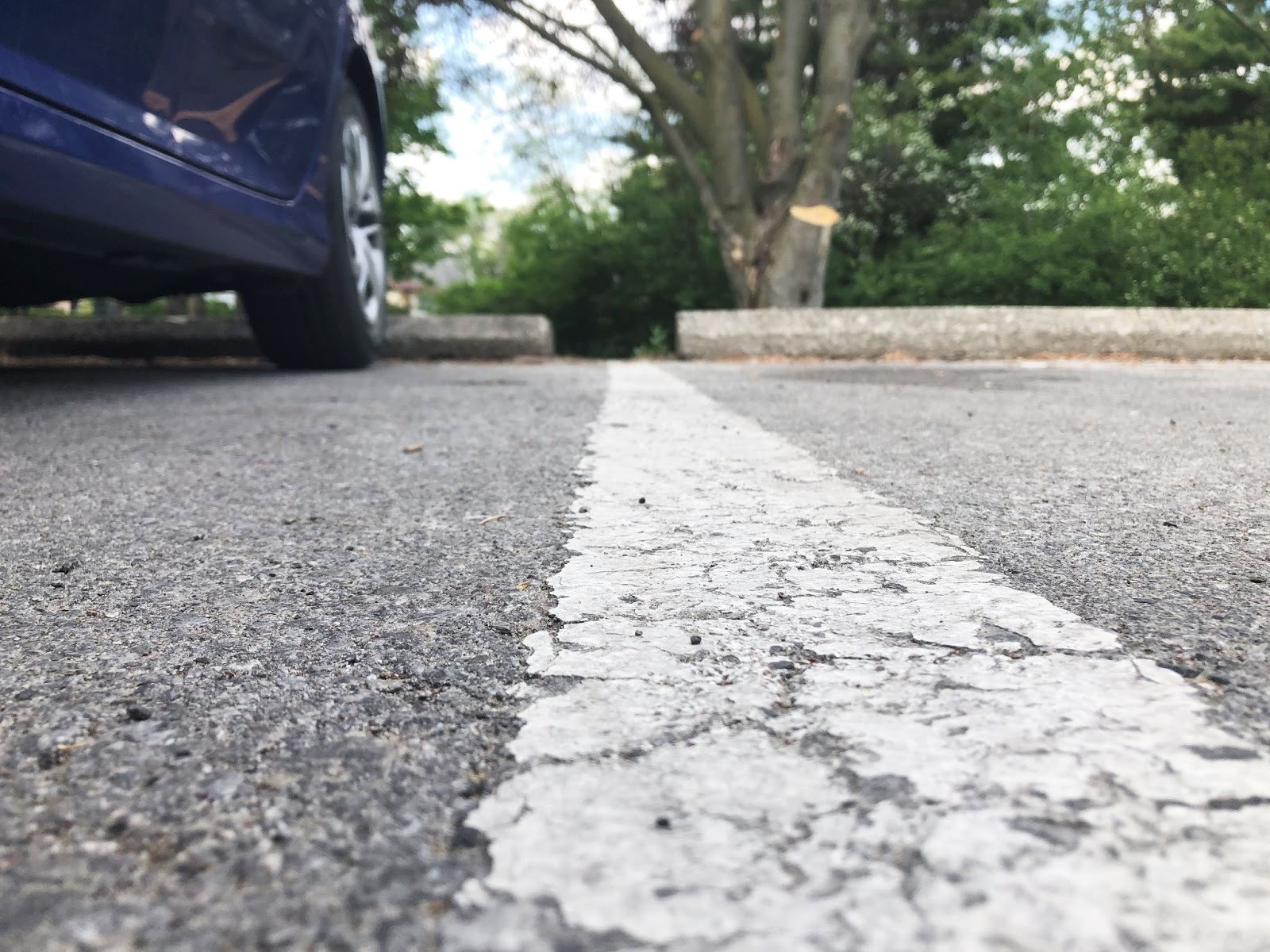 Will Mississauga ever be able to shift its urban design away from the automobile? (Photo by Joel Wittnebel/The Pointer)
"The City has never comprehensively reviewed its parking regulations and rates," the staff report explained. "This has resulted in Mississauga having parking rates that are much higher than its peer municipalities, are often out of step with the market and demographic trends, and are adding red tape to the planning process."
After hearing the presentation, few around the council table seemed to be listening. The same councillors who unanimously declared a climate emergency in 2019 were lukewarm on the ideas.
A council that has championed a multi-billion-dollar Light Rail Transit system being built along its main internal corridor on Hurontario Street, an investment that calls for a shift away from the car, continues to make contradicting decisions.
The parking recommendations should not have come as a surprise: councillors approved a new parking master plan two years ago that suggested the City "require any development proponent who wishes to exceed the maximum parking requirements to provide a justification report".
Councillors were far from convinced as they listened to plans to reduce parking for new developments in Mississauga
"We're all going to take transit, walk and crunch our granola bars as we skateboard to Square One — that's never happened, it's not going to happen, it's utter nonsense," George Carlson, Ward 11 Councillor and Chair of the Planning and Development Committee, said.
He went on to reference transit usage in the city, saying it had barely grown in his 20-plus years around the council table. "About 10 percent of people like using transit and that's not going to change very much," he added, referencing the fact many transit users are on the bus by necessity.
The hard data paints a better picture than Carlson did, but does show the vast majority of residents in Mississauga still drive. According to sample data from the 2006 Census, 15.8 percent of Mississauga residents commuted to work using public transit a decade-and-a-half-ago. The 2016 Census shows the figure had increased to 18.1 percent.
The numbers suggest any shift away from the suburban glory days of the personal automobile is happening at a glacial pace in Canada's sixth largest city, meanwhile the population growth continues to boom. Transit data from Mississauga's 2020 budget document, before COVID-19 kept residents home, show transit ridership was increasing steadily, thanks to the additional number of residents, many who are newcomers to the country and more reliant on public transportation. The number of MiWay fare-paying riders rose three percent in 2016, two percent in 2017 and another two percent in 2018.
Data from Mississauga's MiWay transit service show ridership is increasing steadily. (Image from the City of Mississauga)
Like Carlson, Ward 9 Councillor Pat Saito was nonplussed at the suggestion most residents could someday rely on transit. "I have no on-street parking anywhere [near the Meadowvale Town Centre]," she said. "Transit is, eh, it's okay, but we don't have all-day GO service, so the GO station is middling convenient. The biggest complaint I get everytime I have (a development) application is: where [are] visitors going to park, where are the tenants going to park?"
Taking MiWay's increasing ridership, proposals for a bus rapid transit corridor along Dundas Street and the Hurontario LRT into account, the parking proposals advised Mississauga councillors stop forcing developers to provide large amounts of space for parking. The move is, at least in part, fueled by builders who are failing to shift away from the parking accommodations City Hall has previously compelled them to build.
"An example frequently cited was that because the sale of units is generally unbundled from the sale of parking spaces, developers are unable to sell enough parking spaces to meet the City's minimum parking requirements," Mississauga staff explained.
Although parking spaces are often free to use and come as part of a home purchase, they do not spring up without money to create them. Spaces themselves require land acquisition and the cost of structured parking can be around $40,000 above ground and $70,000 below ground, per spot, according to Mississauga's report. This cost is added to the price of a unit or lease for a building, increasing the price of developments.
"Devoting so much land to cars and to parking... was a huge mistake," Brail added. "It's led to all kinds of hidden costs, whether it's with respect to the affordability of housing, environmental emissions, even congestion."
Parking garages are far from free to build and the costs are paid by residents, often even those that don't drive. (Photo by Natasha O'Neill / The Pointer)
Professor Donald Shoup, who works at the University of California, Los Angeles, has built a reputation highlighting the folly of over-providing parking. He notably argues that parking requirements are "closer to sorcery than science".
"Everyone wants to park for free, and most people consider parking a personal issue, not a policy problem," he wrote in the American Planning Association journal Zoning Practice. "Rational people quickly become emotional about parking, and staunch conservatives turn into ardent communists."
Shoup's words could have been applied to Mississauga's hour-long parking discussion.
"I often wonder who made those decisions in the city centre and I often wonder if they think they're going to force people to walk and ride their bicycles," Ward 5 Councillor Carolyn Parrish said, referencing several buildings on Rathburn Road West with no or minimal visitor parking. "I have a friend who lives on Rathburn, I would no more climb on a bicycle at my house and ride to her place than I'd fly to the moon."
A dynamic of council that is incongruent with the push for active mobility and sustainable modes of transportation, such as rapid transit, cuts along generational lines. Many of Mississauga's council members likely do not relate to younger generations who live in a different reality, have been confronted with the hard truth about climate change from a young age and choose to use transit and bikes to commute.
Many others can't use a car because they simply can't afford one.
Benchmarking Mississauga against similar cities shows it has quite dramatically fallen out of touch with its peers. The City of Edmonton does not require any parking spaces to be provided in any condos built within its limits, and it only requires 0.05 spaces per unit for visitors and none for residents outside of its downtown, where no parking minimums are required. Outer Ottawa requires 1 parking space per unit and no parking spaces for anything built near its LRT in the inner area.
In contrast, Mississauga currently requires 1 parking space for a bachelor apartment, 1.25 spaces for a 1-bedroom, 1.4 for a 2-bedroom and 1.75 for a 3-bedroom. The City also requires 0.2 parking spaces per unit for visitors.
Criteria for proposed parking precincts in Mississauga (Graphic from City of Mississauga)
To bring Mississauga in step with some other cities, an approach using four precincts has been suggested. They are: one (downtown and Port Credit); two and three (middling parking rates for areas with rapid transit lines and spaces targeted for intensification); and four for the remaining, outer areas of the city.
The changes include eliminating parking requirements for different sized condo units, something few other cities differentiate between. The report also suggested 0.8 spaces per unit in precinct one and 1.1 spaces in precinct four, more than many benchmarked cities. Parking requirements for affordable housing projects could also drop by 30 to 50 percent in an effort to keep housing costs down, while parking exemptions are suggested for small businesses.
Central to many councillors' fears around reducing parking requirements was a project in the downtown area the City embarked upon years ago. As the representative of Ward 4, Councillor John Kovac says he has been saddled with complaints from residents after council reduced its parking rates too eagerly at the promise of a green, transit-oriented future.
"There was talk by some of the councilmen at the time and convincing residents in the area that in the not-too-distant future, transit, cycling would be used to such a degree that really visitor parking probably won't even be needed," Kovac said to his colleagues, warning them that future councillors could suffer the same complaints he receives if the City moves too quickly. "What I like about the report here is that it is ambitious, I think there's a lot of good to be had in going through this and being supportive of it. I just hope we do find a way to strike more of a balance."
A map of the proposed precincts in Mississauga, with the majority of the city dedicated to the more suburban-style regulations. (Graphic from City of Mississauga)
Parrish also suggested the City could be getting ahead of itself.
"There's a certain degree of wishful thinking going on here," she added, referencing the City of Toronto's subway and streetcar system. "It's very practical there (in Toronto) and parking is so expensive people are forced [not to drive], but they're also provided with transportation that's very efficient, very grid-oriented. So I am not so sure that all this reduction in parking is such a hot idea."
Parrish explained the catch-22 situation Mississauga faces: how do you cut-off dependence on the car when the very features needed to do so can't be built because of that ongoing dependence?
A younger generation might force the change eventually, but she and some of her colleagues aren't convinced that time has come, yet.
Around the table, councillors were wearing their planning hats. At the Planning and Development Committee, they are responsible for considerations that include parking requirements, heights, density and zoning. They also sit at another table: council.
In that role, all 12 council members are responsible for budgeting and planning a transit service used by almost one in five residents. Reducing parking requirements in isolation may be a tall order, but pushing forward significant new transit investments could go some way to solving the dilemma and getting out from the catch-22.
"You absolutely can't just take away parking spots without providing alternative means of both getting around, but also alternative means of thinking about urban form and density and walkability," Brail explained. "But those two go together – one is the incentive and the other is kinda like the stick. And you need them both and you don't need to wait."
Jason Bevan, planning strategies director, told councillors, who have a car provided at the taxpayers' expense, that his team shared some concerns around visitor parking because the City had been "burned in the past", but warned against the mistake of oversupplying parking. In a city like Mississauga, with ambitious future plans, keeping parking regulations that have never been reviewed intact could hinder the hope for dynamic transformation, away from the suburban past into a more urban future.
Forests of condos being erected across the city, can come with bustling street life and swarming retail activity along beautifully landscaped sidewalks, all designed around transit. Or, residents can be forced in and out of automobiles everytime they want to get to distant plazas with cavernous stretches of paved parking lots and yellow-striped spots for cars. The postwar suburbs or a 21st-century city?
Despite its lukewarm response, a spokesperson for the City of Mississauga confirmed the report was officially received and further community consultation will take place. "Consultation will occur over the summer and fall, and the by-law and any related official plan updates would follow."
Carlson acknowledged, despite his past experience, the intention of the advice is commendable. But he suggested the only members of the public he hears from, are those who still see things from a different perspective.
"I get where you want to go. Of course, we're trying to make the world more perfect, but the people we work for don't seem to agree with us," he added. "I don't know what you do about that."
---
Email: [email protected]
Twitter: @isaaccallan
Tel: 647 561-4879
---
COVID-19 is impacting all Canadians. At a time when vital public information is needed by everyone, The Pointer has taken down our paywall on all stories relating to the pandemic and those of public interest to ensure every resident of Brampton and Mississauga has access to the facts. For those who are able, we encourage you to consider a subscription. This will help us report on important public interest issues the community needs to know about now more than ever. You can register for a 30-day free trial HERE. Thereafter, The Pointer will charge $10 a month and you can cancel any time right on the website. Thank you.
Submit a correction about this story