Feature Image from The Pointer files
Brampton housing crisis creates overwhelming number of secondary suite applications; firm hired to help
Of the 595 residential fire incidents that occured in Brampton between 2015 to 2019, 56 fires started in a basement apartment, 51 of them were not legally registered with the City.
A recent housing report for Peel Regional council included a particularly alarming statistic in an already jarring overview: 80 percent of residents in Brampton and Mississauga can not afford current rental and ownership costs.
That was before the real estate market in both cities exploded over the last year, pushing the average new home price to about $1.2 million.
With the cost skyrocketing and next to no affordable housing units being brought online, Peel, and Brampton particularly, have seen an almost unfathomable number of illegal secondary units spring up to meet the demands of low-income earners, students and many newcomers to the country.
Brampton councillors have, conservatively, estimated there are at least 50,000 illegal units in the city (some have said there could be 100,000).
It leaves planning on many levels in complete chaos, as everything from garbage collection to spaces for students in local schools becomes a guessing game, while property taxpayers are left subsidizing a range of costs to deliver services to tenants who are illegally housed.
More pressing than anything else, is the safety of these residents, many of whom are exploited by landlords who pack as many as two dozen people into one basement, with no regard for the fire or building code.
This has led to a concerted effort by the City to get these suites registered and brought into compliance with a number of regulations, while allowing a proper count of the population that has to be serviced by municipal and provincial infrastructure.
The problem is, the various programs, enforcement of rules and incentives launched to get secondary units registered has led to a flood of applications that City staff can not handle, especially under the cost-cutting leadership of Mayor Patrick Brown.
With limited details and no public information about the cost, Brampton councillors approved a staff request for a private firm to help clear the ballooning backlog of secondary suite applications building up at City Hall.
Citing long onboarding times for staff qualified to help review applications for new secondary suites, a staff report recommended outsourcing work to a private company as the backlog of residents waiting for review of their applications continues to grow.
The presence of secondary suites in Brampton has posed an ongoing challenge. The unprecedented number of unregistered units poses serious problems for firefighters who may not be aware of the number of people living inside a unit during an emergency response.
The significant push in recent years to ensure residents who have legally converted their home into multiple units are registered with the city has led to an unexpected labour problem inside City Hall, which highlights just how dire Brampton's worsening affordable crisis is.
In 2021, the City received 5,732 applications for two-unit dwellings, almost 35 percent of the overall applications it has received since 2015. According to a report from Brampton city staff this is ten times the rate of applications compared to Brampton's neighbouring municipalities.
In order to ensure these units are safe and habitable, as part of the application process, staff conduct inspections of the interior and exterior of the home. This review, according to the City, is supposed to take only 3 weeks from the time an application is received. Currently, it takes City staff 10 weeks.
"I think we're at a point now where the building department just (by) sheer numbers, can't handle the number of regular applications for businesses and development that are coming in for inspections, as well as all the second unit suites that are coming online," says Councillor Jeff Bowman, who has been a vocal advocate of Brampton's secondary unit program. The safety of tenants is his biggest concern and he has highlighted, during council meetings, the risk to residents living in crowded illegal units without features such as fire doors, smoke and carbon monoxide detectors. These illegal units are often constructed with flammable materials, without proper ventilation and Brampton Fire has often reported the use of propane and other dangerous cooking sources inside illegal basement suites.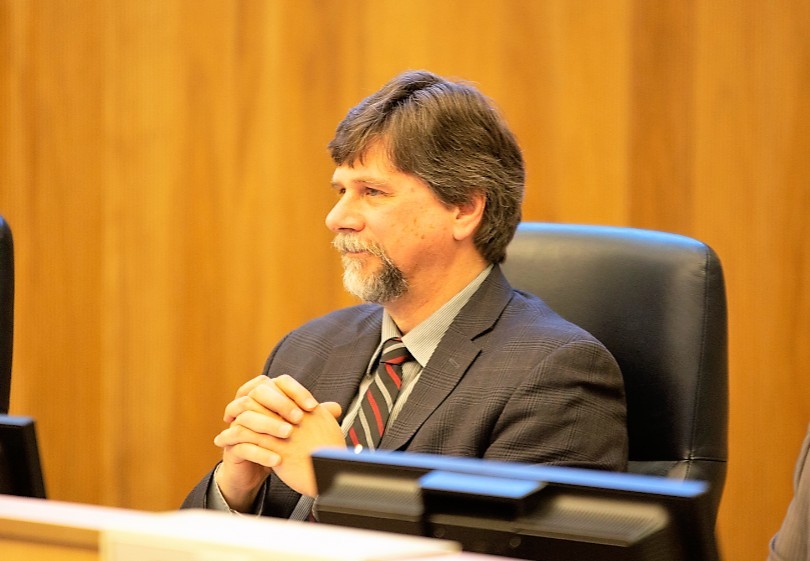 Brampton Councillor Jeff Bowman.
(Image from The Pointer files)
In February 2020, the city had only four inspectors as part of the secondary unit task force, which assessed and dealt with illegal secondary units in Brampton. Despite the small number of staff, Brampton was able to reduce the average review time for applications from 12 to 5 weeks. The report points to additional staff and work to "streamline the process" as contributors to the reduction.
In 2022, things have changed. No longer looking to rely on internal resources, Brampton City staff, following council's approval two weeks ago, will now be looking for an outside consultant to assist with the applications waiting for review.
"It can take 6 to 12 months to hire and onboard a fully qualified Plans Examiner," the report says.
City staff told The Pointer the bulk of the work will still be handled by City staff, and the private firm will be engaged "when necessary" to ensure the legislated review timeframe of 3 weeks, or 15 business days, can be reached.
"[U]sing a consultant provides rapid scalability that can be adjusted (up or down) to the volume of applications being received," Jacqueline Fulton, a spokesperson for the City, wrote in an email.
Councillor Bowman says obtaining a consultant "works out better" for the City in the short-term to assist in dealing with the backlog. But with numbers expected to grow, it is not a long–term solution.
"[I]t seems like every house that goes up for sale now, the investor buys it and immediately starts a second unit and so I expect the numbers to continue to grow," Bowman says.
He has concerns with relying on a private partner for a longer period of time, which could end up costing the City more than it would had it just used existing staff resources from the start.
"[I]f we're gonna have these people online for 2, 3, 4 years, I would much prefer that we have them as our own staff," Bowan says.
The number of secondary unit applications has been increasing rapidly on an annual basis for years. Since 2018, the figure has jumped from 1,791 applications to 5,732 in 2021.
During the same period, the city's affordable housing crisis has gotten much worse, as the Region of Peel failed to meet its own mandate for the creation of new units, and market prices have forced residents to seek alternative housing, often in the illegal market.
A comparison of the number of applications received for two-unit dwellings and the number of complaints received by the City of Brampton.
(Data provided by the City of Brampton)
Census data from 2016 show Brampton had the highest average number of people per household in Ontario, with an average of 3.5 residents, compared with a national average of 2.4 and a provincial average of 2.6. That means the average Brampton household had 46 percent more people living in it than the average Canadian home.
There were 42,060 residential units in Brampton that housed five or more people, the 2016 census data show. It was the only municipality in the GTA where this census category outnumbered all the others, and a sharp contrast to Toronto, where one-person households were the largest category.
According to 2016 data, Brampton had the second highest growth rate among Canada's 25 largest cities. Two-unit dwellings or secondary suites are often seen as an affordable option for people who can't afford any other housing type in Brampton.
The City website estimates Brampton's population grew to 698,200 residents in 2021, with more than 80,000 additional residents over the last 5 years. The figure for new residents is likely much higher than that, as the number does not factor the large cohort of people who leave the city each year.
Without any ready availability of affordable houses, these two-unit dwellings have grown in popularity, with most of these units usually located in basements of residential properties.
This map shows all of the two-unit dwellings that have been registered with the City. Secondary units are permitted in many homes, but they must be registered with the City to be legal.
(Image from City of Brampton)
The city had 10,961 registered two-unit homes as of January 25, an increase of 59-units since January 19, just six days prior.
In December 2019 Brampton had 4,634 registered two-unit dwellings.
Despite the number of units more than doubling in two years, it still does not paint a full picture of the number of secondary units in the city—something the Brampton Fire and Emergency Services (BFES) Master Plan, has described as a significant risk to residents.
Percentage of fire loss incidents by occupancy type, 2015-2019.
(BFES Fire Master Plan 2020 Report)
The BFES Community Risk Assessment identifies unregistered multi-unit dwellings, illegal boarding/lodging/rooming houses and areas with large concentrations of households where occupants rent, as the highest risks for the City of Brampton.
All 19 basement fires in the city in 2019 and 2020 occurred in unregistered illegal units, according to a December 2020 report from Brampton Fire and Emergency Services.
The widespread issue even extends to Brampton's political representatives. In 2018, Progressive Conservative Brampton West MPP Amarjot Sandhu was charged with operating illegal basement suites, The Pointer reported at the time.
The City regularly receives complaints regarding secondary suites, but since 2019, that number has drastically gone down compared to the number of applications.
Bowman says more people are now coming forward to register because City council made the process easier and dramatically decreased the registration fee to a flat $200 (a permit fee is separate) from $1,200.
During the recent council meeting, councillors approved the recommendation from staff to move ahead with procurement for "Plans Review Services" for two-unit dwellings for a two-year period. The report does not mention any budget estimate for the firm, but says funding will be taken from the building division's operating budget.
According to Fulton, the city spokesperson, there will be a full public tender process conducted in accordance with the City's purchasing by-law and costs for the service will be identified through the bid submissions.
All additional funding required will be included in future budgets, the staff report adds. City staff say all of these costs are recovered through the permitting process for these units.
---
Email: [email protected]
Twitter: Anukul_AT
---
COVID-19 is impacting all Canadians. At a time when vital public information is needed by everyone, The Pointer has taken down our paywall on all stories relating to the pandemic and those of public interest to ensure every resident of Brampton and Mississauga has access to the facts. For those who are able, we encourage you to consider a subscription. This will help us report on important public interest issues the community needs to know about now more than ever. You can register for a 30-day free trial HERE. Thereafter, The Pointer will charge $10 a month and you can cancel any time right on the website. Thank you
Submit a correction about this story