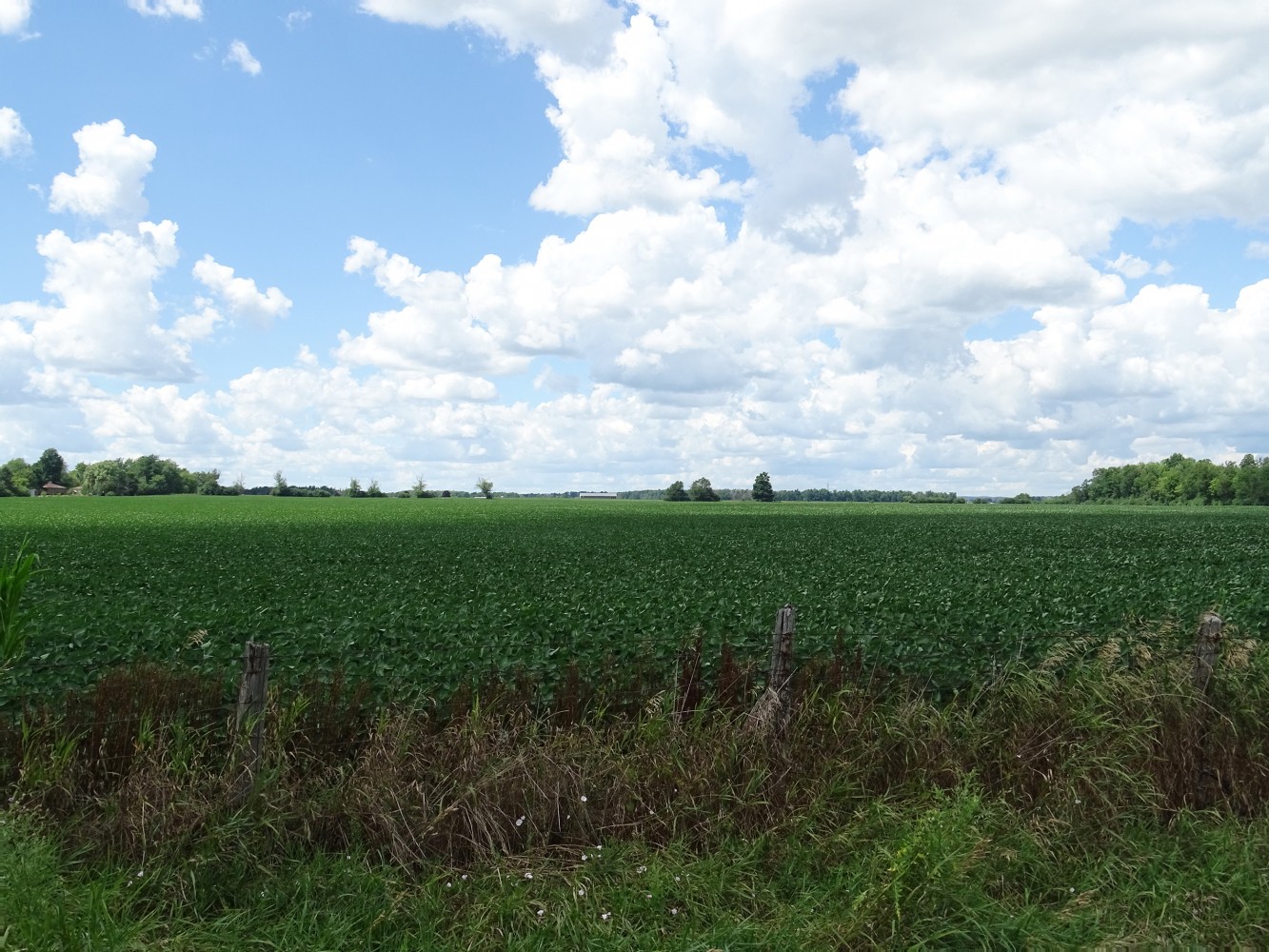 Feature image from Natasha O'Neill/The Pointer
Peel defers urban boundary expansion decision until end of April
After committee meetings, consultations, debates, delegations from members of the public, and hundreds of letters from residents, doctors, and well-known climate activists, regional council has deferred a final decision on its Official Plan until April 28.
The motion came from Councillor Carolyn Parrish, seconded by Caledon Mayor Allan Thompson—the Chair and Vice Chair of Peel's Planning and Growth Management Committee. Parrish made clear the delay was not the result of residents who were asking for a decision on the plan be postponed until after the June 2 provincial election, but only a result of small items that needed to be finalized in support of the completed document.
It means the additional land will almost certainly be opened up for future development.
"This report is, in my opinion, 99 percent perfect," Parrish said during Thursday's regional council meeting. "I don't want the people that want us to put it in after June the 2nd to get all excited, because that's not going to happen."
She also made it very clear that she does not see this delay as a way of changing the staff recommendations in any significant way.
"There's not going to be any massive changes. We just want a little time for a couple of delegations to be heard, respectfully," she said. "All those characters that are asking for June the 2nd, don't get your hopes up."
The Region has been undergoing a significant planning process to finalize the official plan document—called the Municipal Comprehensive Review (MCR) or Peel 2051. When completed, the document will form the foundation of future planning decisions across Peel.
According to the Province of Ontario's Growth Plan for the Greater Golden Horseshoe, Peel will need to accommodate 700,000 people and 335,000 jobs over the next 30 years. Regional staff have been working on the MCR since 2013 and have undertaken studies mandated by the Ontario government to help them finalize the document which they state is a "balanced approach" to developing Peel's future.
If approved the staff recommendation would see the Region expand its urban boundary past Mayfield Road in Brampton and around the Village of Bolton in Caledon, approximately 11,000 acres (4,400 hectares).
Specific requests from landowners, who are unhappy with recent zoning decisions, have been trickling in to planning staff the past few weeks.
(Region of Peel)
In previous reporting by The Pointer, two reasons for the expansion have come up, the need for Peel to accommodate the housing market segment that wants single-detached homes; and to have a gentle intensification rate instead of what some see as too much density for communities that don't have urban aspirations. Staff have signalled if the urban boundary stayed as is—something many residents have been demanding—about 75 percent of future growth would have to be done inside the urban areas. The lack of new land would mean over 60 percent of the housing stock would be apartments, regional staff have pointed out, raising concerns that this type of forced intensification could push many future buyers to other communities that are not planning as much density.
Ahead of Thursday's meeting, regional staff have needed to finalize particular aspects of the proposed plan as they relate to parcels of land in Peel that could be part of the urban boundary, or might be left out but would be zoned for unique uses. One of those in question is held by the Osprey Valley Landowners, which hosts a large high-end golf complex called TPC (Tournament Players Club) Toronto, part of a North American network that attracts a range of amateur and professional tournaments. The group, which has multiple courses on its Caledon site, requested the Region not designate their property as prime agricultural lands, despite being located in one of the northern parts of Caledon deep in the heart of the Greenbelt.
"I do have a motion that I want to bring forward to ask to have that removed from the prime agriculture and replaced as the rural agriculture," Mayor Allan Thompson said at Regional Council—the motion was not included on Thursday's agenda. "It is not a working farm and has not been for a very long time."
The land is located between Main Street and Beach Grove Side Road near the Village of Alton. The landowners run Osprey Valley, a "resort destination" for golfers in Caledon, which is located on the southern portion of the land. Peel staff undertook a study and have put forward a recommendation the land be zoned prime agricultural, limiting the landowners from constructing buildings or selling the land off for development.
"The joint Region of Peel/Town of Caledon Land Evaluation and Area Review (LEAR) Study scored the lands as having a high potential to support agriculture utilizing a consistent soil classification dataset available at a regional scale along with additional factors," a Regional planning report from April 7th states.
Councillor Parrish asked Mayor Thompson if he would consider supporting the deferral so councillors could "catch their breath" on the issue and consider any other small changes to the staff recommendation.
While the motion to defer the entire decision was met with no objections from Council, residents expressed dismay that despite strong opposition Councillors appear to be completely ignoring the concerns of their constituents. Members of the public also expressed frustration that council chose to defer hundreds of letters sent to the Region ahead of Thursday's meeting, with delegations from residents hoping to speak on the subject of the MCR being pushed back until a later date because they came in after council's set deadline.
Residents and local environmental groups have been tirelessly advocating for a future in Peel Region without an urban boundary expansion. Halton Region and the City of Hamilton have been the first municipalities to reject an urban boundary expansion, prompting backlash from Minister of Municipal Affairs and Housing, Steve Clark, who has pushed expansion so that more new houses can be built.
Rahul Mehta, a member of Stop Sprawl Peel, told The Pointer in a statement more grassroots organizations are popping up across the province to reject similar urban expansions.
"The evolving opposition across Ontario regarding MCRs (Hamilton, Halton and now Orillia) in tandem with strengthening positions by opposition parties to reform provincial planning requirements, Greenbelt Plan and policies to encourage affordable and dense housing within cities should be an additional reason to pause submission and reconsider the urban boundary expansion, but Council remains unfazed," he said.
Some members of the public and a recent analysis by The Pointer, indicate if council is to move ahead with the urban expansion, elected officials would be going against the approved statements and goals included in many of their already approved policy documents as they relate to Peel's natural heritage and its efforts to fight climate change.
The decision will also fly in the face of recommendations from expert bodies like the Intergovernmental Panel on Climate Change (IPCC)—which just last week highlighted how shifting the way the urban environment grows is foundational to limiting global temperature increase—the Convention on Biological Biodiversity (of which Canada is a signatory) and the United Nations Sustainable Development Goals.
If the boundary expansion is approved, birds will have to move farther north into the Greenbelt to get away from sprawl.
(Joel Wittnebel/The Pointer)
Through personal delegations and letters expressing a desire to create complete, walkable communities, members of the public have been attempting to sway regional council to reject the Official Plan.
Peel's chief planner Adrian Smith has reservations about delaying the final decision, noting the Region needs to submit an Official Plan before July 1 to abide by provincial legislation.
"The reality is, over the next few months, it's gonna be in provincial staff hands, not really at the political level," Smith told Parrish last week at committee.
If the Region does not submit a plan by the July 1 deadline, the Province has said it will step in and approve or create a plan of its own.
Members of the public who have been deeply engaged with the urban boundary issue say they will stay steadfast against any expansion and will continue to delegate and mobilize across the province.
"The OP is incomplete and does not address what taxpayers are asking for, which is a zero boundary expansion," Jenni Le Forestier, a member of Stop Sprawl Peel, told The Pointer in a statement. "Council is prepared to ignore the Greenbelt for sprawl. The densities are not high enough and they are condemning us all to 30 years more car dependency. The lack of respect towards delegates highlights just how out of touch this council has become."
---
Email: [email protected]
Twitter: @taasha__15
---
COVID-19 is impacting all Canadians. At a time when vital public information is needed by everyone, The Pointer has taken down our paywall on all stories relating to the pandemic and those of public interest to ensure every resident of Brampton and Mississauga has access to the facts. For those who are able, we encourage you to consider a subscription. This will help us report on important public interest issues the community needs to know about now more than ever. You can register for a 30-day free trial HERE. Thereafter, The Pointer will charge $10 a month and you can cancel any time right on the website. Thank you
Submit a correction about this story