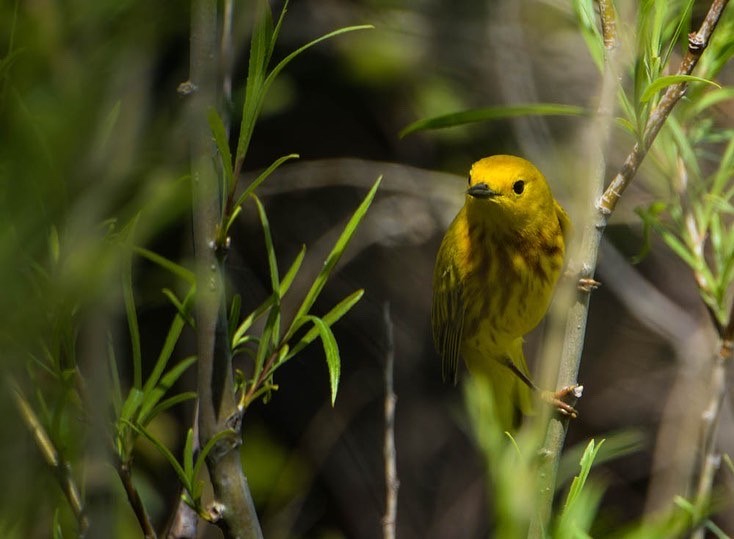 Feature image from Joel Wittnebel/The Pointer files
As urban expansion threatens Peel's last natural 'stronghold' councillors must decide what they truly value 
The Region's library of policy documents is flush with commitments to preserve the natural world and work to mitigate the impacts of climate change—some of which Peel is already grappling with.
The top priority of Peel's Urban Forest Best Practices Guide is to "value the urban forest"; Peel's Climate Change Master Plan states that, "protecting and increasing green infrastructure calls on the Region to lead by example, expanding green infrastructure across Regional assets and properties,"; a Greenland Systems report completed for Peel in May 2020 states, "Peel's natural heritage is an important facet of the quality of life in the Region," and it "will contribute to making the Region more resilient to climate change."
And Peel's Official Plan—a document that is meant to guide Peel's decision making—states "Peel's natural heritage is an important facet of the quality of life in the Region, impacting on environmental health and sustainability…The Region of Peel recognizes its responsibility to maintain, protect, restore and enhance natural systems in Peel."
On top of these are climate emergency declarations made by all four municipal councils in the region, and a host of other motions, policies and statements that have been widely supported by Peel's local elected officials when issues of sustainability, emissions reductions and climate change are addressed more and more frequently.
But what do all these words on paper really mean?
They can be rolled out when talking with a group of environmental advocates. They are mentioned during conferences on municipal best practices to address climate change. They get repeated during election season when the right people are in the room—those who truly care about preserving our planet for future generations.
Unfortunately, the natural world can not be protected by words. Especially if those who are meant to read them, and follow them, show little regard for what they actually mean when it's time for action.
The Region of Peel's current proposal to expand its urban boundary to include nearly 11,000 more acres of land to be gobbled up by developers, renders all the other words meaningless. Experts have shown the move is unnecessary, as planning research proves future population growth in regions such as Peel can be accommodated within the existing urban boundary.
If this was pursued, the types of complete communities and denser forms of living would not only allow for sustainable best practices such as transit system expansion, it would help Peel's municipalities reach their own goals for creating livable, more affordable, clean, green spaces where residents can live, work and play free from the pressures of car-induced sprawl.
If councillors approve the proposal in its current form, they will not only be going against their own planning vision for more complete communities, and the advice of numerous experts, citizen advocates and urban planning officials, the decision will also fly in the face of recommendations from expert bodies like the Intergovernmental Panel on Climate Change (IPCC)—which just last week highlighted how shifting the way the urban environment grows is foundational to limiting global temperature increase—the Convention on Biological Biodiversity (of which Canada is a signatory) and the United Nations Sustainable Development Goals.
If councillors approve the proposal in its current form, they will have a hand in exacerbating the global biodiversity crisis—the lands being opened are relied on by numerous species, including those already at risk. They will be effectively ignoring the looming climate crisis by allowing more urban sprawl, locking in more green space destruction and more vehicle-reliant communities.
If approved, councillors will essentially be unlocking the Greenbelt for future development, as it leaves the Region with nowhere else to grow.
The MCR's approval in its current form will have disastrous impacts for the environment.
---
The lands sitting on the chopping block are for the most part located in south Caledon, and total nearly 11,000 acres. Regional staff say the land is required to accommodate Peel's growing population.
These lands, part of the Etobicoke Creek watershed and the Humber River watershed, play a critical role in supporting the ecosystem health of large swaths of Peel Region.
The northern portions of the Humber River Watershed and the Etobicoke Creek watershed will see the worst effects if the urban expansion is approved. These negative effects will trickle down through the rest of the watershed.
(TRCA)
Development will place further stress on these areas that are already showing signs of degradation as a result of encroaching urbanization.
Both of these watersheds are managed by the Toronto Region Conservation Authority (TRCA), and the organization's data—particularly for the Etobicoke Creek watershed—detail how these natural areas are struggling under the burden of the urban world.
An analysis of the Humber River watershed completed in 2008 predicted dire consequences should the Main Humber sub-watershed—parts of which are currently being considered by Peel—be opened for development.
"This analysis showed that widespread negative impacts are expected to result from development according to approved official plans, if it is undertaken with conventional approaches to environmental management," the report states. "Further declines would be expected with full build-out to the limits of the Greenbelt, again assuming conventional approaches to environmental management."
Since that assessment, by almost every indication, the Main Humber sub-watershed, and Peel's natural environment generally, have only continued to degrade.
According to data from the TRCA, Peel does not meet the organization's target of 30 percent natural cover in the municipality. Peel was at 27 percent in 2007, and dropped to 25.8 percent in 2017. In the Etobicoke Creek watershed, there was 13.4 percent natural cover in 2007, a number that dropped to 11.3 percent in 2017. The approval of the urban boundary expansion would only drive this number down further, as the development would take place in the Headwaters sub-watershed of Etobicoke Creek, which holds some of the last remaining vestiges of natural space.
Peel is also below TRCA targets for forest bird quality, wetland vegetation, wetland birds, frog and toad communities, meadow birds (declining significantly), and groundwater quality.
Numerous species of birds will lose habitat and breeding grounds should Peel approve its urban boundary expansion.
(Joel Wittnebel/The Pointer)
This troubling reality is buffered slightly by the fact that municipalities have gotten better at adding green infrastructure to their plans over the last decade. The TRCA shows that both rural and urban vegetation quality are improving across its jurisdiction. Peel staff have made it clear that development in this expanded growth area "will be very different than how Peel has grown historically." This is encouraging, but even with greener growth practices that have an eye to sustainability, there is evidence to show this does little to help the wildlife and plantlife that have lost their habitat, breeding grounds or food source because a subdivision has paved over it.
"Although the floristic quality is showing an increase in the Toronto region, the type of species (habitat generalist versus habitat specialist) and the abundance of more sensitive species has declined. This is most evident in the rural areas," the TRCA states.
This should raise alarm bells for councillors whose current urban boundary proposal threatens almost 11,000 acres of this "rural area."
"The natural areas within the rural portion of the region have held highest quality habitat (largest in-tact forests) and are the last stronghold for many Species of Conservation Concern," the TRCA states.
Species of birds that rely on forests are particularly vulnerable to the encroaching urbanization. The barred owl, scarlet tanager, blackburnian warbler and ovenbirds to name a few will face significant struggles as their habitat is destroyed.
"Forest birds are sensitive to urbanization because the forest in urban areas tend to be smaller and poorer quality, there are more nest predators, and urban noise can affect communication," the TRCA states.
During last week's Planning and Growth Management Committee meeting, councillors heard from residents, environmental advocates, doctors, and fellow politicians, all of whom requested that councillors reconsider the expansion and think long-term about the path this will set Peel on for the next three decades.
"Sprawl has become a destructive, irresponsible force," said David Crombie. He is the Chair of the Friends of the Golden Horseshoe, former MP, one time mayor of Toronto and former chair of Ontario's Greenbelt Council (he resigned as a result of Doug Ford's pro-developer agenda).
"Clearly we need to change the way we think," Crombie said, noting that this decision will "demonstrate what we truly value."
Councillors on the committee showed no signs of being swayed by the delegates, but it was made clear they didn't particularly like the plan in its current form and that it was only being approved because of the provincial government's direction. In a cover letter that will be attached to the approved official plan, councillors state they would like to share "our concerns with the rigid Provincially mandated policy framework."
The PC government under Premier Doug Ford have been quite transparent in their efforts to make life easier for the development industry in Ontario. From limiting the power of conservation authorities, to stripping the Environmental Assessment Act or not enforcing Species at Risk legislation (and then misleading the public about it), to their heavy-handed use of Minister Zoning Orders to override local planning, this historic shift in Ontario's land use planning has extended into altering the system municipalities use to plan their futures.
The PCs changed intensification targets for urban planners in 2020 so that less growth would need to be accommodated with existing municipal boundaries, they extended the planning horizon from 2041 to 2051, meaning municipalities like Peel had to plan for 30 years of growth—as opposed to a phased approach that was the norm previously—and then the PCs released a housing forecast that allocated significantly more people, jobs and housing to suburban places outside major cities. All of this in order to make a case for opening more natural space and farmland for development.
"This is all intentional. It's a very conscious, strategic, sprawl agenda that mirrors what the industry has been lobbying for for well over 10 years, almost since the first Growth Plan came out in 2006," states Victor Doyle, the author of Ontario's Greenbelt Plan. "They've basically rigged the whole system."
Doyle believe's Peel's decision to open these lands, on top of the loss of natural capital when these lands are destroyed, will have a significantly more dire consequence—the opening of the Greenbelt for development.
The 2-million acre Greenbelt is the world's largest conglomeration of protected greenspace, and it's where the headwaters that feed the land occupied by more than half of Ontario's residents are found.
Urban boundaries of the GTA are quickly encroaching on the Greenbelt, particularly in York Region where requests are already being processed to remove protections on land within the Greenbelt boundary.
(Province of Ontario)
Peel's urban expansion will effectively eliminate the 'white belt', the swath of land that sits between current urban boundaries and the Greenbelt. Once that is gone, there is nowhere left for Peel to grow.
Already, municipalities in York have reached this limit—and are now attempting to push into the Greenbelt. In October 2021, York regional council approved a regional official plan amendment (ROPA) that opened up portions of the Greenbelt for rural residential, commercial and industrial uses. Potentially setting a precedent for Peel to do the same down the line.
"We are concerned that the approval of ROPA 7 is detrimental to Greenbelt lands and may set a regrettable precedent for future decisions," the Greenbelt Foundation stated in a press release at the time.
The Greenbelt will also be negatively impacted simply by being closer to the urban environment. These edge habitats face pollution of all sorts (chemical, noise and light), all of which can work to alter the ecosystem, degrade water quality and lead to a mass exodus of the species that previously relied on those lands. This in turn perpetuates a cycle that allows those edge habitats to be gobbled up by more development because they are degraded and no longer serve the same purpose. It's a vicious cycle, but one that happens all too often. For example, in November, the TRCA received an application to develop a wetland in Vaughn, and the degraded nature of the wetland was used as justification to destroy it.
According to TRCA staff: "If the subject property was not adversely impacted by the Highway 427 extension and extensive development in the surrounding area, development on this property would not be appropriate," the TRCA report states. "However, the features on the subject property have been impacted and the site conditions are now different."
"Those woodlots and those greenspaces are not the same when those houses go in, because of the light, because of the noise, because people bring in their cats and let their cats loose in the greenspace; there's more people walking through the greenspace," explains Ryan Norris, a professor in the department of integrative biology at the University of Guelph, noting that even with low-impact development standards (of which Peel is a leader in Ontario) it is "absolutely impossible" to not impact the nearby greenspaces in some way.
"From a scientific point of view, the effects of development on green spaces needs way more focus," he says.

---
The apparent reluctance of council to consider freezing the urban boundary is completely contradictory to their stance on the GTA West Highway.
In a motion approved in March of last year, Peel councillors cemented their opposition to the highway citing the "low density urban sprawl the 413 would cause" and the "ecological harm" as part of their reasoning. That motion was brought forward by Councillor Carolyn Parrish—who has been a vocal opponent of the proposed highway. But as chair of the Planning and Growth Management Committee, has done little to push back against the proposed urban expansion.
Approving the urban boundary expansion would lead to the same sprawl and the same environmental damage in Peel as the GTA West Highway (just without the highway). The lands that will be opened for future growth mirror the lands that would be unlocked should the GTA West Corridor be approved and constructed.
The move would also be contradictory to the climate emergencies declared by all four of Peel's municipalities, including the upper tier.
Increasingly, through cycling master plans, active transportation policies, transit master plans, pedestrian master plans, environmental master plans, floodplain mitigation commitments and all-encompassing planning exercises such as Brampton's expansive 2040 Vision effort to completely reimagine how the city will grow, and Mississauga's recent investments to engage community members to shape its Strategic Plan for the future, hundreds of thousands of residents have told their local elected officials the same thing—they do not want more sprawl and climate altering growth.
The results of these exhaustive efforts have been clear, and elected officials know it—more and more people do not want to live in the types of car-dominated suburban environments that were created in the past.
As the world evolves to address realities that were not widely considered 30 or 40 years ago, new generations are making it clear they want to shape new ways of living.
Staff at the Region and councillors signalling their support for expanding the urban boundary are aligned with developers who want to keep doing what they have done for the past 40 years. Transit and complete communities are not their concern. They believe the market wants what their parents and grandparents wanted.
The PC government, aligned with developers, believes their approach will help solve the housing crunch.
The loss of green space and farmland for more residential construction will not solve the problem, experts say, but Peel and Doug Ford appear to be taking their cues from the private sector.
Some Peel council members representing Caledon, primarily Mayor Allan Thompson and Councillor Jennifer Innis, have long pushed for more sprawl and opening up more land for development. They have faced criticism for potentially benefiting their own families who own large tracts of land that would be significantly more valuable if sold for future residential development. It's unclear if they will be compelled to declare a conflict of interest when the urban boundary expansion is addressed on Thursday.
The construction of more homes has been billed by the Province as a solution to the housing affordability crisis. Doyle says approving these lands for housing will do nothing to change the crisis facing Ontario's prospective home buyers. As experts have pointed out, the need for more land is not the issue.
"Not only is there not a lack of existing approved land, this stuff, 15 to 30 years out, is going to do absolutely nothing in relation to the affordability challenges we're having right now," Doyle says. "It's not needed, it's not going to help and it's just a result of a provincially forced sprawl agenda that they're mandating municipalities to deliver on."
Peel does not have to toe the PC line.
Municipalities like Hamilton and Halton Region have already pushed back against this PC drive for more sprawl by voting to freeze their urban boundaries.
Peel councillors can do the same.
---
Email: [email protected]
Twitter: @JoeljWittnebel
---
COVID-19 is impacting all Canadians. At a time when vital public information is needed by everyone, The Pointer has taken down our paywall on all stories relating to the pandemic and those of public interest to ensure every resident of Brampton and Mississauga has access to the facts. For those who are able, we encourage you to consider a subscription. This will help us report on important public interest issues the community needs to know about now more than ever. You can register for a 30-day free trial HERE. Thereafter, The Pointer will charge $10 a month and you can cancel any time right on the website. Thank you
Submit a correction about this story