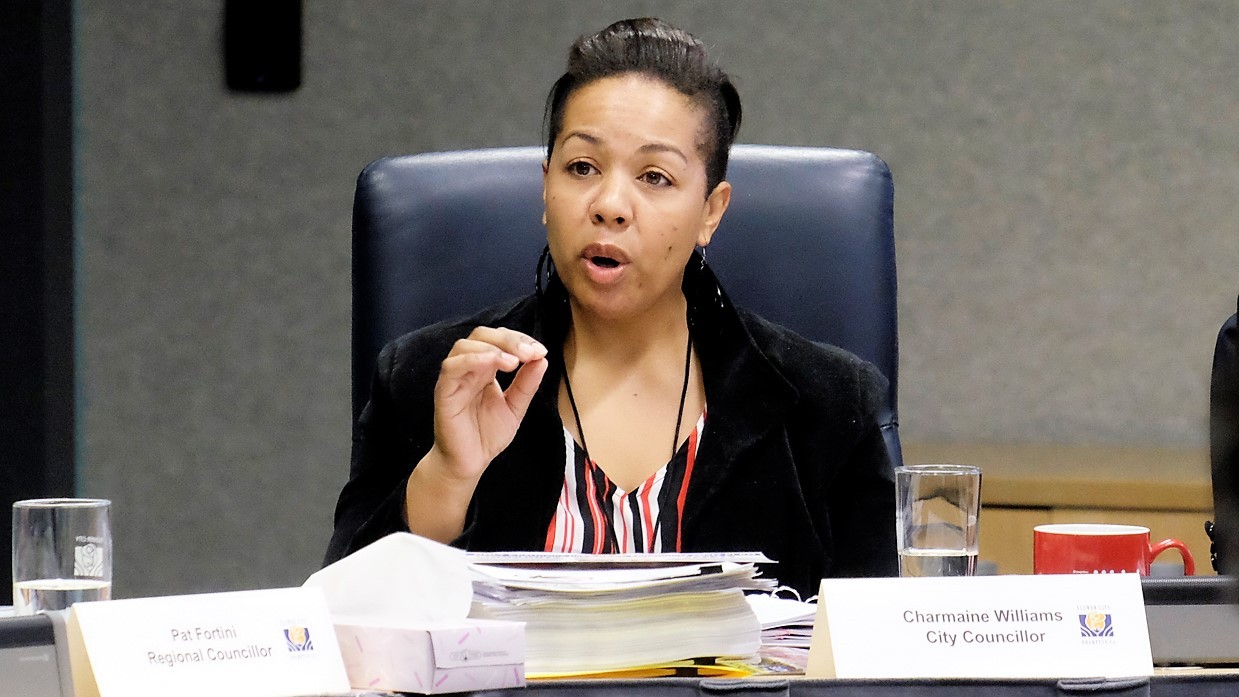 Photo: The Pointer files
Brampton's Black, African and Caribbean communities question how City can claim it's an 'equal opportunity employer'
The year is 2021.
You can fly across the world, dine in the finest restaurants, but if you're a member of Brampton's Black, African or Caribbean communities your chances of landing a job at City Hall are slim.
(Image: City of Brampton)
More than three quarters of the residents are not white, but you wouldn't be able to tell judging by the municipality's staff.
The City claims to be an equal opportunity employer – the wording is plastered at the bottom of every job posting – but has no way to prove the claim. Applicants can't self-identify and there's no place where current employees can record their ethnic or racial identity.
Equity advocate David Bosveld told The Pointer members of Brampton's diverse Black communities who are educated and experienced have applied for City jobs multiple times but haven't been acknowledged. With no explanation or data as to why this happens time and again, Bosveld said he can't help but think discriminatory hiring practices are involved.
The issue has spanned generations. At Wednesday's City Council meeting, Councillor Charmaine Williams shared correspondences from residents stating they were unable to get a job at City Hall years ago and now their kids are facing the same discrimination.
"Community members have been saying for a long time that we feel shut out at City Hall when applying for jobs. This isn't something that just all of a sudden came to the forefront… We haven't been believed," Bosveld said.
Staff responses have not helped.
At a May 18 meeting of Mayor Patrick Brown's Black, African, and Caribbean advisory council, which Bosveld is a part of, HR director Sandeep Aujla was present to speak about targeted recruitment for the City's fire department and improving the poor representation of Black residents.
According to the 2016 Census, 14 percent of Brampton's residents were Black. This is not reflected in the city's public institutions, which for decades have failed to hire equitably, keeping visible minorities out and taking away opportunities for lucrative public sector jobs with generous benefits and pensions.
Peel District School Board and Peel Police are two of the institutions that have recently come under fire for failing to hire racialized residents and protecting a discriminatory culture.
The Pointer was told 800 applications were received by the Brampton Fire Department and only one Black candidate was hired. It's not clear how many identified as being part of the Black, African, and Caribbean communities. When confronted with the dismal hiring, Aujla, who is in charge of hiring practices for the City, was asked why only one Black applicant was hired. She responded to members of the advisory group, telling them the City only hires the best.
Members, including Bosveld, were left stunned and frustrated by the comments. "It became clear when she was speaking that she doesn't have a strong equity lens or anti-Black racism lens."
Allegations surrounding Aujla didn't help. Whistleblower Gurdeep (Nikki) Kaur, a director with the City, shared scathing claims of nepotism, racism, and unfair hiring practices in April.

Sandeep Aujla is the head of Brampton's HR department. (Screenshot from Twitter)
Kaur alleges Aujla said "Black people are dumb" when she was being interviewed for the position she currently holds. Kaur outlined she was part of the hiring panel. Aujla aggressively denies the allegations. The City has also denied all of Kaur's claims.
Aujla's lawyer, Alex Van Kralingen, sent a letter to The Pointer stating Kaur's allegations are causing his client "significant reputational loss."
"The allegations proffered by Ms. Kaur are entirely false, and Ms. Aujla has total confidence that she will be vindicated," he said. Aujla has filed a lawsuit against Kaur over the written allegations she released April 22.
Kaur's allegations are currently being investigated by consulting firm Deloitte after City Council ordered a third-party probe.
Aujla made her remarks to the members of the Black advisory committee at the May 18 meeting. A follow-up meeting to discuss hiring at the City was scheduled but members told The Pointer they did not want Aujla there after her comments during the first session. On June 3 another meeting was held without the HR director and Williams spoke with members for over six hours, listening to their concerns and discussing a motion to change the City's practices.
"All we have right now is anecdotal information saying Blacks are disproportionately underrepresented and I would rather have something more fact-based to be able to get this data and then say, 'Look, it's before you, the Black community is highly underrepresented as with other communities. What are you going to do about that'," she said at the meeting.
Her motion, presented Wednesday, asked for an equity audit to be conducted and data on race, gender-identity, ethnicity, faith, and other demographic information be collected and analyzed to show what gaps exist in various departments.
The City previously completed an audit in 2019. It found only 37 percent of the municipality's workforce identified as racialized and this only applied to 15 percent of the City's Corporate Leadership Team.
The numbers are likely worse as the survey response rate was very low and research shows white employees are less likely to participate in voluntary equity-based surveys.
At the time, the City promised to make changes. "The City will review the recruitment and advancement process for barriers, biases and/or unintended inequities, integrate diversity and inclusion practices, develop diversity outreach goals and enhance learning and a greater awareness of bias."
Many feel this has not happened.
Mayor Patrick Brown oversaw the hiring of a white man, David Barrick, who had no experience and wasn't even from Peel, to run the entire City Hall administration. He's a former Port Colborne councillor, and Barrick has since hired a number of former white, male associates from Niagara Region for senior positions inside City Hall. It's clear equity and inclusion practices were not used as he hand-picked the people he wanted.
Previously, under Brown's authority, Jason Tamming, another close associate of Barrick's from Niagara, was hired to run the City's communications function, despite having no experience in Brampton and no familiarity dealing with various communities in one of the most diverse cities in the world.
It suggests that instead of efforts to change the lack of diversity, City Hall leadership has ignored the need to reflect the very community they are supposed to serve.
The culture, critics told The Pointer, is even worse.
Williams' motion calls for the audit to be completed by the fourth quarter of 2021 and be followed by a report from the HR department and Equity Office outlining strategies to address gaps in pay, promotions and hirings, and accountability measures for senior leaders.
Bosveld said the motion is a good but late start. "It's somewhat appalling that this is our starting point in 2021."
He said the communities are "fortunate" to have Williams as a council member, because without her, the motion may have never come forward. "Otherwise we're having to ask someone else to put our interests at the forefront and oftentimes that becomes a process of begging and pleading, and being ignored."
Williams' motion also asks the City to "reaffirm" its commitments to tackling anti-Black, anti-Indigenous and anti-Asian racism and "adhere to equity principles in its recruitment, hiring and promotion of staff."
Bosveld acknowledges the first step is to say you're committed to fixing a longstanding issue, but there's only so many times this can be done. "Words are a starting point to shift the conversation but now we've heard the words for this entire council term." He pointed to the phrase of the City being "an equal opportunity employer" as an example of empty words that are not supported by concrete policies. The woeful representation of visible minorities inside City Hall is proof that leaders have used lip service to mask their unwillingness to take action, he said.
City Councillor Charmaine Williams led the push for a second equity audit. (Image from The Pointer files)
This "falls flat on its face if they have no idea who's applying," he said, referring to the City's misleading claim of being an "equal opportunity employer" without proper data and actual policies to make the claim.
"We need real data collection, we need an audit, we need intentional hiring practices."
Some felt the City presented the same lip service on Wednesday when it pledged to be a part of The BlackNorth Initiative, led by a group that works with corporations to remove systematic barriers that impact Black Canadians by having them sign a pledge commiting to holding conversations about anti-Black racism, creating diversity plans, and educating employees, among other promises.
Danielle Dowdy, one of the members of the advisory committee, said the issue equity and inclusion advocates have isn't with the pledge, it's how the City plans on following through, as council didn't speak about specific measurements, data collection, updated hiring policies or timelines to implement concrete policy changes. She said she shared the concerns with Williams at the last committee meeting. "There wasn't any tangible action associated with the pledge." Without concrete details, "it's just a pledge and it looks nice and there's no corresponding action," Dowdy said.
Mary-Frances Winters, the author of Black Fatigue, warns that institutions whose leaders make pledges and offer words of support after decades of discriminatory behaviour, often hope these empty actions, which often come with no actual intention to change, will continue to hide a culture that benefits the same people.
Williams took action and asked for staff to report back on ways the City will incorporate the pledge's expected measures.
The Region of Peel took the pledge a couple of weeks ago. Dowdy said its leadership gushed about how great it was to sign on to the effort, but could not explain how they would actually implement actions to force change. "I didn't want to see that happen again," Dowdy told The Pointer.
Williams' motion tasks the HR department to add the collection of data to identify race, gender and other pieces of demographic information that will be available through the City's internal web portal. An internal communication strategy will encourage staff to participate in equity audits and surveys. This was a problem in the last survey, as only 29 percent of staff responded.
Perhaps most importantly, Williams' motion asks the HR department to immediately implement a strategy so those applying for a job can provide information on their race and gender that will be documented and made available to the public.
The motion places a lot of responsibility on the City's HR department.
This worries Bosveld. Even if the allegations of racism against Aujla are proven to be unfounded, others such as widespread dysfunction and nepotism may be true, creating barriers around hiring that have led to the alarming situation inside a City Hall that has utterly failed to reflect its community.
Regardless of the third-party investigation results, the current reality "shows dysfunction at minimum, and at worst, direct anti-Black racism."
---
Email: [email protected]
Twitter: @nida_zafar
Tel: 416 890-7643
---
COVID-19 is impacting all Canadians. At a time when vital public information is needed by everyone, The Pointer has taken down our paywall on all stories relating to the pandemic and those of public interest to ensure every resident of Brampton and Mississauga has access to the facts. For those who are able, we encourage you to consider a subscription. This will help us report on important public interest issues the community needs to know about now more than ever. You can register for a 30-day free trial HERE. Thereafter, The Pointer will charge $10 a month and you can cancel any time right on the website. Thank you.
Submit a correction about this story