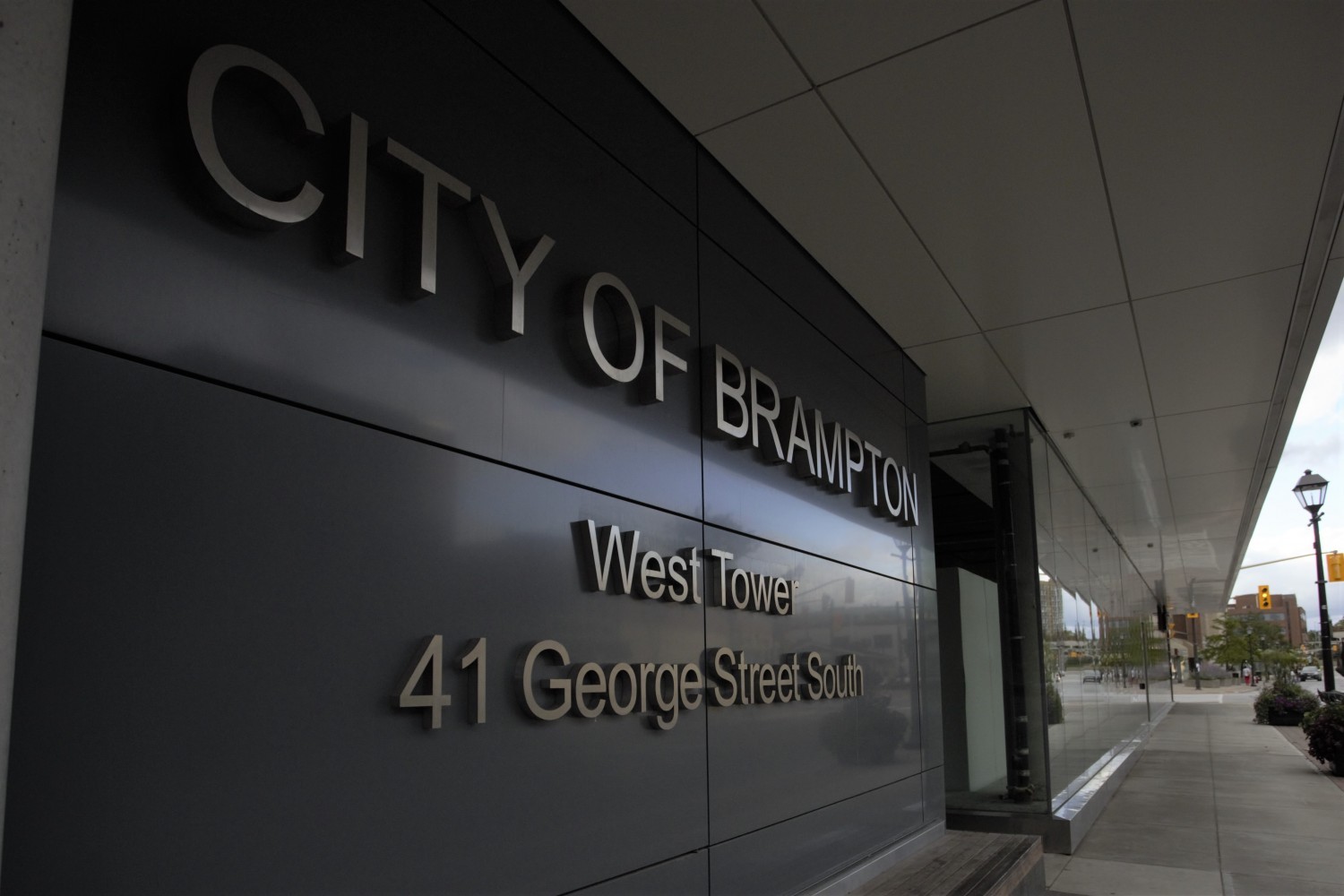 Feature image from The Pointer files
Members of Brampton's African & Caribbean communities question HR director's work to end anti-Black hiring practices inside City Hall
The City of Brampton claims it is "an equal opportunity employer". At the bottom of every job posting is a message stating the corporation's commitment to a recruitment process free of barriers. For many in Brampton's Black, African and Caribbean communities, the statement couldn't be further from the truth.
David Bosveld questions how the City can state this, given applicants don't have the opportunity to self-identify when applying for a job and no attempts are made to collect data detailing the backgrounds of those who work for the City of Brampton.
As The Pointer has reported over the past few months, Mayor Patrick Brown hired a white man from Niagara, David Barrick, for the City's chief administrator role, the top job inside City Hall. It's clear Brown picked the person he wanted. Barrick has since hired numerous white, male senior staff from Niagara and consultants familiar to him and Brown.
Sources have told The Pointer these hires were not carried out using proper hiring practices, while equity and inclusion principles were ignored, despite the City's claims.
Whistleblower Gurdeep (Nikki) Kaur, who holds a director-level position with the City, came forward in April with scathing allegations of nepotism, racism and unfair hiring practices, as well as widespread corruption in procurement practices and other functions overseen by Barrick. The City has denied all the allegations.
A third-party investigator is now set to probe the disturbing allegations, including Kaur's description of HR director Sandeep Aujla, who allegedly made disparaging comments about Black employees. She has denied Kaur's claim.
Recent comments made by Aujla have caused more concern for Bosveld.
He is a member of Mayor Brown's Black, African, and Caribbean advisory council. He recently attended a series of meetings that addressed the lack of hirings from these communities.
At the May 18 meeting, the second of three, Aujla was invited to speak about targeted recruitment for the fire department. Bosveld said the City was recruiting a new class of firefighters with the intention of "improving representation of Black people in the fire department." Sources say 800 applications were received but only one person was hired. It's not clear how many applicants identified as being part of the Black, African, or Caribbean communities. The Pointer was not part of the meeting. Three individuals who participated reached out to The Pointer within a day of the meeting, expressing similar alarm over what Aujla said.
When it was pointed out that the recruitment effort only resulted in one hire from the diverse Black communities, Aujla reportedly responded that the City only hires the best.
Aujla and the City were asked to confirm what was said, but no response has been received.
Sandeep Aujla has been serving as Brampton HR director since January 2020. (Screengrab from Twitter)
Danielle Dowdy, another member of the advisory group, said Aujla appeared to not understand basic equity principles and what happened with the hiring process for the City's fire department.
One applicant who was rejected by the City of Brampton was subsequently hired by York Region. Dowdy recalls Aujla claiming the two regions can't be compared. It's unclear what she meant by this, Dowdy said.
"Just listening to all of it, it sounded so profoundly disturbing," she said. There were no conversations on where the job was advertised and how recruitment took place.
She recalls Aujla saying, "We're just getting started", which she said made a lot of people upset. "It's 2021. The time to get started was many moons ago." The responses showed her there was no desire to focus on the issue of equity in the City's hiring and what was causing the barriers.
Bosveld also felt Aujla didn't grasp the concept of anti-Blackness in the City's hiring practices. He recalls her claiming she's working on a PhD, looking into ways to remove racism from hiring. He felt like the director of HR was "simultaneously learning how to do the job."
A complaint to Ontario's Ombudsman in December by a former City employee, shared with The Pointer, alleges Aujla is a personal friend of Councillor Harkirat Singh.
Kaur, in her allegation, alleges Aujla was fired from a lower-level position prior to Barrick's arrival, and then the CAO rehired her as head of HR.
The third-party investigation is now probing all the allegations of wrongdoing and corruption inside City Hall.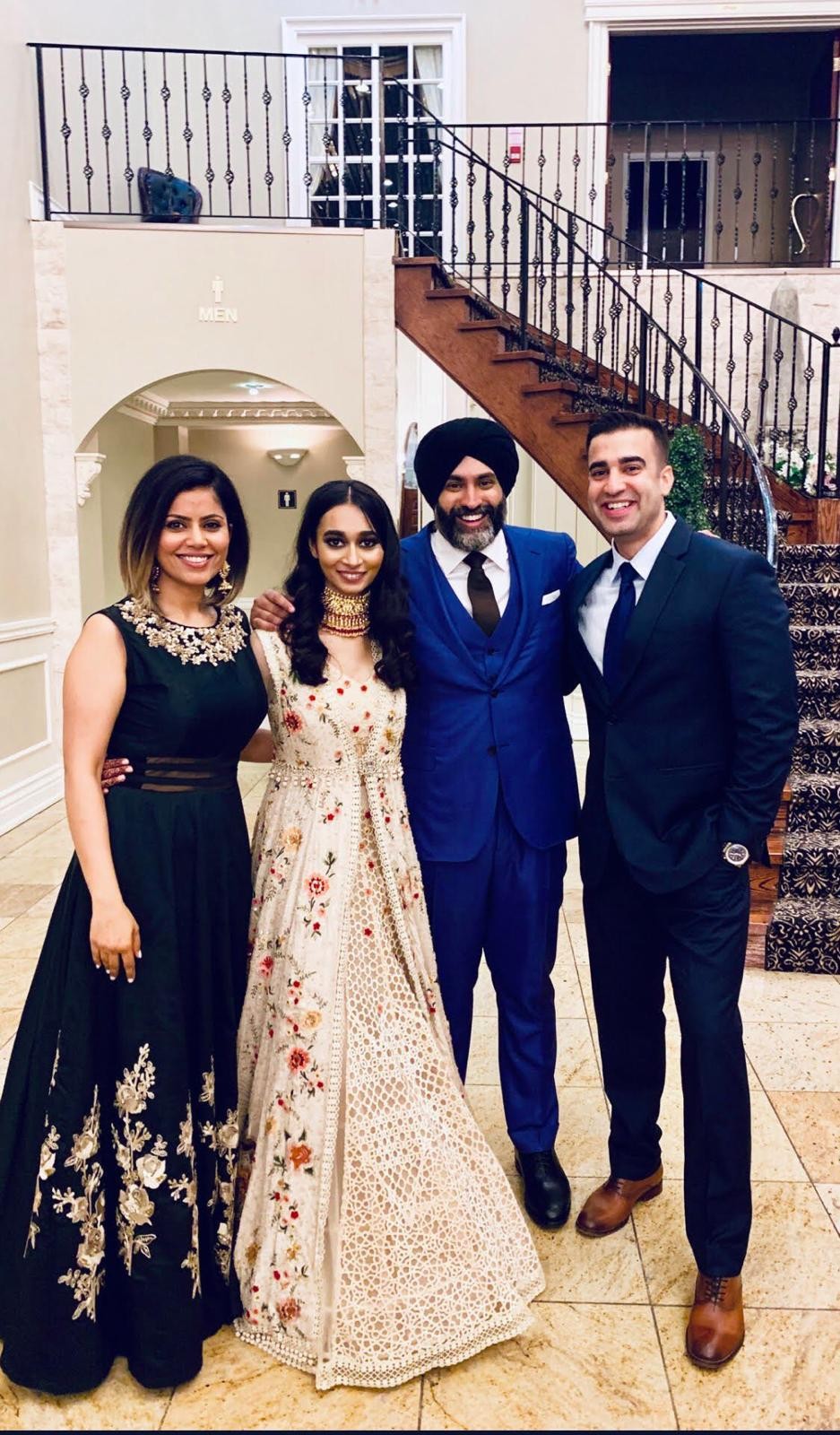 Brampton's head of HR, Sandeep Aujla, left, and Brampton Councillor Harkirat Singh, bright blue suit, are allegedly close friends. Allegations of nepotism inside City Hall are currently being probed by a third-party investigator. (Supplied photo)
Aujla has filed a lawsuit against Kaur over the allegations she publicly levelled, denying all the claims. Kaur told The Pointer through her lawyer she will defend against the lawsuit "vigorously".
Aujla's lawyer, Alex Van Kralingen, said his client was employed in the City's HR department for about a year, prior to becoming the head. He was asked if his client could explain why there was a period prior to the start of her role as HR director when she apparently was not employed by the City, but he said Aujla is "legally precluded" from answering the question.
Members of the advisory group didn't feel Aujla's presence at the recent meeting was appropriate, given allegations by Kaur that she made racist comments about Black employees, Dowdy said.
In Kaur's publicly released allegations, she wrote that Aujla said "Black people are dumb" when she was being interviewed for her current position as HR director. Kaur said she was part of the interview panel. The allegations haven't been proven in court, but Aujla aggressively denies them in her recently filed lawsuit against Kaur.
Dowdy said the allegations against Aujla make many question if they have a fair shot at any job openings at the City.
Van Kralingen, Aujla's lawyer, said issues around his client's participation in the meeting should be directed to the City, which has not responded to questions from The Pointer. In a letter he sent to The Pointer responding to Kaur's allegations of racist comments, Van Kralingen said they are causing Aujla "significant reputational loss." He wrote, "the allegations proffered by Ms. Kaur are entirely false, and Ms. Aujla has total confidence that she will be vindicated."
When Aujla was brought in for the recent meeting with the community group, the advisory body was told the allegations couldn't be discussed. Bosveld doesn't understand why Aujla was brought in to speak in the first place, a decision which went against the wishes of those who asked her not to be there.
"While (allegations) are hanging over her head, it doesn't make sense to put her in a room full of Black people, where you've determined that you can't discuss those issues, or comment on them."
Bosveld said the group is meant to advise and their voices should be heard. If they collectively stated they didn't want to meet with Aujla, they should have been listened to.
While Dowdy was frustrated, she also wanted to "bear witness" to the conversation and what it illustrated. She said a lot of members left the meeting "completely traumatized, utterly shocked" after what they heard.
Dowdy and Bosveld have both spoken to members of the community who have applied to jobs at the City multiple times. Educated and experienced, the applicants don't even receive a confirmation email. "Then it starts to smell like something's fishy," Dowdy said. Bosveld said it could be possible jobs are reserved for specific individuals, but without an explanation, it's also plausible that discriminatory hiring practices are taking place.
"I'm not confident in the existing HR department and director, given all of the controversy swirling around there, and the allegations [have] got to be a distraction."
David Bosveld says the City needs to collect race-based information to understand who is being given jobs. (Photo from David Bosveld)
Bosveld said the meeting took a turn when one member made comments suggesting South Asians are racist toward their fellow Black residents. The member was immediately removed from the meeting. Bosveld acknowledges the comments were inappropriate and the correct language was not used. The member could have made his statement in other ways, he said. But instead of using it as an opportunity to have a complicated conversation around racist attitudes held by many individuals who are themselves racialized, the discussion resumed and no difficult, contextual issues were raised.
Bosveld believes the number of Black employees at the City does not mirror the population in Brampton, and while there may be other underrepresented groups who make up a large proportion of the City's staff, it doesn't address the lack of Black employees. Diversity, equity, and anti-Blackness aren't the same, he said.
"If I say as a Black man, I don't feel I'm getting a fair share at the hiring processes, you can't come back and say, 'we have a lot of diversity in the City so we don't feel like we're excluding Black people'."
The only evidence that can be shared currently is anecdotal and Bosveld said he doesn't believe the City is taking action to address the experiences the Black communities are sharing, based on their own evidence. He urges the City to start collecting hiring and employment data that is broken down by race and will show who is getting jobs, at what levels and who is getting promoted into senior positions.
Until then, "they're going to have to take our word for it," he said. A third-party equity audit of City Hall was completed in 2019, but because it was voluntary, Bosveld said not enough information was collected to paint an accurate picture.
Only 37 percent of the City's employees, according to the audit, identified as visible minorities, in a city where about 80 percent of residents are not white. The numbers inside City Hall are likely much worse, because the audit had such a low participation rate, and visible minority employees were likely vastly over-represented in the number who participated.
City Councillor Charmaine Williams is working on a motion that will change this. It will focus on the collection of data to "identify gaps and inequities throughout the Corporation in general and require accountability from leadership to ensure that equity is achieved," she told The Pointer.
Bosveld believes the City needs targeted hiring, applicants should be allowed to self-identify, and more accurate audits on previous hirings should be conducted to understand if the practices were fair. He acknowledges some could see targeted hiring as controversial, with preference given to certain groups. "But if you're serious about rectifying a historical wrong that exists today, then that's the step that you have to take."
The Black community advisory group was put together when Brown was first elected, Dowdy said, by one of his senior advisors and the only qualification to join is identifying as Black and living in Brampton.
But there is no formal membership to be a part of this group. Sources The Pointer spoke with would like to see this changed to create a more focused approach and ensure those stakeholders who are most committed to change will lead the decision making process, said Dowdy, who added that while Brown needs to show leadership by taking ownership of the problem she is optimistic that he and Williams will take the community voice seriously by bringing a motion forward to address the concerns raised by the community.
---
Email: [email protected]
Twitter: @nida_zafar
Tel: 416 890-7643
---
COVID-19 is impacting all Canadians. At a time when vital public information is needed by everyone, The Pointer has taken down our paywall on all stories relating to the pandemic and those of public interest to ensure every resident of Brampton and Mississauga has access to the facts. For those who are able, we encourage you to consider a subscription. This will help us report on important public interest issues the community needs to know about now more than ever. You can register for a 30-day free trial HERE. Thereafter, The Pointer will charge $10 a month and you can cancel any time right on the website. Thank you.
Submit a correction about this story