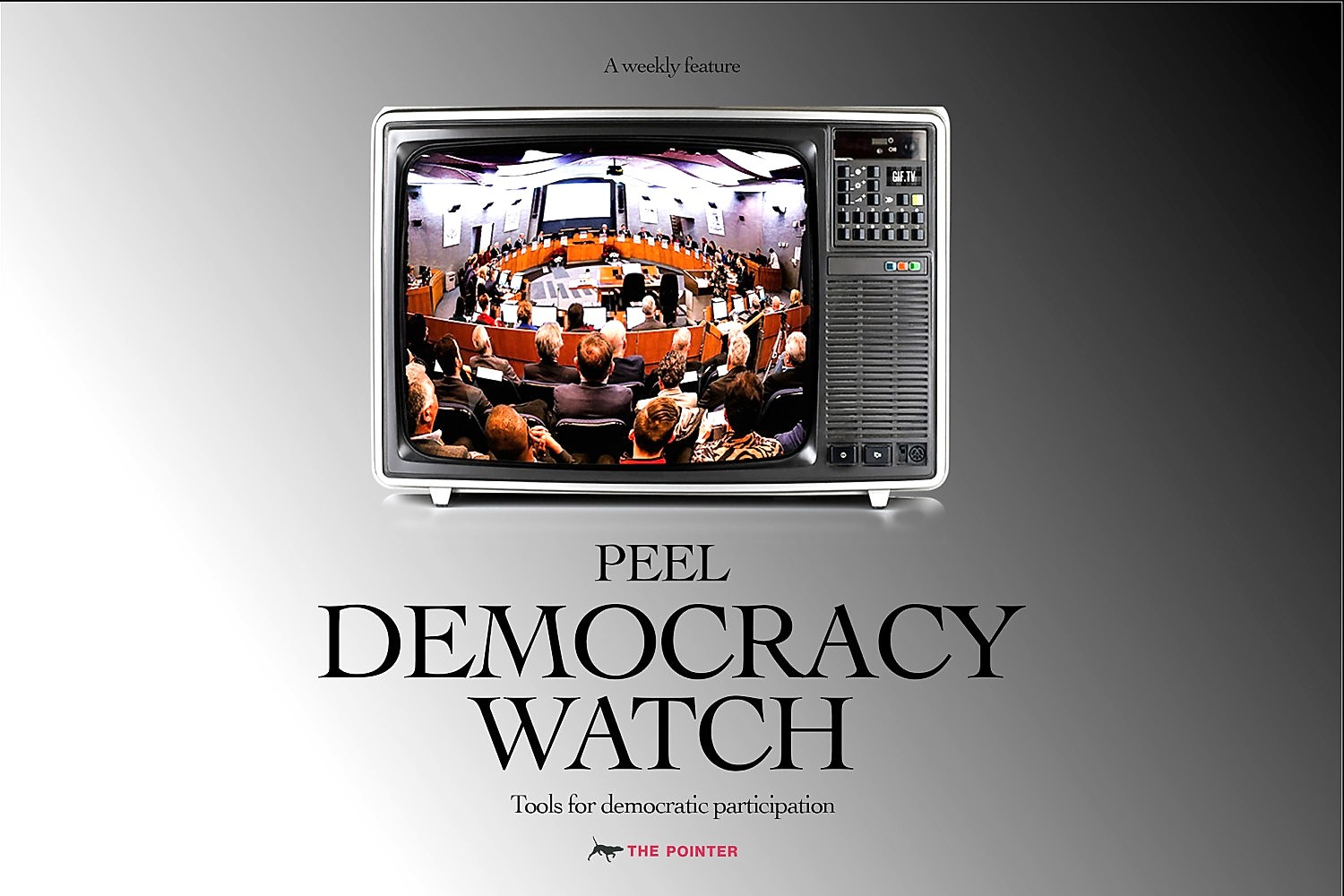 Joel Wittnebel/The Pointer
Region to receive update on Peel dissolution; Mississauga motion aims to declare intimate partner violence an epidemic; Region's shelters overwhelmed by refugees in need of support
Peel Democracy Watch is The Pointer's weekly feature aimed at increasing the public's awareness and political involvement in the Region of Peel by highlighting key agenda items, motions and decisions.
---
Brampton Council
Date: September 13 - 9:30 a.m. | Delegate | Full agenda | Watch live
Commemorating Terry Fox with a monument
A report coming before Brampton City Council on Wednesday recommends council direct staff to include a capital budget request in 2024 to design a memorial sculpture commemorating Terry Fox at Chinguacousy Park, pending final approval from the Fox family. The City already recognizes the contributions of Terry Fox through its existing Terry Fox Stadium walking track and in September 2022 staff were directed to explore additional ways to memorialize Terry Fox in the city through a monument. According to Wednesday's staff report, staff are recommending a memorial sculpture be approved at a cost of $150,000 with the project estimated to be completed in 2025. The report reads, "While the memorial sculpture requires the most significant budget and has the most extended timeline for completion, 2025 represents 45 years since the Marathon of Hope, and the sculpture could be planned for unveiling on July 24, the anniversary of Terry's time in Brampton."
View the full report here.
General Committee
Date: September 13 - 2:30 p.m. | Delegate | Full agenda | Watch live
Councillor requests disclosure of CAO contracts
In a notice of motion on Tuesday, Caledon Councillor Dave Sheen is requesting disclosure of the Town's CAO contracts following Mayor Annette Groves' use of strong mayor powers to terminate the former CAO and appoint a replacement. In August, Caledon's former CAO Carey Herd was terminated and current CAO Nathan Hyde was appointed without any involvement from council, superseding the Town's hiring policy and recruitment procedure. Councillor Sheen's motion states the providing councillors and the public on "the details of public sector employment represents an important disclosure of information for the purposes of transparency and accountability," noting that councillors require such information "to allow Council to exercise its duty of oversight to ensure good governance."
The motion requests council direct staff to consult the Information and Privacy Commissioner of Ontario and internal/external legal counsel regarding the proper disclosure of CAO contracts and review the legal feasibility and risks of publicly releasing information, and that staff be directed to report back through a closed session at the October 10 general committee meeting.
The full motion can be found here.
Notion of motion requesting update on dissolution of Peel
Caledon Councillor Dave Sheen is seeking an update on the Region's dissolution process through a notice of motion coming to Caledon's general committee Tuesday. The motion requests that staff provide council with an update on Peel dissolution and work completed to date, noting that "managing this change effectively requires significant planning and implementation." It goes on to state that councillors "have not been involved in planning the transition process, not been invited to meet with the Transition Board, not attended a briefing regarding next steps, timetables or workplans and have not received an update from the Mayor or staff regarding the activities and progress of the transition process," adding that the involvement of the Town's elected officials is crucial in the transition process in order to advocate for and provide information to the community.
The motion asks that council direct the CAO to provide an update to the October 10 general committee meeting and clarify the role of councillors and the mayor "to ensure all Members of Council are fully involved in assisting and informing the transition process through the coming months."
The full motion can be read here.
Past reporting:
Mississauga Council
Date: September 13 – 9:30 a.m. | Delegate | Full agenda | Watch live
Motion requesting council declare intimate partner violence an epidemic
A motion coming to Mississauga council on Wednesday is requesting council declare gender-based violence and intimate partner violence an epidemic in the city, simialr to a notice of motion presented to Brampton City Council in June. The motion, moved by Councillor Stephen Dasko, notes femicide continues to take place across Peel, with six femicides already reported to be connected to the region in 2023 — four of which were reported in July alone.
The motion requests council "take a stand and advocate" with the 41 municipalities across the province, including Brampton and the Region, that have declared intimate partner violence an epidemic. A subsequent motion coming to council Wednesday also requests staff support Bill C-233 "Keira's Law," named after four-year-old Kiera Kagan, who was killed while in the custody of her father in 2020. The motion states "violence against women is a Canadian public health crisis that demands urgent action," adding that "the current Canadian system is not equipped to protect women." The notice of motion requesting support for Kiera's Law will also be presented at the Region's meeting on Thursday.
To view the motion requesting council declare gender-based violence and intimate partner violence an epidemic in Mississauga, click here.
To vew the motion requestion council support Bill C-233 "Keira's Law," click here.
Past reporting:
Diversity and Inclusion Advisory Committee
Date: September 13 – 6:30 p.m. | Delegate | Full agenda | Watch live
Equity, Diversity and Inclusion 2022 progress report
A Diversity and Inclusion Advisory Committee meeting Wednesday evening includes a presentation on the City's Equity, Diversity and Inclusion 2022 progress to date. The City of Mississauga, although improving its representation on council slowly, has been scrutinzed for not reflecting its own demographics inside City Hall. A 2021 internal staff survey of Mississauga found just under 30 percent of staffers are racialized and only 17 percent of the City's leadership team is non-white. In response to these findings, which laid out the foundation for City Hall to make changes, the report outlines actions focused on equity, diversity and inclusion. It responds to council directions, and shows progress on recommendations from the Workforce Diversity and Inclusion Strategy and other initiatives that are either completed or in progress.
Read the full presentation here.

Past reporting:
Regional Council
Date: September 14 - 9:30 a.m. | Delegate | Full agenda | Watch Live
Continued investment into diversity, equity and inclusion
A report with updates on prioritizing continued investment into diversity, equity and inclusion in the wake of Peel dissolution (Bill 112) in order to mitigate any negative impacts to program and service delivery is being presented to the Region Thursday. The report being presented the Regional councillors Thursday cautions shared commitment and investment are needed to sustain partnerships and continue to build relationships with community organizations "to minimize reputational risk and enable critical supports and programs to Peel's diverse community, including those who are racialized, marginalized and most vulnerable." The Region serves one of the most diverse communities, with 69 percent of its population identifying as a visible minority, the report adds. It states that "Regardless of future governance structures, the diversity in Peel's community will remain," acknowledging that "it is imperative to deliver equitable and inclusive programs and services to the community to meet diverse and unique needs that will enable everyone to thrive."
Read the full report here.
Past reporting:
Update on Peel dissolution (Bill 112)
Regional councillors will be getting a more in-depth look at the onboarding work of the transition board and associated Bill 112 impacts on Thursday. The report coming to council highlights that staff are requesting early decisions be made on employment for Regional staff, reiterating that all recommendations of the transition board be made public, including the financial impact assessment and the long-term economic sustainability of the Region's lower-tier municipalities. The update comes following a report to council in June that admitted the challenge of the dissolution process that lies ahead has created a significant amount of anxiety throughout the organization, in contrast to senior leadership promoting a business as usual masquerade.
The report states that, "to gain a deeper understanding of Peel's anchor role" in the community and the critical services it delivers, "a comprehensive onboarding was provided by Peel's senior leadership team in August." It adds many internal projects have been paused or stopped as a result of the dissolution, but that stadd are working with the province on regulations to ease investor concerns and tackle concerns raised by employees. The report notes the terms of reference and the workplan, which are to be provided by the provincially appointed transition board, have not been made public yet and that ongoing support to the transition board, will ensure the board is provided with "factual, transparent and timely information," which will be "critical" as the board develops recommendations.
To view the full report, click here.
Past reporting:
Enhancing community investment support for Peel's non-profits
Regional councllors will hear from Mississauga Food Bank CEO Meghan Nicholls on Thursday regarding food bank use and the growing poverty in Mississauga. The delegation comes alongside a staff report on enhancing community investment support for Peel's non-profits. It acknowledges that "Peel not-for-profits and community agencies are facing high rates of inflation; deepening financial precarity; and staffing and volunteer shortages." According to the report, 111,925 residents or eight percent of Peel's population live in poverty, a number that has only been exacerbated by the implications of the Covid-19 pandemic. The report notes that "in 2023, based on the Canadian Income Survey, it is projected that 25.6 per cent of households in Peel will be severely food insecure." Mississauga Food Bank has repeatedly stressed the severity of the crisis, reporting unprecedented surges in food bank visits monthly.
Thursday's staff report recommends that $2 million in temporary funding for food security be presented for consideration as permanent base funding in the Region's 2024 budget. It also recommends that funding to the Community Investment Program be increased by $3 million in in the 2024 budget to address increased demand and inflation in "the non-profit sector, continuing demand in food security as well as programs supporting black and indigenous serving organization."
View the full report here.
Past reporting:
Update on the dramatic rise in asylum claimants requiring emergency shelter support in Peel
An information report is going before the Region Thursday on Peel's asylum claimants requiring emergency shelter supports which, according to the report, is currently operating at a 247 percent occupancy rate. Thursday's report states "The sharp, unexpected, and unprecedented increase in the number of refugee claimants seeking temporary shelter and supports, is putting significant strains on Peel's already overburdened shelter system." The report notes that as of August 27, 730 asylum claimants are temporarily residing in Peel's shelter overflow hotels, with 16 camped outdoors, waiting for assistance, accounting for approximately 57 percent of shelter occupants.
The need for emergency housing for vulnerable residents facing unprecedented barriers within Peel's shelter system has been soaring with no proposed tangible solution in sight. A July staff report to council revealed that as Peel residents are struggling with some of the most unaffordable housing costs in Ontario, the gap in the Region's ability to provide financial assistance to those in need is "large and growing".
In an attempt to close the gap between current service levels and community need, Regional staff are preparing a claim for funding from the federal government's Interim Housing Assistance Program program to assist with the Region's costs, which are now $2.5 million per month, according to the report. Staff are projecting these costs to be approximately $15 million for 2023. The report recommends the Region work with community partners to design a sustainable model for sheltering asylum claimants in 2024, and continue to advocate to the federal and provincial governments for required funding.
Read the full report here.
Past reporting:
---
Email: [email protected]
Twitter: @mcpaigepeacock
---
At a time when vital public information is needed by everyone, The Pointer has taken down our paywall on all stories to ensure every resident of Brampton and Mississauga has access to the facts. For those who are able, we encourage you to consider a subscription. This will help us report on important public interest issues the community needs to know about now more than ever. You can register for a 30-day free trial HERE. Thereafter, The Pointer will charge $10 a month and you can cancel any time right on the website. Thank you
Submit a correction about this story