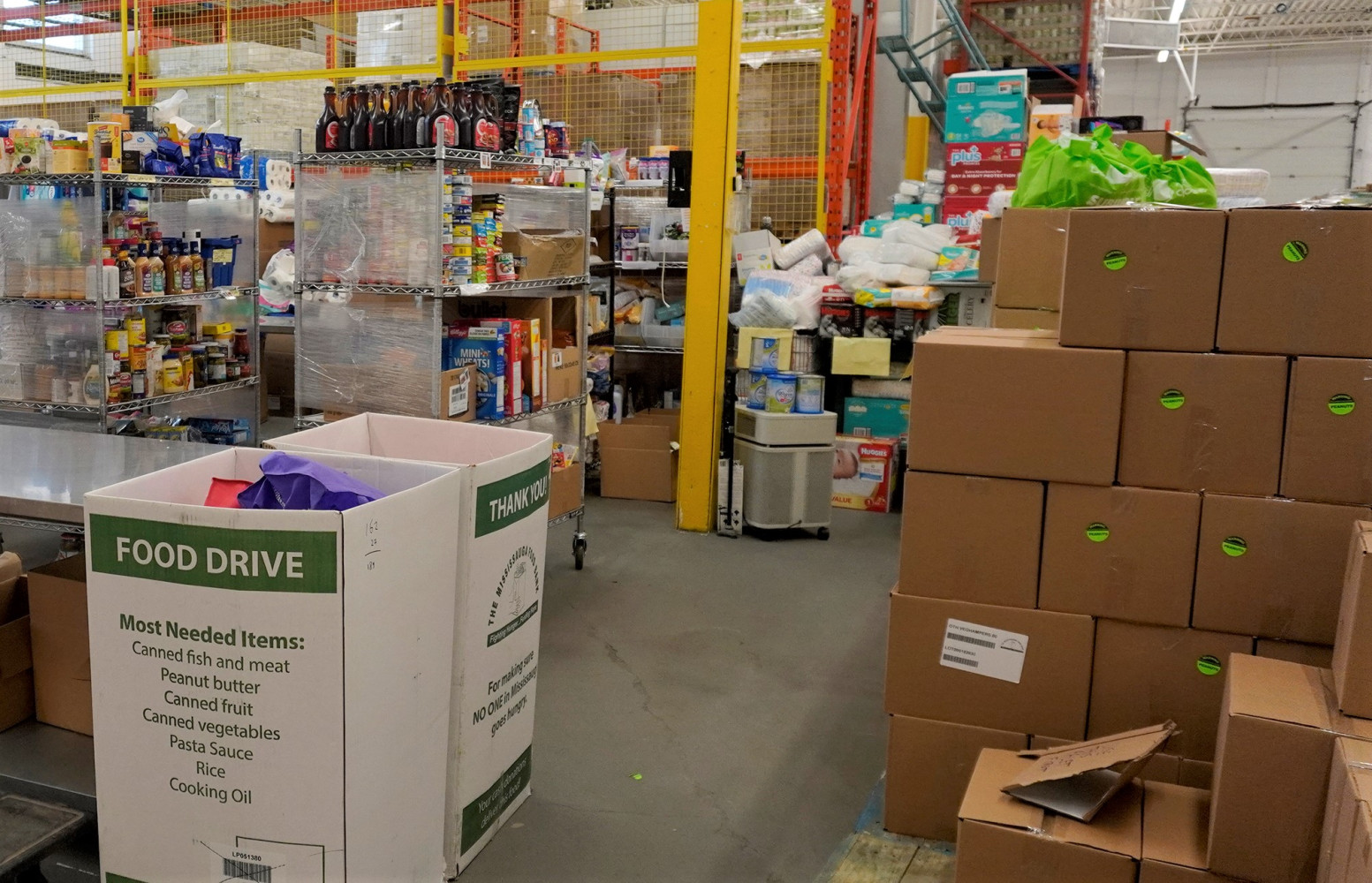 Alexis Wright/The Pointer files
Mississauga Food Bank holiday drive exceeds donation goal but chronic food insecurity might be the new normal across the city 
Having recently exceeded an ambitious goal for its holiday food drive is positive news for The Mississauga Food Bank, but with a continued rise in interest rates and inflationary pressures challenging the cost of living, the organization doesn't anticipate the need in the community decreasing anytime soon.
The final donation tally, presented to Mississauga City Council on January 25, revealed the organization raised $1,962,088 and 647,904 pounds of food. The yearly campaign is the final opportunity for the food bank to ensure Mississauga residents have continued access to basic needs. The goal was to raise $1.7 million and 450,000 pounds of food by January 6 to meet the community's growing demand.
"It was a lofty goal for sure compared to previous years and what we've been able to accomplish but the need has really increased in the community and we're having a lot more first-time food bank users and community members access food banks across the city through all of the different partner agencies we work with," Joanna Burke, director of marketing and communications, told The Pointer.
"While we are celebrating that we were able to reach that goal, we're also very aware of the increased need… and that we need to continue to fundraise. The demand for food in the community has just grown so exponentially it was something we had to do. But that need is now our new normal."
The funds come at a vital time as food insecurity is becoming a crisis and unprecedented numbers of Canadians are being forced to reach out for help. The organization continues to see record-breaking figures with November marking the highest number of monthly users that have visited the food bank. Since January 2022, the organization has seen 18 percent more users every month, on average, compared to the same time in the prior year.
October and November saw unmatched levels. There are currently over 30,000 food bank users within the city, up 16 percent from 2021. Of that 30,000, nearly a quarter are first-time users, a six percent increase from last year. Between 2019 and 2022 there was a 54 percent increase in the number of people served by the organization. Prior to the pandemic, it had 19,525 clients, as of September 2022 the clientele sat at 30,038. This number is projected to double in less than five years.
The increase in demand since 2014 has been staggering, with 400 percent more food provided now compared to a decade ago. In Mississauga, the increase in demand has outpaced most other parts of the GTA for at least five years.
As the dynamic continues to shift with people who used to be donors now walking in as clients and the amount of donations coming in week-to-week dwindling, the situation is becoming even more severe. While the organization is thrilled to have exceeded its holiday goal and is feeling a temporary sense of relief, Burke is reminding the community to heed the warnings that this increased need is not a momentary trend, it's a long-term reality that demand for services is escalating at an alarming rate.
Joanna Burke, director of marketing and communications, said the increased need for the organizations services is the new normal.
(The Pointer files)
She acknowledged that if the organization was unable to meet its goals, some residents would be turned away if resource simply can't keep up. The organization's November numbers showed a 23 percent increase since the same time the year before, noting that in November alone, the food bank saw 11,515 clients come through its doors. This is the trend, as more working individuals and families can not keep up with the cost of groceries, housing and fuel.
While food banks across the province are working to combat the growing demand, resources are finite, and the need is starting to outpace the capacity, CEO Meghan Nicholls told The Pointer in December. Turning to food banks is becoming the new norm for communities as the historic rise in inflation and stagnant salaries are pushing the basic cost of living out of reach for many. The Mississauga Food Bank has been stretching its resources to the breaking point as it struggles to confront the widespread food insecurity plaguing the community.
"The need is only growing as the community is struggling to keep up with the inflation," Burke said. "People who are close to that poverty line are having to switch over and access our services as well and we've even had some individuals who are donors that have come to us to access food and so we've seen a lot of changes that have happened not only throughout COVID but even month to month as we're progressing along."
The Mississauga Food Bank has been grappling with a significant increase in demand from vulnerable residents (and even the working class) hit hard over the last two years during the pandemic. The rapid escalation of food bank use was initially thought to be a chain reaction related to the COVID-19 pandemic, but almost three years later, food bank use has only continued to increase.
"We've done a lot of preliminary work to forecast some of the demand that's increasing and with the trends we're continuing to see more people access the bank services as they become aware of our services and to access that support," Burke explained. "So we don't see the need dying down at any point right now. Especially those who were already living paycheck to paycheck, it's going to take them a lot longer to bounce back from COVID and all of the challenges that our community is facing.
"Unfortunately, while we want to say that things are going to change right now, we're seeing an increase."
She said the organization is continuing to press forward to ensure every single person in the community it services has access to emergency food, while also brainstorming about what it can do to advocate for systemic changes to address what's causing people to turn to food banks in the first place.
Feed Ontario highlighted the severity of the issues in the findings of its 2022 Hunger Report in November, which revealed that nearly 600,000 people accessed emergency food support last year, visiting more than 4.3 million times—an increase of 15 percent and 42 percent (in the two categories) over pre-pandemic numbers from 2019, and the sixth consecutive year that food bank use has risen.
In September, The Mississauga Food Bank's annual Face of Hunger Impact Report noted more than 5.2 million pounds of food were distributed through the organization in 2021, providing over 5.6 million meals—a 22 percent increase from the year before. Visits to the food bank's more than 50 locations, were up 50 percent from 2021, with 243,194 people utilizing its services; 45 percent of Mississauga residents who live below the poverty line accessed support from The Mississauga Food Bank last year — almost double from the year before.
A map of the organization's neighbourhood locations can be found here and clients can call or visit the website for more information to access support.
According to the Food Bank's Canada Hunger Count 2022 report, Canada's food banks saw almost 1.5 million visits in March this year, a 35 percent jump compared to the same time of year in 2019.
Food prices have been increasing at a faster rate than any other consumer staple for nearly 12 consecutive months. According to an October update released by Statistics Canada, the price of groceries was 11.4 percent higher in September than the same time last year, the highest food inflation rate since 1981. Cost of transportation has also increased by 10.3 percent and shelter costs have risen by 6.6 percent.
The organizations annual Face of Hunger report revealed visits to the food bank's more than 50 locations, were up 50 percent from 2021, with 243,194 people utilizing its services.
(The Pointer files)
The impacts of staggering inflation coupled with rising interest rates are leaving families confronting financial pressures on several fronts. While inflation is on a downward trend from a high of 8.1 percent in June (the highest level in four decades) to 6.3 percent in December, on January 25, the Bank of Canada raised its benchmark interest rate again to 4.5 percent – the highest its key lending rate has been since 2007. The move was made as the bank tries to bring record-high inflation down and marks the eighth time in less than a year that the bank has hiked its trendsetting rate — a move that will make borrowing money more expensive and forces Canadians to put more of their budget toward paying down debt including mortgages.
This means families paying a new fixed mortgage or a variable one must redirect more money toward those monthly payments, leaving less in the monthly budget for groceries as bills skyrocket. As inflation and corrective interest rate increases hit everyone, many who would usually contribute donations of food or money can no longer afford it as their own bills surge.
According to the food bank, about 14.7 percent of the population in Mississauga currently lives under the poverty line, a measurement that has started to include more traditional "middle class" earners, and roughly 85 percent of the clients are living in poverty. Current projections from the organization predict it will be providing food to 60,000 people by 2027, double the current number of clients in less than half a decade. The biggest factor contributing to the growing demand is inflation and cost of living which are far outpacing income increases.
These issues of cost of living are synonymous with a drastic need to invest in affordable housing in Peel. One of the larger costs facing residents is the lack of affordable housing; a 2020 report from the Region revealed "Current ownership and rental housing prices are out of reach for 80 percent of Peel households." In recent years, housing costs and rental rates have rapidly increased with ownership costs more than doubling in less than a decade and rental rates climbing much faster than incomes.
Three out of four food bank users say affordable housing would most significantly change their quality of life, the organization's annual report noted. In the last two years, the waitlist for affordable housing in Peel nearly doubled to 28,227 people. The Region's proposed 2023 budget proposal shows Peel's Housing Supports would increase by 9.3 percent from $141.9 million in 2022 to $155.2 million for 2023, but the data makes it clear this is not nearly enough.
From June 2021 to May 2022 the local organization saw the need in the community spike more residents were pushed into poverty. Food banks have been signalling to policy makers for years that if action is not taken to address systemic food insecurity — exacerbated by increasing prices for fuel and consumer staples — more and more residents across the province will no longer be able to feed themselves. Unprecedented strain is being felt by many social services agencies working frantically to fill the gap.
The Mississauga Food Bank has previously stressed that without immediate government intervention and decisive policies that would end systemic poverty, it will continue to operate beyond its capacity. As a community-run organization, the food bank receives minuscule funding from upper levels of government, so it relies heavily on donors and fellow residents to step up so neighbours are protected.
"Without their support, we wouldn't be able to keep up with this increased demand," Burke said. "We are facing those same pressures that everybody in our community is facing in terms of inflation and increased prices all across the board.
"The support that's come from the community has been a really big part of us being able to continue to make sure we don't turn anybody away. We haven't had to do that, we've been able to keep up with the increased demand, but we need to continue to fundraise and make sure that we're able to keep all of these programs running effectively."
---
Email: [email protected]
Twitter: @mcpaigepeacock
---
COVID-19 is impacting all Canadians. At a time when vital public information is needed by everyone, The Pointer has taken down our paywall on all stories relating to the pandemic and those of public interest to ensure every resident of Brampton and Mississauga has access to the facts. For those who are able, we encourage you to consider a subscription. This will help us report on important public interest issues the community needs to know about now more than ever. You can register for a 30-day free trial HERE. Thereafter, The Pointer will charge $10 a month and you can cancel any time right on the website. Thank you
Submit a correction about this story