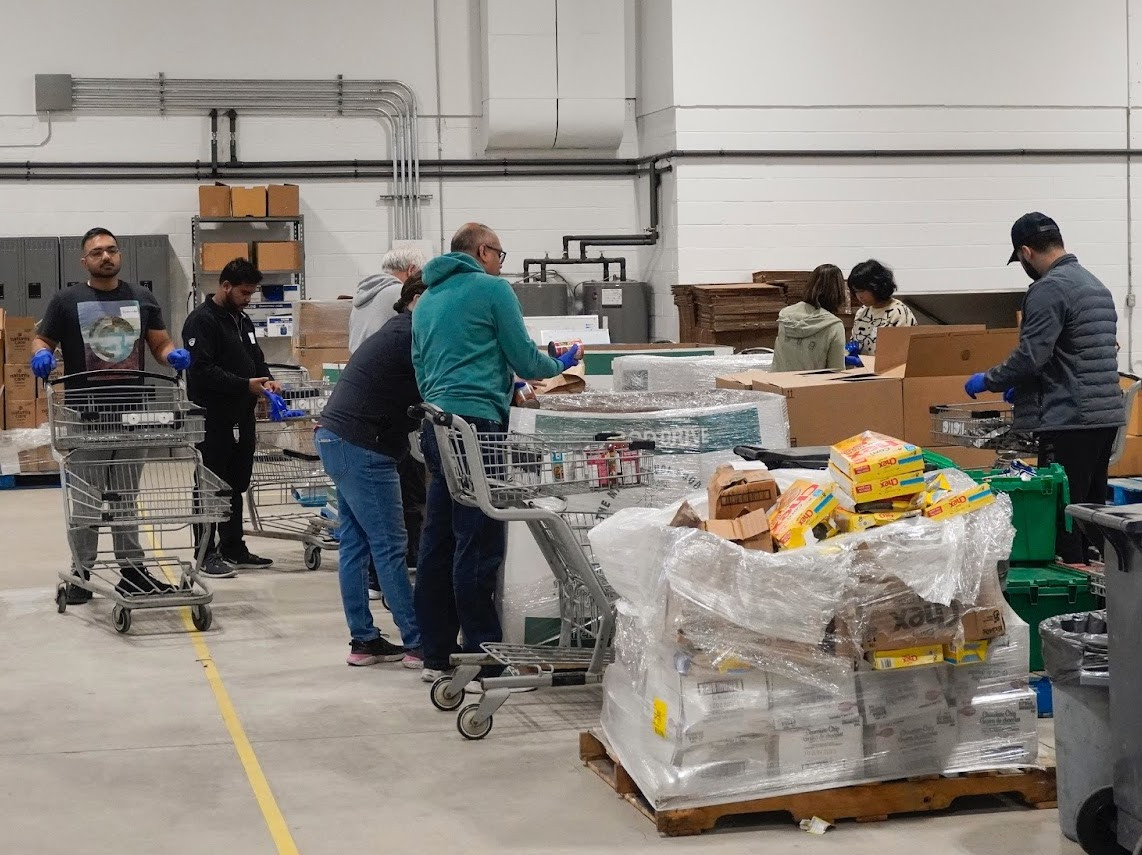 (Alexis Wright/The Pointer) 
'I don't know if compassion is enough': Amid summer break, overburdened Mississauga Food Bank left to fill gap left by halted school meal programs
"Every child deserves a hunger free summer."
These are the worrying words of The Mississauga Food Bank (TMFB) as it battles yet another surge in demand for service. When school nutrition programs closed for the summer, many households lost a critical support system that provided meals and snacks to thousands of kids across the Region of Peel. Just a few weeks into the summer break, with the safety net of school meal programs gone, it has created a spike in the already elevated number of families relying on the local food bank.
"Certainly in the summertime we have families looking for food and looking for that increased supply. [There] continues to be people needing that support, because there's just not enough to go around," TMFB CEO Meghan Nicholls told The Pointer. "There's nothing in society right now that's giving us any indication that things are going to look different. So we just continue to anticipate that there's going to be more growth and there is…[We are seeing] more kids lately than we used to see, and families with more people in the household are going to struggle more to afford those basic needs."
Working to combat the root causes of food insecurity plaguing the city, including rapidly rising grocery costs and low wages in certain employment sectors, The Mississauga Food Bank has repeatedly called on government officials to implement policies to reduce the poverty gap and bring food inflation under control. Projections in the organization's annual Hunger Report for 2022 forecast 60,000 clients by 2027, double the current number in half a decade. The organization says without immediate government action and decisive policies it will continue to operate beyond its capacity— a situation that is not sustainable.
Nearly every month is a record-breaking one for usage of TMFB services, Nicholls previously stressed, and without investments into resources like social support programs, there's seemingly no light at the end of the tunnel. Earlier this year, Nicholls told The Pointer she was hopeful the provincial or federal budget would include investments to relieve some of the pain felt by residents struggling to make ends meet, but there was nothing.
As demand continues to reach unprecedented heights and resources diminish, the organization does not predict the increasing number of those in need will diminish anytime soon. February marked the highest number of food bank visitors in the history of the organization with 13,850 — a 44 percent increase from last year. But that record number was surpassed again when the organization saw an almost seven percent increase between February and March.
Between 2019 and 2022 there was a 54 percent increase in the number of people turning to the food bank. Prior to the pandemic, it had 19,525 clients, but as of September 2022 those numbers sat at 30,038. These trends only continue to escalate as more working individuals and families struggle to keep up with the cost of groceries, housing and fuel.
Over the past year, Nicholls says the number has climbed to over 35,000 people — just over four percent of Mississauga's total population.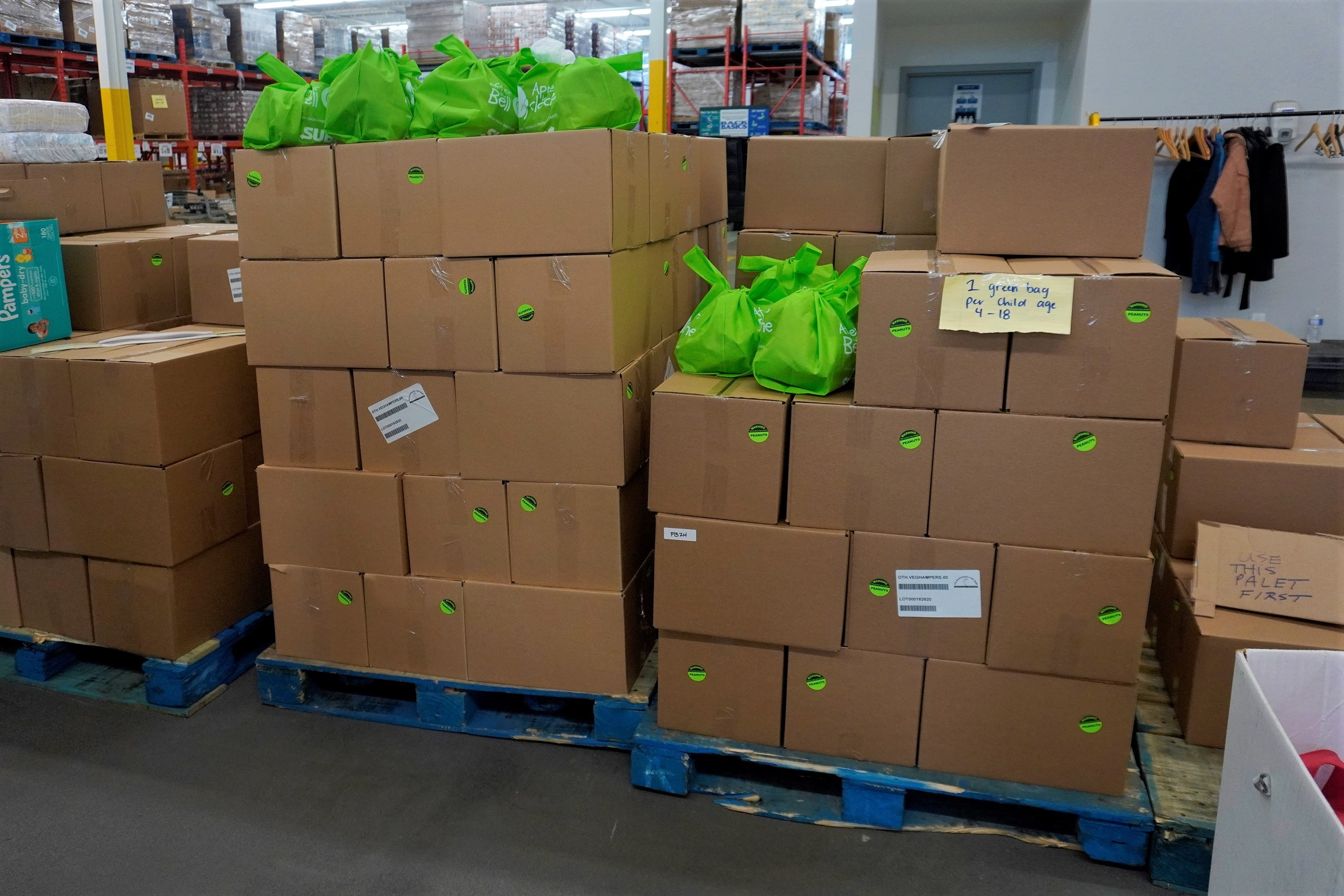 In the last year the number of clients coming through the food bank's doors has climbed to just over 35,000 people, requiring an increasing amount of food donations to support those in need.
(Alexis Wright/The Pointer)
According to a report released in June from Public Health Ontario, based on the Canadian Health Survey of Children and Youth (CHSCY), 15.3 percent of Ontarian children ages 1 to 17 years old lived in households facing some degree of food-insecurity in 2019.
Food insecurity is defined as the inability to obtain a sufficient and nutritious diet due to income-related food access, the report notes. In 2021,the situation worsened with approximately 20 percent of children the age of 18 in Canada living in households affected by some level of food insecurity. The report highlights that food insecurity can have the potential to "result in detrimental outcomes for early childhood growth and development, and long-term physical and mental health outcomes."
The widespread rates of food insecurity from the survey is likely an underestimation, Public Health Ontario notes.
According to data from Peel's public health unit, 16.3 percent of children are food insecure, compared to the provincial percentage of 15.3.
A spokesperson from Peel District School Board noted schools within the board take varying approaches to the structure and implementation of nutrition programs, which they explained are school based and initiated on an as needed basis. The spokesperson noted there is no central tracking system for these programs, as some are casual "take what you need arrangements," and others have more formal structures.
Proper nutrition among youth is crucial during developmental years. As noted by the Government of Canada, "Adolescence is a period of significant and rapid growth and, as a result, nutrition needs during this period of life are greater than at any other point." Nutritional deficiencies and poor eating habits during adolescence can have long-term consequences, including delayed growth and impacts to mental development.
"During middle childhood and adolescence, nutritious and safe diets, essential nutrition services and positive nutrition practices help children grow, learn and stay physically active. In contrast, poor nutrition can delay children's physical growth and development throughout childhood and adolescence. Malnutrition during middle childhood and adolescence has long-term physical, social, mental and economic consequences," according to a report from UNICEF.
Proper nutrition among youth is crucial during developmental years and deficiencies can have long-term impacts on physical and mental growth.
(Alexis Wright/The Pointer)
Despite the importance of proper nutrition for youth as they develop, mentally and physically, the lack of investments in social assistance programs and affordable housing, coupled with the rising costs of basic necessities and stagnating wages, means residents have few places to turn for assistance outside The Mississauga Food Bank. And if the organization's services pass the tipping point where they are unable to help all those who walk through the door, the impact on the children who are not getting proper nutritious diets could have ripple effects on regional services in the years ahead.
"When kids don't have those charitable breakfast clubs during the school year, or the teachers who keep that stash of granola bars or the office that has extra Subway gift cards, those kids don't have those supports from the community. So families are relying on us to make sure that their pantry is full so that the kids have something to eat while they're home every day," Nicholls explained.
"Those school programs make a huge difference during the year, the ones we do have. And to have that not be available, it's just another burden on families over the summer."
Findings from Feed Ontario's 2022 Hunger Report released in November revealed nearly 600,000 people accessed emergency food support last year, visiting food banks more than 4.3 million times — an increase of 15 percent and 42 percent (in the two categories) over pre-pandemic numbers from 2019. It's the sixth consecutive year that food bank use has increased. It cited precarious employment, poor employment and disability supports, along with unaffordable housing as key drivers behind why people are turning to food banks in unprecedented numbers.
With no indication from upper levels of government that they plan to provide additional funding for social assistance programs like Ontario Works and the Ontario Disability Support Program, full-service charities like The Mississauga Food Bank are trying to fill the gap created by poor public policies — a battle that is not sustainable. According to the organization's most recent impact report, 30 percent of its clients rely on these social assistance programs as a primary source of income. The report also noted 45 percent of Mississauga residents who live below the poverty line accessed support from The Mississauga Food Bank last year — nearly double from the year before.
An analysis from McMaster University notes feeding children is a collective responsibility. While the onus has historically fallen on familial relationships, the report states that the responsibility has now extended to institutions like daycares, schools and governments, adding "It's a responsibility that regrettably we have not adopted as our highest collective priority." Canada currently has no government-funded programs dedicated to supporting children's nutrition and is the only G7 country without a national school meal program. Instead, Canada has a range of charitable efforts such as school breakfast programs and food banks staffed by volunteers.
In the absence of adequate investments from upper levels of government, Meghan Nicholls, CEO of The Mississauga Food Bank, is calling on community compassion to address the rising demand for the organization's services.
(Alexis Wright/The Pointer)
Nicholls said while there are sporadic nutrition programs managed through the YMCA of Greater Toronto, it's very piecemeal for breakfast clubs as many of the programs are funded through different streams. The Mississauga Food Bank works to support those programs as best it can because there isn't a cohesive system, but it can be challenging as the organization's services are already stretched. Matters are made even more disjointed since there's no minister at the provincial level that has a mandate to address food insecurity.
"So what we do and what a lot of those breakfast clubs do is use people's compassion to address a problem that is a justice issue. And it's an injustice that people's social assistance rates and incomes and all those things don't meet the cost of living," she said. "We're trying to use compassion to solve that problem, and it can only get so far, and now that five percent of the city needs food, I don't know if compassion is enough to fully cover the needs that our community now has."
"Ultimately, all of those can be addressed through a universal guaranteed basic income pilot or those kinds of programs, so we have to continue to invest in addressing people's income to make sure that they have enough food to eat," Nicholls said.
In Canada, there has been a clear lack of action at the upper levels of government to address the problem of food insecurity among youth, an issue that is prevalent and growing. A report from UNICEF on providing children with access to nutritious food and youth well-being found that in 41 high-income nations, Canada was ranked 37 in working toward the Zero Hunger goal for youth.
At the local level, a more cohesive look at programming for youth in the summers that can serve low income families and include a food component as part of programming to ensure kids have what they need is something communities can do. But those are band aid solutions to the real issue, Nicholls warned.
Donations are also lower than they were this time last year, which Nicholls said is a serious concern for the organization that relies heavily on the support from the community. While she recognizes everyone at every level of income is feeling the pressures of rising inflation and cost of living where expenses have increased at the pump and at the grocery store, Nicholls is calling on people who still have disposable income to give to their neighbors who are relying heavily on them to ensure they have access to food.
"We continue to call on the community to join us in this compassionate response because that's all we have at our disposal right now. How can we engage our community in compassionately giving to redistribute that wealth the way that we're helping to do it? They join with us in asking our governments to put systems in place so that this compassionate response is no longer required," she said.
"We have five percent of the city using the food bank. What happens when it's eight, what happens when it's 10? How many people has this affected that perhaps used to give? And if that many more people are needing the food bank, maybe the people who used to give are feeling squeezed and can't give and so it is a watermark for us in terms of identifying a major risk to sustainability when the funds all come through charitable giving."
---
Email: [email protected]
Twitter: @mcpaigepeacock
---
At a time when vital public information is needed by everyone, The Pointer has taken down our paywall on all stories to ensure every resident of Brampton and Mississauga has access to the facts. For those who are able, we encourage you to consider a subscription. This will help us report on important public interest issues the community needs to know about now more than ever. You can register for a 30-day free trial HERE. Thereafter, The Pointer will charge $10 a month and you can cancel any time right on the website. Thank you
Submit a correction about this story