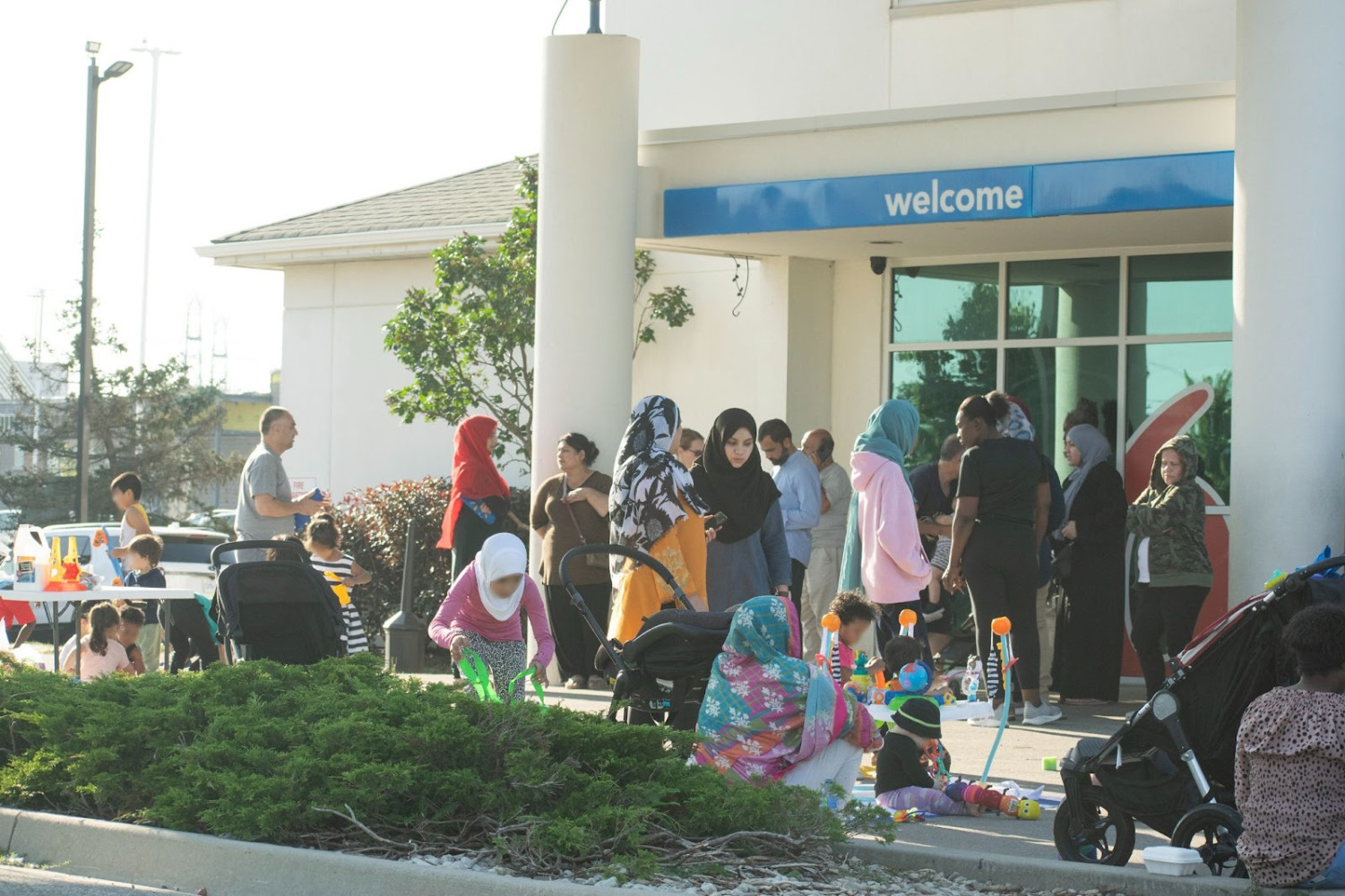 Alexis Wright/The Pointer
Peel shelters are already at capacity. Where can vulnerable residents turn when the cold depths of winter descend?
This summer has seen record breaking heat in the GTA, with heat waves pushing the mercury into the 40-degree range when factoring in the suffocating humidity.
For people experiencing homelessness, taking shelter from the extreme heat as well as accessing space to escape the poor air quality as a result of wildfire smoke—a persistent problem throughout this summer— can be challenging. Soon members of this demographic will face another life-threatening issue, the harsh cold of Canadian winter.
Without proper shelter, the biting cold can leave vulnerable residents experiencing unsheltered homelessness at heightened risk of frostbite and hypothermia, among other serious health risks.
The Region of Peel facilitates a number of services to provide shelter and resources for people experiencing homelessness. However, the current need for emergency shelter services is already outpacing the Region's capacity. With fall around the corner, people requiring shelter from the cold in upcoming months may be left with little to no support. While the Region has efforts in place to address some of the issues surrounding housing and homelessness, it has a track record of falling short to meet the population's demands. Aside from the regional shortcomings, there are also a number of challenges faced by homeless individuals who either seek to avoid public shelters due to safety concerns or the presence of drugs; or those who can't access them due to the lack of transportation to reach the location.
Leslie Moreau, Manager, Client Services, Peel Region Housing Services, told The Pointer that for the Region of Peel, "currently the need for emergency shelter services is outpacing… capacity," and referenced the increased demand that is "partially driven by a sharp increase in the number of refugees seeking emergency shelter and support."
When asked about plans to provide shelter for the upcoming winter months, Moreau told The Pointer that the Region of Peel is "looking for more organizations who are interested in operating Out of the Cold programs to add to our existing programs."
A similar call for help was put out by the Region in the early winter months of this year.
The Out of Cold programs at the Region of Peel attempt to work with third party institutions, such as community centers and faith-based organizations, to host drop-in programs and services funded by the Region and offer overnight accommodations, snacks, meals and washrooms to people experiencing homelessness.
"We are closely monitoring the situation and are pursuing innovative and sustainable long-term solutions to support Peel residents," said Moreau. "Peel owns or funds several services for those experiencing homelessness including emergency and transitional shelters, drop-in programs, out of the cold programs and a street outreach program."
Earlier this year, Peel Region approved $23.7 million to overhaul the Wilkinson Road Shelter, an adult shelter for men over 25, to increase the number of beds from 85 to 150 as part of its 2023 budget. An increase of $1.3 million, which includes hiring three additional full-time equivalent positions, was requested to manage this workload, in order to properly handle the Region's shelter and overflow facilities. Another $2.7 million was also allocated for housing and shelter state of good repair projects.
"We are housing over 50 families a week in overflow hotels, in addition to refugees, families from the Ukraine and others facing emergencies," a report stated at the time. "Use of overflow hotels for shelter clients and refugees is growing. The team has experienced significant increases in workload: the number of contracts has increased 113 percent." Yet with limited funds and spaces available to meet the demand, these measures are not sustainable.
As previously reported by The Pointer, the Region has recently begun looking into modular-housing as a potential option to address emergency housing needs not being met by the overwhelmed shelter system. But getting a project such as this off the ground ahead of the cold winter months of 2023 is not possible, councillors were told.
A staff report by Sean Baird, Commissioner of Human Services, reveals that the affordable housing system in Peel has not only been unable to keep up with "dramatic increases in demand for housing and homelessness support over the last decade," but that the 2020 pandemic has exacerbated the problem.
As outlined in the report, an estimated 91,000 households in Peel are in core housing need and the current state of the affordable housing system is only meeting 19 percent of this need.
Baird highlights that the affordable housing system in Peel is "overburdened, underfunded, and has insufficient resources," and suggests that approximately "114,000 households will be in core housing need over the next ten years." Currently, as the report details, a core housing need is estimated by the Region at 91,000 households. It shares that staff will be returning to Council "throughout the spring and fall, in advance of the 2024 budget deliberations, with reports recommending more specific investment options."
Affordable housing in Peel Region has been a crisis for decades, but the rising population, fallout of the pandemic and a lack of funding toward regional plans to address the housing needs of residents are a large part of the problem. As the report details, $50 billion will likely be needed over the next decade to fully meet the core housing need in Peel, and "$4 billion is required to simply continue to meet 19 percent of need over the next ten years," the report states.
Peel has been forced to break its much-touted policy of never turning people away as a result of the current crisis. In July, Baird told council that over 300 people had to be turned away in the span of two weeks as a result of hitting capacity and running out of room in overflow spaces in local hotels. Those turned away are still offered food, transportation and referrals to other community support systems, like the food bank. A staff report presented to council earlier this year revealed that the number of contracts between the Region and private hotel operators increased 113 percent. In 2019, Peel's shelter system only had 60 family units and 244 standard beds, many of which were for men and youth.
Peel Family Shelter is currently operating out of a Motel 6 in Mississauga, a temporary location for the service.
(Alexis Wright/The Pointer)
"This is something that's been on our radar for a period of time," Baird regional councillors. According to the commissioner, the Region currently has over 500 individuals in its emergency shelters and at least 200 families and individuals in overflow hotels every night.
While data on people experiencing homelessness is often not fully comprehensive due to the nature of the demographic and the limits around collecting data, the information that is available paints a disturbing picture of the scale of the homelessness problem in Peel, and the lack of options or sufficient support to meet the demands of this particularly vulnerable population.
According to the State of Homelessness in Canada 2016 report by the Canadian Observatory on Homelessness (COH), a non-partisan research and policy partnership between academics, policy and decision makers, service providers and people with lived experience of homelessness, over 235,000 people experience homelessness in a given year, and 25,000 to 35,000 people likely experience homelessness on any given night.
Data from 2021 from the Region of Peel show that for the 866 individuals the COH recorded who experienced homelessness that year, 38 percent were experiencing chronic homelessness, and 36 percent were staying in emergency shelters.
Not all people experience homelessness in the same way. Unsheltered homelessness, as defined by the COH, involves individuals "living on the streets or in places not intended for human habitation." Emergency sheltered individuals are often housed in overnight shelters or shelters meant specifically for people impacted by family violence.
People experiencing provisionally accommodated homelessness, as defined by COH, are people whose accommodations are temporary or lack long-term security, and people defined as being at risk of homelessness are those in precarious economic or housing situations, or housing situations which do not meet "public health and safety standards."
The COH also emphasizes that people who experience homelessness are often not static and may experience frequent or dramatic fluctuations in their housing circumstances. This is also what often contributes to the limitations in collecting comprehensive data on people experiencing homelessness.
The Salvation Army Wilkinson Road Shelter in Brampton.
(Alexis Wright/The Pointer)
A Statistics Canada Health Report released in January 2021 found that homelessness in Ontario has risen over time, and a large proportion of the increase occurred among younger populations, especially people below the age of 40. The report shares that the cause for this is unclear, but that it may be the result of a combination of factors such as a "lack of affordable housing, increasingly unstable work arrangements, and rises in mental illness and substance use."
The Health Report also states homelessness in Ontario "has been worsening over time, has been affecting younger cohorts, and has shifted geographically to smaller but rapidly growing municipalities."
The rising costs of living in Peel are a significant factor that could see increased pressure on the regional systems come the winter months.
The staff report by Baird states that the average cost of rent in Peel are, "equivalent to nearly all of a minimum wage earner's income," and that "approximately 4,000 people relied on the emergency shelter system in the last year alone.'' The report also highlights how staff have brought the "rapid deterioration in affordability for households such as renters, first-time purchasers, and growing families requiring more space," to the attention of Council in the past.
The Pointer reached out to a collection of regional councilors to ask whether they are advocating for fortified plans to be put in place to address the upcoming winter demand for shelter and housing supports, but did not receive a response from any of them.
---
Email: [email protected]
---
At a time when vital public information is needed by everyone, The Pointer has taken down our paywall on all stories to ensure every resident of Brampton and Mississauga has access to the facts. For those who are able, we encourage you to consider a subscription. This will help us report on important public interest issues the community needs to know about now more than ever. You can register for a 30-day free trial HERE. Thereafter, The Pointer will charge $10 a month and you can cancel any time right on the website. Thank you
Submit a correction about this story