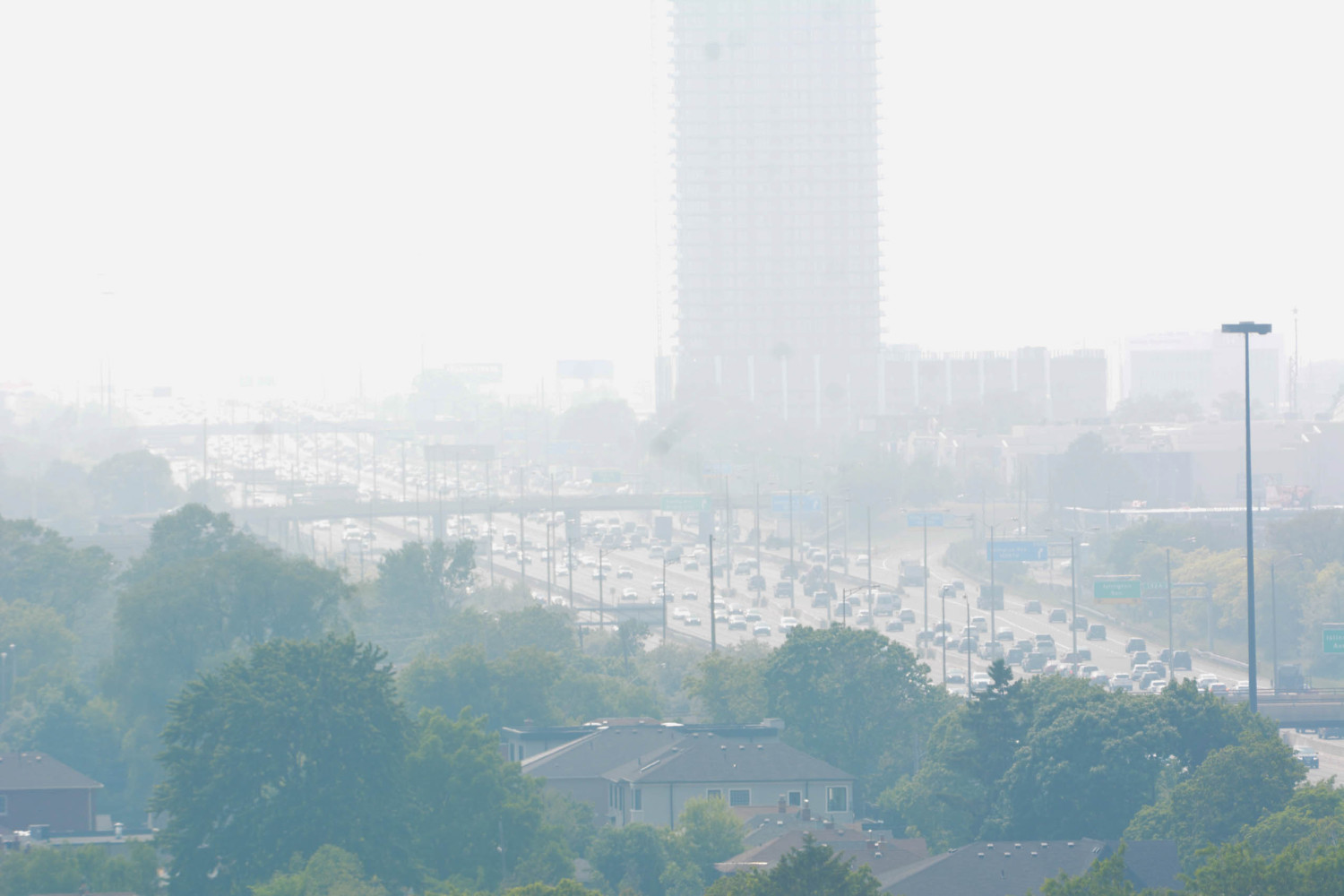 Feature image from Joel Wittnebel
Wildfire smoke triggers air quality warning across GTA; an ominous sign of things to come
Residents of the GTA can't see the smoke plumes blacking out the skies over the estimated 160 wildfires burning in neighbouring Quebec, but they can certainly smell them.
The drifting wildfire smoke is doing more than filling the air with the scent of burning wood, it's pushing the amount of airborne pollutants to dangerous levels. On Tuesday morning Environment Canada issued a Special Air Quality Statement for much of the province, including the cities of Toronto, Brampton, Mississauga and locations as far west as Port Elgin on the shores of Lake Huron.
"Wildfire smoke can be harmful to everyone's health even at low concentrations. Continue to take actions to protect your health and reduce exposure to smoke," Environment Canada stated.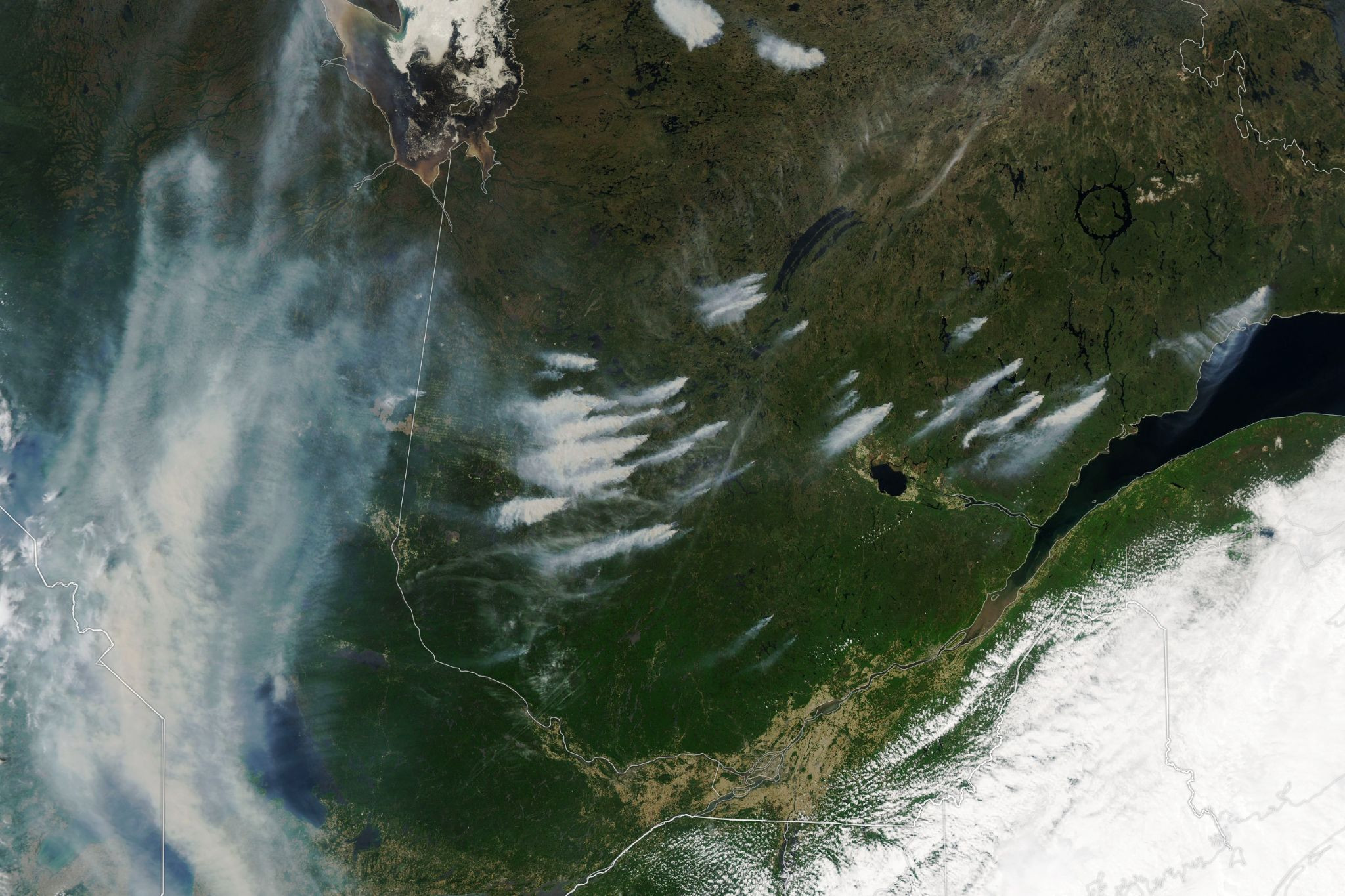 Imagery from NASA shows wildfire smoke from Quebec drifting east across the Ontario border.
(NASA)
A haze of smoke was visible over many parts of Southern Ontario early Tuesday morning, thickening in the afternoon hours.
According to data and mapping from FireSmoke.ca, a forecasting tool created and managed by the Weather Forecast Research Team at the University of British Columbia, by 5 a.m. Wednesday morning, the majority of Canada could be covered by plumes of wildfire smoke. Environment Canada projected the air quality in much of Ontario would worsen during the same time period as the smoke bloom billowing from the east grows thicker. In Brampton and Mississauga, where air quality was classified as posing a moderate risk throughout the day Tuesday, it is projected to worsen to the high risk category in the evening hours. Similar trends are forecasted for much of Southern Ontario including Barrie, Guelph, Hamilton, Kitchener, Newmarket, Oakville and Oshawa.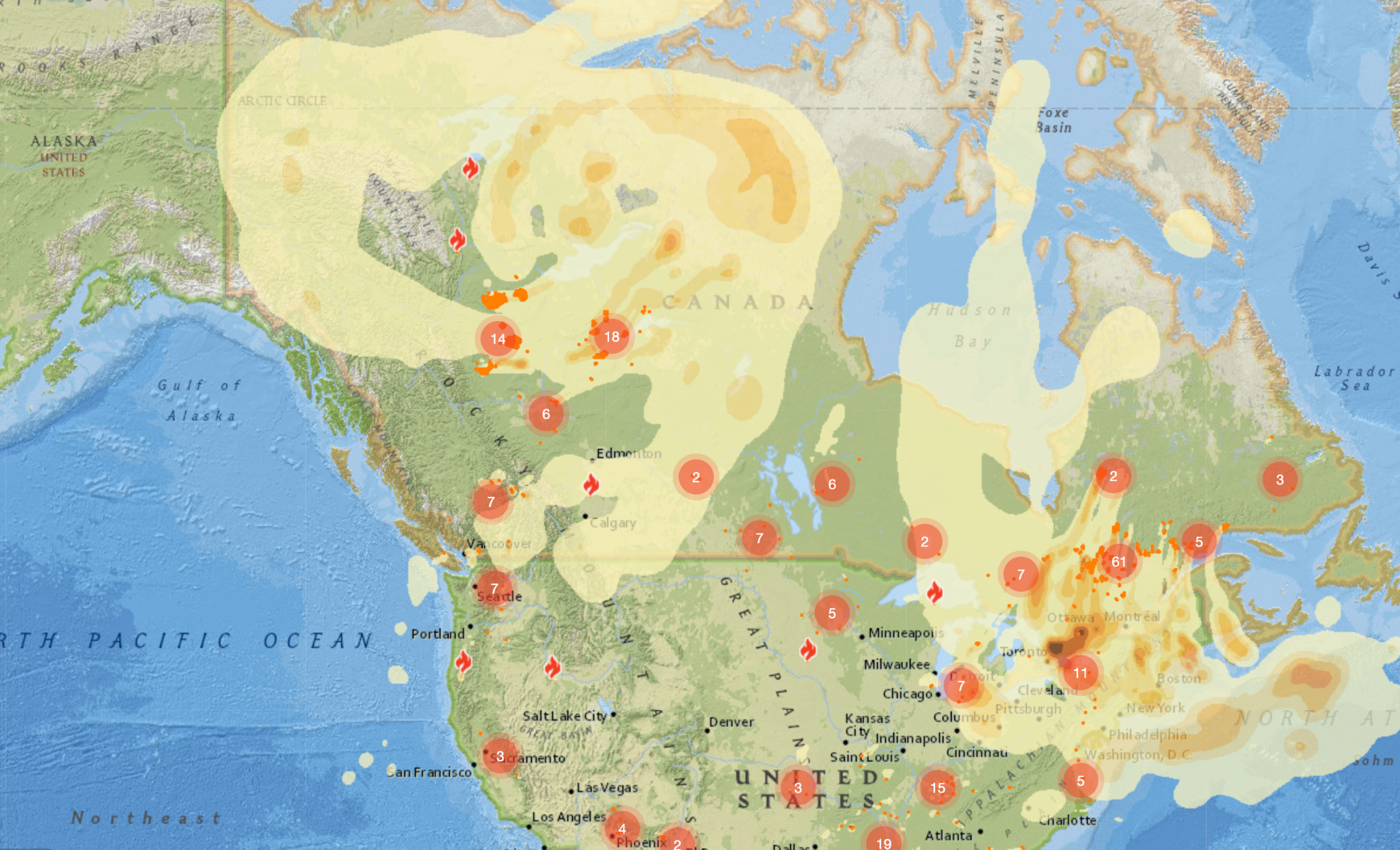 Wildfire smoke forecasts show much of the country will be beneath a haze of smoke by early Wednesday morning.
The dangerous air quality, which poses a significant risk to those with pre-existing conditions like asthma or heart disease, comes as Canada is on track for its worst-ever wildfire season. As of Monday afternoon, 424 wildfires were burning across the country, according to federal government data, over half of which are considered out of control.
"We are very concerned about the fires we've seen develop over the last few days in Nova Scotia, particularly on the weekend, and over the next week our data shows that fire risk will remain very high or extreme," Minister of Emergency Preparedness Bill Blair said during a press conference to address the wildfire situation on Monday.
In British Columbia, the Donnie Creek wildfire is now the second-largest in provincial history. In Nova Scotia, the Shelburne County wildfire near Barrington Lake has become the largest in provincial history. It is estimated to cover an area of 250 square kilometres and as of Tuesday has swallowed 60 homes and a total of 150 structures.
In New Brunswick, a fire near Stein Lake, which ignited on May 28 was deemed under control on Monday. Dry conditions, strong winds and high temperatures contributed to the fire raging out of control and burning approximately 540 acres and forcing the evacuation of 300 homes.
There are currently 62 active wildfires in Alberta, 15 of which are classified as out of control.
First responders have already extinguished over 500 wildfires this year in Alberta, the majority of which have been linked to human causes as the source.
The immense scale of forests being destroyed is hard to fathom. In Alberta alone, fires classified as "wildfires of note" are currently burning over 875,899 hectares—a land area larger than the entire state of Delaware and more than twice the size of the state of Rhode Island.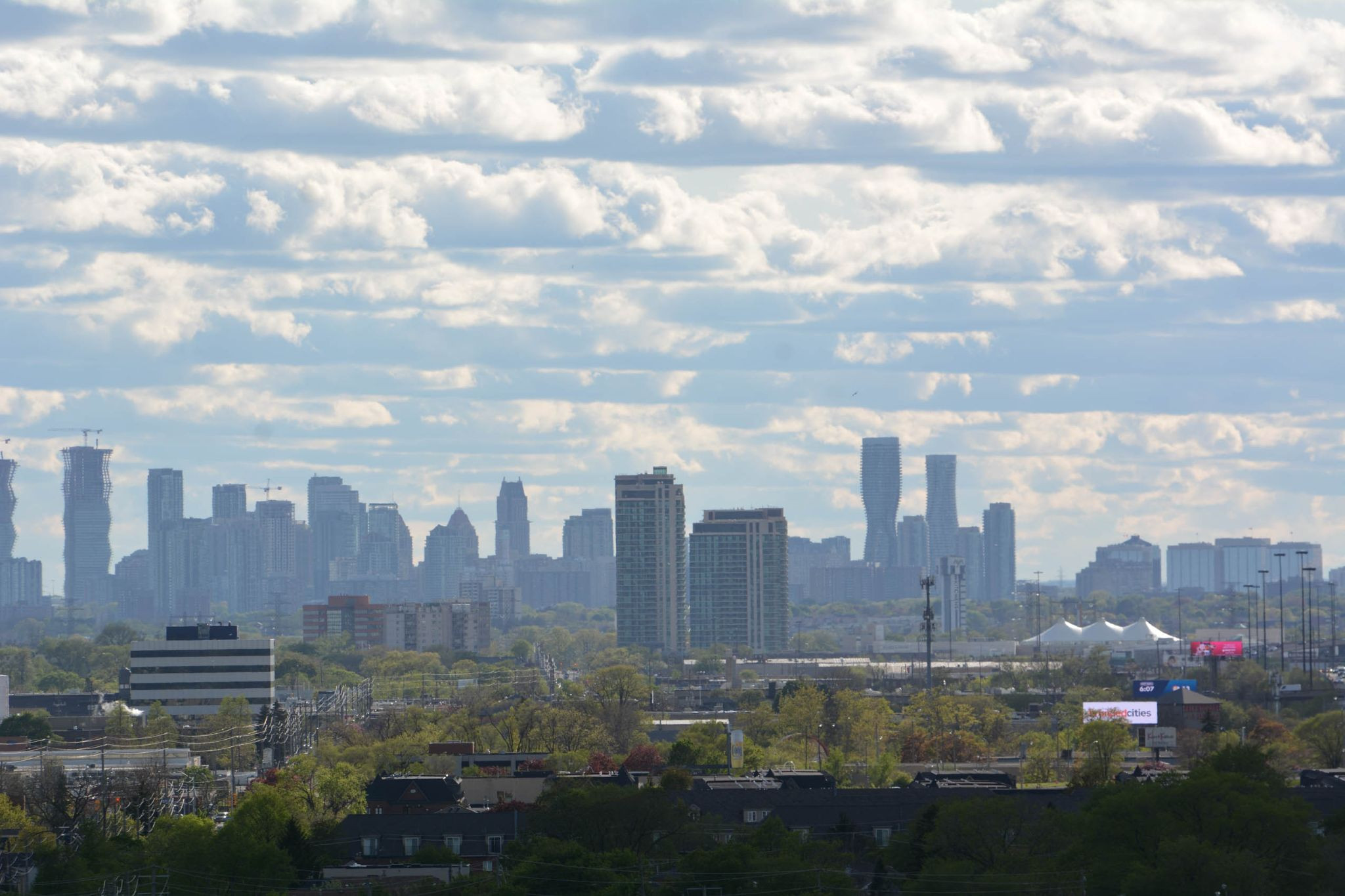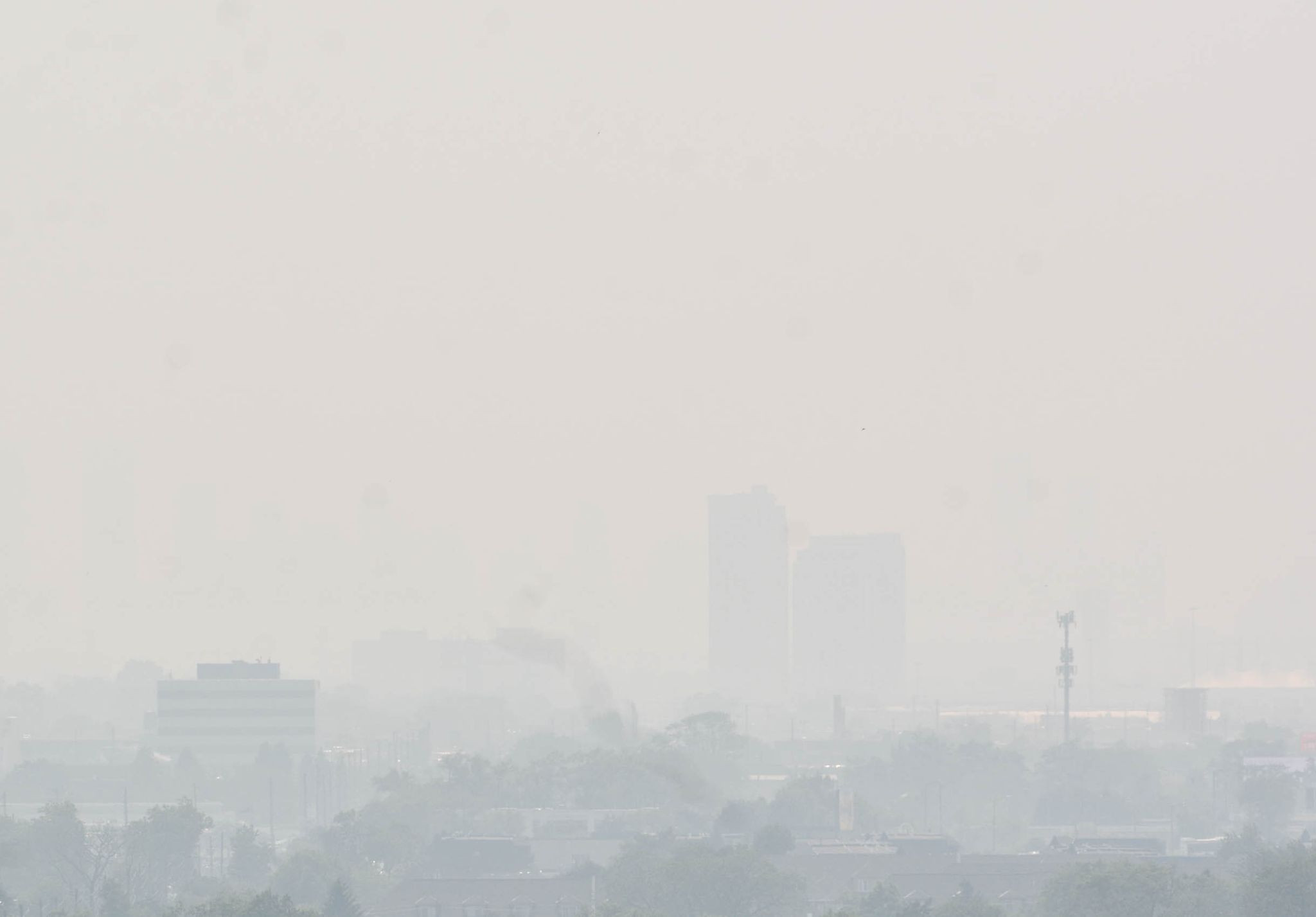 Top, view of the Mississauga skyline on a clear summer day. Bottom, the same view Tuesday afternoon.
(Joel Wittnebel/The Pointer)
Minister Blair acknowledged that Canada was staring down the barrel of an "extremely challenging wildfire season", as the early months are already raising questions about resources. Firefighters battling wildfires across the country have gone days, sometimes weeks without rest, and already, assistance from the Canadian Armed Forces and firefighters from outside Canada are being tapped to help out.
It may be a sign of what is to come.
With climate change driving the mercury skyward, it threatens to create the perfect conditions for wildfires to grow strong and spread quickly.
Wildfires are a natural part of a forests' life cycle, and in some cases can even be beneficial. For example, the lodgepole pine requires the extreme heat from wildfires to open their cones and release seeds. Similar behaviour is seen with sequoia trees which require temperatures of 50 to 60 degrees celsius to release their seeds.
But what is happening now with Canada's wildfire seasons is pushing into the realm of unnatural. Data from the Canadian Interagency Forest Fire Centre show that between 2005 and 2014 the average number of hectares burned annually was 2,401,481. Between 2012 and 2021 the average increased to 2,815,346—a 17 percent increase.
The Intergovernmental Panel on Climate Change (IPCC) projects that should the world fail to slow global warming and temperatures increase to 2 degrees above pre-industrial levels, the amount of land burned by wildfires every year could increase 35 percent.
The IPCC has been warning about the potential for increased wildfires due to climate change for years, and trying to educate countries across the globe about the potential impacts, including the effects on air quality that are being seen across much of the GTA right now.
In March last year, the IPCC released a report which estimated wildfires will not only increase, but be seen in areas that typically aren't used to them. The report found that areas which only experience a significant fire every 400 years, will start seeing them every 50 years.
The increase in wildfires will affect everything from city infrastructure to our healthcare system to food production, the report states.
"Wildfires, in many regions, have affected ecosystems and species, people and their built assets, economic activity, and health. In cities and settlements, climate impacts to key infrastructure are leading to losses and damages across water and food systems, and affect economic activity, with impacts extending beyond the area directly impacted by the climate hazard," the report states.
While much of the risks posed by the smoky haze lingering in the GTA can be mitigated by remaining indoors and avoiding strenuous outdoor activity, the impacts on the healthcare system increase the longer the degraded air quality remains.
The wildfires in Australia in 2019 and 2020 resulted in 3,230 hospitalizations due to cardiovascular or respiratory conditions and $1.95 billion in health costs, according to the IPCC. As wildfire season coincides with the hottest months of the year as well as peak-pollen season, those with pre-existing respiratory conditions could find themselves staring down a triple threat of factors that could impair their breathing.
One of the first objectives of Canada's National Climate Strategy released in January of this year is ensuring municipalities across the country are prepared to mitigate the impacts of disasters like floods and wildfires and their many ripple effects.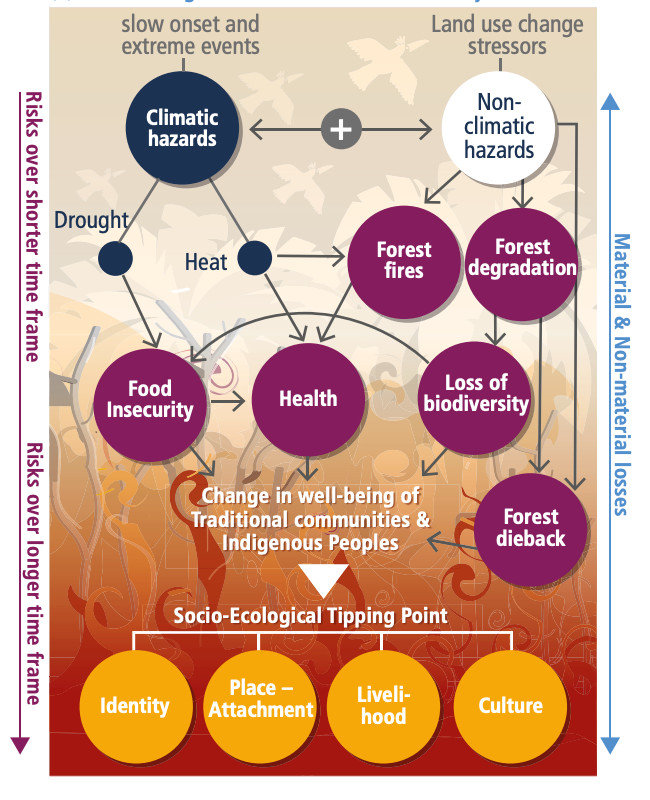 A graphic from the IPCC shows the cascading ripple effects of increasing wildfires.
(IPCC)
"Extreme weather and climate events like heatwaves, wildfires, droughts, storms and floods are becoming more frequent and intense, and the costs related to recovery after the fact are growing at an almost exponential rate," a May 2022 discussion paper used to inform the national strategy states. "We must reduce emissions to limit climate change. Temperatures will continue to increase until global net-zero emissions are achieved. While we are all taking steps to reduce our greenhouse gas emissions, our communities will continue to suffer from the effects of climate change. The federal government, along with all levels of government and Canadians, must prepare for the unavoidable impacts of climate change and ensure our efforts and investments support resiliency in our communities."
---
Email: [email protected]
Twitter: @JoeljWittnebel
---
At a time when vital public information is needed by everyone, The Pointer has taken down our paywall on all stories relating to the pandemic and those of public interest to ensure every resident of Brampton and Mississauga has access to the facts. For those who are able, we encourage you to consider a subscription. This will help us report on important public interest issues the community needs to know about now more than ever. You can register for a 30-day free trial HERE. Thereafter, The Pointer will charge $10 a month and you can cancel any time right on the website. Thank you
Submit a correction about this story